How Much to Budget for Food in Las Vegas (Average Cost to Eat!)
(This article may contain affiliate links, which means we might earn a small commission if you click and make a purchase. Thank you!)
Food is an important part of the vacation experience for many Las Vegas visitors. The great news is that the city offers a wide variety of meal options for every taste. The not-so-good news is that food can be extremely expensive in Vegas.
How much you should budget for food in Las Vegas depends on where you dine and what you eat. The average cost of meals per person is around $125 a day. Food is most expensive on the Strip, where a lavish dinner with drinks can cost over $1,000. You can find cheap eats at off-Strip and downtown restaurants.
While a tight budget can limit your dining options, you may still enjoy great meals without spending a small fortune. Read on to find out how much you can expect to spend on food on your Las Vegas vacation.
How Much Is a Meal in Las Vegas? (Vegas Prices for Food)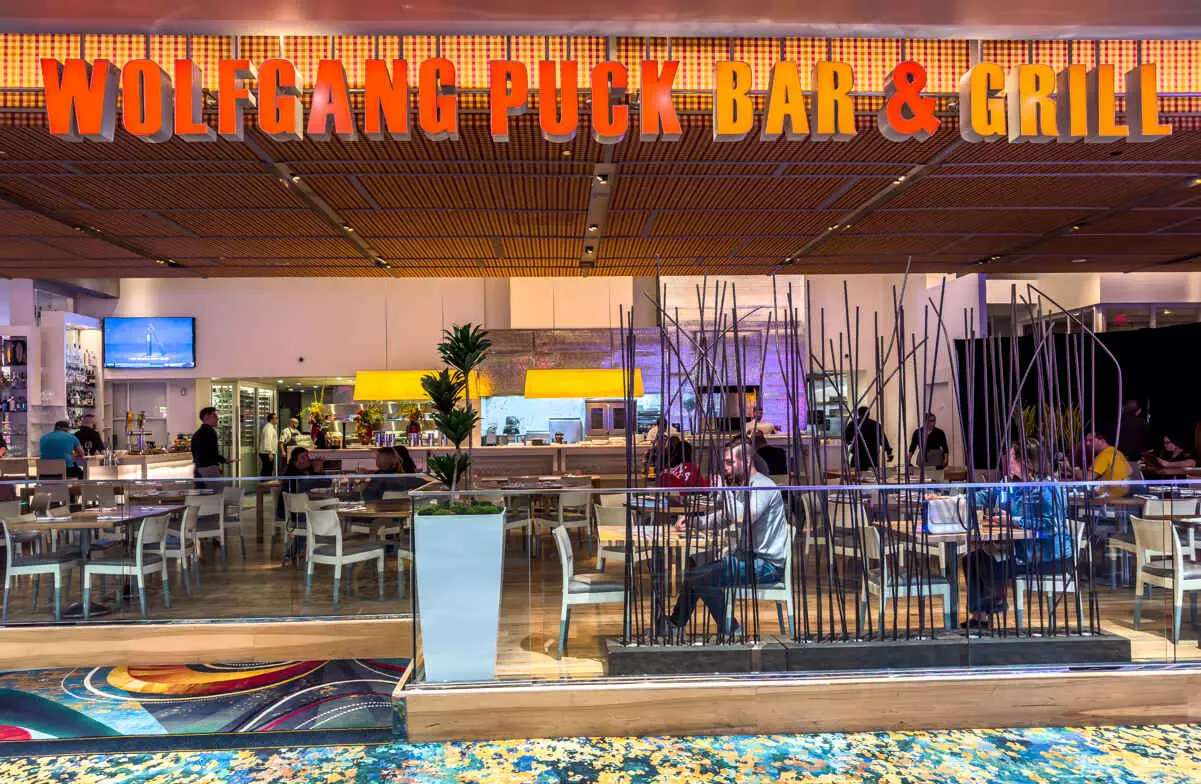 Meals can vary in price greatly in Vegas. Las Vegas meals can be budget-friendly, moderately expensive, or luxurious. You can eat a meal for about $5 at a fast food location off the Strip or downtown, and a meal at a midrange restaurant can cost $25–$30.
A full-course dinner with cocktails at a high-end Strip restaurant can set you back more than $1,000 a night. It means that you could spend as much as $3,000 a day for three meals at an upscale restaurant. That would require budgeting $15,000 for food for a 5-day stay of lavish dining in Vegas. For most people, however, that would be more than a bit extreme.
For meals at moderate restaurants, you should budget around $125 a day for food. A study of Las Vegas visitors' profiles shows that guests, on average, spend $100 – $130 a day on food and drinks. As a result, eating at a midrange restaurant would require budgeting about $646 per person for food for a 5-day stay in Vegas.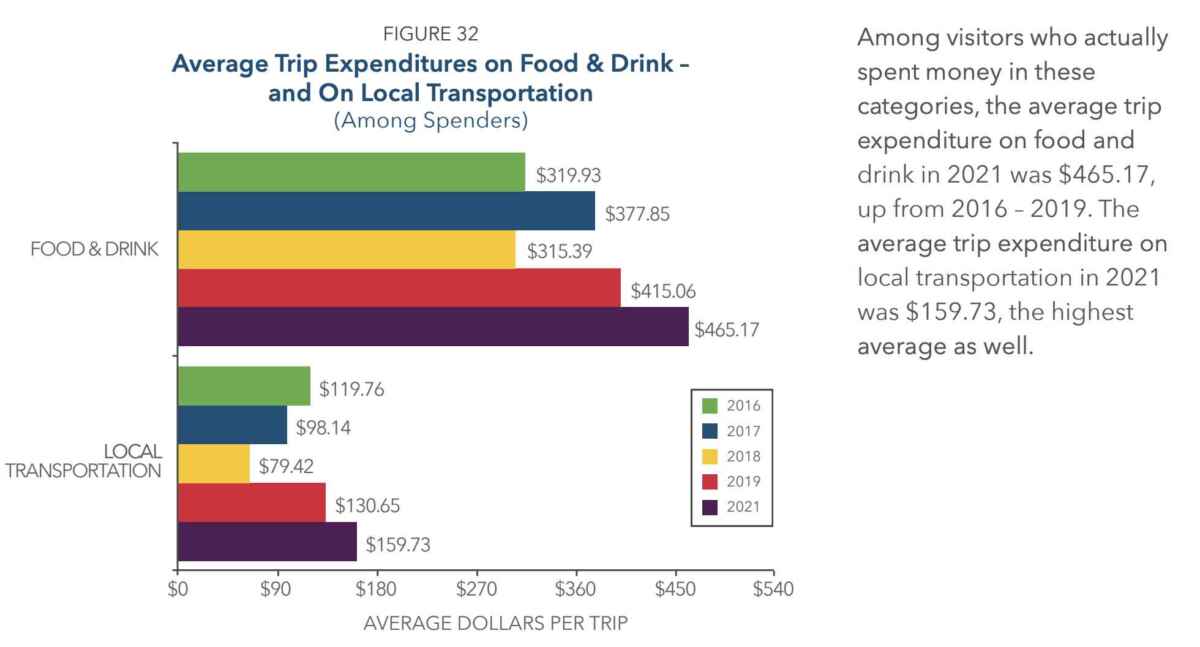 Las Vegas buffets can be a great option for someone on a budget. For around $30, you can enjoy a chunky buffet meal that can keep you full for a long time, allowing you to skip the next meal and save money.
Chain restaurants like McDonald's, Chipotle, and Subway usually have cheap fast food. You can find pizza slices for less than $5 and burgers for around $10. If you're aiming for super cheap eats, consider setting aside at least $150 for your food budget for a 5-day vacation in Vegas.
As for drinks, domestic beers on the Strip will cost $7-$10, while cocktails are usually more expensive at $12-$20 apiece. 
RELATED: Find out how to get free drinks in Vegas casinos!
However, if you're a fan of cocktails, you may want to adjust your budget to visit a unique bar as part of your itinerary. The Minus 5 Ice Bar has several locations across Vegas, and it's a must-visit if you're looking for an unforgettable experience.
Check out my post for more information on the Minus 5 Ice Bar and what you can expect when you visit. [Where Is the Minus 5 Ice Bar in Vegas? (Coolest Bar in Town!)] (Coming Soon).
How To Control Your Food Expenses in Las Vegas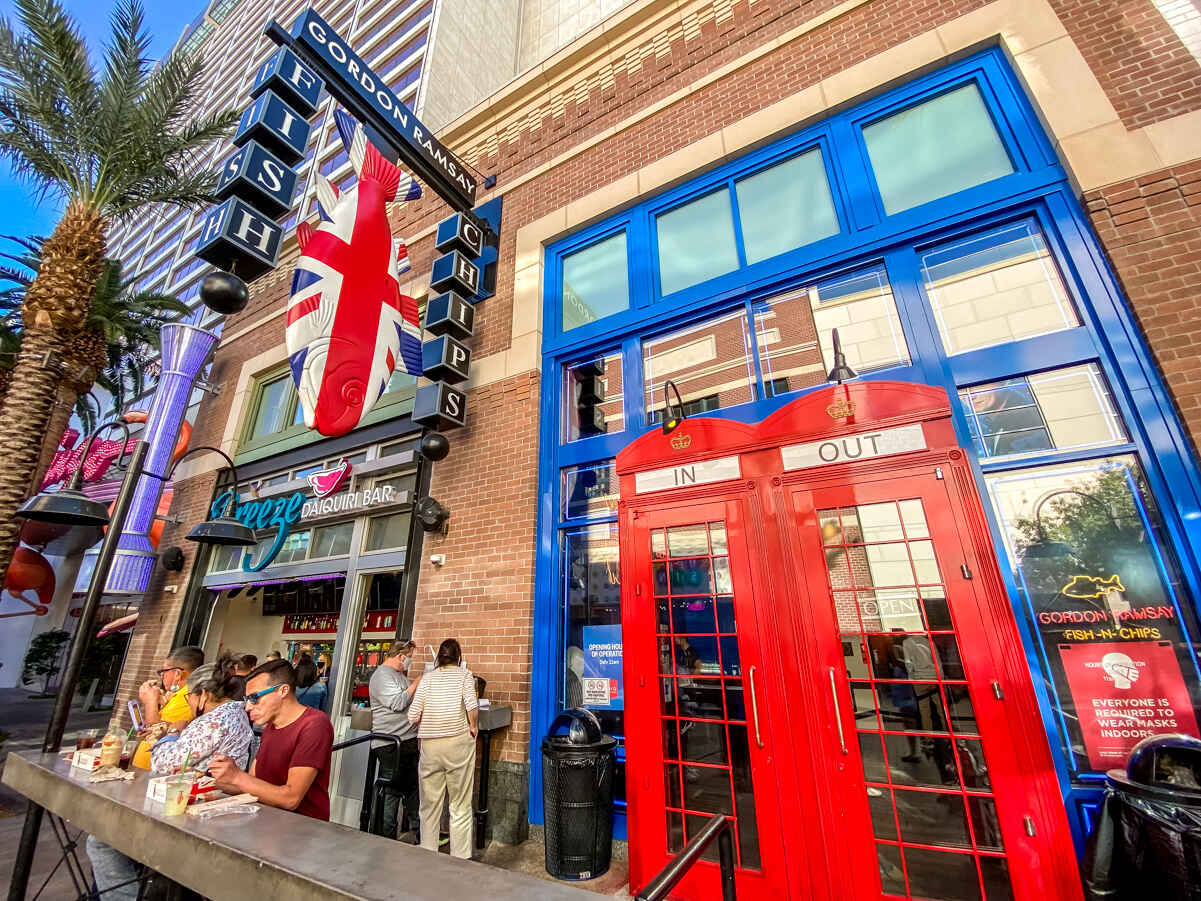 From flights to accommodations to meals, Las Vegas can be expensive for visitors. In fact, Vegas is ranked among American cities with a high cost of living (personally, I think some of these numbers are skewed by what tourists to the city pay for things vs. what locals pay far away from the Strip), and many people overspend in general in Vegas. But if you know where to go for your meals, you could spend far less on food than you think while still having a great Sin City experience.
Below are some strategies that visitors can apply to help control their meal expenses and enjoy their time in Las Vegas without breaking the bank. 
Choose a Budget Hotel
While off-Strip budget hotels may only offer the basics, they can save you a ton of money if you're looking to stretch your food budget and are willing to sacrifice some hotel comforts. For example, some off-Strip hotels include free breakfast for guests who book a room.
Some budget hotels also have pocket-friendly onsite restaurants (or you can find them nearby). As a result, you can eat cheaply without hunting for cheap eats at far-off locations.
Below are some Vegas hotels that offer a complimentary breakfast in their room package, which will take care of one meal of the day:
Hampton Inn Tropicana (TripAdvisor): This hotel is located only five minutes from the Strip and lies three miles (4.83 km) from the Las Vegas airport. Aside from a free breakfast, it offers guests free Wi-Fi access. Its other amenities are an outdoor pool, a business center, and a fitness center.
Residence Inn (TripAdvisor): This Marriott property is located south of the Strip and lies minutes from the Las Vegas airport. Guests can choose from a broad range of room options, which includes complimentary breakfast.
Best Western McCarran Inn (TripAdvisor): This hotel lies five minutes from the Strip. It offers spacious guest rooms in a package that includes complimentary breakfast and Wi-Fi access. Moreover, the hotel offers a free shuttle service to the nearby Las Vegas airport.
Note: While at first glance, these properties may not seem all that budget-friendly, keep in mind that in addition to a free breakfast, these hotels don't charge a daily resort fee and also offer free parking. Together that can save you $78 dollars a day or more.
Check out our full list of hotels in Las Vegas without resort fees here.
Select Vegas Hotels With Kitchens in the Rooms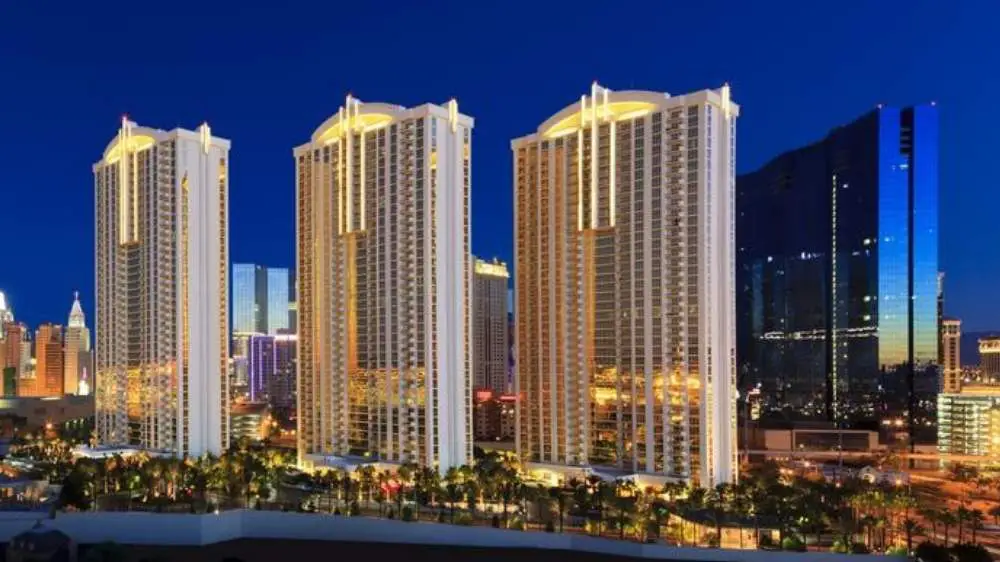 If you're planning on spending several days or more in the city, you may want to consider booking a hotel room with a kitchen. That way, you can cook some or all of your own food and save a lot of money on meals compared to eating out.
This is something to consider if you're not a foodie and would rather save your money to experience Las Vegas in other ways.
By cooking your food in your hotel room, you can enjoy a high-quality meal for a tiny fraction of what it would cost to eat out at an upscale restaurant.
Here are a few Vegas hotels with kitchens for guests to consider:
Sonesta Simply Suites Las Vegas Convention Center (Check room rates at TripAdvisor) This all-suite hotel is located one mile (1.61 km) from the Strip and one mile (1.61 km) from Las Vegas airport. The suites include full kitchens complete with pots and pans. The hotel also offers free laundry facilities.
Palms Place (TripAdvisor): This property offers various room options. In addition to its many amenities, the hotel's suites include a kitchenette and vital appliances for guests to prepare their meals.
Signature at MGM Grand (TripAdvisor):This luxurious hotel offers suites with kitchenettes equipped with a fridge, microwave, and coffee maker. Guests can take advantage of these features to cook their own meals and save money on food expenses.
Eat off the Strip to Maximize Your Food Budget
You can also save money on food in Vegas by eating out at off-Strip restaurants. These locations usually offer competitive prices to draw customers from their Strip rivals. You'll be amazed by how much you could save by simply going to a restaurant a block or two (or even further) off the Strip for your meals.
There are even some restaurants on the Strip that offer a good value. See: 16 Cheap Places To Eat on the Las Vegas Strip (Map)
Take Advantage of Free Stuff
You can bolster your food budget by cutting costs on your other Vegas travel experiences. For example, you can use the city bus to explore the Strip and downtown and use the savings on the transport cost to fund your dining adventures.
Additionally, you can save money on sightseeing to fund your food budget for a better Vegas dining experience by going to free attractions. The Bellagio fountains, Flamingo Wildlife Habitat, and Mirage Volcano are some of the popular spots that won't cost you extra to visit. You can also check out Fremont Street Experience and Venetian Grand Canal Shoppes for free. 
Experiencing Budget and Lavish Dining in Las Vegas
Many people who visit Las Vegas like to keep their food experiences varied. They may eat a cheap breakfast and lunch at an off-Strip or downtown location but splurge on dinner with cocktails at an upscale restaurant on the Strip.
This strategy allows visitors to experience Vegas food from both sides of the spectrum, which is a more balanced approach to a Sin City trip. 
Budget Eateries in Las Vegas
If you're on a modest budget, there are many places around the Strip and downtown where you can go for cheap eats. Just because you're on a budget doesn't mean you can't have a great meal!
There are many places in Las Vegas where you can eat delicious food at a more reasonable price. Here are just a few:
BabyStacks Café
BabyStacks Café is best known for its pancakes. Although this restaurant is a popular stop for people looking for cheap breakfast meals, its menu also includes lunch items such as sandwiches, burgers, and salads, each for around $10-$12. The red velvet pancakes (Full $10.75 / Short $7.50) have been a customer favorite for a long time. 
This restaurant has multiple locations across Vegas. You'll find the one closest to the Strip here.
RELATED: 9 Spots To Grab a Cheap Breakfast on the Vegas Strip
Tacos El Gordo
Tacos el Gordo is particularly famous for its delicious tacos. Located on the Strip just north of Encore by Wynn (google maps), the restaurant is a popular stop for pocket-friendly street taco meals (tacos from $2). It offers high-quality meals prepared from fresh ingredients. Some guests come here for lunch, and others for a light dinner. Either way, you can grab a filling meal here for the average price of $5 -$10.
Customers also crowd this place for late-night snacks, so you can expect long lines if you're coming during those hours.
Village Pub and Café
You can stop at Village Pub and Café for breakfast, lunch, or dinner. Located at the Ellis Island Casino Hotel Brewery (google maps), the restaurant offers steaks, burgers, sandwiches, and a variety of other dishes. It's a favorite stop for visitors seeking tasty, filling, and affordable meals (most meals are between $10-$20).
The restaurant's location within a brewery also makes it an ideal place to stop for drinks. Village Pub and Café remains open at night, making it a great place to run to for a late-night snack as well.
Nacho Daddy
As the name implies, this Mexican restaurant is known for nachos ($18-$28). But that's not all you find on the Nacho Daddy menu. This restaurant also offers tacos, fajitas, salads, desserts, and breakfast. Moreover, it has a full vegan menu option.
Additionally, Nacho Daddy has homemade specialty drinks, including the famous Daddy's Margarita.
Meals are modestly priced here, and guests have access to free Wi-Fi. The restaurant also occasionally provides live musical entertainment, and you can book private meeting spaces too. 
Nacho Daddy has locations on the Strip (google maps) and downtown Las Vegas (google maps).
Sirrico's Pizza
Sirrico's Pizza is a wonderful stop for cheap meals in Las Vegas. It's located at New York-New York Hotel and Casino inside the Village Street Eateries. The restaurant (open until 2 am during the week and 3 am on weekends) is known for its New York-style pizzas, which are regarded among the best in the city. It also offers salads and spaghetti, among other menu items. 
Guests have the option to order the popular slice of pizza and beer combo or forego the beer and order two slices of pizza instead for the same price.
Individual slices for $6-$7.25
Whole pizza pies for $25-$28.50
Sirrico's Pizza is a favorite lunch and dinner destination for visitors with a modest Vegas budget.
Fine Dining Restaurants in Las Vegas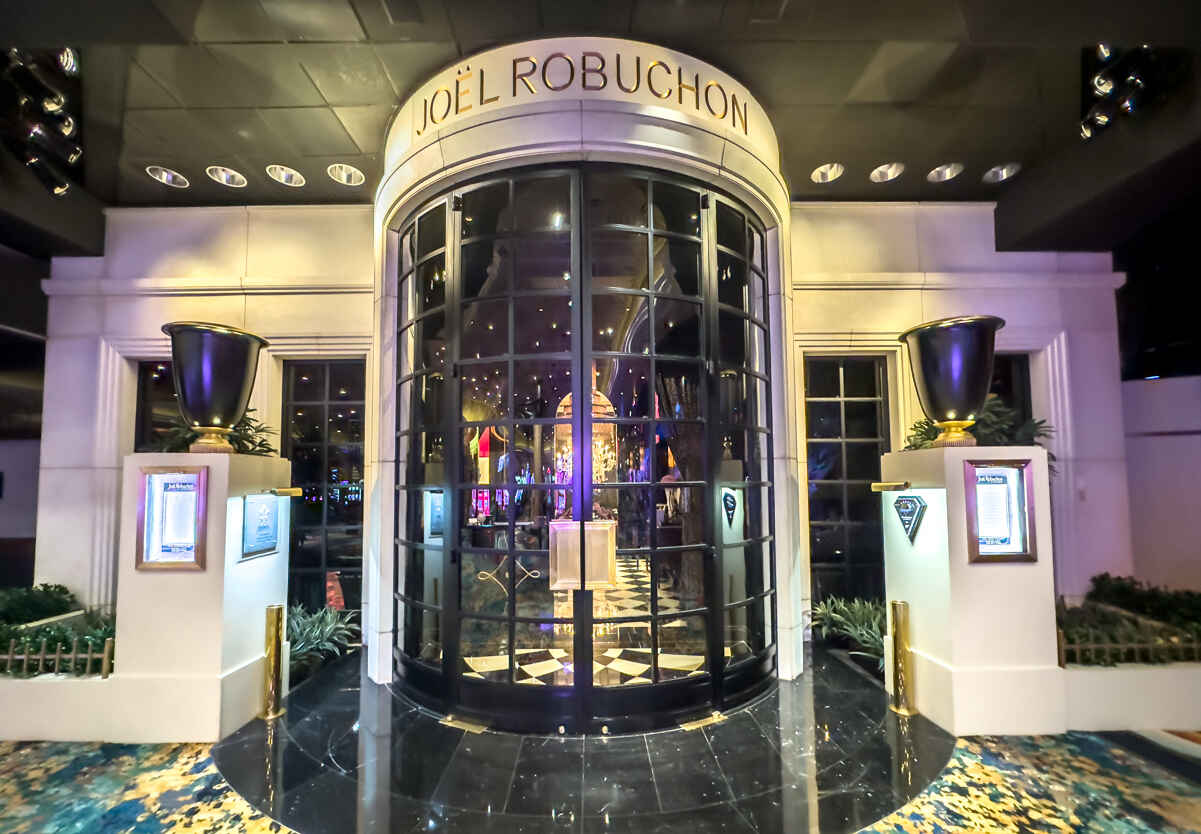 If you're hungry for a lavish dining experience, Las Vegas has everything your appetite might crave. Meals at upscale restaurants come at a premium price tag, however, especially if complemented with cocktails, but they're worth it for those seeking luxurious dining.
Below are just a few of the restaurants in Las Vegas that can offer you an excellent fine dining experience.
Joel Robuchon Restaurant
For high-quality French cuisines, Joël Robuchon is a favorite dinner stop for travelers seeking an upscale food experience. Located at the MGM Grand Hotel, this luxurious restaurant's menu was created by Joel Robuchon, a world-renowned chef.
This Michelin-star restaurant not only offers sumptuous meals for a lavish dinner, but it also provides an excellent atmosphere for guests. Prices for the set menu at Joël Robuchon run between $150 and $275 per person.
Aureole Restaurant 
Located at the Mandalay Bay Hotel, Aureole is a paradise for guests with a strong appetite for wine. The restaurant's signature feature is the four-story, climate-controlled wine tower that features an incredible aerial performance when a bottle of wine is ordered from the tower. What's more, its dishes also perfectly complement its broad wine selection.
The dishes feature fresh seafood, lemon-basted tilefish, dry-aged beef, and Moulard duck breast. Entrees begin at $48, and the Tasting Menu (where you get to sample many delicacies) runs $169.
Restaurant Guy Savoy
This famous French restaurant is located at Caesars Palace, and renowned Chef Guy Savoy is behind the delicious dishes. Restaurant Guy Savoy is known for classic French cuisines, including artichoke and black truffle soup, Octopus terrine, prime beef tenderloin, and caviar.
The restaurant has a private dining room for parties of about a dozen people and also has a lounge for guests to retire to after dinner. The Five Star Celebration menu is a preset meal served to the entire table for $615 a person. Alternatively, you can order a la carte, where entrees run in the $150 range.
Picasso Restaurant
Located in the Bellagio Hotel, Picasso is a Michelin-star restaurant that treats guests to French and Spanish-inspired dishes. It's known for its lavish, delicious seafood meals and has indoor and outdoor dining spaces, with the patio seating giving guests a fabulous view of the Bellagio fountains. (You can see a list of restaurants with views of the fountains here).
Apart from its lavish meals, Picasso has an extensive wine cellar featuring some 1,500 selections. The Prix Fixe meal at Picasso starts at $142 per person and goes up from there if you pair it with wine or add a steak.
Lago Restaurant
Located at the Bellagio Hotel, Lago is a Michelin-star Italian restaurant. Although it's an upscale eatery, Lago offers a flexible menu option. Guests can choose full-course meals or individual menu items. It's also an excellent restaurant option for lunch or dinner.
The acclaimed Chef Julian Serrano spearheads the crafting of dishes at Lago. Additionally, the restaurant's floor-ceiling windows and outdoor patio space offer guests a great view of Bellagio fountains. (See the Bellagio Fountain schedule here).
Large plates at Lago start at $39 for the Chicken Parmigiana and go up to $155 for the Mixed Seafood Grill.
Conclusion
As you can see, you can get by in Las Vegas with $5 meals or splurge on extravagant dishes at upscale restaurants where food and drinks can cost well over $1,000 per couple. Whether you plan on hunting for cheap eats or pursuing lavish dinners, it helps to have a food budget when you're in Las Vegas.
My recommendation for most people would be to eat on the cheap to the moderate side of the scale for most meals and splurge on one or two meals that you aren't likely ever to forget. Also, to be on the safe side, it's always a good idea to budget slightly above your meal cost estimates.
Bon appetit!