14 Las Vegas Hotels with Kitchen or Kitchenette (SAVE $$$)
(This article may contain affiliate links. If you click through and make a purchase, we will receive a small commission at no additional cost to you. )
Checking into a Las Vegas hotel with a kitchen ensures you're the boss of your time and can dine whenever you please for less, thus giving you more time and money to enjoy the world-class casinos and entertainment that Sin City has to offer. So what are some of the best Las Vegas hotels with kitchens?
Here are 14 Las Vegas hotels with a kitchen or kitchenette:
Trump International Hotel Las Vegas
Residence Inn Las Vegas Convention Center By Marriott
Candlewood Suites Las Vegas Tropicana Hotel
Sonesta Simply Suites Las Vegas
The Grandview At Las Vegas
Elara By Hilton Grand Vacations – Center Strip
La Quinta Inn & Suites By Wyndham Las Vegas Red Rock
Extended Stay America – Las Vegas – East Flamingo
Jockey Club Suites
Platinum Hotel and Spa
Tuscany Suites and Casino
Tahiti Village
Vdara Hotel
Cancun Resort Las Vegas
In this article, we'll evaluate these 14 Las Vegas hotels that come with fully equipped kitchens or kitchenettes so you can choose the one that suits your tastes while saving you the most money.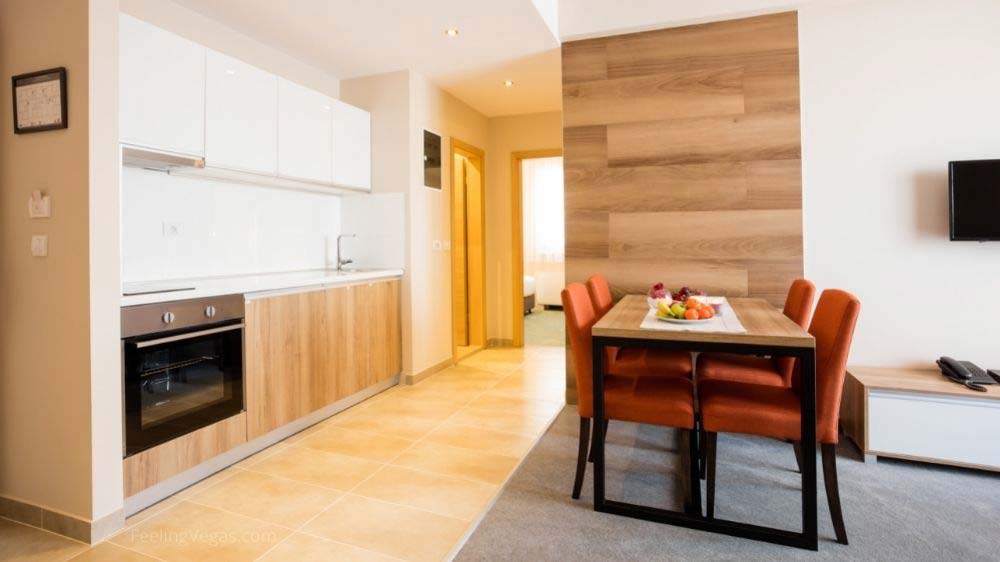 The Trump International Hotel Las Vegas is a high-end hotel located on Fashion Show Drive, Las Vegas, just a 7-minute walk from the Strip.
As a non-smoking and non-gaming hotel, the Trump International allows you to replicate a home away from home environment while visiting Las Vegas, ensuring you have all the comforts of home while having easy access to every bit of excitement that Vegas has to offer.
You'll love that the rooms come with fully outfitted kitchens featuring microwaves and refrigerators so that you don't have to eat every meal out, which can get expensive.
The hotel's upscale rooms boast floor-to-ceiling windows, marble bathrooms (with whirlpool tubs).
Other standout features of the hotel include Wi-Fi, flat-screen TVs in all rooms, a poolside bar, spa, gym, and an outdoor heated pool.
One and three-bedroom suites in the hotel come with dining areas and full kitchens, making this premium hotel one of the best for comfort and home-like living.
Located just 2.6 miles (4.18 km) from Downtown Las Vegas, the extended-stay hotel boasts some of the best amenities for a longer stay.
The refined studios are uniquely designed and well-fitted to create that rich, warm vibe that's associated with home environments. The Residence Inn's studios come with conveniently spacious kitchens featuring stovetops, microwaves, and refrigerators.
Besides the kitchen, you can also make the most of your stay by taking advantage of the outdoor pool, convenience store, and 24/7 fitness room.
The hotel also has 2 meeting rooms, laundry facilities (coin-operated), and BBQ areas.
All the studios have free Wi-Fi, flat-screen TVs, and pull-out sofas in the sitting areas. If you opt for a suite, you'll get separate living rooms and additional flat-screen TVs.
RELATED: 12 Best Las Vegas Hotels With Suites (Extra Roomy!)
The Candlewood Suites Las Vegas Tropicana Hotel is strategically located near the Las Vegas Strip and claims to be one of the best hotels for extended stays and weekend visits.
You can live, work, or vacation in Candlewood's spacious suites that feature fully fitted kitchens, comfy recliners, and executive desks. 
Clients get access to free Wi-Fi, laundry facilities, lending library, lending locker, convenience store (on-site), and 24-hour gym.
The kitchens are fully outfitted with dishware, utensils, and cookware. The microwave and full-sized refrigerator will also add to the quality of your stay, ensuring you feel like you never left home despite being in one of the busiest entertainment cities in the world.
Located just a mile from the Las Vegas Strip and two miles from Harry Reid International Airport (formerly McCarran Airport), the Sonesta Simply Suites is a haven for simple-living guests.
All the suites feature flat-screen TVs and DVD players for home-like entertainment, while the free Wi-Fi ensures you're always connected to the internet for both work and leisure.
Other amenities offered by the Sonesta Simply Suites Las Vegas include a 24-hour gym, outdoor swimming pool (heated), convenience store, hot tub, and picnic tables.
The kitchenettes come packed with a microwave and refrigerator, dishware, cookware, utensils, and stovetops to give clients full control of their meal schedules and budget.
Looking for a Las Vegas hotel with suites that have open-plan kitchens? If so, then you need not look any further than the Grandview resort. This resort has spacious 1 and 2 bedroom suites with open-plan kitchens, living rooms (with sofa beds), and dining areas.
All the rooms have TVs, DVDs, and washers/dryers. They also have whirlpool tubs. In addition, you can get access to infant beds and cribs at an extra cost. Extra beds are also available for an additional fee, making the Grandview an ideal hotel for large families with little angels.
Your family will love the 5 outdoor pools (one exclusively for kids), gym, game room, and mini-golf course the facility offers.
Finally, there is no need to spend money eating out as the kitchens are fully stocked with dishware, utensils, and cookware.
The Elara by Hilton is a classy, upmarket hotel featuring rooms with floor-to-ceiling windows. All the rooms come with whirlpool tubs, 42-inch TVs, and kitchenettes. But if you book a suite, you'll get separate living areas and spacious, fully loaded kitchens.
The world-class hotel allows you to enjoy a wonderful view of the Las Vegas Strip. Other amenities you can enjoy at the Elara By Hilton include a cocktail lounge, fitness center, and an outdoor, tropical-themed pool with a poolside bar.
The kitchenettes in the studio rooms feature a microwave, stovetop, and refrigerator, while the suites come with spacious kitchens with the added benefit of a dishwasher.
Located 9.5 miles (15.29 km) away from the Strip, the La Quinta Inn & Suites is a wonderful option if you're looking for a quiet place away from all the hustle and bustle of Las Vegas. The secluded lodging is great for work, a staycation, or as an extended living option. 
All the modern rooms come packed with flat-screen TVs, free high-speed internet, and premium cable channels. The kitchenettes feature a coffee maker, microwave, and a minifridge, saving you money on food and placing you in control of your calories.
If you prefer full kitchens with separate living areas, you'll need to book the Suites as they're a lot more spacious and friendlier for larger families. 
Other notable amenities of the La Quinta Inn and Suites by Wyndham include a fitness center, outdoor pool, free infant beds/cribs, and cookware. You can also access additional beds at an extra cost.
Located not far from the ultra-popular MGM Grand, the Extended Stay is a great option if you're looking for a laid-back temporary home to unwind or get some work done.
Besides being pocket-friendly and spacious, the premium Las Vegas hotel features well-furnished studios that come packed with pull-out sofas and kitchenettes complete with a stovetop, microwave, and a wide variety of cookware and dishware.
While enjoying your stay in the hotel, you'll get access to an exercise room, a 24-hour laundry facility, an outdoor pool, a meeting room, and a business center.
You can also book 1-bedroom suites that come with separate living rooms (perfect for large families). As part of its fair pricing policy, the Extended Stay America- Las Vegas- East Flamingo doesn't charge for kids under the age of 17.
Not too many hotels in Las Vegas recreate a home setup like the Jockey Club Suites, which features spacious studios with cable, free Wi-Fi, and a kitchen area.
The kitchen is more of a proper kitchen than the usual kitchenettes found in most low-budget establishments as it features a microwave, stovetop, and large refrigerator. You also get access to cookware and dishware, which ensures you feel right at home once you step into the Jockey Club Suites.
Besides the well-stocked kitchen, you can also take advantage of the outdoor pool, valet parking, and 24-hour fitness center.
Please note that the Jockey Club Suites permits service animals but does not permit pets on the premises.
Located just a stone's throw away from the Strip, the Platinum Hotel and Spa is a great spot to unwind and enjoy the best that Las Vegas has to offer. From electric fireplaces to whirlpool tubs and tech advanced washers, the Platinum Hotel is truly a world-class facility for home-like living.
The suites boast an ultra-modern design and are spacious enough to fit full kitchens, living areas, and balconies. You'll love the full-size oven that allows you to get creative with your meals, while the dishwasher will make cleanup a lot easier, especially if you plan to cook every day.
Besides its spacious rooms, the Platinum Hotel and Spa has fully stocked cupboards filled with cutlery, cooking pots and pans, and crockery, giving you the chance to create meals just as you would at home.
Other notable amenities the Platinum Hotel and Spa offers its clients include a fitness center, jacuzzi, pool, spa, and cribs for infants.
As an added benefit, this premium hotel allows pets, so you won't have to leave your beloved furry friend out of your Vegas adventure.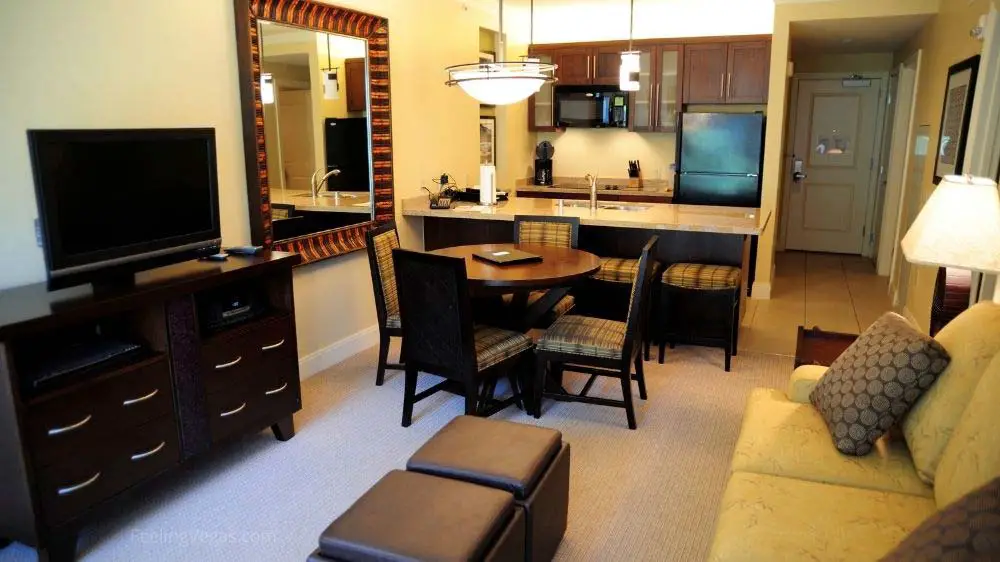 In search of that Mediterranean feel in the middle of Las Vegas? If so, then you'll love the rustic beams, blooming gardens, and homey-feel that the Tuscany Suites and Casino offers.
While the Tuscany Suites and Casino doesn't have the largest rooms in Las Vegas, the suites include self-sufficient kitchenettes that come packed with a refrigerator, coffee maker, and microwave.
Other amenities include free cribs or infant beds, a separate shower and bathtub, casino, 4 restaurants, 2 outdoor pools, and daily housekeeping.
All suites have flat-screen TVs installed and free Wi-Fi for unlimited internet access.
Sophisticated suites (2 bedrooms) come with dining and sitting areas, making them ideal for family settings.
The Tahiti Village is dedicated to replicating the home environment through its island-inspired theme that shouts "vacation" right from the front entrance.
You can expect to have a calm, relaxed time away from the noise and flashy lights of the celebrated Strip. Accessing the Las Vegas strip, however, is easy since the Tahitian-themed resort is located just 2 miles (3.22.km) away.
The Tahiti Village boasts some amazing amenities like an on-site spa, fully stocked rooms, a lazy river (with waterfalls), and a Tahitian-themed pool with a sandy beach entry.
Each of the suites comes with kitchenettes that are packed with a coffee maker, microwave, and refrigerator.
You'll also love the fitness center that houses treadmills, weight machines, and massage rooms.
RELATED: 14 Best Family Pools in Las Vegas (Kid-Friendly!)
The Vdara Hotel is a premium, all-suite hotel providing some of the finest services in Las Vegas. The pet-friendly hotel has both upscale and luxury suites, which are uniquely designed to give you a unique Vegas experience just a short walk from the Strip.
All the upscale suites have flat-screen TVs, a soaking tub, living areas, and a kitchenette.
The luxury suites give you a bit more freedom as they're larger and have fully stocked kitchens, allowing you to feel like you never left home despite being at the center of one of the world's most revered entertainment hubs.
Besides the rooms, you can also take advantage of a luxe spa, dog park, fitness center, and outdoor pool. You'll also appreciate wining and dining in the Chinese, Tapas, and Thai eateries located inside the Vdara Hotel.
The Cancun Resort Las Vegas is a Mayan-themed, all-villa architectural masterpiece known for its comfort and affordable luxury. The Cancun Resort is arguably one of the best places to take your family in beautiful Las Vegas. From the fun pool and waterslides to the dramatic lighting and exquisite Mayan sculptures.
You can choose between one and two-bedroom villas that come packed with full kitchens, separate living and dining areas, flat-screen TVs, and strategically located balconies. If you upgrade to a villa, you also get a whirlpool tub.
The villa kitchens come fully loaded with a refrigerator, microwave, cookware, and utensils, while family-sized apartments come with a dishwasher and a full-sized refrigerator.
You can also enjoy spending time in the outdoor pools and hot tubs. And while the kitchen will certainly save you money on food, the poolside Mexican restaurant is available for those nights when a long exciting day in Las Vegas leaves you too tired to cook.
Related Articles