Do You Have To Check Out of the Flamingo Hotel? (Answered)
(This article may contain affiliate links. If you click through and make a purchase, we will receive a small commission at no additional cost to you. )
The Flamingo Las Vegas Hotel & Casino is a popular place, and in fact, the hotel reports up to a 90% occupancy rate. One of the recurring questions that hotel guests at Flamingo ask is if they have to go to the front desk to checkout or whether they can skip the checkout process entirely.
It's important for you to go through the checkout process at the Flamingo hotel. The reason for this is that you will want to look over your bill carefully before paying to catch any mistakes. If you leave without checking out, the charges are automatically billed in full to the credit card on file.
This article will explain why you must check out of the Flamingo Hotel, then go over how to do so either online or at a kiosk. I'll talk about paying for parking, common additional fees you may encounter, and whether there's a fee for checking out late. 
Compare and save! Check current room rates at Flamingo (TripAdvisor)
Flamingo Hotel Check-Out: Terms and Conditions
Here are the terms and conditions for checking out of the Flamingo Hotel:
You must pay for your stay when you check out, which includes any additional fees incurred. If you leave the hotel without checking out, all charges (including any mistakes) will be billed to your credit card on file. It is much more difficult to dispute or correct inaccurate charges once your credit card has been billed.
Check-out time is 11:00 a.m., but checking out late is free until 1:00 p.m. After this time, you'll be forced to pay for an additional half-day on your room because you checked out too late.
You don't have to check out at the front desk. Instead, you can check out online or at one of the kiosks near the hotel's front reception. However, you may still need to visit the front desk if you're paying with a different card or if there's an error on your bill.
If the hotel finds your room damaged, it will keep your security deposit and potentially leverage additional fees for repairs. So, take good care of your room during your stay.
Additionally, it's your responsibility to notice any errors in your bill. Any hotel can make mistakes in their billing, so make sure you keep an eye on your purchases and check them against your bill at the end of your stay.
Why Do You Have To Check Out of the Flamingo Hotel?
You must check out of the Flamingo Hotel in order to pay for the rest of your stay. Upon check-in, the hotel bills you for your first night but requires that you settle the bill for the remainder of your stay when you leave.
Also, the hotel needs to know you've left so they can inspect your room for damage, clean and turn it over, and refresh its supplies for the next guest staying there.
In this way, the checkout process at the Flamingo is important (and helps protect) both the customer and the hotel.
Can You Check Out of the Flamingo Hotel Online?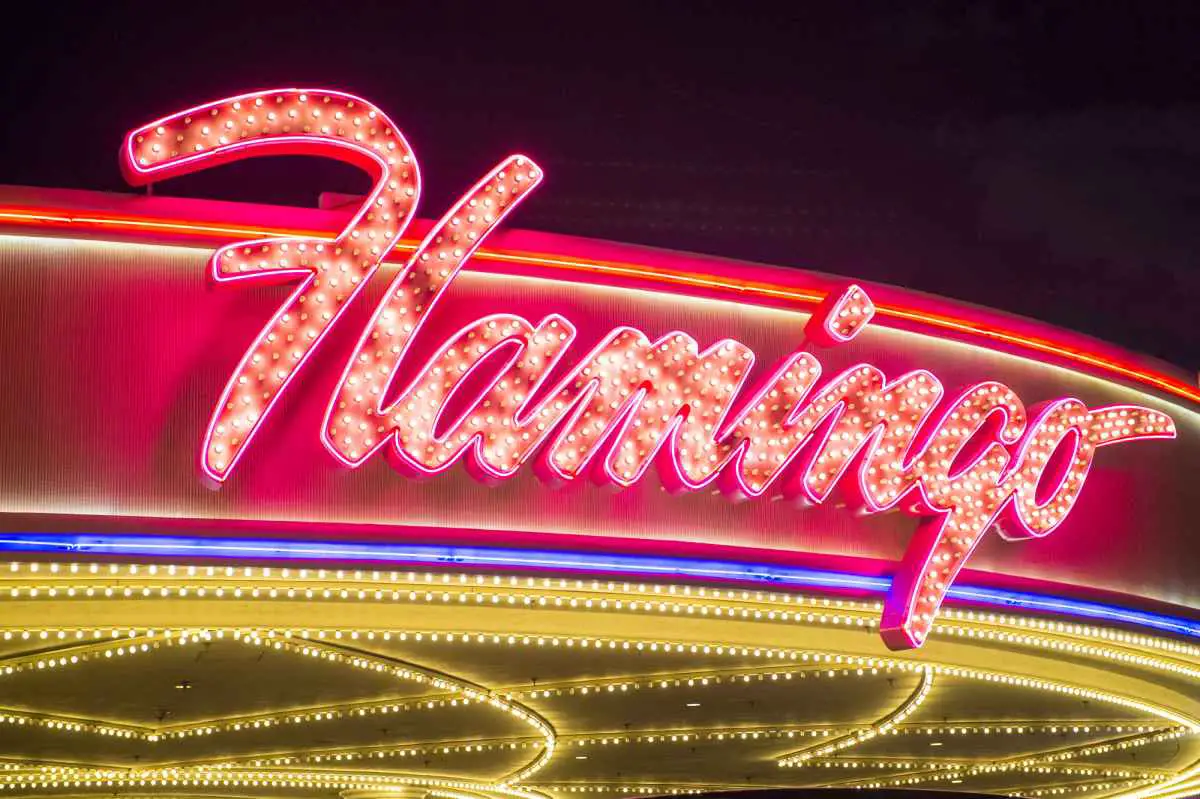 In order to avoid potentially long lines at the front desk, you can check out of the Flamingo Hotel online using the Caesars mobile app. If you have a smartphone, tablet, or laptop computer with you, just download the app (if you haven't already), and pay for the rest of your stay using your debit or credit card. 
Download the free Caesars Rewards App at both the Google Play Store and the Apple App Store here:
Then, you can leave without engaging with the checkout desk at all. Checking out of the Flamingo online is very convenient and will just take a couple of minutes.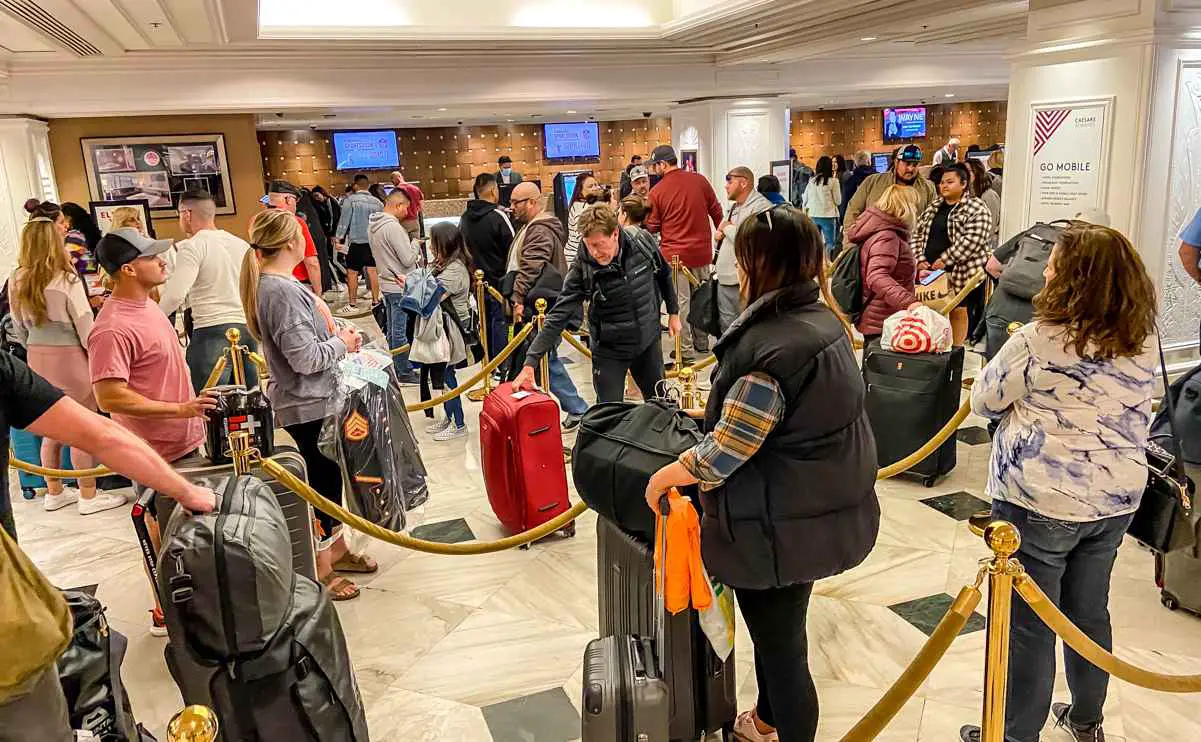 However, be careful, as the amount you're paying should make sense. Mistakes happen, and if you're being charged more than you think you should be, go to the front desk and ask them to explain the extra charges. It's better to be safe than sorry.
Does the Flamingo Hotel Have Check Out Kiosks?
In recent years, many hotels have sought to automate their payment processes with kiosks. But does the Flamingo Hotel have them?
The Flamingo Hotel has check-out kiosks by the front desk registration area. You can use them to both check in and check out of the hotel, as well as print an itemized list of the charges you've incurred during your stay.
Unfortunately, these kiosks can't do everything. If there's an error in your bill, you'll still need to return to the front desk to get it sorted. The same is true if you checked in with one credit card but want to pay your check-out fees with another.
However, the check-out kiosks are still an excellent tool for avoiding wait times as you enter or leave the Flamingo Las Vegas hotel.
Where Can You Pay for Parking at the Flamingo Hotel?
Additional fees, such as parking fees, are an unavoidable part of many Las Vegas hotel stays. As a visitor, you can pay for parking at the Flamingo Hotel at the kiosk near the parking area's exit gate. When you arrived, you purchased a ticket that keeps track of how long you've stayed and any additional charges, so you can slide it into the machine and pay for your parking.
If you've been staying in a room at Flamingo, you won't need to do this. Parking charges for Flamingo hotel guests are automatically added to your room bill and are paid for when checking out.
If you want to know more about parking at or around the Flamingo Hotel, including whether there's free parking nearby, check out my article on the subject.
Are There Additional Fees for Staying at the Flamingo Hotel?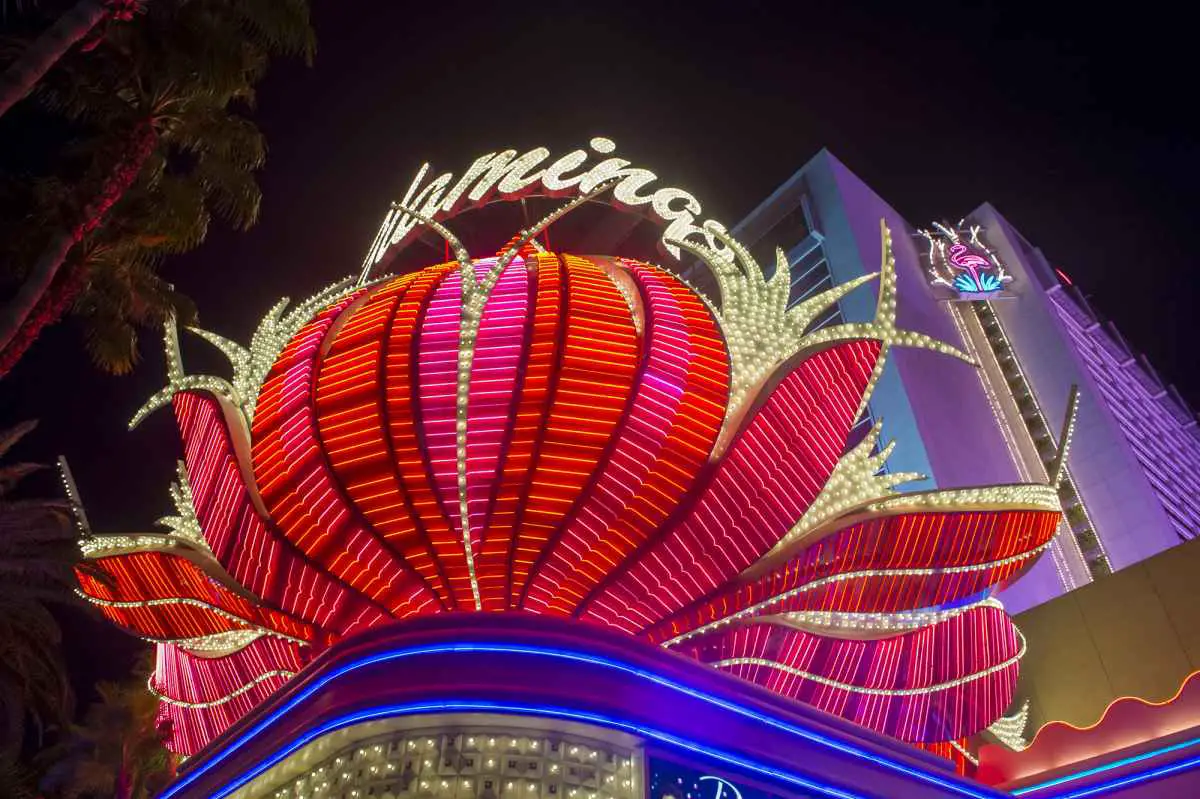 There are additional fees for staying at the Flamingo Hotel, such as a resort fee for internet access, a breakfast fee, a pet fee, a crib fee, and a rollaway bed fee. The highest of these fees is the pet fee at $100, but if you're not careful, the hotel could nickel-and-dime you out of even more money than you're already paying.
Here's a brief breakdown of these fees and what they amount to:
Flamingo Fees
Fee Description
Cost
Security Deposit
No Benefits
(Proof of Intent)
$50.00 per night
Resort Fee
Fitness Center Access Internet AccessLocal Phone Calls
$45.29 per night
Breakfast Fee
Breakfast for 2 people(Coffee Cart)
Up to $9
In-Room Wireless Internet Fee
In-Room Wifi Access is included in
the resort fee for two devices.
Additional devices will cost more.
$14.99 each day
Self-Parking Fee
Forgo the valet service, and park by yourself
$18.00 each day
Pet Fee
In-room pet privileges
$100 per room, each day(Service animals are exempt from this fee)
Crib Fee
Access to a crib or to a small infant bed
$30 each day
Rollaway Bed Fee
Access to cots,
or other additional beds
$30 each day
One more fee to be aware of is the mini-bar fee. The mini-bars in Flamingo's rooms are stocked with snacks and drinks. If you consume any of these, the cost will be added to your hotel bill and payable upon check out.
These are the most common fees that people run into at the Flamingo Hotel. However, this list may not be complete. Before accepting any services at a hotel, always ask if it will incur an additional fee.
Recommended: If you're heading to the Las Vegas airport after leaving the Flamingo, be sure to check out my article here to learn about all the things you can do while waiting for your flight.
Is There a Fee for Checking Out of the Flamingo Hotel Late?
There's a fee for checking out late at the Flamingo Hotel. You may check out before 1:00 p.m. free of charge, but after that, the hotel will charge you another half-day because you checked out too late. How much you'll have to pay depends on the cost of your room.
So, if you can manage, it's best to check out of the hotel on time to save money.
Find the best deals on Flamingo rooms and save big with TripAdvisor!
Do You Have To Check Out of the Flamingo Hotel – Conclusion
You must check out of the Flamingo Hotel, but you can avoid lines by doing so online or at a kiosk.
Be careful to read your bill thoroughly before checking out of the hotel in order to catch any billing problems up front before you pay.