Flamingo Las Vegas Parking Fees in 2023 + Free Parking Nearby
(This article may contain affiliate links. If you click through and make a purchase, we will receive a small commission at no additional cost to you. )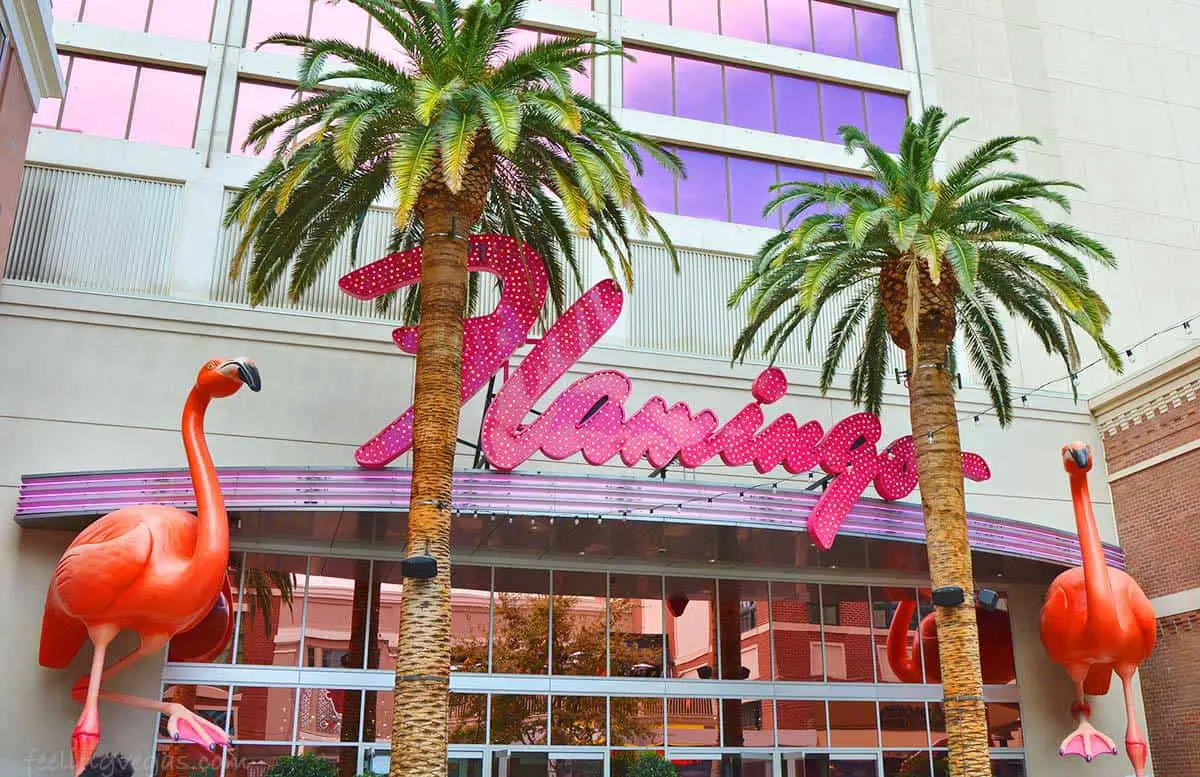 The Flaming Hotel and Casino is the oldest hotel on the Las Vegas Strip, but that doesn't mean it's exempt from the recent parking fees found around town. As most Las Vegas hotels now charge for parking in their lots, you should always consider the parking rates when booking a room or planning to visit a property on the Vegas Strip.
Compare and save! Check current room rates at Flamingo (TripAdvisor)
Self-parking Rates at Flamingo Las Vegas
Monday thru Thursday, the self-parking rates at Flamingo are as follows:
| Hours Self-Parked (Mon-Thurs) | Parking Cost |
| --- | --- |
| 1st Hour | Free |
| 1 – 3 Hours | $15 |
| 3 – 24 Hours | $18 |
| Over 24 Hours | $18 a day or part thereof |
| Flamingo Hotel Guests – 24 Hours | $18 |
| Nevada Residents (first 3 hours) | Free |
Friday thru Sunday, the Flamingo's self-parking rates go up a bit and are as follows:
| Hours Self-Parked (Fri-Sun) | Parking Cost |
| --- | --- |
| 1st Hour | Free |
| 1 – 24 Hours | $23 |
| Over 24 Hours | $23 a day or part thereof |
| Flamingo Hotel Guest | $18 |
| Nevada Residents (first 3 hours) | Free |
Valet parking is also available, as well.
Valet Parking Rates at Flamingo Las Vegas
Monday – Wednesday – $36
Thursday – Sunday – $40
Despite the listed prices, you can still save quite a bit of money on parking fees. Find out all of the best tips and advice below!
The Flamingo Las Vegas
The Flamingo (wikipedia) is a glowing set of four buildings with an incredibly beautiful swimming pool for both guests and non-guests to enjoy.
(You can find out about all the amazing hotel pools you can enjoy even if you're not a guest of that property in our article here).
It's one of the easiest hotels to spot from the Strip since it has vibrant pink neon lights in the shape of flamingo feathers in front of it!

Towering 28 stories tall, this hotel is quite the spectacle. It's well-known for having a tropical paradise like atmosphere in the middle of the desert.
With millions of visitors exploring Vegas every year, it's no wonder that parking prices have been increased time and time again.

When you visit The Flamingo (vegas.com), it's important to know that they offer both self-parking as well as valet parking. Let's check out the best options and prices below.
Self-Parking at the Flamingo Las Vegas (What You Need to Know)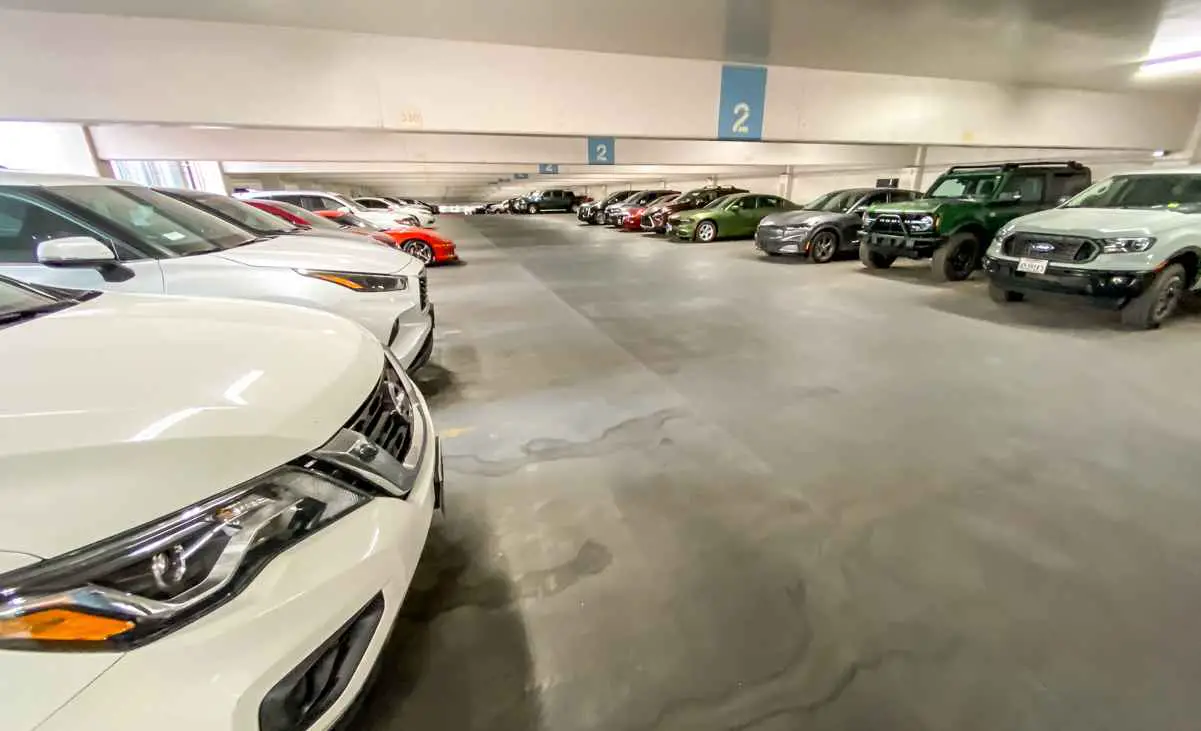 If you decide to park at the Flamingo, you won't have to pay for the first hour. That's right; you can use the space as a quick stop if you want to explore the area.

However, if you think you're going to run in and out in less than an hour, I wish you luck with that! You're much more likely going to get pulled into the stunning atmosphere of this beautiful hotel, so you might want to consider parking for a bit longer.

As stated above, here again are the prices that you can expect for self-parking at the Flamingo, depending on whether it's a weekday or a weekend:
Weekday (Mon – Thurs) Self-Park at Flamingo
1st Hour – Free
1 – 3 Hours – $15
4 – 24 Hours – $18
Every 24 hours after or part thereof – $15
Hotel guests – $18 a day
Weekend (Fri – Sun) Self-Park at Flamingo
1st Hour – Free
1 – 24 Hours – $23
Every 24 hours after or part thereof – $23
Hotel guests – $18 a day
Pretty much every person who parks at the Flamingo will have to pay the parking fee. We're almost to the part where you get to learn how to spend $0.00, though, so stick around!
The Self-Parking Garage at the Flamingo
The parking facility at the Flamingo is a multi-storied structure located conveniently next to the casino floor and near to the Flamingo's pool complex.
The official address of the casino is 3555 Las Vegas Blvd S Luxor, Las Vegas, NV 89109, United States.
However, if you intend to park in the Flamingo self-parking lot, you can find it more easily by following the directions on google maps here.
Just tap the link above on your phone for simple navigation instructions from wherever you're located. Once you arrive, just look for the signs pointing to the self-parking garage.
If you have free parking through your Caesar's Rewards program (which we'll get into in a bit), you'll need to have the card present with you when you enter the garage.

The pricing fees for parking are always subject to change, which means that you should always keep an eye on them or call the Flamingo at 702-733-3111 to check the most current prices. Once you park, be sure to keep your parking stub with you.
Tips for Self-Parking at Flamingo
If you're staying as a guest at the Flamingo in Las Vegas, you'll have the parking payments tacked onto the same credit card that you use for your room bill. Keep this in mind when you're planning a budget for your lodging. It'll often be added to the total and you'll pay for parking for the entirety of your stay when you check out of your room.
When there are local events near the Flamingo (including holidays, festivals, and so on), you should expect higher rates. Since they're always subject to change, the company can do so without warning.
Don't lose the parking ticket you got from the kiosk, you will be charged much more than what it would have cost to park otherwise. Place your ticket in your wallet/purse to ensure it always stays with you. 
Parking garages in Las Vegas are generally very safe, but always keep your belongings tucked away if they're not on you. Purses, backpacks, and other valuables need to be in the truck of your car or somewhere out of sight.
How to Get Free Parking at the Flamingo
Although the parking garage fees might be a bit expensive, there's a way to park at the Flamingo for free. As Flamingo is owned by Caesars Entertainment, the Caesars Rewards program offers several different tiers that allow customers to park for free, depending on the rewards level they've achieved.
The four main memberships levels of the Caesars reward programs are as follows:
Gold Rewards (entry-level tier does not include free parking)
Platinum Rewards
Diamond Rewards
Seven Stars Rewards
So the Platinum, Diamond, and Seven Stars levels receive both free self and valet parking. Unless you're a known high roller, you'll generally start at the Gold level and earn points towards higher levels as you play, eat and shop in any of the Caesars properties.
If you're not a part of any of these reward levels, you'll have to pay the fees mentioned above when you park at the Flamingo Las Vegas.
You should also note that the self-parking area is located at the bottom levels of the garage since the top levels of the structure are exclusively for valet parking.
How to Pay for Parking at Flamingo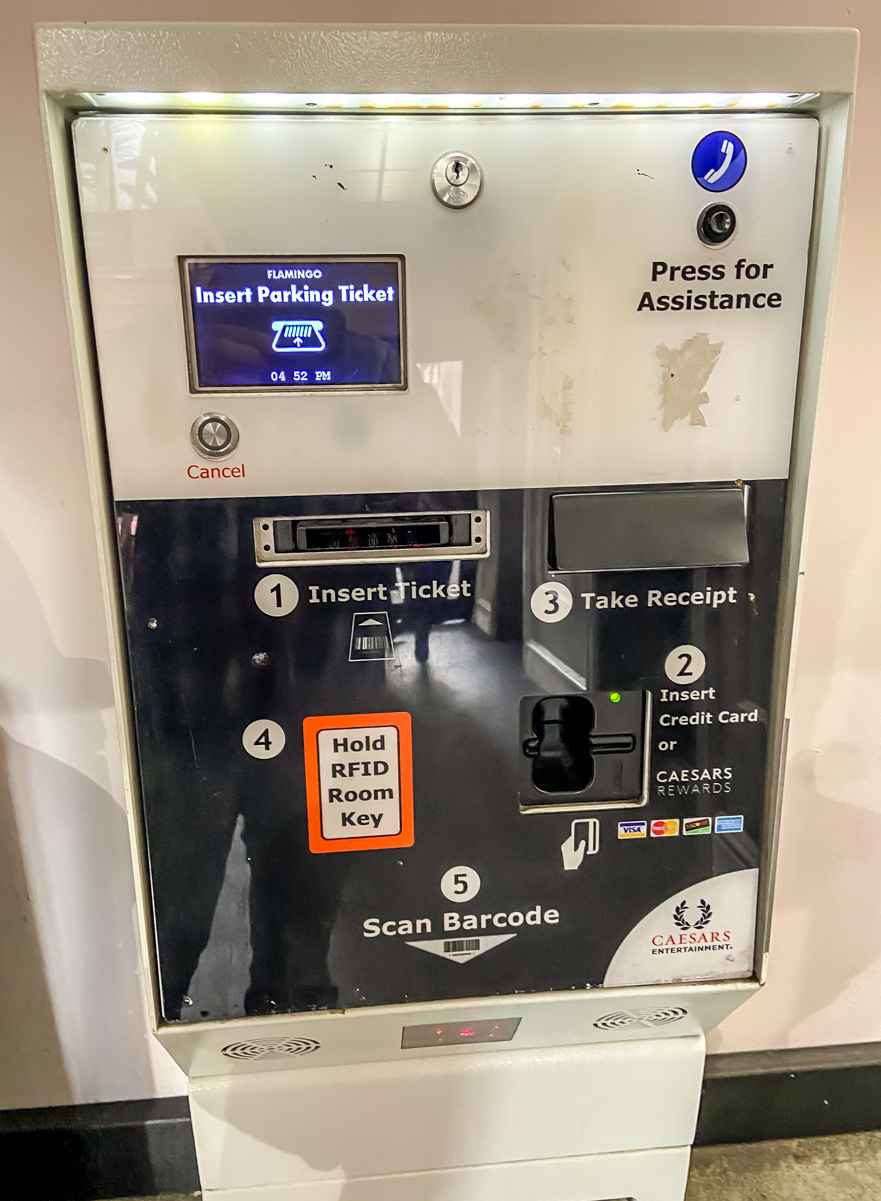 Paying for your parking at the Flaming garage is actually very quick and easy. Before heading to your car, you'll want to find a payment kiosk like the one pictured above. You can find them near most of the pedestrian entrances into the garage, either from the resort itself or from out on the street.
Simply slide the ticket you got when you entered the Flamingo garage into the payment machine, and it will notify you how much you owe. You can pay with a credit or debit card right then and there. 
Once you've paid, you'll use the ticket again at the parking garage's exit gate as you leave in your car.
That's all there is to it! 
Valet Parking at Flamingo Las Vegas (Info and Cost)
It should be no surprise that valet parking costs more than self-parking. After all, you're using a service to have a premium parking spot without having to do anything! It's quite a deal, but you can't forget to tip the driver before and after they do the job for you.
(See our complete Las Vegas Tipping Guide on our website here).
Since the valet area is much more sought-after, you'll find that the prices are even higher due to the influx of customers. When you're a regular non-Rewards member guest, you'll have to pay the full cost of all valet parking fees.
Here are the current prices to have a valet park for you at the Flamingo in Las Vegas:
Valet Parking Rates at Flamingo
Please note that Valet parking is only available at Flamingo from 10 AM Monday thru 11 AM Monday morning, and the rates are as follows:
Monday – Wednesday – $36
Thursday – Sunday – $40
During Events – $42
Again, valet parking is free if you've built up enough points on your Caesars Rewards card to reach Platinum or higher.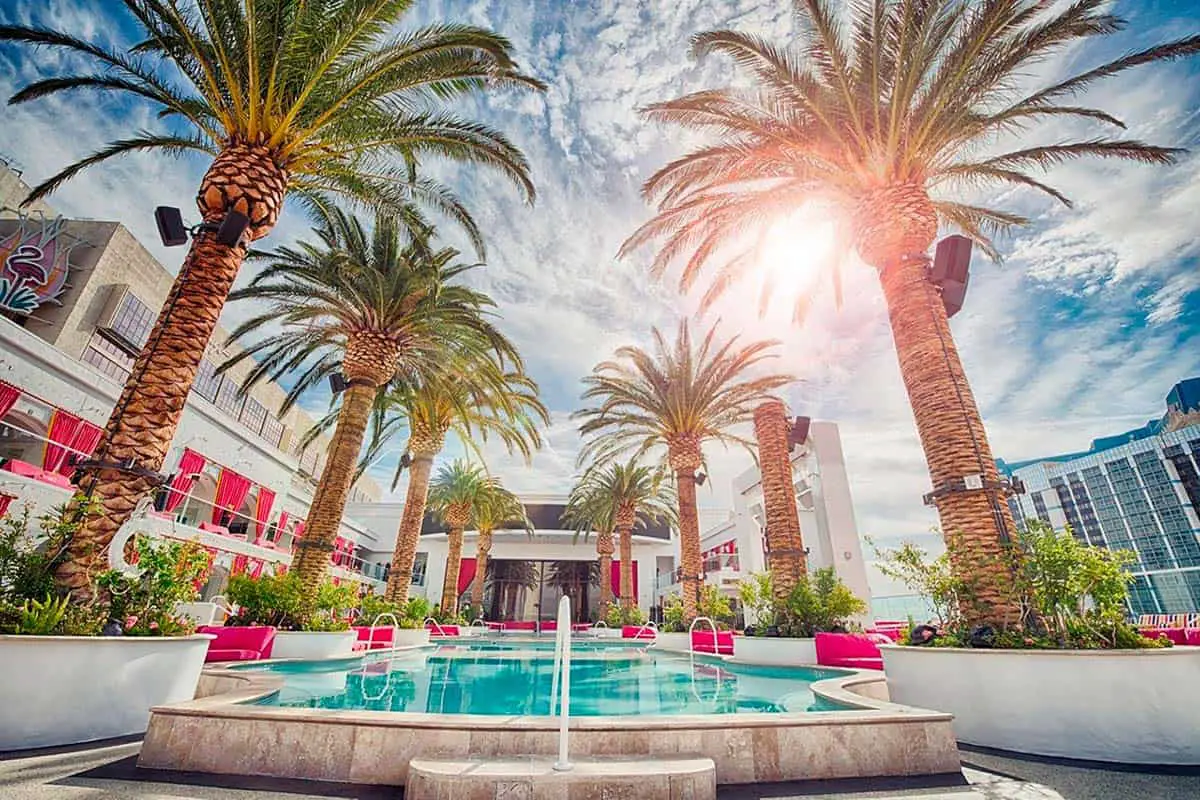 Free Parking Near Flamingo Las Vegas
When we want to head to a casino that has a parking fee, we look to see if one of the casinos that we know offers free parking is located nearby.
Fortunately, there are a few casinos that offer free parking on the Strip located somewhat close to the Flamingo. If it's not blisteringly hot outside and you don't mind the 15-20 minute walk to save some money, it's definitely an option.
You'll find complimentary parking nearby at:
Also, check out our article here about where to find free parking all up and down the Las Vegas Strip. We've created a list of the free parking areas on the Strip and included a map to make things easy.
Find the best deals on Flamingo rooms and save big with TripAdvisor!
Flamingo Las Vegas Parking Rates – Conclusion
The parking fees at the Flamingo might seem a bit overboard, but they're actually pretty average compared to other hotels in Vegas that charge for parking.
If you want to avoid the fees and still enjoy premium parking, don't forget to check out Caesars Rewards. You can pick up a free card at the guest services desk inside any Caesars Entertainment property.
Also, if you're considering staying at the Flamingo while you're here, you'll want to check out the current room rates at the Flamingo Hotel & Casino. (vegas.com)

With so many fun activities nearby and a chance to stay at the oldest hotel on the Strip, a small parking fee is well worth it for the thousands of people who love this classic desert oasis!
Should you stay on the Strip in Las Vegas? Find out in our article here.

Parking Rates at These Popular Las Vegas Hotels & Casinos