You can't beat the location of Bally's Hotel and Casino, which has been a staple of the Las Vegas Strip for decades, including its time under its previous name of MGM Grand Hotel and Casino. Today, it's a popular destination and one of the more affordable spots despite its prime location on the Vegas Strip. But where do you park, and how much should you expect to pay for this privilege?
To self-park at Bally's, is free for the first hour. If you're a hotel guest or a qualified rewards member, parking will always be free for you. Otherwise, expect to pay $12 for up to three hours or $15 for up to 24 hours of parking. Valet parking will cost between $30-$36.
In the rest of this article, we'll take a closer look at these parking fees as well as some exceptions to the rule. I also have a few tips for you when it comes to parking at Bally's, as well as what you can expect to find and enjoy inside this Las Vegas hotel and casino.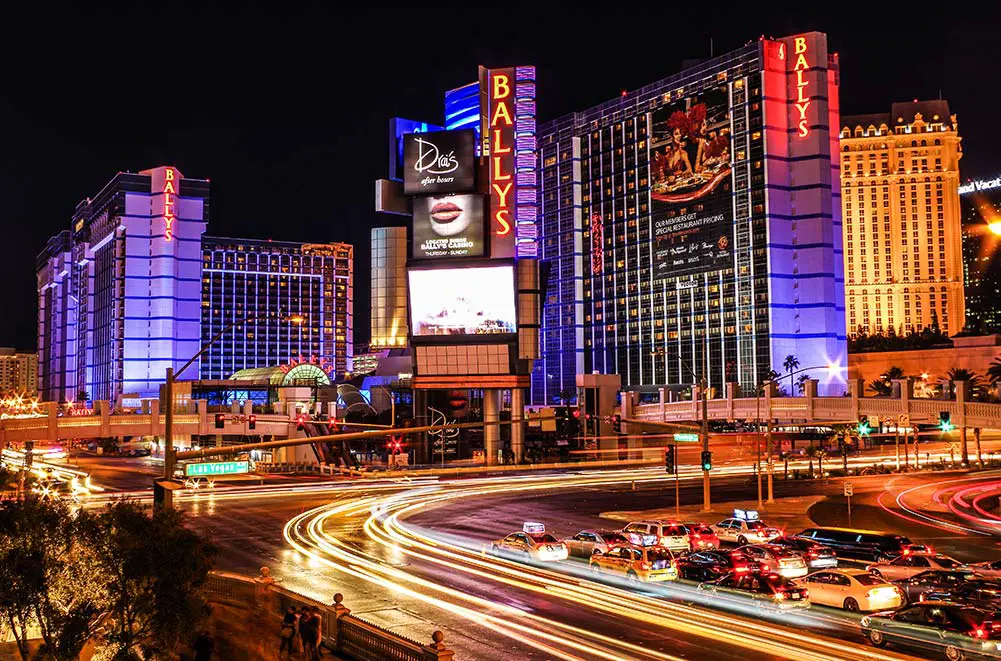 (This article may contain affiliate links and we may earn a commission if you make a purchase.)
Fees For Bally's Self-Parking
If you're planning to self-park at Bally's when in Vegas, you can expect to pay different amounts depending on various factors. These factors can include the length of stay, your status as a hotel guest, a rewards member, or a local NV resident. This type of parking is available 24 hours a day, 7 days a week.
| | |
| --- | --- |
| 1st Hour | Free |
| 1 – 3 Hours | $12 (free with Nevada Drivers License) |
| 3 – 24 Hours | $15 |
| Over 24 Hours | $15 each additional day (or part of a day) |
Let's take a detailed look at the rates for different lengths of time:
Free: If you're a registered hotel guest or a qualified Caesars Reward member, you don't need to pay for this type of parking at the casino. You must have a Platinum, Diamond, or Seven Star Reward Level to take advantage of free parking.
1 Hour Free: Anyone visiting Bally's is entitled to one free hour of parking. After the first hour, parking rates apply.
3 Hours Free: If you hold a valid Nevada Driver's License, you can park for free for the first three hours. This local discount expires after this time, and you'll be subject to regular parking fees for any time after.
Under 3 hours: If you stay less than three hours as a regular visitor, you'll pay $12 in parking fees.
3 hours to 24 hours: Any amount of time between 3 and 24 hours will result in a $15 parking fee.
Longer than 24 hours: If you stay longer than 24 hours, whether it be 25 hours or 47 hours, you'll need to pay an additional $15. Expect to pay $15 for each 24 hour period (or fraction thereof) while parked at Bally's.
Event parking: If you plan to park at Bally's when there is a special event, you can expect to pay more for parking, but it's still free for hotel guests and qualified reward members. For other visitors, you can stay up to 24 hours for the flat rate of $25. There are no lower prices for shorter stays during special events.
Bally's Valet Parking Fees
If you're looking for a full-service experience, you might be interested in using the valet parking option at Bally's. This service is available from 3 pm on Thursday until 12 pm on Monday.
| | |
| --- | --- |
| 1 – 4 Hours | $30 |
| 4 – 24 Hours | $36 |
Let's take a look at the valet parking fee for this more upscale parking option:
If you spend less than 4 hours in the casino, the valet fee will be $30.
If you spend between 4 and 24 hours in the casino, your fee is now $36.
Hotel guests must pay the same valet fees if they want to use this service.
For the complete and up-to-date pricing breakdown provided by Caesars Entertainment, you can check out this link.
Parking Tips for Bally's Las Vegas
Now that you know the parking rates and fees, let's take a look at a few additional explanations of the parking ins and outs at Bally's Las Vegas hotel.
Bally's parking garage is quite large, as it spans seven stories. It also provides parking for Bally's sister casino, Paris Las Vegas. Both of these casinos are owned by Caesars Entertainment.
Since Bally's is part of a larger network of casinos and resorts owned by Caesars, guests at Bally's can take advantage of some added benefits. As a hotel guest at Bally's, you can park for free onsite as well as at other Caesars-owned Vegas properties.
Caesars Properties in Las Vegas
Harrah's Las Vegas
Rio All-Suite Hotel & Casino
Planet Hollywood
The Cromwell
LINQ Hotel & Casino
Nobu Las Vegas
You will need your hotel room key on hand to take advantage of this special benefit at the other parking sites.
Does Bally's Las Vegas Have Free Parking?
As previously mentioned, Bally's Las Vegas has free parking available if you meet one of the following conditions.
If you're parking for one hour or less
If you're a guest of the hotel
If you are a Caesars Reward Member at the Platinum, Diamond, or Seven Star level
Beyond that, you will need to use one of the paid parking options when parking in Bally's parking garage.
What To Do at Bally's Las Vegas
Once you pay your parking fees, you may be wondering what's in store for you inside Bally's. From shows and entertainment to shopping and a sprawling casino, you can find everything you need in Bally's for the full Las Vegas experience.
Let's discuss some of the attractions and activities you can take part in during your stay.
Enjoy the View
When it comes to the hotel, you can get rooms with great views in Bally's 26-story towers.
With nearly 3,000 rooms in the hotel, you're sure to get one that gives you what you're looking for on your Vegas vacation. For the best views, make sure to look out the windows at night. When the Las Vegas Blvd. (aka the Strip) is all lit up, you are in for the quintessential view of Las Vegas.
Check here for Bally's current room rate
Visit the Casino
The Bally's casino itself spans more than 68,000 sq ft (over 6,000 sq m). It has everything you need, from over a thousand slot machines to dozens of table games. Whether your game is Blackjack, Roulette, or Craps, you're sure to find a table waiting for you at the Bally's casino.
Explore Famous Attractions
Below the casino, you can find a shopping level that holds several famous attractions like the Real Bodies Exhibit and the Twilight Zone Mini-Golf Course. There are plenty of famous shows and entertainment options as well.
Whether you want dancing, laughs, or magic, you can find it in Bally's entertainment lineup.
Feast at a Restaurant
There are plenty of famous restaurants to enjoy inside of Bally's as well. You'll find a food court with several favorite fast food options for a quick bite, or if you want more upscale options, you'll find them in this same location.
BLT Steak is one of the most well-known upscale dining options inside Bally's. They have a decadent brunch option that is legendary in Las Vegas and can be visited for other indulgent meals as well. However, you will need to make reservations if you want to dine here.
Visit Nearby Places
Bally's is attached to its sister resort, Paris Las Vegas. These two are connected internally through a beautifully designed atrium and hallway. You can easily wander from one casino to the other.
Outside, you can find an open-air shopping center known as the Grand Bazaar Shops.
In the Grand Bazaar Shops, you can find plenty to eat, drink and buy. From fried chicken to doner kebab to ice cream, you can satisfy just about any urge while wandering the Grand Bazaar Shops.
Hit the Gym
While it might not be what you think of when you think of Vegas vacation, Bally's also has a fitness center available for its guests. If you're looking to integrate a little fitness into your time in Vegas, you can do so here.
You can also find a large pool and tennis courts for your enjoyment and fitness needs.
For a more in-depth tour of Bally's hotel and casino, you can check out this video on Youtube from Miles to Memories:
Final Thoughts
If you're staying at Bally's as a guest, you can enjoy your free parking privileges during your stay. If you just wish to visit this staple of the Vegas strip, you'll be subject to parking fees if you are planning to stay longer than an hour.
The fees will cost you between $12-15, depending on the amount of time spent.
Special events will cost more. Bally's has a flat rate of $25 for any special event without the option of hourly pricing. For regular valet service, expect to pay between $30-36, even if you're a hotel guest.
More Las Vegas Parking Related Articles