The MGM Grand Las Vegas is a world-renowned casino and hotel boasting many entertainment options for visitors, including the world-famous MGM Grand Garden Arena. The MGM Grand property plays host to millions of visitors each year, and the majority of these visitors arrive by car, making the cost of parking at the MGM Grand an important issue.
So how much is parking at the MGM Grand?
Self-Parking Fees at MGM Grand Las Vegas:
1st Hour – Free
1 – 4 Hours – $15
4 – 24 Hours – $18
Every additional day – $18
At the MGM Grand in Las Vegas, visitors and hotel guests can park free of charge for one hour only, after which fees ranging from $15-$18 for self-parking and $18-$30 for valet parking will apply.
Keep reading to look at the various parking fees at the MGM Grand for self-parking and valet, plus I'll also include some tips and ways to park for free at the MGM Grand.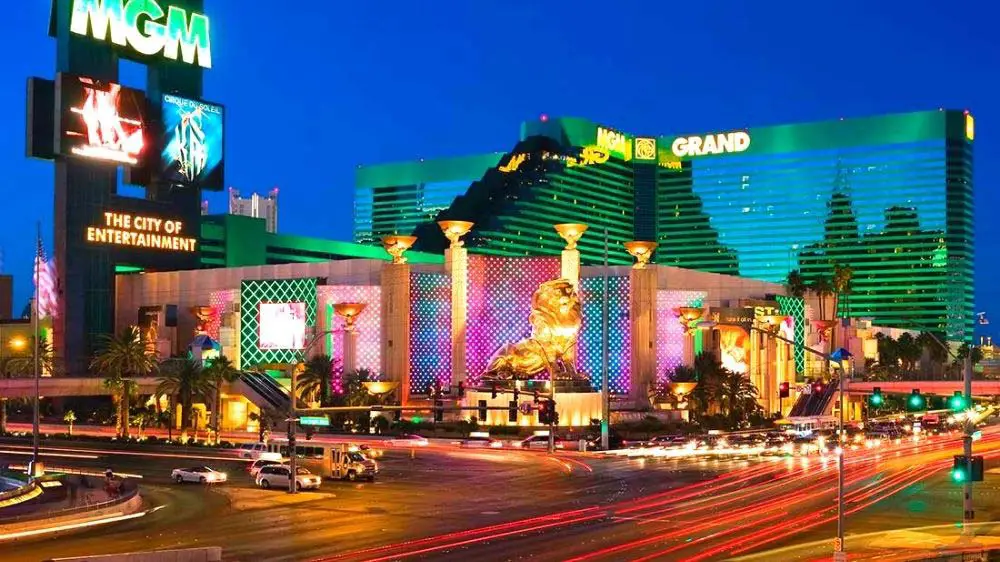 MGM Grand Las Vegas
Las Vegas is not known for its subtlety, and that is certainly the case for the MGM Grand. With 6,852 rooms and suites, it is the largest single hotel in the United States and one of the top five largest hotel complexes in the world. When it opened in 1993, it was officially the world's largest hotel property.
With 30 floors, the main building is a sight to behold. The grounds include five outdoor pools, a lazy river, and waterfalls. There are also various shops and restaurants inside and an enormous casino, which covers over 171,000 square feet, making it one of the largest gaming floors in Vegas.
One of the hotel's main selling points is the MGM Grand Garden Arena. It's a 17,000 seat multi-purpose arena that plays host to music concerts, entertainers, boxing, and UFC fights. Prominent names like Floyd Mayweather, Manny Pacquiao, and Conor McGregor have all fought there.
The hotel also includes a comedy club, the David Copperfield Theatre, and a nightclub called Hakkasan. The MGM Grand connects to another MGM-owned property (New York-New York Hotel & Casino) via a pedestrian sky bridge that takes you to the other side of the Strip.
(You can check room rates at MGM Grand here)
Parking Rates at MGM Grand Las Vegas (Self-Parking)
In 2016, the MGM Grand broke from tradition and decided to charge all of its customers for parking, including hotel guests. So, nowadays, those staying at the MGM Grand need to pay the same for parking as those guests just visiting for the day or evening.
Again, these are the fees for self-parking at the MGM Grand Las Vegas:
| # of Hours Parked | Parking Rate |
| --- | --- |
| 1st Hour (0 – 60 minutes) | Free |
| 1 – 4 Hours | $15 |
| 4 – 24 Hours | $18 |
| Every 24 hours or longer | $18 |
(Parking rates for guests at MGM Grand.)
However, those with Pearl, Gold, Platinum, or Noir MGM Rewards membership cards will receive self-parking at no extra cost at the MGM Grand and other MGM-owned properties. Those at the Sapphire level (the beginning level) will still need to pay for self-parking.
In addition, Nevada residents can get their first three hours of self-parking for free, provided they can show a relevant Nevada ID.
This also means that those visiting the Garden Arena for a show, for example, will also need to pay the appropriate fees should they wish to park at the MGM Grand.
Given the size of the hotel and everything to see and do there, it's unlikely that a visitor would be in and out within one hour. If you can manage this, however, you won't have to pay for self-parking.
The parking costs at the MGM Grand might seem on the steep side, but they are actually cheaper than the parking rates at hotels like Caesars Palace and Bellagio.
How Self-Parking Works at MGM Grand Las Vegas?
The parking garage at MGM Grand is located just off Tropicana Avenue (google maps).
Hotel guests can use the keycard for their room to enter the parking garage. The parking fee will then be added automatically to their room bill, to be paid when checking out. 
MGM Rewards player Club cardholders should use that card when entering the parking garage They then insert this card at the exit gate upon leaving the parking facility to receive their free parking.
Everyone else will be given a ticket upon entry to the garage. When it's time to leave, visitors will need to present their ticket at a self-service kiosk to pay before getting in their car. Once they've paid the parking fee, they'll be able to use the ticket again to exit the parking garage.
Tip: Be sure to keep your parking ticket on you once you exit your car, as you will need it to leave again. If you lose the ticket, MGM Grand parking staff will attempt to work out how long your car was parked using video surveillance. However, they may also just charge you a flat lost-ticket rate of $30 per day, which is significantly more than the standard daily parking rates.
A Way To Get Free Parking at MGM Grand
Interestingly enough, there is a way to get free parking at MGM Grand and other MGM-owned properties every day. The way you can do this is by having the MGM Rewards Mastercard. Having the MGM Mastercard will automatically upgrade your MGM Rewards players club card to the Pearl level which will entitle you to free parking at all MGM properties.
The Players Club card is free, and the MGM Rewards Mastercard is a no annual fee credit card. If you want to learn more about how this works and the available features of each program, take a look at our article How to Get Free Parking at MGM, where we explain everything in detail. It's really quite simple!
Valet Parking Rates at MGM Grand Las Vegas
If you'd prefer to have your car parked for you at MGM Grand, you'll want to take advantage of their valet parking. You'll receive a numbered ticket when you hand your car over. To retrieve your vehicle, hand this ticket in at the valet stand, and a valet will bring it around for you.
MGM Grand Valet Parking Rates (Monday – Thursday):
0 – 2 Hours – $18
2 – 4 Hours – $22
4 – 24 Hours – $26
Each additional day – $26
MGM Grand Valet Parking Rates (Friday – Sunday):
0 – 2 Hours – $20
2 – 4 Hours – $24
4 – 24 Hours – $30
Each additional day – $30
The only people who receive complimentary valet parking are those with Gold, Platinum, or Noir level MGM Rewards players cards, as well as high rollers and semi-high rollers.
How Valet Parking Works at MGM Grand Las Vegas?
When you hand in your ticket to get your car back from the valet, you'll be presented with the parking bill for your stay. The bill will need to be paid before your vehicle is brought to you.
For those staying at the hotel, valet rates are charged to their room, so they need to present their room keycard when exiting the parking facility. For visitors not staying at the hotel, they'll need to pay at either the valet desk itself or use a self-service kiosk. 
Tipping isn't mandatory in Las Vegas but, in all honesty, it is very much appreciated. So, giving your valet a few dollars in cash is always a good idea.
The valet will also usually organize a porter to bring your bags to your room if you're a hotel guest. There's no extra charge for this, but you should also tip the porter separately.
If you're a hotel guest and will be leaving at a particularly busy time, you can call the valet service ahead of time from your room to ask them to bring your car around. This can take anywhere between 5 and 15 minutes, depending on how busy things are, meaning your car should be ready and waiting for you when you get there.
Visitors will also have to pay each time they have their car parked by a valet. This applies no matter the timeframe, so if you use the service numerous times in one day, you'll need to pay the rates each time.
Similar to the self-parking section Gold, Platinum, or Noir level MGM Rewards player cardholders just need to present their membership card, and a valet will get their car.
There is one main valet parking section at the MGM Grand, which is clearly marked and is located by the main entrance. When there are special events at the MGM Grand Garden Arena, such as a big boxing match or a concert, an extra valet service becomes available on the north side of the hotel. Though, confusingly, it will be called the 'East Valet'.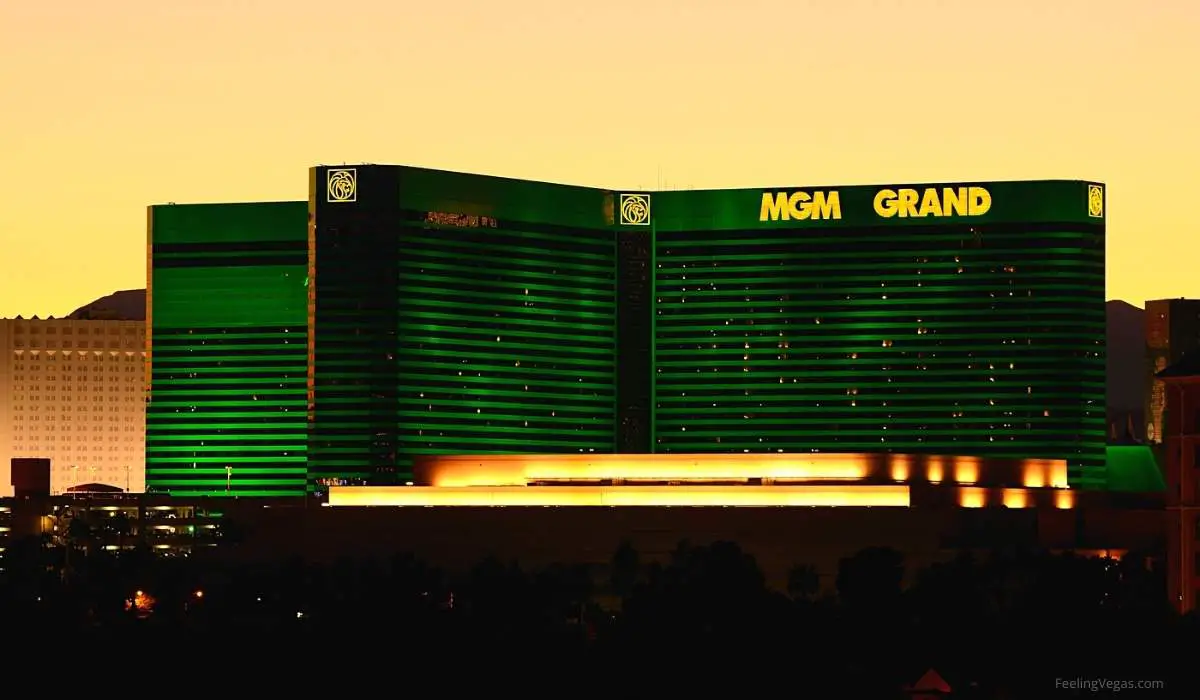 Is There Free Parking Near the MGM Grand?
If you don't mind walking a short distance to access free parking while visiting the MGM Grand, the Tropicana – also owned by MGM – does actually offer free parking. It can be found just across the road to the south of the MGM Grand and can be easily accessed by a walking bridge connecting the two venues. 
Note: Free parking at the Tropicana is available unless there is an event happening at the nearby T-Mobile Arena. In this case, there will be a fee for parking. If the Tropicana lot is unavailable, the Shoppes at Mandalay Place – located further south on Las Vegas Boulevard – also allows visitors to self-park for free, even if they are not visiting the shops or staying at the Mandalay Bay, but you can only use this lot during normal operating hours (not overnight).
Final Thoughts on Parking Costs at MGM Grand
As one of the largest hotels in Las Vegas, the MGM Grand is busy year-round, and its parking facilities can often get very crowded particularly when there is a big event going on at the Garden Arena.
The MGM Grand usually has enough space to provide parking for all of its many visitors with its large parking garage. The self-parking facility is easy to use and right next to the hotel complex. Plus, if you're an MGM Rewards member at the Pearl level or higher, it's free.
You can even shell out for valet parking to make things easier, which is also free for higher-level MGM Rewards members.
The MGM Grand is among the top spots to visit in Vegas, so hopefully, this parking guide will help make your experience a pleasant one and take some of the hassles out of finding a good parking spot.
Parking Rates at Other Las Vegas Hotels & Casinos
Source: