The Biggest Hotel in Las Vegas With the Most Rooms Is…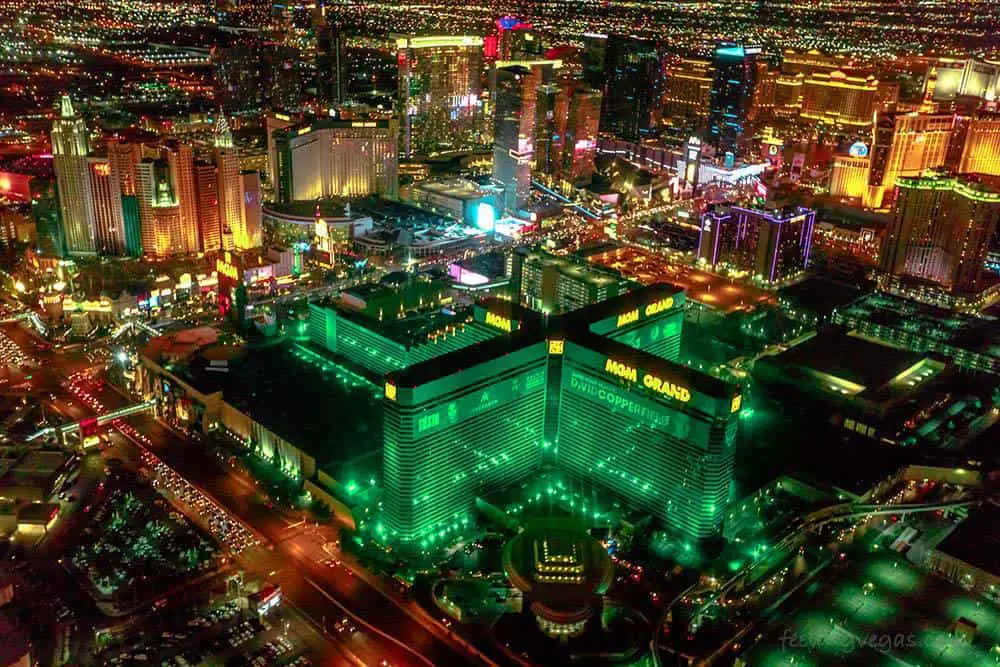 (This article may contain affiliate links, which means we might earn a small commission if you click and make a purchase. Thank you!)
With over 150,000 hotel rooms in Las Vegas, it's safe to say there is no lack of choice when it comes to finding a room. Hotel rooms in Vegas range from budget-friendly to the most luxurious rooms you'll find anywhere on the planet.
By learning which hotels in Las Vegas have the most rooms, you'll get a good idea as to what areas of the Strip provide the best locations for your next visit. The biggest hotels in Las Vegas are often the ones with the most exciting venues and attractions nearby.
So what is the biggest hotel with the most rooms in Las Vegas?
The MGM Grand is the single biggest hotel in Las Vegas with 6,852 guest rooms and 171,500 square feet of casino gaming floor. The Venetian and Palazzo combined have 7,000 rooms, but they are technically different hotels connected by the Grand Canal. This makes the MGM Grand the largest hotel in Las Vegas.
The MGM Grand was opened in 1993 with just over 5,000 rooms. Over the years, they have modified, expanded, improved, and turned this already impressive hotel into Vegas' largest and arguably one of its most famous hotels on the Strip.
Compare and save! Check current MGM Grand room rates at TripAdvisor.
The Number of Rooms at the MGM Grand
In a hotel that nears 7,000 rooms, you can be fairly certain that you will be able to find the perfect room for your needs.
The MGM Grand offers a wide variety of room sizes, styles, and locations that all make a difference when it comes to convenience, price and included amenities.
With a hotel this large, where your room is located in the hotel, can be just as important as the size and style of the room.
Most of the single rooms at the MGM grand range from 350 to 450 square feet. But the sky is the limit in this luxury hotel where suites and lofts are also available. We'll talk more about those options in just a bit.
When it comes to room selection, it all comes down to the type of room and where it is located. With so many rooms, you have ample options for different views and specific locations or activities you'd like to be near.
For example, their West Wing King rooms are only steps from Las Vegas Boulevard and the Hakkasan Nightclub. But if you're more interested in a view of the Strip, the hotel has King and Queen rooms that look over the famous hustle and bustle of the Strip as well.
Check MGM Grand room rates here (TripAdvisor)
'Stay Well' Rooms & Suites at MGM Grand
Another room option in the massive MGM Grand is their Stay Well Rooms and Suites. These rooms are designed to create a sanctuary meant to help you to relax and recharge yourself.
These rooms are designed for travelers who know they are going to have a crazy schedule while they're in town and desire a room that helps them to unwind between activities.
All Stay Well rooms are equipped with health and wellness technology developed by Dr. Deepak Chopra and Delos, the Cleveland Clinic. They come in single rooms as well as suites.
Here are some of the amenities that set the Stay Well rooms apart from the other thousands of rooms in the hotel.
Circadian Lighting (to help reduce jet lag and minimize sleep disturbances)
Non-Toxic Cleaning Products and UV Lighting to Reduce Bacteria
Shower Infuser (reduces chlorine in the water)
Natural Memory Foam Mattresses
Air Purification System
Aromatherapy (using essential oils to create a calming atmosphere)
Private Registration
These rooms offer exclusivity, relaxation, and wellness options that help keep you energized for a busy day. Check Stay Well room rates here (Vegas.com)
Skylofts at the MGM Grand
The MGM Grand Skylofts offer a true home away from home experience with their massive loft-style rooms. There are 51 Skyloft rooms available, ranging from 1400 to 6000 square feet.
Each loft is still considered one room, although some have additional bedrooms. They offer one, two, and three-bedroom units.
These rooms are split level and offer different living spaces.
The two- and three-bedroom units have additional den space and media rooms, and additional bathrooms as well. These lofts make it easy for a large group to feel as if they've rented a house together. But they have the added convenience of hotel amenities and being right in the center of all the action on the Strip.
Skylofts have their own private concierge service that is separate from the MGM Grand. These services are available 24-hours per day.  In addition, they offer pre-arrival services to assist with any reservation needs for spa treatments or dining options.
The lofts all come equipped with different design elements and amenities that will suit anyone's needs whether they are traveling for work, ready to party, or taking in the city with their family.
Check Skyloft room rates here (Vegas.com)
The Mansion at MGM Grand
The Mansion is a beautifully designed oasis that will make you feel as if you have been transported to Tuscany for a few days in the Italian countryside.
There are 29 villas in The Mansion that offer between one and four bedrooms each. Each villa is considered one room or unit, even though, like Skylofts, there may be additional bedrooms within the unit.
The design and architecture are inspired by an 18th-century villa not far from Florence, Italy. They pride themselves on the luxurious experience offered and their exquisite attention to detail.
These 29 villas range from 2,400 square feet up to a staggering 12,000 square feet. If you're doing the math to see how many of your apartments could fit into one of these, you're not the only one!
Needles to say, the villas at The Mansion are the most private and exclusive rooms you can get at the MGM Grand and are only available to qualified (ie, rich and/or famous) guests. If you think you may qualify then reservations can be made by calling guest services at 877-225-2121.
(Find out How to Get Free Parking at all Las Vegas MGM Properties in our article here)
Other Big Hotels in Las Vegas with a Lot of Rooms
According to Statista, Las Vegas had 42.52 million visitors in 2019. So, it's no surprise that the MGM Grand isn't the only large hotel in the city.
Here are some of the other large hotels along the Las Vegas Strip to round things out.
The Venetian & Palazzo
Venetian: 4,034 rooms | Palazzo: 3,068 rooms |(combined 7,102 rooms)
120,000 square feet of gaming floor at the Venetian
Luxor Hotel and Casino
4,407 rooms
120,00 square feet of gaming floor
Check Luxor room rates (TripAdvisor)
Aria Resort and Casino
4,004 rooms
150,000 square feet of gaming floor
Check Aria room rates (TripAdvisor)
The Bellagio
3,993 rooms
156,00 square feet of gaming floor
Check Bellagio room rates (TripAdvisor)
Excalibur Hotel
3,981 rooms
100,000 square feet of gaming space
Check Excalibur room rates (TripAdvisor)
(source)
Some Say The Venetian and Palazzo Is The Largest Hotel
While the Venetian itself houses just over 4,000 rooms, the adjoining Palazzo adds another 3,000. The Venetian opened in 1999, and the Palazzo followed in 2007.
They are often referred to as being the same hotel because they are owned and operated by the same company and only separated by the Grand Canal Shoppes, which they are both attached to.
(You can find out more about the Grand Canal Shoppes in our article here "12 [AMAZING] Shopping Malls on the Las Vegas Strip!")
These signature towers have become staples in Las Vegas for tourists looking to party it up, business folks traveling for work, and families looking to take in the town.  They both have an Italian flair as well as all the comforts visitors to Vegas expect.
If you want a single room, you won't find one at The Palazzo as it's an all-suite hotel.  No other hotel on the Strip offers only suites. The suites start at 700 square feet and go all the way up to close to 8,000 square feet for their 4-bedroom units.
The enormity of both hotels combined makes them worthy contenders for the biggest hotels in Vegas.
So, depending on how you look at the Venetian and Palazzo, they could also be considered the largest when you combine their totals.
Because they are technically different structures, they often remain separate in calculations. But combined, they offer the most rooms and some of the most exclusively luxurious amenities.
(To find out the differences between The Venetian and The Palazzo hotels check out our article "Venetian or Palazzo in Las Vegas: How to Choose?")
Find the best room deals at MGM Grand and save big with TripAdvisor!
Conclusion
It's no small feat to be the largest hotel in a city that has this many visitors each year. The MGM Grand sprawls out amid the fun and excitement of the Las Vegas Strip, offering a variety of rooms and experiences within its walls.
The 6,852 rooms are all equipped with the finest of amenities and make the MGM Grand not only the largest hotel in Las Vegas but also one of the most luxurious.