Venetian or Palazzo in Las Vegas (How to Choose?)
(This article may contain affiliate links. If you click through and make a purchase, we will receive a small commission at no additional cost to you. )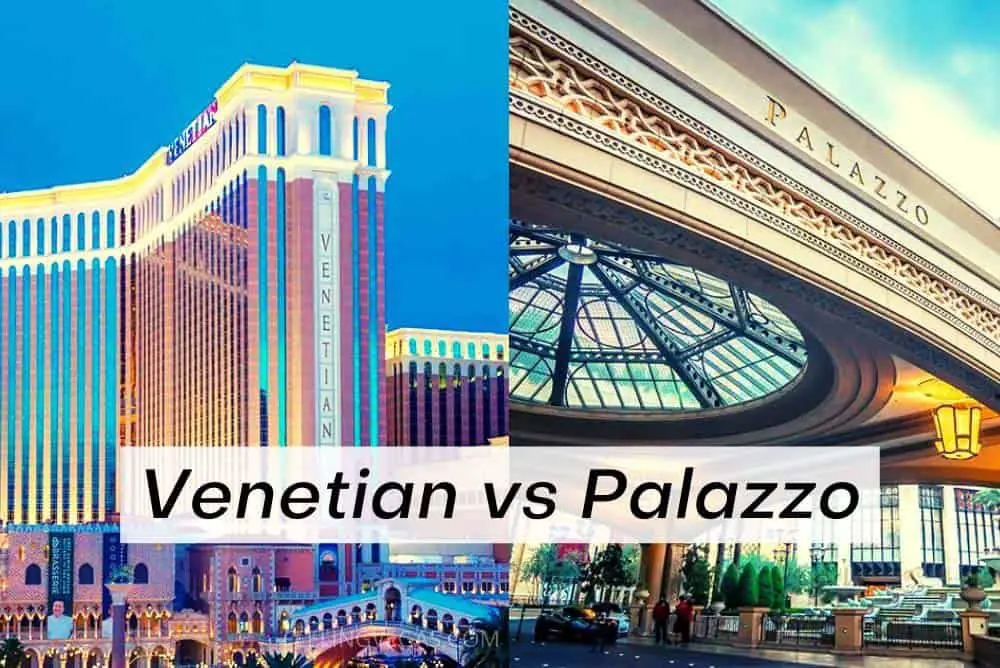 The Venetian and The Palazzo are two of the most popular hotels on the Las Vegas Strip. The resorts are both owned by VICI Properties and operated by Apollo Global Management. The two resorts are actually connected to one another and share many of their amenities.
Each hotel has earned a reputation for providing an excellent Las Vegas experience. But despite all that they have in common, there are some important differences to consider when booking your stay.
How to decide whether Venetian or Palazzo Las Vegas is better for you?
The Venetian
The Palazzo
Closer to the Strip
Quieter Property
Nearer to affordable
restaurants/food
Newer than Venetian
Tao Dayclub & Nightclub
Bigger Suites
Deciding which hotel is right for you depends on a number of factors. Do you prefer to be closer to the action or would you rather have someplace quiet to escape to? Do you spend your time by the pool, shopping, or on the casino floor? What's your idea of great nightlife? Will you be spending lots of time in your room or just long enough to grab a few z's?
Read on to learn what makes each hotel special.
The Venetian or The Palazzo – The Best Choice for You
If you've narrowed down your choices for your next stay in Las Vegas to the Venetian or the Palazzo, you're already doing well—no matter what your ultimate decision turns out to be.
When you consider how much they have in common and how easy it is to move back and forth between the properties, you're already setting yourself up to get the best of two pretty great worlds.
But even with all of their similarities and everything that they share, there are a lot of ways to compare the two resorts that reveal what makes each of them unique and special. When you take the time to consider the two of them on each of these levels, you will probably find that one or the other is more suited to your unique tastes and preferences.
If you believe that the little things can make a big difference, you'll want to know how the two spots compare when it comes to rooms, restaurants, gaming, nightlife, and more. If that's the case—you're in luck!
In this article, we'll compare the two resorts in each of those areas and a few more. By the end, you'll know everything you need to make the right choice for you.
In general, the Venetian resort has a reputation for being the busier, hipper, and more high-energy of the two resorts. In comparison, the Palazzo property is known to be a bit more low-key and laid-back for a crowd that enjoys a more luxurious experience. Read on to see how the two compare in terms of:
Rooms
Restaurants
Casinos
Pools and Spas
Nightlife
Entertainment
Other Things Worth Considering
Rooms at Palazzo vs Venetian
Both the Venetian Las Vegas and the Palazzo get great reviews for the price, space, and style of their standard rooms. The Venetian is a little bit older, so the Palazzo gets slightly higher marks for its newer rooms.
The Palazzo's standard rooms are larger and a bit lower in price, while The Venetian offers a greater variety of premium accommodations.
The Palazzo – Room Types
There are eight different room options available at the Palazzo. They are:
The Luxury Suite aka King Suite: At 720 sq. ft. the King Suite is close to 2x the size of an average hotel room in Las Vegas. King Suites come with 1 Grand King size bed, a separate living room area, and an oversized bathroom and tub.
The Bella Suite: At 720 sq. ft. it is larger than the two most comparable rooms at the Venetian. Bella Suites feature two queen beds and a fold-out couch.
The Fortuna Suite: At 940 sq. ft. it offers quite a bit more space than the Bella. This is considered a Premier Suite and features one King bed, an added sitting area, and a guaranteed view of the Strip or Pool.
The Siena Suite: Added features like a separate living room, dining area, and second bath bring this suite to a total of 1,280 sq. ft.
The Lago Suite: At over 1,900 sq. ft., you get amenities like a media room, pool table, and/or piano in a separate living room. The 2-bedroom option offers two additional queen beds.
The Penthouse Suite: Featuring two bedrooms and over 3200 sq. ft. the Penthouse Suite offers all types of added comforts including an airport Limo pick up/drop off, VIP check-in, and concierge.
The Presidential Suite: Over 6,600 sq. ft. with 3 or 4 bedrooms and 24hr private butler service. Wow!
The Chairman Suite: Offers 3 – 4 bedrooms and 6,367 – 7,828 sq. ft. A private terrace overlooks Las Vegas Boulevard while the room itself is equipped with its own massage area, steam & sauna room, workout area, and dining room. The room also has its own private pool and spa.
Compare the best room rates for The Palazzo here at TripAdvisor
The Venetian – Room Types
With a total of nine room types to choose from, the Venetian hotel is guaranteed to have the perfect room for every guest. You can choose from:
The Luxury Suite aka King Suite: At 650 square feet (sq. ft.), this standard room includes 1 Grand King bed and still manages a separated living room and an oversized bath. Ability to request a room with a Strip view.
The Bella Suite: Slightly larger than the Luxury at 700 sq. ft., this option gives you 2 Queen beds, a separated living room, and an oversized bath. The room is equipped with remote-control shades.
The Rialto Suite: Upgrade to 1,100 sq. ft. and get 2 Queens, a sleeper sofa, a separated living room, and an oversized bath.
The Piazza Suite: A true luxury suite that includes an Italian Marble foyer, Grand King bed, 1.5 baths, and a separate powder room in its 1,400 sq. ft.
The Prima Suite: Get a private bedroom with a view, 2 luxury bathrooms, jetted tub, separated living room, bar, semi-formal dining area, and HDTV inside 1,500 sq. ft. of space.
The Renaissance Suite: At nearly 2,000 sq. ft., a Renaissance Suite delivers a King bed, 2 luxury bathrooms, a spacious living room area, the choice of a private workout room or personal theater, and outstanding views.
The Penthouse Suite: Get 2,900 sq. ft. of space that includes two bedrooms, the choice of a King and 2 Queens or 2 King beds, a fireplace, a piano, access to the Prestige Lounge, limo service, and a VIP concierge.
The Presidential Suite: At an unbelievable 5,200 sq. ft., this room choice includes all of the best features of the Penthouse Suite and much, much more.
The Chairman Suite: At 7,900 sq. ft., you get a 3-4-bedroom suite that offers the very best of everything.
Find the best room rates for The Venetian here at TripAdvisor
Venezia Tower at The Venetian
The Venetian also offers two additional room types located in the Venezia Tower. The Venetian Tower is found in a quiet corner of the property. Located close enough to the action to be convenient but far enough away to enable a more relaxing environment.
Luxury Suite: With 650 sq. ft of space and 1 King Bed the room also boasts a separate living room area and oversized bath with a tub. Perfect for food lovers as it's located near Thomas Keller's Bouchon restaurant.
Bella Suite: Get two Queen Beds and 700 sq. ft. of room, along with a separate living area, and a pull-out sofa. Request a room with a view to enjoy the Vegas lights.
Venetian vs Palazzo Restaurants
Between the two resorts, there are no less than ten world-class restaurants featuring celebrity chefs. It doesn't really make sense to compare the two resorts on restaurants since you can get to all of them without ever stepping outside, no matter which hotel you stay in.
When you travel across the country for a Vegas vacation, we doubt you'll pass on Mario Batali, Wolfgang Puck, or Emeril Lagasse because their restaurant is 500 yards further away than it would have been if you had gotten a room in the other hotel.
One way that the Venetian holds a slight advantage over the Palazzo is its easier access to and better selection of quick options that are cheap, easy, but still tasty and interesting.
The Venetian has two food courts that are both worth checking out. If being closer to them is important to you, that's probably the only really important difference between the two resorts in terms of restaurants.
Celebrity Chefs at The Palazzo & The Venetian
Abundant fine dining from Celebrity Chiefs available between the two locations include:
B&B Ristorante – Mario Batali and Joe Bastianich
Bouchon – Thomas Keller
Carlo's Bakery – TLC's Cake Boss
Carnevino – Mario Batali
Chica – John Kunkel
CUT – Wolfgang Puck
Lagasse's Stadium – Emeril Lagasse
OTTO Enoteca Pizzeria – Mario Batali and Joe Bastianich
Solaro – Wolfgang Puck
Table 10 – Emeril Lagasse
Quick, Inexpensive Bites at The Venetian
With plenty of nearby cheap places to grab a quick bite, The Venetian takes the edge in this department. Although these two food courts are easily accessible from both resorts, you will be a bit closer to them if you're staying at The Venetian.
Shoppes Level Food Court:
Café Pan – Coffee, crepes, and homemade pastries
Chicken Now – Counter-served chicken fingers, sandwiches, salads, and wraps
Chipotle – Tacos, burritos, salads, and burrito bowls
Cocolini – Italian gelato, ice cream, tiramisu, hot fudge sundaes, shakes, drinks, and more
Curry Pot – Indian curry, sandwiches & wraps, and biryani
Johnny Rockets – Hamburgers, veggie burgers, chicken sandwiches, fries, malts
Lobster ME – Maine lobster at its best
Panda Express – American Chinese fast food
PrimeBurger – High-end burgers, milkshakes, fries, and cocktails
Social Life Pizza – Casual pizza joint serving Italian-style pizzas
Subway – Subs, sandwiches, and drinks
Wasabi Janes – Rice bowls and sushi burritos
Casino Level Food Court:
Starbucks – Coffee, coffee drinks, snacks
San Gennaro Burger – Counter-served hamburgers, french fries, salads, milkshakes, and beer
Tacos N Ritas – Mexican street food, burgers, beer & margaritas
JuiceFarm – Raw and organic, cold-pressed juices
Espressamente Illy – Authentic Italian bar & coffee experience
The Wynn vs. The Palazzo: Which is the best? Find out in our article here.
The Venetian vs The Palazzo: Casinos
We feel the same way about comparing the two resorts on their casinos that we did about comparing them to their restaurants.
When you stay at either hotel, you get easy access to the best that each has to offer in this category—so we wouldn't make it the deciding factor in our selection process.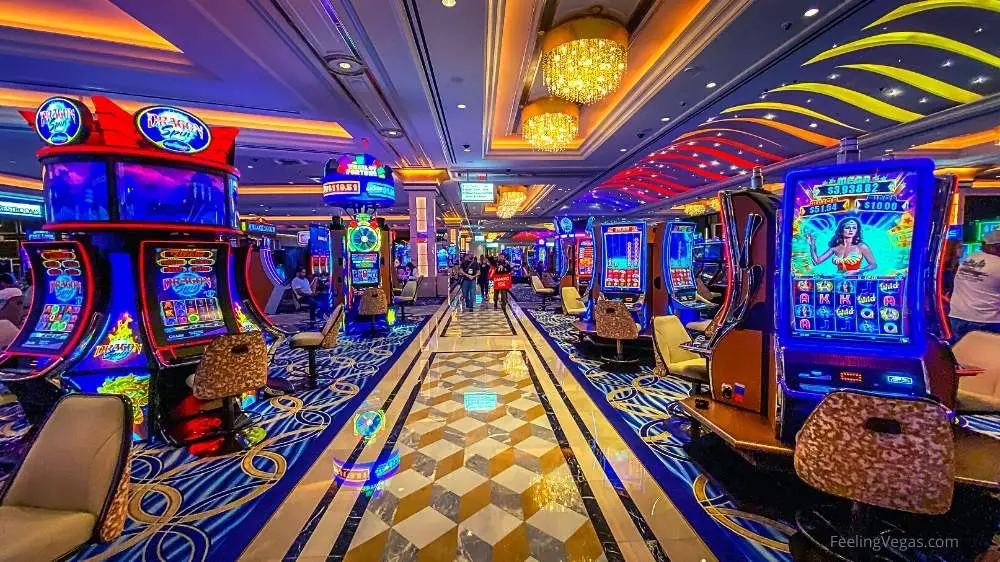 The Venetian has more options and an overall better casino than the Palazzo. If you want to play poker, the Venetian has one of the best and biggest poker rooms in the city. If the Sports Book is more of your thing, the Venetian is the best choice by far.
If you don't like dealing with crowds, you'll probably enjoy the Palazzo more. If you're sticking close to the Palazzo and want a better Sports Book experience, you can always hang out at Emeril Lagasse's Stadium to watch games and place bets.
Some folks like to claim that the Venetian has the stingiest slots on the entire Strip, but we're not sure we buy that. Either way, if one-armed bandits are your thing, you'll probably have a better time at the Palazzo casino.
At the end of the day, all of the best casino features and table games of both hotels are only a short, indoor stroll away when you stay at either spot.
Pools and Spas – Palazzo vs Venetian
Like the restaurants and casinos, the pools at both hotels are available to guests who stay at either. In fact, the numerous choices are all connected by one long, continuous path.
However, unlike the restaurants and casinos—we think being closest to the pool that suits your preferences might be important enough to factor into your decision. 
The best way to see the layout of the pools in relation to the two hotel buildings is with the satellite view on google maps here. That's a lot of pools!
The Palazzo Pool Deck
The Palazzo has a total of seven pools! Each has a unique setting, so there are options that are great for families, sunbathing or swimming laps. The hotel also offers four hot tubs and nearly 40 cabanas.
If you're looking for more of a party atmosphere, the Azure Pool kicks it up a notch. There you'll find music and good vibes with an adult crowd.
RELATED: Palazzo Pools: 7 Things You Should Know (Pool FAQ)
The Venetian Pool Deck
The Venetian Pool Deck has a great atmosphere with multiple pools and fantastic fountains. If you're lucky enough to get one, the 23 cabanas all feature chaise lounges, AC/Heat, TVs, a telephone, fans, a fridge, and attention from a personal cabana host.
Not to be outdone by the Palazzo's Azure Pool, the Venetian offers Tao Beach Day Club and Pool. If you can't wait for the sun to go down before you get your club vibe on, this is the spot you'll want to be. Definitely more of a wild party than the Azure Pool!
Canyon Ranch Spa
Billed as the "ultimate luxury escape" (source) Canyon Ranch Spa provides poolside spa services to the cabanas of both hotels. Along with its 134,000 sq. ft. day spa, the spa also offers a variety of services poolside.
Poolside services include:
Full body massage
Sunscreen shots
Chair massages
Sunrise Yoga
Aqua Aerobics
Private yoga classes for groups & parties
The Aquatic Club
Modeled after the sophisticated atmosphere of swim and lawn clubs, guests of either hotel can access the Aquatic Club for privacy and luxury. Consider the club to be a more refined poolside day club. It's a retro-styled pool party!
Nightlife: Venetian vs Palazzo
Both the Venetian and the Palazzo boast world-famous, best-of-the-strip nightclubs. Expect a 1-2 hour wait on the weekends at either spot, but anyone you ask will tell you it's worth it.
Find out more about nightclubs in Las Vegas in our article here.
Tao Nightclub at the Venetian
Tao Las Vegas is a cavernous 10,000 square foot nightclub fueled by hip-hop and EDM spun by top-notch DJs and pumped through a start-of-the-art audio and lighting system.
Everybody can enjoy the 40-foot outside terrace with amazing views of the Strip. If VIP treatment is more your speed, the club offers eight private skyboxes that come with bottle service and a mini-bar.
Lavo Nightclub at the Palazzo
Lavo is less than half the size of Tao in square footage, but what it lacks in size it makes up for in style. Lavo took the idea of a concept club and put a Mediterranean twist on it.
Drawing inspiration from Moroccan bathhouses, Turkish fountains, and hookah lounges, this nightclub stands apart from the run-of-the-mill. Of course, the DJs are top-notch too.
Venetian vs Palazzo Shopping Experience
Each resort has its own shopping mall but again since you'll have ready access to both it's not a deciding factor in determining which hotel to stay at.
The Shoppes at The Palazzo – Over 60 of the world's most well-known brands, restaurants, and shops
Grand Canal Shoppe – One of several premier malls in Las Vegas, the Grand Canal Shoppes is as much an attraction as it is a shopping mall. Modeled after the architecture of Venice, Italy the mall has a canal running the shopping area. You can take a traditional gondola ride to your next shopping destination.
Find out about all of the best shopping malls in Las Vegas in our guide here.
Palazzo vs Venetian Entertainment
Entertainment is another point of comparison where we just don't see the sense in choosing one hotel over the other since you will get easy access to any entertainment in either hotel, no matter which one you stay in.
If you want to be closer to the action, then the Venetian is the way to go. It has better venues and tends to draw bigger acts.
In the Venetian, you'll find both the Venetian theater and the Venetian showroom. Comedians like David Spade and Tim Allen perform there regularly, as do famous acts like the Blue Man Group. You can even catch Tim McGraw and Faith Hill's Soul2Soul residence.
Between the two spots, you're likely to find something that suits your taste. Comedians, musicians, and shows are always changing, but they're always top-notch.
Learn about all the best Las Vegas shows in our article here.
The Venetian vs The Palazzo: A Few Other Things to Consider
One thing that we love about Las Vegas is hearing what other people love about it. Whenever we write an article that ranks or rates spots that we enjoy, we take the time to ask other people we trust what they think and why. If nothing else, it's a great way to get people talking and hear a few great stories.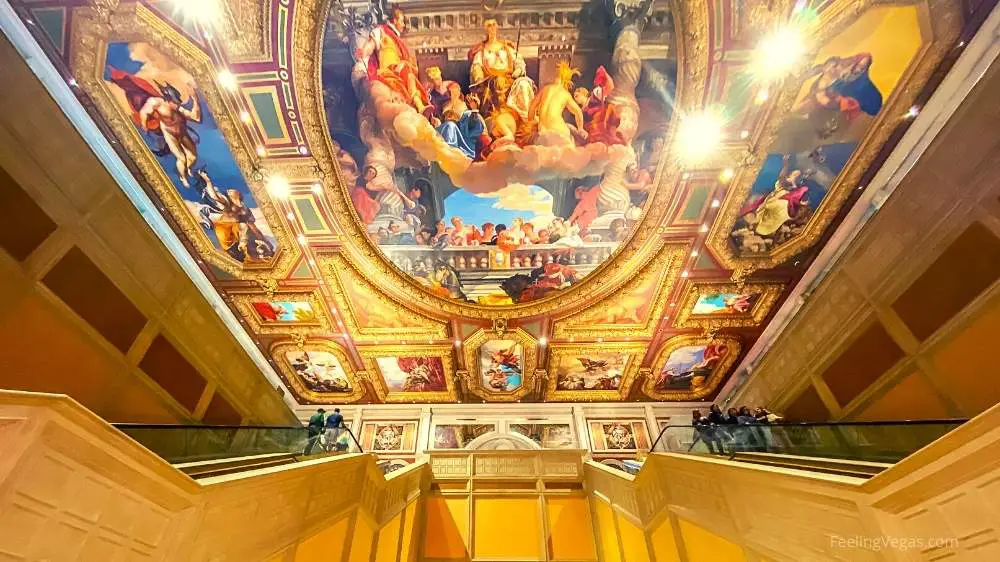 When we asked some of our most trusted sources whether they preferred the Venetian or the Palazzo, we were surprised by some of the answers. Sure, everyone had a preference when it came to rooms or pools or casino games. But for a surprising number of people, the decision between the two hotels came down to something that we never even thought to consider.
Parking: One of our friends talked for almost an hour about all of the things that she loves about staying at either of these two hotels. From where they're located on the Strip to how much fun she has at the pool. In the end, for her, it came down to the fact that self-parking is easier at The Palazzo parking garage.
Walking Distance: If you plan on wandering up and down the Strip a lot, the Venetian probably has a slight advantage since it's a little bit closer. It might not seem like much, but when you're contending with the summer heat in Vegas or walking alone at night, a little difference can go a long way.
Views: The Palazzo is actually the tallest building in Las Vegas. If you're hoping to get a better view, then you might want to book with the Palazzo. Of course, if you can afford to splurge on one of the high-end rooms at the Venetian, then you can guarantee yourself a spectacular view as well.
Venetian or Palazzo – Making A Decision
As you can probably tell from everything we've discussed in this article, we don't really have a favorite between the Venetian and the Palazzo.
When we go through all of the points of comparison, we find that most of them come out even or that each hotel's strengths and weaknesses cancel the other's out.
In the summertime, we would probably lean toward the Venetian to be closer to our favorite pool-side scene at Tao. Any other time of the year, we would just as soon get a room at the Palazzo to have more of a buffer between us and the action.
That's because you still get access to everything great about the Venetian without ever leaving the air conditioning.
In addition to the buffer that you get by staying in the Palazzo, we also appreciate the extra space and slightly lower rates that come with the rooms there.
We don't spend much time in our room when we travel, but it's still nice to have the extra room to spread out in when we're taking a breather between adventures.
We've never had the overwhelming urge to spring for one of the higher-end Venetian rooms, but that's just us. If you're able to afford that option, it comes highly recommended.
The luxury of the rooms and the exceptional service you'll receive is well worth the extra expense. No matter which you choose, we're sure you'll have a great time. Enjoy!
Venetian & Palazzo FAQs
Which is better Venetian or Palazzo?
When it comes down to The Venetian or The Palazzo, The Venetian is generally considered to be the better hotel. The Venetian is bigger and is more central to many of the activities on the two connected properties. However, if you'd like a bit more peace and quiet and don't mind a slightly longer walk to some of the Venetian's attractions, then Palazzo may be the better choice.
Which hotel is older the Venetian or Palazzo?
Built in 1999, The Venetian is older than the Palazzo which was built in 2008. While the Palazzo is the newer hotel, the Venetian has been renovated fairly recently and is a remarkable resort property.
Is Palazzo or Venetian closer to Sands Expo?
The Venetian is closer to The Venetian Expo (Sands Expo) but only slightly. The expo center is within easy walking distance of both The Venetian and The Palazzo.
Does Palazzo or Venetian have buffet?
Neither Palazzo or Venetian have a buffet. The closest thing these two properties have to a buffet is found at the Grand Lux Cafe. The cafe has an excellent menu, decent prices, a great breakfast, and serves large portions. The Grand Lux Cafe is open 24/7.
Other Las Vegas Hotel Comparisons
Check out how these other Las Vegas hotels compare:
MGM Grand vs. The Venetian: Which one's best? – Find out here
Wynn vs. Palazzo: Which should you choose? – Article here
Venetian vs. Wynn: How to decide? – Here's how
Bellagio vs. Venetian (Which Las Vegas Hotel to Choose?) – HERE
If you found this article helpful, please SAVE THIS PIN to one or more of your boards on Pinterest. Thank you!