Venetian vs. Wynn: Which Is Better? [Las Vegas]
The Venetian and the Wynn Las Vegas are two of the most elegant and luxurious hotels on the Las Vegas Strip. A stay in either of these boutique resorts is guaranteed to be a memorable experience. Choosing between these two hotels is going to be difficult simply because they are so comparable. So which is better for your Las Vegas vacation, The Venetian or the Wynn?
The Venetian and Wynn are two of Las Vegas's most popular boutique resorts. Both hotels have similar room rates and prioritize elegant surroundings over entertainment offerings. In the end, Wynn edges out the Venetian in terms of luxury, and customer service making it the best Las Vegas vacation choice. 
Since both of these resorts are so similar, the following table will help highlight the differences in prices and amenities: 
Category
Venetian
Wynn
Room Price
From $176 per night
From $193 night
Resort Fees
$51.02 per day
$51.02 per day
Parking Fees
Free self-parking
Free self-parking
Location
On the Strip
On the Strip
Shows
– Atomic Saloon
– Misc guest performers
– various live comedy & music shows
Pools
11 elegant pools with splash
pad for the kids
4 pools, 2 jacuzzis
Nearby Attractions
– Madame Tussauds
– Gondola Rides
– The VOID: Virtual Reality
– Wynn Golf Club
– Lake of Dreams
– The Spa
– Fashion Show Mall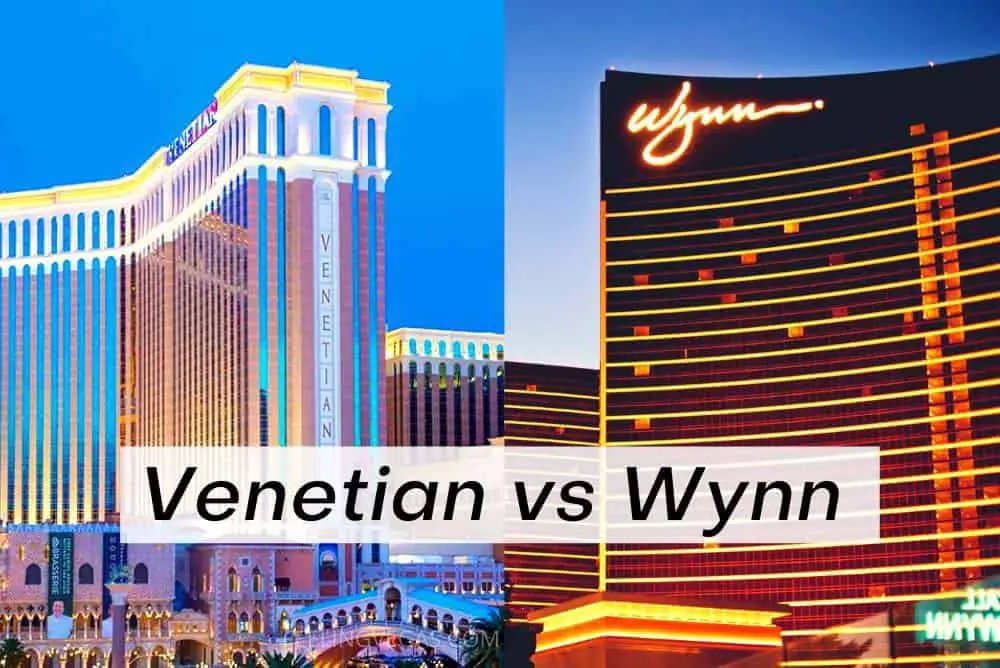 Name: The Venetian
Address: 3355 S Las Vegas Blvd
Casino Floor: 138,000 sq ft.
Year Built: 1999
Number of Rooms: 4,049
Name: Wynn Las Vegas
Address: 3131 S Las Vegas Blvd
Casino Floor: 111,000
Year Built: 2005
Number of Rooms: 2,716
The Venetian and Wynn Las Vegas both feature stunning architecture and allow the surroundings and opulence of the exquisite suites and excellent accommodations to speak for themselves.
While you might find a wild party at one of the other resorts elsewhere on the Strip, a stay at either of these resorts is more like visiting an opulent palace. Which of one of these desert palaces is better comes down to the atmosphere you prefer. Read on to find out more. 
Room Prices Compared at The Venetian & Wynn Las Vegas
The Venetian is like a small city on the Las Vegas Strip, complete with Roman-inspired architecture and furnishings that can make any dream of Ancient Rome a reality before your very eyes.
Wynn Las Vegas was designed to show just how extravagant Las Vegas truly can be; therefore, you can expect a stay in either of these colossal resorts to be pricey. Thankfully, not all of the room rates at these hotels are out-of-reach. 
First, it's important to note that there is no such thing as a standard room at the Venetian; even the basic rooms are suites.
You can expect a typical starting rate of around $176 per night (TripAdvisor) for a standard suite at this resort. The rates can go up to several hundred dollars a night, depending on the type of suite you want to stay in.
Since every room at The Venetian is a suite, there is no need to worry about ending up in a lower-quality room. 
This table shows a comparison of the standard room amenities at both Venetian and Wynn:
Venetian
Wynn Las Vegas
Luxury King Suite:

– 650ft² (60.4 m²)
– King bed
– 46″ HDTV
– Sunken living room
– In-room wifi
– Sofa bed, table & chairs
– Desk
– Remote controlled curtains
– 130ft² (12 m²) Bathroom
with double vanity, separate
tub and 19″ HDTV
Wynn Resort King:

– 640ft² (59.5 m²)
– King bed or two Doubles
– 507-thread-count Egyptian linens
– 55'' (140cm) 4K UHD TV
– In-room wifi
– Bedside mobile phone charging
– Touch-screen curtain, lighting,
room service, and privacy controls
– Oversized marble bath and separate shower
– Floor to ceiling windows
– Sofa and dining area
– Desk
– Mini-bar
– Views of The Strip or the valley
Comparing the standard rooms at the Venetian and Wynn Las Vegas
The average rate for a standard room at Wynn Las Vegas is about $193 per night. While the standard room at Wynn isn't a suite, the room is just as big as the entire suite at The Venetian.
If that isn't large enough for you, the Wynn also offers separate luxury villas that run between $3,000-5,000 per night. These rooms are obviously reserved for the high-rollers and those with an unlimited budget. Wynn Las Vegas prides itself on offering the most luxurious and swank surroundings on the Las Vegas Strip.
Both resorts are stunning, inside and out, with superior accommodations no matter what level of suite or room you decide on; therefore, the better option in this category is tough to decide.
With every room being a suite, including the standard room, I'd say that The Venetian edges out Wynn in this category by a slight margin. 
Resort Fees: Venetian vs. Wynn
The resort fees for both resorts are $45 a day plus tax.
The resort fees cover amenities such as high-speed internet access, fitness center usage, pool access, and phone service. You will even get a complimentary printed or digital newspaper as part of your daily fee. 
Parking Fees at Wynn and Venetian
The Venetian and Wynn Las Vegas both currently offer free self-parking. Due to recent social distancing measures, valet parking is not currently available but may become available once again in the near future.
Location: Venetian vs Wynn
As The Venetian and Wynn are located near each other just north of the mid-Strip area, there isn't much here to differentiate the two properties. Treasure Island, Mirage, Harrah's, LINQ and the Showcase Mall are all located within an easy 10-15 minute walk as long as it's not too hot outside.
And, of course, from either The Venetian or Wynn you can enjoy the other property quite easily with just a short walk.
When it comes to a prime location, the middle area of the Strip is often considered to be the best due to the large concentration of casinos and resorts in the area. Although neither The Venetian nor the Wynn is in this central location, it's not an overly far walk to reach the mid-Strip area.
If you're in the mood to walk and do some sightseeing on the Strip, the 15-20 minutes it would take to reach the mid-Strip area will fly by since there is so much to see and do along the way between resorts. 
Probably the easiest way to picture where the Wynn and Venetian are located, as well as see the surrounding properties is to download our free printable Strip map here.
Shows and Entertainment at The Venetian & Wynn
When most people think of entertainment on the Las Vegas Strip, they think of the visual spectacles and sounds that come with Las Vegas shows. While not having multiple shows as some of the other resorts on the Strip do, The Venetian and Wynn each have some very worthwhile entertainment options.
Brand new at The Venetian is the variety show Atomic Saloon. Set in an old west saloon, the show includes an overriding storyline but also includes singing, acrobatics, and comedy routines that will leave you laughing for hours.
The Venetian is also home to a revolving door of headline guests and performers such as Tony Bennet, Adam Lambert, Sarah Brightman, and ZZ Top.
Wynn Las Vegas frequently books artists and entertainers of all types in its lavish theater. One of the resort's well-known shows is Le Reve–The Dream, which takes the art of Las Vegas spectacle to new heights. This aquatic-themed show features stunning acrobatics with themes that represent the tranquility of water and the mysteries of dreams. Words cannot do the show justice; it has to be seen to be believed.
Update: Le Reve-The Dream at Wynn has been permanently closed. I will update this section again when, and if, a new show takes its place.
Restaurants, Bars & Lounges at Wynn and Venetian
Along with the refined accommodations and atmosphere, the Wynn and The Venetian are both home to an incredible array of casual and fine dining choices.
Among the fine dining choices at Venetian are Mott 32, Matteo's Ristorante Italiano, and Majordomo Meat & Fish. You'll also find more casual eateries such as Black Tap Craft Burgers & Beer, Chica, and Yardbird Southern Table & Bar.
The dining selections are no less impressive at the Wynn and include Costa Di Mare, Mizumi, and Tableau. While the more casual choices include Allegro, Red 8, and The Buffet.
In addition to the restaurants, each resort is home to a large selection of sophisticated bars and lounges.
Pools: Venetian or Wynn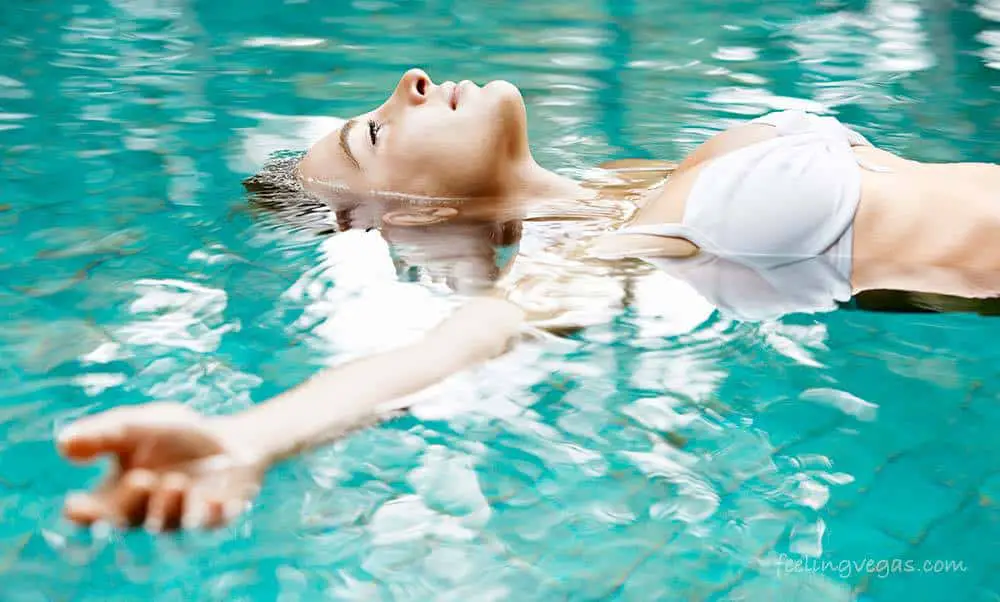 Both resorts have stunning pools to choose from, but the Venetian Pool Deck combined with the pool complex at its connected sister resort the Palazzo, is truly a sight to behold. Together they put 11 pools at your disposal.
The pools range from 1 foot deep for sitting and soaking to full-size pools for swimming. Each pool is as luxurious as the hotel itself and many guests move from pool to pool throughout the day following the sun.
Wynn Las Vegas features four pools that prioritize a classic, outdoor pool setting with private cabanas and servers who are ready to meet all of your requests. The pools are surrounded by manicured gardens and provide an ultra-luxe experience.
Although The Venetian has more pools to choose from, both resorts will top your expectations for a relaxing poolside lounge.
Nearby Attractions: Venetian & Wynn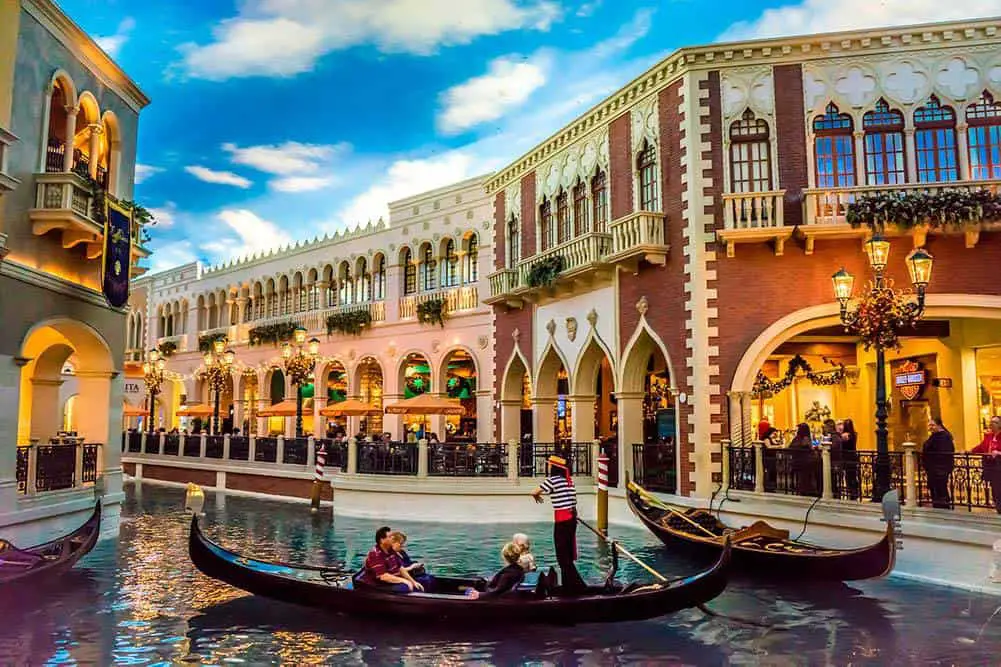 We've talked about the large number of resorts you can visit near each property. You can spend days wandering from resort to resort and casino to casino and never get bored. But I wanted to mention a few attractions you won't want to miss within the two resorts as well.
Just walking through the grounds of the Venetian is an attraction in and of itself, yet no stop at this resort is complete without taking a gondola ride through the exquisite grand canal. The Venetian also features a Madame Tussauds wax museum in addition to numerous works of art throughout the resort.
You'll also find over 200 shops and restaurants in the Grand Canal Shoppes located at The Venetian.
Wynn's star attraction is the lush and tranquil Lake of Dreams nightly show. With over 4,000 lights and holograms in front of a 40-foot waterfall, this attraction offers a great way to end an evening. You can even catch the free show from one of the patio restaurants overlooking the lake.
The Wynn also has a selection of upscale shops at the Wynn Plaza Shops. Although there are nowhere near as many shops as you'll find at Grand Canal Shoppes, these are some of the most exclusive brands you'll find anywhere in Las Vegas.
Conclusion
If you are looking to experience some of the finest displays of European architecture and elegance, the Venetian is definitely the choice to go with. The architecture, the decor, and the overall atmosphere is amazing!
However, if maximum luxury and sophistication is your goal then Wynn Las Vegas, with its five-star accommodations, refined architecture, and excellent customer service just nudges into first place.
Honestly, it would be hard to imagine being disappointed with a stay at either hotel. The real beauty about these two resorts is that they are so close together you can choose to stay at one and still get to experience them both!
I hope you found this hotel comparison helpful in making your decision. Enjoy your stay!
Other Las Vegas Hotel Comparisons
Check out these other comparisons of Las Vegas Hotels.
Wynn vs Palazzo: Which is better? – Find out here!
Wynn vs ARIA: Who comes out on top? – Article here
MGM Grand vs Venetian: Which to choose? – Read article here
Venetian or Palazzo: Which one's best? – We'll tell you here
Bellagio vs. Venetian (Which Las Vegas Hotel to Choose?) – HERE
Sources: