15 Smoke-Free Hotels in Las Vegas: On or Near the Strip
(This article may contain affiliate links. If you click through and make a purchase, we will receive a small commission at no additional cost to you. )
Casinos and smoking seem to go together like two peas in a pod in Las Vegas. But what if you can't stand the smell of tobacco smoke or maybe you're even allergic to it, you may be wondering if you can find a hotel in Las Vegas that doesn't allow smoking?
Are there any smoke-free hotels in Las Vegas?
Yes, there are several smoke-free hotels in Las Vegas. They are:
Signature at MGM Grand
Trump International Hotel
Delano Las Vegas
Elara by Hilton
Vdara Hotel & Spa
NoMad Las Vegas
Cancun Resort Las Vegas
Wyndham Grand Desert Resort
Platinum Hotel and Spa
Renaissance Las Vegas
Four Seasons
The Westin
Hilton Grand Vacations on Paradise (Convention Center)
Waldorf Astoria
Marriott Vacation Club Grand Chateau
Hilton Grand Vacations on the Las Vegas Strip
Park MGM
Fortunately, non-smoking hotels are more common in Las Vegas than you might think.
Having said that, the definition of "smoke-free hotel" in Las Vegas is important to understand. So let's talk about that first, then I'll tell you a bit about each of the hotels on our list.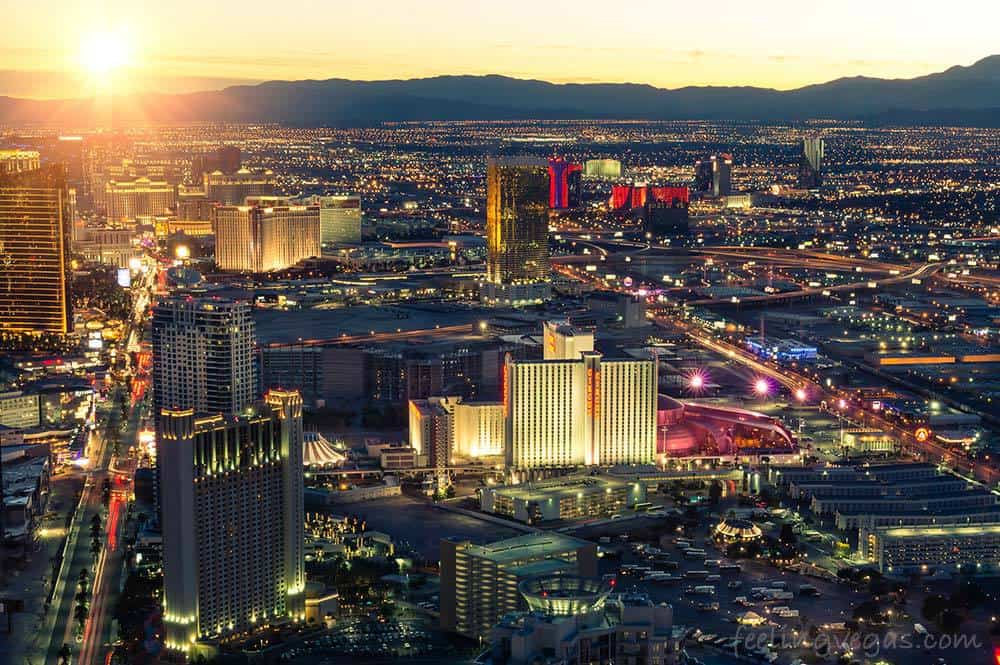 Completely Non-Smoking Hotels in Vegas
In most situations, in regards to Las Vegas anyway, the terms "hotel" and "casino" can be used pretty much interchangeably. However, when it comes to looking for a "smoke-free hotel" or "smoke-free casino" it's important to note that there is a difference.
There are two types of hotels in Las Vegas. The first is a hotel that does not have it's own in house casino, otherwise known as a non-gaming hotel.
The second is a "hotel & casino" where the hotel does have its own casino on the premises. In this case, you often can't get into the hotel without first walking through the smoky casino.
(Is there such a thing as a smoke-free casino in Las Vegas? Find out in our article here)
For the purposes of this article, a "smoke-free hotel" will be those hotels that do not have their own casino on the premises.
There are several hotels in Las Vegas that are entirely non-smoking zones. This means not dealing with smoke or stale smoke smells in your room, hallways, elevators or lobby. Awesome!
Although it is a huge financial risk for hotels that decide to be completely smoke-free properties, such hotels focus on the guests who want to come home to a hotel and room that doesn't smell of smoke.
While these non-gaming hotels lack their own casino there are almost always casinos located nearby. In many cases, the smoke-free hotel is a sister property to a casino located oftentimes on the same grounds.
Below you'll find the options available for guests who want to stay in smoke-free, non-casino properties that are still near all the action on the Strip.
Signature at MGM Grand
The Signature at MGM Grand is a non-gaming, non-smoking hotel located adjacent to the Strip. When you walk into the hotel it is noticeably quieter due to the absence of gaming machines and it smells fresh and clean due to the lack of smoke.
All the rooms at the Signature are smoke-free, so you won't book a non-smoking room and check into your room only to find that while it's a non-smoking room this week, it wasn't last week. If you're like me, you may have experienced a situation like that before at another hotel.
If you're worried you might be left out of the action, don't be. Located on the other side of the rather large property is the MGM Grand. The MGM Grand Hotel & Casino contains all the casino action you could ever want.
Trump International Hotel Las Vegas
The Trump International Hotel offers excellent non-smoking facilities. While not directly on the Strip, this hotel provides relatively close proximity to most of the attractions and exciting venues on Las Vegas Blvd.
In fact, the hotel offers a free shuttle that will take you to the nearby Wynn as well as Caesars Palace on the Strip. So it couldn't get much more convenient to access the Strip.
The Delano Las Vegas
This hotel offers smoke-free accommodations and gaming at the adjoining Mandalay Bay Resort. It's only about a 4-minute walk to Mandalay Bay from Delano.
Guests at the Delano Las Vegas can access Mandalay Bay's casino via the connecting hallway. The Delano hotel is close to other major hotels and casinos in Las Vegas as well, including the Luxor, the MGM Grand, and the Excalibur so gaming opportunities are never very far away.
Guests at the Delano Las Vegas also have access to the beach complex of Mandalay Bay as well as entertainment at the House of Blues and Mandalay Bay Events Center.
Elara
This is an entirely smoke-free resort located right in the middle of the Las Vegas Strip. It's located next to Planet Hollywood Resort & Casino which features a beautiful gaming area, stylish studios, and state of the art entertainment facilities.
It has the feel of a private retreat with all the excitement of the Strip located just out the front door.
Vdara
The Vdara is a beautiful non-smoking, non-gaming resort within easy walking distance of the Aria and Bellagio casinos. In addition, the resort has a rooftop lounge with stunning views of the Las Vegas Strip.
Cancun Resort Las Vegas
Located at the far southern end of the Strip is the Cancun Resort Las Vegas. It is smoke-free and has a beautiful pool with a giant pyramid and four water slides.
There are no casinos within walking distance so staying at this hotel will require a quick ride up the Strip to get to any of the big casinos but it's not too far.
Name: Cancun Resort Las Vegas by Diamond Resorts
Address: 8335 S Las Vegas Blvd (google maps)
Check room rates here
Wyndham Grand Desert Resort
Just minutes from the Strip, the Wyndham Grand Desert Resort offers a non-smoking hotel with spacious suites. With free parking and three outdoor pools and several hot tubs this hotel lives up to its resort name.
They offer a free shuttle to Harrah's casino on the Strip that runs between 8:30am and 10pm every day.
Platinum Hotel and Spa
Style, comfort, and sophistication is what you'll get at the Platinum Hotel and Spa. A non-gaming, non-smoking property located in a great location just a block off the Strip.
It's near some of the biggest casinos on Las Vegas Blvd. including Paris, Bellagio, Aria, Cosmopolitan and Caesars Palace.
Renaissance Las Vegas
The Renaissance is a non-smoking, no pets allowed hotel located off the Strip. From here it's a short ride to the casinos on the Strip but within easy walking distance to the Las Vegas Convention Center.
Four Seasons
The Four Seasons Hotel is an upscale non-smoking hotel with easy access to Mandalay Bay Resort and Casino. You can relax in your gorgeous hotel by day and hit up the Strip in the evening.
The Westin
The Westin Hotel is just a short walk around the corner from the Strip. All the public areas and rooms at this property are non-smoking except for the enclosed lounge.
With just 826 rooms it's by no means the largest hotel in Las Vegas but the accommodations are quite nice and the hotel is pet-friendly.
Hilton Grand Vacations (Convention Center)
The Hilton Grand Vacations on Paradise is located less than a mile (about a 10-minute walk) from the Strip. With a non-smoking property that's within walking distance of the activity on the Strip as well as the Las Vegas Convention Center, this just might be the perfect location if you're in town for a trade show.
This property has a very strict $250 fine for anyone smoking in one of their rooms making it a good bet that your room will be 100% smoke-free.
Name: Hilton Grand Vacations on Paradise (Convention Center)
Address: 455 Karen Ave (google maps)
Check room rates here
Waldorf Astoria
The Waldorf Astoria is a luxury hotel found right in the beating heart of the Las Vegas Strip. While this smoke-free hotel doesn't have a casino, it's surrounded by some of the finest casinos in Vegas (Bellagio, Aria, Cosmopolitan, and Park MGM just to name a few). All within a few minutes walking distance.
Marriott Vacation Club
The Marriott Vacation Club has 100% smoke-free rooms and is located just off of the Vegas Strip. Its amenities include condo-style villas with kitchens, dining rooms, and separate living areas, washer/dryer and more.
It's like a home away from home. You'll also get great views of the Strip from their rooftop lounge and pool. It's located in a bustling area of Las Vegas Blvd and you can be at any number of major casinos with just a few minutes walk. As an added bonus there are no resort fees charged at this property.
Hilton Grand Vacations (Las Vegas Strip)
Here's another non-smoking Hilton Grand Vacations property. This one is located on the Strip next to Circus Circus. With two beautiful pool areas and just a short drive from the busiest sections of Las Vegas Boulevard.
Name: Hilton Grand Vacations on The Las Vegas Strip
Address: 2650 Las Vegas Blvd S (google maps)
Check room rates here
Park MGM
Remember how at the top of this article, I mentioned that smoke-free hotels in Las Vegas generally don't have their own casinos? Well, if you'd like to stay in a smoke-free hotel WITH a casino, you're in luck!
The Park MGM on the Las Vegas Strip has gone completely smokeless, and that includes their casino. Park MGM doesn't allow smoking in its casino, bars, restaurants, hotel rooms, common public areas, walking corridors, or pool area. How's that for a smoke-free hotel and casino?
Note: Park MGM has three designated smoking areas throughout the property, but they are easy to avoid if you dislike cigar and cigarette smoke.
Smoking Laws in Las Vegas
If you're looking to avoid as much cigarette and cigar smoke as possible while you're in Las Vegas, it will be helpful to know a little bit about Nevada smoking laws. Having this information will let you know what to expect when it comes to dealing with secondhand smoke in and around Las Vegas.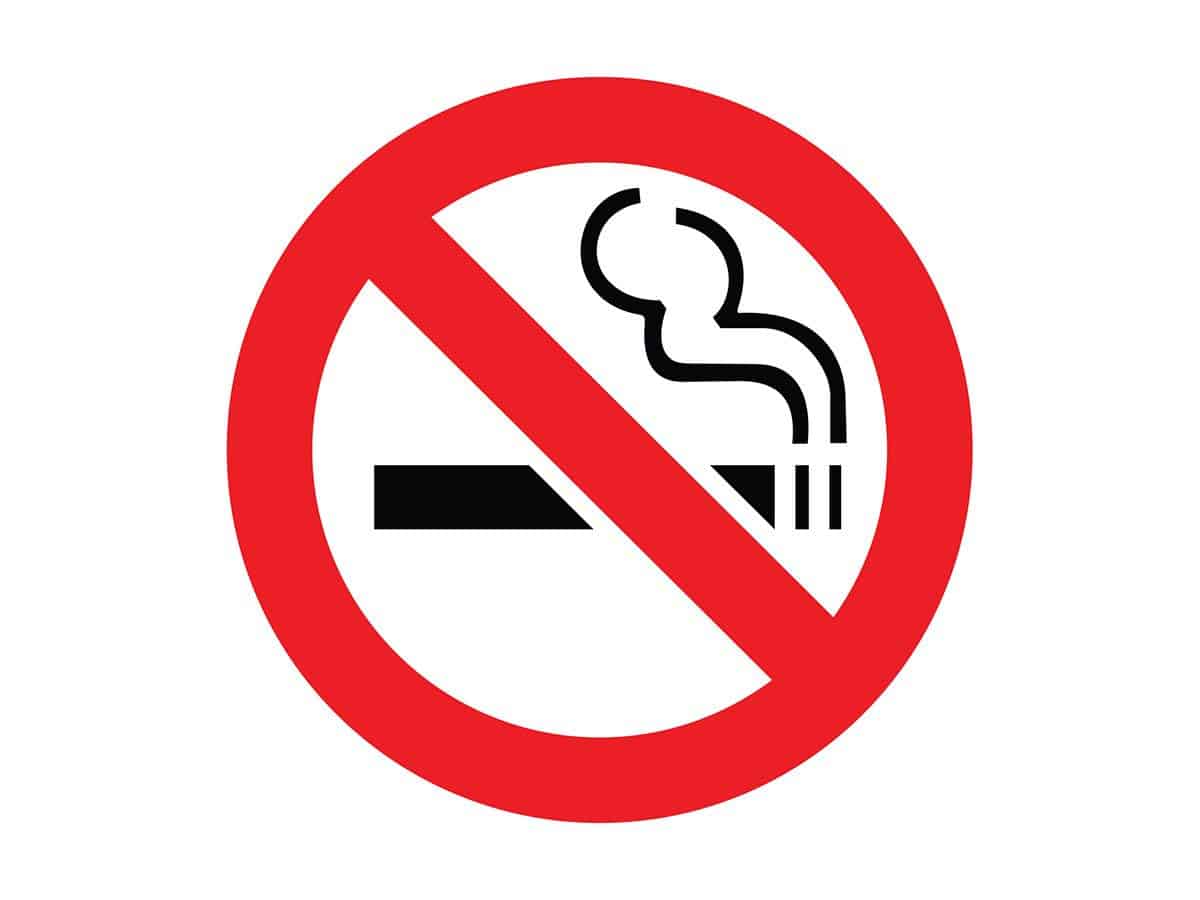 Nevada Clean Indoor Air Act
The Clean Indoor Air Act of Nevada was voted into law by Nevada voters in 2006. The basic premise for this law was to protect children and non-smokers from the effects of secondhand smoke.
Basically, smoking is no longer allowed in most public spaces, including but not limited to:
School Property (Public and Private)
Stores (Grocery stores, retail shops, convenience stores, etc.)
Restaurants (including restaurants inside of casinos)
Bars that allow minors on the premises (ie. a bar and grill)
Childcare facilities
Movie Theaters
Video arcades
Government Buildings
So these are some areas that you should expect that you won't have to be dealing with someone smoking nearby.
There are some exemptions, however, and smoking is expressly allowed in the following areas:
Gaming Areas of Casinos (these are defined as the areas that minors aren't allowed)
Retail Tobacco Stores
Enclosed Bars and Taverns (those that minors are not allowed)
Conventions (but only if they are trade shows that are tobacco-related as these are not open to the public)
Private Residences (even if they are used as a place of work)
Smoke-Free Hotels in Las Vegas – Final Thoughts
So now you know that even if you encounter cigarette smoke in certain places while out and about in Vegas, it is entirely possible to come home to a fresh and clean smelling, smoke-free hotel room.
These non-smoking accommodations will provide you with all the luxury of Vegas without the stale smell of smoke throughout the property.
If you found this article helpful, please SAVE THIS PIN to one or more of your travel boards on Pinterest. Thank you so much!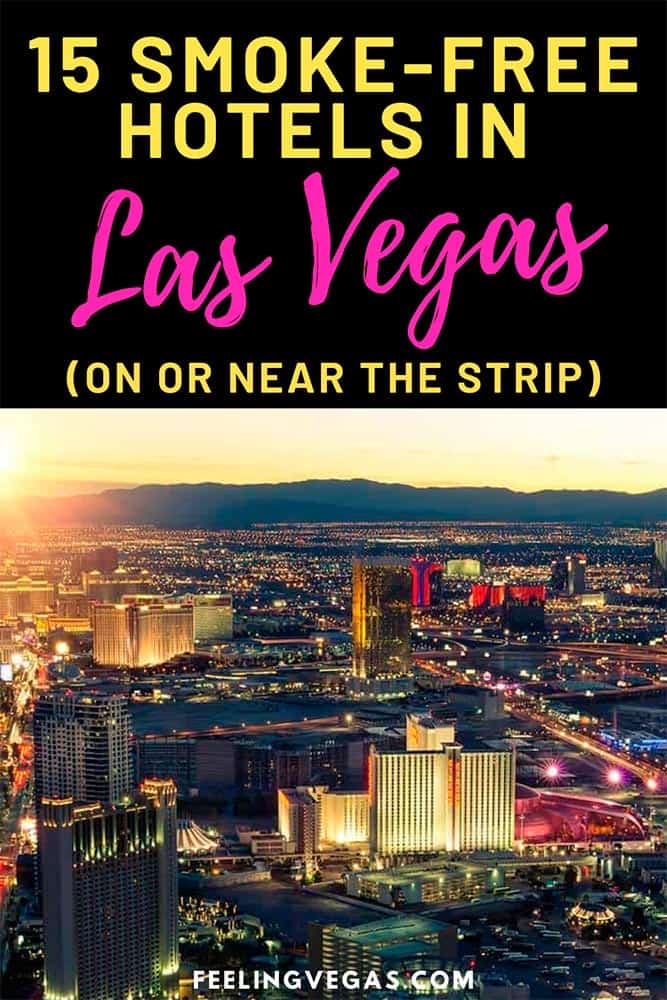 Our Most Popular Las Vegas Guides:
– Where to Park for Free on the Las Vegas Strip – Complete List and Map
– How to Get Around Las Vegas Without a Car [Ultimate Guide]
– Is Las Vegas Safe at Night: The Complete Guide
– Tipping Etiquette in Las Vegas: Ultimate Vegas Tip Guide
– How Long Should You Plan on Staying in Las Vegas – The Ultimate Guide