Mandalay Bay vs. Luxor: Which Is Better? (Las Vegas)
(This article may contain affiliate links. If you click through and make a purchase, we will receive a small commission at no additional cost to you. )
The Mandalay Bay and Luxor are amongst the largest casino resorts on the Las Vegas Strip, and they're both worth considering when planning your stay in Las Vegas. But which one of these mega resorts is the right choice: Mandalay Bay or Luxor?
Mandalay Bay is the best choice if you are looking for a more luxurious Las Vegas experience and cost is not a big factor. The Luxor, on the other hand, is the right hotel to choose if you want to enjoy everything Las Vegas has to offer on a more affordable budget.
You can see a quick comparison of each resorts highlights in the table below.
Category
Mandalay Bay 
Luxor 
Room Price
From $94 average/night 
From $39 average/night
Resort Fees
$39/night
$35/night
Parking Fees
Self-Parking: $15 daily
Valet: $26 – $30 daily
Self-Parking: $15 daily
Valet: $26 – $30 daily
Location
The south end of The Strip
The south end of The Strip
Major Shows
– Michael Jackson ONE by Cirque du Soleil
– The House of Blues
– Carrot Top
– Blue Man Group
– Fantasy
Pools
– 3 full-size pools
– adults-only pool
– 1.6 million-gallon wave pool
– Sandy beach and lazy river
– 4 full-size pools
– 1 jacuzzi
Nearby Attractions
– Shark Reef Aquarium
– Concerts on the Beach
– Mandalay Bay Events Center
– Bodies…The Exhibition
– Titanic: The Artifact Exhibit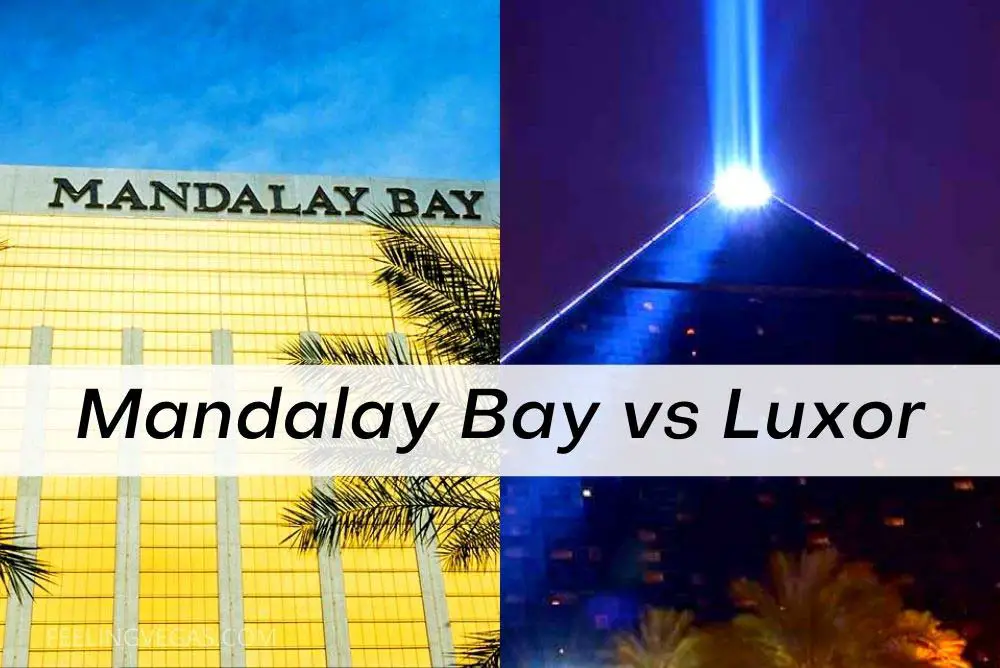 Name: Mandalay Bay
Address: 3950 S Las Vegas Blvd
Casino Floor: 135,000 sq ft.
Year Built: 1999
Number of Rooms: 3,209
Name: Luxor Hotel & Casino
Address: 3900 S Las Vegas Blvd
Casino Floor: 120,000 sq ft.
Year Built: 1993
Number of Rooms: 4,407
Now, you're probably thinking, that's quite a difference in price for virtually the same location on the Las Vegas Strip. So what's behind this? Let's take a look.
(Be sure to download our free map showing all the hotels on the Las Vegas Strip)
Mandalay Bay vs. Luxor — How Do They Compare?
Mandalay Bay is a beach themed resort located on the southern end of the Las Vegas Strip. It's known it's for its golden windows, expansive property and luxurious accommodations.
Right next door you'll find the Luxor. You'll know it when you see it because it's a giant Egyptian pyramid! The Luxor, while not quite as fancy as Mandalay Bay, is still a large resort with plenty of charm and personality.
Choosing between Mandalay Bay and the Luxor can be a difficult decision. In this guide we'll cover the similarities and differences between these two iconic Las Vegas hotels so that you can make the best decision for your Vegas vacation.
Standard Room Costs and Amenities: Mandalay Bay & Luxor
Although you probably won't spend a lot of time in your room, it's still important to know what to expect in terms of the accommodations. So, let's see what the standard rooms look like side by side:
Mandalay Bay
Luxor
Resort King:
– 550ft² (51m²)
– King bed
– 42''(107cm) LED TV
– Double sinks set in stone countertops, soak tub, and separate glass-enclosed shower
– Seating area with a table and two armchairs
– In-room wifi
– Desk with TV media hub and charging points, and executive chair
– Minibar with snacks and drinks at a cost
– Max guests, 3
– Floor-to-ceiling windows
Pyramid Room:
– 420ft² (39m²)
– King bed40" (102cm)
– Flat-screen TV
– Oversized shower
– Seating area with one armchair, plus seating and table for 2
– In-room wifi
– Desk with executive-style chair 
– Max guests, 2
Comparing the standard rooms between Mandalay Bay and the Luxor
All things considered, the Mandalay Bay's standard room doesn't just offer more space but also has a little more of a luxury feel. This may account for that price difference.
However, it's worth digging a little deeper, because just comparing standard room levels, won't always get you the best deal.
So, let's see what you'd get at the Luxor if you moved closer to the price of the Mandalay Bay's standard room.
If you went for the 449ft² (42m²) Tower Premium King room, as the name suggests, you'd be in one of the Luxor's towers rather than in the pyramid. So, you wouldn't have the characteristic slanted windows. Instead, you'd get floor to ceiling windows. 
The decor is also more contemporary, with a neutral modern look.
You'll also get a separate bathtub and shower, a 50" (127cm) flatscreen TV, and numerous power and charging outlets.
Cost wise, this would bring you about even with Mandalay Bay's standard room, with prices starting at around $84 a night.
So, if you're thinking that Luxor's entry-level room may be a little too basic, the Tower Premium King is worth considering.
However, all things weighed, Mandalay Bay's standard room probably has a slightly more premium feel to it, especially with the extra space.
Dining Comparison: Mandalay Bay vs. Luxor
Once your room's sorted, you'll want to think about the facilities, such as where to eat.
But, remember, these resorts are right next to each other, and there's easy indoor walkway access between them. So, you could just think of them as a single unit when it comes to dining choices.
And what a choice. Mandalay Bay alone offers around thirty restaurants, cafes, and bars catering to all appetites and tastes. Amongst these, you'll find a taste of Italy at Lupo from Wolfgang Puck, or how about French at Hubert Keller's Fleur? 
If you want more casual dining, there's plenty of that as well, with pizza, steak, and burgers, plus classics from the American South, Japanese, Chinese, and Mexican. If you just want something quick, pop into the food court for a snack.
Now, some of these eateries are in The Shoppes at Mandalay Place, which links the two resorts. So you'll find some, like Hubert Keller's upmarket Burger Bar, in the listings of both resorts.
So, the Luxor's own dining range is more limited but still enough to keep casual diners satisfied, with steak, pizza, Asian, and classic American options.
Still, if you're happy with the Luxor's room rates, that 0.3 miles (0.48km) air-conditioned walk to Mandalay Bay probably won't be an issue.
Shopping at Mandalay Bay & Luxor
As for the shopping, The Shoppes at Mandalay Palace as mentioned above, is found on the interior walkway connecting the two resorts.
There isn't an extensive collection of shops available here, so you'd have to venture north up the Strip further for a wider choice and designer labels, no matter which of these two properties you choose. 
Mandalay Bay vs. Luxor: Comparing Casinos
There's not much to distinguish the casinos at each resort, either. Both are an impressive size, with Mandalay Bay's casino floor covering 135,000 sq ft. and the Luxor's occupying around 120,000 sq ft. 
Both offer a dazzling array of slots and table games, plus their own impressively kitted out sportsbooks. 
The one difference is that Luxor doesn't have a separate poker room. For many, that won't be a problem. But if you're a regular poker player, you'll probably find Mandalay Bay a more convenient choice for your stay. 
Entertainment and Shows at Mandalay Bay and Luxor
Entertainment is another area where you'd probably look at the two resorts as one.
You'll already have realized that the one thing that most Las Vegas's mega resorts do well is to entertain. These two resorts are no different!
Not many will fail to be impressed by the spectacle of Mandalay Bay's Cirque du Soleil show, Michael Jackson ONE. It's, without a doubt, one of the hottest shows on the Strip!
But, no less entertaining is the Luxor's Blue Man Group, with their eclectic mix of music and humor. Just remember to leave your expectations at the door, and that audience participation is almost obligatory.
The Luxor is home to a couple of other popular shows, as well. The comedy of Carrot Top and the sultry, sexy show Fantasy. You will not want for entertainment at either resort.
Pools: Mandalay Bay or Luxor?
If your idea of vacation is just lazing by the pool, then both resorts are well-equipped to satisfy you, but one is much better than the other!
The entire Mandalay Bay property has a beach theme, so it's amazing 11 acre pool complex should come as no surprise! With plenty of loungers laid around the sandy beaches surrounding the pools, you'll think you've gone to pool heaven.
In addition, both the wave pool and the lazy river provide a fun interlude to all that lounging around. There's even a beach side casino if you just can't decide between sun, sand, and gaming.
Over at the Luxor, the pyramid provides an impressive backdrop to its pool area. There's no wave pool or lazy river here, which possibly gives it a more relaxing feel. It's an impressive pool area but can't really compete with the pools at Mandalay Bay.
At either resort, you can really live it up by renting a cabana. These cabanas come with TVs, fridges stocked with drinks, ceiling fans, and cushioned seating, amongst other amenities. It's almost like taking your room poolside.
Just note that both the Mandalay Bay and Luxor charge non-guests for pool access. So, if you have a preference for one or the other pool areas, that might determine your hotel choice.
Conclusion
Well, by now, you've hopefully got a clearer picture of whether Mandalay Bay or the Luxor is the better choice for you.
Given that the two are connected, with only a short distance between them, your decision will probably come down to which room or pool you prefer.  
But, whichever one you choose, you're sure to enjoy all the delights that these vast entertainment complexes have to offer.
Other Las Vegas Hotel Comparisons
Check out these other comparisons of Las Vegas Hotels.
MGM Grand vs. Mandalay Bay: Which Is Better? – Read it here
Mandalay Bay vs. Delano: Which Is Better? – Read more
Mandalay Bay vs Bellagio: How to choose? – Article here
Mandalay Bay vs. Mirage: Who does it better? – Find out here
MGM Grand vs. Luxor: Which Is Better? – Find out here
Luxor vs. Treasure Island: How to choose
Luxor vs. Mirage: Which should you choose? – Article here
Luxor vs. Flamingo: The best? – Find out here
Sources: