MGM Grand vs. Mandalay Bay: Which Is Better? (Las Vegas)
You've been looking for a hotel in Las Vegas that's going to satisfy your every need, but at a reasonable price. Your search has brought you to the MGM Grand and the Mandalay Bay, and both seem to fit the bill. But which one should you choose?
Choose the MGM Grand if price, entertainment, and location on the Las Vegas Strip are your most important considerations. Alternatively, you can choose to stay at Mandalay Bay if having a larger room with more amenities, plus an overall more relaxing atmosphere is of primary importance.
The table below will help compare some of the highlights between these two Las Vegas Hotels.
Category
MGM Grand
Mandalay Bay
Room Price
From $63 per night
From $65 per night 
Resort Fees
$39 per day
$39 per day
Parking Fees
Self-Parking: $18-$23 daily
Valet: $35 – $40 daily
Self-Parking: $18-$23 daily
Valet: $35 – $40 daily
Location
Great location in the middle of the busy mid-Strip area
The south end of The Strip, 0.7 miles (1.28km) from the busy mid-Strip
Major Shows
– KÀ by Cirque du Soleil
– Brad Garrett's Comedy Club
– Variety of other live events
– Michael Jackson ONE by Cirque du Soleil
– The House of Blues
Pools
4 pools, 3 whirlpools, lazy river, waterfalls in the 6.5 acre Grand Pool Complex
– 3 full-size pools
– adults-only pool
– 1.6 million-gallon wave pool
– Sandy beach and lazy river
Nearby Attractions
– The CSI Experience
– TopGolf
– Grand Spar & Fitness Centre
– MGM Grand Monorail station
– Shark Reef Aquarium
– Concerts on the Beach
– Mandalay Bay Events Center
(This article may contain affiliate links, which means we might earn a small commission if you click and make a purchase. Thank you!)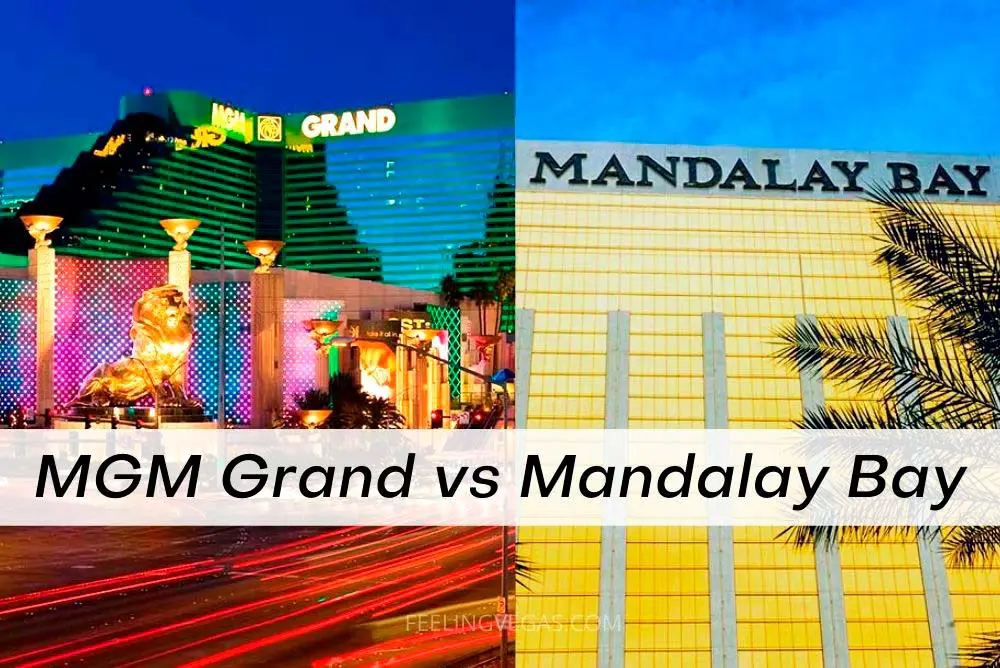 Name: MGM Grand
Address: 3799 S Las Vegas Blvd
Casino Floor: 171,500 sq ft.
Year Built: 1973
Number of Rooms: 6,852
Name: Mandalay Bay
Address: 3950 S Las Vegas Blvd
Casino Floor: 135,000 sq ft.
Year Built: 1999
Number of Rooms: 3,209
You might be looking at this table and thinking that there isn't really too much differentiating them. Maybe you need more detail to work out if paying a little extra for the Mandalay Bay is worthwhile. Well, read on, because that's what you'll find below.
MGM Grand vs. Mandalay Bay – How Do They Compare?
Both resorts are vast, even by Las Vegas standards. However, the MGM Grand takes the crown in the size-stakes. Its 6,852 guest rooms almost dwarf the mere 3,209 rooms of the Mandalay Bay. So, if size is everything, then the MGM Grand wins hands down. 
However, we all know that bigger isn't always better so let's take a look and compare the most important aspects of these two hotels.
Location on The Strip: MGM Grand vs. Mandalay Bay
As with anything travel-related, location is everything! While the MGM Grand and Mandalay Bay resorts both have prominent locations on the Strip, one is definitely better than the other if you're planning to explore as much of the mid-Strip area as possible on foot.
The MGM Grand is located on the southern end of the busy mid-Strip area. You'll find that there is much more to see and do within a short walking distance outside of the resort. Just across the street, you'll find New York-New York and Excalibur which are each about a 5-minute walk from MGM Grand.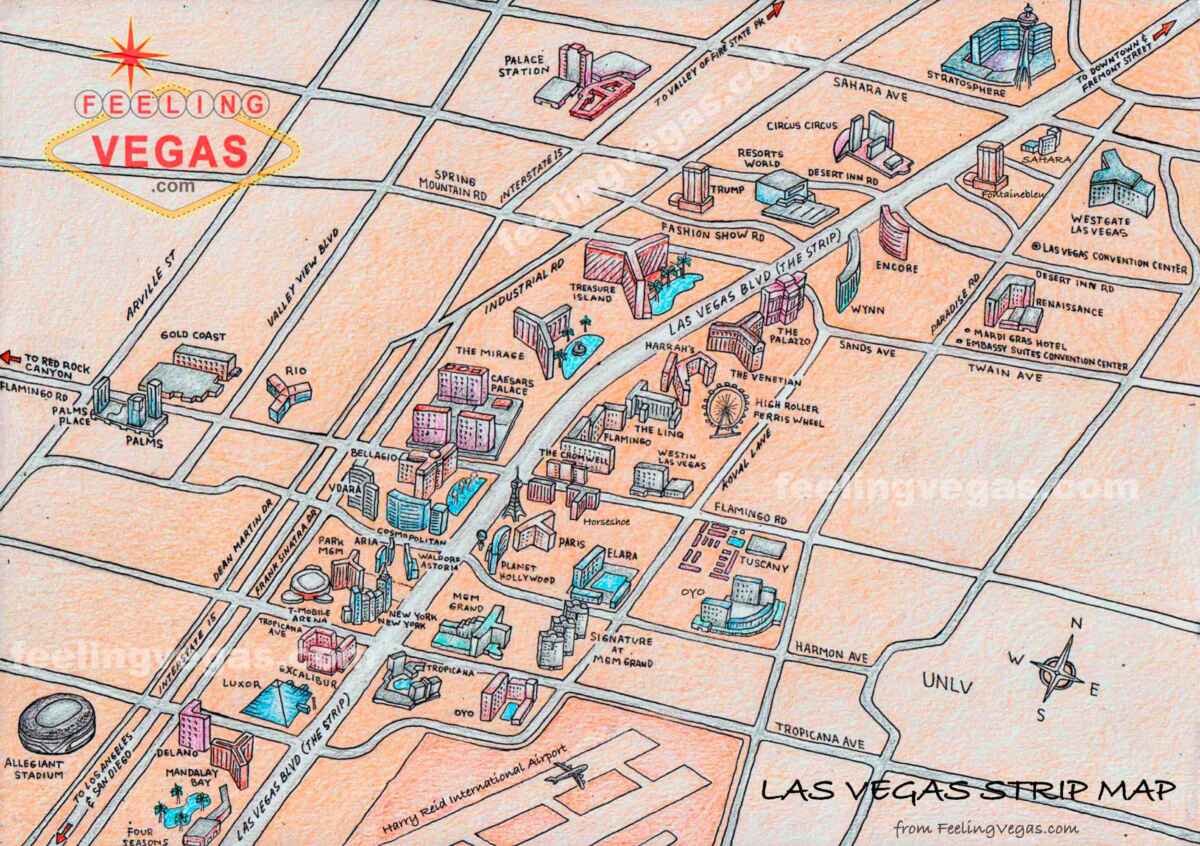 Heading north from the MGM Grand will get you to Paris Las Vegas, Planet Hollywood, and the Bellagio Fountains.
Mandalay Bay on the other hand is about a 20-minute walk just to get to the south end of the mid-Strip area. Mandalay Bay, however, is within easy walking distance of the Luxor (8 min) and Excalibur (12 min).
Mandalay Bay isn't in a terrible location by any means, but if you're wanting to explore the Strip on foot, the MGM Grand will be your best choice.
If you plan on spending most of your time at the resort or are okay using another form of transportation to get around then this is a non-issue and in this case, Mandalay Bay has an equally good location.
MGM Grand vs. Mandalay Bay Room Comparison
Now, let's see how they compare by looking at what you can expect if you book a standard room:
MGM Grand
Mandalay Bay
West Wing King:
– 350ft² (32.5 m²)
– King bed 
– 40'' (101cm) Flatscreen HDTV
– In-room wifi
– Seating area with one chair
– Desk
– Max guests, 2
Resort King:
– 550ft² (51 m²)
– King bed
– Pillow-top mattress
– Flat-screen TV
– In-room wifi
– Floor to ceiling windows
– Seating area with two chairs
– Minibar
– Safe
– Various views of the Strip
or mountains depending on room
Comparing the standard rooms at MGM Grand and Mandalay Bay
As you can see, Mandalay Bay offers a lot more in terms of space and in-room amenities, for only a slightly higher cost. 
Also, be aware that the West Wing King has an odd layout, with the bathroom area having no door. Thankfully, however, the shower and the toilet do have frosted glass screens. 
You could move up one room level at the MGM Grand to the Grand King, and you'd get a bigger room size (446 sq ft). You'd also get more room amenities, like plush linens, marble-adorned bathroom, media hub, and executive style desk chair. However, it's nearly double the price of the standard room.
On this basis, you'd probably conclude that the Mandalay Bay's standard room offers a better value. You'll definitely get more bang for your buck at Mandalay Bay roomwise.
Dining at MGM Grand vs. Mandalay Bay
Whichever of these two resorts you choose, you won't be disappointed when it comes to your dining options. Both hotels have a wide selection of eateries, catering to every budget.
The MGM Grand has twenty-two restaurants, providing American, Italian, Chinese, Japanese, Mediterranean, French, and Creole. Primarily targeted at the smart-casual end of the market, the range includes some famous chef names that you may recognize, like Joël Robuchon, Tom Colicchio, and Wolfgang Puck.
Over at Mandalay Bay, there's an even longer list of dining options, around thirty, with similar international coverage to the MGM Grand. It also has its fair share of big-name chef offerings, such as Alain Ducasse, Shawn McClain, and Hubert Keller. 
So, you'll find that on the dining front, there's not too much separating the two resorts.
Shopping: Mandalay Bay or MGM Grand
If it's international designer labels you're after, you won't find them on-site at the MGM Grand or the Mandalay Bay. The focus is more on jewelry and souvenirs than serious fashion. But, since you're there, you might as well check them out, as you never know what you might pick up.
If it's designer shopping you're after, take a look at our article, "12 Amazing Shopping Malls on the Las Vegas Strip" here. We'll show you where the real shopping can be found on the Strip.
Better Casino: MGM Grand or Mandalay Bay
If gambling is your thing, the MGM Grand's 171,500 square foot casino, with its seemingly endless rows of slots and a broad selection of table games, will no doubt delight you. You'll also find a separate poker room and a large sportsbook with a bank of huge LCD and plasmas, so you won't miss a thing.
At Mandalay Bay's casino, you'll find a similar range of gaming, just on a slightly smaller scale. At 135,000 sq ft., the casino is still very large but not quite as big as the MGM Grand. Still, there's more than enough to keep the casual gambler happy.
Here's the takeaway: if a wide variety of gambling options is your main interest, the MGM Grand is probably your best bet.
Comparing Shows & Entertainment
You can't have an entertainment complex without, well, entertainment.
Fortunately, both resorts provide a bonanza of live extravaganzas all year-round.
Each has its own stunningly presented Cirque du Soleil show, the epic KÀ at MGM Grand, and Michael Jackson ONE at the Mandalay Bay.
Both also have event venues for live music and sports: the MGM Grand Garden Arena and Mandalay Bay Events Center.
The MGM Grand has nightly showcase performances by David Copperfield.  Additionally, there's a "virtual reality gaming arena" where you can do battle to save the Universe, as long as you're over 13 years old. You'll be pleased to know that there's no upper age limit.
At the Mandalay Bay you can access the Shark Reef Aquarium, where young and old alike can get up-close and personal with, you guessed it, sharks. There's also a wide variety of exotic sea-life to view, as well as other non-sea creatures like a komodo dragon and crocodiles. If you're feeling daring, you can even dive with the sharks, though it isn't cheap. 
So, as you can see, both resorts offer something for everyone on the entertainment side. Whichever one you choose for your stay, there won't be a dull moment.
Pool Areas: MGM Grand & Mandalay Bay
MGM Grand and Mandalay Bay are both tops when it comes to the overall pool experience. In fact, these two hotels have two of the largest pool complexes on the Strip!
The MGM Grand pool complex is 6.5 acres of fun! With several pools to choose from and a huge lazy river, all your pool needs will easily be met.
Believe it or not, the pool area at Mandalay Bay is even bigger! The 11-acre pool deck comes complete with multiple swimming pools, a wave pool, a lazy river, and SAND! Yes, there is an actual sandy beach on the Las Vegas Strip and it can only be found at Mandalay Bay.
So needless to say, if enjoying the pool area is high on your list, both resorts really deliver the goods.
Extras
Both resorts are part of the global entertainment giant MGM Resorts International, so they each offer the same reward program, M Life Rewards. It's probably something you'll want to consider joining if you plan on staying at one of these venues. 
Members are rewarded for all resort expenditures, whether it's in the restaurants, the spa, or in the casino. Also, you'll get offers on room rates.
You'll be able to redeem points against room costs, dining, entertainment, or free play in the casino. At least you might recoup some of the cost of the shirt you'll lose at the casino (just kidding!).
You can join M Life Rewards at the signup desk in either hotel.
Conclusion
And there it is. As you can see, both resorts have plenty to offer in terms of entertainment, dining, shopping, and gambling. This makes it hard to separate them. So, it really depends on what's most important to you. 
If room size and in-room amenities are your drivers, you'll probably prefer Mandalay Bay. More so if the open bathroom arrangement of the MGM Grand's standard room doesn't appeal to you.
However, the MGM Grand has a slightly better position at the southern end of the mid-Strip. There's also the added convenience of the monorail station, in case you want to explore beyond the resort.
But, the reality is, whichever one you decide to go with, you're unlikely to end up feeling you made the wrong choice.
Other Las Vegas Hotel Comparisons
Check out these other comparisons of Las Vegas Hotels.
MGM Grand vs Luxor – Read here
MGM Grand vs. MGM Signature – Which one's best?
MGM Grand vs ARIA – How to decide
MGM Grand vs Park MGM: Which is Better? – Find out here
MGM Grand vs Mirage – Which to choose?
Paris Las Vegas vs MGM Grand: Who comes out on top? – Article here
Mandalay Bay vs Bellagio: How to choose? – Article here
Mandalay Bay vs. Delano: Which Is Better? – Read more
Mandalay Bay vs Bellagio: How to choose? – Article here
Mandalay Bay vs. Mirage: Who does it better? – Find out here
Mandalay Bay vs. Luxor: Which to choose? – Find out!
Sources: