MGM Grand vs. Park MGM: Which Is Better? (Las Vegas)
(This article may contain affiliate links. If you click through and make a purchase, we will receive a small commission at no additional cost to you. )
So, you want the best possible Las Vegas experience for your money, and the MGM Grand and the Park MGM have got your attention. In terms of price and location, there's not much difference between them, so how do you decide between the Park MGM and MGM Grand?
You will want to choose the MGM Grand if you're looking for a large resort with high energy and plenty of excitement available right on the property. Otherwise, choose the Park MGM if you'd like a quieter, more refined property with slightly bigger rooms.
Compare some of the highlights between the MGM Grand and Park MGM in the table below:
Category
MGM Grand
Park MGM
Room Price
From $63 per night
From $53 per night 
Resort Fees
$39 per day
$39 per day
Parking Fees
Self-Parking: $15 daily
Valet: $26 – $30 daily
Self-Parking: $15 daily
Valet: $26 – $30 daily
Location
Great location in the middle of the busy mid-Strip area
On The Strip, located in the bustling mid-Strip area
Major Shows
– KÀ by Cirque du Soleil
– Brad Garrett's Comedy Club
– Variety of other live events
The Park Theater, a 5,200-seat venue, hosts various live events throughout the year, including residencies by Aerosmith, Usher, and Silk Sonic
Pools
4 pools, 3 whirlpools, lazy river, waterfalls in the 6.5 acre Grand Pool Complex
3 pools, 1 hot tub
Nearby Attractions
– The CSI Experience
– TopGolf
– Grand Spar & Fitness Centre
– MGM Grand Monorail station
– The Spa at Park MGM
– Art Program (Park MGM Collection)
– Haus of Gaga
– T-Mobile Arena
– The Park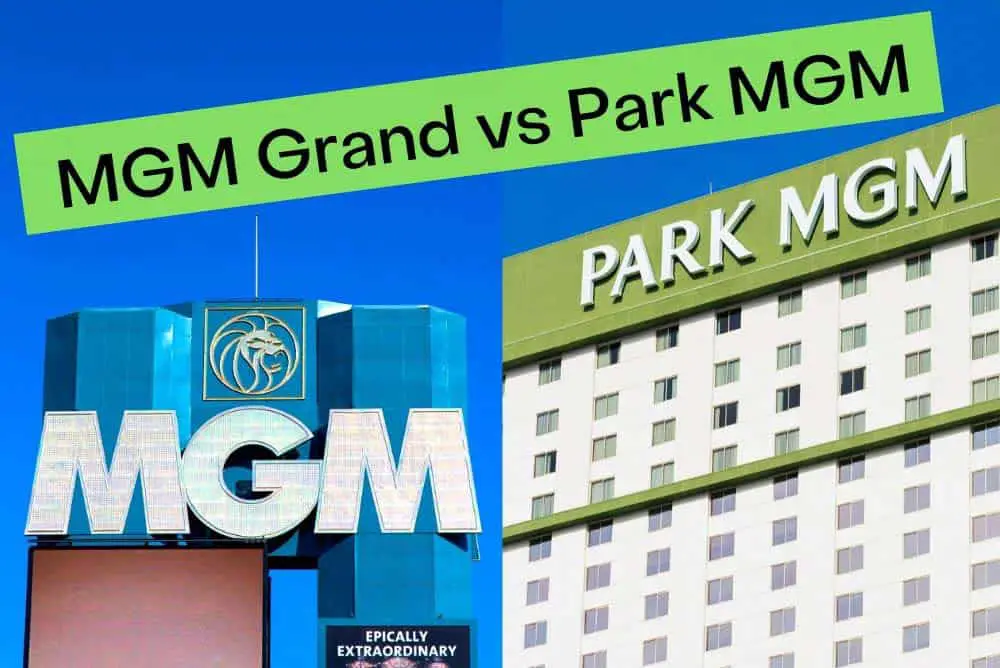 Name: MGM Grand
Address: 3799 S Las Vegas Blvd
Year Built: 1993
Number of Rooms: 6,852
Name: Park MGM
Address: 3770 S Las Vegas Blvd
Year Built: 1996
Number of Rooms: 2,992
However, you know the devil's in the details, and you'll definitely want more details before deciding which hotel to choose. So, keep reading for additional information that will help you pick the right hotel for you. 
Be sure to download our FREE map of the Las Vegas Strip so you can see where both these hotels are located on Las Vegas Boulevard!
MGM Grand vs. Park MGM – How Do They Compare?
The MGM Grand's 6,852 guest rooms underscore its objective of appealing to the masses. With a mere 2,992 rooms, the Park MGM, is small by comparison, probably signaling its intent to attract a more discerning crowd.
With room rates and location providing no distinction between them, let's delve a little deeper.
Comparing The Standard Rooms: MGM Grand & Park MGM
For the starting standard room rates, here's what you'll get:
MGM Grand
(Standard Room)
Park MGM
(Standard Room)
West Wing King:
– 350ft² (32.5 m²)
– King bed 
– 40'' (140cm) Flatscreen HDTV
– In-room wifi – Seating area with one chair
– Desk
– Max guests, 2
Park MGM King:
– 406ft² (38m²)
– King bed
– 50''(127cm) LED TV, plus IPTV with premium cable and movies
– Spacious shower
– Luxury linens and towels
– Window seating for 4, plus a table
– In-room wifi
– Blackout shades
– Max guests, 2
– Self check-in, mobile check-out
So, you can see that the Park MGM offers a lot more in terms of space and in-room amenities for the same price. I especially like the black-out curtains!
Also, be aware that the West Wing King at the MGM Grand has an odd layout; the bathroom area has no door. Although the shower and the toilet do have frosted glass screens, this arrangement may not appeal to everyone. 
If you want a door on the bathroom at the MGM Grand, you'd need to move up one room level to the Grand King. You'll get more space, 446ft² (41.4m²), and higher specs, like plush linens, a marble-adorned bathroom, and a media hub. However, it's nearly double the price.
On this basis, you'd probably conclude that Park MGM's standard room appears to be a better value.
In addition to the standard rooms, both properties have several upgraded room options to choose from including:
Suites – MGM Grand has suites from 675 to 1,300 sq ft. while Park MGM offers suites from 700 to 900 sq ft.
Stay Well Rooms – Both properties offer "Stay Well" rooms that include added features to accentuate your health during your Vegas vacation. These amenities include upgraded memory foam mattresses, special lighting to keep your body clock in tune, air purification systems, aromatherapy, and a shower designed to lower the levels of chlorine in the water. Housekeeping even uses special non-toxic cleaners when cleaning the room.
SKYLOFTS – An upgrade from the suites at MGM Grand would be the SKYLOFTS. These rooms feature butler service, and jacuzzi tubs, and are serviced twice daily. They also offer 1 to 3 bedrooms and are sized between 1,400 to 6,000 sq ft.
NoMad Las Vegas – Park MGM has the option of staying at a hotel within a hotel. The NoMad Las Vegas is a small boutique hotel (just 293 rooms) inside Park MGM. Every room features custom furnishings and European styling. Very upscale!
As you can see, the room offerings at both properties are extensive and designed to meet your every need.
Dining: Park MGM or MGM Grand
Both resorts provide an array of dining options to suit all tastes. 
The MGM Grand lists twenty-two restaurants, providing American, Italian, Chinese, Japanese, Mediterranean, French, and Creole. Primarily targeted at the smart-casual end of the market, the range includes some famous names, like Joël Robuchon, Tom Colicchio (Craftsteak), and Wolfgang Puck (Bar & Grill).
Some of the MGM restaurant standouts include:
Crush – American fare by Chef William DeMarco.
Morimoto – Japanese American cuisine by Chef Massaharu Morimoto.
Grand Wok Noodle Bar – Casual Asian cuisine.
Nellie's Southern Kitchen – Southern charm and comfort food.
MGM Grand Buffet – A classic Las Vegas Buffet (see a list of all Las Vegas buffets currently open).
If you're looking for more of a quick bite then head over to the food court where you'll find pizza, Subway sandwiches, and more fast food options.
Park MGM's offering is less extensive, with a dozen or so restaurants and bars providing gourmet to casual American, French, Italian and Asian cuisine.
Park MGM restaurants include:
Bavette's Steakhouse & Bar – Fine French dining and fun.
Best Friend – Offering traditional Korean BBQ.
NoMad Library – Classic American dishes in a luxurious setting.
Beerhaus – Beer house and bratwurst.
The Italian offering is extended with Eataly Las Vegas which is a large Italian marketplace that also includes several Italian-style eateries.
Eataly Las Vegas also offers live cooking demonstrations plus Italian kitchen and homeware products to buy. You can even go on a walking tour to learn more about, and taste, the food, and wine.
Venturing outside the Park MGM's confines, just across the road, is the outdoor dining and entertainment green space called The Park.
Even though there are plenty of eating choices within the resort, the proximity of The Park makes its dining options easily accessible to Park MGM guests, increasing your range of dining choices considerably.
Shopping at MGM Grand and Park MGM
If it's international designer labels you're after, you won't find them on-site at either resort.
The MGM Grand's shops focus more on jewelry, health and beauty, and souvenirs than serious fashion. 
At Park MGM, it's even more limited. The Shoppe stocks travel essentials and health and beauty products, while the Corner Store, provides a selection of clothing, leather goods, and watches.
So, if you're a shopaholic looking for a fix, you'll need to go off-resort, whichever one you choose.
For shopping, you'll want to head to one of these 12 amazing shopping malls on the Las Vegas Strip.
How The Casinos at MGM Grand and Park MGM Compare
The MGM Grand's mammoth 171,500ft² (15,933m²) casino is no less than you'd expect from this megaresort. It accommodates 2,650 slots and table games, plus a separate poker room. In the large sportsbook, the 60 LCD and plasma screens mean there's no chance of missing the action.
Park MGM's 102,000ft² (9.500m²) casino is dwarfed by comparison. However, it still manages a respectable 900 slots, plus table games. There's no separate poker room, but there is a sportsbook. Well, probably more a bar than a sportsbook, as the BetMGM Sportsbook & Bar also has pool tables and bowling lanes. Still, it gets the job done.
But if you take your gambling seriously, the MGM Grand is probably your best bet.
MGM Grand Pool or Park MGM Pool?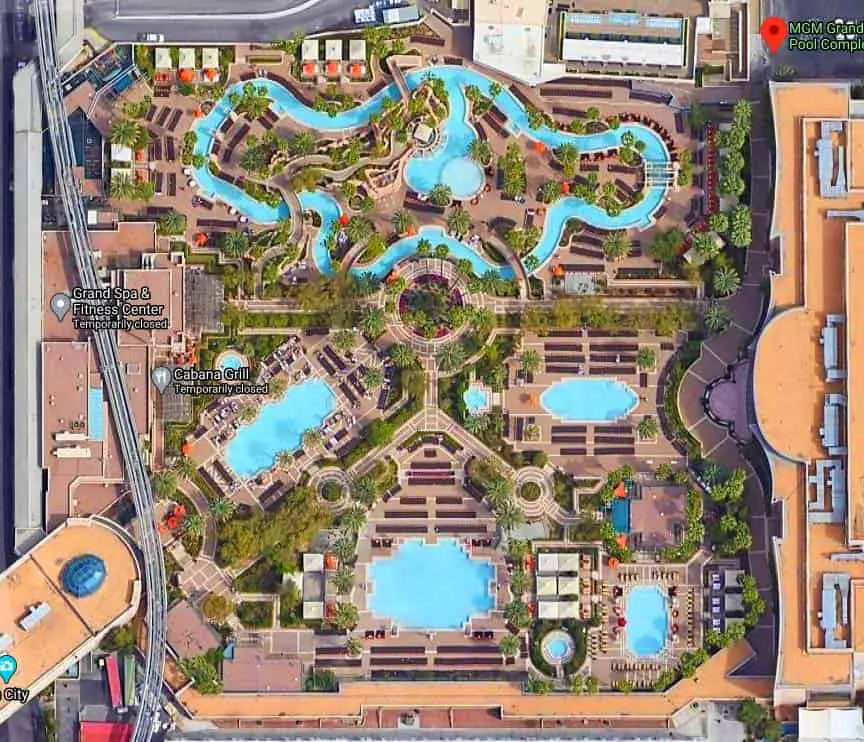 If hanging out at a fabulous pool is your idea of a perfect day in Las Vegas then the MGM Grand has the ideal pool area for you. The MGM Grand Pool Complex is a 6.5-acre pool paradise containing four large swimming pools, three hot tubes, a lazy river, and plenty of drink and food options. You can easily spend an entire day here.
The Park MGM pool by comparison is quite nice but just can't compete with the Grand Pool Complex. It offers three swimming pools, a couple of bars, food, and plenty of lounge chairs.
RELATED: MGM Grand Pool Complex: 23 Things You Should Know (Las Vegas)
Park MGM vs MGM Grand Entertainment
The MGM Grand's stunning Cirque du Soleil show, KÀ, is the type of magnificent spectacle you'd expect in Vegas. The dynamic set and amazing acrobatic performances add up to a breathtaking and captivating experience.
The MGM Grand is also home to the David Copperfield Theater with mesmerizing nightly magic performances conjured up by, you guessed it, David Copperfield.
Additionally, there's a virtual reality gaming arena where you can fight to save the Universe. While you've seen and heard of virtual reality, you haven't seen it like this.
If it's live music and sport that grabs you, there's plenty of that at the MGM Grand Garden Arena, with big-name acts scheduled throughout the year.
The Park MGM's entertainment offering may be considered a little more subdued by comparison.
However, the live music front is well covered with residencies by Aerosmith, Usher, and Silk Sonic. Not enough? Well, there's a full schedule of concerts at the T-Mobile Arena, only 0.4 miles (0.64km) away, so live music lovers won't be disappointed.
For something more relaxing, there's the Art Program, a weekly guided tour through the hotel's art collection. It's an extensive collection featuring a variety of artists, including David Hockney.
And don't forget The Park across the road. This green space on the Strip provides a welcome chance to get some fresh air and enjoy the gorgeous weather.
So, less glitz and glamour, maybe, but the Park MGM isn't short of things to keep you entertained.
Comparing Nightlife at Park MGM and MGM Grand
If it's nightlife you're looking for then MGM Grand is hands down the top choice. The MGM Grand resort is huge and has a wide variety of bars, lounges, and live music venues. Plus it has Hakkasan Nightclub one of the hottest night spots in Vegas.
Due to its overall more subdued nature, Park MGM doesn't offer a whole lot of nightlife activities on its premises. However, one notable exception is The Juniper Cocktail Lounge. This self-described "gin joint" offers a multitude of specialty cocktails served in a refined atmosphere. It's a great place to hang out with friends.
Smoking Policy: MGM Grand & Park MGM
Smoking is an area where there is a large difference between these two properties. Park MGM is the first entirely smoke-free resort property in Las Vegas. Smoking is not allowed anywhere at the Park MGM, including the rooms, casino, bars, and restaurants.
The MGM Grand on the other hand does allow smoking in the casino and enclosed bar areas. So if you want to avoid smoking, Park MGM is the place for you.
Park MGM to MGM Grand
Even though these two properties are not connected, it is quite easy and fast to get from Park MGM to MGM Grand and vice versa.
To walk from Park MGM to MGM Grand simply head out to Las Vegas Blvd. and cross to the other side of the Strip at Park Avenue. Head south on Las Vegas Blvd. until you get to the entrance to MGM Grand. The walk will take you about eight minutes and is just under half of a mile.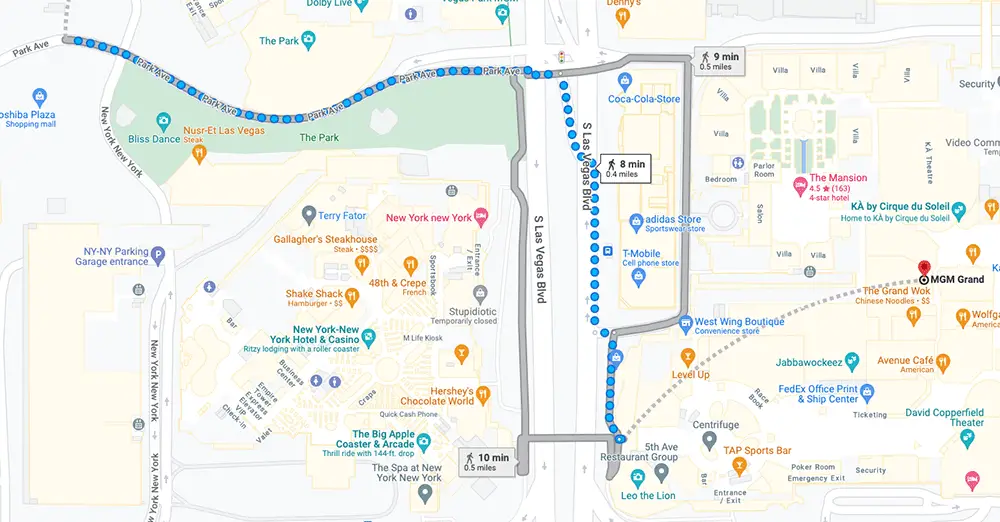 If you prefer to drive, it will take you about two minutes, depending on traffic.
Related FAQ's
Is MGM Grand and Park MGM the same?
Although they are often confused, MGM Grand and Park MGM are not the same hotels. They are both operated by MGM Resorts International but each has its own facilities and amenities.
Is Park MGM connected to MGM Grand?
Park MGM and MGM Grand are not connected. While these two resort properties are often confused with each other, they are located about half a mile apart from each other and are on opposite sides of Las Vegas Boulevard (The Strip). It's approximately an 8-minute walk to get from one to the other.
Can Park MGM hotel guests use MGM Grand Pool?
Park MGM guests cannot use the MGM Grand pool complex as part of their stay. The MGM Grand pool deck is for MGM Grand hotel guests only, although they do sometimes allow non-guests to use the pool for a daily fee.
Conclusion
So, if you're after a lively, energetic atmosphere that captures the classic spirit and extravagance of Las Vegas, the MGM Grand provides all of that in abundance. You probably wouldn't even have to leave the resort.
However, if you're looking for something a little different, quieter, and, perhaps, a bit more refined, consider the newer Park MGM. If it doesn't entirely break the mold of everybody's idea of a Las Vegas megaresort, it at least puts a noteworthy crack in it. 
Compare These Other Las Vegas Hotels
You may want to read some of these other hotel comparisons: