16 Best Japanese Restaurants on the Las Vegas Strip
(This article may contain affiliate links. If you click through and make a purchase, we will receive a small commission at no additional cost to you. )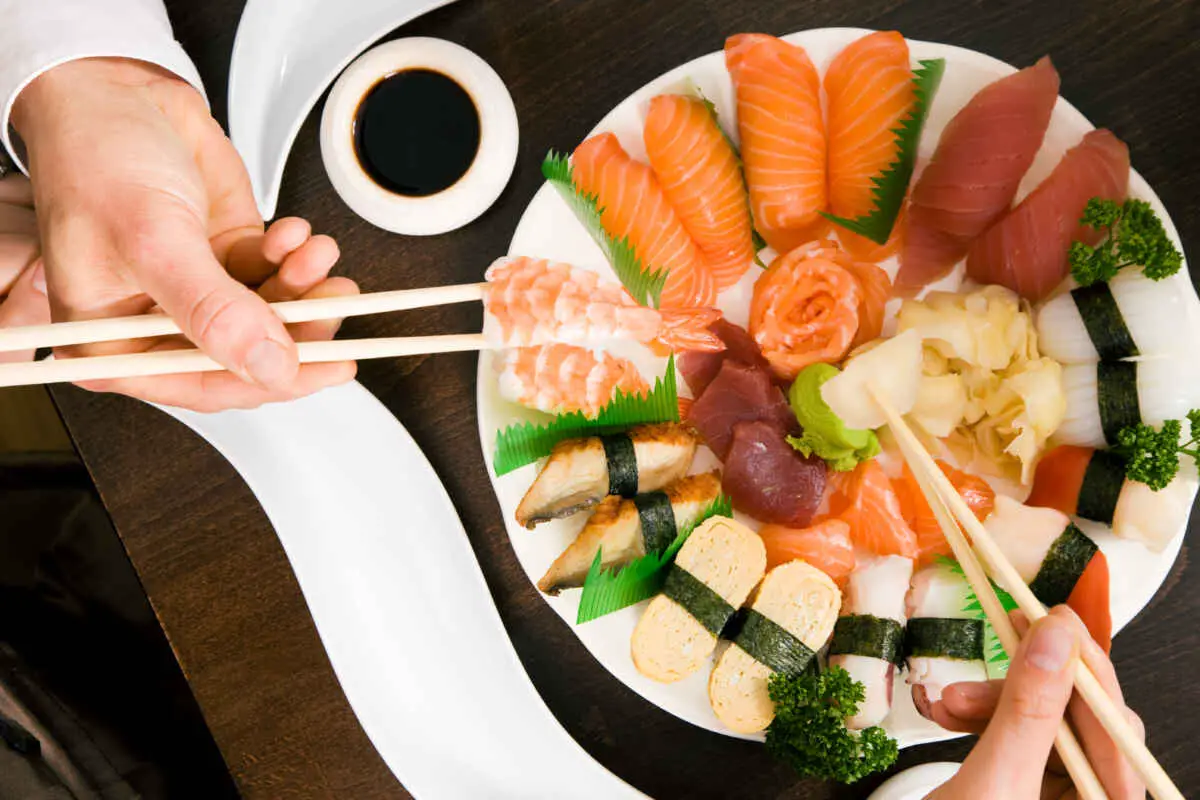 Japanese cuisine started gaining momentum in Vegas' culinary scene in the late 1960s when the first sushi restaurants appeared in the city. However, Japanese restaurants have come a long way since then, with dozens opening on the Las Vegas Strip.
They've gained so much popularity among locals and visitors alike that it's become difficult to navigate between so many options, so let's see which ones are worth it.
Fifteen best Japanese restaurants on the Las Vegas Strip include Sushi Roku, Nobu, Zuma, Jaburritos, Sushisamba, Koi Restaurant & Lounge, Kumi, Mizumi, Sakana, Wazuzu, Otoro, Benihana, Catch-Aria, Ramen-Ya, and Kusa Nori.
If you're ever in Vegas and in the mood for authentic Japanese cuisine, these are some of the best restaurants to consider, not to mention they're all conveniently located in the heart of the city.
So let's dive into each of them and explore the features that make them stand out from the competition. I assure you that your dinner plans will have become much clearer by the end of this read.
1. Sushi Roku
Located in the Forum Shops at Caesars Palace, Sushi Roku is one of the city's easiest Japanese places to find. 
However, the strategic location is far from this restaurant's only advantage. The modern, upscale atmosphere and world-famous sushi rolls are guaranteed an unforgettable dining experience.
The menu includes several all-time favorite traditional options, and some of the most creative sashimi and sushi rolls that you've ever seen. With that said, the sophisticated ambiance and great-quality food come at a price, as the menu here is pricey, even for Vegas.
In my opinion, however, you'll get what you pay for. 
Here, you can enjoy the freshest ingredients, state-of-the-art facilities, private dining rooms, and a spacious patio area, so if you're looking to splurge on a high-end Japanese meal, I highly recommend considering Sushi Roku.
2. Nobu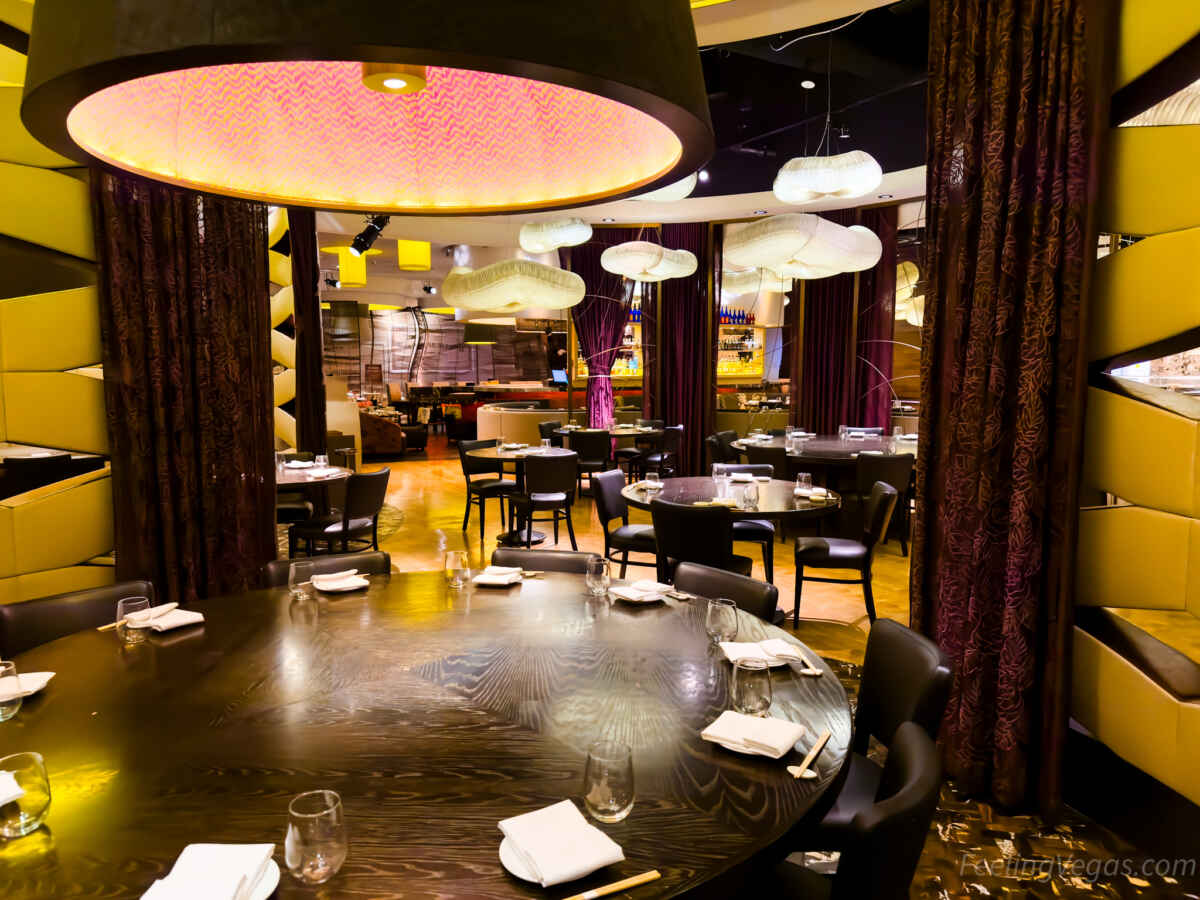 If there's one restaurant on this list you've probably already heard of before, it's Nobu. The world-renowned restaurant founded by celebrity chef Nobu Matsuhisa opened its doors in Vegas in 1995, and since then, it has become the go-to Japanese restaurant among the city's most influential people.
However, the establishment has still maintained an air of inclusivity, so even though you might've seen all your favorite celebs dining at Nobu, that doesn't mean you or I can't do the same.
If your budget allows it and you want to enjoy the quintessential high-end Japanese dining experience, Nobu is the clear restaurant choice. After all, the Caesars Palace location has a stellar reputation for its excellent sushi and sashimi, so if you consider yourself a foodie, you won't want to miss out on the experience.
Some of the must-try dishes here, aside from the sushi and sashimi collection, include:
Japanese A5 Wagyu Beef
Rock Shrimp Tempura
Crispy Rice With Spicy Tina
Yellowtail Tartare With Caviar
I'd also like to note that Nobu's drink selection is criminally underrated, as many overlook it in favor of the famous dishes mentioned above. 
However, you'd be surprised at the impressive collection of Japanese beers and whiskeys here, so I highly recommend looking through the menu beforehand. That way, you'll know exactly what you'll get and how much you'll spend on dinner.
But considering that drinks can take a large portion of your budget, you might want to choose whether to get drinks or food here, especially if you don't have a large dining-out budget. I recommend eating here and going to a great bar for drinks afterward.
If you'd like, you can even stay at the Nobu Hotel right next door to the restaurant. Find out more about the Nobu Hotel here.
3. Zuma
If you're in the mood for some izakaya-style food, there's no better place to be than Zuma. Located in the Cosmopolitan Hotel, this restaurant has a robata grill and a sushi bar. This is yet another upscale restaurant, but the prices are slightly more reasonable than what you'd find at Nobu.
The drinks here aren't underrated, though. 
The impressively creative cocktail menu greatly influences the restaurant's appeal. Don't get me wrong, the food here is excellent, especially the spicy beef tenderloin and black cod.
However, the drinks are so good that many come here to try those famous signature cocktails. If you go from 5:30 PM to 7 PM, you'll get your drinks at special happy hour prices, so plan your reservation accordingly.
If you ever come here, I recommend ordering something from the robata grill, as their salmon teriyaki and Wagyu tomahawk are simply amazing.
4. Jaburritos Sushi Burritos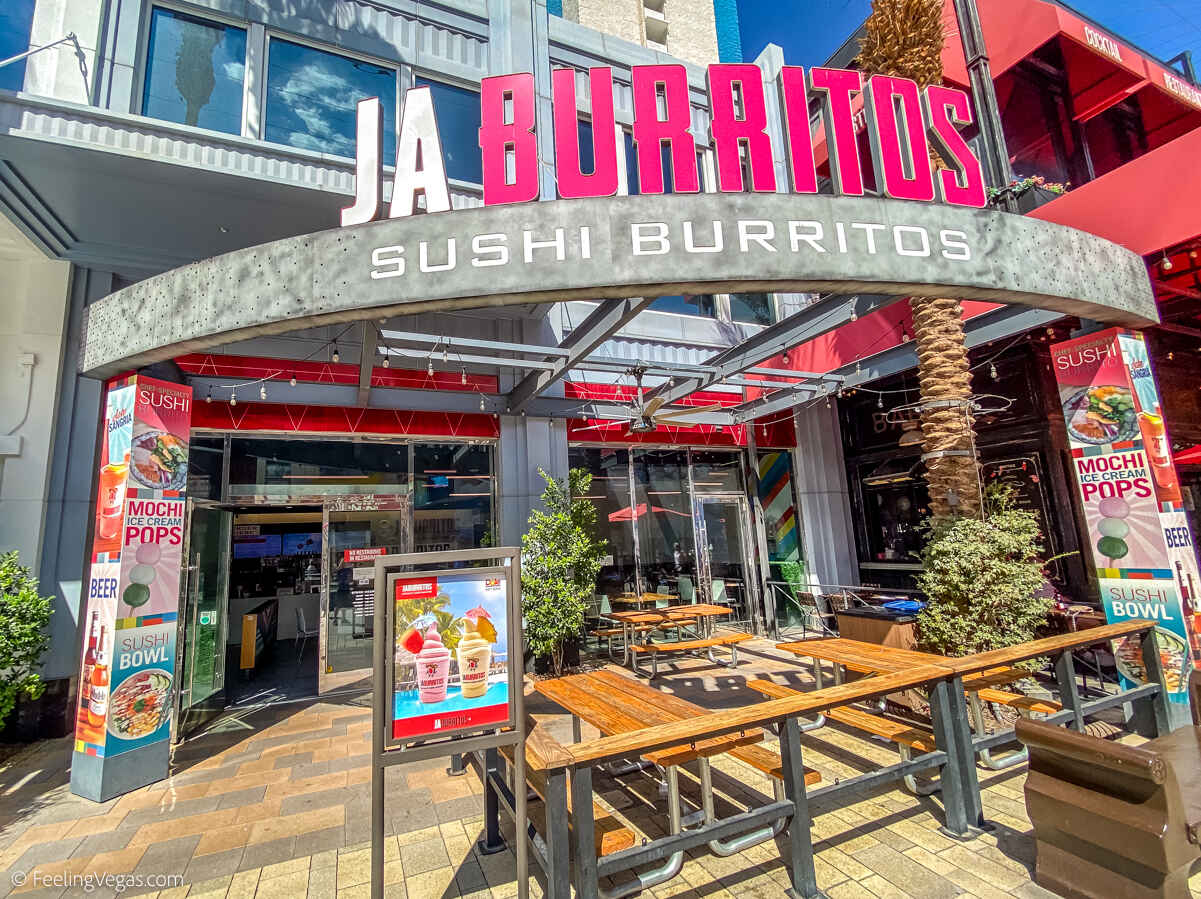 Jaborritis, located in the LINQ Promenade, is one of the most creative restaurants on today's list. So, if you're looking for authentic Japanese dishes, I recommend moving on to the other options.
However, if you're in the mood for something fun, interesting, and delicious, you've probably found the place you're looking for.
Here, you'll enjoy a unique twist on traditional sushi by ordering one of their Sushi Burritos. 
Don't worry, you'll still be able to choose from a lineup of more traditional dishes, but if you're here, chances are the fun, innovative dishes were the factor that drew you in in the first place.
Moreover, this is one of the more casual dining experiences on this list, so if you're in the mood for a laid-back Japanese-inspired dinner, you'll heavily favor Jaburritos over Sushi Roku or Nobu.
Portions here are much more generous, too, so make sure you come in hungry.
5. Sushisamba
Sushisamba is yet another fusion restaurant that combines Japanese, Brazilian, and Peruvian food, and yes, the combo really is as delicious as it sounds. The menu here is unlike anything you've ever seen, featuring a selection of sushi, ceviche, sashimi, and everything in between.
The restaurant's interior is designed to create a lively and energetic atmosphere, with colorful decor and a vibrant ambiance. Sushisamba also features a large bar area that serves a variety of cocktails and sake, making it a popular spot for happy hour and late-night dining.
Overall, Sushisamba at The Venetian is a great option for those looking to experience a fusion of flavors and cultures in a fun and exciting setting.
RECOMMENDED: Cost to Eat at Hell's Kitchen Las Vegas (Menu & Prices)
6. Koi Restaurant
If you're ever near Planet Hollywood in Vegas, I recommend stopping by Koi Restaurant. This is one of the most modern options on today's list, featuring a sleek, elegant interior, a creative sushi menu, and even a lounge area with a DJ.
What I like best about Koi is that the chefs here show the same level of attention to every dish, not just the popular main courses. So, come in hungry, as I guarantee you'll enjoy your appetizers just as much as your selection of sushi rolls.
The selection of innovative cocktails and sake here is nothing short of impressive, so, if possible, I highly recommend booking your reservation during happy hour (5- 7 pm daily) to get a good deal on your drinks.
7. Kumi Japanese Restaurant + Bar
This is yet another upscale option located in the Mandalay Bay Resort. At Kumi, you'll enjoy a modern approach to Japanese cuisine, as East Asian and Korean flavors influence the dishes here.
So, whether you're in the mood for sushi, sashimi, rice, noodles, shared plates, or even a good cocktail, you'll surely find something you've never tasted here at Kumi. If you're not the decisive type, the restaurant has got you covered.
They offer a chef's tasting menu that features some of their most popular dishes, allowing you to taste a little bit of everything. You'll get the full Kumi experience without even trying by choosing this menu.
8. Mizumi
In the heart of the Wynn resort, you'll find Mizumi, one of the most striking Japanese restaurants on the Strip. Here, the elegant, tranquil atmosphere is beautifully complemented by fresh, seasonal ingredients. 
If you want to go all-in on a private dining experience, you can even book one of their private rooms with several VIP perks, like seeing the food cooked right in front of you.
The menu here is a bit more traditional, mainly featuring sushi, sashimi, robata grill dishes, and sake. However, you'll still be able to enjoy a few modern specialties, so don't go in thinking you're about to taste the same old sushi you've had time and time again.
9. Morimoto
Morimoto is a Japanese restaurant located in the MGM Grand Hotel and Casino on the Las Vegas Strip. It is named after its founder, Iron Chef Masaharu Morimoto, who is known for his innovative take on traditional Japanese cuisine.
The restaurant features a menu that blends traditional Japanese flavors and techniques with modern culinary trends, resulting in a unique dining experience. Some of the signature dishes at Morimoto Las Vegas include the Tuna Pizza, the Toro Tartare, and the Angry Chicken.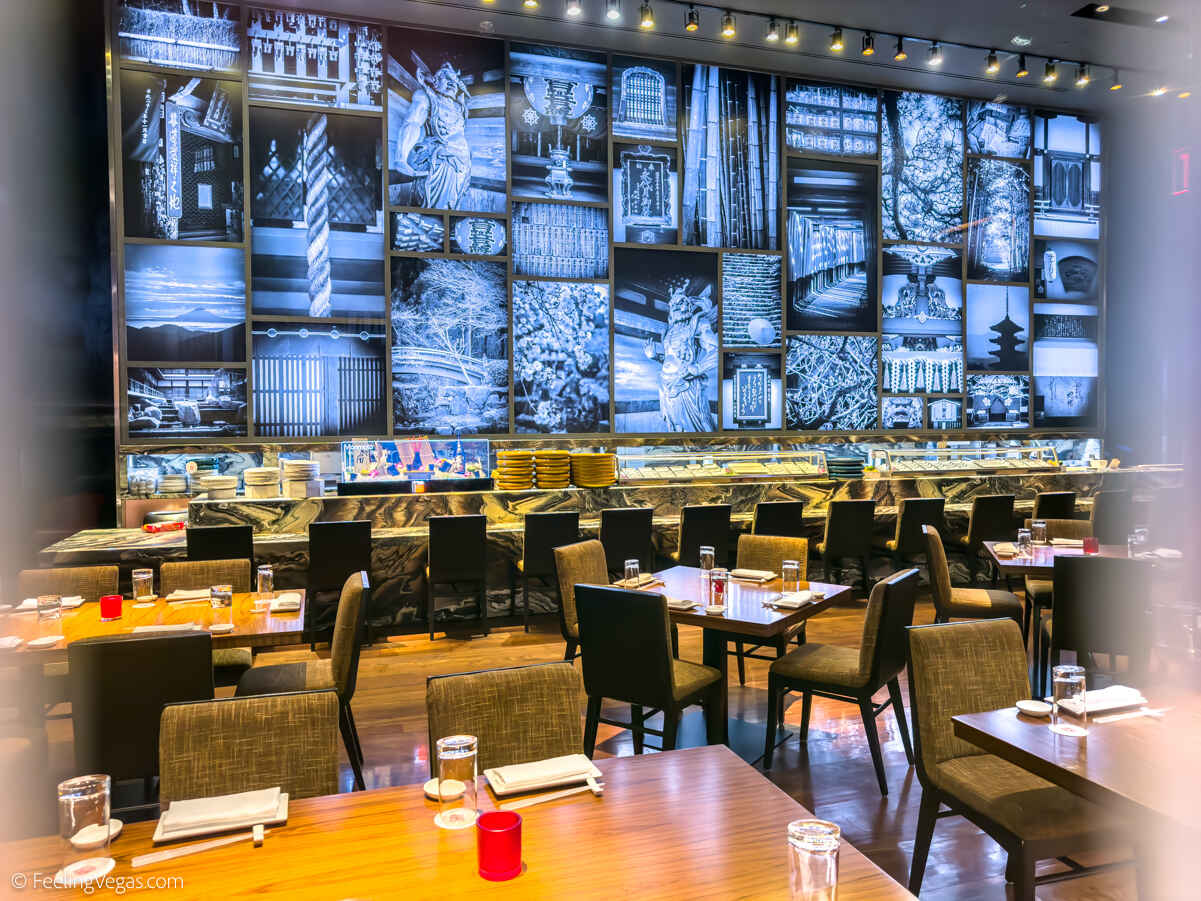 The restaurant also features an extensive sake and wine list, as well as a sushi bar and a robata grill. With its sleek and modern decor, Morimoto offers a sophisticated and memorable dining experience in the heart of Sin City.
10. Wazuzu
Returning to our higher-end choices, Wazuzu is a luxurious restaurant in Encore at the Wynn Las Vegas. Though this is not a specialized Japanese restaurant, seeing as it features dishes from all over Asia, you can still find some quintessential Japanese dishes on the menu, including a wide selection of sushi and sashimi.
The colorful decor here is unmatched, with a crystal dragon sculpture and colorful furniture. The overall atmosphere and the premium-quality dishes make the whole experience worth it, even though it comes at a premium price.
11. Otoro Robata Grill
If you ever find yourself near The Mirage, you won't want to miss out on Otoro, a modern Japanese restaurant with a sophisticated interior complete with a sushi bar and private dining rooms.
This is yet another higher-end option on the list, but again, the ingredients here are so fresh, and the dishes so well-made that they're well worth the price. So whether you're looking for some top-tier sashimi or a reactive cocktail to go with it, you're bound to find what you're looking for at Otoro.
12. Benihana
Benihana is one of the most successful Japanese steakhouse chains in the US, and the location inside the Fashion Show Mall is especially well-rated. 
Here, you'll be able to partake in teppanyaki-style dining, which consists of a chef preparing food in front of guests seated around a hibachi grill. They offer one of the liveliest, most interactive experiences out of all options on today's list, so if you're tired of your average sit-down meal, it might be the best place to get you out of that rut. 
However, remember that the memorable experience comes at a price, though many consider it worth it either way. After all, the portions here are insane, so you'll ultimately get a lot of bang for your buck.
13. Catch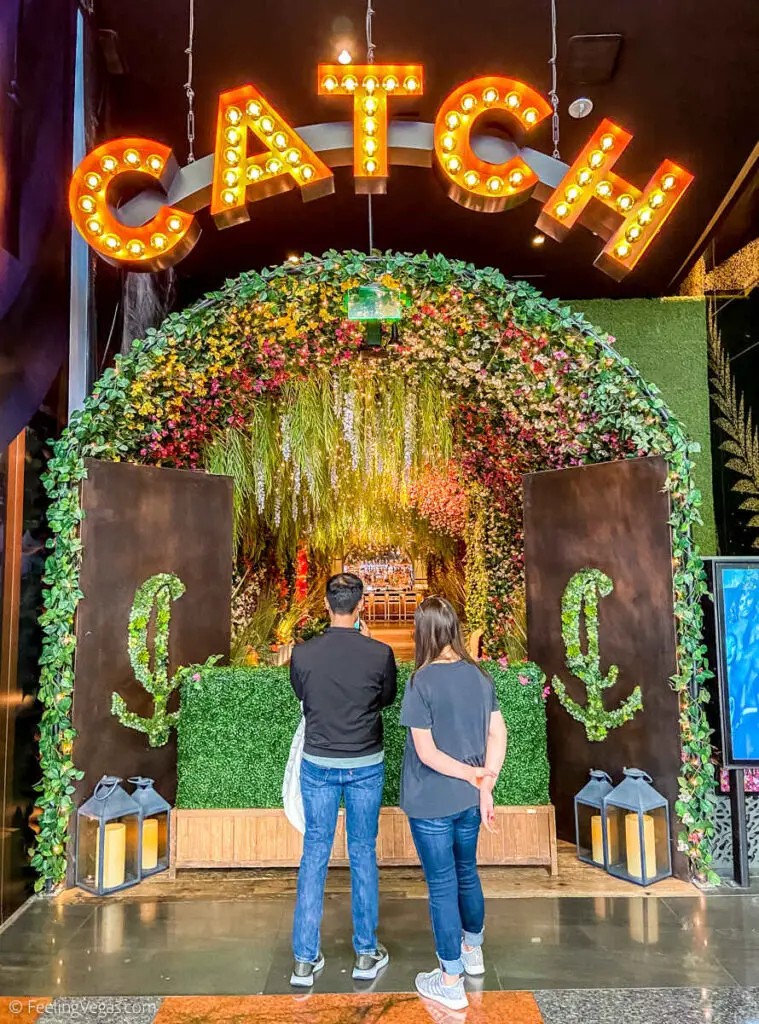 If you're particularly keen on seafood dishes, you'll love Catch, known for its fresh ingredients and Japanese-inspired food. 
Located inside the Aria Resort & Casino, this restaurant has made a name for itself through its trendy, upscale atmosphere and remarkable dishes. If you ever go to Catch-Aria, you'll want to pick out something from their sushi selection, as that's what they're most famous for. 
Moreover, they serve some of the most creative cocktails in the area, so you won't want to miss out on those, either.
Speaking of Aria, if you're wondering about the other restaurants found inside the resort, check out our article: 8 Best Restaurants at Aria Las Vegas
14. Ramen-Ya
Let's explore a more budget-friendly option, Ramen-ya, located in the Grand Bazaar Shops. This restaurant is perfect for those looking for a more laid-back dining experience, which can be challenging to find on the Vegas Strip.
Here, you'll find a wide selection of Japanese dishes, including ramen, sushi, sashimi, and other specialties. You can also choose between indoor and outdoor sitting areas to stay comfortable and entertained all night. 
The welcoming and warm atmosphere provides comfort that's difficult to find elsewhere in Vegas, and that's saying something!
15. Kusa Nori
Kusa Nori is a modern Japanese restaurant located in Resorts World Las Vegas. Don't let the innovative dishes fool you, though, this is still a casual, moderately-priced place that boasts a warm, welcoming atmosphere. 
So, whether you're on a budget or simply looking for a more laid-back dining experience, Kusa Nori is the place to be. The food here is to die for, and whether you're getting the Hamachi crispy rice, shrimp tempura, or something from the nigiri or sashimi selection, I can guarantee you'll leave feeling happy and full. 
You'll also find some large-format dishes here, so make sure to come in hungry, and, more importantly, don't forget to try one of their signature cocktails before your main course.
16. Wakuda Restaurant
Wakuda is a fine-dining Japanese restaurant located at The Palazzo at The Venetian. The restaurant is run by award-winning Chef Tetsuya Wakuda, known for his two Michelin Stars.
The menu at Wakuda features a variety of dishes, including sashimi, sushi, and grilled meats and seafood. The restaurant also offers a selection of sake and wine to complement the food.
The restaurant's interior is designed to be sophisticated and elegant, with a modern take on traditional Japanese design. Wakuda is a popular destination for those looking for a high-end Japanese dining experience in Las Vegas.
Still hungry? Look at the 15 Best Mediterranean Restaurants in Las Vegas (Food With Flavor!)