8 Best Restaurants at Aria Las Vegas (Revealed!)
(This article may contain affiliate links. If you click through and make a purchase, we will receive a small commission at no additional cost to you. )
If you're looking for the best places to eat while staying at Aria Resort & Casino in Las Vegas, you have plenty of excellent options to choose from. The luxury resort hotel offers some delicious casual and upscale dining experiences.
The best restaurants at Aria Las Vegas include Carbone, Din Tai Fung, and Blossom. These restaurants offer European and Asian food. For a more traditional American dining experience, you can check out Jean Georges Steakhouse and Moneyline Pizza & Bar.
Read on, and I'll tell you about some of the best restaurants and menu highlights at Aria Las Vegas. Let's get started!
Compare and save! Check current ARIA room rates at TripAdvisor!
1. Carbone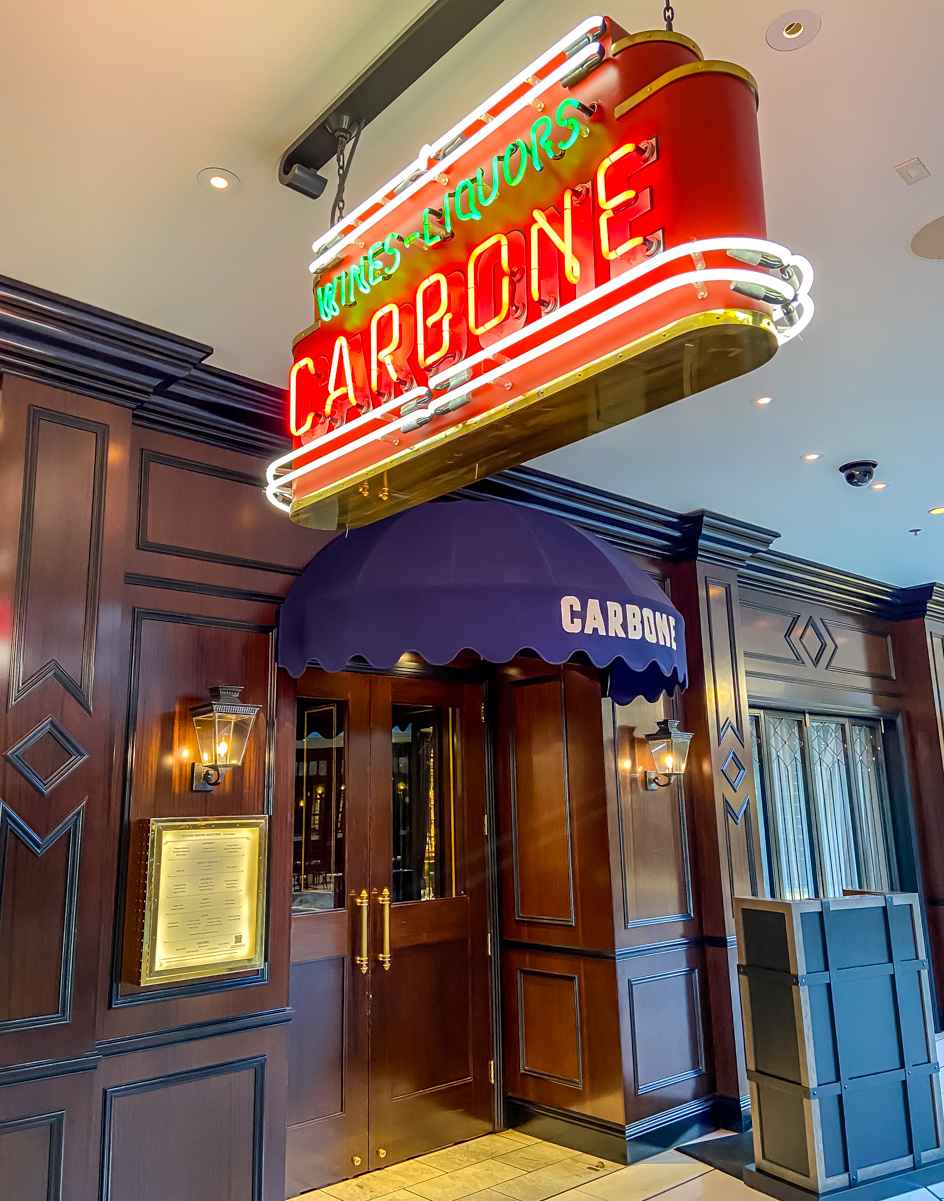 Those who want to have a taste of Italy without leaving Las Vegas should visit Carbone, an Italian-American restaurant at Aria. For many, the words "Italian restaurant" evoke images of red-and-white checkered tablecloths, candles in Chianti bottles, and waiters in tuxedos. These are the classic features of the Italian-American restaurants that flourished through the 1960s, and Carbone takes inspiration from them.
Carbone is more than just a place to eat; this restaurant is a destination for special occasions, a night out in Las Vegas, or a fancy dinner. Dining at Carbone is an event complete with grandiose décor, live music, and attentive service.
The restaurant's menu is a mix of traditional and modern Italian dishes made with fresh, seasonal ingredients. Carbone's commitment to quality has earned it critical acclaim from locals and visitors alike.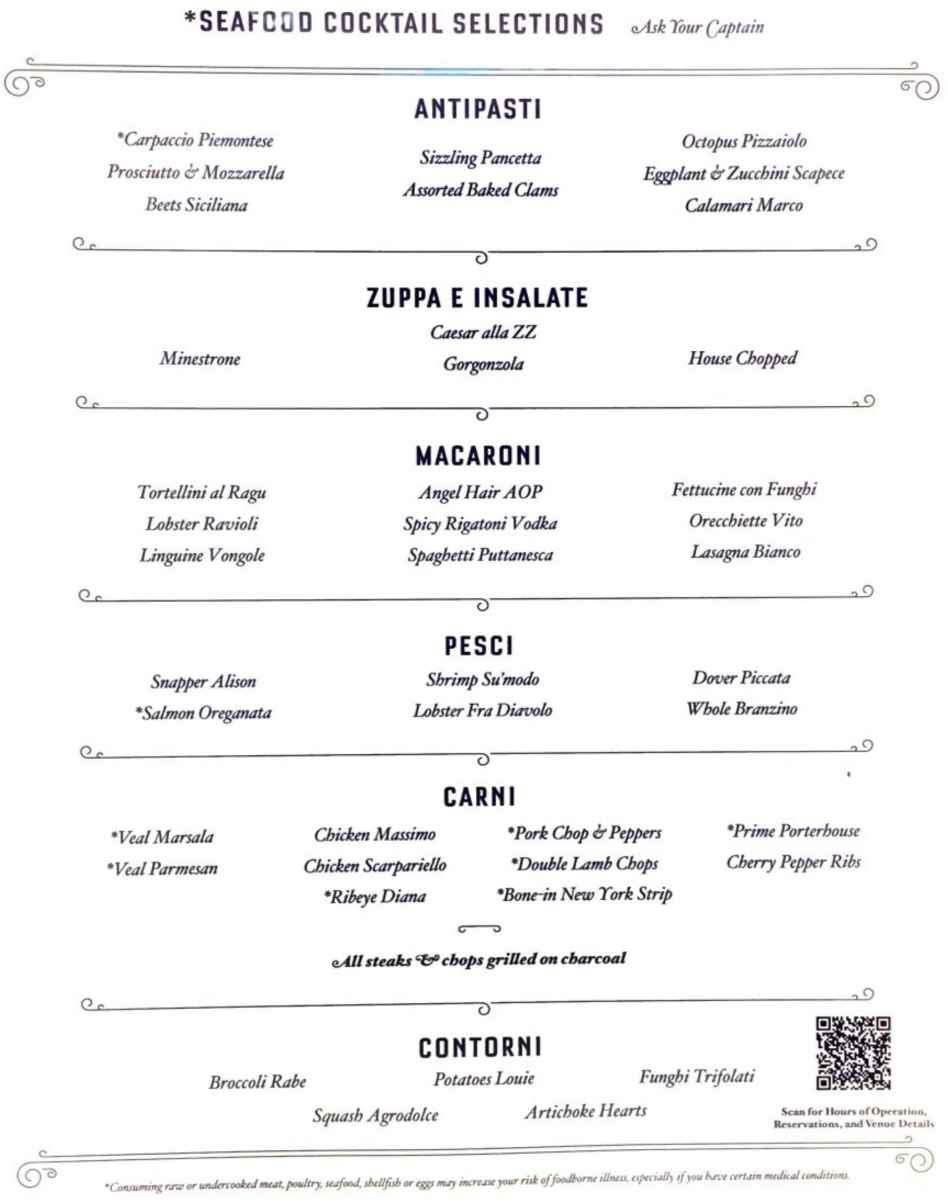 My top recommendation is the Veal Parmesan. And at Carbone, you can enjoy this timeless dish in all its glory. The succulent veal is cooked to perfection, then smothered in a rich tomato sauce and topped with melted cheese. It's an explosion of flavor in every bite.
However, Carbone's Veal Parmesan is more than just a delicious meal. It's also a dining experience that will transport you back to Italy. The restaurant's old-world charm and attentive service create the perfect setting for enjoying this classic dish.
So if you're looking for an authentic Italian dining experience in Las Vegas, try the veal Parmesan at Carbone. You won't be disappointed.
2. Din Tai Fung
Din Tai Fung is my favorite destination for steamed dumplings and noodles in Las Vegas. The restaurant offers a wide variety of dumplings and noodles that will cater to your Asian food cravings. You can even watch the chefs make your food, and the dining hall has a pristine, modern yet traditional feel.
The menu at Din Tai Fung is extensive and features both traditional and contemporary dishes. The steamed dumplings are some of the most popular items on the menu and come in various flavors, including pork, chicken, shrimp, and vegetarian. The noodles are also a favorite among diners and come in soup and dry varieties.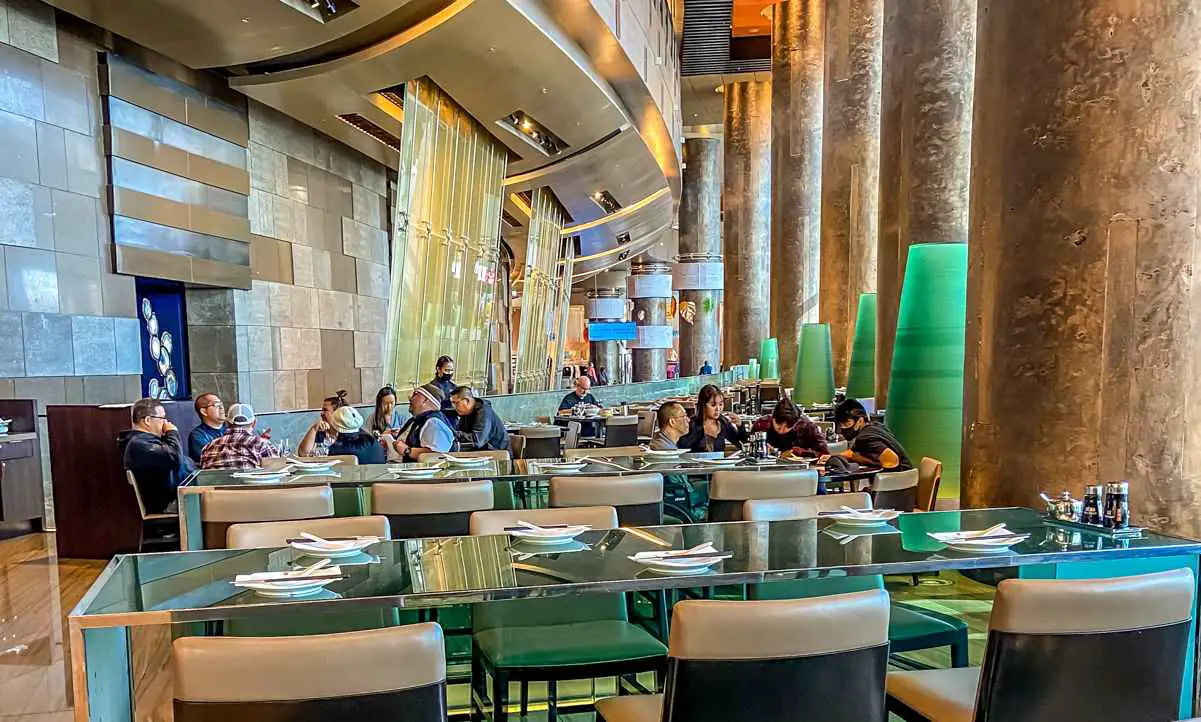 You can't visit Din Tai Fung without tasting their Xiao Long Bao. These delicate little steamed buns are filled with flavorful soup and juicy pork, which are just delicious. If you're looking for an amazing Xiao Long Bao experience in Las Vegas, Din Tai Fung is the place to go.
The service is fast and efficient, and the staff is always happy to answer any questions you might have. The menu is simple but delicious, and it's easy to find what you're looking for.
Whether you're a fan of Xiao Long Bao or not, Din Tai Fung is definitely worth a visit. The food is mouthwatering, and the atmosphere is luxurious yet fun and lively.
3. Blossom
Blossom is a Chinese restaurant at Aria where you can experience extravagant Chinese cuisine and satisfy your palate with dozens of food options. The extensive menu features all Chinese food groups, including seafood, poultry, beef, pork, vegetables, and noodles.
Whether you crave Cantonese, Szechuan, or Hunan dishes, Blossom has something for you. And for those who like their meals on the spicy side, the restaurant offers a wide selection of chili-infused dishes.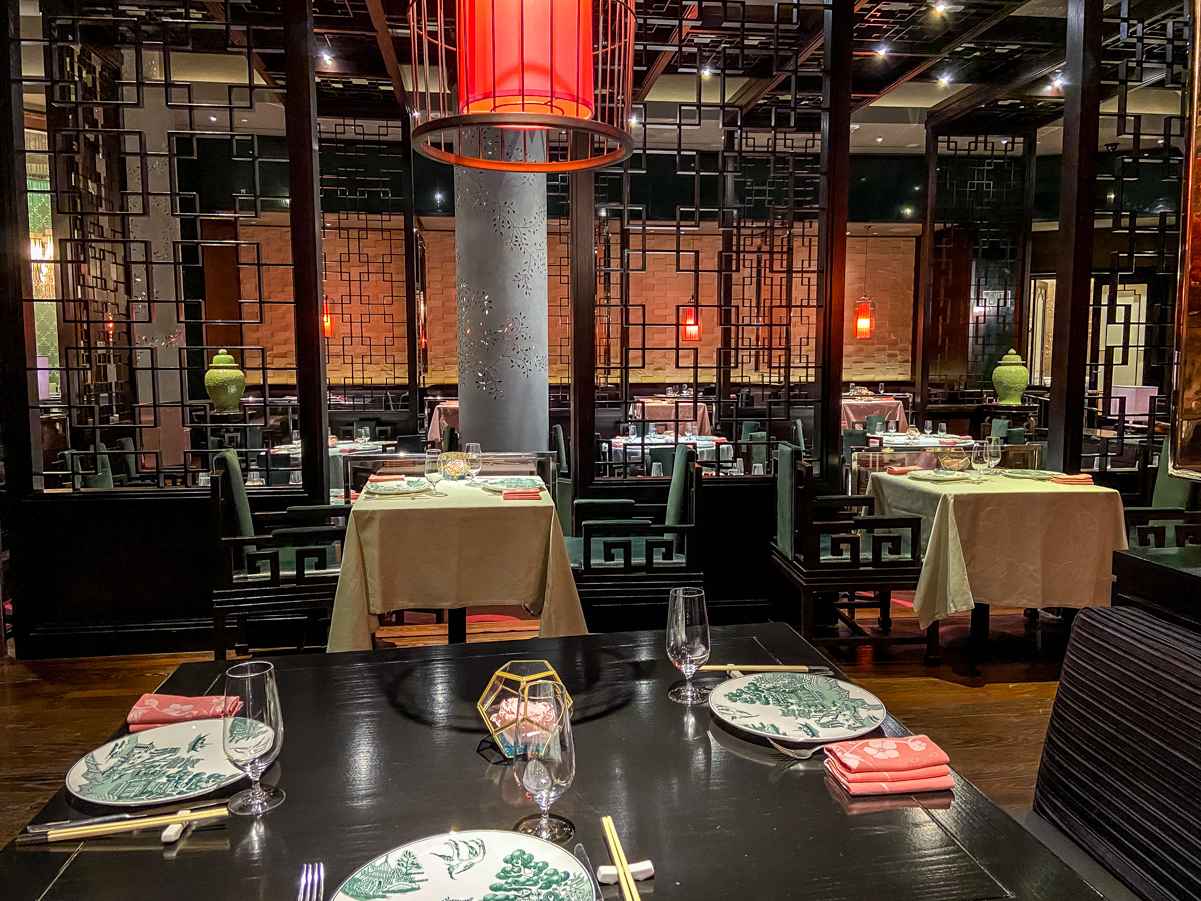 Because live seafood is held in Blossom's on-site tanks, you can expect the seafood to be as fresh as possible when served at your table. The tanks are monitored closely to make sure that the water quality is maintained and that the seafood remains healthy. The staff at Blossom is constantly replenishing the seafood in the tanks so that there is always a wide variety of seafood available for you to choose from.
And when it comes to gourmet dining, few places can compare to Blossom restaurant in Las Vegas. The tableside prep for many of the dishes is a special touch that truly brings out the flavor and festivity of the meal.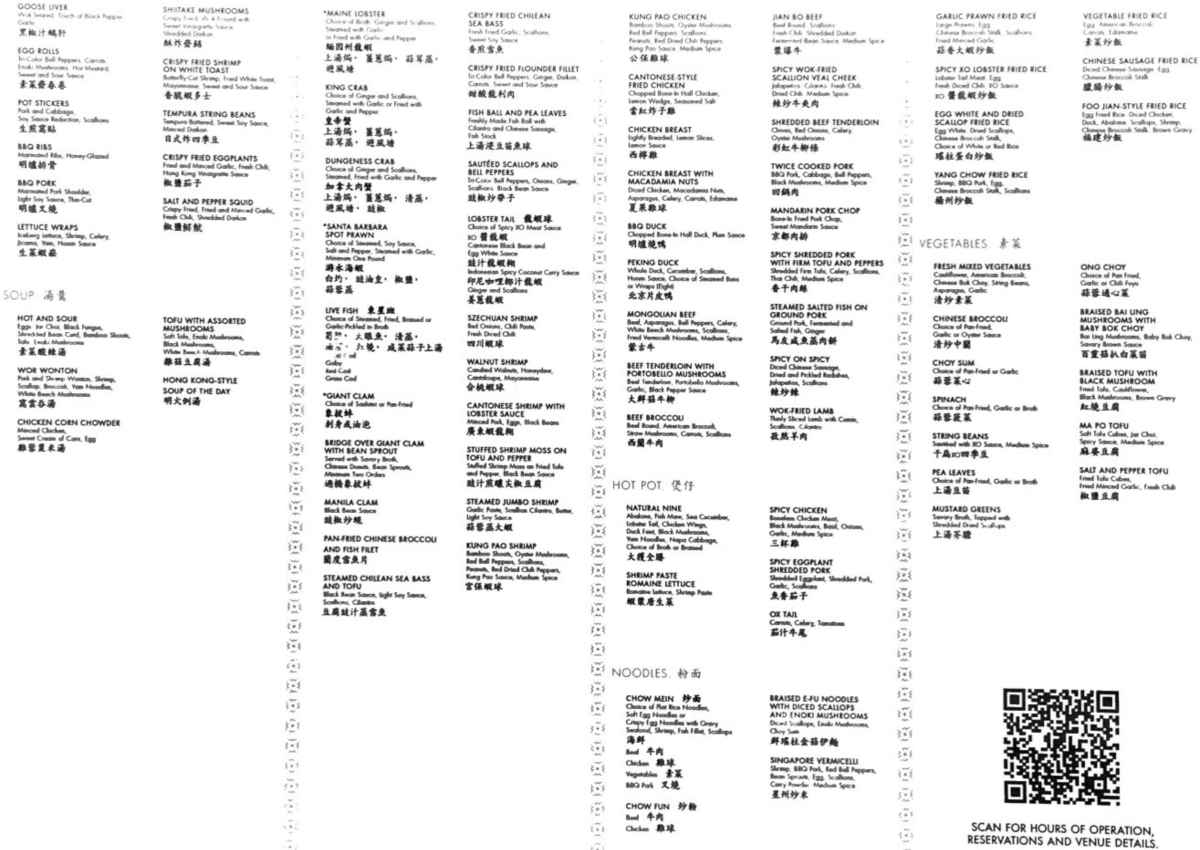 Blossom is known for their tableside Peking Duck. The duck is marinated overnight and then roasted to perfection. Once it is ready, it is brought to the table and sliced in front of you. The skin is then plated and served with a delicious sauce. This dish is perfect for sharing and is a must-try at Blossom.
4. Jean Georges Steakhouse
Steakhouse dining is more about the experience than anything else. And at Jean Georges Steakhouse in Las Vegas, the experience is second to none.
From the moment you step into the restaurant, you're greeted with a level of luxury unmatched anywhere else on the Strip. The opulent setting features plush seating and rich wood paneling. However, the food really sets this place apart from other steakhouses.
This modern steakhouse offers an exquisite menu of prime cuts of beef, fresh seafood, and inventive side dishes. Whether you're in the mood for a classic steak dinner or something a bit more adventurous, Jean Georges Steakhouse is sure to have something to tantalize your taste buds. And with an extensive wine list, you can find the perfect pairing for your meal.
Kobe A5, which I can say is one of the best beef in the world, is served at Jean Georges Steakhouse. Kobe A5 is known for its intense flavor and tenderness, and Jean Georges Steakhouse does not disappoint. The steak is seared to perfection and served with roasted vegetables. This meal is truly a treat for the senses.
Seafood lovers will enjoy every bite of Jean Georges Steakhouse's Chilean sea bass. The mild-flavored fish is cooked in a savory sauce and served with maitake mushrooms. The dish is simple but elegant, and it's a favorite among customers. You'll enjoy every bite of this hearty, healthy meal.
The elegant setting and expert service at Jean Georges Steakhouse make the perfect backdrop for a special night out. Whether you're celebrating a special occasion or want to treat yourself to a truly exceptional meal, Jean Georges Steakhouse will surely exceed your expectations.
5. Bardot Brasserie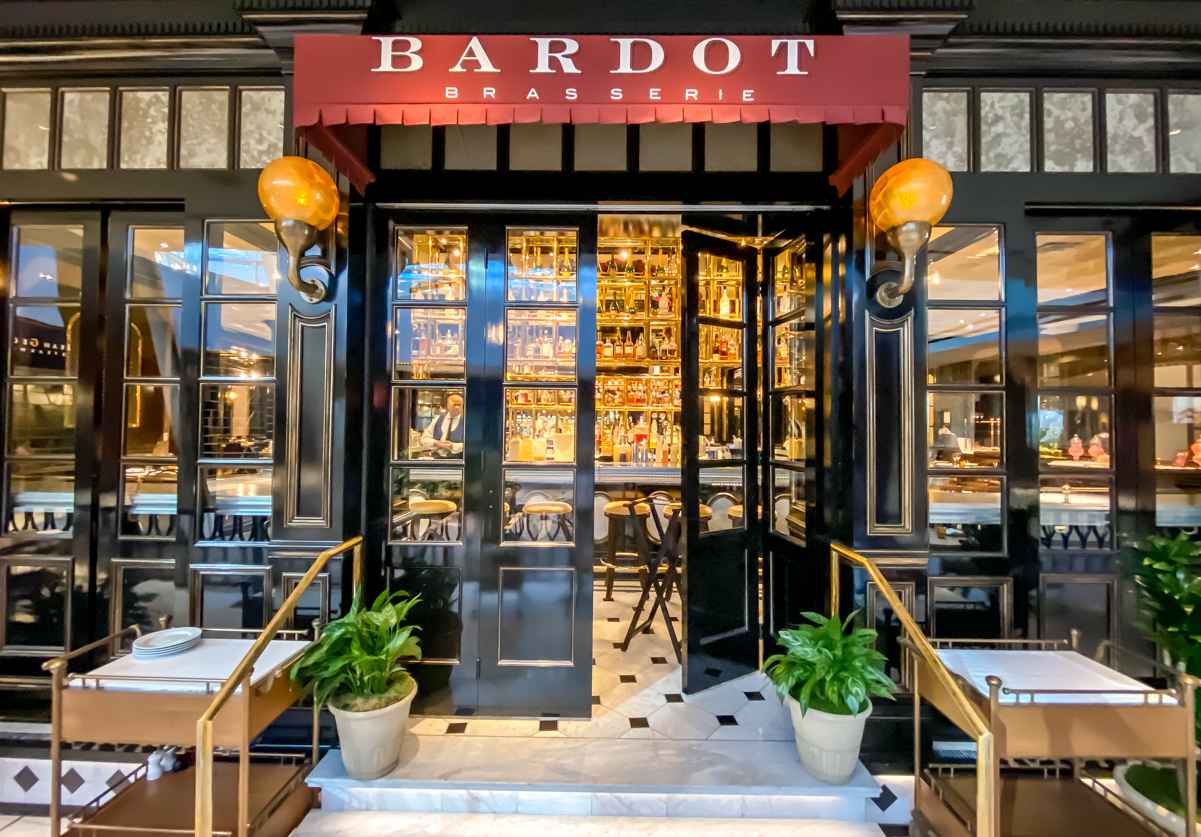 In the heart of Las Vegas, Bardot Brasserie at Aria is a French-inspired restaurant that offers a sophisticated dining experience. It's the perfect place to experience classic French cuisine with a modern twist. Chef Michael Mina brings his unique style to the restaurant, creating delicious and visually stunning dishes. The menu features both traditional and contemporary fare.
One of the most popular items on the menu is the delectable Beef Wellington. This classic dish consists of beef tenderloin wrapped in puff pastry and then baked. The result is a flavorful and juicy entrée that will please any palate.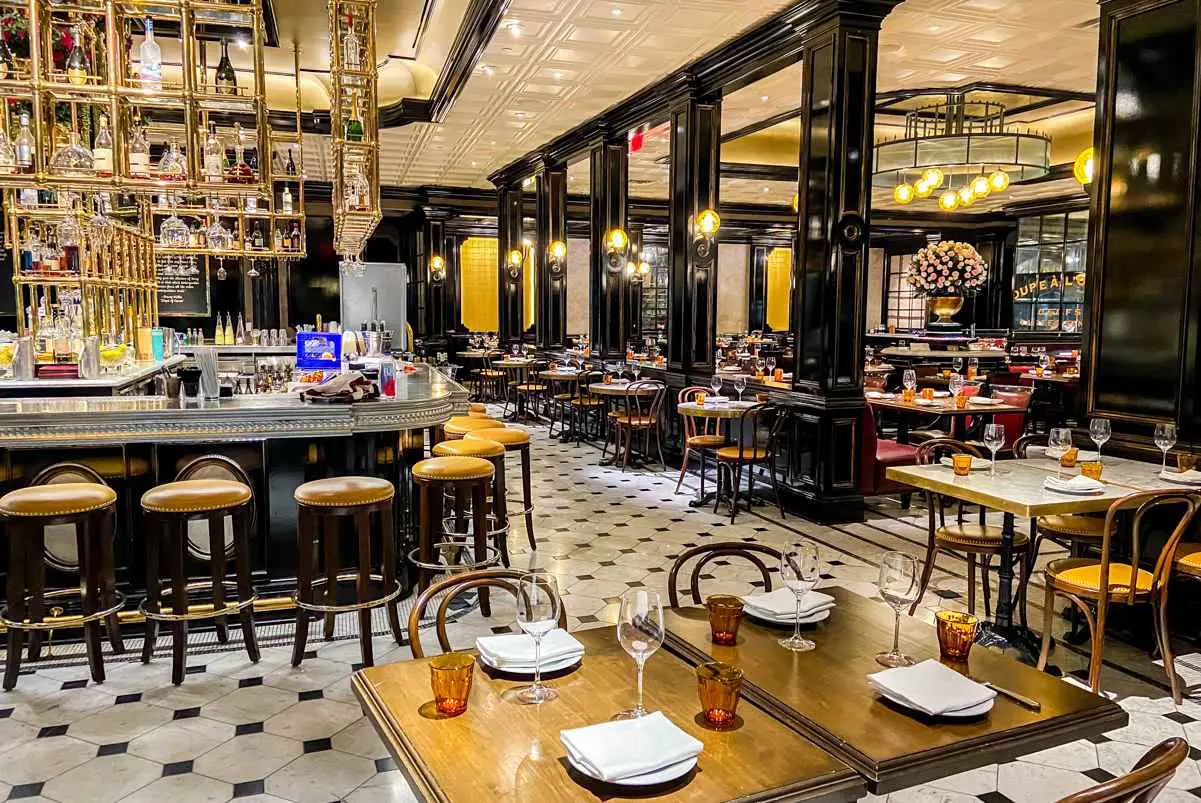 Their Beef Wellington is an ideal meal for dinner parties or special occasions. Whether you're a meat lover or not, this dish is definitely worth trying.
And if you wish to end your Las Vegas dining experience on a sweet note, having a bite of Bardot Brasserie's chocolate macaron, a classic French dessert, is the perfect way to do just that.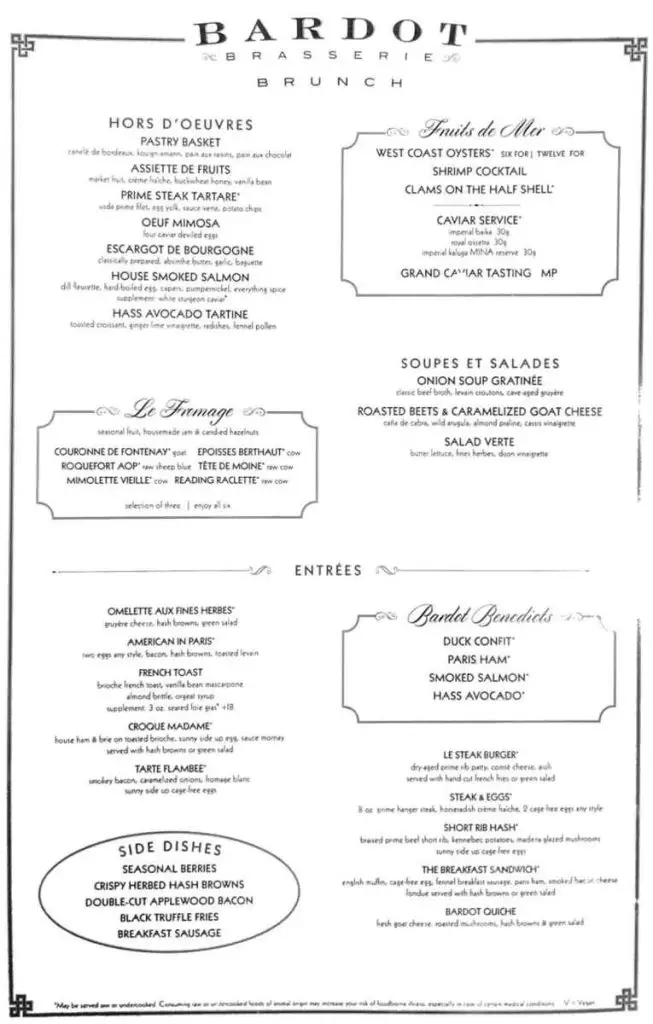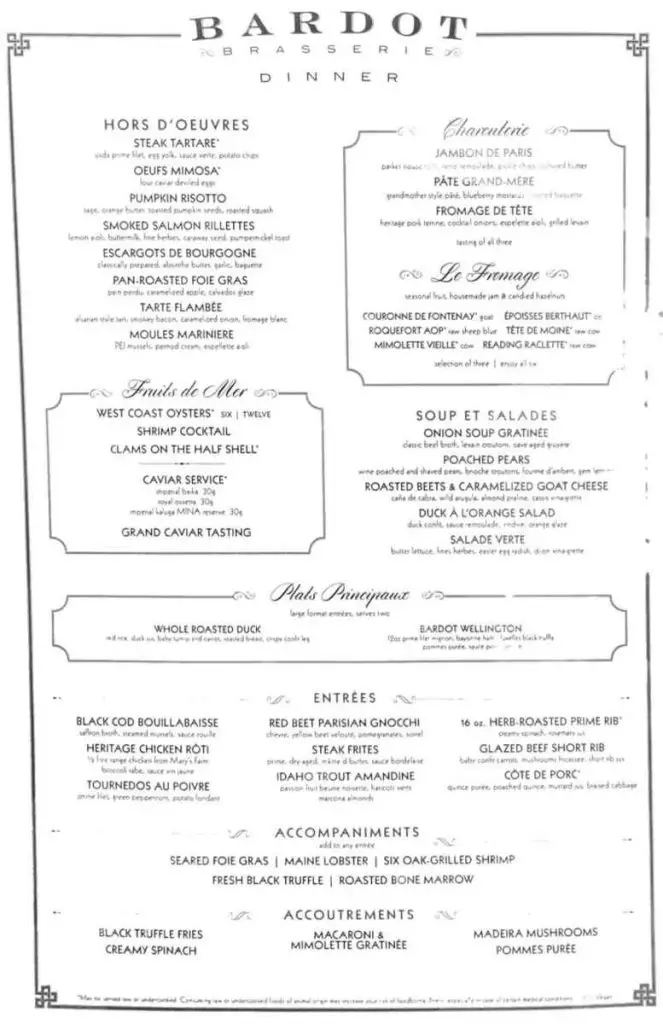 This rich and decadent treat is made with rich chocolate ganache and delicious macaron shells. The result is a heavenly bite that will leave you wanting more. And if you want something even more special, try the grand chocolate macaron made with a French almond cookie, hazelnut mousse, and hot fudge.
So next time you're in Las Vegas, make sure to stop by Bardot Brasserie for an unforgettable dining experience – and don't forget to save room for dessert!
6. Moneyline Pizza & Bar
Aria Las Vegas is home to many great European and Asian restaurants, but one that you cannot miss is Moneyline Pizza & Bar. This restaurant is known for its handcrafted pies, delicious appetizers, and refreshing cocktails. Whether you're looking for a classic pepperoni or something more unique, this pizza restaurant has the perfect slice.
Moneyline Pizza & Bar is the perfect place to relax and unwind after a long day exploring Las Vegas. The pizzas are made with fresh ingredients, and the dough is made in-house daily. The cocktails are creative and use only the best spirits.
The appetizers will make your mouth water. Moneyline's garlic knots are made with fresh dough, using only the finest olive oil and Parmesan cheese. They're also baked to perfection, so you can expect a crispy outer crust and a soft, fluffy interior. The dish is served with a side of marinara sauce for dipping.
And if you want to build your own pizza to experience something truly unique, Moneyline is the perfect place to build your own pizza. With a wide variety of toppings to choose from, you can customize your pizza however you like. Some of the toppings include grilled artichokes, pepperoni, Italian sausage, soppressata, prosciutto, meatballs, calabrese salami, and ricotta. 
Enjoy your pizza with your choice of beer, wine, or bottled drinks. Moneyline Pizza & Bar Las Vegas offers an extensive list of beers and wines for visitors to enjoy. The list includes both domestic and imported options. There's always something to enjoy, whether you're looking for a light beer or a robust red wine.
7. Lemongrass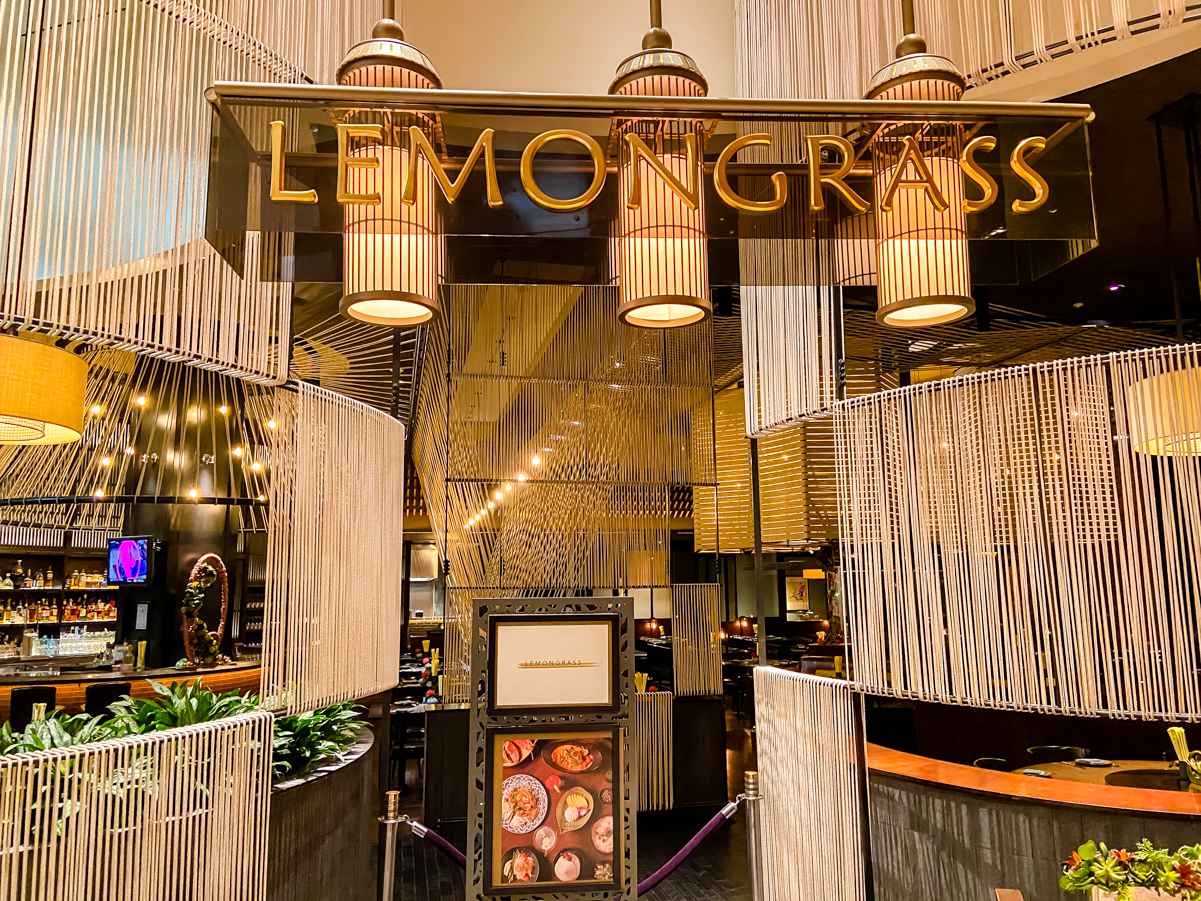 Craving some Thai cuisine while you're in Las Vegas? Lemongrass offers both authentic choices and more contemporary interpretations of dishes. The menu features all of the Thai classics you know and love and some new takes on old favorites. Whether you're in the mood for a traditional pad thai or something a little bit different, you can visit Lemongrass at Aria to have something to satisfy your craving.
One of the bestsellers at Lemongrass is the spicy pad Thai, cooked with rice noodles, fried tofu, egg, tamarind sauce, bean sprouts, chives, and crushed peanuts. You can choose from ribeye, chicken, or shrimp for your meat.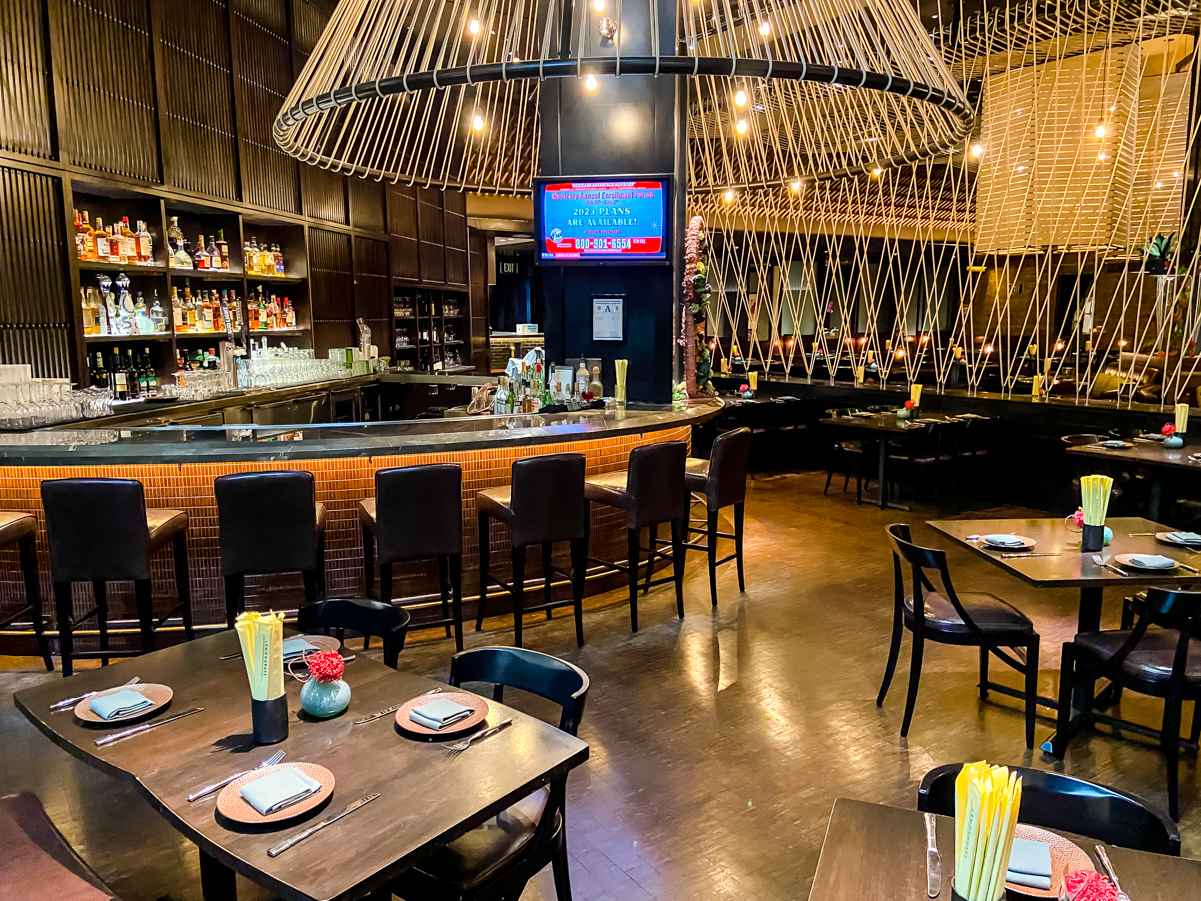 I recommend the wok-tossed live Maine lobster flavored with green curry for something more adventurous. The lobster is cooked to perfection, and the green curry adds just the right amount of spice. The dish is served with steamed rice and a side of vegetables. It's a perfect meal for any time of day.
And once you're done with the spicy dishes, you can refresh your senses by sipping Nigori sake. This unfiltered sake is made by leaving the rice sediment in the brew, which gives it a creamy texture and slightly sweet flavor. Nigori sake is typically lower in alcohol content than other types of sake, making it a refreshing choice.
8. Javier's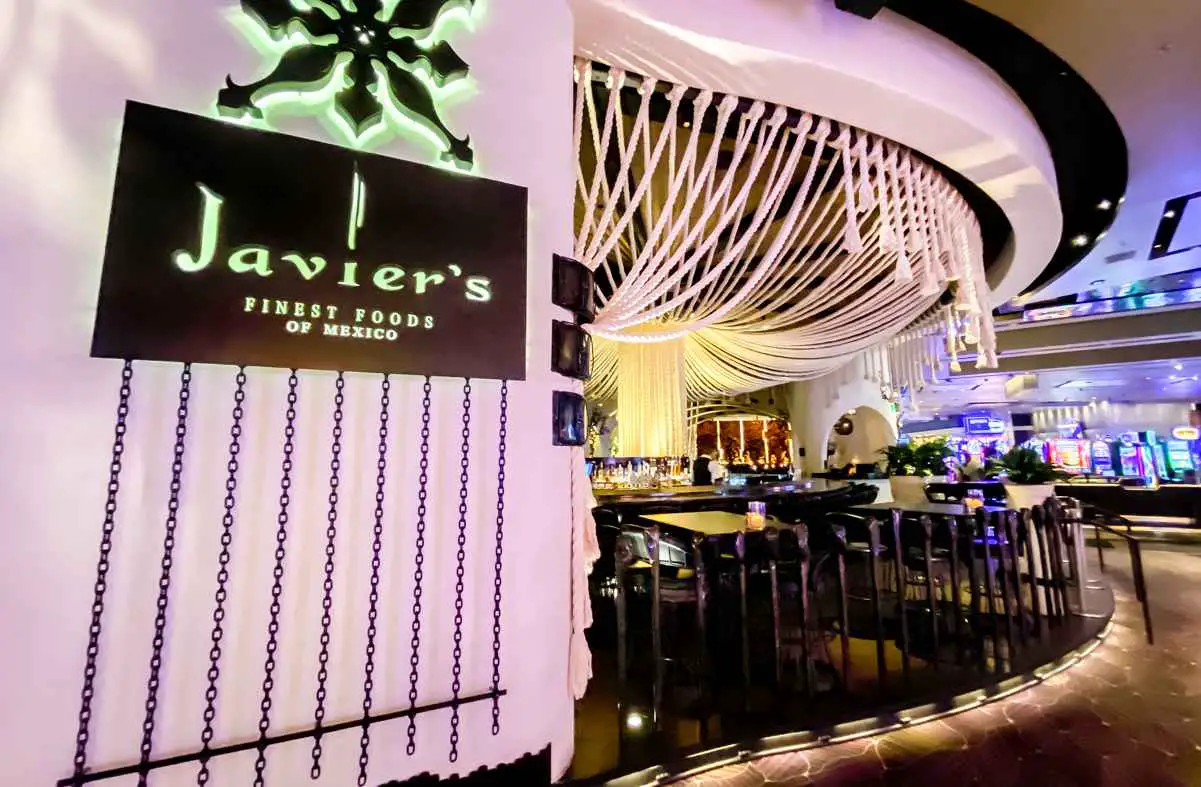 At Javier's, you can enjoy an authentic Mexican food experience inside the Aria Las Vegas. One of the best things about Mexican food is the variety of flavors and ingredients that can be used. Whether you like your food spicy or mild, there's a dish for you here.
The unique architectural elements at Javier's will amaze you. The main dining area features metal sculptures and a rope ceiling. You'll also find chainsaw-carved sculptures. Javier's sophisticated ambiance makes it perfect for a night out with friends and family while at Aria.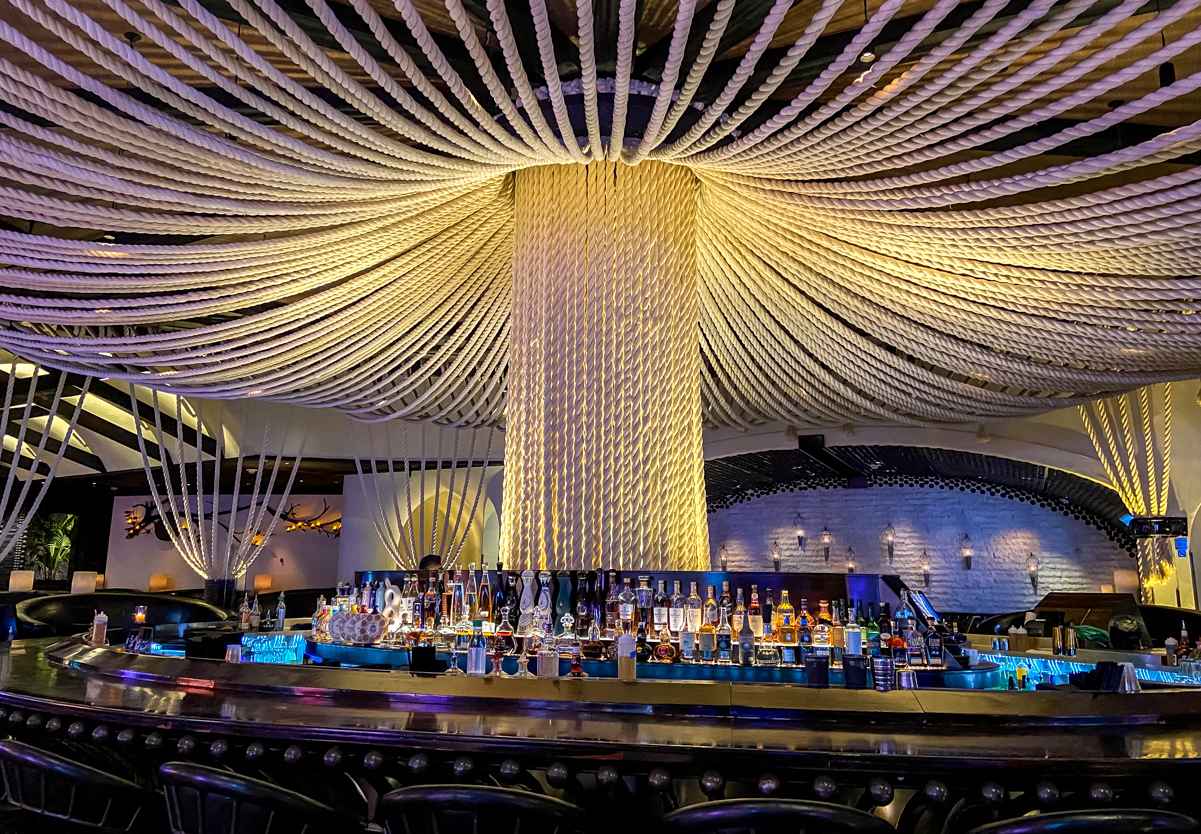 The menu at Javier's features traditional Mexican favorites like enchiladas, tacos, and quesadillas. However, the real star of the show is the Camarones Al Mojo De Ajo. This shrimp dish is full of flavor, thanks to the garlic-infused sauce it's cooked in.
The Camarones Al Mojo De Ajo dish is a great option for those looking for something different than the typical tacos or burritos. This dish is flavorful and filling and will leave you more than satisfied.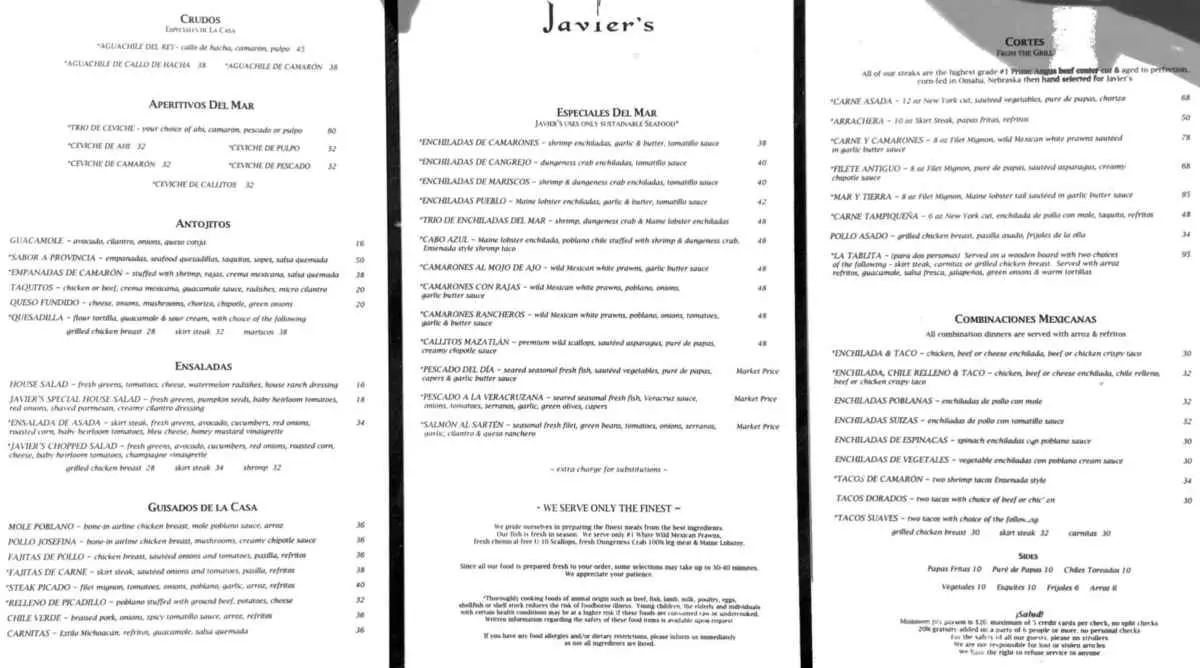 If you're looking for an unforgettable dining experience, Javier's is the place for you. From the moment you step through the door, you'll be transported to a world of flavor and culture.

Staying at Aria Las Vegas and looking for a great breakfast or brunch? You don't need to leave the hotel. Check out my guide to see a full list of the best Aria breakfast restaurants.
Find the best deals on ARIA rooms and save big with TripAdvisor!