Does Aria Hotel Have an Airport Shuttle? (Answered)
(This article may contain affiliate links. If you click through and make a purchase, we will receive a small commission at no additional cost to you. )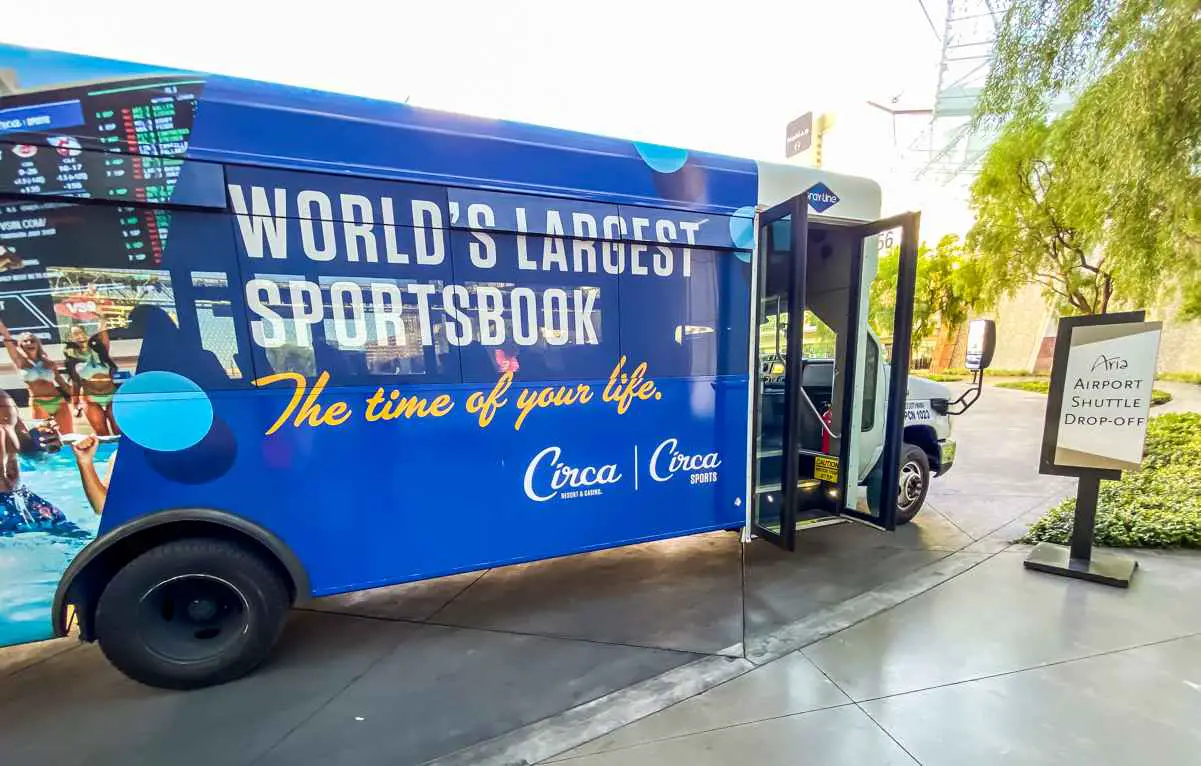 Vegas trips are so much fun. But once you land at Harry Reid International Airport, you've got to find your way to your hotel. If you're staying at ARIA Resort & Casino, you may be wondering if ARIA has its own airport shuttle.
The Aria hotel does not have its own airport shuttle because Las Vegas Strip hotels are not by law allowed to operate their own airport shuttles. However, there are a few options for airport shuttle services to Aria. These include SuperShuttle, Bell Trans shuttle, and Bell Limousine service.
In this article, we'll take a look at the options you have for transportation between the Las Vegas Airport and Aria Hotel on the Strip. I'll compare the costs and help you decide what the best airport transfer option is for you. Keep reading for help with finding your ride.
Compare and save! Check current ARIA room rates at TripAdvisor!
Aria Airport Shuttle Options
Now let's look at the shuttle options available to take guests from the Las Vegas airport (LAS) to Aria. There are three options to consider.
SuperShuttle
SuperShuttle is a shared airport shuttle with availability around the clock. SuperShuttle will pick you up at the airport upon arrival of your flight and drop you and your luggage off at Aria. 
Because it's a shared shuttle service, you will likely be riding with several other passengers who are staying at different hotels. You should expect your trip to Aria from the airport will take between 30-50 minutes.
The easiest way to book with SuperShuttle is to do so online prior to your departure. SuperShuttle also has its own app you can download for easy booking and tracking. In addition, you can also call the customer support number to book ahead of time or if you run into any difficulties (800) 258-3826. 
Guests can book a one-way ticket to Aria for $18.25. The shuttles are vans or mini buses, and wheelchair access is available upon request.
Bell Trans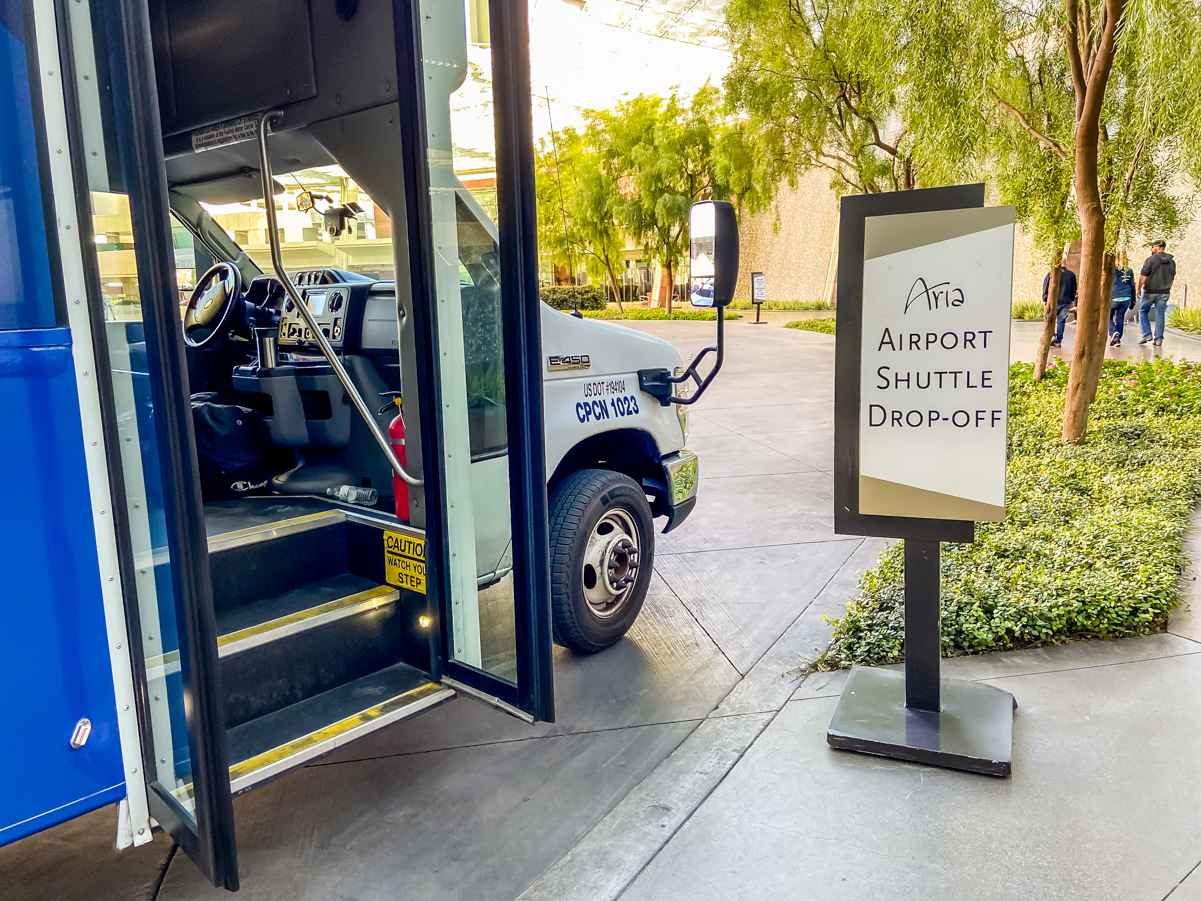 Bell Trans is a local Las Vegas company and is the preferred airport shuttle for the majority of hotels in Las Vegas. Shuttles are available around the clock and operate in the same basic shared shuttle model that SuperShuttle does.
The Bell Trans shuttle bus is $15 one-way per person to Aria or $30 for a round trip.
While booking online in advance is preferable, Bell Trans also has a walk-up service at the airport. The concierge at the Bell Trans Airport desk will get you booked and set up for a ride to Aria in no time.
However, be aware that pre-booked riders will have priority when it gets busy at the airport. So it's always best to book in advance if possible.
Bell Limousine Service
If you'd like to arrive at Aria in a little more style, you can choose the Bell Limousine service. You'll have a choice of an SUV, van, or classic stretch limousine. These private rides can accommodate between 1-8 people, making them ideal for individuals, couples, or small groups.
While these services cost more, they are private and direct, meaning that you won't have to share a ride with any other travelers, and you'll be taken directly to Aria.
For the limo service, you can call (800-274-7433) or book online. However, you'll definitely want to schedule your ride in advance as there are fewer of these cars available. Escolade SUVs start at $94 per trip. The vans start at $108, and the stretch limousines cost $104 and up.
You'll find all of the above shuttle services outside the baggage claim areas of both Terminals 1 & 3 at Harry Reid International Airport.
Other Options for Getting to Aria From The Vegas Airport
Las Vegas is full of transportation options for visitors to get around the town, and an airport shuttle bus may not be your best option.
Let's look at some of the other ways to get to Aria from the Vegas airport.
Uber and Lyft
As is true in all metropolitan areas and their surrounding suburbs, Las Vegas is home to plenty of Uber and Lyft drivers. If you have the apps, you can order a car at all hours of the day or night. A ride to the Aria resort should cost around $15-$20, making them a much cheaper option than a shuttle if more than one of you is traveling.
Note: Both Lyft and Uber use a surge pricing model that can drastically increase your cost for a ride during busy times in Las Vegas. Make sure to check the estimated price in the app carefully be ordering your ride.
Taxis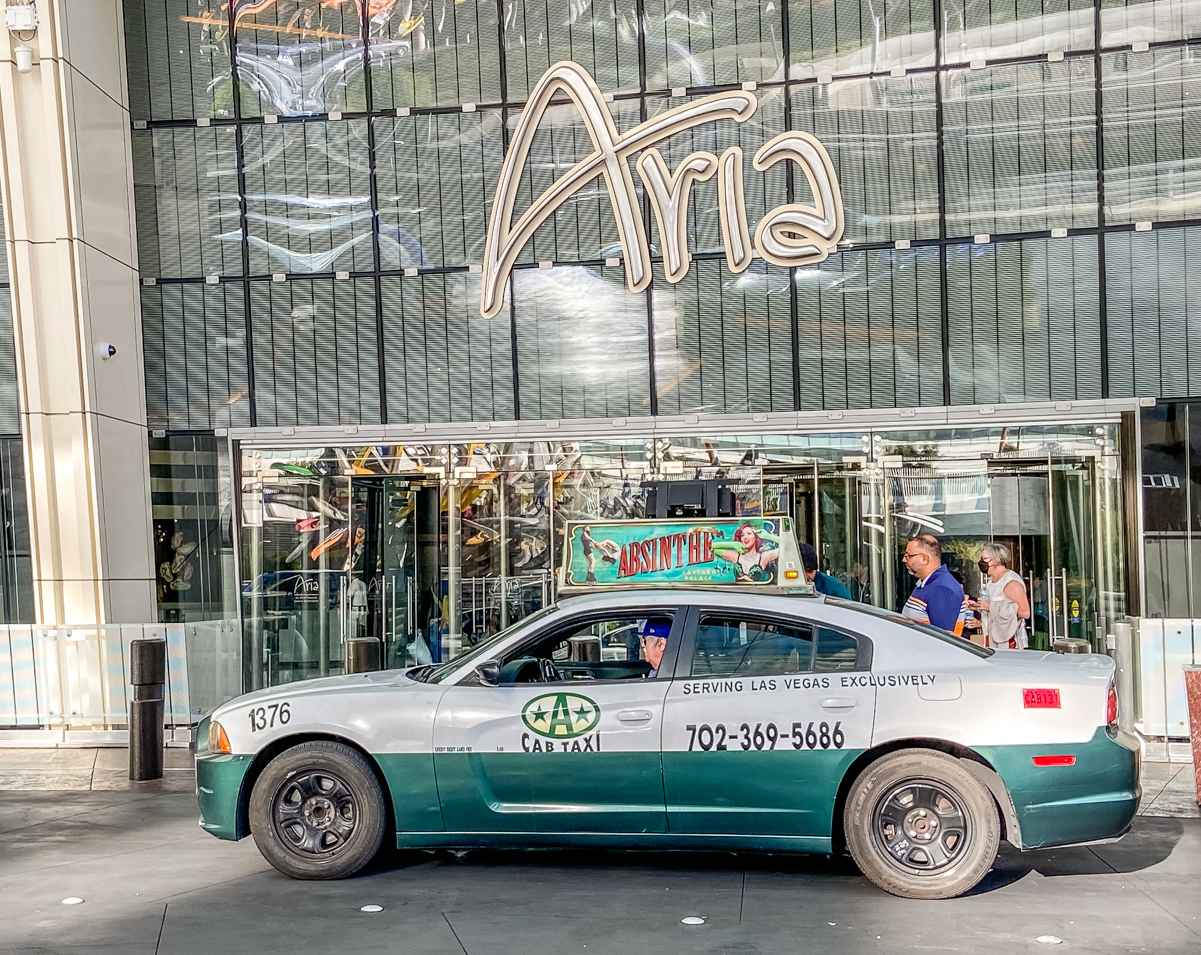 The airport in Las Vegas also has plenty of taxi cabs available to get you to Aria. In the past, there have been some problems with Las Vegas taxis driving out of their way in order to drive up the bill, but that is no longer an issue.
Taxis from the airport to hotels in Vegas now work on a flat rate pricing schedule so that there are no surprises. A ride to Aria falls into zone #2 (click to see the zone map), which means the ride will cost $23.
City Bus
The Las Vegas Airport is also on the RTC bus line and can get you to Aria hotel as well.
Riding the bus to Aria from the airport is definitely the cheapest option, and tickets can be as little as $2 per person. However, riding the bus will also be the slowest option by far, and struggling with your luggage on a Vegas city bus is not something I'd recommend.
Quickest & Easiest Way to Get to Aria From The Las Vegas Airport
When beginning your Las Vegas vacation, time is money. The goal is to get you to your Aria hotel room as quickly as possible for as cheap as possible so you can start having fun.
Your best option for quick and easy transportation from the Las Vegas airport to Aria Hotel is going to be either a taxi or a rideshare service such as Uber or Lyft. These two transportation services will provide the best balance between the time it takes to get to Aria and the money spent.
Find the best deals on ARIA rooms and save big with TripAdvisor!
Does Aria Hotel Have an Airport Shuttle – Final Thoughts
While the Aria Hotel does not have its own airport shuttle service, it doesn't really need one. It's so easy to get to the hotel from the Las Vegas Airport because there are many options for shuttles and other forms of public transportation.
You can comfortably get from the airport to the Aria Hotel for as little as $15 to $23.