Transportation on the Las Vegas Strip – How to Get Around Without a Car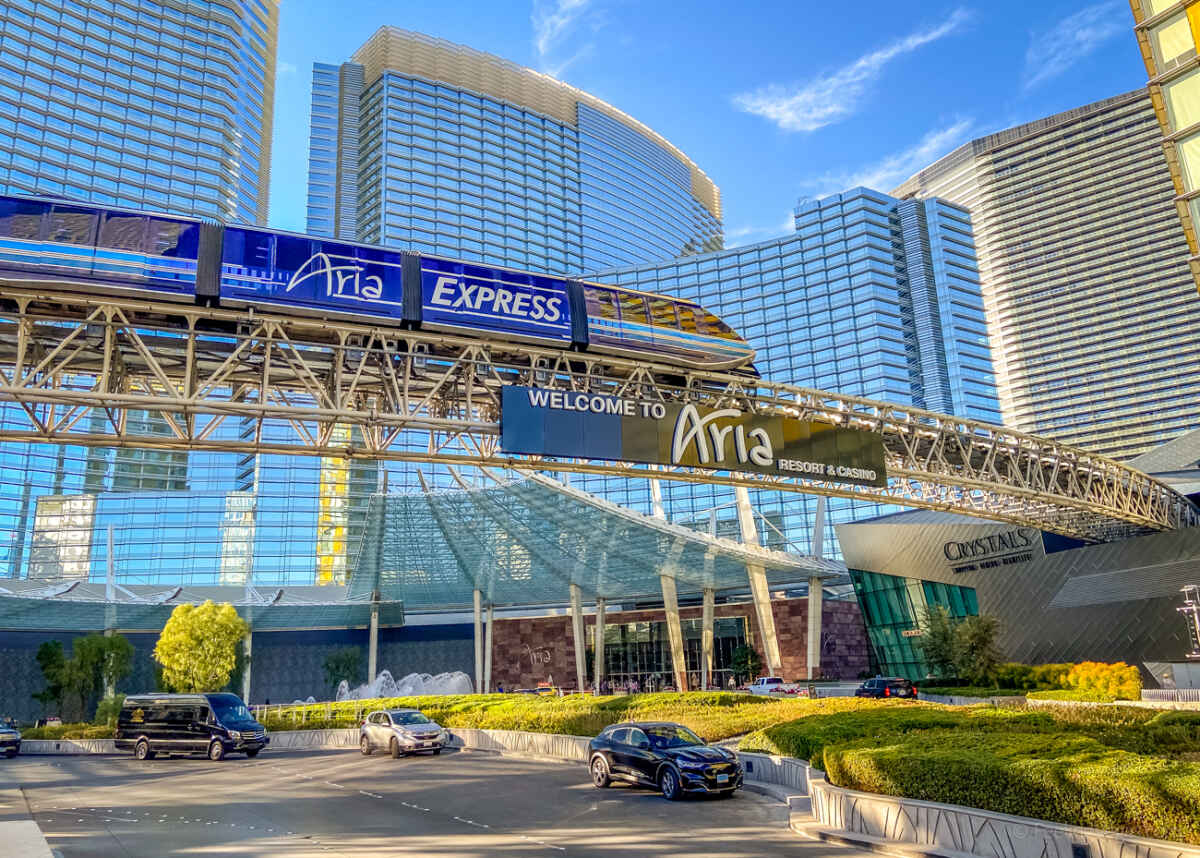 (This article may contain affiliate links, which means we might earn a small commission if you click and make a purchase. Thank you!)
Welcome to the Las Vegas Strip, a 4.2-mile stretch filled with massive hotels and some of the ritziest buildings in the US.
The Strip is walkable, but the weather can get hot, and walking can get tiring. You might need a ride and wonder how to get it and what it costs, so be prepared.
Whether you're considering using taxis, rideshares, the monorail, buses, or free shuttles, this quick guide will help you get around Las Vegas if you don't have a car.
Overview of Transportation on the Las Vegas Strip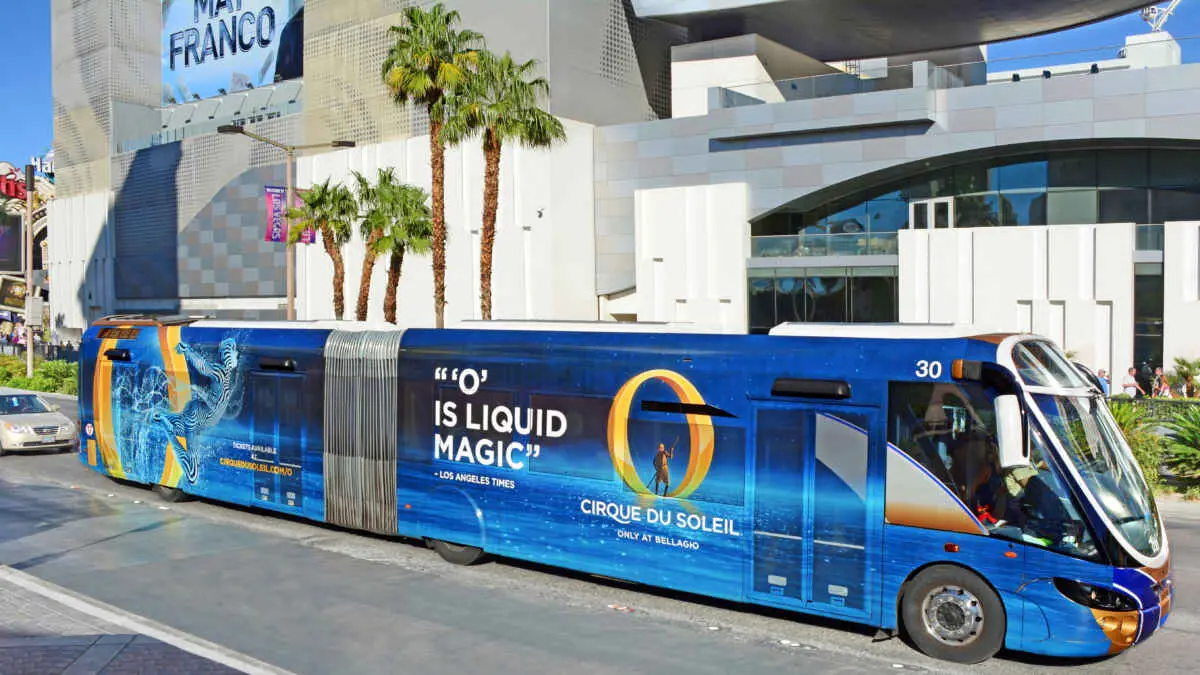 You'll need a ride to your hotel as you land at the Harry Reid International Airport, a short distance from Las Vegas Boulevard and roughly 3.5 miles away from the Las Vegas Convention Center.
You can choose from four main transportation options: taxis, ridesharing services, a free-of-charge shuttle service, and public transit.
Taxis
Taxis are a classic and convenient way to travel on the Strip, available at most hotels and casinos around Las Vegas.
Taxi fares from Harry Reid International Airport are metered, typically ranging from $20-$40 to downtown Las Vegas Boulevard or at the end of the Strip.
Head to the designated areas outside the Vegas Airport Terminals 1 and 3 to get a cab.
Suppose you're along the Strip and need a taxi; head to the nearest casino. You'll spot them easily at taxi stands in front of big resorts like Mandalay Bay, Bellagio, Venetian, etc.
Taxis are a common sight in Vegas and are often used to get from one hotel to another. You can learn more about taxi fares in Las Vegas here.
Ridesharing Services
Uber and Lyft are now available at all major casinos around Las Vegas, and you can easily spot their designated pick-up spots.
These services are also more convenient since you can book a ride with your phone—just a few taps, and your driver is on the way.
However, note that this form of transport is less reliable during busy times like New Year's Eve, especially since some areas might be blocked off.
Free Shuttle Services
If you don't mind a short wait, certain hotel chains offer free shuttles, usually with a 30-40-minute wait during busy times.
Here are some of the shuttle services that are free on the Strip:
Boyd Hotels located off the Strip offer shuttle buses between sister properties, the Strip, and Downtown Fremont Street.
The Rio Hotel has a shuttle running every 30 minutes between 10AM and 1AM to its sister properties—Horseshoe, Paris, and Harrah's.
The Hard Rock Hotel & Casino offers a complimentary shuttle stopping at 3-4 locations on the Strip.
Sam's Town in east Las Vegas has free buses to Downtown and Harrah's on the Strip.
The Downtown Loop shuttles stop at several areas of interest in Downtown Las Vegas, including the Arts District and the Fremont Street Experience.
Also, free trams (mostly on the west side of Las Vegas Blvd.) link properties owned by the same company, like MGM Mirage. You can also try out the Las Vegas monorail, but note that it isn't free.
Public Transportation
Las Vegas boasts an impressive public transportation system managed by the RTC (Regional Transportation Commission Southern Nevada), including its RTC buses and a monorail.
Here's a simplified overview:
1. Las Vegas Monorail: Covering 4 miles with 7 stations, it offers direct access to hotels and attractions from the MGM Grand to Sahara Las Vegas, all while delivering stunning city views around the Las Vegas Blvd.
The monorail connects 6 resorts and the Las Vegas Convention Center.
2. RTC Buses: Deuce buses are the cheapest way to travel the Strip & downtown.
Bus service can easily get you around Las Vegas (from the Las Vegas Sign to the end of the Strip) or to the airport, Mandalay Bay, MGM Grand, Bellagio, Park MGM, Las Vegas Convention Center, and more.
Detailed Analysis of Taxi Services on the Las Vegas Strip
Taxis are a common choice for getting around Las Vegas. That's why it's crucial to understand this mode of transport, including the available taxi services.
Cost of Taxi Services
Using a taxi on the Strip comes with varying costs, depending on your journey's distance and time.
Although taxis are convenient, they're quite expensive.
Expect to pay about $10 for short rides, while longer trips might cost you around $20.
On average, traveling from the Harry Reid International Airport (formerly Mccarran International Airport) to downtown and Fremont Street Experience will set you back between $20 and $40.
Taxi fares in Las Vegas are regulated, ensuring similar pricing across providers. Most Vegas taxi drivers accept cash and cards.
Availability and Convenience of Taxis
Getting a taxi on the Strip is convenient, with cabs typically found near each hotel.
Taxis are readily available at most hotels and casinos along the Strip, having designated pick-up and drop-off spots, often near the valet or main entrance.
Yet, unlike some cities where you can hail a taxi right from the street, Las Vegas has a different rule. Taxis are required to pick up passengers at a specific location, typically a hotel's taxi line.
This makes getting one trickier during peak times, like late at night, on weekends, or early morning hours.
Examination of Ridesharing Services on the Las Vegas Strip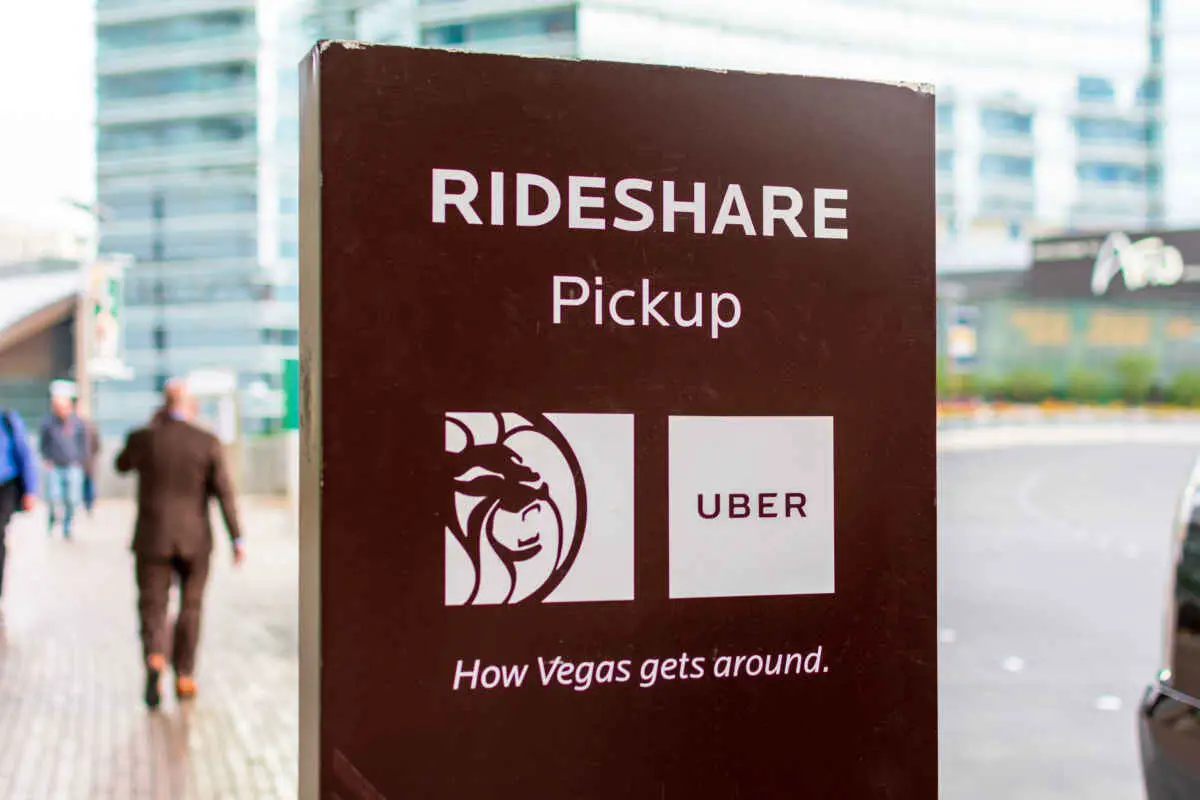 Ridesharing services like Uber and Lyft in Las Vegas are just a tap away on your phone. Download their apps, choose your location, and they connect you with drivers who'll take you where you want to go.
Comparing Uber and Lyft
Uber and Lyft are the two most popular rideshare service companies to get around Las Vegas.
They both have similar pricing and services and can easily get you to your destination—at the airport, Mandalay Bay, Bellagio, Motor Speedway, Las Vegas Convention Center, or at the end of the Strip.
Uber is the big one; it has global availability and over 3x as many drivers, while Lyft primarily operates in the US and Canada.
Unlike taxis, both provide the exact fare amount, so you know the cost before booking.
Pricing of Ridesharing Services
Ridesharing services in Las Vegas, like Uber and Lyft, change prices based on distance, time, and demand.
Short trips might cost around $5, while longer ones could be about $15. They calculate the price using different fees, including starting, service, and booking fees.
Nonetheless, you'll see the cost before you book, but be ready for extra charges like tolls or unexpected stops. Also, look for promo codes to save money.
Accessibility of Ridesharing Services
Uber and Lyft are generally accessible on the Strip, with pick-up locations at most casino properties.
However, availability may vary in some off-Strip areas. During busy times, like evenings, wait times are shorter, but less crowded or off-Strip areas might have longer waits.
Checking the app for nearby drivers and scheduling rides ahead of time can help ensure timely transportation.
Insight into Free Shuttle Services and Trams in Las Vegas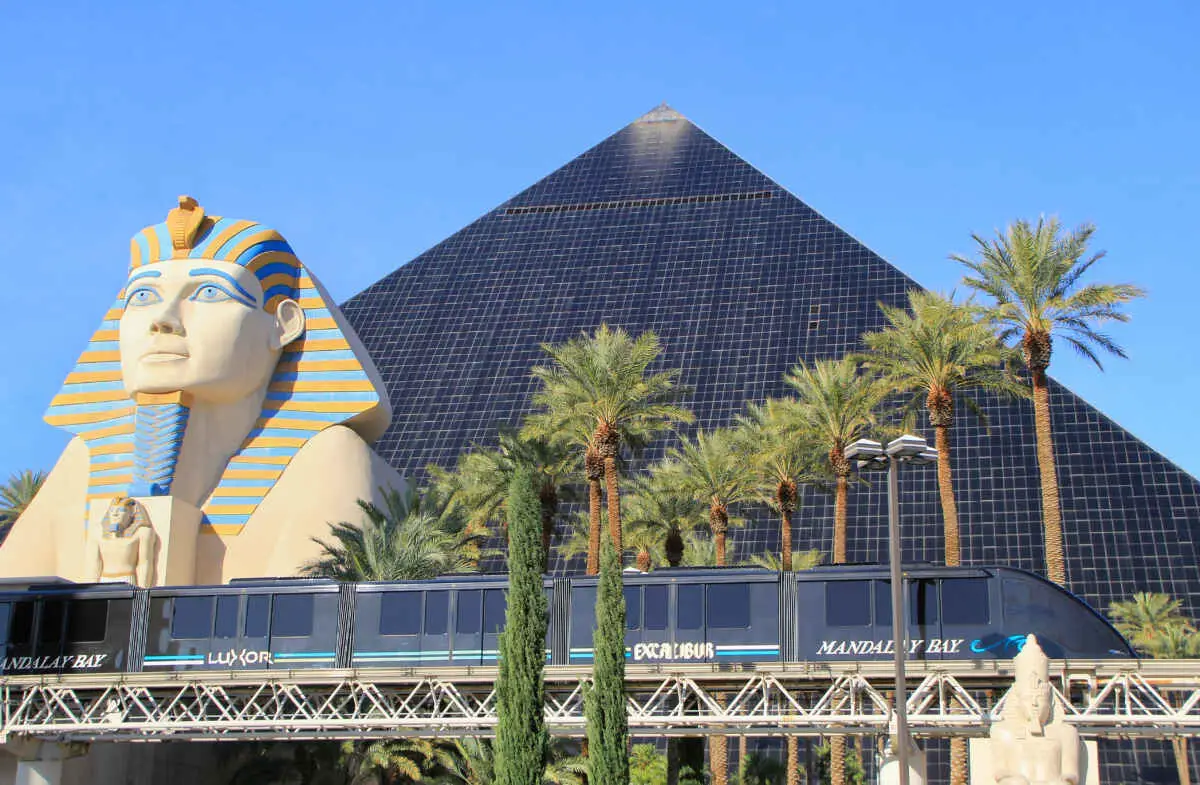 Now, let's look at another side of Las Vegas transportation: free shuttle services.
Locations and Timings of Free Shuttles
When bringing a car, you'll need to look for places offering free parking along the Strip. But there's an even easier and cheaper way to get around—free hotel shuttle services!
Downtown Express Loop: Downtown Loop covers downtown Las Vegas and its attractions (like the Arts District) from 10 AM-10 PM daily.
You can also use these three free trams between Mandalay Bay and Treasure Island when visiting Las Vegas. Here's a breakdown of how each tram runs:
Aria Express Tram: Links the Aria, Bellagio, and Vdara hotels.
Mirage-Treasure Island Tram: Connects the Mirage and Treasure Island hotels.
Guide to Using Public Transportation on the Las Vegas Strip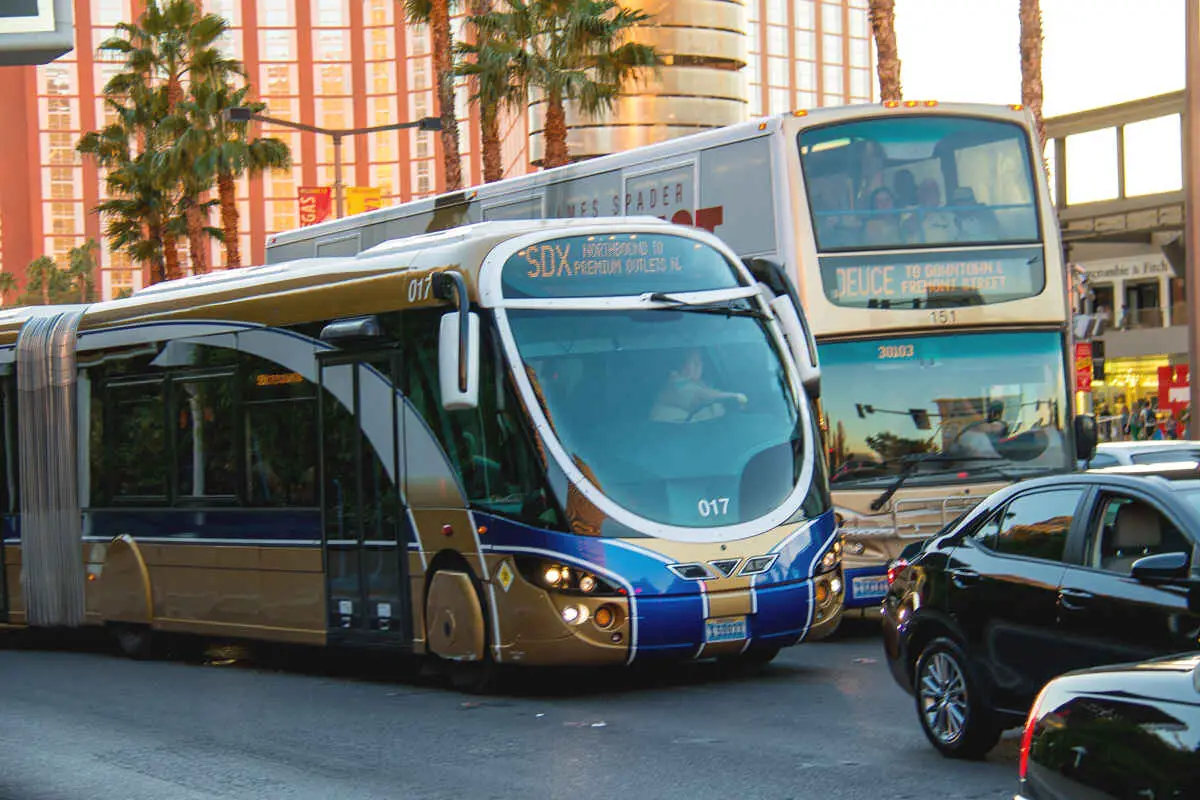 Las Vegas has a large public transportation system that's budget-friendly and useful for getting around the Strip.
Bus Services
To get around the Strip and downtown affordably, you can take the Deuce bus.
The RTC Deuce bus, a double-decker bus that stops at major Strip hotels and casinos, is a popular tourist option. A handy bus stop is never too far along the Strip.
You can get a ticket from select Ticket Vending Machines (TVM) or at Deuce stops.
You can also take the Strip & Downtown Express bus, which travels from the Las Vegas Premium Outlets to the South Strip Transfer Terminal, passing through downtown and Fremont Street Experience, the Strip, and the Las Vegas Outlet Center along the way.
Monorail System
The Las Vegas Monorail spans 3.9 miles with seven stops from SAHARA Las Vegas to MGM Grand, offering a safe and entertaining way to explore the best attractions around the Strip to Fremont Street.
Full fare starts at $15 for a one-day pass, and you can scan your phone's QR code or print a ticket.
Trains arrive at each of the seven stations approximately every 4-8 minutes, and announcements let you know when the next train is coming.
The monorail links six resorts and the Las Vegas Convention Center.
Cost and Convenience of Public Transportation
Public transit on the Strip is an affordable and hassle-free option to get around Las Vegas.
For instance, the RTC Deuce bus charges a reasonable $4 for a regular fare, while the Monorail starts at $5.50 for a one-way or single ride.
The quickest way to purchase bus passes is using the rideRTC app. Choose a two-hour pass over a one-way to save money.
You can also buy bus and monorail passes online, at the Bonneville Transit Center, RTC Administration Building, or other vendors around town.
Tips for Navigating the Las Vegas Strip Without a Car
Not everyone wants to depend on taxis or rideshares, and sometimes walking, biking, or a mix of transportation options in Vegas can be your best bet if you want more than two routes.
Walking and Biking
Even without a car or bus fare, you won't have trouble navigating Vegas, thanks to the walkability of the Strip. Most major attractions around this compact area are within walking distance from the Strip's hotels.
In downtown, biking is also convenient, with safe bike paths in some areas and various rental options, like the RTC Bike Share program.
This program offers 24/7 bike access, costing $5 per day for unlimited 30-minute rides, with additional 30-minute intervals at $4 each.
Using a Combination of Transportation Options
To move around the Strip, you can mix and match different ways of getting around.
For example, you could take the monorail if you need to go a long way quickly. Then, you can walk when you reach the area where you want to be.
This way, you can see more and truly experience the Strip.
And remember, you can also use trams to easily hop between different spots.
Frequently Asked Questions
Let's answer some typical questions travelers might have regarding transportation around the Strip.
What Are the Most Cost-Effective Transportation Options on the Las Vegas Strip?
Free trams and public transit should be your top picks if you're looking for the most cost-effective choices.
For those seeking convenience and willing to spend a bit more, taxis and ride-hailing services like Uber and Lyft or the Las Vegas Monorail are available.
Taxis and ride-hailing services offer door-to-door service, but they come at a higher cost.
How Does the Cost of Uber and Lyft Compare on the Las Vegas Strip?
The cost of Uber and Lyft rides on the Strip is based on factors like distance and time of day, but Uber is priced better.
On average, expect to pay between $8 and $15 for a ride between popular tourist spots. Canceling a ride incurs a $5 fee.
While their prices are similar, both services might use surge pricing during busy times, so check their apps for estimates before choosing.
What Are the Advantages and Disadvantages of Using Public Transportation in Las Vegas?
Public transit in Las Vegas is affordable, avoids traffic and parking issues, and usually arrives often for shorter waits.
However, there are downsides, including limited coverage, fixed schedules that might not fit your plans, potential overcrowding during peak times, occasional delays, and a lack of privacy when sharing transit with others.
It's important to note that public transportation in Las Vegas is often the slowest way of moving around.
What Are Some Tips for Getting Around the Las Vegas Strip Without a Car?
Here are some simplified tips for getting around the Strip without a car:
Walking: Exploring the Strip on foot is the ideal way to experience the most in Las Vegas.
Monorail: Take advantage of the Las Vegas Monorail to travel quickly along the Strip.
Public Transit: Opt for buses or trams for affordable and convenient transportation.
Combination: Mix and match transportation options for flexibility and ease of movement.
Rent A Car: Rental cars can be a good option if you prefer private vehicles and want to avoid the hassle of buying tickets or booking.
Conclusion
There are many different transportation options available on the Strip.
While taxis, Uber, and Lyft are readily available, they're costlier than the more budget-friendly public transportation options.
For the most cost-effective experience, we recommend public transit or the free trams, as they save money and offer a chance to avoid traffic and parking hassles.
The Las Vegas Monorail offers a convenient mode of transportation for covering longer distances quickly.
Nonetheless, the best option for you depends on your budget, preferences, and needs.