The 16 Best Las Vegas Shows in 2023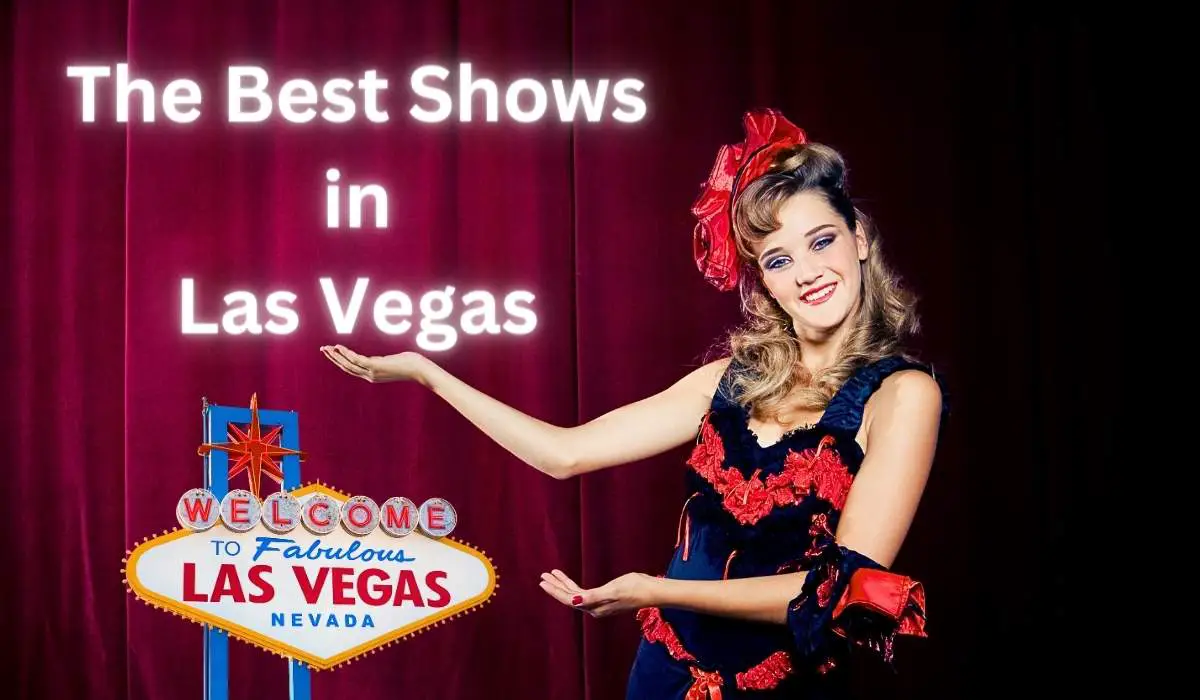 (This article may contain affiliate links, which means we might earn a small commission if you click and make a purchase. Thank you!)
Nestled amidst dazzling neon lights and bustling streets, the iconic Vegas Strip has long held its reputation as a center of entertainment and extravagance.
Even now, this illustrious entertainment mecca continues to captivate visitors from across the globe with its unparalleled blend of glitz, glamour, and world-class performances.
We've compiled a list of the best Las Vegas shows so you can experience the unparalleled splendor and unique talents of Vegas.
The Allure of the Las Vegas Strip
The Strip is a 4.2-mile-long road that offers luxury, entertainment, and world-class attractions, drawing visitors from around the globe.
There's just something enchanting and electric about the Las Vegas Strip that draws millions of visitors worldwide every year.
History and Evolution of Entertainment on the Strip
This exploration delves into the evolution of Las Vegas entertainment, detailing how the Strip evolved from a barren stretch of desert highway to a dazzling corridor of world-renowned entertainment.
Early Beginnings: In the 1940s, El Rancho Vegas was founded, beginning the transformation of the road connecting Las Vegas to military bases into the Strip.
The Golden Era: The 1950s and 1960s saw the Golden Era of Las Vegas Boulevard, with iconic hotels, casinos, and Hollywood celebrities like the Rat Pack, Elvis Presley, and Frank Sinatra attracting visitors.
Mega-Resorts and The New Millennium: In the late 20th and early 21st centuries, Las Vegas' luxury and entertainment landscape was redefined by mega-resorts like Mirage, Bellagio, and The Venetian.
The Diversity of Shows on the Strip
Las Vegas offers plenty of live entertainment options, including music, shows, comedy, magic, and family-friendly activities.
The Strip hosts a rotating cast of A-list musicians, including pop icons like Celine Dion and Elton John and contemporary chart-toppers like Lady Gaga and Bruno Mars.
Cirque du Soleil leads the way with its multiple resident productions across several hotels.
Magic is also popular, with world-renowned magicians like David Copperfield and the dynamic duo Penn & Teller performing their best shows in Las Vegas.
And, of course, hilarious comedy clubs provide an intimate setting for stand-up comedy.
Best Shows on the Las Vegas Strip
There's a reason Las Vegas is renowned as the Entertainment Capital of the World, but where do you even begin with so many acts on so many stages on and off the Strip?
Enjoy world-class live shows, dazzling productions, and virtuosic performances representing live entertainment's pinnacle.
Acrobatics Shows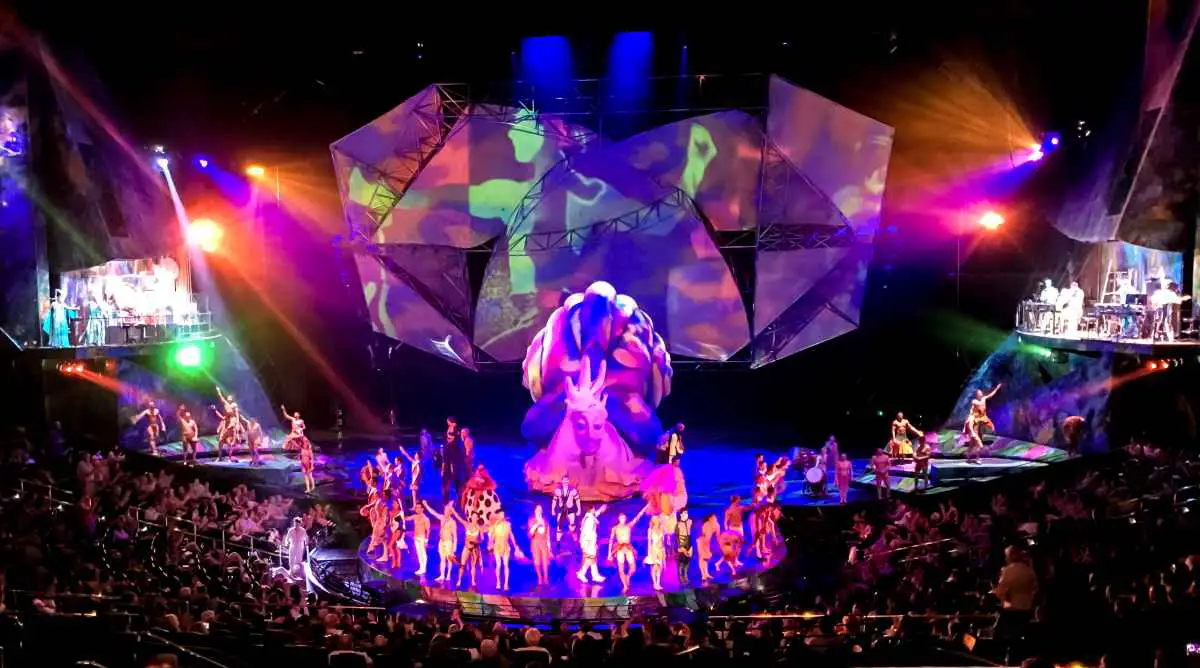 The top acrobatics shows on the Strip feature breathtaking aerial displays and gravity-defying stunts that will leave you spellbound.
"O" by Cirque du Soleil at Bellagio: "Cirque du Soleil's "O" show at Bellagio keeps the audience entertained with water-themed acrobatics performed in a massive pool that transforms into a solid stage. The show also incorporates storytelling elements, featuring themes of transformation, journey, and exploration.
Michael Jackson ONE at Mandalay Bay: This is an electrifying tribute show with acrobatics, dance moves, and seamless storytelling. It also features a behind-the-scenes tour, presenting a fascinating glimpse into the creative process and incredible talent behind this production.
Mystère by Cirque du Soleil at Treasure Island: See Mystère for world-class acrobats and impressive balancing feats on the Strip. This show features death-defying stunts, beautiful costumes, set design, and enough wow moments to keep you gawping.
Magic Shows

The Strip hosts the best magic shows featuring illusions, sleight of hand, and amazing tricks. Here are some of the top performances to watch.
Criss Angel's MINDFREAK at Planet Hollywood: Magician and illusionist Criss Angel's Las Vegas magic show at Planet Hollywood Resort includes various mind-bending magic tricks and impressive acrobatic elements. Criss Angel has been performing captivating illusions and wowing audiences on the Strip for over a decade.
David Copperfield at MGM: David Copperfield's show in Las Vegas features innovative illusions and captivating storytelling, earning him international acclaim as a master of magic. The show features audience interaction and innovative techniques with one of the greatest magicians of all time.
Mac King's Comedy Magic Show at Harrah's Las Vegas: The Mac King Comedy Magic Show Theater at Harrah's Las Vegas offers lighthearted and family-friendly entertainment featuring Mac King's signature tricks. This show is interactive and engaging, often involving crowd engagement. The show is suitable for families and children of all ages.
Mat Franco Magic Reinvented Nightly: This immersive live show was voted "Best Magic Show in Las Vegas" for two years; it features unique illusion feats and interactive magic. America's Got Talent winner Mat Franco presents a renewed, feel-good twist on magic at The LINQ Hotel & Casino.
Musical Performances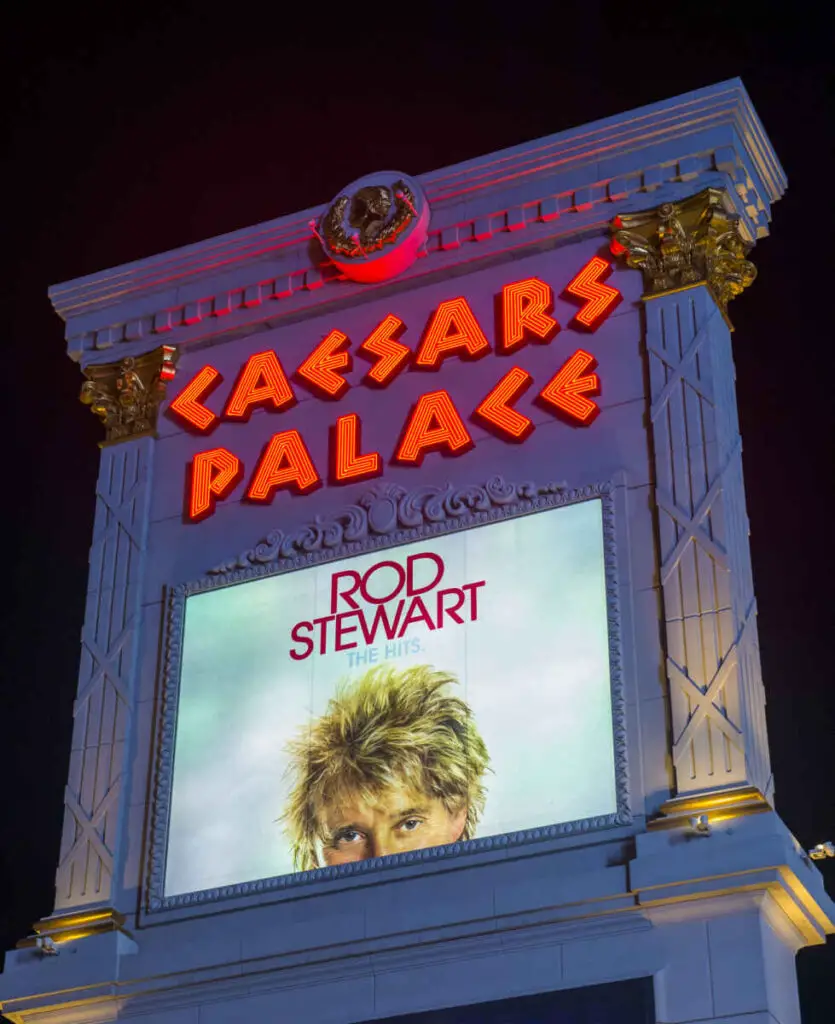 The Strip frequently hosts world-class musical performances, from legendary residencies to contemporary chart-toppers.
Rod Stewart: The Hits at The Colosseum: Rod Stewart's residency, "Rod Stewart: The Hits," features his greatest hits and ballads. Stewart's charisma and showmanship make for an engaging performance, often incorporating storytelling and audience interaction. The concert is known for its high-quality production, including lighting, stage design, and video elements.
RuPaul's Drag Race LIVE!: This 90-minute drag show in Las Vegas features the best drag queens worldwide, and musical numbers written by RuPaul.
Blue Man Group: This is another amazing performance you don't want to miss. Blue Man Group performs a unique show at the Luxor Hotel and Casino, featuring iconic blue-skinned performers, music, comedy, and multimedia elements. The Blue Man Group show includes audience participation and incorporates city-specific themes.
Comedy Shows
Check out the best comedy shows on the Vegas Strip, featuring a mix of legendary and emerging comedians for a night of laughter and entertainment.
Carrot Top at Luxor: Carrot Top's performance is high-energy, hilarious, and full of clever gadgets and slapstick comedy that'll keep the audience laughing throughout the entire show. It's no wonder he has won awards for being the best male stand-up comedian – he truly delivers a top-notch performance.
Brad Garrett's Comedy Club at MGM Grand Hotel: Brad Garrett's Comedy Club is a cozy, intimate venue in the MGM Vegas Strip. The club features a rotating lineup of comedians performing various comedic styles, including established headliners and up-and-coming ones. The venue also showcases Brad Garrett, attracting a diverse range of talent.
Tournament of Kings: Do you want an enjoyable, family-oriented performance to cap off your Las Vegas vacation? Consider attending the Tournament of Kings at the Excalibur Hotel & Casino. This show was inspired by the epic tale of King Arthur.
Adult Shows

The Vegas Strip continues to offer adult-oriented shows, catering to more mature audiences seeking a provocative night out.
Fantasy at Luxor: This show is a topless revue featuring talented female dancers, combining sensual and awe-inspiring choreography with comedy for a memorable adult entertainment experience.
X Burlesque at Flamingo Las Vegas: This show features a talented cast that blends classic striptease with modern dance, known for its captivating choreography and playful demeanor.
Atomic Saloon Show: If you're looking for a bit of Wild West fun, look no further than the Atomic Saloon Show in Las Vegas – a rip-roaring variety show that takes audiences back to the 1800s for an evening of boot-stomping entertainment.
Spotlight on Cirque du Soleil
This segment explores this extraordinary company's captivating history, visionary artistry, and enduring impact. Let's celebrate the magic, wonder, and legacy of the Cirque.
Overview of Cirque du Soleil in Las Vegas
Cirque du Soleil has revolutionized Las Vegas entertainment with its visually stunning shows. The company pioneered the Strip with "Mystère" in 1993, establishing a lasting relationship with the city.
It has brought diverse productions, such as "O" at Bellagio, "Zumanity" at the New York-New York Hotel, and "MJ ONE" at Mandalay Bay Resort, featuring acrobatics, visuals, and imaginative storytelling.
Cirque du Soleil's best shows in Las Vegas are hosted by prestigious resorts, enhancing the guest experience.
Their presence has had a significant cultural impact, attracting audiences worldwide and contributing to the city's tourism industry.
Best Cirque du Soleil Shows to Watch

Check out these amazing Cirque du Soleil Las Vegas shows that showcase the company's diversity and excellence.
KÀ at MGM Grand (Las Vegas): This epic and captivating Las Vegas show features martial arts-inspired acrobatics on a massive moving stage, showcasing dynamic and gravity-defying scenes for an immersive adventure and conflict experience.
Beatles Love: A multi-sensory journey set to an iconic soundtrack featuring thrilling aerial acrobatics and a psychedelic, immersive experience that has delighted over 10 million guests at The Mirage Hotel and Casino in Las Vegas.
Mystère: Mystère by Cirque du Soleil is a vibrant, high-energy spectacle that combines powerful athleticism, energetic acrobatics, and choreographed dance accompanied by the thunderous rhythms of Taïko drums at Treasure Island in Las Vegas.
O by Cirque du Soleil: "O" by Cirque du Soleil is an exquisite aquatic show that weaves a tapestry of surrealism, romance, and artistry featuring skilled acrobats, swimmers, and high divers performing above, in, and on, the water at the Bellagio Hotel and Casino in Las Vegas.
Michael Jackson One: A high-energy celebration of the King of Pop's iconic music, combining electrifying acrobatics, dance, and visuals in a state-of-the-art surround-sound environment at Mandalay Bay Resort & Casino in Las Vegas.
"Mad Apple": Mad Apple is a Cirque show featuring acrobatics, music, dance, comedy, and magic, celebrating New York City.
NOTE: Quite a few of Las Vegas's talented headliners have appeared on the hit TV show America's Got Talent: Terry Fator, Piff the Magic Dragon, Mat Franco (a magician skilled enough to win America's Got Talent), Tape Face, and Shin Lim (the only person to win AGT) among them.
Planning Your Visit to the Las Vegas Strip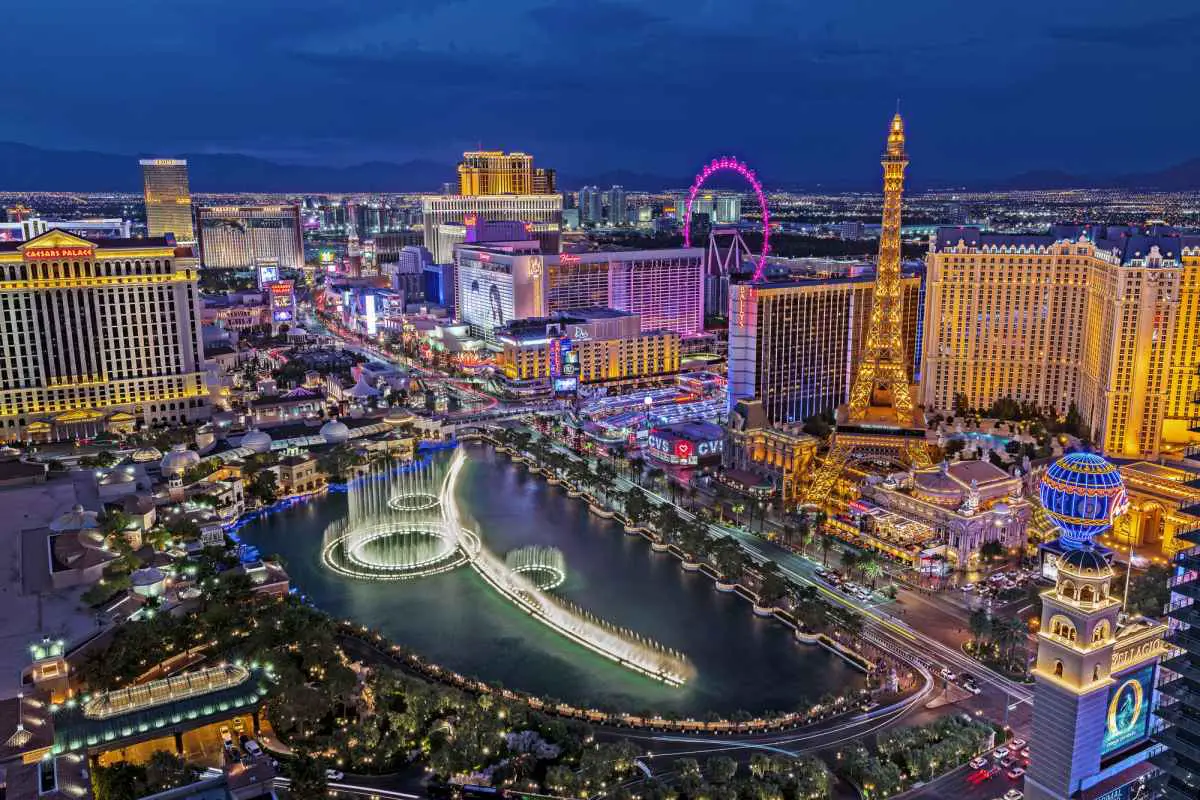 This quick guide will help you check off various attractions on the Strip so you can better navigate this stunning destination and plan your Vegas vacation.
Best Time to Visit
Las Vegas Boulevard (aka The Strip) is a year-round destination with dazzling lights and world-class entertainment that attracts visitors from around the globe. Seasons and personal preferences typically determine the best time to visit.
Spring (March to May): Spring in Las Vegas is peak tourist season and offers mild temperatures, ideal for outdoor activities and Strip exploration. Pools open in March or April, with occasional breezy conditions.
Summer (June to August): Summer in Las Vegas is hot, but it is the ideal time to visit for a lively pool scene. Expect higher hotel rates and larger crowds in early to mid-summer.
Fall (September to November): Fall offers cooler temperatures and comfortable outdoor activities and is considered by many to be the best time to take a trip to Las Vegas.
Winter (December to February): Winter in Las Vegas is mild, with daytime temperatures ranging from 50s to 60s °F. Visitors can enjoy indoor attractions, the best shows in Las Vegas, and casinos during the holiday season.
Weekdays vs. Weekends: Visit weekdays (Sunday through Thursday) for a quieter, less crowded experience, as Friday and Saturday nights are busier and typically have higher hotel rates.
Special Events and Conventions: Before planning your Las Vegas trip, check the convention calendar to avoid higher hotel prices and crowds. Consider booking in advance for specific events and to see the best shows in Las Vegas.
Budget Considerations: Visit during shoulder seasons (late summer and early January), for the best deals on accommodations and the best Las Vegas shows. Stay tuned for promotions and packages offered by hotels and resorts.
Best Parts of the Strip for Live Shows
Here's a guide to help you plan your visit for live shows in Las Vegas, with the best parts of the Strip to explore.
The Venetian and Palazzo Complex: The Venetian Theatre offers live performances from a rotating list of headline performers in a luxury resort with gondola rides on the Venetian canal.
Caesars Palace: The Colosseum is renowned for world-class concerts and residencies. Artists like Celine Dion, Elton John, and Mariah Carey have performed here.
The Mirage Hotel: The Mirage is famous for its erupting volcano and tropical rainforest atrium. You can watch the incredible "Love" by Cirque du Soleil, a tribute show for The Beatles.
Bellagio: The Bellagio Hotel is a popular destination with its Bellagio Fountains, Conservatory & Botanical Gardens, seasonal displays, and Cirque du Soleil's "O" show.
MGM Grand: They host various live events, including concerts, sporting events, and award shows in Las Vegas.
Park MGM: Check out the Park Theater at Park MGM for performances by artists like Lady Gaga and Bruno Mars.
T-Mobile Arena: Found just off the Strip behind New York-New York, this arena hosts major concerts and sporting events.
The LINQ: The LINQ Promenade offers a lively atmosphere with shops, restaurants, and the High Roller observation wheel. You can find smaller live performances and street entertainment here.
The Wynn and Encore: These luxury resorts feature high-end entertainment, such as "Awakening," a visually stunning acrobatic and dance Las Vegas show.
The Cosmopolitan: This modern hotel often hosts live music performances and DJs at venues like The Chelsea and Marquee Nightclub.
Tips for Getting the Best Seats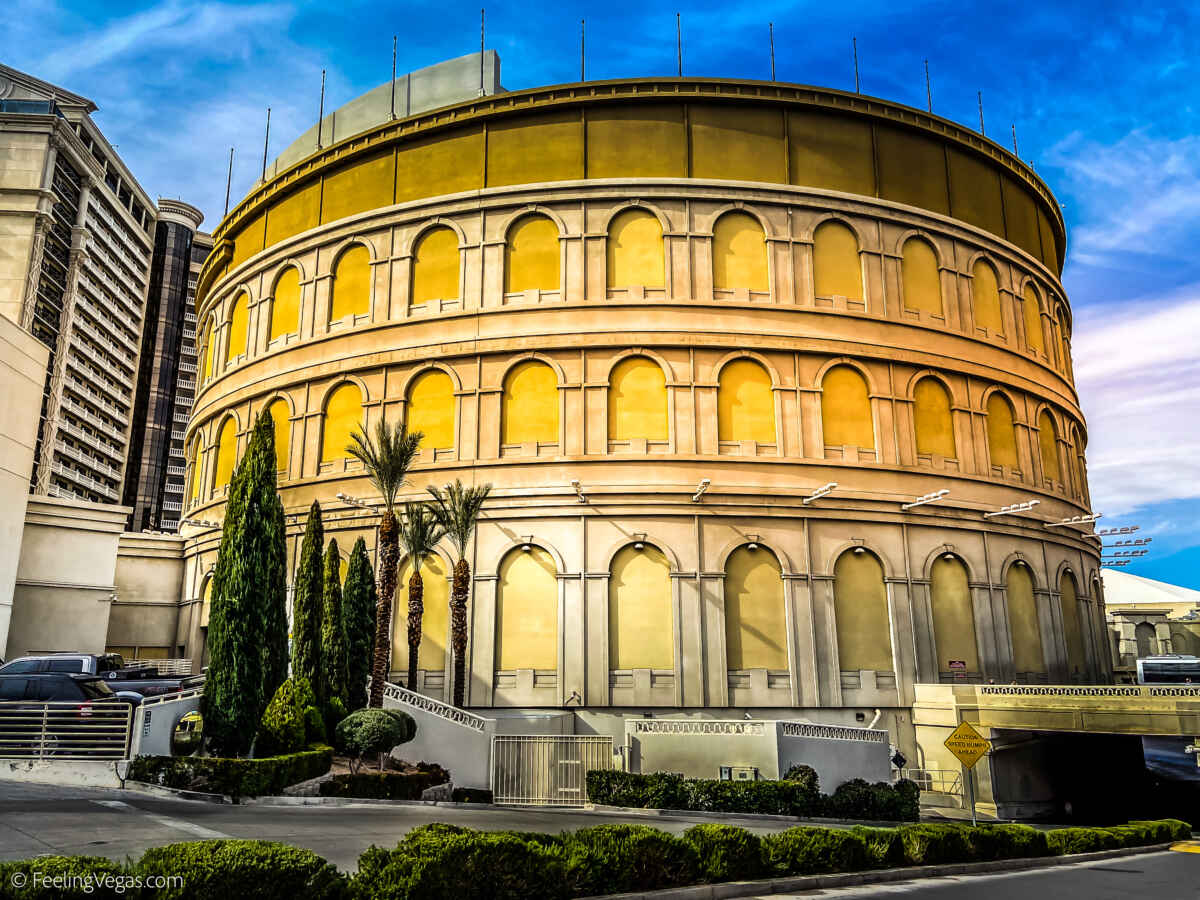 Here are some tips to help you get the best seats in the house:
Book tickets early to ensure seat availability, especially during peak seasons.
Only buy tickets from official sources to avoid scams and counterfeits.
Upgrade your show experience with VIP packages for better seating, receptions, and tours.
Consider proximity, sightlines, and comfort using seating charts when booking seats for the best experience.
Check online reviews and recommendations from past attendees to find the best seats for a show.
Pick seats based on your preferences: closer for immersion, higher for better views.
Consider attending a less crowded and possibly cheaper matinee show if your schedule is flexible.
Contact the venue for group discounts and perks when attending the show with a group.
Consider checking for last-minute deals if you can be flexible with your show dates. Sometimes, tickets become available at discounted rates as the show date approaches.
It's generally advisable to avoid buying tickets from scalpers or street vendors. While you might find tickets at the last minute, there's a risk of purchasing counterfeit or overpriced tickets.
Frequently Asked Questions
Check out this section for essential information to enhance your Las Vegas show experience.
What Are the Must-See Shows on the Las Vegas Strip?
These shows are a must if you're visiting Vegas for the first time. Some of the must-see and the best Las Vegas shows include:
"Awakening" at Wynn Las Vegas
"The Beatles LOVE" at The Mirage
"KA" at MGM Grand
"Magic Mike Live" at Sahara Las Vegas
"Penn & Teller" at Rio All-Suite Hotel and Casino
"Piff the Magic Dragon Show" at Flamingo Hotel
"Atomic Saloon Show" at The Venetian
"The Chippendales Las Vegas Show" at The Rio
"All Shook Up: Tribute To The King" at Alexis Park Resort
"Legends in Concert" at Tropicana Hotel and Casino
"Circus Circus Acts" at The Carnival Midway, Circus Circus
"The Mentalist" at Miracle Mile Shops
"Nathan Burton Comedy Magic Show" at Showcase Mall 
Which Cirque du Soleil Show Is the Best?
The best Cirque du Soleil show is subjective and depends on individual preferences, but some of their best shows in Las Vegas include:
"O" at Bellagio
"Michael Jackson ONE" at Mandalay Bay
"The Beatles LOVE" at The Mirage
Are the Shows on the Las Vegas Strip Worth the Price?
The Las Vegas Strip's shows' worth depends on individual preferences and budget.
Researching the show, reading reviews, and considering interests and budget are crucial when deciding if it's worth the price.
What Is the Best Part of the Las Vegas Strip to Visit for Shows?
The Las Vegas Strip's popular show destinations include Caesars Palace, The Venetian, and Bellagio, known for their world-class theaters and entertainment venues.
How Can I Get the Best Seats for Shows on the Las Vegas Strip?
To enjoy the best shows in Las Vegas, book tickets early to secure a wider selection of seats. Consider VIP packages, which offer extras like lounge access and meet-and-greet opportunities.
Be flexible with seating arrangements, as many shows offer deals on prime seats on weekdays or further back from the stage. By being open to compromise, you can still enjoy an amazing show.
Conclusion
The entertainment offerings in Sin City are spectacular, now and always. The Strip promises an unparalleled experience, each showcasing its unique blend of artistry, talent, and innovation.
Whether you're captivated by the mesmerizing world of Cirque du Soleil, drawn to legendary musicians, or intrigued by cutting-edge performances, Las Vegas has it all.
Hopefully, this curated list will help you plan a memorable visit to the world's greatest entertainment hub.
As the entertainment landscape evolves, we encourage you to stay informed about show schedules, ticket availability, and any updates to ensure your Sin City experience is extraordinary.