All Shook Up Vegas: A Must See Elvis Tribute Experience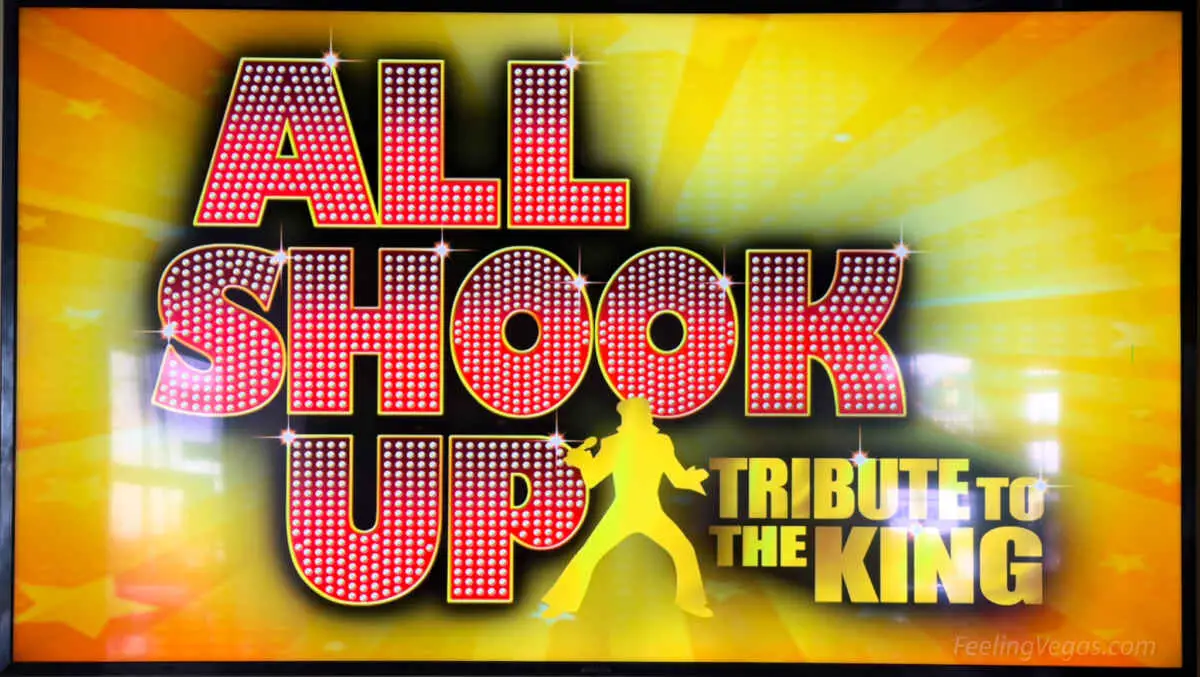 (This article may contain affiliate links, which means we might earn a small commission if you click and make a purchase. Thank you!)
All Shook Up is an irresistible Elvis tribute show that will have you dancing and singing in your seat. Performing in fabulous Las Vegas, this award-winning production ensures that Elvis's legacy continues to awe audiences from all around the world. With live music, spectacular performances, and an array of Elvis's greatest hits, it's no wonder that this show remains a favorite among audiences of all ages.
The show takes place in the Athena Showlounge at the Alexis Park Resort Hotel. The performance space is an intimate setting that will immerse audiences in the music. From iconic songs such as "Suspicious Minds" and "Heartbreak Hotel" to Elvis's charismatic stage presence, the talented cast of All Shook Up creates an unforgettable night of entertainment.
Whether you're an Elvis fan or just a lover of live music, this show provides a unique opportunity to celebrate the life and work of one of the most beloved artists in history.
Key Takeaways
What: A lively Elvis tribute show in Las Vegas featuring an Elvis impersonator and a live band
Where: Athena Showlounge at Alexis Park Resort
When: 7 nights a week at 6 PM
Cost: $51 for general admission | $61 for VIP seating
All Shook Up tickets can sell out fast, and you don't want to miss your chance to see this amazing show live. So don't wait any longer – click now and secure your tickets (TripAdvisor) for this must-see show!
All Shook Up: A Tribute to the King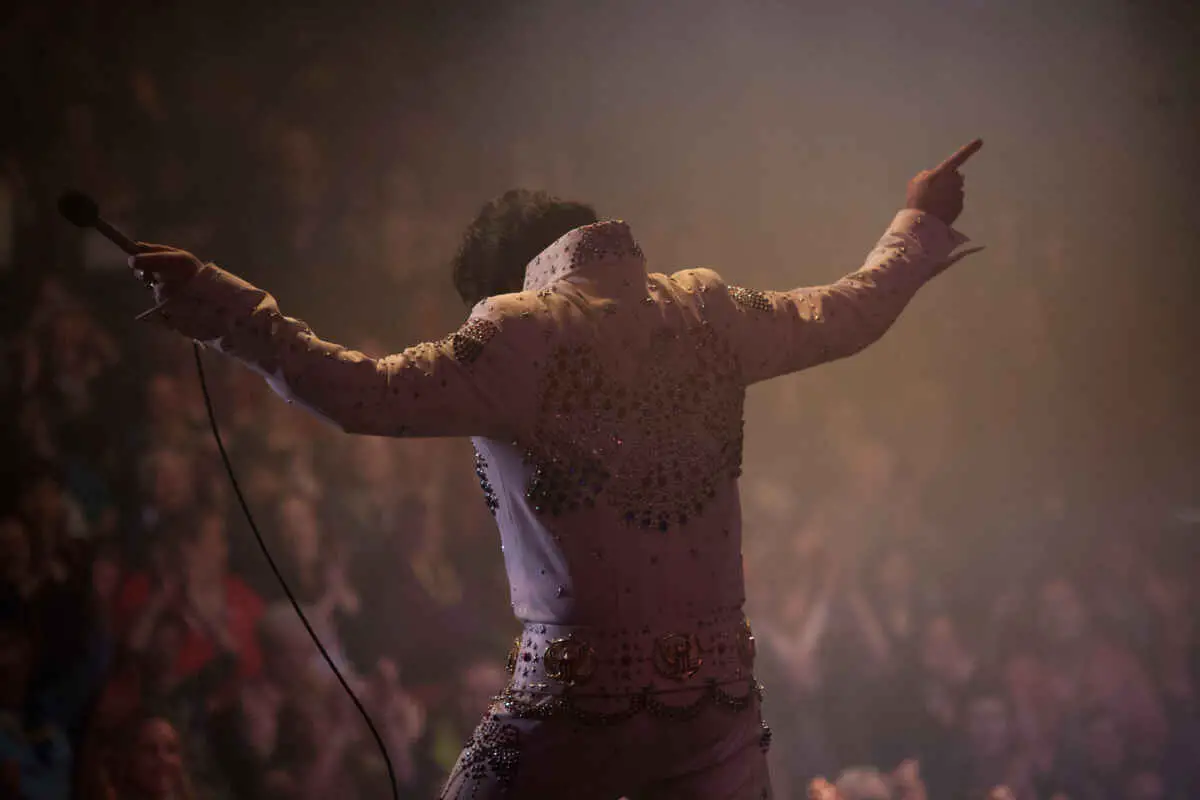 Brimming with Energy
All Shook Up is the Vegas tribute show you'll want to see if you're a fan of "The King." Remembered as one of the most iconic musicians in history, Elvis's memory lives on in Las Vegas. This high-energy, fun-filled show will have you dancing in your seat or singing along with some of the all-time favorite tunes!
Fun Fact: This tribute to the King is the only all-Elvis tribute show on the Las Vegas strip, making it a must-see experience for music fans and visitors alike. From a live band on stage to talented performers channeling Elvis's iconic style, energy, and legendary stage presence, this show does not disappoint.
Songs Featured
During All Shook Up, you'll be treated to an array of classic Elvis hits. You'll definitely feel the nostalgia and excitement of the 20th-century music scene.
Moreover, the setlist features a diverse array of songs, ensuring that there is something for every Elvis fan. So, get ready to immerse yourself in the world of Elvis!
Here's a list of some of the popular songs you may hear during the performance:
Jailhouse Rock
Hound Dog
Heartbreak Hotel
Can't Help Falling in Love
Love Me Tender
Blue Suede Shoes
Suspicious Minds
All Shook Up
Don't Be Cruel
In the Ghetto
Suffice it to say that Elvis's greatest hits will be well covered!
If there is one show in Vegas to see, THIS IS IT! it is a must see show. All around entertaining, fun, and a good time.

Chris D.
Live Band and Production Quality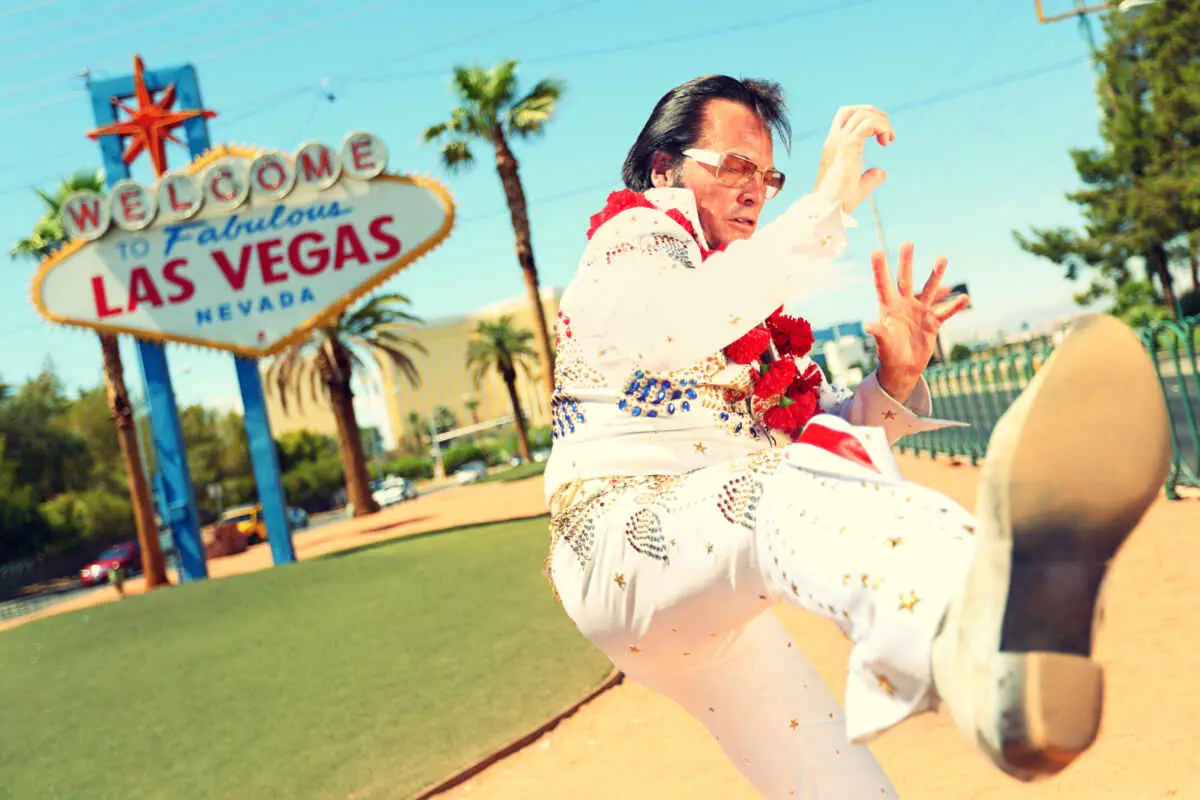 When you attend "All Shook Up," you'll be immersed in the fantastic live band experience. This Elvis tribute show features skilled musicians performing on stage, accompanying the talented impersonator who brings The King to life. The band adds a significant layer of authenticity to the performance, capturing the essence of Elvis's iconic sound.
The production quality of this show is top-notch, ensuring you have an engaging and entertaining time. From the vibrant stage lighting to the intricate set design, every production element is carefully crafted to immerse you in the world of Elvis Presley.
As the only All-Elvis tribute production show in Las Vegas, "All Shook Up" strives to provide an experience that is both enjoyable and true to the artist's legacy.
Whether you're an avid Elvis fan or just looking for an amazing night out in Las Vegas, "All Shook Up" delivers a high-energy show that leaves you feeling like you've stepped back into the golden age of Rock and Roll.
Venue: Alexis Park Resort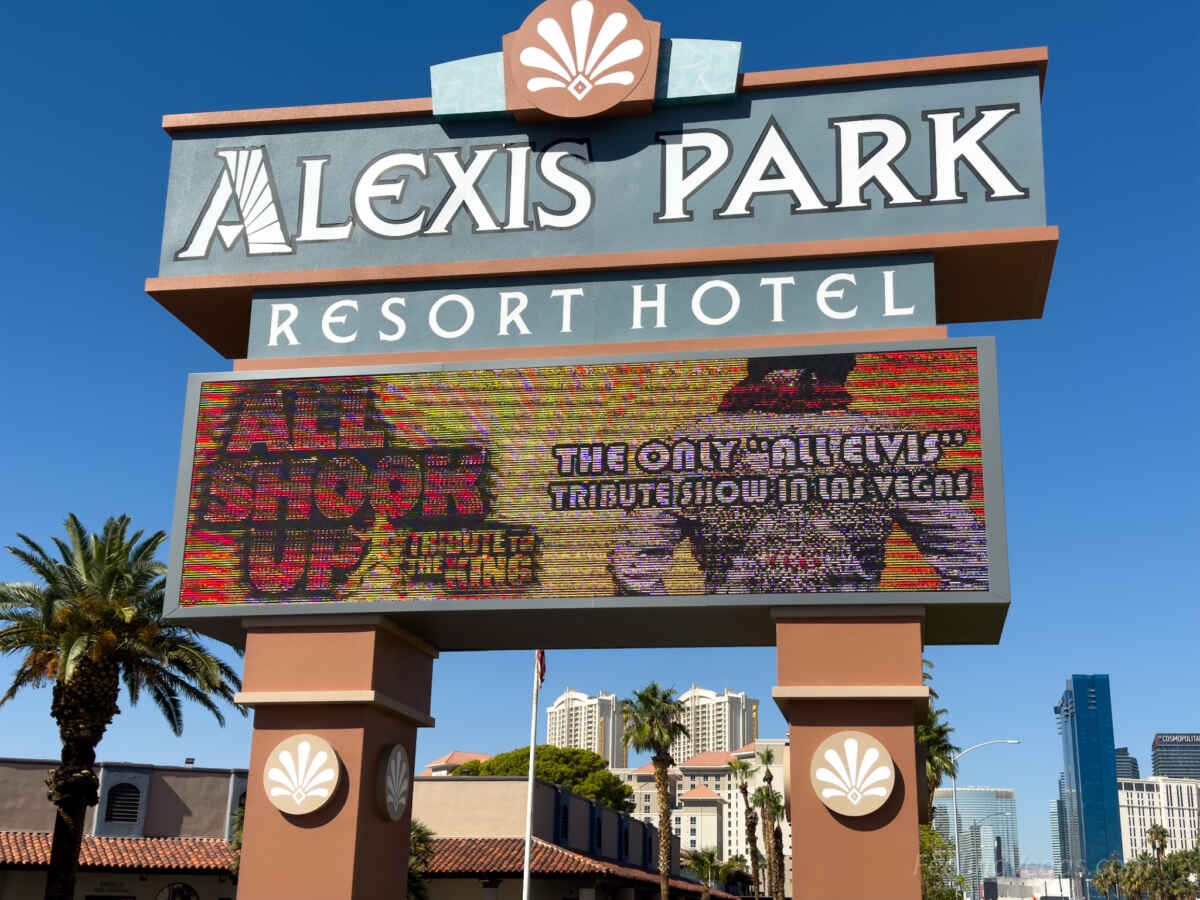 The All Shook Up show takes place at the Athena Showlounge in the Alexis Park All Suite Resort.
As you make your way to the show, you'll appreciate the welcoming atmosphere of the resort, setting the stage for an evening of entertainment. The Athena Showlounge, where this phenomenal tribute show is held, provides an intimate environment, giving you a chance to get up close and personal with the performance.
All Shook Up is performed nightly, and the show typically lasts about 75 minutes. Be prepared to have your Elvis nostalgia fulfilled with classic songs and performances that have endeared the King of Rock n Roll to generations of fans.
With its prime location, inviting atmosphere, and unforgettable tribute show, you'll thoroughly enjoy your visit to Alexis Park Resort and All Shook Up. Get ready to be transported back in time and have an amazing Las Vegas experience!
Also, at Alexis Park, see All Motown. A tribute to the greatest hits of Motown.
Directions to Alexis Park Resort
The resort property is located at 375 E Harmon Ave, Las Vegas, and is just a short drive from the strip.
Note: The Alexis Resort is conveniently located just a few minutes from the popular center strip area, making it a perfect place to hang your hat while exploring Sin City. While Alexis is a non-gaming property, you'll find plenty of action right across the street at Virgin Hotels.
Compare and save! Check current Alexis Resort room rates at TripAdvisor.
Ticket Prices and Show Details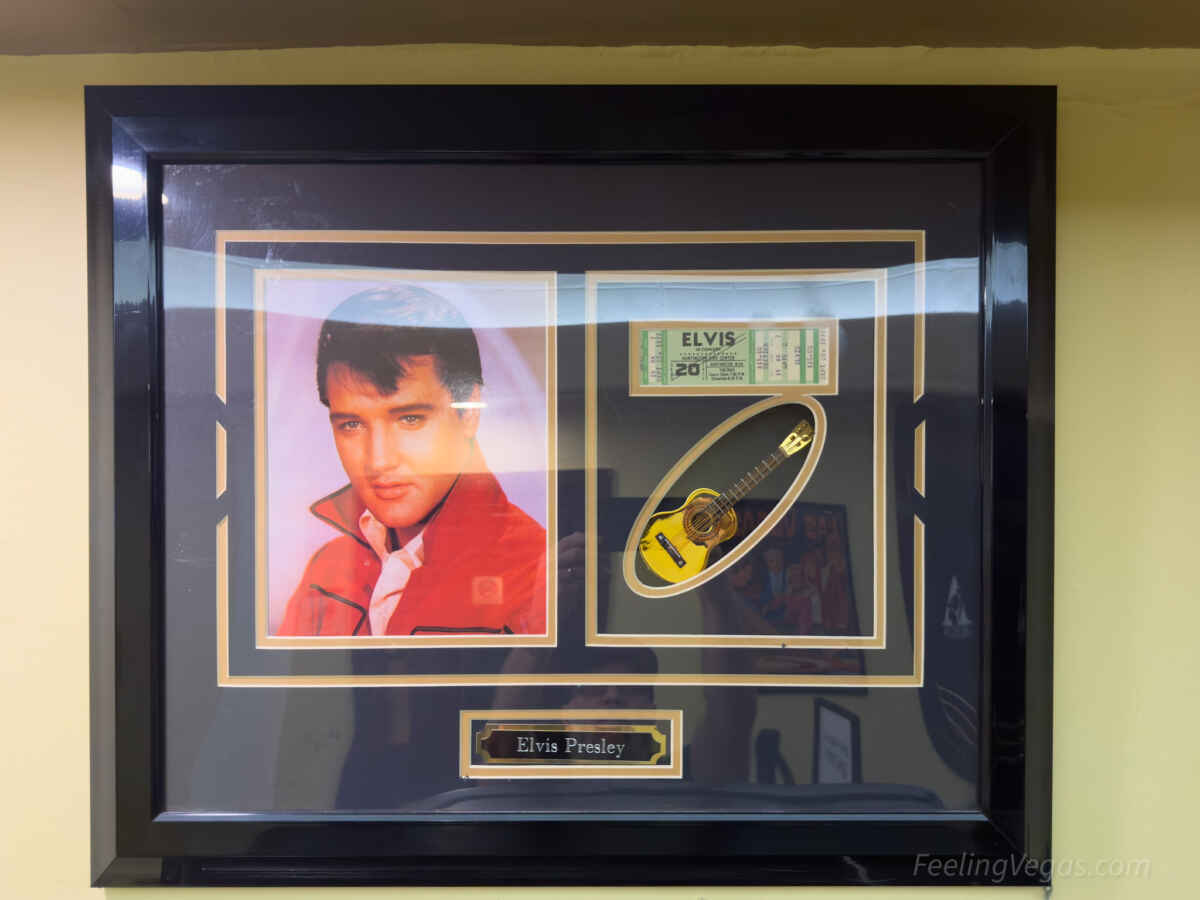 When it comes to tickets for All Shook Up, you can find them starting at $51 for general admission, ensuring an affordable night of entertainment. If you'd like the full VIP experience and seats up front, you'll find tickets for $61.
The show has earned an outstanding rating of 4.8/5 based on over 2,400 reviews, assuring you that it's an experience you wouldn't want to miss. As you take your seat, get ready to be wowed by the jaw-dropping performances and iconic tunes.
To help you plan your evening, keep in mind that All Shook Up typically runs a little over an hour, so fitting the show into your schedule should be a breeze, giving you ample time afterward to explore everything else Las Vegas has to offer.
So, if you're an Elvis fan or simply in search of a rocking good time, don't hesitate to purchase tickets to All Shook Up (TripAdvisor). It's an experience you'll surely cherish.
Fan Experience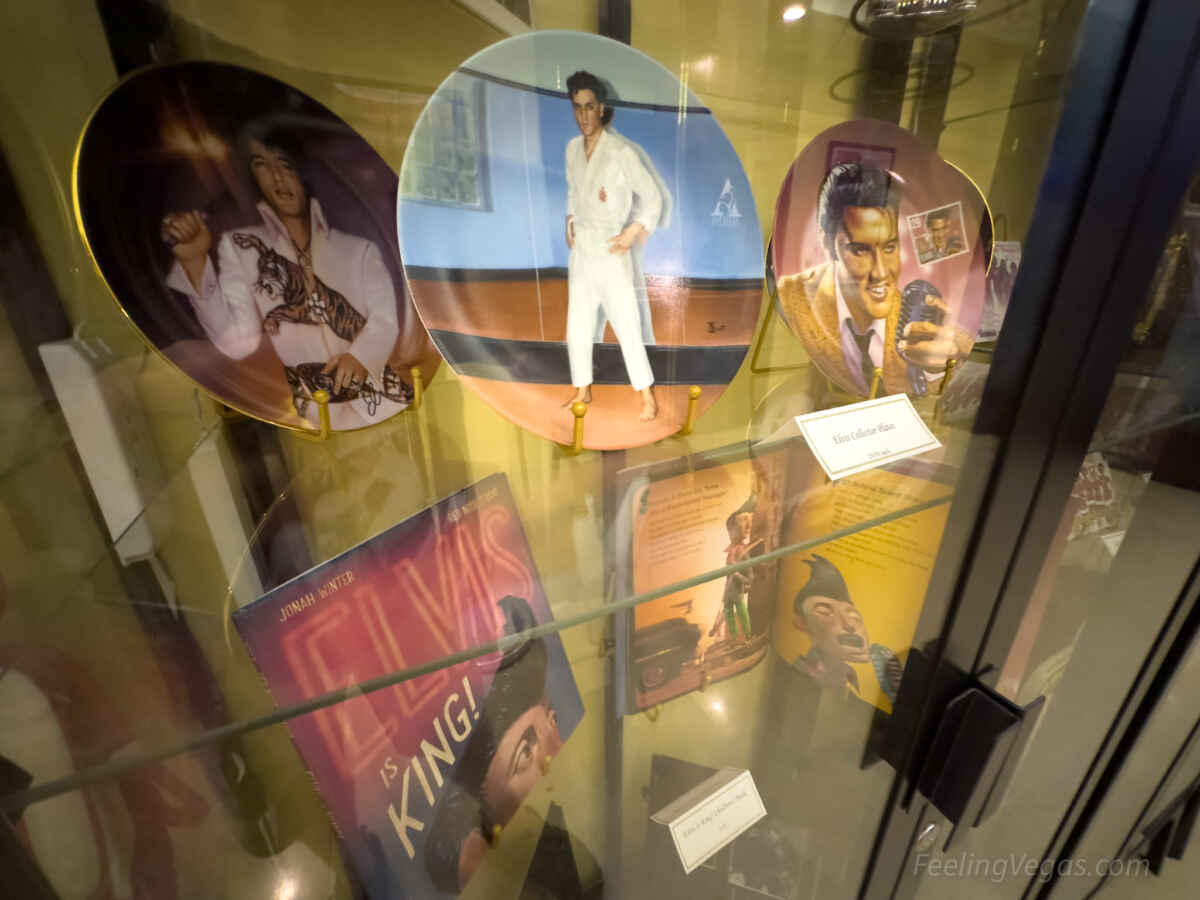 Elvis fans rave about the show, with some mentioning its uncanny resemblance to The King's historic performances.
Guests can also capture memories from the night, as photo opportunities with the talented tribute artists are available after the show. Don't be surprised if you find yourself convinced that Elvis himself is right there in front of you!
Elvis was fantastic! The venue was really nice. The fans close to the stage had the best experience. The impersonator was very talented.

Sandy R.
When it comes to ratings, the show has garnered an overwhelming amount of positive feedback. Fans have given All Shook Up high marks for:
The passionate and skilled tribute artist
Excellent song selection and live music accompaniment
The captivating atmosphere throughout the show
As a fan of Elvis, you're sure to have an unforgettable experience at All Shook Up in Las Vegas. After all, is there a better way to celebrate Elvis's life and legacy while in Las Vegas? I don't think so!
RECOMMENDED: Find out all about The King's life in Las Vegas here.
Frequently Asked Questions
Where can I find discount tickets for All Shook Up in Las Vegas?
You can find discount tickets for All Shook Up in Las Vegas by checking various online platforms that offer show discounts and promotions. Websites such as Vegas.com and TripAdvisor often have deals available for a range of shows, including All Shook Up.
How long is the All Shook Up show in Vegas?
The All Shook Up show in Vegas typically lasts around 75 minutes. This duration allows for a solid entertainment experience that showcases the best of Elvis Presley's music and charisma, backed by a live band.
Which hotel hosts the All Shook Up show in Vegas?
The All Shook Up show in Las Vegas is hosted at the Alexis Park All Suite Resort. The venue for this exciting tribute to Elvis Presley is the Athena Showlounge, offering a comfortable and enjoyable environment for the audience.
Who is the Vegas Elvis impersonator in All Shook Up?
The show features a talented cast of rotating performers who bring the spirit of Elvis to life with their electrifying dance routines, dazzling costumes, and powerful vocal performances.
Isn't there an Elvis show at Planet Hollywood?
The All Shook Up show no longer performs at Planet Hollywood and can now be found at Alexis Park Resort.
Who is Travis Allen in relation to All Shook Up?
Travis Allen is a well-known Elvis tribute artist who has performed in various Las Vegas shows, including All Shook Up. His portrayal of Elvis Presley has won him acclaim from audiences and critics alike.