Elvis Presley in Las Vegas (The Good, the Bad and the Ugly)
(This article may contain affiliate links. If you click through and make a purchase, we will receive a small commission at no additional cost to you. )
Elvis Presley has had a lasting impression on the city of Las Vegas, and Vegas was one of the most important locations of his career. Let's talk about his life in Vegas, his performances, what years Elvis played shows in Las Vegas, and about the impact he left on the city.
Elvis Presley played in Vegas in 1956 and then again from 1969 to 1976. During Elvis's time in Vegas in the late 60s until the mid 70s, he played a total of 664 shows which amounted to two shows a day, seven days a week. A grueling schedule by any standards.
Elvis Aaron Presley was an American singer and actor, one of the founders of modern rock and roll music and one of the biggest pop culture icons in the world. Known simply as the King, Elvis Presley became a global superstar during the 1950s when he started a successful singing career, later complemented by popular appearances in movies during the 1960s.
Elvis was not just a musical and movie superstar, he was also a sex symbol for most of his career, which started to decline during the 1970s. Years of drug abuse eventually destroyed both him and his career, and he died suddenly in 1977 at the age of 42.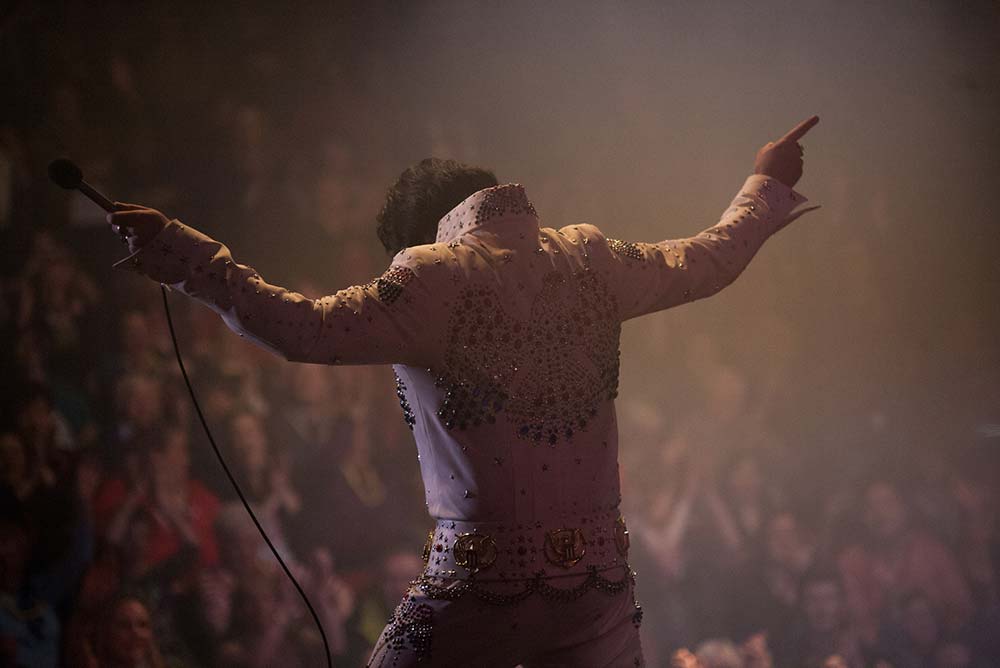 Elvis in Las Vegas
The relationship between Elvis Presley and the city of Las Vegas is an important and enduring one.
Even today, more than 40 years after his death, Las Vegas is still a very Elvis-centric community with daily shows dedicated to the King, an army of impersonators and people coming from all around the world just to be married by an Elvis Presley impersonator.
All that aside, let's explore more of Elvis' real-life career during his years in the Entertainment Capital of the World, Las Vegas!
What Casino Did Elvis First Play in Vegas?
It was 1956 when Elvis first performed in Las Vegas. Riding on the success of his song "Heartbreak Hotel", Elvis started a two-week residency at the New Frontier Hotel and Casino on April 23, 1956.
Staying at the hotel, the 21-year old Elvis performed in the famous Venus Room of the hotel, located on the Las Vegas Strip. Elvis was a hit among the younger generation in the U.S., and was advertised as an "atomic-powered performer", yet the older, more conservative guests of the hotel were not impressed with the newest fad in popular music.
Thus, Elvis's first Vegas trip – which ended on May 3, 1956 – was not a big success for the up-and-coming young performer, who continued touring elsewhere after his Vegas gig.
But he would return to the city eventually in a big, big way!
Elvis Returns to Perform at a Brand New Las Vegas Hotel
On July 2, 1969, the brand-new International Hotel was opened in Las Vegas, NV; the hotel is still around and today is known as the Westgate Las Vegas (TripAdvisor). It's one of the most famous hotels in the city.
Even before its official opening, the International boasted that they had acquired Elvis for a four-week performance consisting of a total of 57 shows. And so after an absence of thirteen years, the King finally returned to Vegas, starting his shows on July 31, 1969.
Elvis was a superstar at the time, having had both a successful singing and acting career, but he was – according to sources – still very nervous about performing in Las Vegas.
Returning to Vegas after a dismal performance back in 1956, Elvis was still unsure whether the audiences would accept him. A large marketing campaign was initiated by the organizers and everything was done in order for the show to be a success. Then came July 31.
Elvis took the stage without an introduction. A crowd of around 2,200 people – including a lot of celebrities – gathered in front of the stage. Before he even sang a note, Elvis was greeted with a standing ovation. He got another one after the performance and a third one after his encore song, "Can't Help Falling in Love". The shows were a hit!
Elvis was worshiped by the Las Vegas crowds and during his four-week stay at the International, he broke every known attendance record at the time.
Journalists called him "unbelievable" and "supernatural", and the hotel quickly signed a five-year deal worth $1,000,000 per year for Elvis to perform in the International every year in February and August.
The deal was signed on August 1, just one day after his first performance! Despite a declining career, later on, Elvis would actively perform in the International until 1975, according to the signed contract.
Elvis Presley in the 1970s
The 1970s were indeed a turbulent period for Elvis. In 1970, MGM released a documentary – Elvis: That's the Way It Is – which featured shots from his Vegas performances at the International Hotel.
He continued to perform regularly – two months a year – at the International, having another record-breaking session in 1971. It was then that he received the Bing Crosby Award, which would later be renamed as the Grammy Lifetime Achievement Award.
Elvis was only 36 at the time and was just the sixth person to ever win this award, entering an elite society of names such as Bing Crosby, Frank Sinatra, Duke Ellington, Ella Fitzgerald and Irving Berlin.
He was also the second to last sole recipient of the award (the last one being Leonard Bernstein in 1985), because the tradition changed so the award was given to multiple musicians at the same time.
But his personal life was a mess. He started taking prescription drugs and his health started to deteriorate. In 1973, he finalized his divorce with Priscilla (they were married in Vegas in 1967), which left a strong impact on his personal life. And while he continued to appear at the International, it was not the same Elvis.
The Downfall of Elvis Presley
His 1975 summer session was interrupted after just two days because he had to be hospitalized in Memphis, though he returned to the International in December.
Elvis was still recording at the time and had several critically-acclaimed songs, but his personal life was a complete mess, as well as his physical condition. The King was on a downward spiral.
Elvis returned to Las Vegas one last time in December 1976 for a two-week performance at the International. Elvis was very obese at the time, a drug addict and a mere shadow of his former self. After these performances – which turned out to be his last – his health continued to decline until his death in 1977.
How Many Shows Did Elvis Perform in Las Vegas?
During his career, Elvis Presley had an amazing 636 sold-out concerts at the International hotel. It was normal at the time for musicians to perform twice a day, seven days per week and if you add the two-week residency at the New Frontier – the total number of times Elvis performed in Las Vegas is 664!
That is a truly amazing amount of shows for one singer, especially in light of modern performers, who would not consider undertaking such an intense schedule.
Fortunately for us, there are several recorded performances of Elvis singing in Las Vegas from the time period.
Elvis Presley's Las Vegas Song
While in Vegas, Elvis also worked on his acting career, signing a seven-year deal with Paramount Pictures. This is an important fact because it is related to Elvis' return to Las Vegas in 1969 and one of his most famous songs – "Viva Las Vegas".
Alongside his singing career, Elvis worked intensively on film and had acted in 14 feature films by 1963! His 15th feature was the movie Viva Las Vegas, which was recorded in Vegas and later distributed by MGM Pictures.
In the movie, Elvis plays Lucky Johnson, a race car driver who comes to Vegas to enter the annual Grand Prix Race, but has to earn money to fix his engine. While in Vegas, Lucky meets Rusty Martin, played by Ann-Margaret, a swimming instructor he falls in love with, despite her cold demeanor.
Viva Las Vegas was directed by George Sidney and became one of the top-grossing films of 1964, while today being praised as one of Elvis' best films.
Along with it, Elvis recorded his famous hit song "Viva Las Vegas". Both the movie and the song came out in 1964 and did great among the critics and fans.
Another important musical milestone at the time was from his first gig at the International, which resulted in Elvis's first live album. The LP From Memphis to Vegas / From Vegas to Memphis was actually a double album, containing – among other songs – several live recordings from his performances at the International.
The album was received well by critics and was a commercial success, obtaining a Gold certification in December 1969, just two months after its release.
The End of The Road (Long Live The King!)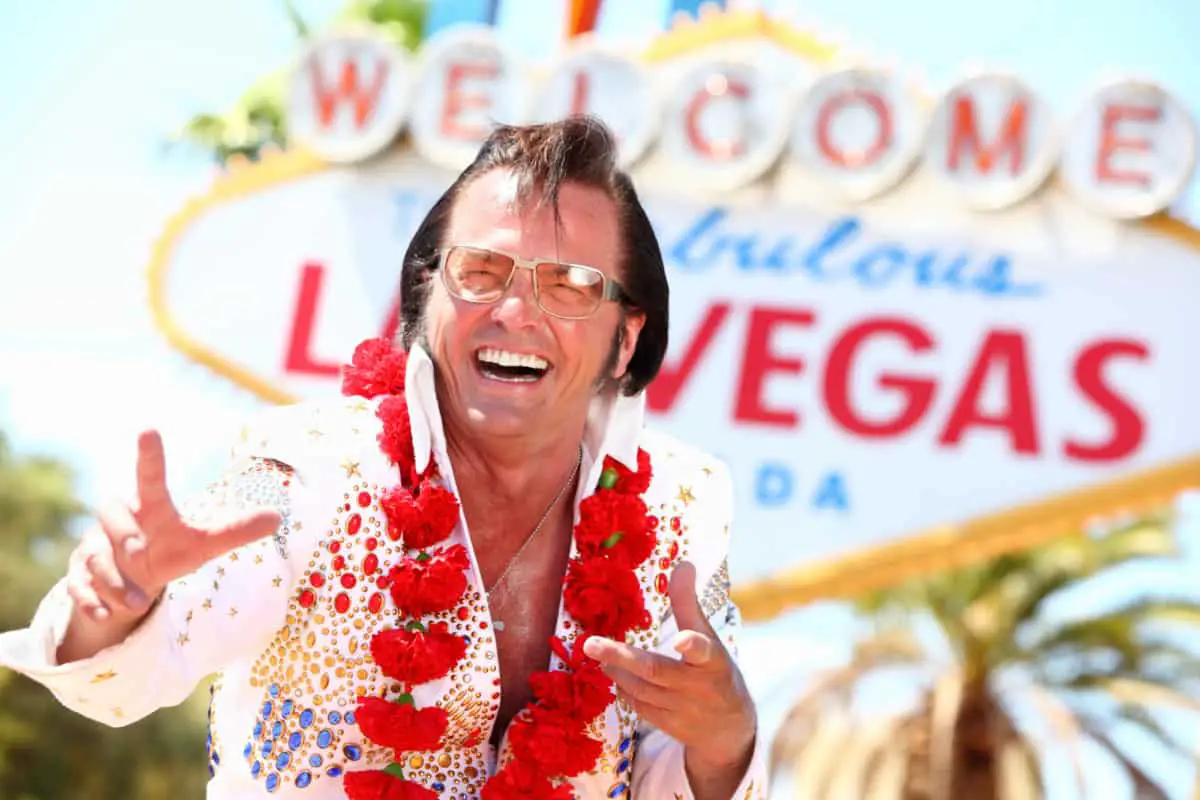 In August 1977, Elvis was supposed to fly out of Memphis on another tour. On August 16, 1977, his then-girlfriend, Ginger Alden, found Elvis unresponsive on the bathroom floor, in his Graceland estate in Memphis, TN.
Doctors were called in, but revival attempts were unsuccessful and the King was declared dead. On that day, the King left the building for the last time and the world lost one of it most popular musical stars.
And this is the story of Elvis and Las Vegas. The singer and the city had a very close bond, with Elvis becoming a local icon at one point in his career. Elvis stayed with Vegas until the very end, and Vegas stayed with Elvis, despite all of his personal issues. The King died in 1977, but his legacy in the city of Las Vegas still remains.
Sources:
Elvis' first venture to Las Vegas flopped, writes historian
Beyond the Zombie Saga: Elvis Presley in 1960s Hollywood
From Memphis to Vegas / From Vegas to Memphis
Grammy Lifetime Achievement Award