What To Wear To EDC Las Vegas (Electric Daisy Carnival) 2023
(This article may contain affiliate links. If you click through and make a purchase, we will receive a small commission at no additional cost to you. )
When people say the word "Vegas", usually gambling springs to mind, but it's fair to say the gambling hub has also morphed into a mecca for music festivals!
Every year more than 300,0000 people from all walks of life flock to Las Vegas for EDC Vegas, the largest and most extravagant music festival in North America.
Not only do attendees drive across the country, even the highest-earning and internationally acclaimed artists fly there every year to headline the mega festival.
Big names like Zedd, Skrillex, and Tiesto all have a Vegas club residency, and that speaks volumes about what Vegas has to offer when it comes to electronic music.
Electric Daisy Carnival Las Vegas
Dubbed as the biggest music festival in North America, Electric Daisy Carnival (EDC) goes above and beyond with its stage productions and lineup.
Attendees are expected to see three-dimensional superstructures, immersive LED art installations, and glow-in-the-dark environment.
The lineup includes big names like Alan Walker, Cosmic Gate, Dom Dolla, Whipped Cream, AC Slater, Adam Beyer, you name it!
Find out why EDC costs so much to attend in our article here.
What to Wear to EDC Vegas
The sheer magnitude of EDC is mind-blowing, and with that being said, attendees tend to kick their rave wear up a notch for this mega festival.
We know finding and pricing the perfect rave outfits can be time-consuming.
Whether you're on the lookout for a casual-glamorous matching set or something with shiny hues that will make you the center of attention, we've got you covered.
Check out Grumps Collection, which offers the most diverse and trendy festival clothing!
Sparkly Sequin Two Piece Set
Sequin has been a popular element in rave fashion because its glittering effect matches the glam and glitz of EDC in Vegas.
After all, EDC is a colorful and outlandish realm where we applaud music and culture under the electric carnival sky.
Check out this Sequin Two Piece Set that gives off a "casual-glam" vibe.
Don't forget to complete the look with sparkly face jewels!
Snakeskin Holographic Bikini
Snake print is often associated with mystery, sexiness, and fierceness, so rock on with your squad in this Snakeskin Holographic Bikini!
Featuring a hollow-out, front lace-up design and holographic material that gives a shimmering effect to the snakeskin print, this bikini is all you need for a big festival like EDC.
Starry Mesh Black Dress
Looking for something versatile that can easily match your other more casual outfits?
Then this starry mesh black dress would be a perfect addition to your look.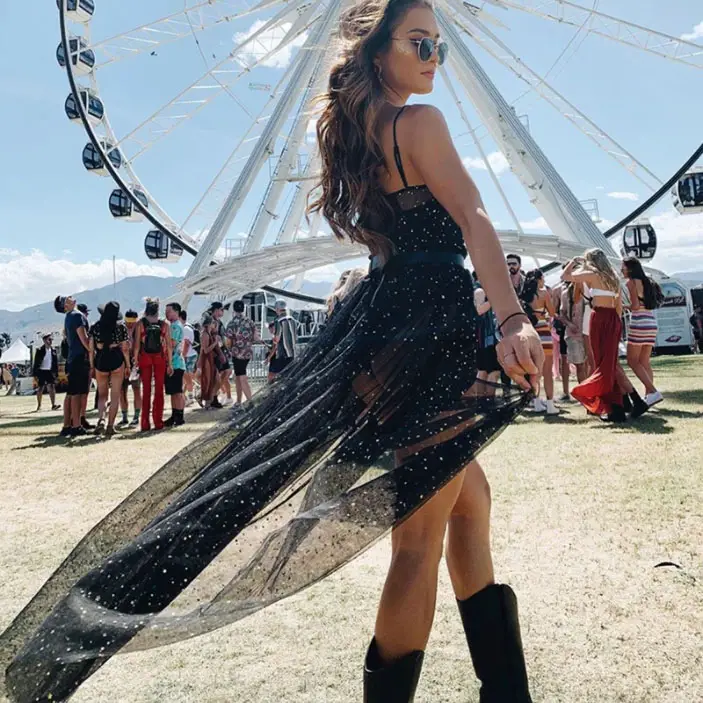 This long sheer mesh dress is adorned with shining stars and its front slit is going to bring out the subtle sexiness in you.
There's nothing sexier than a flowy and see-through long dress that makes you look like a goddess.
Don't forget to wear something sexy like a bikini under the mesh dress.
Violent Vixen Two Piece Set
Halloween is not the only special occasion you need to go above and beyond.
EDC is hands down the best place to put on your most outlandish outfit!
This Violent Vixen rave costume features a zip-up vinyl top and short shorts, plus a seductive choker.
It is perfect for those who pride themselves on being a strong and sexy woman!
Vinyl & Chain Crotchless Two Piece Set
Alright, let's talk about what sexy means.
After all, rave clothing is all about creative expression, and sometimes being comfortable in your own skin is the best way to embrace your sexiness.
Wearing an outfit that embodies who you are is key.
Featuring a seductive choker made of leather, chains, and a garter belt that emphasizes your curves, this rave wear is guaranteed to turn you into a Vegas sex symbol at EDC.
ALSO SEE: Electric Daisy Carnival in Las Vegas (Is EDC Vegas Worth It?)
What To Wear To EDC Las Vegas – Wrapping Up
The Electric Daisy Carnival in Las Vegas is one of the highlights of the festival season.
If you need an excuse to visit Las Vegas, this is it!
But if you're going to attend, then you'll need to be ready. Wearing one of these outfits from the Grumps Collection will ensure that you're the star of the show.