Best Times of Year to Visit Las Vegas (Weather, Deals & Fun)
(This article may contain affiliate links. If you click through and make a purchase, we will receive a small commission at no additional cost to you. )
Vegas is an expensive trip, especially if you decide to stay on the Strip. With that being said, you want to make sure that you are traveling at the best time of year possible to do everything you want to do. Depending on your itinerary for your trip, that'll impact when the best time is for you to visit Las Vegas.
The best times of the year to visit Las Vegas are spring and fall. These seasons offer optimal weather for outdoor activities in Vegas and aren't as crowded as the summer and winter months. And because these are off-peak seasons, you may be able to find better deals for your Las Vegas itinerary.
Keep reading, and I will go into more detail about the best times of year to visit Las Vegas, depending on what you're planning on doing. So, whether that's chilling by the pool, walking the Vegas strip, enjoying the outdoors, or attending events, there's a perfect time to visit Las Vegas.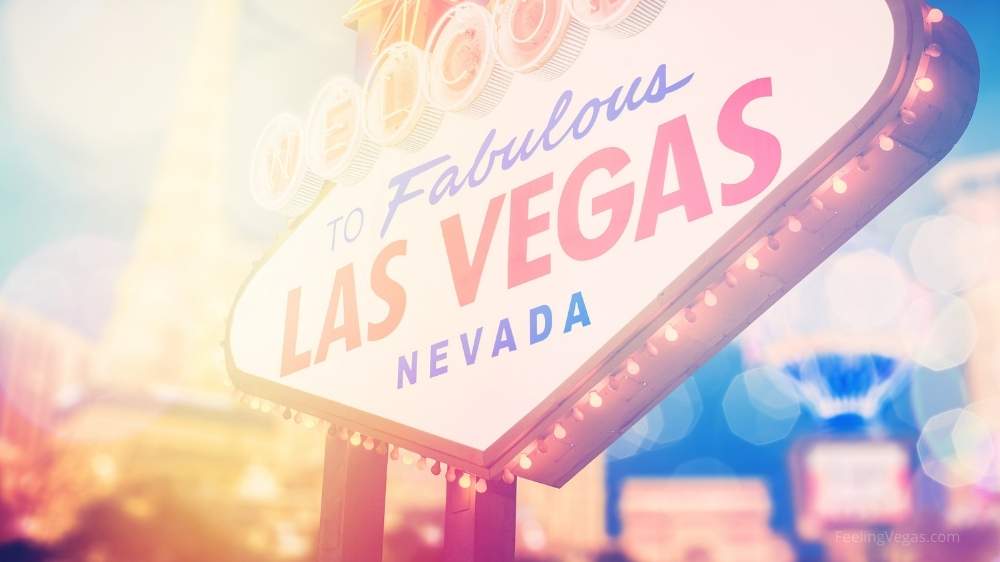 Best Times of Year to Visit Las Vegas by Activity
While Las Vegas is a great destination to visit year-round, you may have a particular set of activities in mind where you'll be spending the majority of your time. The table below will help you plan the right time to visit Vegas based on your vacation desires.
Las Vegas Activity
Best Time of Year to Visit
Attractions
Outdoor attractions: March to May & September to November for the most comfortable weather. Water-based attractions, such as waterparks, are best from late spring and throughout the summer until early fall when they close.
Indoor attractions: Year-round.
Dining
Most dining in Las Vegas is indoors, so you will be comfortable year-round. However, any outdoor or patio dining is best in the Spring and Fall seasons.
Gaming
If gaming is your activity of choice, anytime is a great time to visit Sin City.
Outdoor activities
Outdoor activities such as walking the Strip, golfing, Valley of Fire, Hoover Dam, hiking, etc., will be more enjoyable in the early spring (March-May) and fall (September-November).
Pools
Pool season in Las Vegas starts in the middle of March and continues until October. This is the time of year you'll find the famous Las Vegas pool parties you've heard so much about.
Shopping
Las Vegas has a multitude of indoor and outdoor shopping malls and outlet centers. Shopping is a year-round activity in Vegas. Although some of the malls are outdoors, they have misters that keep the temperature comfortable when you're walking between stores during the summer months.
Shows
Vegas is home to hundreds of world-class shows that can be enjoyed year-round.
Tours
The best time for taking Las Vegas tours is dependent on the particular tour. Outside tours such as the Grand Canyon or desert ATV tour will be extremely hot during the summer months, although they are available year-round. While a bar-hopping tour or tour of the Ethel M Chocolate factory is great any time of the year.
Pretty much anything you will want to do while you're in Las Vegas will fall into one of these categories. So figure out what activities are the most important for your visit, and the best times for you to plan a visit will become more apparent.
Having said that, many people visit Las Vegas multiple times a year. In that case, every season in Sin City is a great time of the year for a set of specific activities. So there really isn't only one best time to visit.
When Is the Busiest Time to Visit Las Vegas?
The busiest time to visit Las Vegas is in the summer and winter. College students have summers off of school, and more parents can bring their kids, so there's a guaranteed influx of visitors. Winter is also busy due to visitors for Christmas, New Years Eve, Valentine's day, and the Super Bowl.
If you go to Las Vegas on any major (or minor holiday for that matter), you'll notice a massive increase of people walking the Strip (Las Vegas Blvd), crowding the pools, etc. You'll also see that the Las Vegas hotel prices are a lot higher.
Hotel room pricing in Las Vegas is based on a supply and demand model. Although you'll manage to find great deals all year long in Vegas, you'll get a lot more if you don't have the competition of thousands of other people who are also trying to get a reasonable price.
If you're looking to avoid the crowds, you should avoid going around any major holiday such as Valentine's Day or New Year's celebrations. If any major sporting events are going on or there's a big festival or convention that weekend, it will probably be wise to delay your trip until everything has calmed down again.
Here are some of the busiest holidays in Las Vegas each year:
Memorial day
Independence day
Valentines Day
Labor Day
Spring Break
Christmas
New Years
If you love the energy of a big crowd, these are really fun times to visit Las Vegas. If, on the other hand, you'd like to have a little bit more elbow room, then you'll want to avoid these holiday times.
When Is the Least Busy Time to Visit Las Vegas?
The least busy time to visit Last Vegas is in between large events or holidays. Crowds in Las Vegas are primarily event-driven, so if you don't want crowds, avoid the events.
However, it's also impacted by the weather. If you'd like to avoid the crowds and save some cash, you should go when it's very hot or very cold, like in late summer or winter.
If you want to avoid the majority of the crowds, then the best thing you can do is check the local event calendars. Generally speaking, outside of the dead of winter (December and January) and the late summer months (July and August), the weather in Las Vegas is pretty mild.
So, you won't have as much of a season-based crowd. If you can avoid any major sporting events or conventions, and you visit during the week, then the crowds will be as low as you can get them.
Remember, Las Vegas will never have zero crowds, but you may be able to avoid waiting in too many lines if you plan it right.
Best Weather for Visiting Las Vegas
If you're planning on doing a bunch of outdoor activities, hanging by the pool, golfing, or you simply want to be able to walk the Strip without dying from heatstroke, then you'll want to make sure that you travel at a time when the Las Vegas weather best allows for those activities.
March to May and September to November are the best times to visit Las Vegas, in terms of the ideal temperature, if you plan to spend significant time outside. The daytime temperatures are mild enough that you should be able to spend your days on the go without having to take breaks from the heat or cold.
This is the ideal time to be visiting Las Vegas if you're planning to visit places like the Grand Canyon or Hoover Dam, where you'll want to be spending a lot of time outside. These are also great times to hang out in downtown Las Vegas at the Fremont Street Experience.
The high temperatures from March to May are typically from the low 70s to the high 80s (around 21°C to above 27°C). Perfect for spending your days outside. The temperatures have a wider range in September and November, with September having an average high of 94°F (34°C) and November having an average high of 66°F (19°C).
One thing to keep in mind is that if you're planning on traveling during the early spring months or late fall months, some pools may be closed as many hotels close them down for the winter. There are, however, pools that are open and heated year-round.
If you would like to spend a lot of your time in or around the water, you may want to travel later in spring or earlier in the fall to ensure that it's still warm enough. Most of the time, though, if you stick to those windows, you should be able to do just about anything you want without having to pile on the jackets or carry a portable fan around.
Events in Las Vegas
One of the major reasons to visit Las Vegas during the spring or fall is because of the lack of holidays that could cause major crowds and milder temperatures. That's great, but chances are you still want to attend some events. Fortunately, there are events all throughout the year that will make your Sin City experience excellent no matter what.
NASCAR Weekends
If you're a NASCAR fan, then chances are you've heard about the NASCAR weekends and watch them from home every year. Well, I have good news for you. If you decide to travel to Vegas in March or September, you will have the chance to watch the NASCAR weekends in real life at the Las Vegas Motor Speedway.
Just make sure to buy your tickets in advance, or you may end up having to pay twice the price for resold tickets closer to the actual date.
If you're bringing the family along, NASCAR Weekends is a fantastic event for people of all ages. They even offer discounted children's tickets for children under 12 as well as a military discount.
Las Vegas Greek Food Festival
The Las Vegas Greek Food Festival takes place every year in November, and it's an event that you won't want to miss. It began at St. John the Baptist parish in 1973 and has continued to be held there every year.
There will be plenty of opportunities to try delicious, traditional Greek food. You will also be able to attend cultural events, see traditional dancing, and learn more about Greek customs. There's also a market where you can buy artisanal goods, making a great alternative to the more traditional Vegas souvenirs.
World Series of Poker
If the main reason you're visiting Vegas is to hit up the casinos, then this event may be for you. Every year from September to November, Las Vegas puts on the World Series of Poker.
It is sponsored by Caesars Entertainment and takes place at different Caesars-owned hotels. Whether you like to play or not, the competitive nature makes it a fun event to watch after spending your day out on the Las Vegas Strip.
These are just a sampling of events that take place in the Vegas Valley throughout the year. There isn't a week or weekend that goes by in Las Vegas without something going on.
When Can You Get the Best Deals in Las Vegas? (Cheapest Time to Visit)
You can get great deals in Las Vegas throughout the year. There isn't one time that has significantly more deals than the other. The best thing you can do to save money is to go during the off-season for whatever activity you want to participate in.
Las Vegas is a year-round city, with different things being popular at different times of the year. Companies are always having sales and promotions, so you'll consistently be able to find something at a discounted rate. However, what if there's something specific that you want to do? When's the best time of year to go if you want a deal on that?
The best time of year to go to Vegas if you want a deal on a specific activity is during that activity's off-season. For example, if you're going to go to a water park of some sort, chances are the best time to go is not during the middle of the summer when everyone will be bringing their kids there.
Instead, you find deals during the shoulder seasons (in the case of waterparks that would be early spring or early fall).
So for seasonal activities, a good time to come to Vegas is right at the beginning of the season before the influx of people on break or vacation begins.
Conclusion
If you want a combination of value with lower prices and the least crowds, then the best time to visit Vegas will be during the spring and fall.
The temperatures will be milder and, due to a lack of holidays and major sporting events, you'll be able to find better deals on all the activities you want to do.
Before you book a date, make sure to check the event calendar to ensure that there aren't any major conventions or sporting events that could jack the prices up during your trip.