How Much To Tip Your Bellhop in Vegas (Tip Guide)
(This article may contain affiliate links. If you click through and make a purchase, we will receive a small commission at no additional cost to you. )
As a Las Vegas hotel guest, you may be unsure how much to tip your bellhop, especially if you're not used to tipping regularly. If you don't know how much you want to tip, you may find yourself in an uncomfortable situation in front of your bellhop in Las Vegas. So, to save yourself from embarrassment and to ensure your hotel bellhop provides great service throughout your trip, you must know how much to tip them.
The standard tip for a bellhop in Las Vegas is between $1 and $2 per bag. According to accepted tipping etiquette, if your bellhop spends more time showing you amenities around your hotel room, you can tip a bit more.
When you are in Las Vegas, you must know the tipping practices that will get you the best service during your stay. Read on to find out the tipping guidelines you must follow and the correct amount to tip your Vegas bellhop.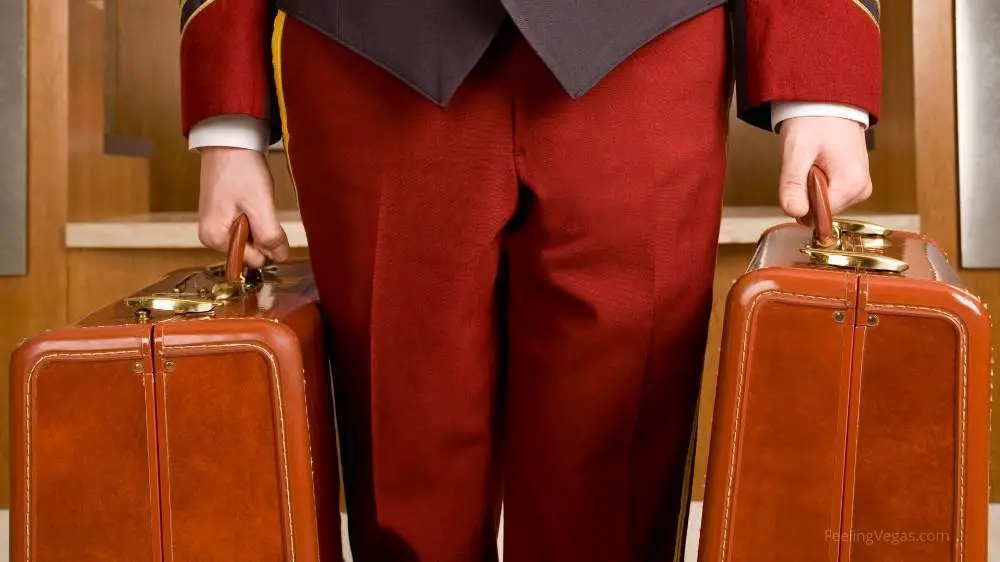 Tip Your Las Vegas Bellhop For These Services
In addition to helping you carry your bags to and from your room, there are some other services that bellmen can help you with. If your bellhop in Las Vegas provides you with any of these services you should consider tipping an extra $1-$5 as you see fit.
In general, the more help and information the bellhop provides, the higher the gratuity amount should be.
You will want to consider tipping your Vegas bellhop for the following services:
Assisting You During the Check-In and Check-Out Process
The bellhop will accompany you upon arrival to the receptionist with your luggage and help you get checked in. He'll make sure all the luggage has gotten out of the car, collect the room keys for you and assist you to your room.
At the time of departure, he can coordinate your check-out with other hotel staff, help you out of your room, and in case you need a taxi, can call for one.
Running Errands for You
The bellman might deliver newspapers or magazines to your room, or he may get you things from the store that you forgot to bring in. You can call on him any time, and he can see to your needs.
If you have a pet with you, he may be willing to walk them around the block. He can even help you unpack.
Opening Your Doors and Calling a Cab for You
When you are ready to hop out, the bellhop will hold the door for you or retrieve your car or call a taxi for you. If you're an older person or a person with a disability, the bellhop will help you out of the vehicle and help you reach your room. 
Helping You With Direction
You might need help with directions to the nearest casino, or pub, or supermarket. And who else can give you more accurate information than a person who is well familiar with Las Vegas? Ask your bellhop because he'll assist you by providing directions and suggesting the perfect place according to your needs.
When You Have To Change Rooms
Sometimes when you reach your hotel room, you find the room isn't what you expected it to be.
Though it happens rarely, there will be times when you may need to change your room. In that case, the bellhop can help you find a room according to your requirement and transfer all your belongings to your new room. 
→ Find out everything you need to know about tipping in Las Vegas in our Complete Las Vegas Tipping Guide.
Tip Your Vegas Bellhop More if He Does These Things
There will be times when you'll have to pay your bellhop extra. You may not know in advance the number of services you would need, so it's always a good idea to have some change on you.
You should pay your bellhop extra if he does any of these things for you:
Stowing Your Bags Upon Your Arrival
In case you arrive at your hotel before your scheduled check-in time, you can leave your belongings at the bell desk while you wait for your room to get ready. In such a case, the bellman will take care of your luggage, and you can tip him for $1-$2 per bag for stowing your luggage.
Coordinating With Others To Ensure Your Convenience
The bellhop can help with your inquiries in most luxury hotels and explain the room facilities to you.
He'll take time to understand what you may need in the future and make a note of them in the logbook for the next in-shift bellhop so that you have a smooth stay. Please take into account his effort and tip him accordingly.
If He Carries Your Heavy Luggage
When you are carrying bags that are heavy or have more luggage, you should always pay extra. If you have more than six bags, then tip $2 per bag for moving your luggage to your room. But if he shows you around and explains the services on arrival at your room, you should pay him an additional amount of up to $5.
Tipping a Bellhop at a High-End Vegas Hotel vs. a Low-End Motel
Las Vegas has many luxury resorts in addition to more affordable places to stay.
As compared to a luxury hotel, you may not get as many services from the bellhop. At a low-end motel, one person might be doing multiple jobs like checking you in, carrying your luggage to your room, and maintaining housekeeping of your room.
In such cases, you should consider all the services you availed from the same bellhop and tip him or her according to that. An estimated gratuity will be $2- $5 for carrying your luggage and checking you in the room.
Tip Directly to Your Bellhop in Las Vegas
Whenever you leave a tip, make sure you give it directly to the said person rather than leaving it at the front reception so that the responsible and deserving bellhop will receive it immediately. After receiving a service, you must immediately pay the bellhop because their shifts keep changing, and you might not find him again. 
Additionally, you will want to tip in cash as a bellhop isn't usually equipped to accept a gratuity in the form of a credit card.
Make sure to download our free Las Vegas Strip Map here.
Conclusion
To ensure you receive exceptional service during your stay in Vegas, you should tip your bellhop appropriately.
You can tip him between $2-$12, depending on the amount of luggage he carries to your room and the services they provide.
You should leave your Las Vegas bellhop a more generous tip if he assists you during the check-in or check-out process, runs errands for you, helps you hire a taxi, or helps with directions.
If he stows your luggage or carries heavy luggage for you, you should also pay a bit extra. You should always leave a tip with the bellhop directly, not at the front reception.
More From Feeling Vegas
Sources: