6 Things You Need Cash for in Las Vegas (Explained)
Cash is no longer king in Las Vegas. Nowadays, the majority of people traveling in Vegas use a credit card for the majority of their purchases, including hotel rooms, attractions, shows, dining, shopping, and more.
That being said, there are still a few things you need cash for in Las Vegas, as a credit card is not ideal or won't work at all.
In Las Vegas, you will need cash for tips as it is customary to provide a gratuity for the many personal services, such as room service, tour guides, restroom attendants, casino dealers, and cocktail servers. You will also need cash for taxi fare, snacks, gambling, and making wishes.
This article will explore the six things you'll need cash for in Las Vegas and why money is your best or only option for these must-do activities.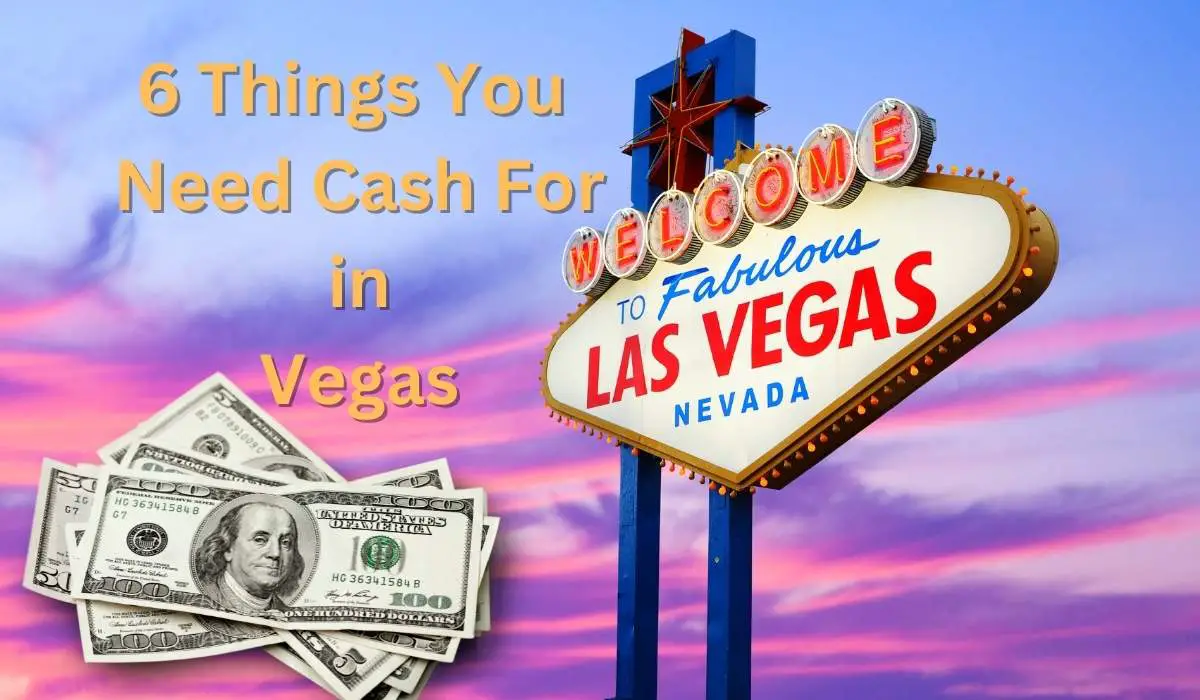 (This article may contain affiliate links, which means we might earn a small commission if you click and make a purchase. Thank you!)
1. Cash for Tipping Las Vegas Service Personnel 
If you plan a trip to Las Vegas, you will surely want to experience all the city offers. There is something for everyone, but one thing is sure, you need to tip everyone providing these services.
Many people rely on tips for their livelihood, and in Las Vegas, just like any other city, it is common courtesy to give a decent tip.
Some services on offer for which it is customary to provide gratuity include:
Maid service
Baggage handlers
Casino dealers
Room Service
Bellman
Tour guides
Restroom attendants
Valets
Concierge
Cocktail waitresses
If you want to learn more about how to tip when in Vegas, you can read our up-to-date tipping guide. This article will ease your mind if you feel unsure about how much and when to tip.
You will need cash for tipping, so we recommend always having some money on you wherever you go in Las Vegas. Also, carry an assortment of bills so that you can tip according to the service provided.
2. Pay Las Vegas Taxi Services With Cash
Taking a taxi to get from one place to another is unavoidable, especially when on vacation in Las Vegas. You want to experience the nightlife and eat at the most popular spots, and there is no way you will be able to walk to every exciting destination.
You can pay your taxi fare with cash or a card, but we recommend going with cash. You will most likely be traveling a lot within the city, and handing over your credit card information every time you pop in and out of a taxi cab can put your information at risk.
If you'd rather use your credit card, try using a rideshare service like Uber or Lyft instead of a taxi. These services are abundant in Las Vegas, and you can make your payment securely with the app on your phone instead of handing over your credit card to every driver.
3. Cash for Snacks and Quick Bites in Las Vegas
While running around, trying to see everything Las Vegas has to offer, you will get hungry. You might have dinner reservations at a fancy restaurant, but what about lunch or a quick snack? Not every meal has to be a five-course sit down; instead, try some of the delicious treats the local food trucks offer.
They have a wide variety of tasty options, and you won't have to spend hours sitting down to dine. Some will allow you to pay with your debit or credit card, but we recommend paying cash when buying a cheap bite.
4. Stick to a Cash Budget When Gambling in Vegas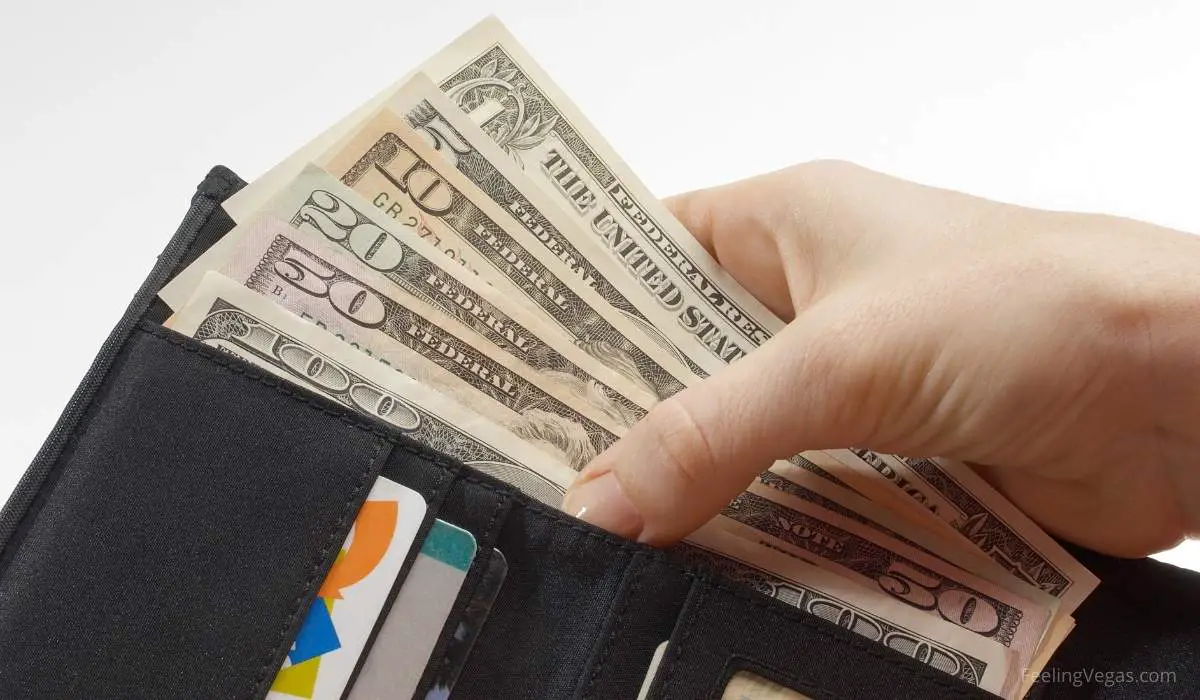 When in Vegas, you are bound to give the slots a go. Whether you are a seasoned gambler or trying it for the first time, you will likely try gambling when on holiday in Las Vegas.
There are a few different payment options when it comes to gambling. Casinos offer various means of paying and are usually super helpful. They want you to enjoy your stay and gambling experience, but they will not help you stick to a budget. That is entirely your responsibility.
When gambling, you don't want to go over budget and be left without money for your holiday—this is one great reason why I recommend using cash for gambling.
If you are a high roller, you can apply for credit accounts at the casino and take out markers, but that means you can go over budget, which can be dangerous if you don't know what you are doing.
Other options like setting up a line of credit with your bank, cashing traveler's cheques, or wiring cash to the casino beforehand are possible, but cash is the best and safest way to gamble. Most slot machines in Las Vegas take cash. You can easily track how much you have and stop before you go over budget.
An insidious fever can overtake a person when gambling—which is why mental health professionals consider gambling an addiction. Having a line of credit makes it too tempting to overextend your budget. Taking a set amount of cash and leaving those tempting cards in your hotel room will keep you from overspending. 
5. Making a Wish at the Bellagio Fountain
A definite must-see attraction in Las Vegas is the Bellagio Fountains. These majestic fountains reach 460 feet (140 meters) high and are enhanced with light and music to create a spectacular water show.
The Bellagio hosts multiple shows throughout the week, and I guarantee one visit won't be enough. The shows run every half hour between 3 pm and 8 pm and every 15 minutes between 8 pm and 12 am. It is possible that the times may vary or that they may cancel a show because of weather conditions, but as they are always running—you won't have to wait long.
Click here for a complete list of Bellagio Fountain songs and showtimes.
Here is a stunning YouTube video showing the magical Bellagio Fountains:
The best part is that these epic water fountain shows are free, but who can resist the opportunity to make a wish at one of the most enchanting fountains in the world?
That is why you'll need cash (in this case, coins) in Las Vegas to throw a coin in the Bellagio Fountain to make a wish. Fun Fact: All of the coins tossed in the fountain are ultimately donated to charity.
6. Helping Others With Their Dreams (Street Performers)
Speaking of wishes, it is well worth noting that many street performers and entertainers in Las Vegas are trying to catch their big break. Some of these talented performers are happy to entertain you out on the street for hours.
Giving money to street performers is not compulsory, but if you enjoy the show, having some cash on you to provide them with a tip will be appreciated.
Conclusion
With the possible exception of gambling, the vast majority of your purchases in Vegas can and should be paid for with a credit card. However, there are definitely some things you'll need cash for when you are in Las Vegas.
Keeping a small amount of cash in various denominations in your pocket or wallet will come in handy when you want to pay for a small item or say 'thank you' by offering a tip.