Do Hotels in Las Vegas Rent Scooters to Guests? (Answered)
(This article may contain affiliate links. If you click through and make a purchase, we will receive a small commission at no additional cost to you. )
Getting around one or more of the mega-resorts in Las Vegas will require a lot of walking. If walking that much isn't physically possible, you can always rent a mobility scooter while you're in Las Vegas.
If you need a scooter for mobility during your stay, how do you get one? Do Vegas hotels even offer scooter loans or rentals?
Most hotels in Las Vegas don't rent mobility scooters to guests. However, many resorts understand the need for mobility scooters and will help you arrange a scooter from a company that offers rentals. Alternatively, you can rent a mobility scooter online and have it delivered to your Vegas hotel.
Keep reading to learn about several companies that offer mobility scooter rentals in Las Vegas. I will discuss how to order them and have them delivered to wherever you're staying, their cost, and more.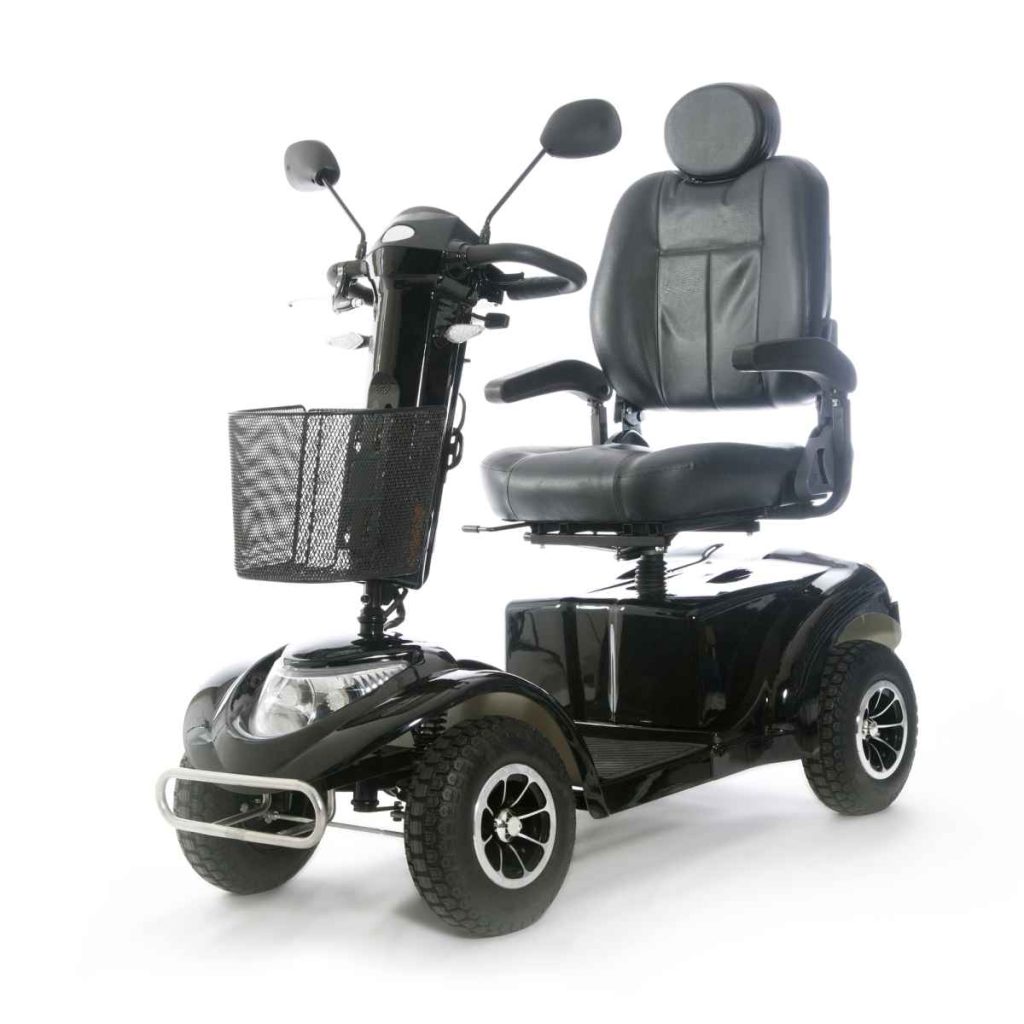 How To Rent Scooters in Las Vegas
Las Vegas is a big place. You can literally walk for miles inside each of the individual resorts and casinos on the Vegas Strip. Exploring up and down the Strip itself will require even more walking. If you have mobility issues, visiting Las Vegas will be a whole lot more enjoyable with an electric mobility scooter.
While bringing your own scooter along may at first seem like the best idea, there are reasons why this might not be practical or cost-effective.
For example, airlines will most certainly charge too much to transport your own mobility scooter, and they are heavy or may take up too much space in a car.
Fortunately, you can rent a mobility scooter in Las Vegas for the duration of your trip. Scooters can be rented with the help of your hotel (if you're staying at one of the larger resorts) or directly from a local mobility scooter rental company.
Let's look at each of these options in detail.
Your Las Vegas Hotel's Concierge Desk Can Help You Rent a Mobility Scooter
Large resort hotels in Las Vegas don't typically have a room filled with scooters to rent to guests. However, they know and understand the importance of scooters and can work with you to help rent one and have it available when you arrive at the hotel.
Once you have chosen your hotel, contact the concierge department, and they may be able to help you set up a scooter rental.
For example, The Venetian hotel partners with Scooterbug rentals to assist guests with their scooter needs.
Before arrival, you can book one for rent, and the company will deliver the scooter directly to The Venetian, and you can ask for it while checking in at the front desk.
Most times, guests pay for the service when they drop the scooter off when checking out, and the hotel will ensure the rental company receives payment. This, however, depends on each hotel's policy.
Book a Scooter Directly From a Rental Service Company
The alternative to renting a mobility scooter with the help of a Las Vegas hotel is to rent one online directly from a company offering scooter equipment in Vegas.
Scooter rental companies provide easy-to-follow steps to rent scooters online, and they will even deliver them to your hotel room once you've arrived.
Steps to renting a Las Vegas scooter online:
Visit the official website of one of the Las Vegas scooter companies listed below.
Create an account
Select the scooter type you desire (if there is more than one to choose from)
Provide the address where you will be staying in Las Vegas
Pay for the rental depending on the company's policies
Once you've completed the process, you'll get a time frame for when you can expect to receive your rented scooter. Your hotel's concierge will either keep it for you or bring it to your room.
PS: Many mobility scooter rental companies also rent strollers. So if you've got little ones in your travel group, you can rent both a stroller and a scooter from the same company. I've discussed how to rent a stroller in Las Vegas in more detail here.
Popular Scooter Rental Companies in Las Vegas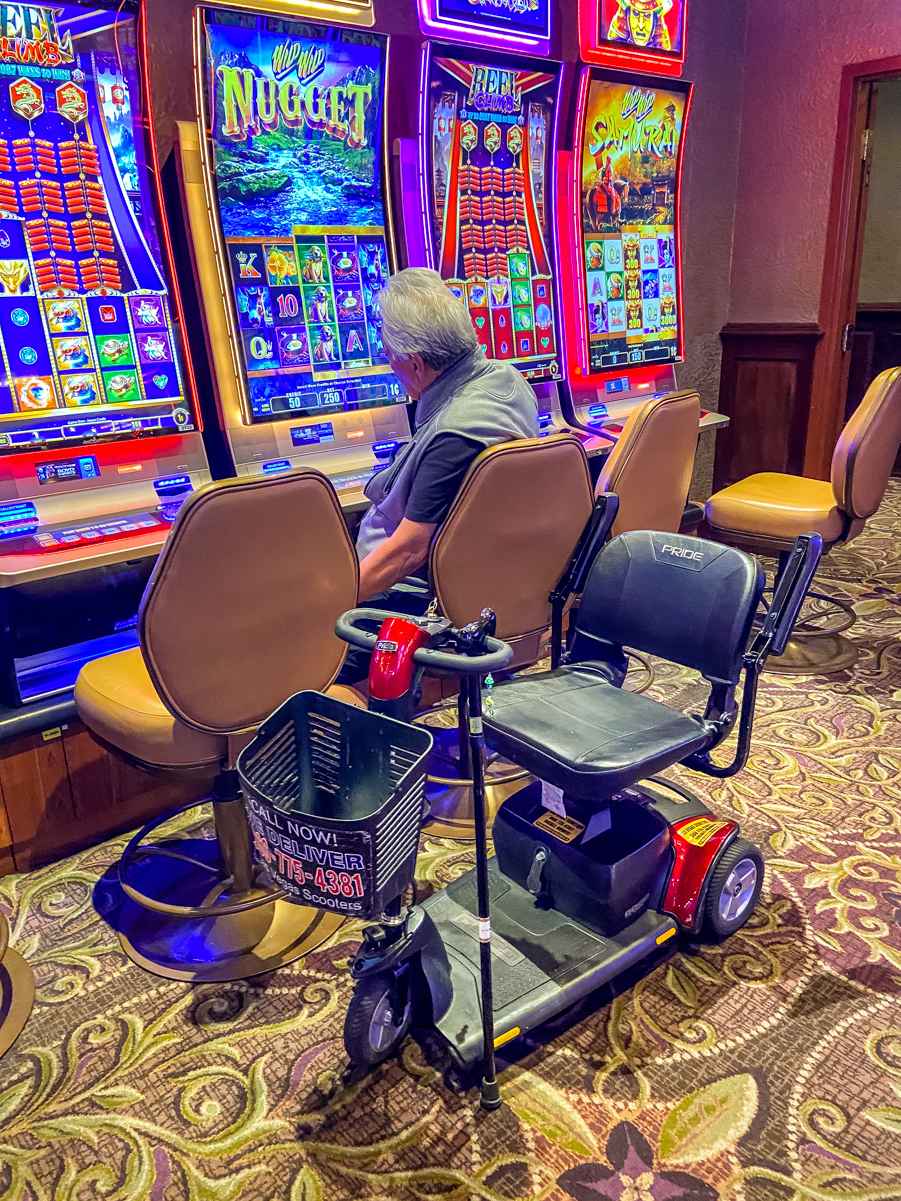 Mobility scooter rentals have become a competitive business in Las Vegas because of the high demand. Many companies offer such services and rent their scooters out quickly, making it challenging to get them if you don't book ahead of time.
However, based on info from past Vegas guests, here are some of the most popular scooter rental companies around:
Las Vegas Scooters
Las Vegas Scooters (702 Scooters) has been renting out mobility scooters and wheelchairs in the city since 2007. They are one of the most popular providers at present.
The company has about 18 different mobility scooter types to choose from, each offering various advantages. For example, the 2017 Go-go Elite Traveller is lightweight and excellent at maneuvering in tight spaces, while the 2017 Victory 10 can hold a person up to 400-pounds (181.43 kg).
Prices start from $75 to $100 a day, but they get cheaper per day the longer your rent one.
The company delivers scooters for free to many hotels on The Las Vegas Strip and other areas of the city. However, there is a delivery fee for deliveries to certain outlying areas, you'll want to inquire about this by calling their toll-free number (866-775-4381). 
Scooterbug
Scooterbug, as mentioned earlier, partners with The Venetian to rent scooters to their guests. However, Scooterbug also delivers to other hotels, apartments, condos, etc., all around the city at your request.
They have at least four different models to select from, with the average price starting at $50 a day.
Past visitors have confirmed that they deliver scooters in as little as an hour, which is pretty impressive. Their customer service is also highly responsive.
Scootaround
Scootaround is another company that offers mobility scooter rentals in Las Vegas. I really like how this company's website is laid out, and the pricing for renting a scooter starts as low as $39 a day for a three-day rental.
Scootaround will deliver your scooter equipment anywhere within 12 miles of Las Vegas for free, including your hotel. If you have the ability to pick up your scooter from their local rental location, they will even give you a 10% discount.
Final Thoughts
While most hotels in Las Vegas do not rent mobility scooters directly, most of the larger hotels will help arrange scooter rentals for their guests. However, it may just be easier to rent a scooter online directly from a rental company.
Either way, you should have no problem reserving a mobility scooter for your time in Las Vegas.