How Much Is a Parking Ticket in Vegas (Is It Worth It?)
(This article may contain affiliate links. If you click through and make a purchase, we will receive a small commission at no additional cost to you. )
Finding parking in Las Vegas can be tough at times, and it may be tempting to simply park illegally and just pay for the parking ticket if you get one. But before you go that route, it's important to know how much is a parking ticket in Las Vegas?
A parking ticket in Las Vegas can range from a $20 ticket all the way up to a $500 fine, depending on the specific parking laws broken. In addition, you will need to consider the possibility of your car being towed, which can drive the cost of a parking violation much higher.
If you're caught parking illegally, you'll likely have to pay both the fine for the parking ticket and any additional fees that are associated with getting towed or having your car impounded. In this article, we'll take a closer look at the cost of parking tickets and tow fees in Las Vegas, and we'll also offer some tips for avoiding getting ticketed or having your car impounded.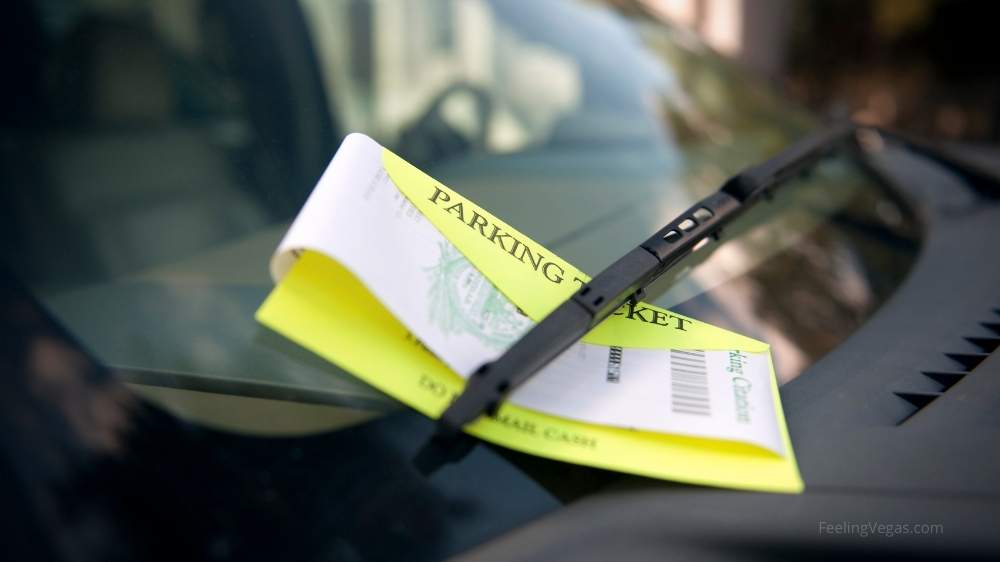 What Fees Are Associated With Parking Illegally in Las Vegas?
Las Vegas has plenty of available paid parking areas (especially in the touristy areas). Paying for parking in Vegas is unpleasant, but it's cheaper than getting a ticket and possibly having your vehicle towed, and you won't have to worry about finding a place to park your car. Plus, you'll avoid the hassle of dealing with traffic court.
The fees associated with parking illegally in Las Vegas can range from $20 to $500, with the average fine being $60. In addition, getting towed can be expensive. The average tow fee in Las Vegas is $185, and the average storage fee is $25 per day.
Note: These traffic ticket fees include the entire Las Vegas Valley (including North Las Vegas, downtown Las Vegas and Henderson).
Towing and Storage Fees in Las Vegas
Many people in Las Vegas get towed, and most visitors don't know what it's like until they've gone through it themselves. They usually don't know how the tow fee works, and they're caught off-guard when their cars get towed from a casino parking garage or a private lot.
Some of the fees associated with having your car towed in Las Vegas include:
Storage Fees: $25 per day
Tow Fee: $185
Las Vegas also has a booting program. If your car is booted, you'll have to pay a $75 fee to have it removed (Booting is when your car is locked in place and can't be moved until the lock or boot is taken off).
While some tow companies might not charge fees during certain hours, others can charge you as much as $300 before noon on Sundays. Some tow companies are known for overcharging their victims by levying additional fees on top of what's already been charged at the storage yard.
Unfortunately, you cannot contest a Las Vegas towing charge, and the only option you have is to pay the fine and deal with any associated expenses or don't illegally park your car.
The maximum fine for illegally parking in a handicapped spot is a whopping $500.
You'll also be responsible for all fees from the tow company as well as storage costs if your vehicle is towed from an off-Strip establishment. If it's an on-Strip hotel or casino responsible for towing your car, you can expect to pay $85 for the first hour and $40 for each additional hour.
Bottom line: It's not worth it to illegally park in Las Vegas. You'll end up paying more in parking fines and fees than what it would cost you just to find a legal parking spot. And, if your car is towed, the costs can really add up.
So, save yourself the hassle and just find a legal place to park, and your wallet will thank you.
How To Avoid Getting Towed or Booted in Las Vegas
When it comes to parking in Las Vegas, there are a few things you need to know. First of all, parking on the Strip can be expensive. Most hotels charge anywhere from $10 to $20 for valet parking, and self-parking can range from $5 to $15 per day or more.
Parking in Las Vegas may be challenging, but it's definitely not worth risking a parking citation or getting towed.
So, follow these tips to avoid getting into trouble:
Park in legal parking spots. Make sure you're parking in a legal space, and check the signs to see if there are any restrictions.
Pay for parking. Pay for parking at a parking meter or in a lot that has attendants. Meter parking is usually free for the first hour, but you can expect to pay $3 for every hour after that.
Avoid fire lanes. Parking in a fire lane, red zone, or handicapped spot is illegal and dangerous. Always read signs carefully, especially when parking at meters.
Respect private property. Never park on private property, even if it isn't clearly marked as such. Not only is this disrespectful, but you could get towed at your own expense.
Never park in a handicapped spot without a permit.
Avoid parking in loading zones or areas with time limits.
Never obstruct traffic or cross any lines while parking.
If you do get ticketed for parking in Las Vegas, there are a few things you can do:
Pay the ticket within 15 days to receive a reduced fine (

Note

: Unpaid parking tickets in Las Vegas start racking up additional parking fees quickly.)
Request a hearing if you believe the ticket was issued in error.
Submit evidence, such as photos or videos, to support your case.
If you're still not convinced that parking illegally isn't worth the hassle, consider this:
While the average parking ticket in Las Vegas is $60. That's peanuts compared to the potential cost of getting towed or ticketed again. So next time you're in Sin City, be sure to read all of the parking regulations so you don't end up making a costly mistake.
Parking Ticket in Vegas – Conclusion
When visiting Las Vegas, it's important to know and obey all of the city's parking regulations.
Parking violations can result in expensive fines, so it's best to avoid them at all costs. It is always worth the hassle to find a legal parking spot rather than take the risk of getting a ticket or towed.
Before you go on your trip, you might want to research legal parking spots in the area you plan to visit.
With that in mind, be sure to factor parking into your budget when planning your Vegas vacation.
More From Feeling Vegas
Resource: