For some, visiting Planet Hollywood in Las Vegas is a once-in-a-lifetime experience. Therefore, knowing everything there is to know, including the parking situation, is ideal before making the trip. So, what's the parking and valet situation at Planet Hollywood?
Planet Hollywood
Self-Parking Fees by Hour
Cost
Under 1 Hour
Free
1 – 4 Hours
$12
4 – 24 Hours
$15
Over 24 Hours
$15 daily
(This article may contain affiliate links and we may earn a commission if you make a purchase.)
The self-parking fee at Planet Hollywood Las Vegas runs $15 a day, while the valet parking fee is $32 for weekdays and $36 on weekends. Parking for registered hotel guests is free. Complimentary parking is also available for high-level Caesars Rewards members Platinum or above.
The rest of this article will discuss what Planet Hollywood charges for self-parking and valet and the pros and cons of each. I'll also discuss the universal, accepted tipping amount for valet drivers and whether you should tip when dropping off or picking up your car.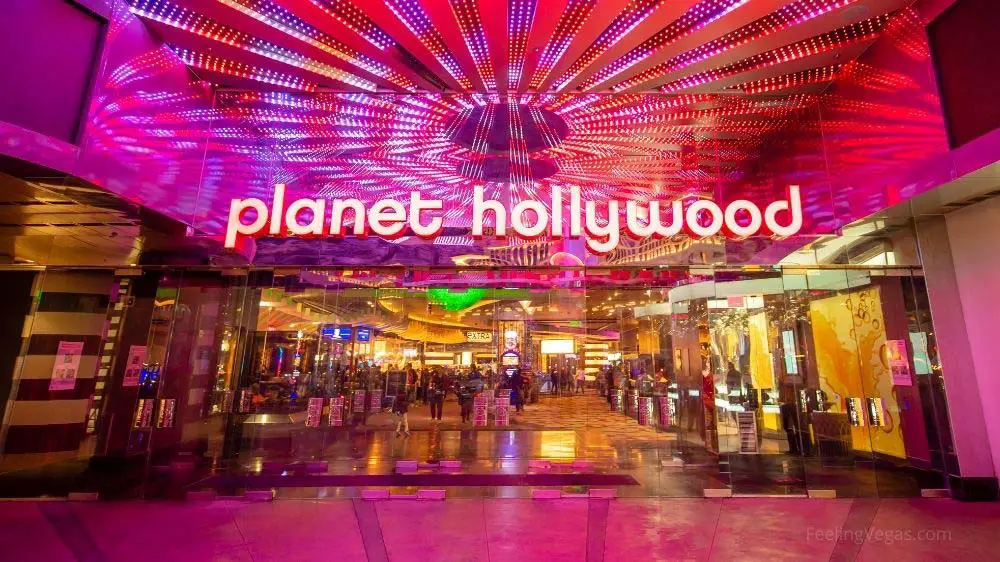 Does Planet Hollywood Charge for Parking?
When traveling to a place such as Planet Hollywood Resort & Casino, most people assume nowadays they'll have to pay for parking. However, at Planet Hollywood, whether parking is free or costs a fee depends on your situation.
Planet Hollywood charges for parking, but it is complimentary for Caesar Rewards members and registered hotel guests. Self-parking fees can change at any time but are always charged by the hour or day. The first hour is free, while 1-4 hours is $12, and 4-24 hours is $15.
If you're a Nevada resident (must have a Nevada ID), you can get free parking for up to 3 hours before paid parking fees begin to apply.
Despite being charged for parking, Planet Hollywood's self parking fees are on the lower end of the spectrum for the Las Vegas Strip.
How Much Does Valet Cost at Planet Hollywood Las Vegas?
Valet parking is very convenient, albeit more expensive, especially since you should tip the valet person for parking your car. So, what does Planet Hollywood charge for valet parking?
The valet parking fee at Planet Hollywood Las Vegas are as follows:
Planet Hollywood
Valet-Parking Fees by Hour
Cost
Weekdays:
–
0 – 2 Hours
$24
2 – 4 Hours
$28
4 – 24 Hours
$32
Weekends:
–
0 – 2 Hours
$26
2 – 4 Hours
$30
4 – 24 Hours
$36
Valet parking fees at Planet Hollywood Las Vegas are slightly less expensive on weekdays than on weekends. During the week, 0-2 hours costs $24, 2-4 hours is $28, and 4-24 is $32. The weekend prices are $2 to $4 more, depending on the number of hours.
Since tipping is customary for valet service drivers, the price is slightly more. However, depending on your situation and what's convenient for you will determine whether you decide to use valet parking.
Should I Use Self-Parking or Valet?
Deciding between self-parking or valet parking is dependent on you and your situation. However, if you're not sure whether you want to use self-parking or valet, be aware that each has some pros and cons.
Valet parking is convenient and requires less walking, and you won't have to haul luggage around as far. While this is an excellent option for large groups, it is more expensive. Self-parking is cheaper but requires more walking.
I'll get more into the pros and cons of each option below, as well as how much to tip valet drivers, and the best time to tip them.
Self-Parking
While self-parking might be less expensive, it can also be less convenient, especially if you have a lot of luggage or shopping packages. Let's look at some of the pros and cons of self-parking.
Pros
Self-parking costs less money.
Free for hotel guest and Caesars Reward members.
With self-parking, you choose where to park.
Self-parking allows you to come and go as you please with no extra fees.
Cons
Self-parking is less convenient.
The self-parking garage rquires you to walk through the mall to get to the casino or registration desk.
Nevada locals have to pay the normal parking rates after 3 hours.
Different events could change the prices of parking.
Valet Parking
If you're looking for convenience and closer parking, valet parking might be better for you. However, it is more expensive and you will need to tip the valets who park your car for you. Let's look at some of the pros and cons of valet parking.
Pros
Valet parking is very convenient.
Valet parking is less work for bigger groups.
With valet parking, you can get into Planet Hollywood hotel quicker.
Valet parking is less stressful and more trustworthy.
Events won't change the prices.
Cons
Valet parking can be expensive.
Valet parking can take extra time when you want to get your car.
With valet parking, you have to tip the valet driver.
Pro Trick: When arriving at Planet Hollywood by car, you can pull into the valet parking area to unload your luggage or packages at the bell desk. You can then park your car yourself and register without having to carry your luggage all the way from the self-parking garage.
How Much Do I Tip Valet Drivers?
If you're not used to going places with valet parking, and you're not sure what the accepted tipping amount is, don't worry. While the amount varies depending on the location and the service, there is a generally accepted range to tip a valet.
You should tip valet drivers at Planet Hollywood between $2 and $5. If the service was exceptional, tipping more is always appreciated. You don't have to worry about percentage with valet drivers, as it's usually a set price.
You should remember to tip in Las Vegas even if you are receiving free valet parking services, as many valet drivers work on minimum wage, and tips are a significant portion of their income.
Many valets will expect a higher tip if you drive a luxury car. However, this doesn't mean it's required, just a suggestion.
You should also think about tipping more if you have to ask the driver to come back for any reason. For example, if you forgot something in your car or decided you wanted to store something there.
However, removing any valuable items from your car before having it parked is suggested, just in case an item goes missing. Keeping your valuables with you at all times is the safest idea.
When Should I Tip the Valet Driver?
Most people tip the valet driver who parks your car as well as the driver who brings it back for you. The driver won't always be the same, so making sure each person has a tip is ideal. However, this is typically a personal choice, and just tipping once, either before or after, is acceptable.
If you remember who parked your car for you and you know it's the same person, that's a plus. However, that's not always guaranteed, and anytime someone is doing a service for you, it's polite to offer some amount of a tip.
Related: Check out our Ultimate Las Vegas Tipping Guide so you'll know exactly when, who, and how much to tip for various services in Las Vegas.
Final Thoughts
Planet Hollywood parking and valet fees are reasonable, especially for those registered at the hotel or Caesars Rewards members at the Platinum, Diamond, or Seven Stars levels, as parking is usually complimentary.
However, even for Nevada locals or others, self-parking is decently priced at $12 to $15 after the free first hour. Valet parking is a bit more expensive, at anywhere from $24 to $36. However, valet parking is still an option as a service for those who want the added convenience.
Parking Guides For Other Las Vegas Hotels & Casinos
Sources: