Parking Rates at Caesars Palace Las Vegas (2023 Parking Fees)
(This article may contain affiliate links. If you click through and make a purchase, we will receive a small commission at no additional cost to you. )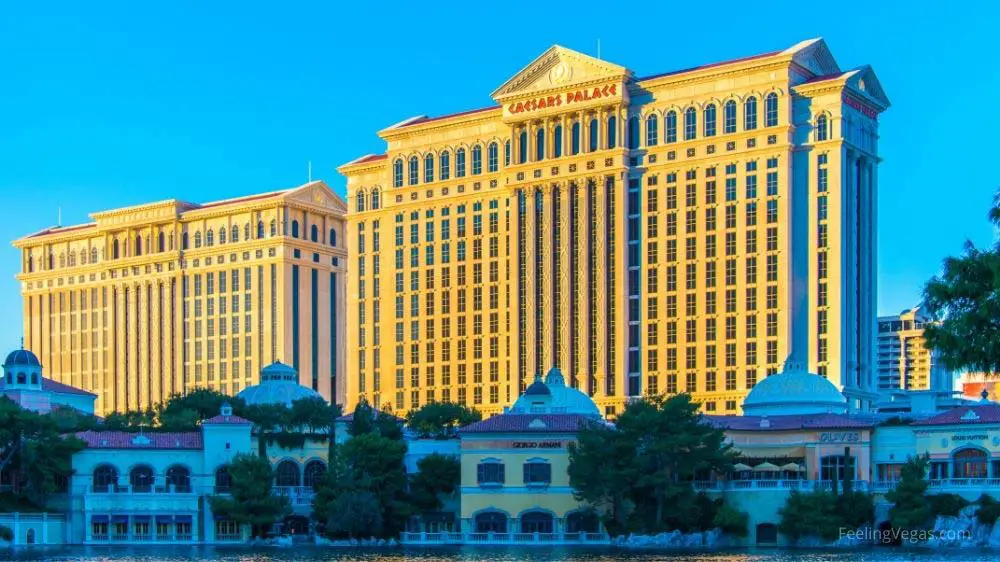 Caesars Palace in Las Vegas, Nevada, is one of the most famous casinos in the world and boasts a staggering array of features that attract a huge number of visitors each year, making the cost of parking an important issue.
So, what does it cost to park at Caesars Palace?
Monday thru Thursday, the self-parking costs at Caesars Palace are as follows:
| Hours Self-Parked (Mon-Thurs) | Parking Cost |
| --- | --- |
| 1st Hour | Free |
| 1 – 3 Hours | $15 |
| 3 – 24 Hours | $18 |
| Over 24 Hours | $18 a day or part thereof |
| Caesars Palace Hotel Guests – 24 Hours | $18 |
| Nevada Residents (first 3 hours) | Free |
Friday thru Sunday, the Caesars Palace self-parking rates go up a few dollars:
| Hours Self-Parked (Fri-Sun) | Parking Cost |
| --- | --- |
| 1st Hour | Free |
| 1 – 24 Hours | $23 |
| Over 24 Hours | $23 a day or part thereof |
| Caesars Palace Hotel Guest | $18 |
| Nevada Residents (first 3 hours) | Free |
Thankfully, the casino has an eight-story car park with plenty of parking for Caesars Palace guests. The first hour of parking is free for all visitors, and from there, prices range from $15-$18 for self-parking Monday through Thursday and $23 on the weekends. Parking for hotel guests is always $18.
Keep reading as I outline the different costs for self-parking and valet parking at Caesars Palace in Las Vegas in more detail and share a couple of options for free parking somewhat nearby.
Compare and save! Check current Caesars Palace room rates at TripAdvisor!
Caesars Palace Las Vegas
One of Las Vegas's largest and most well-known attractions, Caesars Palace has been an iconic part of the Strip since it was founded in 1966. Styled on life during the Roman Empire, the luxury hotel and casino feature various statues and iconography based on that period in history. It even has a 20-foot statue of Augustus Caesar out the front.
The hotel has 3,960 rooms and suites across six different towers, plus a roughly 30,000 square feet convention facility. 
This resort is also known as a prominent music and event venue, staging major boxing matches since the late 70s and hosting performers such as Frank Sinatra, Dean Martin, and Elton John. These typically take place in The Colosseum, a theatre that seats almost 4,500 people.
The resort also features one of the USA's largest and most successful shopping malls, The Forum Shops at Caesars, commonly referred to as just The Forum. In fact, it is considered to be the most valuable real estate in Las Vegas.
Alongside these features, the hotel and casino complex also features many restaurants and leisure activities, making it an enormously popular attraction for visitors and locals alike.
(You can check room rates at Caesars Palace here)
Self-Parking Fees at Caesars Palace Las Vegas
Of the eight stories in the Caesars Palace car park, only three are designated as self-parking for guests, while the other levels are for valet parking.
Here are the costs for self-parking at this popular Las Vegas resort:
Weekday (Mon – Thurs) Self-Park at Caesars Palace
1st Hour – Free
1 – 3 Hours – $15
4 – 24 Hours – $18
Every 24 hours after or part thereof – $15
Hotel guests – $18 a day
Weekend (Fri – Sun) Self-Park at Caesars Palace
1st Hour – Free
1 – 24 Hours – $23
Every 24 hours after or part thereof – $23
Hotel guests – $18 a day
Note: Nevada residents with an NV driver's license receive three hours free parking in the self-parking garage. Also, Caesars Rewards members (players card) at the Platinum, Diamond, or Seven Stars levels receive complimentary parking.
Given how much is on offer inside the sprawling casino-hotel, it's unlikely you'll be in and out within an hour unless perhaps you're picking someone up or dropping something off, for example. If that's the case, you can take advantage of the one-hour free parking duration for visitors.
The rates may seem steep, but they are in line with those of most casinos and hotels within Las Vegas, though Caesars' are on the higher end.
If you're a guest at the hotel, you'll use your room keycard to enter and exit the parking facility. You will also have in-and-out access at any Caesars Entertainment parking facility for the duration of your stay.
That means you can visit other several other hotels and casinos in Las Vegas without paying again for parking. Caesars Las Vegas properties include.
Self-Parking Garage at Caesars Palace, Las Vegas
The main garage for self-parking at Caesars Palace is located behind the property off Frank Sinatra Drive.
The easiest way to find the garage is to click the google maps link above on your mobile device, and it will give you the option of turn-by-turn directions. Note: Parking rates are always changing in Las Vegas, so I've provided the phone number to the parking facility if you want to verify rates or have any other questions.
How Self-Parking Works at Caesars Palace
For hotel guests, their room keycard will grant them access to the parking facilities of all Caesars Entertainment locations, meaning they don't have to worry about keeping hold of various parking stubs.
Rewards members can use their membership card to gain access to the parking facility. If they don't have it on them, they can visit the Rewards Center and request a new one.
Those who need to pay for their self-parking will receive a ticket as they enter the parking facility.
Once they're ready to leave again, they need to first take their ticket to one of the various kiosks in the parking garage to pay the fees for their stay before heading to their car and exiting.
Once paid, the kiosk will return the ticket so it can be used to exit the gate leaving the parking area.
Parking Fee at Caesars Palace Las Vegas (Valet Parking Rate)
Valet parking is when you pay a designated staff member, called a valet, to park your car for you. You'll be given some form of ticket or number, and when you need to collect your car again, you simply give this ticket or number to the valet, and a member of staff will fetch your vehicle for you.
Given the convenience of this, valet parking is understandably more expensive than self-parking. Here are the valet rates at Caesars Palace Las Vegas:
Valet Parking Costs at Caesars Palace
Valet parking at Caesars Palace is available 24 hours a day, every day of the week at the following rates:
Daily valet parking fees at Caesars Palace: $50 (Main Valet)
Monday – Wednesday valet parking rate: $36 (Caesars Palace Colosseum)
Thursday – Sunday valet parking rate: $40 (Caesars Palace Colosseum)
Again, valet parking is free if you've built up enough points on your Member Rewards card to reach Platinum or higher.
Hotel guests do not receive free valet parking. They must pay the same rates as non-guests.
How Valet Parking Works at Caesars Palace Las Vegas
You will need to keep hold of the valet ticket given to you when you drop off your car, as you'll need it to collect your vehicle. Before a valet fetches your car for you to leave, you'll need to pay the appropriate valet parking fee for your visit.
For hotel guests, the valet rate is billed to their room. For non-guests, they'll need to pay at one of the self-service kiosks or the valet desk. Though not mandatory, tipping your valet is encouraged in Vegas and can only be done in cash at Caesars Palace.
Hotel guests have in-and-out valet privileges at Caesars Palace, meaning they'll only need to pay one valet fee for that day and can come and go using the valet service. For non-guests, they'll have to pay each time they use the valet parking service, even if it's multiple times on the same day.
As with self-parking, Rewards members will need to present their membership card when collecting their car. 
Since Caesars Palace is so large, the location has several different valet parking areas. 
The Forum Shops Valet Parking
The Forum Shops within Caesars Palace does not have its own self-parking garage. Visitors must instead use the main parking facility used by casino and hotel guests. However, the Forum Shops does have two different valet stands.
The first is right outside the mall and clearly signposted, while the second is under the bridge just before the main parking facility. Here, visitors can have their cars parked for them and, if they're just visiting the Forum Shops, valet parking is free.
That being said, it is very easy to get to The Forum from the main self-parking facility. All you need to do is take the elevator to the Casino level, then take a short walk to the mall.
Colosseum Valet Parking
For those taking in a show at the Colosseum, they'll use the valet parking service inside the main parking facility. So, they will enter the eight-story structure and then follow the signs for 'Colosseum Valet'.
Address: 3570 Las Vegas Blvd S, Las Vegas, NV 89109 (google maps)
Main Hotel Valet Parking
This service can be found at the hotel's main entrance, on Caesars Palace Drive just off the Strip. The valet is clearly marked, though, for fans of 'The Hangover' movie, this is the area where the main trio discovers they've stolen a police car, which is brought to them by a valet.
Augustus Valet Parking
This service is just off of Flamingo Road but is only available to Rewards members at the Diamond or Seven Stars levels, as well as those dining at Guy Savoy and those using the Spa.
Is There Free Parking Near Caesars Palace?
If you're not against the idea of a walk to find free parking when visiting Caesars Palace, the nearby Venetian across the Strip and slightly north offers a free parking garage. 
If that's full or unavailable, then Treasure Island – which is a little further north and just off Spring Mountain Rd, next to the Strip – also has free self-parking, and you don't have to be a guest at the hotel to use it.
Find the best deals on Caesars Palace rooms and save big with TripAdvisor!
Caesars Palace Parking – Final Thoughts
Caesars Palace is one of the most famous landmarks in Las Vegas with shops, restaurants, a music venue, and more, so it's no wonder it attracts so many visitors throughout the year. Given the landscape and geography of Vegas, many visitors to the resort will be arriving by car, making parking particularly important.
With an eight-story parking facility, the resort hotel can accommodate the swathes of visitors and guests who need to park their cars. Paid self-parking options are available to all and are free to Rewards members who have reached the appropriate tier levels. Valet parking is another route to go, though it will be more expensive and is only complimentary for Rewards members at the Platinum level or higher.
The good news is that the parking services are well-lit, signposted, and very easy to use, taking a lot of the stress out of the process. 
Check Out Our Other Las Vegas Hotel Parking Guides
Source: