Which Las Vegas Hotel Has a Replica of The Statue of David? (Pictures)
Good news! Now there's no reason to travel all the way to Florence, Italy to see the Statue of David. You can see a replica of the famous statue right here in Las Vegas. But you gotta know where to go. So which hotel in Las Vegas features a replica of the Statue of David?
(This article may contain affiliate links, which means we might earn a small commission if you click and make a purchase. Thank you!)
Caesars Palace Las Vegas is where you will find an exact replica of Michelangelo's famous David statue. David stands 18 feet tall, is carved from the same type of Italian marble as the original, and weighs over nine tons. You can see the David statue at the Appian Way Shops inside Caesars Palace.
Compare and save! Check current Caesars Palace room rates at TripAdvisor!
Statue of David at Caesars Palace
So, I've already mentioned that the David statue at Caesars is an exact replica and by that I mean it is identical to the real deal housed at the Galleria dell'Accademia in the city of Florence, Italy.
Not only have the artists gone to the extreme trouble of matching every detail but the statue is carved from Carrara marble. This is the exact type of marble used for the original.
Carrara marble is quarried in the town of Carrara in the far northern tip of Tuscany, Italy
If you'd like to compare the two statues, here's an image I took of the actual Statue of David in Florence, Italy.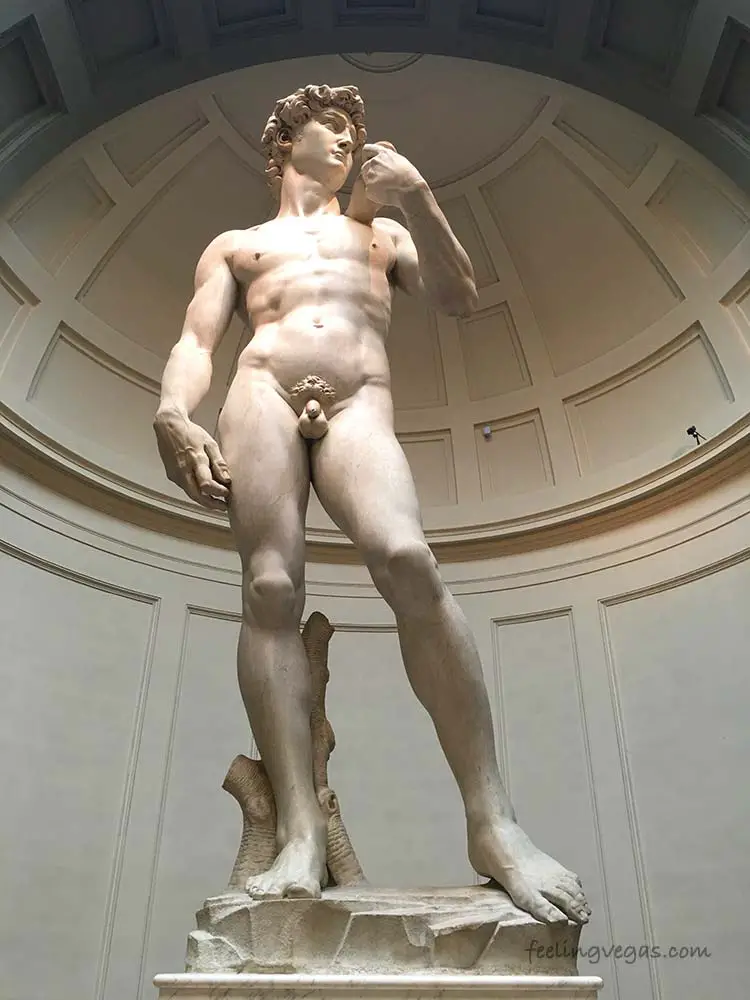 See any differences?
Where is The Statue of David at Caesars
In order to find the statue of David, you'll need to visit the Appian Way Shops. You'll find this area of shops inside Caesars Palace not too far from the Gordon Ramsay Pub and Numb Bar & Frozen Cocktails. (google maps)
In this area you'll also find a number of shops, bars and restaurants.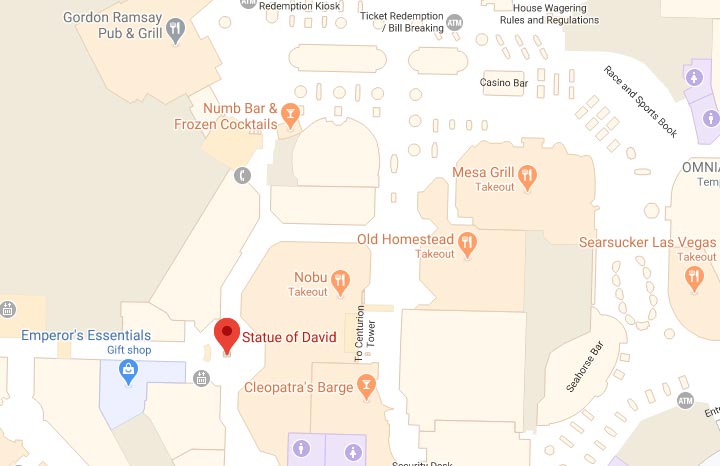 Little-known secret: You can also find another smaller statue of David at Caesars Palace. It's located outside near the entrance of the hotel. Shhh, let's just keep that between you and me.
More Roman Statues at Caesars Palace
Caesars Palace itself is an amazing display of Roman and Romanesque architecture. It's really quite amazing!
While David is likely the most photographed statue in all of Las Vegas, Caesars Palace offers plenty of other Roman statue replicas throughout their property.
One of the most beautiful areas to check out is the Caesars Forum Shops. It's a huge shopping mall designed to look like…well…the ancient Roman Forum found in Rome, Italy.
The image below will help to give you a sense of the overall size and scale of the architectural masterpiece that is the Forum Shops.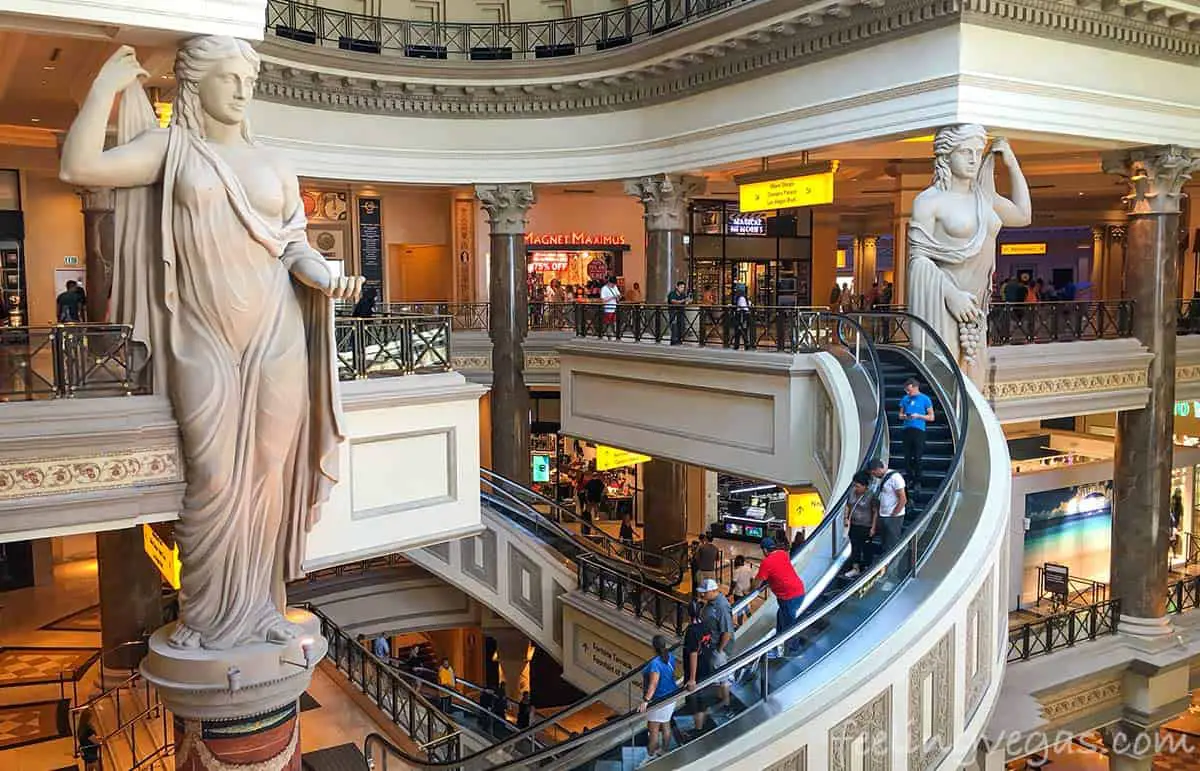 Find the best deals on Caesars Palace rooms and save big with TripAdvisor!
Conclusion
Next time you're in Las Vegas be sure to check out the Statue of David at Caesars Palace Hotel and while you're there don't miss a walk through the Forum Shops.
It's kinda like taking a day trip to Italy!
Related Topics:
Is it LOS or LAS Vegas? Explained here
The Meaning of Viva Las Vegas (Explained) – Read it here
Is The Grand Canyon in Las Vegas, Nevada? – Here
Resources: