Do Las Vegas Hotels Have Wheelchairs Available? (Answered)
(This article may contain affiliate links. If you click through and make a purchase, we will receive a small commission at no additional cost to you. )
Las Vegas is known for its luxurious and relaxing accommodations. But if you have a physical disability requiring a wheelchair, you may wonder if Las Vegas hotels can also provide you with one.
Many resort hotels in Las Vegas provide wheelchairs for guests to use during their stay. However, it's important to note that not all Vegas hotels have the same policies regarding wheelchair usage.
In this article, I'll talk about wheelchair accessibility at Las Vegas hotels, recommend the best wheelchair-friendly hotels, and provide you with important reminders for your travel.
Wheelchair Accessibility in Las Vegas
Some hotels in Las Vegas may require guests to rent a wheelchair from an outside company, while others may allow guests to use their wheelchairs for a fee.
Overall, Las Vegas is a wheelchair-friendly city. The sidewalks are wide, and The Strip is well-lit. Many ramps and elevators also help people with mobility issues get around. However, some areas can be challenging to navigate.
For example, the casino floors can be very crowded. But overall, Las Vegas is a fantastic city for people with disabilities.
Wheelchair users have a few different options for getting around Las Vegas. The first is to use the city's public transportation system, which is accessible and easy to navigate. Alternatively, many private companies offer wheelchair-accessible taxi services.
Finally, many of the major hotels and casinos in Las Vegas are wheelchair friendly and have elevators and ramps to make getting around easier.
Best Wheelchair Accessible Hotels in Las Vegas
Accessibility is essential for many travelers. And in Sin City, you'll find plenty of wheelchair-accessible rooms. The city has everything you could want or need, even if you have challenges with mobility.
Here are a few of the top hotels in Vegas that are accessible for guests with disabilities.
The Bellagio
The Bellagio is one of the most iconic hotels in Las Vegas. The hotel is known for its luxurious accommodations, fine dining, and top-notch casino. However, many people don't know that the Bellagio is also wheelchair accessible, and they offer wheelchair and scooter rentals.
The hotel offers a variety of amenities for guests with disabilities, including accessible rooms and suites, an elevator to all guest floors, and wheelchair-accessible casino gaming tables.
Caesars Palace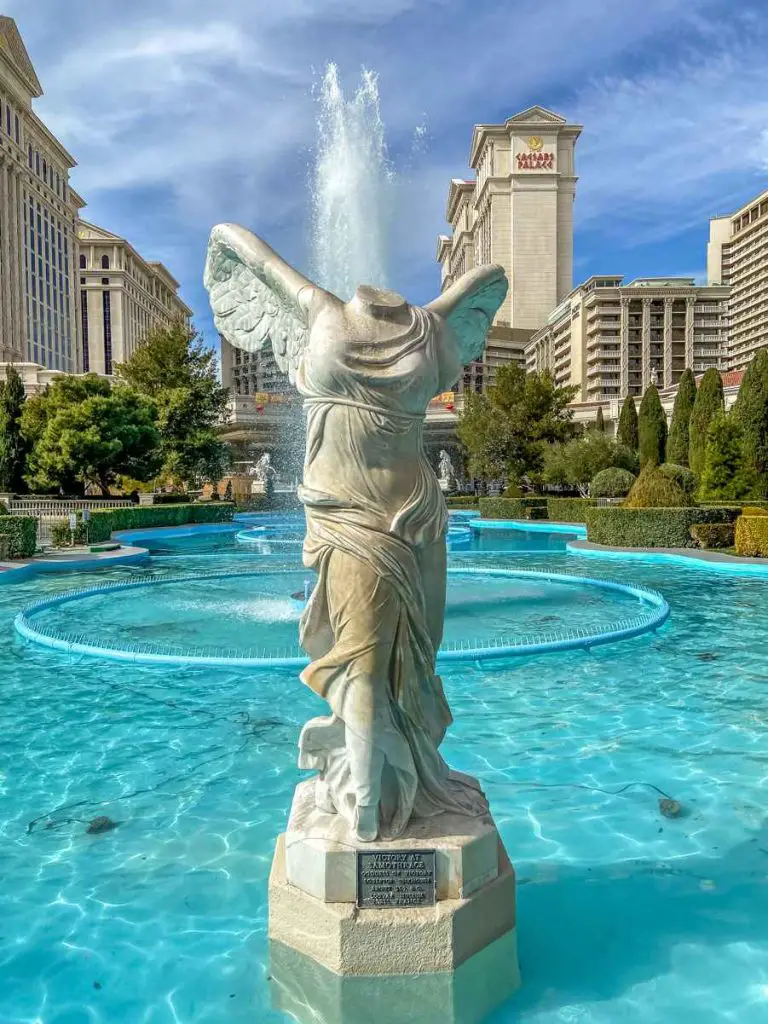 Caesars Palace, one of the most recognizable hotels in Las Vegas, offers accessible accommodation. The hotel ensures that guests with disabilities have the same great experience as everyone else.
The property is fully equipped with wheelchair-accessible rooms, elevators, and ramps throughout the facility. In addition, Caesars Palace offers various services and amenities specifically for guests with disabilities.
Caesars Palace is an expensive hotel in Vegas. But why? I've discussed the reason in another guide. [XX Reasons Why Caesars Palace is So Expensive]
MGM Grand
The MGM Grand Hotel & Casino in Las Vegas is one of the most popular hotels on the Strip. The hotel is also one of the most accessible, with various features and amenities that make it easy for guests with disabilities to enjoy their stay.
The MGM Grand offers wheelchair-accessible rooms and other accessible features, such as wheelchair-accessible elevators, restaurants, and bars. The casino floor is also accessible, with gaming options perfect for guests with disabilities.
As an aside, the MGM Grand Hotel also offers laundry services to its guests. You can easily ask them to pick up your items. Click on the link to learn more about MGM Grand's laundry service.
Mandalay Bay
Mandalay Bay Resort and Casino in Las Vegas is one of the most popular tourist destinations in the world. The resort is known for its luxury accommodations, first-class restaurants, and exciting casino action.
Mandalay Bay is also wheelchair accessible, making it an excellent choice for travelers with disabilities. They also offer wheelchairs and scooters for a fee.
The resort's main lobby and common areas are all wheelchair accessible, as are all guest rooms and suites. The casino floor is also fully accessible, with plenty of room to maneuver around the gaming tables and slot machines.
In addition, Mandalay Bay has several restaurants and bars that are wheelchair accessible, including the famous House of Blues.
Do Las Vegas Hotels Have To Provide Accessible Rooms?
Yes, by law, hotels in Las Vegas have to provide wheelchair-accessible rooms. The Americans with Disabilities Act (ADA) requires all public accommodations to be accessible to people with disabilities. These establishments include hotels, motels, and other types of lodging.
Las Vegas hotels must have a percentage of rooms that meets the accessibility requirements of the ADA, which include features like grab bars in the bathroom and a bed that is low enough to get into from a wheelchair. 
Vegas hotels must also provide accommodations for people with disabilities, like allowing service animals in all guest rooms and providing Braille or large print materials upon request.
Tips For Getting a Wheelchair From a Hotel in Las Vegas
If you're planning to visit Las Vegas and have mobility issues, you may be wondering if the hotel of your choice will be able to provide you with a wheelchair. While most major hotels have wheelchairs available for guests, it's always best to call ahead and ask about availability and policies.
Here are a few things to keep in mind when planning your trip:
The Number of Wheelchairs Available
Most Las Vegas hotels will have at least a few wheelchairs for guests. However, they may not have enough to accommodate everyone who needs one. To prevent any complications with wheelchair availability, it's always best to call the hotel or resort and reserve one in advance.
Additional Fees May Be Applicable
If you need a wheelchair for more than just occasional use during your stay, it's important to let the hotel know beforehand so that they can make arrangements for you. Some Las Vegas resort hotels may have a policy of charging an additional fee for wheelchair use, while others may provide them for free.
Practice Caution
Wheelchairs can be heavy and bulky, so it's always important to be careful when lifting or moving them. If you need help handling your wheelchair, ask the hotel staff beforehand. A staff member would likely be able to lend a hand.
ALSO SEE: Las Vegas in a Wheelchair: The Complete Guide
Conclusion
One of the things you'll enjoy on your trip to Las Vegas is wheelchair accessibility. Luckily, most hotels in the city offer some form of assistance for those with disabilities. Remember to ask about wheelchair accessibility when making your reservations, and follow my travel tips for a safe and enjoyable visit!