Las Vegas in a Wheelchair: The Complete Guide
Let's be honest, visiting Vegas is never a bad idea. But what about visiting Las Vegas in a wheelchair? The good news is that Las Vegas is more accessible than ever for someone in a wheelchair or anyone dealing with some mobility issues.
How difficult is getting around Las Vegas in a Wheelchair? 
Las Vegas is a wheelchair friendly town, offering many ways to easily get around the city and experience all that Las Vegas has to offer. From the time you land at Harry Reid Airport, to the hotels, attractions, and even day tours, Las Vegas is a very wheelchair and mobility scooter friendly place.
The city has taken wonderful steps to make it an inclusive experience for everyone. If you're itching to hit the slot machines, enjoy the amazing shows and cuisine, or simply take in the wild-party energy – you're in luck because Sin City just so happens to be one of the most wheelchair accessible cities in the country!
 Here's what I'll cover in this guide to help you get around Las Vegas:
Where to Rent a Wheelchair if You Need One
The Las Vegas Airport
Public Transportation and Getting Around Town
Best Accommodations with Accessibility
Shopping in Vegas
Best Places to Eat
Nearby Tours and Accessible Attractions
Amazing nightlife is not all that Vegas has to offer, as you will soon see in this comprehensive guide covering everything you need to know about visiting Vegas with a wheelchair.
This guide will cover everything to make your Vegas getaway a success including how to rent a wheelchair or power scooter, where to explore, and how to navigate the city with the greatest ease!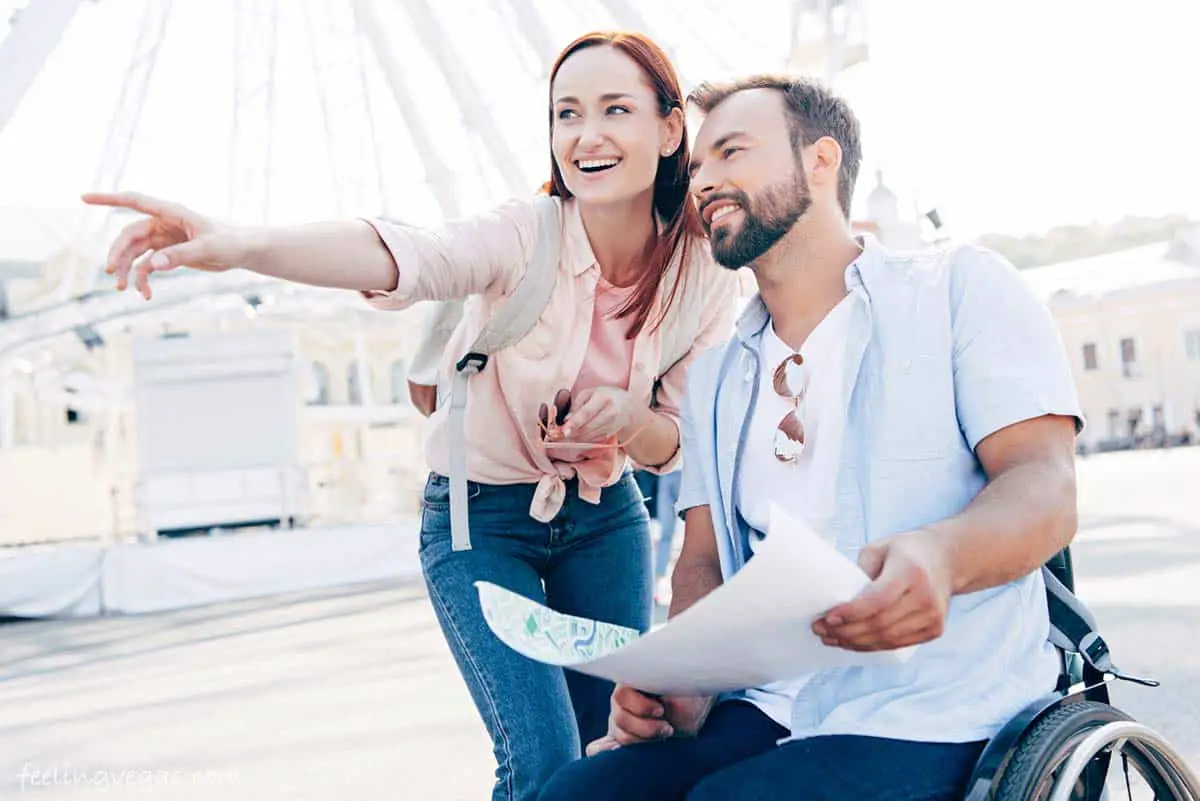 (This article may contain affiliate links, which means we might earn a small commission if you click and make a purchase. Thank you!)
Getting Around Las Vegas in a Wheelchair: What You Need to Know
Get ready to eat your way through the city, drink your way down the Strip, and play to your heart's content in this ravishing city that targets all of our senses like candy.
Almost all accommodations, attractions and shopping will offer wheelchair accessible routes. Not to mention places you may not even expect to offer much in the way of accessibility, like the Grand Canyon or an attraction like zip-lining down Fremont Street.
Vegas has so much to offer people of all ages and abilities and there is plenty to do and see for those requiring some assistance with scooter or wheelchair accessible options.
Vegas has truly done a fantastic job catering to everyone's needs and with a little prior knowledge of how to navigate the ins and outs around town in a wheelchair, you're sure to have a wonderful vacation.
The first steps will be knowing where to rent a wheelchair if you're not bringing your own. Second, we'll talk about navigating the airport with the greatest of ease. Once we cover that, we can dive into the fun stuff!
Renting a Wheelchair in Las Vegas
It is understandable if you don't want to deal with transportation fees and storage issues when you arrive in Vegas. Instead of lugging your heavy scooter or power chair around, consider having a rental reserved just for you when you arrive.
There are plenty of options where you can stop by to pick-up a wheelchair rental on the way to your hotel or even have one delivered.
Important Note – It is recommended to reserve one beforehand and not just show up without a reservation, as they do run out during peak busy seasons or when large events/conferences are in town.
Where Can I Rent a Wheelchair in Las Vegas
Some of the best companies in Vegas to rent a wheelchair are:
Get Around Mobility – This fabulous company is as fair as they are high-quality. What drew me to their posting on Yelp initially is that they offered free wheelchairs to those affected or injured in the October 1st tragedy in Las Vegas several years ago.
These are the small touches that make a business feel human. With 5-star reviews on Google and Yelp, this family business has been focused on mobility in the form of wheelchairs, knee walkers, power chairs, scooters, and walkers since 2012.
One reviewer said,
"Good people, good work, and very fair pricing. From one shop manager to another, this was service at its finest."

Yelp
They also offer extra-wide wheelchairs, but as with everything else, those are limited and based on availability, so do reserve in advance as soon as possible.
Las Vegas Scooters and Lifts – With 30 years of experience between the owners, they say they have 'seen it all,' and are very enthusiastic about helping meet your needs. They want you to get the most out of Vegas and offer repairs, for-purchase options, and rentals.
With a 5-star rating on Yelp, several reviewers mentioned how helpful they were and how they really took their time to answer questions.
They understand that mobility is crucial not only to the one using the device but to the caregiver as well, so their designs and pricing aim to offer the best mobility option to meet both of those needs.
The Las Vegas Mobility Store – This company offers wheelchairs, scooters, and powerchairs that are available for purchase or rent. What I really like about their business practice is that they change out their scooters every 6-months.
This means you're essentially getting a brand-new scooter to rent and not something that has gone up and down the Strip for the last 10 years. They offer extra rental options such as canopies, can holders, oxygen tank holders, and really anything else you could need.
They are eager to help, and their staff is very knowledgeable in being able to recommend the right options for your personal needs. With very high ratings on all platforms, they are reputable and established as one of the best in town. See their rental pricing for wheelchairs and mobility scooters below.
Wheelchair Rental Rates Las Vegas (Las Vegas Mobility Store)
| | | |
| --- | --- | --- |
| Days | Standard | HD |
|   | 300 lbs | 400 lbs |
| 1 | $15.00 | $20.00 |
| 2 | $30.00 | $40.00 |
| 3 | $45.00 | $60.00 |
| 4 | $60.00 | $80.00 |
| 7 | $100.00 | $130.00 |
| 10 | $140.00 | $150.00 |
| 14 | $165.00 | $180.00 |
Las Vegas Scooter Rental Prices (Las Vegas Mobility Store)
| | | |
| --- | --- | --- |
| Days | Standard | HD |
|   | 300 lbs | 500 lbs |
| 1 | $35.00 | $50.00 |
| 2 | $60.00 | $100.00 |
| 3 | $90.00 | $150.00 |
| 4 | $120.00 | $200.00 |
| 5 | $155.00 | $245.00 |
| 6 | $190.00 | $290.00 |
| 7 | $215.00 | $330.00 |
The Las Vegas Airport
The main airport, which is less than 5 miles from the Las Vegas Strip, is the Harry Reid International Airport (formerly McCarran Airport).
The entire airport is accessible with the two terminals (numbered 1 and 3) being fully accessible to wheelchair users. They aim to make moving around the airport simple for all and like most airports, will be happy to assist you in getting to your terminal and moving around the airport if you do not have a caregiver.
They have free wheelchairs to use in the airport as well as Americans with Disabilities Act (ADA) compliant restrooms.
Here are the airlines that are designated to each of these two terminals (the only two in the airport) so that you can confirm where your flight will be landing and from there how to navigate that particular terminal:
Terminal 1

Terminal 3

Terminal 3


(continued)
Allegiant Air
Aeromexico
JetBlue Airways
American Airlines
Air Canada Rouge
Korean Air
Delta Air Lines
Air Europa
Sun Country Airlines
Delta Connection
Air North
Sunwig Airlines
Omni Air International,
Air Transat
Thomas Cook Airlines
Southwest Airlines
Alaska Airlines,
United Airlines
Spirit Airlines
British Airways
United Express
US Airways
Condor
Virgin America
US Airways Express
Copa Airlines
Virgin Atlantic
Edelweiss Air
VivaAerobus
Frontier Airlines
Volaris
Hawaiian Airlines
WestJet
Interjet
XL Airways France
If you need help with your luggage or would like to have it delivered straight to your hotel room be sure to read our article here to find out about luggage delivery services in Las Vegas.
Wheelchair Accessible Transportation in Las Vegas
Accessible Taxis & Vans
Every Las Vegas cab company is legally required to offer wheelchair-accessible rides; therefore, you will have no problem finding one from the Harry Reid airport to wherever your next stop is in Sin City!
Right after you pick up your luggage in the baggage claim area, there will be a line of taxis outside where you can request a wheelchair or scooter accessible van. There may be a small wait as there are fewer accessible taxis than standard cabs, but it shouldn't take more than 15-20 minutes for one to circle back around.
Taxi departures from other locations may require a call first to make sure you have a wheelchair accessible ride. It's a good idea to have some taxi dispatch numbers handy before you travel. Here are a few reputable taxi dispatch numbers to save in your travel files:
Whittlesea Blue Cab – (702) 551-5151
Yellow Checker Star Taxicab – (702) 873-2000
Desert Cab – (702) 386-9102
Lucky Cab – (702) 477-7555
Always let the dispatcher know precisely the taxi/van type you need based on your scooter or wheelchair. All of the above taxi services are open 24/7, so call anytime you like.
There are a few variations offered, including full-sized vans if you have a lot to carry or smaller vans that have ramps. Do let the taxi company or your hotel concierge know what you require or prefer before they request it for you.
Fees for wheelchair taxis are billed at the same rate as any other taxi in the city. Please see our article here for taxi rates in Las Vegas.
City Bus: RTC aka The Deuce
All Regional Transportation Commission of Southern Nevada (RTC) buses are fully accessible, as required by Vegas law, and will come equipped with lowering floors and ramp access for wheelchairs and mobility scooters.
The RTC bus line in Las Vegas, affectionately known as The Deuce, has regular routes up and down the Strip as well as downtown Las Vegas enabling visitors to get to all the sites and attractions.
You can check the stops and schedules here.
There are also connecting bus routes throughout the city. So you will be able to get anywhere you need to go.
Las Vegas bus resources and schedules:
For persons who are functionally unable to use the RTC independently, the RTC offers an additional Paratransit Service. You can get more information from their website here.
Finally, for anyone with accessibility issues whole loves to travel, I have been very impressed with the information I've seen on accessible travel at WheelchairTravel.org.
Uber & Lyft
Uber and Lyft both operate in Las Vegas but they are not nearly as accommodating as the previous two options. They can, however, be used successfully in certain situations.
While neither service in Las Vegas can accommodate a powered wheelchair or mobility scooter, many cars should be available to handle a fold-up wheelchair or walker.
You will need to request a larger private car (a shared ride will not work) and you must be able to get into and out of the car on your own or with the help of someone with you. Also, a companion must be able to fold the wheelchair and store it in the vehicle.
Due to liability reasons, you cannot expect much help from an Uber or Lyft driver.
The Las Vegas Monorail is Wheelchair Accessible
In addition to the other forms of transportation mentioned, the Las Vegas Monorail is wheelchair and mobility scooter friendly. This ADA compliant transportation system is also a really fun way to get up and down the east side of the Strip.
We've written an entire post about riding the Monorail and how to save a few bucks while doing it. You can find the post here.
Rent a Wheelchair Accessible Van in Las Vegas
Finally, if you'd prefer to drive yourself and/or you're planning a few excursions outside the city you may want to consider renting an accessible van. The vans can be rented by the day or for several days at a time. Vans will come equipped with lifts and other handicap accessible features.
Here is a list of companies renting wheelchair vans in Las Vegas:
* If you're looking to rent an accessible van in Las Vegas, be sure to reserve it far in advance as availability is limited.
Best Accommodations with ADA Accessibility
Keep in mind that any hotel on the Strip has to have proper accessibility standards to meet local and national regulations. Therefore, most hotels will be welcoming and cater to those in a wheelchair or scooter. The five hotels listed here are being recognized as they go above and beyond what the regulation requires and truly take care of all guests.
Also, know that any hotel you stay in with a concierge service will be more than happy to help you reserve a scooter rental, call accessible taxis/vans for you, and set up any dinner or show reservations you may desire. You are paying for the room and their generosity, so take full advantage of it and allow them to treat you like royalty!
Bellagio Hotel and Casino – This hotel has won the AAA Five Diamond Award a whopping 15 years in a row! What this means is they offer upscale accommodations and are one of the best of the best when it comes to service.
They cater to their guests and offer beautiful on-property amenities like their botanical gardens and conservatory as well as jaw-dropping shows and mouthwatering eateries.
There are 85 accessible rooms in the hotel, which is quite a lot for any hotel. Note that if you require a Hoyer lift, they only have 2 of these rooms available, so you'll need to reserve far in advance.
The Bellagio is found right on the Strip at: 3600 Las Vegas Blvd South. If you'd like to know if a stay in the Bellagio is worth the price, please read our article here.
Mandalay Bay – This hotel pulls out all the stops to give you a 'wow' experience, including their Shark Reef aquarium, the Shoppes at Mandalay, a top-notch spa, and a host of wonderful dining options.

They even have a 12,000-seat stadium inside their hotel for big-name entertainment and concerts, as well as some of the best shows on the Strip.
The entire hotel is ADA accessible, and they have 28 wheelchair accessible rooms and suites that feature roll-in showers and larger walkways/door spaces. In addition, all of their pools have a wheelchair lift except for the Wave pool. The elevators are particularly large and offer plenty of room for a scooter or wheelchair.
The fully accessible tram also stops inside the casino, making it a piece of cake to get up and down the Strip with ease.
Address: 3950 Las Vegas Blvd South
Wynn Las Vegas – I'll breeze through the next few as they're quite similar in terms of amenity options for accessible guests as the previous two.
The Wynn offers a high-class stay and focuses on quality. They are a bit higher end so it will be more pricey than some other options on the trip, but they have accessible rooms, pool with lift, assistance for any guest and is located on the Strip nearby several major attractions.
Address: 3131 Las Vegas Blvd. South
The Venetian and The Palazzo – This is my personal favorite hotel in Vegas. The restaurants are superb, the entire hotel is gorgeous from the first floor to the penthouse, with a beautiful shopping center modeled after Italian grottos, complete with real gondola rides offered inside the hotel!
You will think you've left the states and landed in Italy, while also being catered to with full ADA accessibility. They offer roll-in shower rooms, large elevators, pool lifts, and of course, any assistance you require. Just simply ask, and they will do everything in their power to give you the best getaway yet. A bit expensive but worth every penny.
Address: 3355 S Las Vegas Blvd
The Cosmopolitan of Las Vegas – Last but certainly not least, the Cosmopolitan hotel is a truly atmospheric experience with so many wonderful activities to fill your days and nights.
They have two accessible pools, large elevators, and it's easy to get around their hotel. Since it is located right on the main Strip, you are nearby to many popular attractions. In addition, they are the only hotel on the Strip where the majority of their rooms have balconies! To learn more about hotels with balconies in Las Vegas, please view our article here.
 Address: 3708 S Las Vegas Blvd
Again, all hotels on the Strip will be accessible. These just cater to ADA guests with the highest quality and eye for detail. It's the little things that really add up, so if you're booking outside of these 5 recommendations, just be sure to read the detailed description and be sure they have everything you will need for a comfortable stay.
These hotels are among the Top Hotels in Las Vegas. See room rates for all the top Vegas hotels at TripAdvisor.
Las Vegas Wheelchair Friendly Attractions
First off, let me say that there are a ton of wheelchair friendly attractions available in Las Vegas. Too many to list in full. However, I've created a list of some of the best accessible attractions that I know of to help you get started:
The Strip
Neon Museum
High Roller
Welcome to Las Vegas Sign
Mob Museum
Springs Preserve and Nevada State Museum
Bellagio Fountains
Shark Reef
Fremont Street Experience
The Las Vegas Strip – The world famous Vegas Strip is where the action is. Dozens of casinos, hotels, and attractions along with hundreds of restaurants make Las Vegas one of the world's premier travel destinations.
The sidewalks along the Las Vegas Boulevard (The Strip) are made for exploring all that this area has to offer. The sidewalks themselves are wide and quite wheelchair friendly overall and you can easily get from place to place. Be aware, however, that these walkways can get pretty crowded in the evening, particularly on the weekends.
Las Vegas Gaming – If you've come to gamble, Las Vegas is the place. With slot machines, table games, video poker, and sports betting, Vegas has something for everyone. Virtually every major casino in town is wheelchair accessible. So that's pretty much everything I need to say about that 🙂
The Neon Museum – The Neon Museum and particularly the sign boneyard is a wonderful attraction that takes you back in time to visit the different eras of Las Vegas.
The outdoor boneyard is the highlight with hundreds of signs, big and small, from Las Vegas' past. The pathways through the boneyard are made of small gravel and while not completely ideal it is wheelchair accessible. The museum also limits the number of people in the boneyard at one time to keep the crowds down and give you room to move more freely.
You can learn everything about The Neon Museum by reading this article on our website.
High Roller – Want a birds-eye view of Las Vegas? Then you'll want to take a ride on the High Roller. It's an observation wheel that moves around very slowly to give you a wonderful view of the Strip. Each cabin on the wheel can hold up to 40 people and there is an open bar in each compartment as well. The High Roller is very accessible for wheelchairs and mobility scooters.
Bellagio Fountains – No visit to Las Vegas would be complete without taking in the Bellagio Fountain show. The show is a mixture of the fountains shooting jets of water into the sky and music perfectly timed to go with the water display.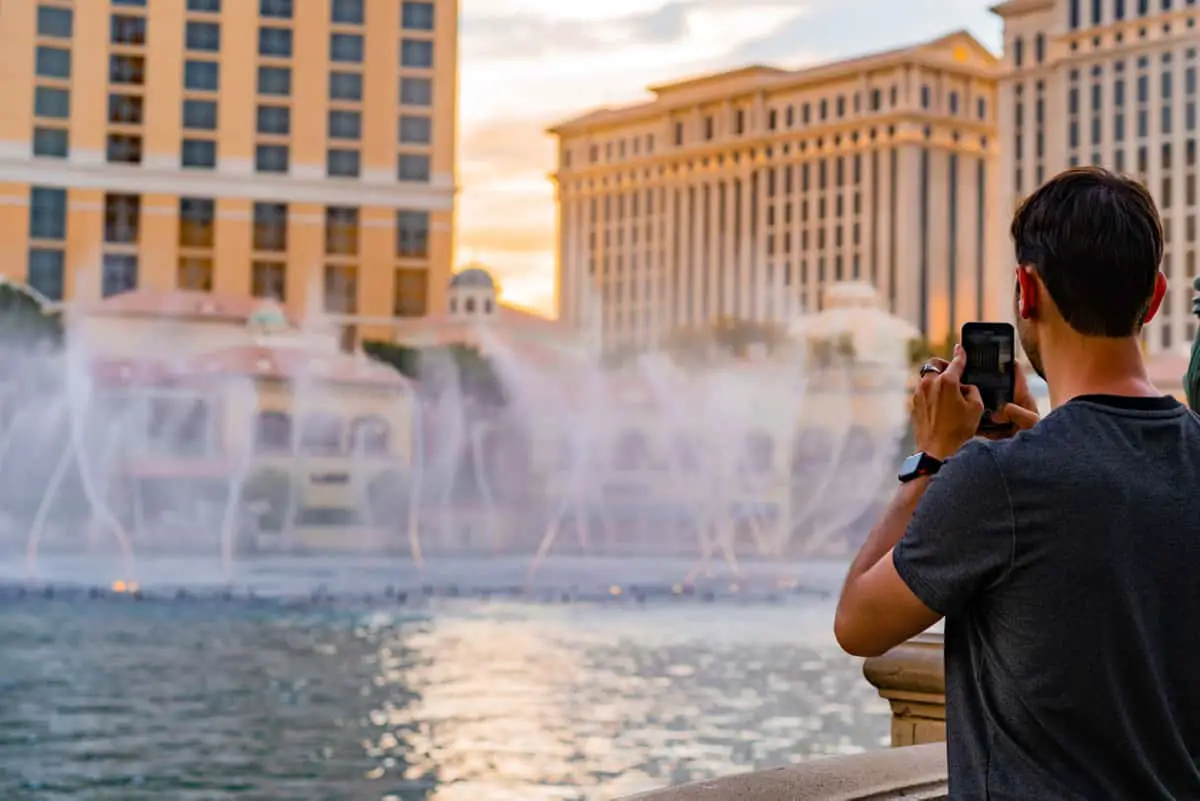 The show runs every half an hour starting at 3pm until 8pm and then every 15 minutes after that till midnight. The fountains are located right along the paved sidewalk of the Strip in front of the Bellagio Hotel and are completely wheelchair accessible. Try to catch the show both during the day and at night for the full experience.
Welcome to Las Vegas Sign – Visiting the Welcome to Fabulous Las Vegas Sign is something every Las Vegas visitor should do. This iconic sign has been welcoming tourists since 1959. The sign is wheelchair and scooter accessible via a paved walkway from the parking lot.
While the parking lot itself is rather small, there are several handicapped parking spots available. If you want to avoid the crowds try visiting during the morning hours.
Learn everything you need to know about visiting the Welcome to Fabulous Las Vegas Sign in our article here.
The Mob Museum – Find out about Las Vegas' criminal past at the Mob Museum. Las Vegas was founded and run in its early days by mob bosses and the mafia. Hear the stories and see actual artifacts from that time period at the museum.
The Mob Museum is accessible by wheelchair. Although the museum has steps leading up to the entryway, there is a lift mechanism near the steps that will allow a wheelchair to enter the building and an elevator can take you to each floor.
Springs Preserve and Nevada State Museum – Located just a few miles off the Strip, the Springs Preserve is a 180-acre nature park built on the site of the natural springs that made Las Vegas possible in the first place (see how Las Vegas got its start in our article here).
The paved loop called the Exploration Trail (2.21 miles) will take you throughout the entire park, botanical gardens, exhibits, and butterfly aviary. This loop trail is wheelchair friendly and mostly flat.
Also located on the Springs Preserve property is the Nevada State Museum and Historical Society. This museum chronicles the history and geology of the State of Nevada with exhibits on natural history, geology, science, and the prehistory of the land now known as Nevada. They have recently upgraded the facility to be fully wheelchair accessible.
Shark Reef Aquarium – Wheelchairs are no problem at Shark Reef Aquarium at the Mandalay Bay Hotel. The fully ADA compliant aquarium houses huge sharks, as well as various other marine life and animals, in a 1.3 million gallon aquarium. This is one of the biggest aquariums in all of the Americas. You can find discount tickets here (vegas.com).
Fremont Street Experience – One last recommendation I'd like to make is to take a trip to the Fremont Street Experience.
Fremont Street – This is more of an 'experience' than a street but certainly worth exploring since the entire pedestrian path is wheelchair accessible.
While here you'll see acrobatics, street performers, live concerts, and light shows. It's a feast for the eyes in every direction! With wonderful restaurants, bars, and entertainment down the entire five-blocks, you won't have time to be bored.
Slotzilla, the zipline that runs down the center of the Fremont Street Experience is even wheelchair accessible! The staff will help get you all set up and then send you flying down over the pedestrian street.
There's a giant canopy over the entire pedestrian walkway that is lit up and plays light shows choreographed to music at the top of every hour. You can openly drink and explore this amazing street for an entire afternoon or evening. This is really a fun place and one that too many visitors to Las Vegas miss out on in my opinion.
Note: The "street" is really one big paved sidewalk so a wheelchair or scooter is no problem but the area can get very crowded on weekend nights in particular. The real party is at night but you can also visit during the day if you'd like more room to move around easier.
One more note: While the pedestrian street (our favorite part) is very accessible, the casinos on either side on the street are older and may present some problems with accessibility. That being said, it's the outdoor walkway where the most fun is to be found.
Las Vegas Shows
Every day literally hundreds of shows take place along the Vegas Strip. The good news is that virtually all of the venues and theaters can accommodate wheelchairs or mobility scooters. Whether you're seeing one of the big production shows or a smaller show in an intimate setting you will have a great time! See our post about the best shows in Las Vegas here.
Accessible Natural Attractions Near Las Vegas
Let's say you've had enough of the limelight and want to sit in peaceful meditation with nature. We all reach that point of needing some peace and quiet from time to time.
So why not schedule a little time in your vacation to explore the surrounding deserts of Vegas?
A few places to get "lost in nature" that will offer completely accessible visitor centers, handicapped parking, and accessible bus tours are:
Wheelchair Accessibility at Hoover Dam
Hoover Dam – This is a quick trip, less than an hour from the Strip to see the historical landmark with your own eyes. They offer an accessible Powerplant Tour on the inside of the dam, and there are bus tours (accessible) which will stop just at Hoover Dam, or they offer the longer Hoover Dam and Lake Mead Tours that include other destinations.
Be sure to call the tour company in advance to confirm they have the right accessible bus for your needs (if you need a ramp, lift, etc.) to be certain you get the necessary means of transportation. They will help you store your wheelchair during the ride and give you an experience far removed from the glitzy Strip. 
Red Rock Canyon National Conservation Area
Located about 15 miles from the Las Vegas Strip is the Red Rock Canyon National Conservation Area. A gorgeous area comprised of red sandstone rock, a 13-mile scenic drive, and a beautiful Visitors Center. It's hard to believe that natural beauty like this can exist so close to the Strip.
The Visitor Center which houses exhibits and a gift shop are wheelchair accessible as are the picnic areas in Willow Springs and Overlook at Red Rock.
The highlight of the entire area is the one-way scenic loop drive. The drive will take you through all the major areas of the park. The bathrooms at the Visitor Center are accessible but the toilets along the scenic drive are not.
We've written an entire post on our site where we cover visiting Red Rock Canyon in great detail. Check out the article here.
Grand Canyon West in a Wheelchair
Grand Canyon – Trekking out to this incredible sight seems worth the trip to Vegas alone! If you've come all the way to Las Vegas and you're staying more than just a couple days, I'd highly recommend a trip to the Grand Canyon. More fantastic vistas and views than you can ever imagine.
It's approximately 123 miles from Vegas to the west rim of the Grand Canyon. I recommend taking a tour like the Grand Canyon West Rim 5 in 1 (vegas.com).
Start the day by boarding your motorcoach and driving across the Hoover Dam, followed by a visit to a Joshua Tree forest that's over 900 years old. From there, visit the Skywalk, a glass-bottom walkway that juts out over the canyon.
Hanging out over the abyss is a breathtaking and reality-shaking experience that I recommend everyone do once in their lifetime and the Skywalk is wheelchair accessible. Then you'll get to spend some time in a Native American village.
You can certainly do all of this in a day and make it a special part of your Las Vegas getaway that you'll never forget.
Here is a list of all the Vegas.com tours you can take for anything from Grand Canyon Tours that are wheel-chair accessible, to hot air balloon rides to party buses. Many of the tours can accommodate wheelchairs and mobility issues. Call Vegas.com before booking your tour to make specific arrangements for your needs. Phone number: 1-866-9834279
Clark County Wetlands Park
You can find wetlands in Las Vegas?! I was surprised too when we first moved here. Clark County Wetlands Park is a natural conservation area on the east side of the Las Vegas valley. It includes a Nature Center filled with exhibits and information about the area.
In addition, there is a network of paved, ADA accessible trails that will take you through the wetlands and natural areas. The park and Nature Center are completely free to visit and explore. It's a worthwhile visit if you're looking to escape the crowds and craziness of the Strip for a while.
Shopping in Las Vegas with a Wheelchair

All of the following shopping centers offer ramps, wide storefronts and walkways, accessible elevators, parking, and complimentary wheelchairs.
Get your retail therapy satiated at one of these stunning extravaganzas, right on the Strip:
The Grand Canal Shoppes at the Venetian – Popularly regarded as the best shopping in all of Vegas, visiting the Grand Canal Shoppes is a true luxury experience. Beautiful Italian architecture surrounds shoppers, drinkers, and diners as they gaze up at a realistically painted sky ceiling and walk along the canals of Venice as traditional gondolas pass by.
The Grand Canal Shoppes offer complimentary wheelchairs and free parking as well as valet.  And not only do they have shops, dining, and bars, but also a nightclub that's right inside the adjoining Venetian Hotel.
Via Bellagio Promenade – Most shops here are accessible, and they do offer complimentary wheelchairs. Being that it's located centrally in the Bellagio, it is easy to get there by public transport or a very affordable taxi ride. They offer all of the finest luxury brands you could ever dream of, as well as some smaller boutique designers you will love.
The Forum Shops at Caesars Palace – An entire mall that is designed to look like the ancient Forum in Rome, Italy! Owned by the same company as The Venetian, these hotels know how to do an Italian luxury theme and do it well! This experience will also feature the painted clouds on the ceiling, multiple fountains, and Roman sculptures throughout the mall, as well as the 50,000 gallon Atlantis Aquarium!
(Want to see more Las Vegas aquariums? Check out the ten best aquariums in Las Vegas in our article here).
The Forum offers valet and handicapped parking, as well as ramps and complimentary wheelchairs. These can be found right in front of the Fountain of the Gods.
Find out about the 12 best shopping malls on the Las Vegas Strip in an article we wrote here. If you like shopping you won't be disappointed.
Where to Eat – Las Vegas Restaurants
There will be no shortage of food at any hotel on the Strip! You are surrounded by some of the most award-winning restaurants in the entire country. Each hotel and resort is doing everything they can to cater to and impress their guests.
These restaurants often have complimentary wheelchairs or will offer heightened tables upon request to be sure your meal is as relaxed and comfortable as possible. Be sure to make reservations in advance in order to ensure your accommodation is possible and ready for you when you arrive.
The biggest and best hotel/casinos on the Strip are also home to some of the most famous restaurants in town.
The Aria Hotel – one of the best hotels on the Strip and offering 28 restaurants in one hotel! Aria is home to the following restaurants:
Jean Georges Steakhouse $$$$
Carbone $$$$ (Italian)
Sage $$$
Bardot Brasserie $$$ (French)
Julian Serrano Tapas $$$ (Spanish)
The Buffet at ARIA $
CATCH $$$ (Seafood)
ARIA Café $
Lemongrass $$ (Thai)
Blossom $$$ (Chinese)
And many, many more! This place could keep you fed for lightyears, so definitely add it to your dining itinerary while vacationing.
The Paris Hotel – Known for their fabulous French food and dining next to or even inside the Eiffel Tower! The restaurants you will find inside of this gem include the likes of:
The Gordon Ramsay Steakhouse $$$
Martorano's $$$
The Eiffel Tower Restaurant $$$
Beer Park $$
Le Village Buffet $$$
Burger Brasserie $
Le Café Ile St. Louis $ (my personal favorite for the scenery. See for yourself here!
And many more! These hotels really know how to offer you everything you could desire, right in the comfort of your staycation hotel.
The Venetian, Bellagio, and Mandalay Bay are a few more highly-recommended hotels known for delighting your taste buds with a variety of options.
Las Vegas Wheelchair Repair
Let's face it, sometimes things break at the most inopportune time. If you find yourself in need of a wheelchair or scooter repair while you're in town it would be good to have a couple of places lined up to get things working again so you can get back to the fun. Here's a list of wheelchair repair shops in the city and their contact information:
MedMo Medical n Mobility not only has onsite repair facilities they can also rent you a replacement while yours is in the shop so you don't have to miss a beat.
Las Vegas Mobility Store located not too far from the Strip offers repairs and rentals as well.
Important Final Tips
There are some parting words of wisdom I'd like to leave you with. These tips could make or break the overall enjoyment of your vacation, so read them over to be certain you're fully prepared:
If you're driving yourself or planning to rent a car that is accessible, you will be required to carry your accessible dashboard parking permit. Do not forget this at home as Vegas police won't recognize out of state permits, and you could receive more than just a stern warning.
I've mentioned this several times already but I'll say it again. Always call ahead far in advance to reserve:

Every wheelchair/Scooter rental
Accessible seating request in a restaurant
Accessible van for reservations, etc.
You don't want to take a chance of just showing up and hoping they can accommodate you. Thankfully you've done your research with this guide and know the importance of early requests so your needs can be met.
Leave about 20-30 minutes of wait time between when you reserve the taxi and need to arrive at your destination or reservation. It may take longer for an accessible taxi/cab with a lift, so budget your time accordingly.
Buy your tickets for shows in advance and call the venue to be sure they can accommodate your needs.
A little preparation goes a long ways, regardless of what your destination is or what your needs are.
With so many requests being made to these hotels, tours and shows on a daily basis, getting yourself on the books early will make all the difference with their 'first come, first served' policy.
Vegas is one of the most enthralling and fun cities this country has to offer!  Enjoy it to the fullest and treat yourself to the getaway you deserve. Also, be sure to take your vitamins to counteract all the fun and late nights you'll be enjoying 🙂 Wishing you a magnificent time in viva Las Vegas!
If you found this article helpful, please SAVE THIS PIN to one or more of your boards on Pinterest. Thank you!