Where To Store Your Luggage In Las Vegas (Bags & Luggage Storage)
(This article may contain affiliate links. If you click through and make a purchase, we will receive a small commission at no additional cost to you. )
Las Vegas is one of the most well-known tourist destinations in the United States, and the amount of luggage that moves through this city on a daily basis is mind-boggling. Harry Reid International Airport (formerly McCarran Airport) alone checks through over 60,000 pieces of luggage each and every day here in Las Vegas (source).
Traditionally, visitors to Las Vegas had to hang on to their luggage until they were able to check into their hotel room or ready to board their flight home.
If your travel plans, however, involve hours of waiting, early arrival, or late departure, there's a good chance you will need a place to store your luggage so you can enjoy your time in the city, baggage free. 
So, where can you store your luggage in Las Vegas? Here are the best short-term and extended options in Las Vegas for storing your luggage: 
Hotels
BagBNB
Professional luggage services
Delivery services
The best way to store your luggage while visiting Sin City depends on where you want to go, how much money you're willing to spend, and how many bags you want to store. This guide will make traveling and bag storage easier than ever before.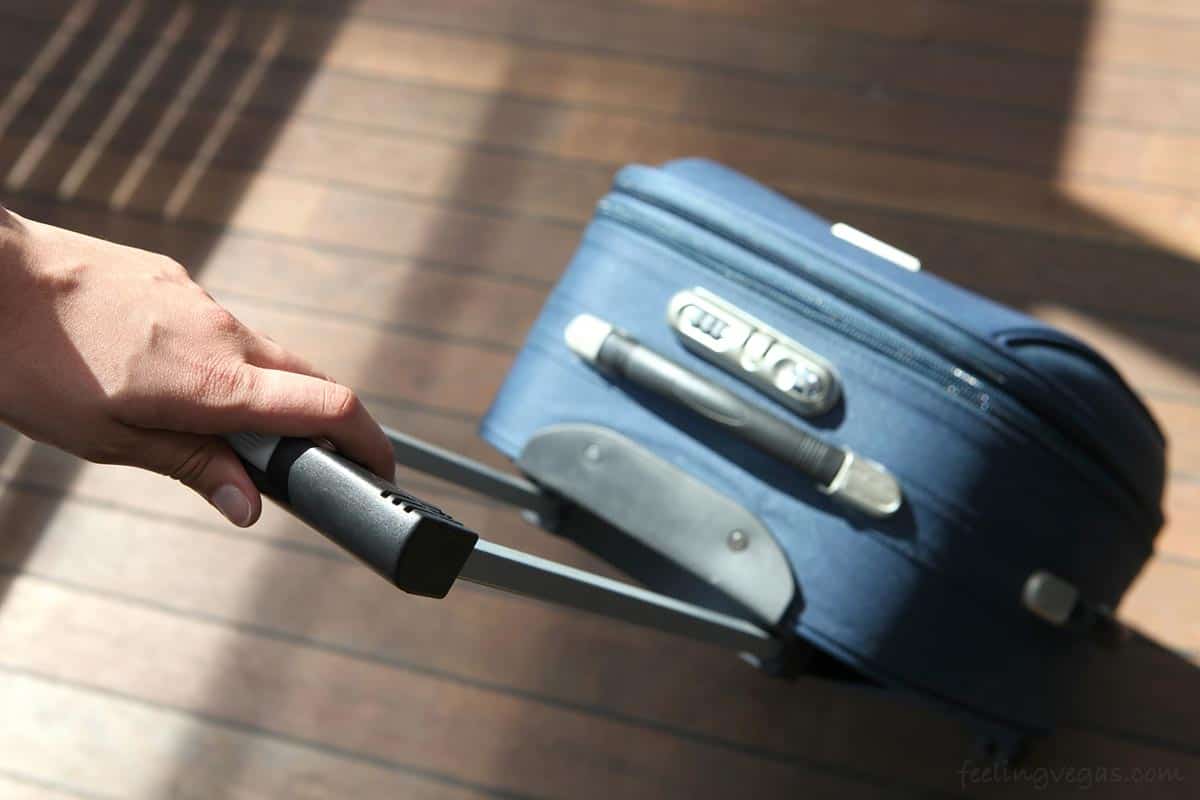 Deciding Where To Store Luggage In Vegas
Where you decide to store your luggage will often depend on three things: time spent in storage, budget, and location. Before you reach out to any particular service or use any option in this guide, you'll want to find out three things:
Is it convenient?
Is it affordable?
Is this option close to attractions I want to be near?
Do I need short-term or long-term storage?
Once you answer these questions, finding your best luggage storage option will be a cinch. 
Why Would You Need A Place To Store Luggage in Vegas?
Traveling is not always simple. Travelers often have to make plans that aren't exactly timed perfectly in order to save money, catch the right flights, or stay at their selected locations. This leads to many moments where you just might want to leave your bags in someone's care while you wait, eat, or enjoy a Las Vegas attraction without worrying about your bags. Some of the most common reasons to store luggage include:
Cramped Sleeping Arrangements. If you are sharing a single hotel room with multiple friends, bringing all your luggage into a small room might not be doable. Storing bags nearby can help give you more room. 
Late Flight Timing. You don't want to be stuck with your bags on the day of departure if your flight doesn't leave for hours. Temporary storage can make your last few hours in Las Vegas more enjoyable and convenient. 
Late Hotel Booking. You got to Vegas at 6 AM. Hotel check-ins start at 3 PM. What can you do? You might as well check your bags in somewhere and start having fun!
Alternative Arrangements. You didn't book a room; you decided to stay with your family members or friends. They don't have space for all your bags, so you may need a little extra storage space. 
Simply put, you don't always want to lug around your bags while you wait for your next connection or while spending time with friends. A Las Vegas luggage storage service will keep your bags safe and sound for a couple of hours or even several days. 
Las Vegas Luggage Storage Options
You're in luck if you booked a hotel room on the Strip. Hotels on the Vegas Strip take a huge amount of pride in making travel fun for visitors—and that gives you plenty of options to choose from when it comes to amenities like luggage storage. 
Luggage Storage Locations at Las Vegas Hotels

Folks who book hotels on the Strip have it easy when it comes to baggage storage. Most hotels on the Strip will have a service that allows you to store your bags prior to your check-in time. Some hotels will even allow you to store your things even if you don't have a room booked at the hotel!
Even if they don't officially offer storage services, most hoteliers are willing to hold your luggage for a couple of hours before your check-in if you ask nicely. They are also generally happy to store your luggage for a few hours after check-out if need be. 
Perks of storing bags at a hotel:
It's usually free. You can't get a cheaper deal than this. 
It's convenient. As long as you remember which hotel you left your bags at, getting them back won't present a problem.
It's secure. Your bags might be visible in some cases, but they're never unattended. Theft is unlikely to happen when leaving your bags at a hotel in Las Vegas!
If not free of cost, prices for this option vary but are generally very cheap compared to most other choices on this list. Most hotels will only hold bags for part of a day (not overnight), so if you need long-term holding, you must look for another option. 
Las Vegas Luggage Storage Services
Due to the sheer amount of travel traffic that happens in and around Las Vegas, a small mini-industry surrounding baggage storage has popped up. This industry offers "Luggage Hotels" that guard bags for a few hours or days for a small fee. 
One of the most popular luggage hotel programs is Vertoe, and it's active in Las Vegas. Vertoe charges a flat daily fee ($5.95 per piece, per day as of this writing), offers insurance on stored items and is remarkably easy to access while on the go. You can store your bags at nearby Las Vegas shops, restaurants, and hotels that have signed up for the program (link to Vertoe). They currently have an easy-to-access storage partner location right in the middle of the Strip.
Perks of using a luggage storage service: 
Privacy is king here. Luggage hotels are a good option for people who need to make sure their bags are ultra-safe and away from the public eye. 
You have insurance on your stored belongings. Vertoe Las Vegas offers $5,000 in coverage on your stored goods. If you are okay with getting to a Vertoe location and are willing to pay extra for more peace of mind, then a Luggage Hotel is a wonderful option. 
You have longer storage options. Typically, luggage holds will keep your bags for a maximum of 30 days. That's more than enough time for most people. 
Click here to access Vertoe luggage service in Las Vegas.
Luggage Storage at Las Vegas Airport
Not too long ago, Harry Reid International Airport used to have luggage storage lockers for travelers to use while waiting for a plane or bus. This is no longer the case. Due to regulation changes, Harry Reid Airport can no longer store bags in lockers within its limits. So, if you need to store your luggage, it'll have to be in a venue nearby (source).
Bags To Go – Professional Luggage Storage in Las Vegas
The closest bag-holding service near Harry Reid Airport is a place called "Bags To Go" (website), and it's located within minutes of the airport. Their average going rate is $10 per bag per day for storage, which is a bit steep compared to others on this list, but they are very convenient if heading to the airport. Their maximum storage time is 30 consecutive days. 
Perks: 
It's close to the airport. Proximity is a must for convenience. 
It's Las Vegas Airport recommended due to its high safety standards and proximity. The company is partnered with the airport and is vetted as safe. 
Most Vegas taxi drivers know where it is. Easy accessibility makes it great for people who just want to get picked up and dropped off in a jiffy. 
Most travelers give good reviews for the service, but there is a major caveat that might make "red-eye" flyers think twice about using this vendor. A big drawback with Bags To Go is their hours. They are only open from 9:00 AM to 5:00 PM on weekdays. 
According to some sources, this vendor might be willing to work out special arrangements if alerted in advance. Even so, there's still a risk that you won't be able to access your bags in time. 
Radical Storage Las Vegas
Most travelers already know about Airbnb, but did you know that there's a luggage storage equivalent? It's true. It's called Radical Storage (formerly BagBNB), and every storage venue available has a flat fee of $6. It works similarly to Vertoe (mentioned above) in that you'll store your luggage at nearby places of business, but it's different in that each location has its own set of rules and policies, just like AirBNB.
Perks:
You have options galore. You get to choose the venue, which means you can find opening times and storage locations that work with your plans. 
You can find a place that works the way you like it to work. Each Las Vegas venue has its own policies and safety measures, so you also get to learn what you can expect with the storage spot of your choice.
It's personal. You get to chat with vendors directly.  
It's not a bad option, especially if your hotel isn't close to the Las Vegas Strip or if you're spending time at a family member's home. 
Bags VIP Luggage Delivery Service in Las Vegas

No one wants to have to deal with all the tedium of checking bags in and out of services, or worse, driving somewhere else to get your bags. If you have the money to do so, you can use a luggage delivery service to get someone else to handle your bags for you. 
Bags VIP (website) is a national service that allows you to skip baggage claims in airports altogether and have agents pick up and deliver your luggage straight to your hotel room. It's a service that's available at Harry Reid International Airport (LAS) in Las Vegas. 
Perks:
It lets you skip baggage claim and stop worrying about storage. When it comes to convenience, nothing is quite as impressive as VIP delivery service to your hotel room at the time you tell them to appear. 
They have a maximum delivery distance of over 40 miles. That puts you in range of all the hotels in the Las Vegas Valley. 
You book it directly through your airline. American Airlines, United Air, and JetBlue are just three of the companies that offer this perk to travelers. You can also book directly on their website.
Your credit card might give service to you for free. American Express has been known to waive Bags VIP fees to clients. Other cards have been known to offer discounts. 
It can be ordered within an hour of landing. If you are a "spur of the moment" traveler, this is a very convenient option. 
The main issue with Bags VIP is the price. It can cost anywhere from $39 to $60 or more to get your bags delivered. Still, it's a great way to avoid the hassle, and you might be able to find a way to get a discount if you are a frequent flier or travel card member. 
RELATED: Getting to the Strip From the Las Vegas Airport (7 Ways)
Luggage Teleport in Las Vegas
If you're not interested in going the Bags VIP route, you can still get your bags delivered via Luggage Teleport (website). This baggage delivery service is offered from Harry Reid Airport and has a pretty easy signup and luggage check process. 
Perks: 
It lets you skip the process of hauling bags to and from a car and takes care of storage. They do all the heavy lifting and storing for you until you get into your Vegas hotel. 
It's safe. If items in your bags are damaged or lost, they cover your expenses. 
Great customer service. You can reach them via WhatsApp and email. 
You will have to pick up your bags yourself from baggage claim and hand them to the porter, but that's all you need to do. They will deliver it straight to your hotel concierge. Bag delivery starts at $35 for the first two bags. After that, each additional bag is $10. 
Bag Storage at Las Vegas Attractions
With all the tourism that Las Vegas attracts, it's not surprising that some tourists want to check their bags somewhere while they check out the local sights. Believe it or not, some Las Vegas attractions have picked up on this demand and now offer it as an added service.
The following Las Vegas attractions and venues offer tourists a way to ditch their bags and have a little hands free fun. 
The Neon Museum
Ever wonder how neon lights are made or what the history is behind the lights and signs of the Las Vegas Strip? The Neon Museum is the venue that you'll want to check out. This museum is dedicated to the lost signs of Las Vegas and Vegas history. Many of Las Vegas' historic vintage signs have been restored and are on display for you to enjoy.
For around $20 per ticket, it's a great way to spend some time in Vegas while your bags stay safe. This museum has a fantastic tour of retro Las Vegas, so if you're into looking at 20th-century life, this is the place to be. 
Just check your bags at the front desk and they will be safe and sound till you're through at the museum. You can learn more about the neon museum boneyard and its tours here.
Springs Preserve
Springs Preserve is a fun place to bring your children while you wait for your Vegas hotel check-in time. This family-friendly venue has nature trails, a cafe, multiple museums, as well as an amazing array of events that offer up thrills for every age. 
This attraction gives you hours of fun, all for under $20 a ticket. As far as family attractions go, this educational haven might just be one of the best in Las Vegas. The baggage check option is just an added bonus!
Alternative Arrangements
If you're traveling to Vegas to see friends or meet with people on a shoestring budget, there are still some other options for you to keep your bags safe. These include:
Asking Friends For Storage Space. If you have friends in the area, they may be willing to store your belongings for a while. Or maybe you have a friend staying in another room who's arriving before you or checking out at a later date that will provide you with some short-term luggage storage.
Mailing Your Luggage. Long-term travelers might want to consider mailing larger, bulkier bags to Vegas. This is especially handy if you're going to do a short-term move to the area. 
Use A Gym. If you have a membership to a gym franchise with lockers, you might be able to safely store your bags in the locker room for a couple of hours. 
Paying Extra For An Early Check-In or Late Check-Out. If you're staying at an AirBNB, you're in luck. Most hosts will stretch your check-in and out times as long as you tell them in advance, tip them, and offer a great review! Also, hotels in Las Vegas may allow you to check-in early or check out later for an additional fee. Then you can just keep your bags in the room. Just ask the front desk if that's an option.
Keeping Your Luggage Safe in Las Vegas
It can be tempting just to leave your bags in your rental car or haul them with you at night, but truth be told, it's not a wise thing to do. The possibility of getting your bags stolen is very real, even though Las Vegas is a reasonably safe city. 
In any major city, crime happens regularly. You can become a target if you are lugging around a bunch of bags. People have been robbed of their luggage before. Thieves have taken bags out of cars before. They have also rummaged through pockets (pickpocket) while tourists were busy looking at attractions.
Use your head, be aware of your surroundings, and be safe.
Choosing A Legitimate Las Vegas Baggage Service
Regardless of what you choose to do, it's important to keep your belongings safe. Finding a good storage space is only half the battle. These luggage tips can help you keep your personal belongings safe while you live it up in Vegas:
Keep your bag in your hotel whenever possible. Hotel rooms and baggage checks are as safe as you can get. Security is excellent in Vegas hotels, and each venue has a great system to keep bags and rooms safe. 
Make sure third parties are insured. The reason why professional storage services are so popular is that they make a point of limiting risk. Insured locations and services ensure that you will be reimbursed on the (rare) occasion that something you own is lost or stolen. Having insurance will give you peace of mind that's worth every penny. 
Opt for established services. This is common sense, but it deserves to be said. You need to ensure that your storage service is being provided by an actual company—and that means looking them up online to confirm they're legit. Otherwise, you might discover that your stuff was stolen by a bunch of fraudsters.
When in doubt, have a backup plan. You never know what might happen to your original storage choice. Things close down, get overbooked or just fall through. Having a backup plan for your luggage storage can make things easier if your initial choice doesn't pan out. 
Keep Your Luggage Safe in Las Vegas
Though choosing services that are capable of handling your luggage safely is essential, it's also important to prevent theft. These safety tips below will make sure that you don't lose your luggage to others, even when you're out and about:
If you need to bring your bags with you, keep your eyes on them. When your bags are out and about in Las Vegas, they become the target of thieves and pickpockets. The easiest way to prevent things from going missing is to keep an eye on your bags at all times and to avoid straying into non-tourist areas. 
If you are partying, make a point of bringing your bags into the hotel beforehand. Some people have forgotten their bags somewhere after a few drinks in Vegas. Don't be one of those people. 
Always check your details, and always check in advance. A little forethought can prevent serious problems during your trip. The more planning you do, the better off you will be. Of course, you have to make sure that the plans you make are realistic. So, before you touch down in Vegas, call up your luggage storage service to make sure they're expecting you, and everything is good to go.
RELATED: Read the Ultimate Las Vegas Tipping Guide on our website here.