How to Get Comps in Las Vegas Casinos Without Gambling (MGM & Caesars)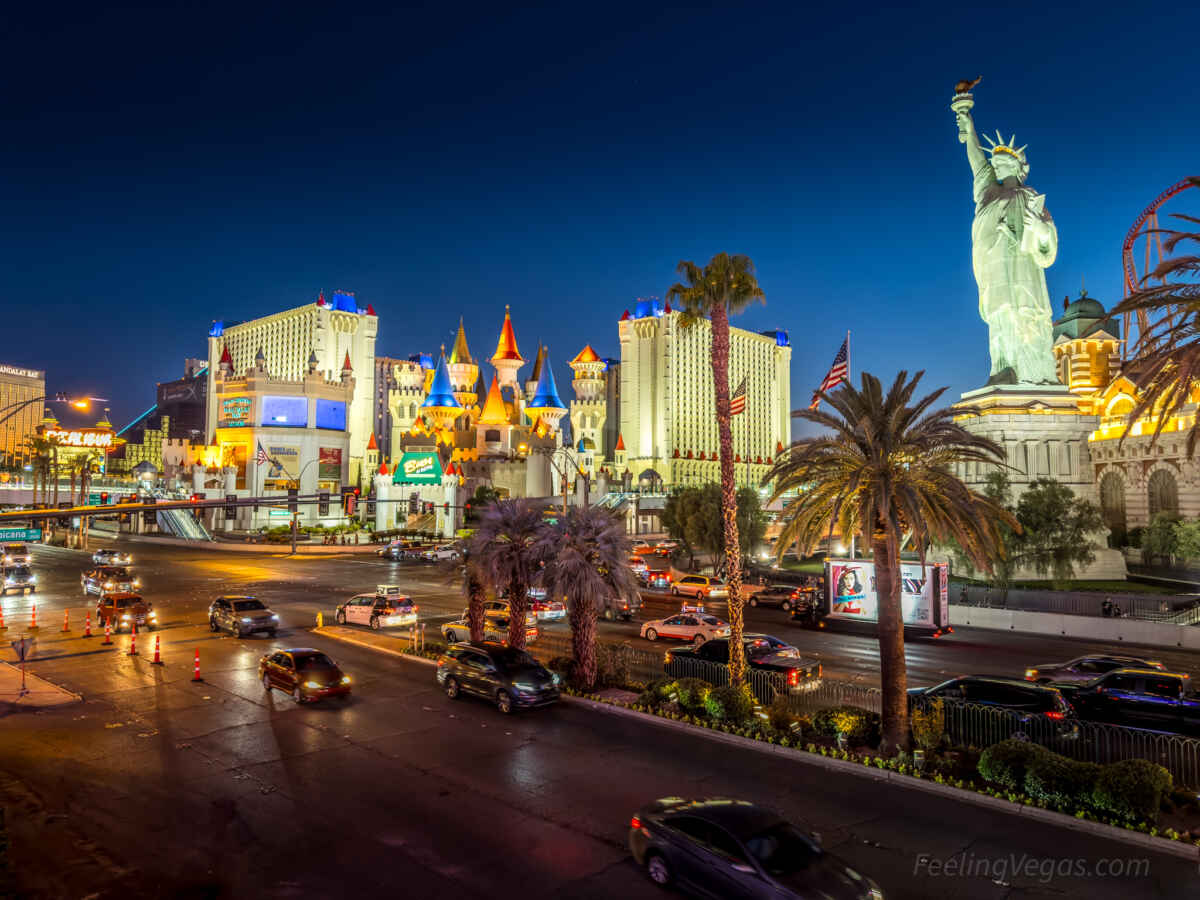 (This article may contain affiliate links, which means we might earn a small commission if you click and make a purchase. Thank you!)
Everyone knows you can earn comps and freebies in Vegas by gambling. But what if you don't want to gamble in Vegas? Can you still earn comps at MGM and Caesars properties without gambling?
Key Takeaway
Join the free rewards programs at MGM Resorts and Caesars Entertainment to start earning comps in Las Vegas without placing a bet. Accumulate points through dining, accommodations, and other spending to redeem for meals, show tickets, and free room upgrades.
Keep reading as I provide more details on earning tier credits without playing at casinos and explain how Vegas reward programs work. Let's get started! 
How To Get Free Comps Without Gambling at MGM Resorts
MGM Resorts operates over a dozen hotels and casinos in Las Vegas, one of the most famous being MGM Grand. As the name suggests, it's a mega-resort and the largest hotel in Las Vegas.
List of MGM Resorts Las Vegas Properties:
MGM Grand Las Vegas
Bellagio Las Vegas
ARIA Resort & Casino
Park MGM Las Vegas
The Mirage Las Vegas
New York-New York Hotel & Casino
Luxor Hotel and Casino
Excalibur Hotel & Casino
Mandalay Bay Resort and Casino
Delano Las Vegas at Mandalay Bay
Vdara
The Signature at MGM Grand
NoMad Las Vegas
While its casino is usually the main attraction, you can still have a great time without gambling at MGM Grand. In recent years, they've updated their players club program to include more options for earning credits and getting comped for visitors who don't play slot machines, table games, or any casino games for that matter.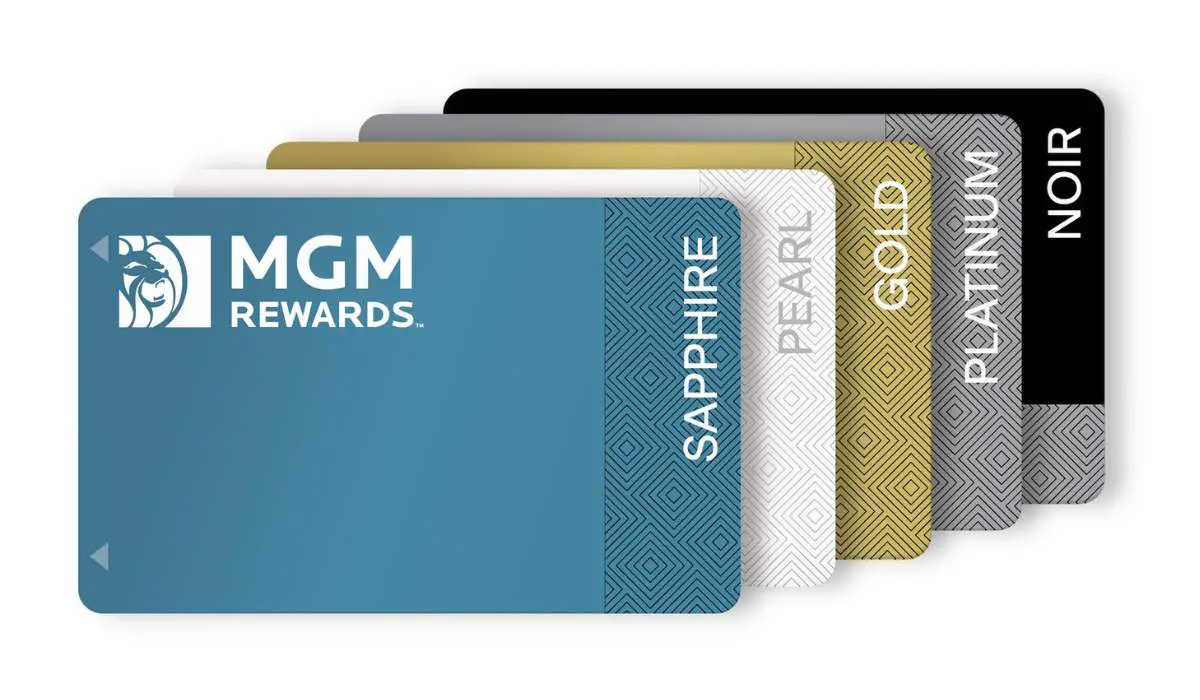 In the sections below, I'll discuss these options more closely. Here's how to get MGM Rewards benefits:
1. Sign Up for Membership
The first step is to sign up for the free MGM rewards program. You'll immediately receive Sapphire status and qualify for your first small bonuses. These include discounts on accommodation and selected shows. Plus, the players card will allow you to earn future points and credits that will later turn into comps.
2. Earn Bonuses for Accommodation 
Once you're on board with the rewards program, you'll receive bonuses for everything you spend on accommodations at any MGM Resorts property. 
There are three currencies you can potentially earn within the program: 
Tier credits 
Express comps 
Rewards points 
These all work differently, and if you're unfamiliar with comp systems, you can find a detailed explanation of each bonus type later in the article.
What unites them, however, is that they can be converted into comps. Put shortly, rewards points and express comps can be spent directly to cover your chosen expenses, while tier credits accumulate and move you up the status system.
With Sapphire status, you'll receive 1 reward point, and 25 tier credits for every dollar spent in MGM hotels. After upgrading to Pearl or further, you'll start receiving bonus reward points as well:
Pearl: 10% 
Gold: 20%
Platinum: 30%
NOIR: 40%
Upon achieving a new status, you also become eligible for new comps. The detailed descriptions of bonuses you can get with each new status will also be provided later in the article.
You must provide your MGM Rewards card number to acquire bonuses for your stays at MGM Resorts. This can be done if you book your stay directly from the MGM website or call center.
Alternatively, you can provide your card at check-in. As you leave, check that your eligible bonuses have been successfully received.
3. Earn Bonuses for Food and Drink
You can also receive bonuses for everything you spend on drinks and food at MGM's restaurants, bars, and clubs. Again, you'll need to provide your MGM Rewards card to get 1 reward point and 4 tier credits for every $1 spent.
This allows you to earn bonuses for dining spending, even if you're not staying at MGM Resorts. However, if you're a guest at one of their hotels, it's best to charge everything to your room. This puts your food spending into the traveling category, which typically gives you more benefits.
RELATED: Learn how much money to budget for food in Las Vegas.
4. Use Your MGM Rewards MasterCard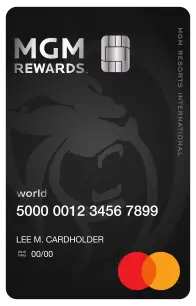 Finally, you can do what many people do and apply for an MGM MasterCard, which benefits those interested in MGM comps.
The card gives you an automatic upgrade to Pearl status, making you eligible for more comps (including free parking!). Also, it allows you to earn reward points for your MGM Mastercard spending with additional bonuses.
You receive 3x tier credits and award points for spending at MGM Resorts properties, 2x on supermarket spending and gas, and one additional point and credit for other purchases. Combined with other bonuses of Pearl status, you can get significantly more comps just by using this card.
RECOMMENDED: Find out the 6 things you'll want cash for in Las Vegas.
How To Receive Comps Without Gambling at Caesars Properties
Caesars Entertainment offers a free comps program called Caesars Rewards, one of the biggest ones in Las Vegas. Like MGM, they allow you to earn bonuses even if you don't gamble at their casinos and offer many options for doing so.
List of Caesars Resorts Las Vegas Properties:
Caesars Palace Las Vegas
Harrah's Las Vegas
Flamingo Las Vegas
The LINQ Hotel + Experience
Horseshoe Las Vegas
Paris Las Vegas
Planet Hollywood Resort & Casino
Rio All-Suite Hotel & Casino
The Cromwell
Here's the low down:
1. Spend at Caesars Entertainment
You can receive bonuses for everything you spend at Caesars Entertainment properties. You'll receive 1 reward credit and 1 tier credit (more on how they work later) for each dollar spent on:
Hotel stays
Food and beverages
Facilities (spa, golf, etc.)
Shopping
2. Use Your Caesars Rewards Visa Card
Another way to earn bonuses is to get a partnered Visa credit card. Once you spend the first $0.01 (you should do this in the first 90 days), you'll receive an upgrade to Gold status (the second tier level of the program) and more comps and offers.
If you spend $1,000 in the first 90 days, you'll receive additional 10,000 reward credits and 2,500 tier credits. $5,000 spent in one calendar year will get you 5,000 tier credits more.
Apart from these one-time offers, you'll also earn:
5 reward credits per $1 spent at Caesars properties
2 reward credits per $1 spent on dining, entertainment, and travel
1 reward credit per $1 spent on other purchases
For more details, visit the program's official web page.
3. Share Your Opinion on Say&Play
Using Say&Pay is a fantastic way to earn points for comps easily. It's an exclusive Caesars Entertainment community that gathers opinions about goods and services. For each survey you complete, you receive reward points. This method is free, and you get to contribute to improving everyday services!
4. Order Flowers on 1-800-Flowers.com
1-800-Flowers.com also partners with Caesars and gives you reward points for all purchases. 
You can buy flowers and unique gifts for your loved ones and also earn comps. All you have to do is use the promo code CAE30 and specify your Caesars Rewards card number at checkout.
5. Buy Caesars Rewards Live Events Tickets
Caesars Live Events sells tickets to a wide range of exciting shows and sports games. If there's anything you'd like to see, buy a ticket and receive additional reward points depending on your current Caesars Rewards status:
1 reward credit for Gold Members 
2 reward credits for Platinum Members
3 reward credits for Diamond Members
5 reward credits for Seven Stars Members
6. Shop a Caesars Rewards Marketplace
You can use the Caesars Rewards Marketplace to earn credits for everyday purchases. You can earn bonuses for shopping at Macy's, Bloomingdale's, Fenty Beauty, and more. 
To review the current offers with specified award credits you get for each $1 spent, visit their website.
How Comps Work at MGM Resorts on The Las Vegas Strip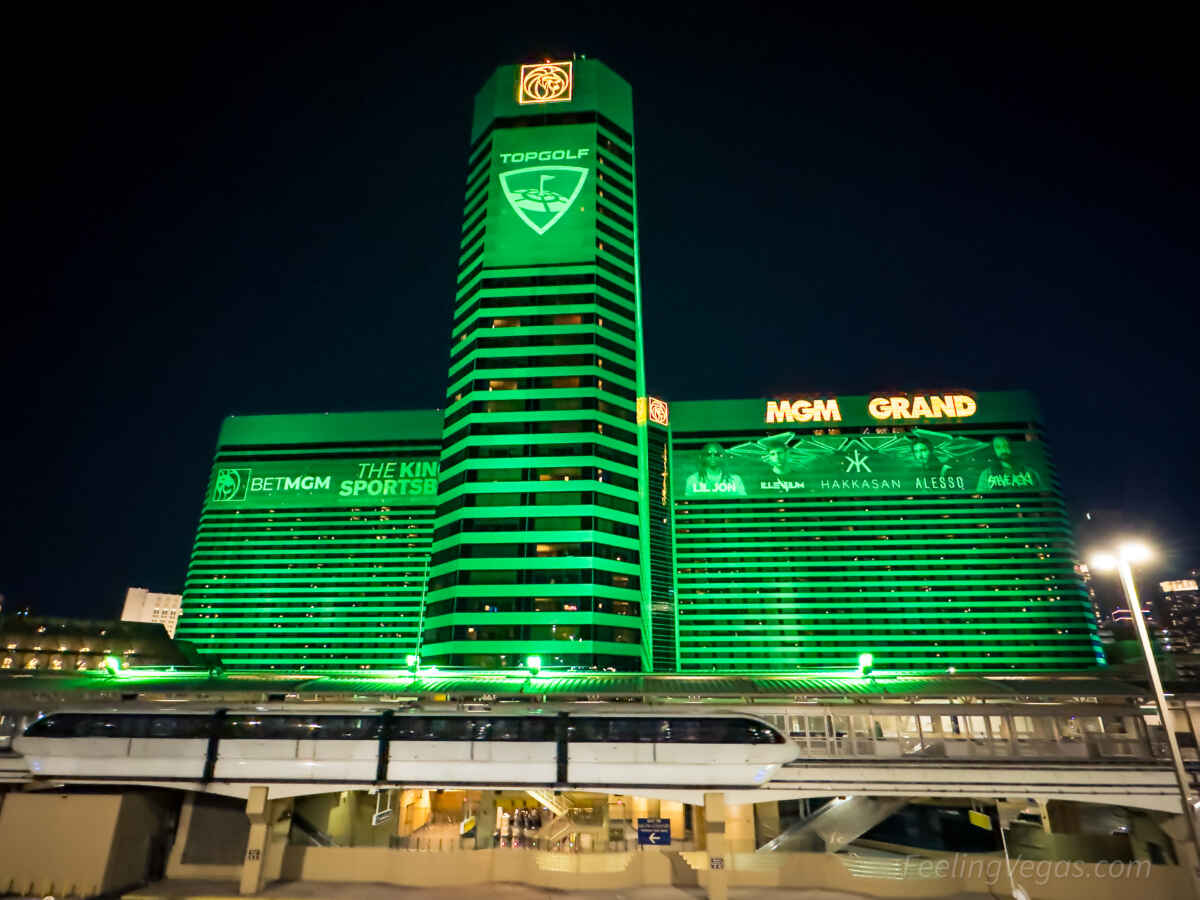 Now that I've explained how to get comps at MGM Resorts without gambling, let's talk more about how their reward system works and what comps you can expect to receive.
Types of Bonuses You Can Earn
I've mentioned earlier that there are three currencies, so to speak, that can be earned and converted to comps in various ways. Before discussing the freebies offered by MGM, let's get a better understanding of the bonus types for which those comps can be acquired:
Tier credits: these must be earned to upgrade your MGM Rewards status; more details on tier levels will be described later.
Express comps: these can be spent directly on accommodation, dining, and other purchases at MGM resorts.
Reward points: You can use these for gambling or convert them to Express comps and spend directly (1 point equals 1 cent).
Tier Levels & Rewards (Free Room, Show Tickets, Free Parking & more)
As I've mentioned, you begin at the Sapphire tier with MGM Rewards, which gives you some start-off benefits. Once you earn enough tier credits to become eligible for the next tier level, its benefits are added to the bonuses of your current rank.
MGM Rewards also has a rather fair system to determine how long you keep your status. Once you receive an upgrade, you keep it until the end of the current calendar year through the next calendar year until January of the third year.
Here are the 5 tier levels of the MGM Rewards system, how many credits you need to become eligible for them, and what perks they offer (you can find out more details on their website):
Sapphire (up to 19,999 tier credits)
Start earning MGM Rewards points
Get the best room rates
Discounts on certain shows
Pearl (20,000 tier credits)
Get bonus slot dollars
Free parking (self-parking)
Receive free entrance to MGM Rewards concerts
Gold (75,000 tier credits)
No resort fees
$100 dining experience
Free room upgrade
Platinum (200,000 tier credits)
Air Travel credit up to $600
$200 dining experience credit
Free cruise (annually)
NOIR (invite only)
Air Travel credit up to $1,200
$500 dining experience credit
Free transportation benefits
Claiming Your Comps
Once you advance to the next tier level, you become eligible for the comps listed above. Here's how to redeem them:
Dining Experience
Have the required MGM reward points added to your account at any MGM Rewards desk.
Use the bonus to book any MGM restaurant for your preferred date and time through their website.
At the restaurant, present your MGM Rewards card when paying.
Air Travel
Book your flight and MGM Resorts hotel in Las Vegas.
Check into your MGM Resorts hotel.
To redeem the credit in cash, visit Cashier Cage.
To redeem credit in FREEPLAY, visit the MGM Rewards desk.
You only have 12 months to use the bonus after you receive the status upgrade.
Complimentary Cruise
Reach out to Royal Caribbean (1-800-762-0702) or Celebrity Cruises (1-888-858-4478) to confirm you're eligible for the comp.
Book the cruise of your choice with their agent.
RECOMMENDED: Find out how much money you'll need to bring to Las Vegas.
How Comps Work at Caesars Entertainment Casinos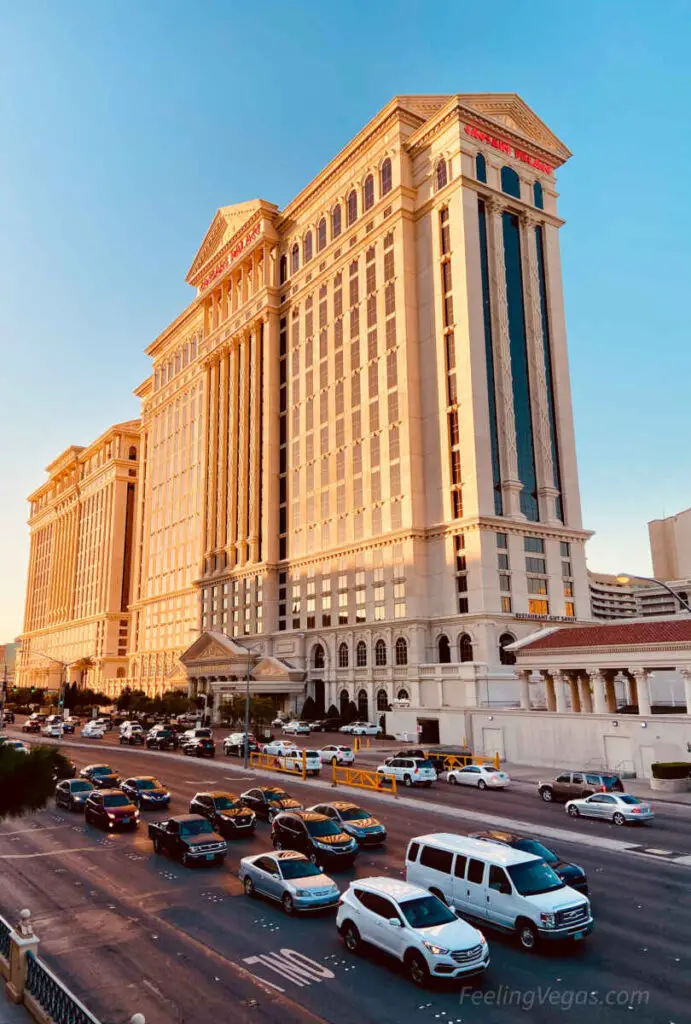 The comps at Caesars are somewhat easier to understand than those of MGM. The program rules are rather straightforward, and the credits you earn get you various exciting perks.
Types of Bonuses You Can Earn (Get a Free Room & No Resort Fee)
Caesars Rewards have only two currencies and are similar to those at MGM:
Tier credits must be accumulated to upgrade your status.
Reward credits can be spent directly on your expenses at Caesars Resorts. 
Playing movies in the room and gift cards earn 200 points for each $1 spent, while the ratio for all other spending is $1 for 100 points.
Tier Levels and Rewards
Here are what comps you can get at each of the 6 Caesars Rewards tier levels (for more details, visit their website):
Gold (up to 4,999 tier credits)
Eligible to earn reward and tire credits
Discounts on hotel stays or complimentary rooms
Exclusive early access to shows
Platinum (5,000 tier credits)
Gifting reward points (up to 5,000)
15% discount at casino gift shops
Free self-parking
Diamond (15,000 tier credits)
15% off on rooms and suits
No resort fee
2 complimentary nights at Caesars Palace Dubai
Priority lines
VIP Reservations Hotline and access to Laurel Lounge
$100 dining experience
With Diamond Plus (25,000 tier credits), you get free access to the VIP Laurel Lounge. Diamond Elite (75,000 tier credits) grants you $600 credit on flights to Las Vegas.
Seven Stars  (150,000 tier credits, invite only)
Upgrade to the top room (of those available) upon arrival
Free early check-in or late checkout
$500 dining experience
Companion Card
Signature events
$1,200 on flights to Vegas and a free transfer
To learn more about the casinos with the best comps in Vegas, check out my article here.
Conclusion
You don't have to gamble in Las Vegas to get comps.
It can be more difficult to grind enough points to receive top freebies, yet you can still acquire various benefits such as hotel discounts, points you can pay with to cover your expenses, complimentary dinners, and money off your purchases at MGM and Caesars Resorts, or shopping with their preferred partners.