Should You Wear a Suit in Vegas? What You Need to Know
When you picture Las Vegas, you may picture men in shark suits smoking cigars around a craps table. The reality is that dress has generally become much more casual in Sin City. You're more likely to see a man in a polo and sandals than a suit and tie. But, is there an advantage to sticking to the more formal roots of Vegas? For instance, should you wear a suit in Vegas?
Wearing a suit is not at all the norm in Vegas anymore. However, some frequent visitors still swear by a sharper look. A suit can get you better treatment, better service, and better access to everything the city has to offer.
There are plenty of reasons to keep with the Vegas tradition by wearing a suit. There's also a reason that the more casual look has taken hold as visitor's default style choice. Let's break down the advantages of each approach and when and where each is most appropriate.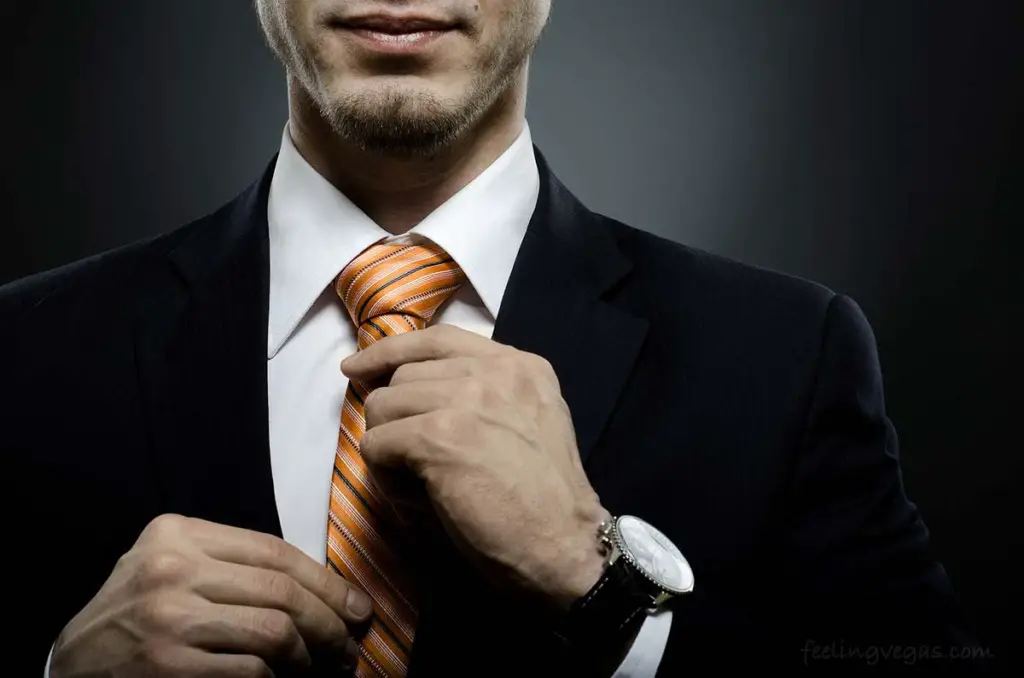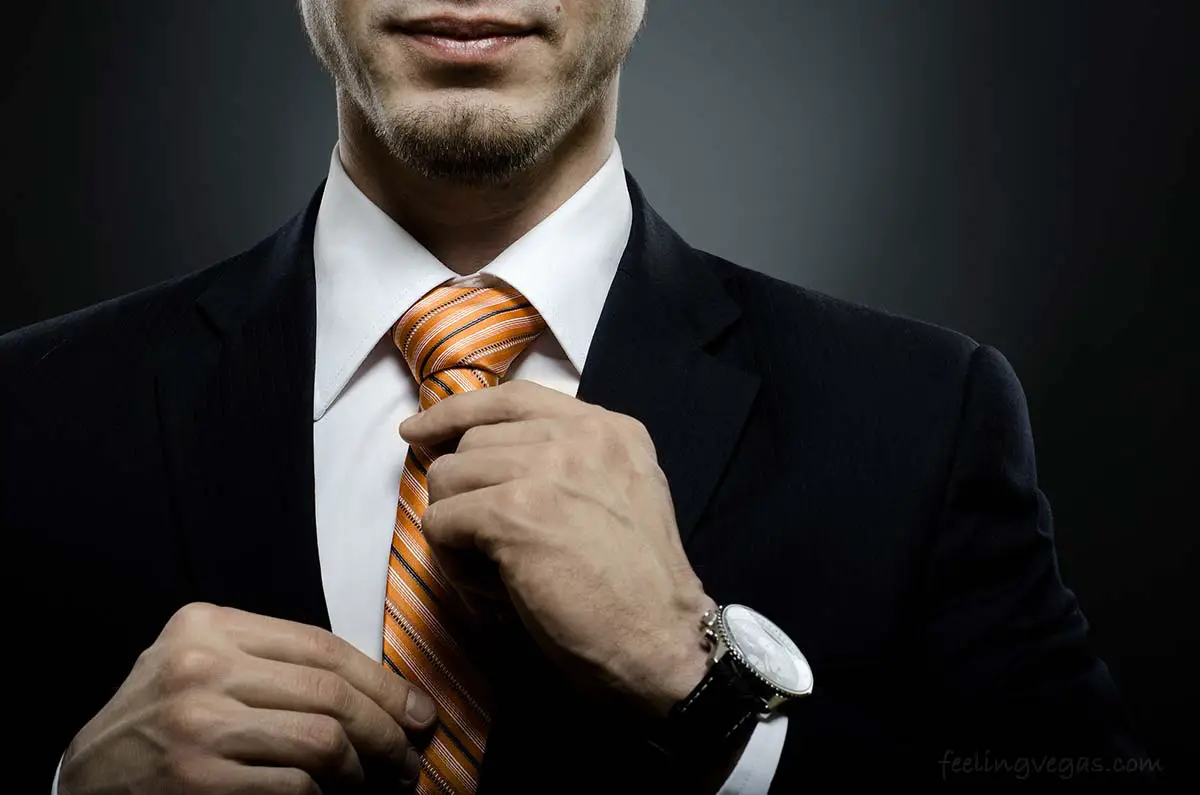 Reasons to Suit Up in Las Vegas
Looking good, as they say, is the first step to feeling good. This might be true in no place more than Vegas. A good suit can open doors for you and make it feel like the entire city treats you differently. While you may not want to go for the whole old-school mobster getup, the right look in Vegas can give you an experience unlike any other.
Better Treatment
The first thing you might notice while suited up in Las Vegas is that everyone treats you a little differently. Waiters and other staff may be a little more diligent in serving you or going the extra mile, hoping to get a big tip from your high roller pockets.
On the casino floor, you may even find that you play better. Dealers will be less likely to treat you like a hapless out-of-towner if you're dressed to kill. You'll find that people play a little more cautiously when you're dressed confidently, and that can give you an extra edge.
The important thing is that you really sell the look. If you can't pull off the persona, everyone will see right through the threads. Wear a suit (wikipedia) with confidence, bravado, and just a little swagger; you may just find that Vegas lays out at your feet.
Dress Codes
Depending on where you're trying to go, you may get stopped at the door if you're wearing regular street clothes. Many fancier clubs and restaurants in Vegas have dress codes which demand a little more formal apparel. Here are some fashion faux pas that might prevent you from seeing the best parts of Vegas
Hats
Chains
Sunglasses
Sandals
Sneakers
Boots
Tee shirts
Jerseys
Ripped or baggy clothing
Athletic wear
Some places may require men to wear collared shirts. While none of these restrictions necessarily require you to be wearing a suit, you can feel confident that no doors will be closed to you with a nice jacket on.
If you want to know what to wear specifically to a Las Vegas nightclub you'll want to read the article we wrote about the subject here.
Ultimately, you want to feel comfortable and confident. However, the MGM Resorts website warns, "beware, being yourself may not be enough."
"The Vegas look is about standing out and showing off, and the right trendy attire is guaranteed to boost your confidence and bring out your party personality."

MGM Resorts
If you usually keep things pretty casual, it may be time to take it up a notch.
Get Out of Trouble
Unfortunately, it isn't always true that "what happens in Vegas, stays in Vegas." If you party too hard, you may find yourself having a less than enjoyable time, or even facing lasting repercussions. Many Vegas regulars sing the praises of wearing a suit. They consider it to be an automatic get out of jail free card.
Being well-dressed can help diffuse otherwise tense situations with staff, other guests, or even local authorities. In some situations, a suit may even help you avoid suspicion and blame for unruly behavior (but please don't be 'that' guy). Wearing a suit changes how people look at you, and it may cause them to think that you're more professional and put-together than you actually are.
If you have a tendency to get up to mischief, you may want to find something classy to wear. That being said, dressing up shouldn't be thought of as permission to be a jerk. You're there to have a good time; make sure that others can as well.
Tradition
Some people have strong feelings about suits and Vegas. For a certain group of people, suits represent a call to a grander time. These people feel that Vegas has lost some of its charms with the trend towards more casual wear. The reality is that Vegas is one of the last places left where people regularly make an effort to look their best.
If you'd rather see Las Vegas hold onto some of its sparkle, go ahead and dress to impress. These hotels are elegantly and ornately decorated; you may simply feel more in sync if your dress matches the décor.
Plus, you may avoid catching the ire of a Vegas traditionalist (probably not much of a concern).
Reasons to Keep it Casual
For most people, Vegas is a vacation destination. A place to get away from the grind of ordinary life and relax for a while. A suit isn't the most comfortable vacation attire. Especially if you have to wear a shirt and tie at the office, you may find it difficult to relax in a suit. This is one of the major reasons why you'll see men lining the strip wearing Hawaiian shirts, cargo pants, sandals, and sunglasses.
It's your vacation. Wear what feels good to you.
Don't Feel Overdressed
As modern, casualwear has become more and more common in Vegas, you may feel overdressed in many places in Vegas wearing a full suit. You want to feel confident, not stick out like a sore thumb. You may even feel like a pompous prick rather than a steely shark, especially in some of Vegas' more touristy areas.
Even some of the clubs and fine restaurants are starting to see more casual standards. You may be more likely to see people in jeans than suit pants. Later on, we'll discuss some ways to hit high fashion notes without being too formal.
It can really put you at ease to go along with the crowd. It's possible to look good without calling undue attention to yourself.
Don't Get Mistaken for Waitstaff 😆
Much of the staff in Vegas casinos will be wearing suits. If you don't want to be constantly hounded by people asking for drink orders, reservations, and valet parking, you may want to leave the suit at home. Getting pestered by people who think you're on the job can get real old, real fast.
If you are going to wear a suit, you have to make sure that you stand out from the hotel crew. Avoid black suits, black shoes, and white shirts. Brighter colors and bolder fashion choices will prevent people from expecting you to serve them a cocktail.
It May Be Too Hot to Wear a Suit in Las Vegas!
Remember that Vegas sits in the middle of a desert. The average temperatures in Vegas during the summer are over 100 degrees. The biggest reason why the suit has fallen to cargo shorts and polos as the default men's attire of Vegas is because Vegas can be sweltering.
Wearing a suit in that kind of heat can quickly get sweaty, sticky, and uncomfortable. Your cool, confident demeanor might get deflated a bit if you're sporting pit stains underneath your sport coat.
If you're considering wearing a suit in Vegas, take a look at the weather ahead of time. Seriously consider if you'll be spending any time outside in the heat. If you'll be facing the heat, you may want to opt for something cooler, looser, and less coverage.
Recommended Reading: The Ultimate Las Vegas Packing List (19 Things To Bring!)
When to Wear a Suit
Because of the heat and the evolving social customs of the strip, you likely won't want to be wearing a suit all the time. So, when are the best times to rock the classic Vegas look? The most acceptable times for wearing a suit are when it's coolest: at night and during the winter months.
At Night
Given that Vegas is in the desert, lows in the evening can be quite low. Even when the heat has been intense during the day, it can be cool enough where you'll want to cover up after the sun goes down. Also, nighttime is when things get a little less casual and a little more classy.
Lots of people recommend staying away from formal wear on the casino floor during the daytime. Generally, the casino has a little more of a casual vibe during the day, and you may want to match that. At night, lots of people dress it up a little, and that's the time to turn your game up a notch.
Whether you're in a nice restaurant, the club, or the casino—nighttime is the time to shine your very brightest.
In the Winter
You may not need a winter coat in Vegas, even at its chilliest—but a nice jacket might make you a little more comfortable. Winter temperatures in Vegas usually hover around the 40s or 50s at night. You probably won't want to be wearing shorts and sandals anyway.
If you're planning a winter getaway to Las Vegas, you might consider classing up your look a bit. In the winter months, it becomes more standard to see people dressing a little more formally as it can be somewhat brisk for classic vacation casualwear.
Where to Wear a Suit
Some places in Vegas are more suit appropriate than others. If you're wearing a suit somewhere, that's going to make you feel out of place, then it's not going to enhance your experience. However, in some parts of Vegas, a well-fitted suit can make the trip.
A good rule of thumb is that the more "adult" a place is, the more likely a suit is to be appropriate. If you're wearing a suit at kid-friendly attractions, like the Big Apple Roller Coaster, then you're more likely to feel a little strange. Casinos, nicer restaurants, and clubs are most likely to be suit-worthy, especially after dark.
Casino
The best way to feel like a high roller is to dress like one. Bring out your inner shark by putting your best foot forward. You're less likely to get hustled and more likely to have a great time. Vegas casinos are some of the most exquisitely ornamented places in the world. You may want to feel like you match the atmosphere.
You can learn more about dressing right for nighttime casino fun in our article about the topic here.
Restaurant
Nicer restaurants in Vegas are more likely to have a dress code and, therefore one of the more obvious places to dress your best. You're more likely to fit in with the crowd and really feel comfortable in an upscale look.
Dressing up may also get you more attentive servers. If you're hoping for quick refills on your drinks, try to look like someone worth hurrying for.
Club
Clubs are another place in Vegas where people really go out of their way to stand out. You definitely don't want to overdo the formal look in the club. Nailing something that's classy, yet snazzy can really get you noticed—especially if you're looking for a little attention from the ladies.
Check out some of the best nightlife spots in Vegas in this post by vegas.com.
Related: Las Vegas Club Dress Code For Guys (If You Want To Get In)
Best of Both Worlds Looks
The decision of whether or not to wear a suit isn't a simple binary. There are lots of subtle ways to dress up casual looks or dress down a suit to make it a little less stuffy. The classiness of your apparel is a sliding scale, and you can adjust to hit just the right note. Here are a few outfit ideas that can help you strike the perfect balance
Dress Down a Suit
You look absolutely killer in a blazer, but the full-suit ensemble seems like a bit too much for some casual drinks at the bar and a game or two at the craps table. There are a number of ways that you can still look sharp while toning it down a notch.
Try putting on a monochromatic tee shirt underneath rather than a button-up shirt and tie. This brings a casual confidence to the suit and is an awesome modern look. Even just skipping the tie can make you look more relaxed and less like you're about to enter a board meeting
Wear a pair of sneakers instead of lace-ups. Steve Jobs doesn't have a monopoly on the sneakers with suit pants look. Grab your favorite pair of Nikes and wear them with the suit for a bit of casual flair.
Throw on a Sport Coat
Just because you own a matching jacket and slacks doesn't mean that they always have to go together. A suit coat can be sleek and sexy with a nice pair of dark jeans. Think about whatever you were going to wear and consider tossing a coat over it. A nice coat can bring lots of looks to the next level.
Trade-in Your Sandals
You're a grown man. It's about time you learned that nobody wants to see your toes. Sandals are breezy and comfortable and give that classic vacation feeling, but they aren't always flattering. Here are some comfortable and attractive alternatives.
Try a pair of my favorite canvas espadrilles (amazon.com). Seriously, I love mine. They're the most comfortable shoe I've ever worn. They're cool and airy and they look great. These bad boys will give you the best-looking feet whether you're at a club or chillin by the side of the pool.
Boat shoes are another way to get that vacation vibe in a way that also gives you a stellar look. Brown leather boat shoes are comfortable, stylish, and versatile.
Pay Attention to Fit
Fit is the most important part of any stylish look. Too tight, and you'll show off every bump and bulge while simultaneously looking ridiculous. Too big, and you'll look like you borrowed dad's suit for your big getaway.
If you are wearing a suit, be sure to get it tailored for the perfect fit. If you're trying on jeans or even tee shirts, just the right level of snugness will have you looking extra dapper.
What Men Should Wear in Vegas?
Don't let anybody tell you how to enjoy your vacation or how to let loose in the world's greatest party destination. The decision of how you choose to present yourself is yours. Wear what works for you in Vegas, and don't be afraid to make a quick change for different activities at different times of the day.
If comfort is your number one goal, then dress down. Wear sweatpants, if that's what you want. Who can tell you no? If you're looking to make an impression. A suit has a special power under the lights of Vegas. Any attempt to class up your act won't go unnoticed. The right look can give you confidence and swagger. Leaning into the atmosphere of Vegas can be the best way to make your trip an experience worth remembering.
If you found this article helpful, please SAVE THIS PIN to one or more of your boards on Pinterest. Thank you!