What To Wear in Las Vegas (The Ultimate Guide)
Las Vegas is one of the world's most popular destinations for an exciting, fun, and glamorous vacation. Vegas has everything from casinos, to shows, to pool parties, and clubs, however, each of these situations calls for a different outfit. It can get overwhelming, so in this ultimate style guide, I'm going to help you figure out what you should wear in Las Vegas, and when.
When you're in Las Vegas, cool, breathable, and casual clothing is perfect for daytime. Elegant, sparkly, and glamorous attire is great for the evenings. A hat, pair of walking shoes, and sunglasses are essential, while a sarong is an excellent idea when walking to and from the hotel pool. 
Keep reading and I will give you some great ideas about what to wear in Vegas every day, from sunup to sundown and in every situation.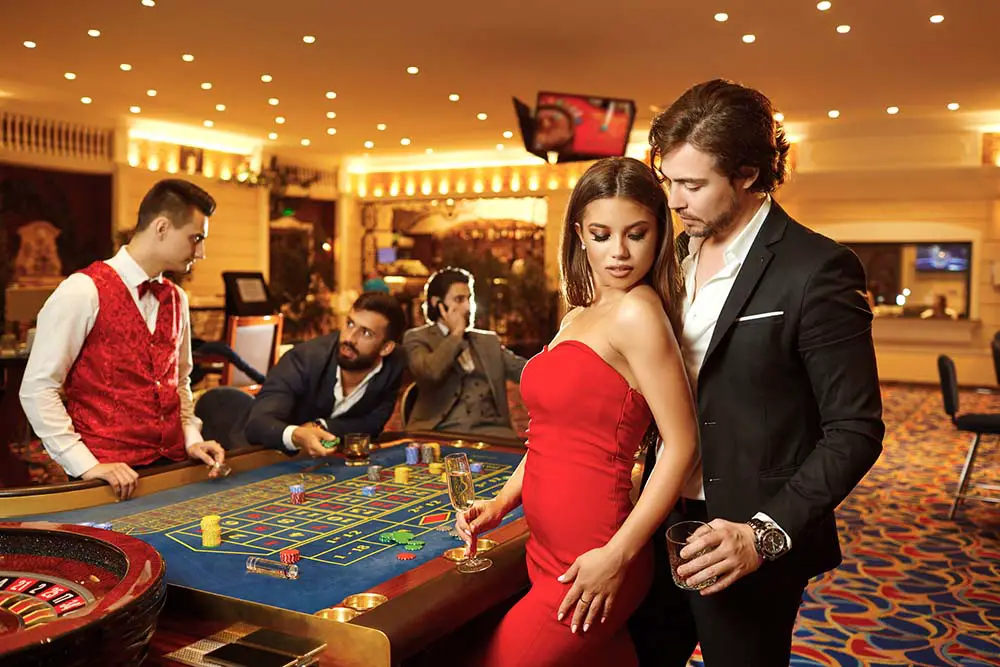 Climate in Las Vegas 
Before discussing what to wear in Las Vegas, we should consider the climate in Vegas. 
Las Vegas is situated in the Mojave Desert and is mild in the winter and incredibly hot during the summer. It has very little rain and is sunny most of the time. During the winter, the nights can be cold, with temperatures reaching 32°F (0°C), and if you're spending time outside, you will need a warm jacket. 
Vegas summers can often reach 108°F (42°C) or more, and it's typically more pleasant to be inside with the comfort of air conditioning.  
What To Wear In Las Vegas For Every Occasion
Now that we have a general understanding of Vegas's climate, we can look at what to wear when in this famous city. 
Most people visiting and living in Vegas wear whatever they want. 
In Vegas, you'll see everything from polo shirts, shorts, and flip-flops to floaty summer dresses, tuxedos, and ball gowns. However, the general dress code is casual during the day but formal and glamorous in the evenings.  
Vegas Essentials
Regardless of whether you'll be hitting The Strip for some sightseeing, attending a conference, or dining at a Michelin-star restaurant, certain items are essential when visiting Las Vegas: 
Sunglasses: Most days in Las Vegas are sunny and bright, and a pair of sunglasses is essential.  
Cardigan or shawl: Vegas gets very hot, especially in the summer, and most indoor spaces are heavily air-conditioned. Keep the chill off your bare arms indoors with a lightweight cardigan or shawl.  
Hat or cap: A good quality hat or baseball cap helps keep the sun away from your face when you venture outside.    
Comfortable but stylish dress shoes: Las Vegas is bigger and more widely spaced than you think, and a pair of comfortable but elegant walking shoes is a must. Sequined sneakers or flats are ideal as these reflect the city's extravagance.  
Bling: Over-the-top fashion is famous in Vegas, so don't forget to bring plenty of sparkly jewelry, clothing, and glamorous accessories. 
Cooling towel: If you're visiting Las Vegas during the summer and plan to do some sightseeing on foot, consider buying an inexpensive cooling towel to keep the oppressive heat at bay. 
Daywear in Las Vegas
During the day, Las Vegas is drenched in sunlight and can become incredibly hot. Daywear in Vegas is typically casual, and anything goes, and the focus is on comfort and trying to stay cool. 
Below are some excellent suggestions for Vegas daywear: 
Clothing in breathable fabrics: Daytime in Las Vegas is all about trying to keep cool. Loose-fitting shirts or dresses in breathable fabrics, like cotton or linen, do a great job of beating the heat. 
Shorts or a dress for summer: Vegas tourists and locals wear mostly shorts and lightweight dresses in the summer for maximum comfort. 
Jeans or leggings in the winter: Las Vegas only experiences mild winter weather from about December through to February. If you're in Vegas then, jeans or leggings are perfect for daytime wear. 
Flip flops: Remember to bring a pair of comfortable flip-flops with you to Vegas to prevent your feet from feeling overheated. 
RELATED: Plus-Sized Women's Las Vegas Style Guide (Fabulous!)
Evening Wear in Las Vegas
While Las Vegas is famous for its hot and sunny weather, most people forget that it can become chilly in the evenings. Whether you're heading to a Vegas show, concert, or simply strolling along the Las Vegas Strip during the evenings, you should consider the following: 
Lightweight jacket or shawl: Vegas is in the desert, where evenings can sometimes get chilly, especially during winter, and a light jacket or shawl can help keep you feeling comfortable.  
Evening or formal dress: Las Vegas nights are anything but boring. Locals and tourists alike enjoy dressing up for a night on the town, and it's common to see sparkly cocktail dresses and formalwear. If you don't know what type of dress to pack, a little black dress always works. 
Heels: An elegant pair of heels helps to provide additional elegance to any outfit. 
Costume jewelry: Chunky and shiny jewelry is an excellent way to accessorize your outfit for a distinctive, glamorous Vegas look.
Las Vegas Casino Wear
Sin City has some of the world's most famous casinos. 
During the day, there is usually no specific dress code, and it's perfectly acceptable to wear shorts and flip-flops to the casino. As soon as evening comes, however, things become more glamorous in Vegas's casinos, and you'll see that most folks dress up for the casino. 
Below are some great ideas for playing some blackjack or hitting the slots in the casino: 
Evening dress or jumpsuit with heels: Your favorite jumpsuit or evening dress paired with some heels is a perfect outfit for the casino. 
Sparkly clutch: Forget about clumsy and oversized handbags in a Vegas casino. A dainty, sparkly clutch is all you need to keep your casino chips and put the finishing touch to your outfit. 
Eating Out Wear in Las Vegas
Las Vegas is famous for its glamorous restaurants and Michelin star venues. 
If you're dining at one of Vegas's finest eating establishments, err on the side of formality. However, many Vegas restaurants do not have a dress code, and you can wear whatever you want. Check if the restaurant has a dress code before arriving to play it safe. 
Below are two different outfit ideas based on your restaurant's dress code: 
Formal dress, slacks, jumpsuit, and heels for smart restaurants: Restaurants in Las Vegas that have a dress code require guests to wear formal or semi-formal attire. If you plan on some fine dining, remember to pack a smart outfit.
Jeans, capris, and a t-shirt for restaurants with no dress code: Most restaurants in Vegas don't mind what you wear, and you'll see that many guests wear jeans, shorts, capris, or whatever feels comfortable. 
Sightseeing Wear in Vegas
Many Las Vegas tourists don't have time to do sightseeing at night as they're too busy dining, enjoying the casino, or hitting the clubs. This typically leaves only the daytime free for sightseeing on the Las Vegas Strip and around town, when it can be unbearably hot. 
If you'll be doing some sightseeing during the daytime, below are a few clothing suggestions: 
Shorts or a floaty skirt: Comfort is vital when sightseeing, so you should choose a summer garment that allows freedom of movement, such as a floaty skirt or pair of shorts. 
Hat: To help prevent sunburn and prevent glare from the sun, remember to wear a hat. 
Loose-fitting shirt: A loose-fitting shirt in a breathable fabric goes a long way in keeping you as cool as possible. 
Comfortable walking shoes: Las Vegas is bigger than you think, and there's so much to see and do. Even if you are taking a cab or the bus to sightseeing locations, you'll likely still do a lot of walking, which is where a pair of comfortable walking shoes can save the day for your feet. 
Clubbing Wear in Vegas
A highlight of Las Vegas is its nightlife, and most people enjoy wearing their most dazzling outfits for a night out. Some nightclubs have a specific dress code, and it's a good idea to check beforehand. 
As a guide, remember that Vegas nightclub outfits are similar to what most people would wear to a new year's eve party. 
Below are some ideas to consider: 
Sparkly dress: The more sparkly and shiny your outfit, the better it is for a night of clubbing in Vegas. Nothing is too over-the-top or ostentatious for a visit to a Las Vegas club. 
Sequins and feathers: Sequins and feathers have a way of making an outfit flashier, and this is what you want when dancing in a Vegas club. 
Costume jewelry: From dangly earrings, chunky necklaces to diamante bracelets, you can never wear enough jewelry when clubbing in Las Vegas. 
Flats when you leave the club: Heels are a must for your clubbing outfit. However, remember to pack a pair of comfortable flats when you leave the club and walk back to your hotel or another venue. 
Poolside Attire
Most Las Vegas hotels have extensive pool areas where guests can relax in the many loungers and take a dip in the pool. 
Here's what you might want to wear and bring to the pool:
Swimwear: In Vegas, any kind of swimwear is suitable: from a cute bikini to a functional one-piece. Go with whatever makes you feel the most comfortable. 
Sarong: A lightweight sarong or swimwear cover-up is essential for relaxing next to the pool. It allows you to cover yourself up when walking through the hotel or to the pool's bar for a cocktail. 
Sandals or flip-flops: A pair of sandals or flip-flops that you can easily slip your feet into, makes it easy for trips to the pool bar or hotel. 
Oversized hat: An oversized hat doubles up as sun protection as well as adds some fanciness to your poolside outfit. 
Final Thoughts
When it comes to clothing for Las Vegas, anything goes as the city has no official dress code. While this may be true, the city is also known for being glamorous and extravagant.
Some restaurants, nightclubs, and casinos, however, do have a dress code and if you think you'll be visiting any of these, remember to pack an elegant dress or jumpsuit and some heels. 
Otherwise, you'll be perfectly fine with comfortable summer clothing, such as shorts, floaty dresses, and loose-fitting shirts. 
For men, you might want to take a cue from James Bond when he visited Las Vegas, and stay classy.