The Complete Dress Code for Spago at The Bellagio (Las Vegas)
(This article may contain affiliate links. If you click through and make a purchase, we will receive a small commission at no additional cost to you. )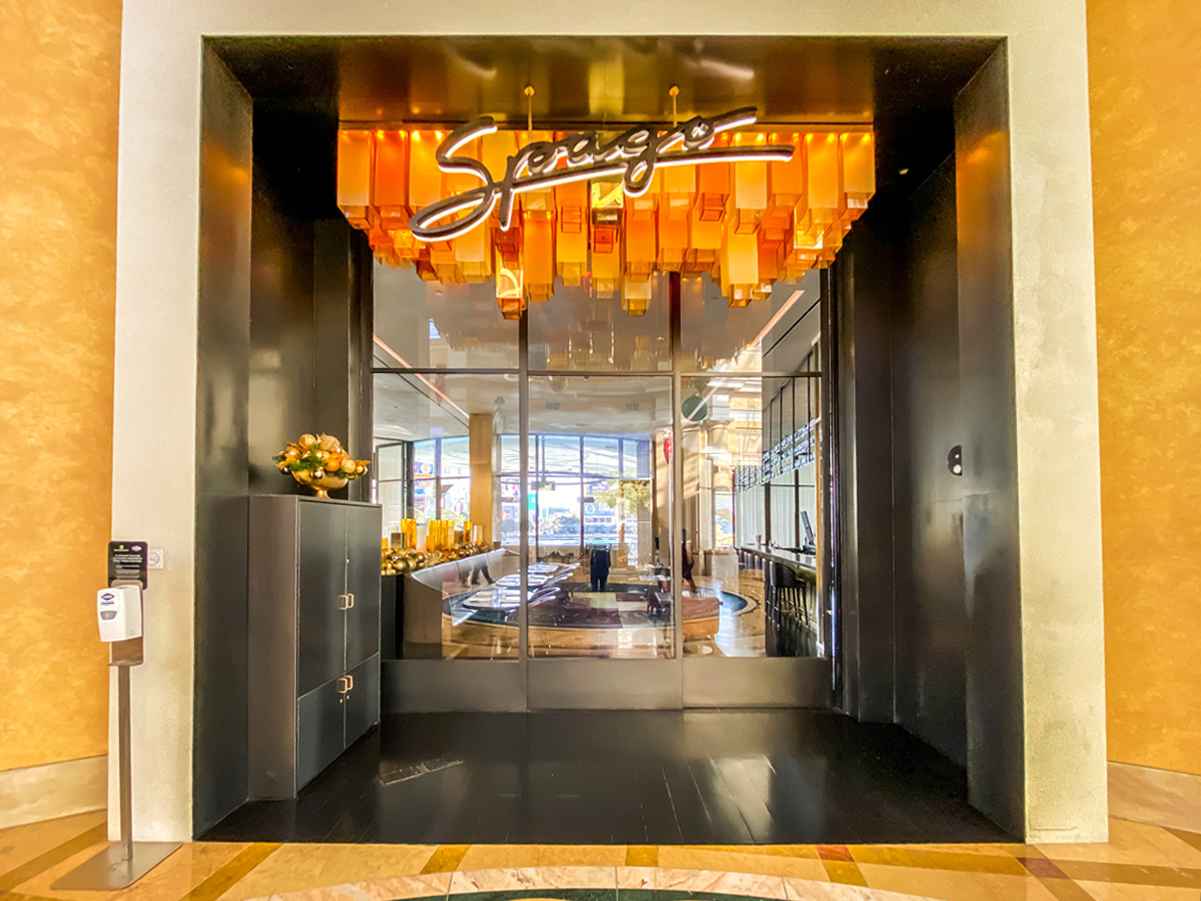 Spago was started by an Austrian-American chef Wolfgang Puck and has become a must-try culinary experience for anyone visiting the Bellagio Hotel & Casino on the Las Vegas Strip. The restaurant is known for serving authentic California-style cuisine with a modern twist. And while the restaurant is open to everyone, they have a dress code that guests are expected to follow.
Spago expects its guests to dress in business-casual attire, a mix between formal and casual, but leaning more towards a chic look. It's best to dress consciously and stay on the safe side because Spago doesn't allow shorts, sportswear, tank tops, and open-toed shoes.
Many guests claim that Spago doesn't adhere to a strict dress code, but their website clearly outlines what they expect their guests to wear and what to avoid. In this article, we'll go into greater detail about Spago's dress code.
(Tip: If you're planning to eat at Spago, you'll want to know the Bellagio Fountain schedule.)
Compare and save! Check current Bellagio room rates at TripAdvisor!
Spago's Dress Code for Men
Business casual can be a challenging idea to describe, and it's understood that stay-at-home casuals won't cut it at Spago. However, some people dress without knowing if their clothes suit the occasion. As such, it's best to have a general idea of what to wear before going to the restaurant.
Here's what men should consider wearing to the next lunch date at Spago.
Topwear
For men, casual shirts and tees should be fine. Stick to simple designs and colors, and you should be okay. Another effective way to look smart and casual is to invest in a few henley tees (Amazon). These tops give you a stylish, semi-formal look while keeping it light and fun. 
Avoid suits, as they could be overboard and seem out of place at Spago. Of course, you're welcome to carry a coat in case you're there for dinner, as the nights can get chilly. But keeping it semi-formal is enough to get you through the gates, and a suit may just be overkill.
Polos are another excellent top option when going to Spago. The restaurant will allow you in if you're wearing one with pants, and it's an easy styling option for those who don't want to spend too much time dressing up.
You want to avoid sheer tops, beach clothes, or sleeveless tees that don't fit the vibe. And since we're talking about topwear, it's crucial to mention that you want to wear clothes that hang nicely on your frame. Avoid tees and shirts that are baggy or hang loosely on you. 
While the restaurant may still allow you to enter, your clothing won't fit the ambiance of the place, and eating can get awkward.  
Bottomwear
Sticking with the semi-formal/casual-business theme, ensure you wear appropriate pants that match your top. Regular trousers are your best bet as the restaurant can't turn you away in this case. You can also wear denim if it goes well with your top and as long as they're not distressed jeans.
However, a pair of light trousers in a suitable color is the best way to ensure you stick to the dress code. Corduroy pants are also acceptable, so long as they're a good fit and complement the rest of your outfit. 
However, you want to avoid track pants at all costs, as they are considered athletic wear, and the restaurant explicitly prohibits athletic wear while dining. 
Additionally, you also want to avoid wearing shorts, three-quarter pants, or beach boxers to the restaurant as there are strict guidelines against such clothing.
Footwear
By now, you probably have an idea of the look you need to embody to be allowed into Spago. While it's not entirely formal clothing, there is a common theme of chic, elegant, and refined clothing that needs to be followed.
In that same vein, your footwear must remain semi-casual while complementing your outfit. Boots and full shoes are your best option, preferably regular shoes and not sneakers. However, sneakers are also acceptable as long as it goes with the outfit.
Slippers, sandals, and shoes with open toes are a strict no-no for Spago. As such, you want to avoid wearing these if it's what you prefer to wear for a night out.
Accessories
Accessories like watches, bands, hats, and caps are allowed on the premises. Just ensure that your clothing is appropriate to the situation and fits with the rest of your ensemble.
If you've understood the basics, you can mix it up and create a unique ensemble for your trip to Spago. Just be sure to take some time to plan your outfit so you don't throw on something lackluster or non-stylish before heading out.
RELATED: Men's Style Guide to Las Vegas (Here's What To Wear)
Spago's Dress Code for Women
Now we've covered what most men need to look out for when dressing for Spago. It can be a bit confusing, considering a t-shirt can be considered super casual or semi-formal, depending on how you wear it. The dress code for women is also semi-formal, but it's a little easier to tell the difference in this case. Here's what women can wear to Spago.
Topwear
Spago's website states that for ladies, the clothing should be 'elegant and dressy.' While that can be interpreted in many ways, it's best to stick to more conventional ideas of dressing and experiment with what most people would wear.
A casual dress (Amazon) is your best bet here, and it's a great idea because you don't have to worry about what it goes with. Also, a dress is automatically considered semi-formal, and you can rest assured you'll be allowed entry into Spago. 
But suppose you're not too keen on a dress. If that's the case, wearing a blouse (shirt) and pairing it with bottom wear can also work. Here also, it's crucial to take time and decide on a top that suits the occasion. While a stiff-necked white shirt may seem right, it's uncomfortable and a bit too formal for the event. 
As such, it's best to design an outfit that elegantly combines the formal and informal.
You want to avoid tank tops, hoodies, and other regular casual wear. The restaurant has the right to restrict entry to guests dressed this way. You also want to avoid wearing sheer clothes and anything that could be considered party wear. 
Bottomwear
Skirts and mini-skirts pair well with blouses and dress shirts, and you should consider taking a pair with you when visiting Vegas. Aside from Spago, you can wear these clothes on a variety of occasions in Las Vegas.
Ankle-length skirts are also acceptable, as the dress code mentions 'dressy and elegant.' You may also wear fitting trousers or baggy ones as long as they go well with the rest of your outfit.
Avoid harem pants even if they fit the rest of your ensemble because they can seem too casual, and you may feel out of place in Spago. 
As with men, women can also wear denim as long as they aren't distressed or have too many design elements. And if you're planning to wear denim, it's best to pair it with an elegant dress shirt or blouse to keep with the restaurant's theme.
It's important to mention once more that shorts aren't allowed, whatever the gender. So even if your shorts pair well with that new blouse you got, avoid wearing it to Spago, or risk the staff prohibiting you from entering the restaurant.
Footwear
As mentioned earlier, open-toed shoes and casual footwear is a big no-no at Spago. If a woman is wearing trousers or jeans, she can pair them with shoes or sneakers that aren't too flashy. However, it's best to avoid sneakers altogether and go for wedges or flat heels, even if you're wearing trousers. 
Of course, if you're wearing a dress, pair it with heels or wedges, and you should be good.
Accessories
Gaudy accessories are allowed at Spago, but you may feel a bit out of place considering the semi-formal setting. However, jewelry is encouraged and can elevate the look of any ensemble. As such, it's a good idea to pick out pieces that go well with the rest of your clothes.
Hats, sunglasses, and other accessories for women are welcome at Spago. But like any other part of your ensemble, ensure it fits well with the rest of your outfit.
RELATED: What to Wear at The Bellagio Las Vegas
What Not To Wear To Spago Las Vegas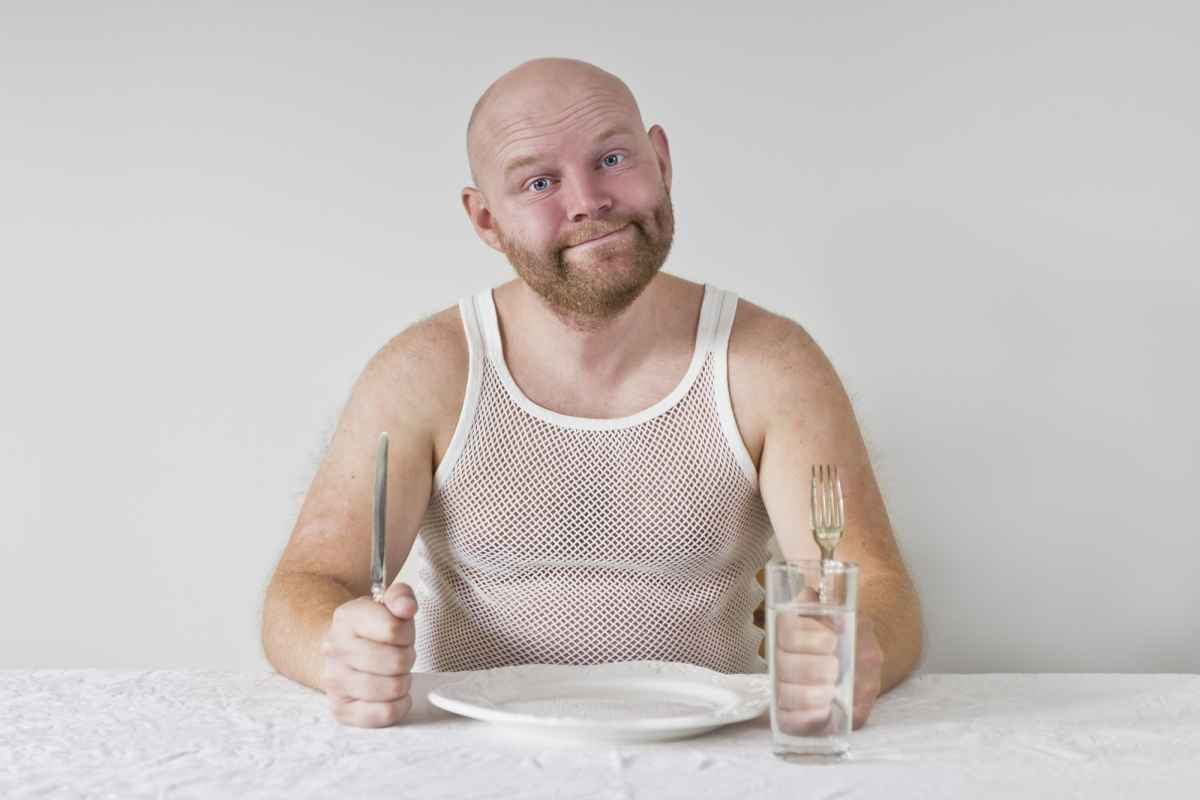 We have briefly mentioned some of the things you shouldn't wear when you're heading to Spago. However, it's worth mentioning once more so you can cross them off the list when planning your outfit. 
While most Las Vegas restaurants should be fine with whatever their guests wear, Spago aims to create a chic yet relaxed ambiance, and it's important to them that guests help out by dressing appropriately.
If you're planning to eat after a quick swim, turning up in your shorts and a sleeveless tee for a relaxed lunch can be tempting. However, keep in mind that shorts are forbidden at Spago, and the restaurant has the right to deny admission to anyone trying to enter with shorts.
You may also be tempted to visit the restaurant after a gym session. If that's the case, plan your outfit and change into it before you go to eat. The restaurant has a strict policy against sportswear and may prevent you from entering with gym clothes.
However, this extends beyond the gym, so track pants, neon tops, headbands, wristbands, and the like are a complete no-no. Aside from violating the restaurant's dress code, you're sure to feel comfortable in a space designed for a fine-dining experience.
Coats aren't necessary, but they can give you a cleaner, less casual look. However, avoid hoodies or bomber jackets as they don't fit the description of semi-formal. Again, you may not be stopped in a hoodie, but it doesn't fit the vibe.
We've repeatedly mentioned that open-toed shoes aren't allowed on the restaurant premises. And if that's the case, you can bet that sandals and flip-flops are also strictly prohibited. As with any club, Spago has no trouble turning away some customers if they don't fit in at the restaurant.
In essence, here's a list of clothing items that won't be allowed in Spago. These are items the restaurant explicitly mentions on its website. 
Shorts
Tank Tops 
Flip Flops
Sandals
Open-toed Shoes 
Distressed Jeans 
Sleeveless tees (primarily for men)
While the restaurant only mentions these clothing items, they reserve the right to deny admission to guests who aren't dressed for the occasion.
However, the term business-casual isn't easily understood, and people may turn up in some alarming ensembles as a result. To be more specific, business casual refers to traditional business attire with a few simple tweaks to give it a unique look. So, wearing a shirt, trousers, and an overcoat without a tie can be considered business casual. 
And for women, the theme is elegant and dressy. As such, the restaurant expects their female diners to wear something that makes them look sophisticated and ready for a fine-dining experience. Again, this isn't too hard to imagine, and most women should have a dress for the occasion. 
However, if you don't want to wear a dress, you can spend time on another semi-formal outfit that suits the restaurant's requirements.
Wolfgang Puck's restaurants have a similar ambiance and style sense. However, not all his eateries require semi-formal or business-casual wear. In some outlets, casual clothing and even sportswear should be fine.
But Spago, in particular, mandates a specific dressing style, and you must adhere to it if you want entry.
If you go to Spago Las Vegas, you can eat signature food that is the best in the city. However, eating at Spago Las Vegas is more expensive than at some other Vegas restaurants. Click on the link to learn more about the food prices there.
Find the best deals on Bellagio rooms and save big with TripAdvisor!
Spago Dress Code – Final Thoughts
Dining at Spago is an experience you don't want to miss. Especially if you're in Vegas and plan on staying a few days, it's a dining experience you want to have on the top of your list of things to do in Vegas. The food and ambiance are spectacular, but Spago is also renowned for its world-class service, among the best you'll experience.
It's a good idea to carry business casual on your trip to Vegas, as many clubs, restaurants, and casinos may require that you dress a sure way to enter. And by packing a few semi-formal ensembles, you can ensure you fit in wherever you are in Vegas.