Is It Too Hot To Wear Jeans in Las Vegas? (Answered)
(This article may contain affiliate links. If you click through and make a purchase, we will receive a small commission at no additional cost to you. )
It so happens that Las Vegas, globally renowned for its round-the-clock excitement, is located smack dab in the middle of the Mojave Desert. The city is dry year-round and experiences substantial heat at certain times of the year, so you must be picky with your clothing choices before visiting. For instance, many people want to know if it is too hot to wear jeans in Las Vegas.
It is generally too hot to wear jeans in Las Vegas, especially in sweltering summers. You'll feel uncomfortable remaining outdoors for too long, which can affect your vacation objectives for the day. However, it can be cool enough at certain times of the day & year, to wear jeans in Vegas.
If you're a fashionista heading to Vegas soon, continue reading this article to learn more about the best and worst times to wear denim jeans in Las Vegas.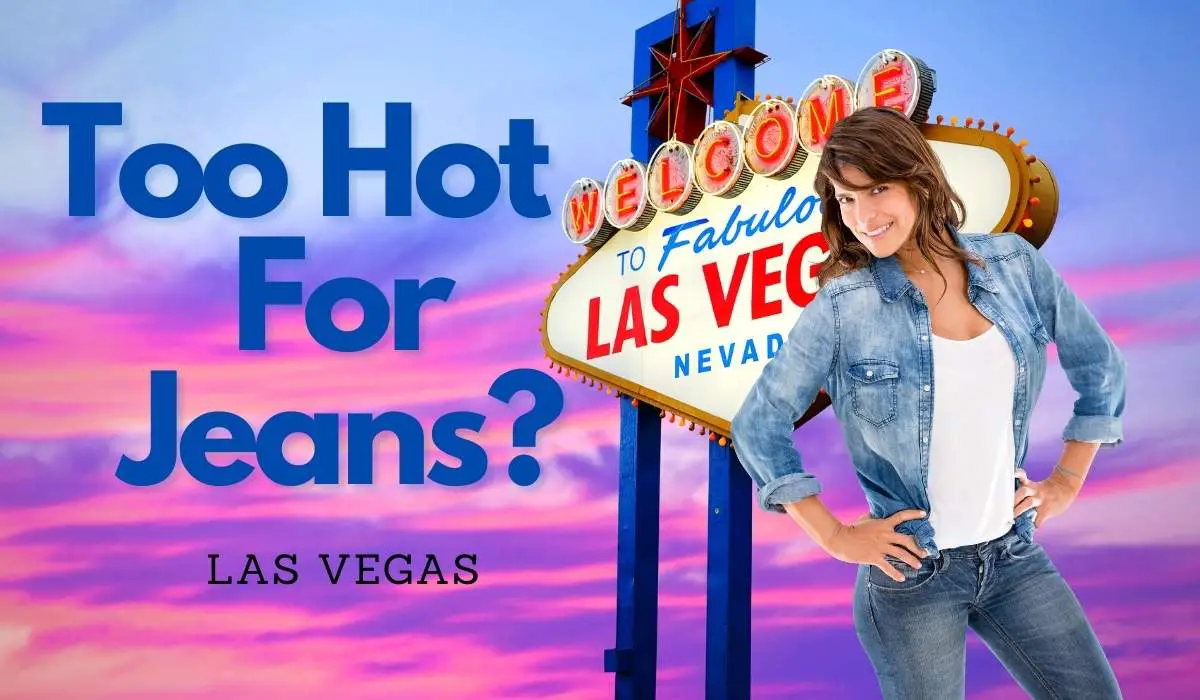 When To Wear Jeans in Las Vegas
According to World Atlas, Las Vegas is the third hottest city, just behind Phoenix & Tucson in the US. So, your outfit choices should respect this if you want to remain comfortable while you're here.
Although there's no denying the appeal of jeans, the heat may convince you to explore other options if you'll be spending time outdoors. However, there are some scenarios where wearing jeans in Las Vegas is okay:
Okay To Wear Jeans When Spending Time Indoors
Most first-timers to Las Vegas look forward to gambling in casinos, dining at the finest restaurants, shopping, or other indoor activities. And many establishments have air conditioning systems always running.
By wearing lightweight clothes, you may have avoided the desert's scorching heat but find yourself becoming too cold inside resorts, restaurants, and theaters. Hence, if you know you'll spend the most of a day indoors, you can wear jeans to keep warm. 
Moreover, you may have your vehicle with AC to keep you comfortable when traveling from place to place. Also, most Uber drivers will keep their cars cool and comfortable when riding mid-day, so you won't need to worry if you're wearing jeans.
Jeans For Early Morning and Late Evening Walks
If there's any reason for you to leave your Vegas hotel at early dawn or late dusk, you can get away with wearing jeans (although during the summer, it will still be hot).
The temperature is cool at sunrise and after sunset compared to the conditions in afternoons when it peaks.
Live Science explains that deserts aren't too hot during these times because the sand doesn't radiate heat from the sun to superheat the air. So, jeans won't only be comfortable but also practical on chilly evenings during early spring and late fall.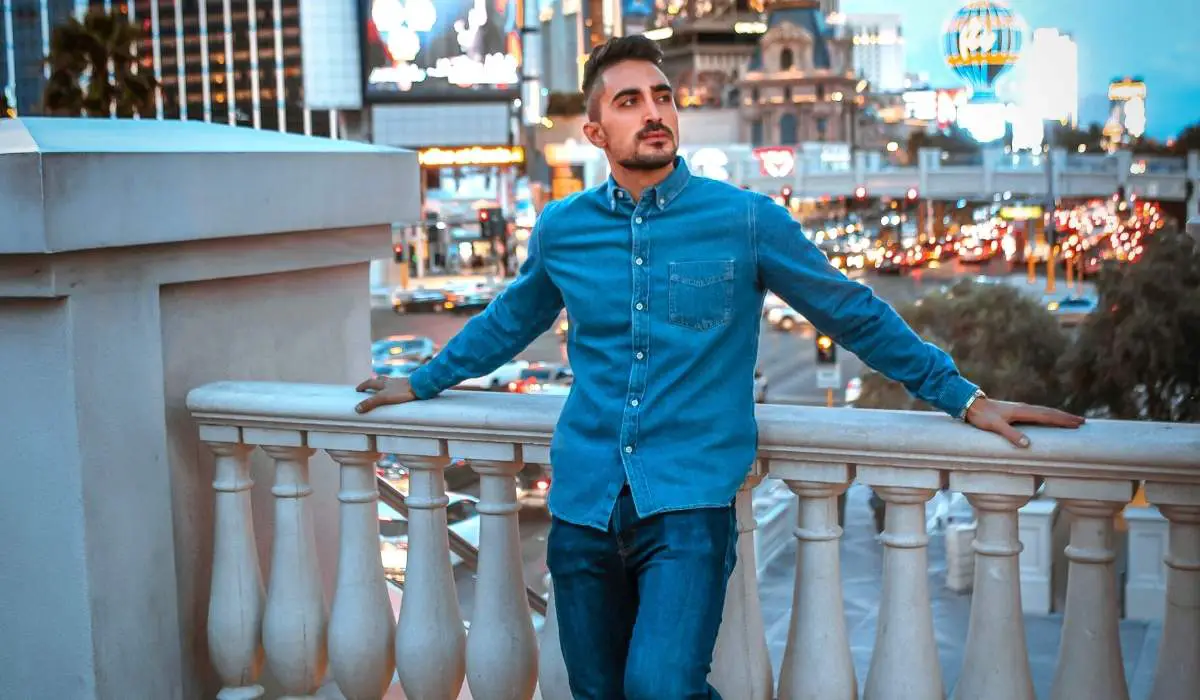 Winter in Vegas is The Ideal Time To Wear Jeans
Even though Las Vegas is known for its heat, the city still has four major seasons, including winter. And while frigid blizzards may force those in Nebraska indoors, it tends to be still quite nice in Vegas during the day.
In the coldest months (December and January), the minimum daily temperature on average is 39 °F (3.9 °C). And the maximum daily temperature on average is 57 °F (13.9 °C).
So, you'll see more people wearing jeans in Vegas during this period than in the summer.
Being in located in a high desert, the Las Vegas daily temperatures during the winter peak around midday, but the temperature drops quickly once the sun goes down. This makes winter evenings in Vegas a great time to break out the denim jeans.
When Not To Wear Jeans in Las Vegas
Heat is always your concern when contemplating whether or not to wear jeans in Vegas. And as I've discussed, it's sometimes okay to wear them, but not always, especially in these cases/periods:
Avoid Jeans During Summer
Wearing jeans in Las Vegas during the summer period (June to September) is not advisable.
It can quickly get too hot, which will be uncomfortable and embarrassing when you start sweating profusely. 
Often, temperatures at night can still be as high as 100 °F (38 °C).
In the hot months, the average temperature (day and night combined) is 82.1 °F (27.8 °C). The lowest possible temperature at night is 70.1 °F (21.1 °C), and if you're not so lucky, your thermometer can easily read 115 °F (46.1 °C) here during the day.
So, instead, do what most people do and wear a simple pair of shorts or a skirt (which can be denim material if you're really committed to this fabric) in the summer. If you insist on jeans, opt for a baggy pair or even torn ones to allow for some airflow (although I don't think it will help enough).
If you've ever experienced Vegas's sweltering heat, you may never consider wearing jeans again when it's hot outside.
Since it is can get so hot, you may be wondering if you should even visit Las Vegas in the summer. To learn more about visiting Las Vegas in the summertime, click the link above to read my article on this topic.
Don't Wear Jeans Outdoors at Midday in Vegas
Las Vegas has a ton of fun things to do outside. So if you're planning to head outdoors during the day, consider wearing pants other than jeans.
Even at its coldest, the midday sun in Las Vegas can be intense. Even if the air is cold, and depending on your activity, winter afternoons may still be too warm for jeans, so imagine how it'll feel during the other seasons.
With the sun shining brightly along with the dry air, wearing jeans is simply too hot when you know most of your day will be spent outdoors.
If you still choose to wear jeans and need to cool off a bit, don't hesitate to enter a hotel, casino, restaurant, or attraction to get out of the sun. Take a quick bathroom break, buy some snacks if it's a restaurant, or simply sit in an indoor public area to cool off.
Sometimes, unforeseen reasons may force you to spend more time in the sun than anticipated, so it's best to avoid uncomfortable clothes altogether when visiting Las Vegas.
Don't Choose Jeans When Engaged in Vigorous Activities
In Vegas, any sporting activity, dancing, partying, etc., can cause you to break into a sweat. Thus, wearing jeans will increase your discomfort.
If you insist on wearing jeans, just try to tone down any physical activity to the bare minimum – you won't be able to do much with tight denim pants. 
Final Thoughts
In general, it is too hot to wear jeans in Las Vegas for most of the year, especially in summer. Winter is the only season cool enough for jeans, and even then, you may find them too warm depending on your chosen activities.
Wearing jeans in Las Vegas can be okay if you're planning to spend most of your day indoors in a casino, restaurant, mall, etc.
But wearing jeans is not advisable when you will be outdoors for longer periods. And shorts are better for any activity that will demand some physical effort. 
In the end, it all comes down to your heat tolerance.