7 Casual Dress Code Clubs in Vegas (& What to Wear)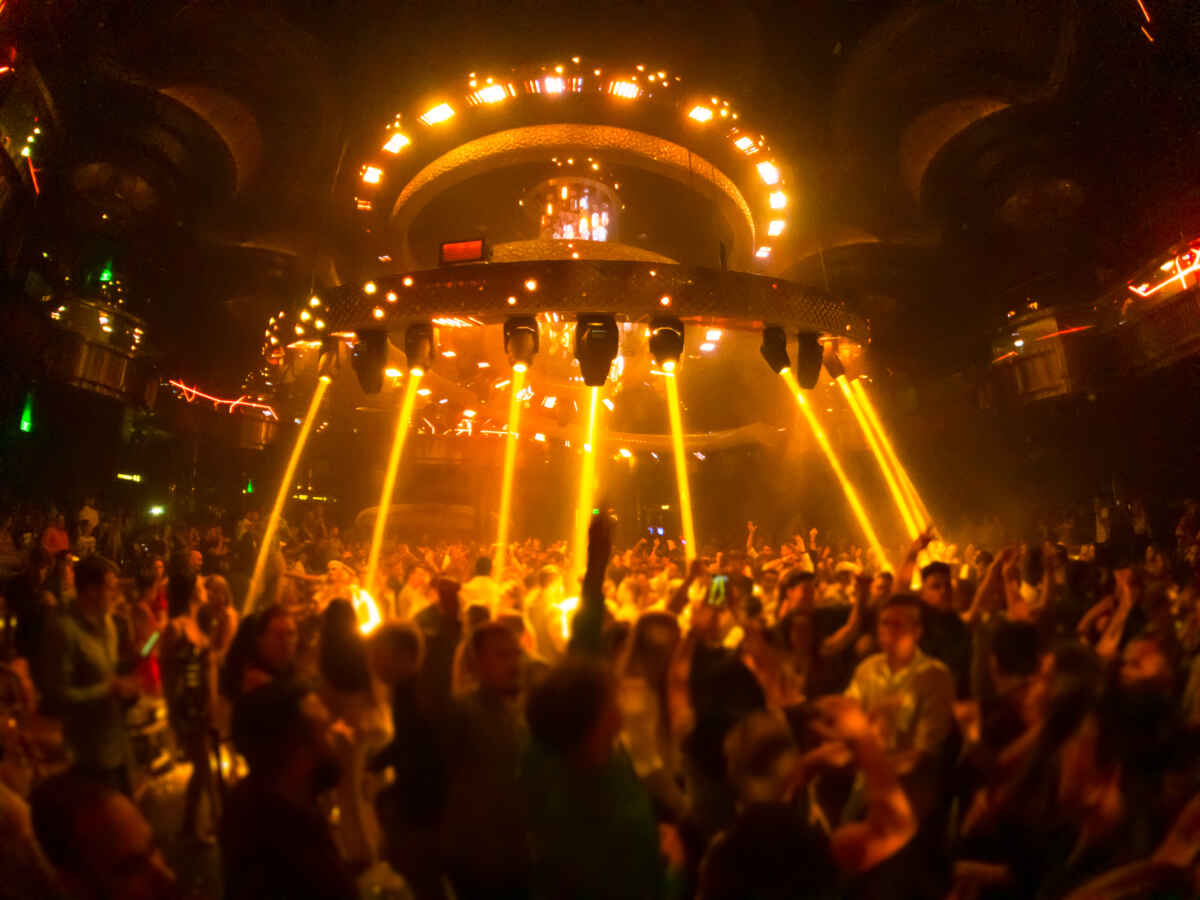 (This article may contain affiliate links, which means we might earn a small commission if you click and make a purchase. Thank you!)
People come to Vegas for different reasons; some want the upscale experience of five-star hotels and fine-dining restaurants, while others just want to dance and have fun without worrying about ridged dress codes. If you're part of the latter group, you could use a list of Vegas clubs with more casual dress codes.
Most clubs in Las Vegas have official dress codes, but they can be pretty lax with the rules and will allow you to walk in as long as you're not wearing something extremely inappropriate. Such clubs are XS, Drai's, and EBC at Night. You can also check out Zouk, KAMU, and Embassy.
If you want to know more, keep reading, as I'll discuss these Las Vegas nightclubs' official dress codes and give you more information about each. Let's get started!
1. KAMU Ultra Karaoke (Casual)
If you like karaoke, you shouldn't miss the chance to check out KAMU Ultra Karaoke, the ultimate place to party all night with your friends in private karaoke lounges. This unique club, located inside the Venetian Hotel, has group packages, offering a fantastic atmosphere, drinks, and food for your party.
A bonus advantage of KAMU is that it has no dress code! You'll be in your own lounge with your group, so it's reasonable that this venue doesn't really require you to wear something specific. You can dress very casually or wear something nice to show off; the choice is yours.
However, to enter the hotel, you should wear a shirt and proper shoes, so you can't go in just a swimsuit or something extremely revealing. In any case, just jeans or shorts with a shirt or t-shirt is enough.
KAMU is an excellent option if you're visiting with a large group and want a more intimate and fun atmosphere. It's particularly recommended for bachelor or bachelorette parties because it allows you to have a great time with your friends and loved ones in a private setting.
This place offers 40 lounges of different sizes that you can book from KAMU's website or by calling the place. It's open from 6:00 a.m. until 5 a.m. most of the week, except for Fridays and Saturdays when it opens at noon.
2. TAO Asian Bistro & Nightclub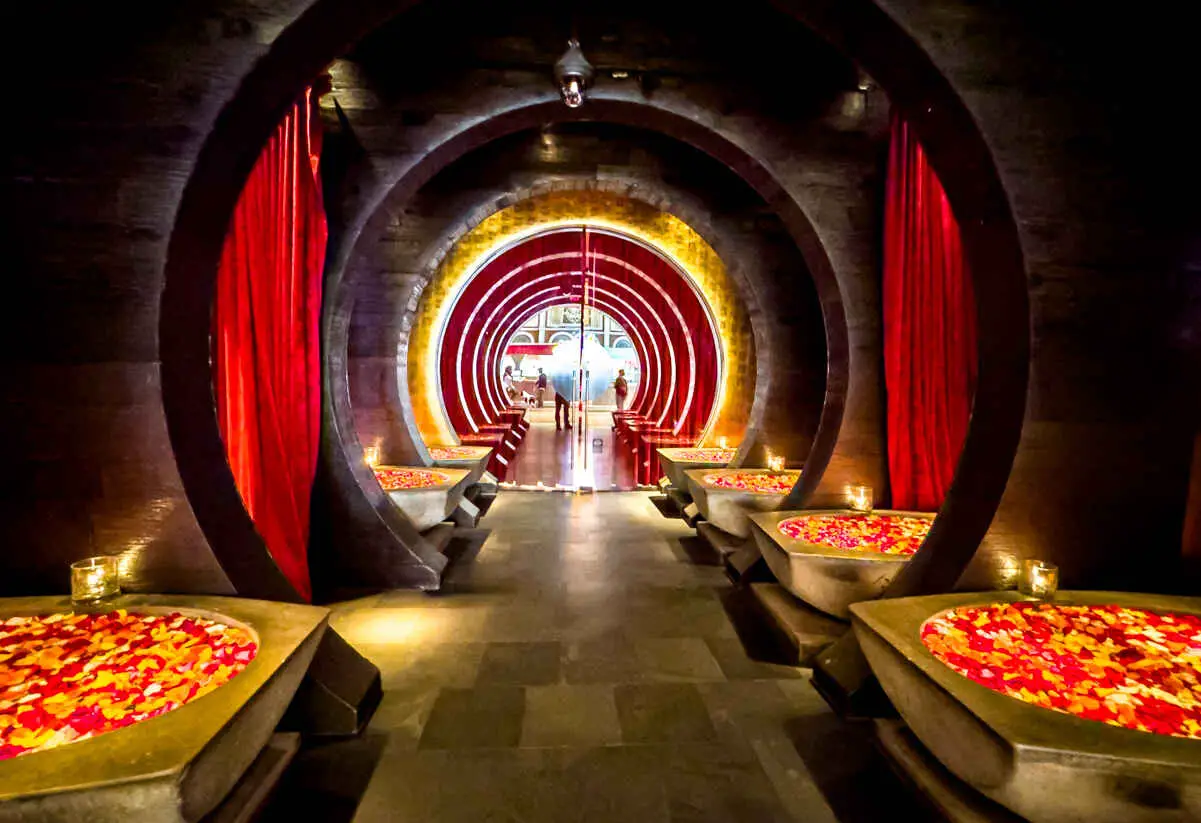 TAO Asian Bistro & Nightclub is one of the most famous nightclubs in Vegas. It's a modern and upscale place with an Asian theme, which is evident in the decor and food. It includes three different bars, two dancefloors, and several rooms where you can dance, drink and eat.
According to TAO's official website, this club has an upscale-casual dress code, which means that you should avoid wearing sweatpants and baggy clothes, as well as sandals or hats. However, several reviewers have noted that this dress code is not always enforced and that you can come in just your t-shirt and jeans.
Moreover, if you get a table in the VIP section, security may still let you in, even if you're wearing shorts or athleisure. As is the case with most clubs on this list, the dress code targets mostly men, while women guests can wear pretty much anything that's not too inappropriate.
In general, you should try to avoid excessively revealing clothes and offensive t-shirts wherever you go, so that you don't make other guests uncomfortable. If you want to adhere to the upscale-casual dress code, you should wear a shirt with dress pants or jeans that aren't ripped or "distressed" and preferably a blazer if you're a man. Women can wear pants and shirts or dresses and heels.
TAO is one of the best places to visit if you enjoy the fusion of Asian cuisine and decor with a great party atmosphere. You can also visit the restaurant during the day for a drink or brunch. This place is open on weekdays, from 10:00 a.m. until 12:00 a.m., and on weekends, from 10:00 a.m. until 1:00 p.m.
You can learn more details about how to dress for TAO in our article: Tao Nightclub Dress Code (What to Wear at Tao Las Vegas)
3. Encore Beach Club at Night (EBC) – Pool Parties
Encore Beach Club at Night is another awesome club that has a massive dance floor, three bars, and an outside clubbing area with cabanas and VIP booths by the pool. At EBC, you can party with the world's most famous DJs and have the time of your life. It's a great, upscale club that you should definitely check out while in Vegas if you enjoy clubbing.
The official dress code of EBC allows guests to come in casual attire, including shorts and hats. However, you shouldn't show up wearing swim trunks or sweatpants. You can just wear nice jeans and a button-up shirt, and you'll be fine, but even if you break some of the rules, security may let you in most of the time, according to recent customers.
EBC hosts EBC Night Swim parties when the pool is open, and everyone can party and swim. In this case, swimwear is recommended, as are shorts. Women can also wear more revealing outfits but not underwear or something too inappropriate. Banana hammocks aren't allowed for men.
ALSO SEE: Men's Style Guide to Las Vegas
Generally, as long as you avoid too revealing or too baggy clothes, you'll be able to enter EBC at Night. If you're getting bottle service, the security is even more lax, so they might look the other way and allow even some of the prohibited items in the dress code. However, to be safe, you can at least wear jeans and a collared shirt, and you won't have any problems.
EBC at Night is one of the most upscale clubs in Vegas, but it's generally lax when it comes to dress codes. This place is open on Wednesdays, Fridays, and Saturdays from 10:00 p.m. until 4:00 a.m.
RELATED: What Club Is in ARIA Las Vegas? (JEWEL Nightclub Revealed)
4. XS Nightclub (A Top Vegas Nightclub)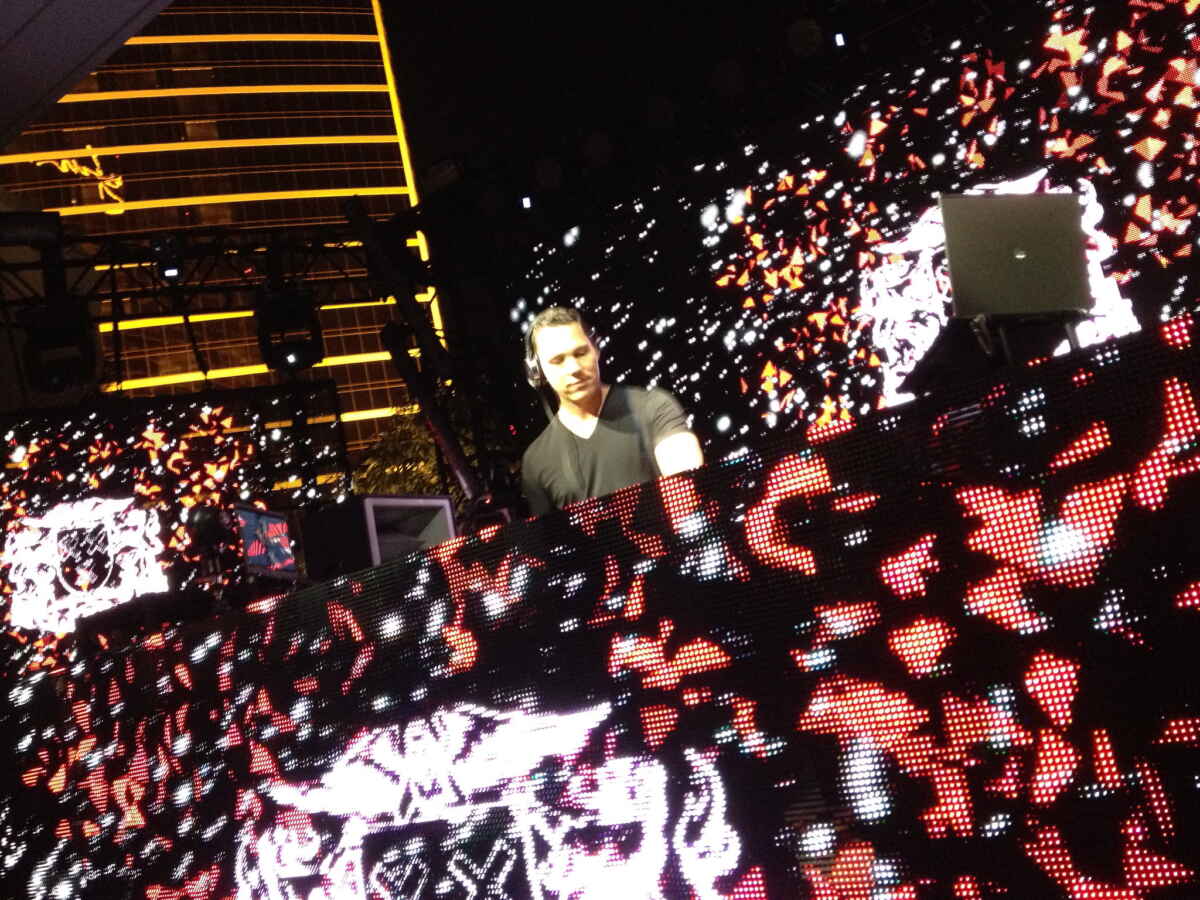 XS Nightclub has been a Las Vegas fixture for more than a decade. This place has topped the list of top-grossing clubs in the United States for several years, which should tell you exactly how successful it has been and continues to be. XS is one of the most luxurious clubs in Vegas, offering a massive dance floor and top-quality audio and visual effects.
Keeping all the above information in mind, you may wonder if this club shouldn't be on this list. However, as luxurious and exclusive as XS seems, it has a pretty lax policy regarding its dress code. Security will let you in even if you break some rules, but just make sure you're decent enough.
You can find a more detailed explanation of XS Nightclub's dress code and what to wear on our website here. It basically says that you can wear anything within reason. For instance, baggy, stained, and torn clothing is prohibited, so as long as you avoid these, guys should be able to get away with just form-fitting khakis and a simple collared shirt.
Avoid any offensive t-shirt prints since they tend to be frowned upon by security. Additionally, you may want to stay clear of sandals or work boots, which aren't that suitable anyway for dancing in a nightclub.
I should reiterate that most clubs are more forgiving with female guests than with male guests. Generally, a woman will have no trouble getting into XS as long as she's not wearing excessively revealing clothes or a bikini.
Speaking of swimsuits, XS hosts a pool party every Sunday called Sunday Night Swim, so swimwear is allowed in this case. However, you shouldn't use underwear as swimwear or wear robes.
Generally, as long as you wear something casual and simple, you can get inside one of the best nightclubs in Vegas. You'll have the chance to dance inside this massive space and enjoy live performances from world-famous musicians as well as the best DJs. 
XS is open from Friday to Sunday, from 10:00 p.m. until 4:30 a.m.
5. Drai's Nightclub
Drai's Nightclub is yet another luxurious and upscale club that's located on the rooftop of The Cromwell. It offers both indoor and outdoor party areas, with massive dance floors, multiple bars, and amazing audio and video effects. It also promises an unforgettable experience with the best DJs in the world.
Like all nightclubs, there's a certain dress code that you should respect if you want to enter this place. However, it's pretty casual, so you don't have to go out of your way to wear something fancy if you don't want to. Generally, security will allow you to get in as long as you're not wearing something too crazy or revealing.
You should avoid wearing athleisure, swimwear, sandals, hats, or baggy clothing. Ideally, you can show up wearing a button-up shirt and form-fitting slacks if you're a male guest or a nice dress and heels if you're a female guest.
If you have a VIP table reservation, security will probably let you in no matter what you're wearing, but you may want to dress a certain way just to fit in with the rest of the crowd. And as always, women have many more options since they typically don't get turned away. They can wear jeans or dresses or even a more casual athleisure outfit, and they'll probably still get in.
Drai's also hosts swim parties at Drai's Beach Club. You can wear a swimsuit during pool parties, but you must wear a shirt to enter the hotel. 
The nightclub is open from Friday and Saturday, 10:00 p.m. to 4 a.m., and the beachclub is open Friday and Saturday from 11 a.m. to 5 p.m.
For more dress code specifics also see: Drai's Nightclub Dress Code (What to Wear – Drai's Las Vegas)
6. Zouk
Zouk is a relatively new club in Vegas that's located at Resorts World. It's a massive nightclub with multiple bars and different areas to enjoy a drink and dance with your friends. It's quite an upscale place, with state-of-the-art technology when it comes to audio and lighting. At Zouk, you will have the chance to party to the mixes of some of the world's hottest DJs.
Even though it's a pretty high-end club, Zouk has a relatively lax dress code. As you can imagine, torn and stained clothes, caps, and sandals are still frowned upon or even prohibited in some cases, so you need to make sure you can wear something that won't make security turn you away.
However, it's pretty easy to adhere to the dress code of Zouk since it's casual. A casual dress code means that anything goes, as long as you don't wear something inappropriate or offensive. You can wear nice jeans, a collared shirt, and casual dresses. You don't need to find a crisp shirt and dress pants to enter this club.
Once again, these rules probably won't apply if you've reserved a VIP table unless you're wearing only swim trunks or something similarly inappropriate. Additionally, the rules are also more relaxed for women, so they can wear pretty much anything that's not too offensive.
Zouk can offer you the quintessential clubbing experience, with a wonderful dance floor, plenty of different bars, and amazing lighting technology. If you want to enter Zouk, you can wear something casual and just be fine.
Also, Zouk is frequently part of the Las Vegas Club Crawl's lineup. The Club Crawl is a three-minute walk from the Waldorf Astoria, so you can consider making it part of your itinerary if you're a guest at the hotel. Check out my article on other fun activities to do when you stay at the Waldorf Astoria. [19 Best Things To Do at the Waldorf Astoria in Las Vegas] (coming soon)
Zouk Nightclub is open Thursday to Saturday, from 10:30 p.m. until 4:00 a.m.
7. Embassy Nightclub
Embassy Nightclub is located off the Strip, and it's one of the most unique clubs in Vegas. It's a lively and casual place that has multiple bars and spaces for you to enjoy. The best part is, of course, the dance floor, where you can dance to hip-hop, reggaeton, and Latin rhythms all night.
The dress code of Embassy Nightclub is similar to most of the places I've described above. Officially, its dress code is casual, which means you can wear pretty much anything that's not athleisure or swimwear. Generally, the security will let you in as long as you're not wearing something too baggy or torn.
Jeans or other nice pair of pants and a t-shirt are acceptable for men and women. Women, in general, have more leeway, so they can wear a variety of styles with no problem, as long as it's not something super revealing that might make other guests uncomfortable. But, as always, if you have a VIP reservation, you're more likely to be allowed to come in even if your outfit's too casual.
Embassy is a great place to check out if you're not into EDM but still want to enjoy a night of dancing and fun. You may also have the chance to see live performances from many local stars and world-famous artists. 
This club is open only on Fridays and Saturdays, from 11:00 pm until 5:00 a.m.
A Word About Vegas Nightclub Dress Codes
The thing to know about Las Vegas nightclub dress codes is they are more about what not to wear than what specifically to wear.
When it comes to Las Vegas nightclub dress codes, it's important to remember that they are designed to maintain a certain level of decorum and ambiance within the venue. While there is no specific dress code that applies to all nightclubs in Las Vegas, there are some general guidelines that you should keep in mind.
Firstly, it's important to note that Las Vegas nightclubs tend to have a more upscale dress code than your average club. This means that you should generally avoid wearing anything too casual or revealing. For example, shorts, flip flops, tank tops, and athletic wear are generally not allowed.
Instead, opt for slightly more formal attire such as a dress or slacks. Women can wear a cocktail dress or a skirt and blouse, while men can wear dress pants and a collared shirt. Remember to also wear appropriate footwear, such as dress shoes.
In addition to these guidelines, it's also important to be aware of any specific dress code requirements that may apply to the Vegas nightclub you plan to visit. Some clubs may have specific themes or events requiring a certain attire, such as a formal gala or a costume party.
Overall, the key to dressing appropriately for a Las Vegas nightclub is to avoid anything too casual, sloppy, revealing, or inappropriate. By following these guidelines, you can ensure that you are dressed to impress and ready to enjoy a night out on the town in Sin City.
Vegas Nightclubs Dress Code – Final Thoughts
In conclusion, Las Vegas is home to a variety of casual dress code clubs that offer a fun and relaxed atmosphere for those looking to enjoy a night out on the town. From poolside parties to rooftop lounges, there is something for everyone in this vibrant city.
Whether you prefer a laid-back vibe or a more upscale experience, these clubs cater to a diverse range of tastes and preferences. So if you're planning a trip to Vegas and want to experience the city's nightlife scene in a more casual setting, be sure to check out these 7 clubs!