9 Best Aquariums in Las Vegas (Top Aquarium Guide)
(This article may contain affiliate links. If you click through and make a purchase, we will receive a small commission at no additional cost to you. )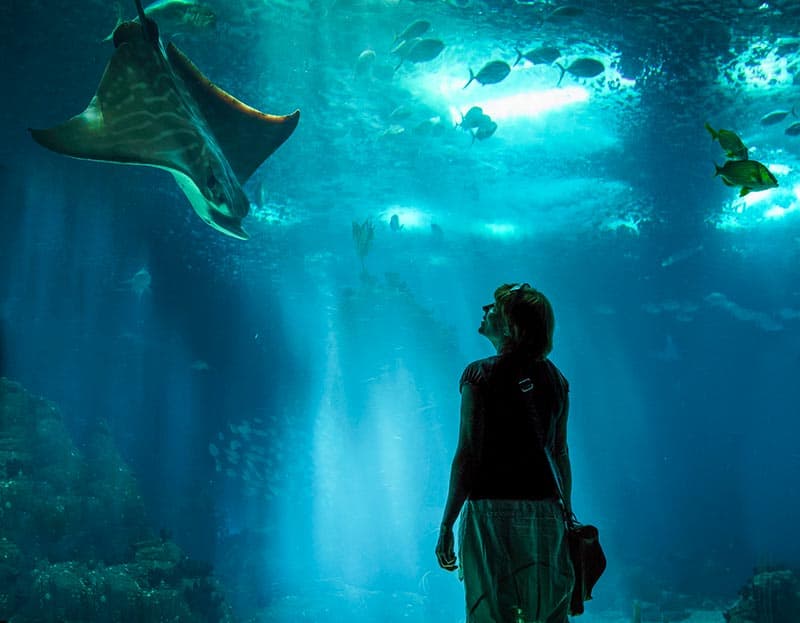 I'm an aquarium guy. I've been keeping saltwater aquariums off and on for the last 30 years. But I gave it up when we moved to Las Vegas. We've been traveling quite a bit, and I figured it would be just too difficult to maintain an aquarium if we weren't around all the time.
So imagine how happy I was to discover that Las Vegas is home to some of the best and biggest aquariums in the country! You're definitely going to want to check out one or more of these tanks when visiting Las Vegas.
Top Vegas Aquariums at a Glance
The table below will give you a quick overview of the Vegas aquariums I'll be telling you about in this article.
Aquarium

Type

Hours

Fee

Total
Gallons
Shark Reef at
Mandalay Bay
Fresh &
Saltwater
Every day 10am – 8pm
Paid
1.6 million
The Aquarium
at the Silverton
Hotel
Saltwater
Open 24/7
Free
117,000
The Tank at
Golden Nugget
Saltwater
Seasonal


May 5th – Sept. 25th


(10 am – 7 pm)
Paid
200,000
SeaQuest
Fresh &
Saltwater
Every day 11am – 7pm
Paid
36,000+
Bass Pro Shops
Outdoor World
Freshwater
Mon-Sat 9am – 9pm
Sun 10am – 7pm
Free
40,000
The Atlantis
Aquarium at the
Forum Shops
Saltwater
Daily from
10am – 9pm (10pm weekends)
Free
50,000
The Aquarium at
Mirage Las Vegas
Saltwater
Daily 24/7
Free
20,000
Chart House
Aquarium
Restaurant
Saltwater
Mon-Thur: 4pm – 10pm
Fri-Sat: 12:00pm – 10:00pm
Sun: 12:00pm – 10:00pm
Happy Hour: M – F (4pm – 6pm)
Entry is
Free
75,000
Zappos Nap
Aquarium
Saltwater
Weekdays
Paid
3,500
Las Vegas is home to some incredible displays of fresh and saltwater aquariums. They're big and spectacular for sure, and just like Las Vegas, they'll full of pizzaz! Keep reading as I discuss each of these best aquariums in more detail.
Shark Reef Aquarium at Mandalay Bay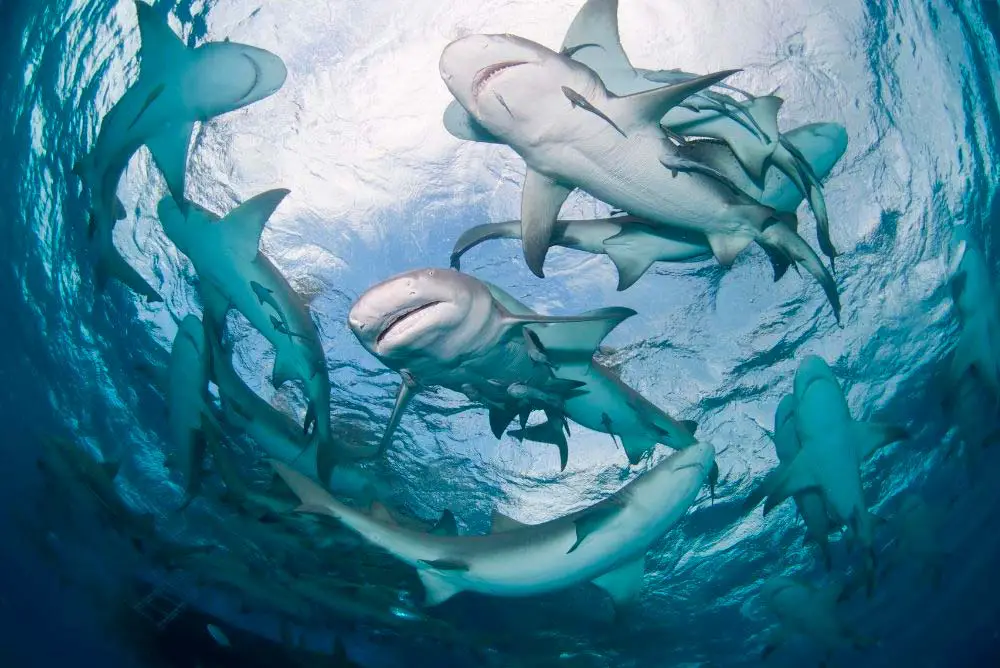 Shark Reef Aquarium at the Mandalay Bay Resort and Casino is the city's best aquarium. True to form, this Las Vegas aquarium is more than just a simple tank with fish. The Mandalay Bay aquarium is themed as an ancient temple that is slowly sinking into the sea.
You'll enter the temple above ground. This area is home to dangerous animal predators in exhibits ranging from Golden Crocodiles to Komodo dragons to snakes. As you continue walking and start to sink beneath the water level, you'll encounter turtles and schools of man-eating Piranha.
Finally, you'll enter the underwater shark tunnel, where you'll be surrounded by over 100 sharks. Fifteen different shark species in total, along with exotic fish, stingrays, and other creatures of the deep.
The Shark Reef Aquarium first opened its doors in June of 2000. The entire Mandalay Bay hotel and casino was designed around the idea of this massive 1.6 million gallon aquarium comprising 14 exhibits, including a touch pool, and containing over 2,000 animals in all.
Shark Reef also allows guests to book different animal encounters, including up close and personal interactions. On these VIP tours, you'll have a chance to be able to feed stingrays, sea turtles, and sharks. They even offer the option of scuba diving with the sharks. Yikes!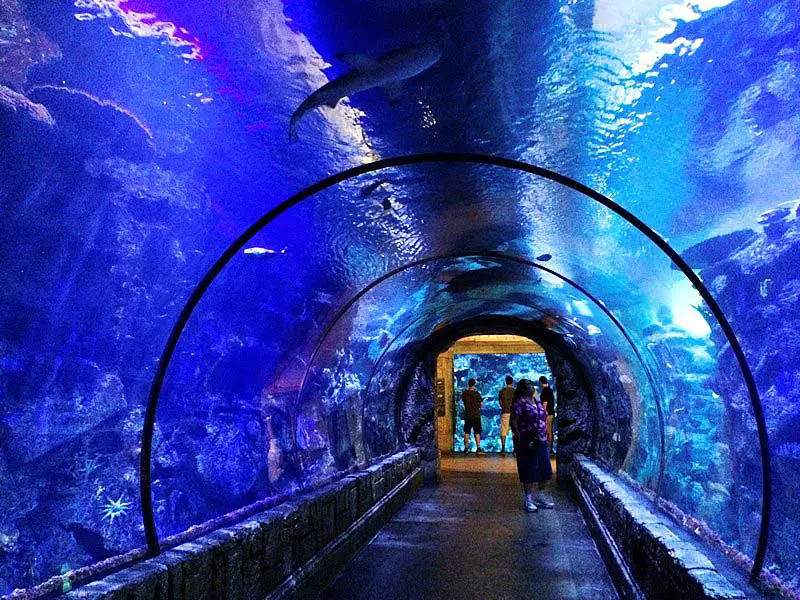 Shark Reef has over 1 million visitors each year and, in 2003, became Nevada's first animal facility to gain accreditation from the National Association of Zoos and Aquariums (AZA). The aquarium not only provides education and entertainment, but its cutting-edge facilities also provide conservation and research programs.
Shark Reef is open from 10 am to 8 pm seven days a week (see the map at the end of the article for all the aquarium locations). Tickets can be purchased up to 1 hour before closing. You can check current ticket prices at vegas.com here.
For more information and photos of Shark Reef, make sure to see our article: Is Mandalay Bay Aquarium Worth It? PHOTOS! (Shark Reef Aquarium)
The Aquarium at the Silverton Hotel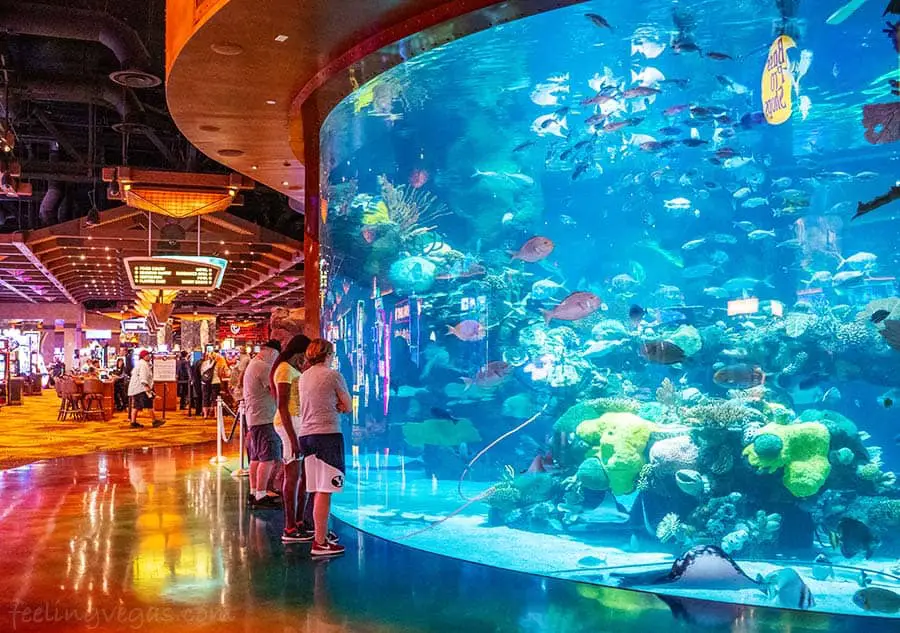 Love, love, love this one! As an aquarium enthusiast, I could sit and watch the Aquarium at the Silverton Casino for hours. This beautiful 117,000-gallon reef aquarium can make you feel like you're on a tropical vacation instead of in the middle of the Mojave Desert.
The tank houses thousands of colorful fish and three different species of sharks and stingrays. The marine biologists on staff at the hotel host daily feeding shows at 1:30 and 4:30 from inside the aquarium. These biologists use full facemask scuba gear and can communicate with guests during the feeding giving information about each animal while answering questions.
Mermaid Aquarium at the Silverton Casino
Honestly, all that is cool enough, but there's even more! Several times a day, Thursdays through Sundays, you can watch real live mermaids swimming in the tank with the fish! Before and after the Mermaid Swims (on Saturdays and Sundays), your kids can actually have lunch with one of the Mermaids.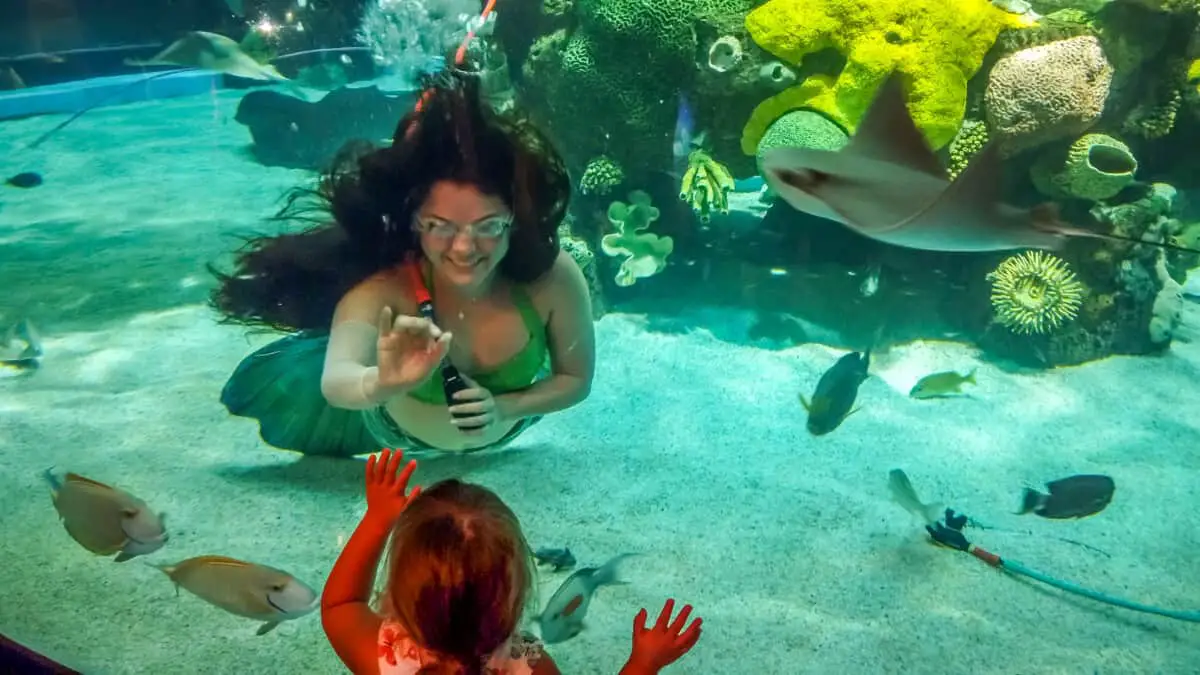 Mermaid Swim Show Schedule
A mermaid swims every 15 min between these times.
| | | | |
| --- | --- | --- | --- |
| Thursday: | Friday: | Saturday: | Sunday: |
| Noon – 1:15pm | Noon – 1:15pm | Noon – 1:15pm | 10:30am – 1:10pm |
| 2:00 – 3:15pm | 2:00 – 3:15pm | 2:00 – 3:15pm | 2:00 – 3:15pm |
| 5:00 – 8:15pm | 5:00 – 8:15pm | 5:00 – 8:15pm | 5:00 – 6:45pm |
In addition to the main tank, the Silverton Casino also has an area known as the Mermaid Lounge, where you'll find two 500-gallon jellyfish aquariums.
I saved the best part for last. The Aquarium at the Silverton Hotel is a completely free attraction and has been listed as one of the Best Free Attractions in Las Vegas! I'd definitely have to agree with that!
The Aquarium is part of the Silverton Casino & Hotel, and it's open 7 days a week.
The Tank – Shark Tank Swimming Pool at the Golden Nugget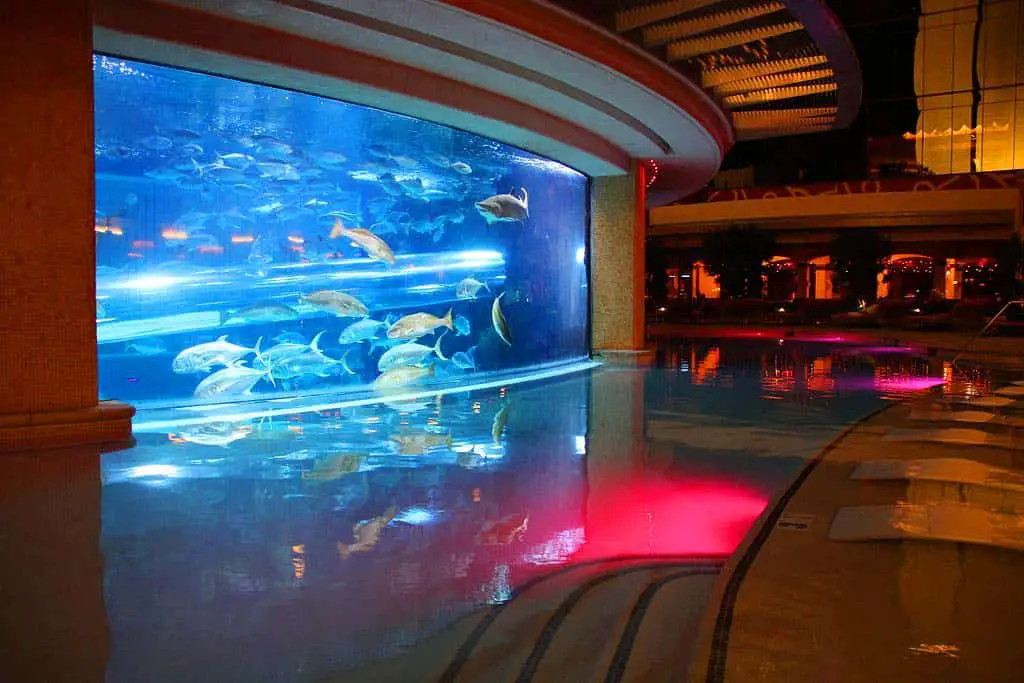 This killer design is known as "The Tank" at the Golden Nugget Casino in downtown Las Vegas. It's a swimming pool surrounding a 200,000 gallon shark aquarium with a waterslide running through the middle.
This is a seriously cool $30 million dollar aquarium and pool complex. At the top, it looks like a waterslide you'd find at any waterpark, but as you rush down the slide, the sides turn clear as you enter the shark tank. Suddenly you're surrounded on all sides by huge fish and even bigger sharks! Now that's my definition of fun!
If waterslides aren't your thing, then you may be happier sitting poolside in a comfy lounge chair or swanky cabana, watching these predators swim silently in their massive tank. There's also a nice waterfall and a bar to complete the luxury vibe.
The best seats in the house are the lounge chairs that are half-submerged in the pool. They'll keep you cool in the hot desert sun and give you the best view of the aquarium.
The hotel also offers an opportunity to take a guided tour through its behind-the-scenes shark facility. One of their marine biologists will show you the inner workings of the shark tank. You'll also get to experience feeding time! They even give you a shark's tooth to take home as a souvenir.
Pool hours are seasonal from May 5th to September 25th (10am – 7pm (10pm on weekends). After that, the pool is closed until May rolls around again.
SeaQuest Las Vegas Interactive Aquarium
When you discover SeaQuest Las Vegas, you'll be fully immersed in nature. Perfect for children and families, SeaQuest is a fully interactive attraction that walks you through several of the most important habitats on our planet.
What I really like about many of the aquariums here is that they are large open-top aquariums sitting on the floor, so you can view the tank inhabitants from the top and from the sides.
Also, there are several opportunities to interact with the animals. There is a large stingray tank where you can feed the hungry stingrays and give them a gentle pet. There is also an interesting touch tank full of starfish that the kids will really enjoy. You'll even have the chance to touch a shark!
In addition, many other tanks are full of colorful tropical ocean fish, brackish water, and freshwater fish.
From the desert to the rainforest as well as our earth's massive oceans, SeaQuest covers much more animal life than just the creatures found in the sea. You'll have the chance to view, feed and interact with many other types of animals, such as turtles, toucans, parrots, snakes, and other critters.
Approximately 1200 animals encompassing 300 different species call SeaQuest home.
SeaQuest is located a couple of miles off the Las Vegas Strip in the Boulevard Mall. They are open M – F from 10am to 9pm and on Sundays from 11am to 7pm.
Bass Pro Shops Outdoor World Aquarium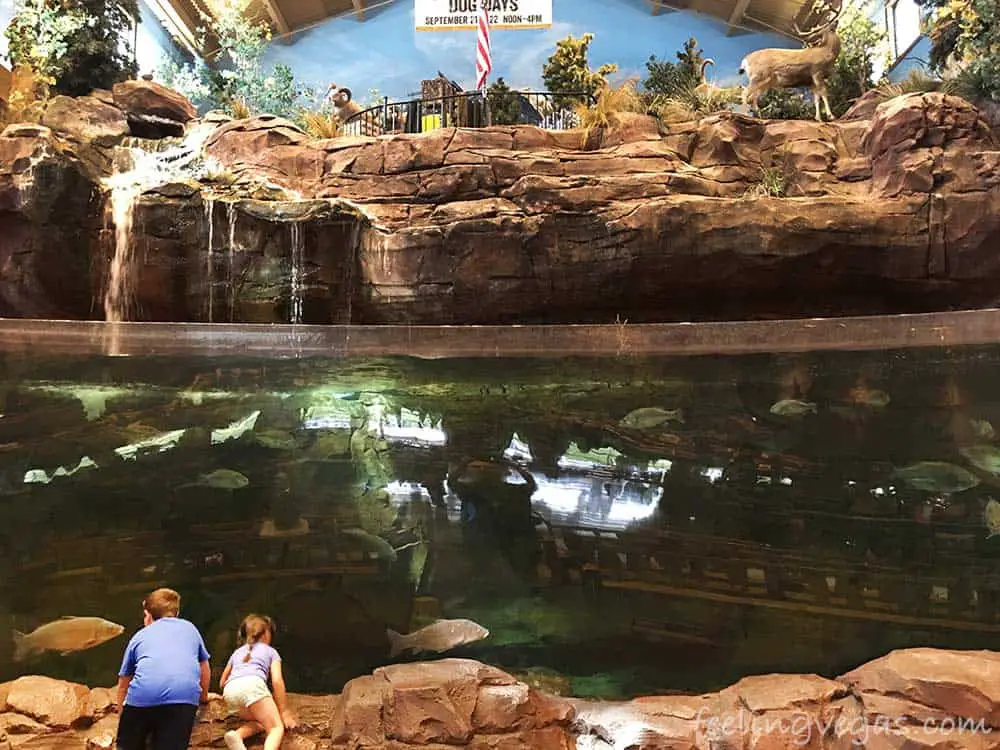 The Bass Pro Shops Outdoor World Las Vegas is next to The Aquarium at Silverton Hotel (see above). This huge Bass Pro Shops flagship store is full of anything and everything related to outdoor activities.
While the store itself is a worthwhile stop if you're into the great outdoors, it's the 40,000-gallon freshwater aquarium right in the middle of the store that I come to see.
The aquarium is fed by a large waterfall tumbling down the canyon rocks, reminiscent of the desert areas surrounding Vegas. The tank features large specimens of trout, bass, channel catfish, and carp.
This Bass Pro Shops location also features another aquarium containing additional trout. You can find it over by the Fly Shop.
The aquarium is a free attraction and makes for a great outing. Bass Pro Shops Las Vegas is open Monday – Saturday from 9am to 9pm and Sunday from 10am to 7pm.
(If you're into fishing, you'll want to know about the best fishing spots in and around Las Vegas. Check out our article: Where to Fish in Las Vegas: 14 Best Spots Revealed to find out more)
The Atlantis Aquarium – The Forum Shops at Caesars Palace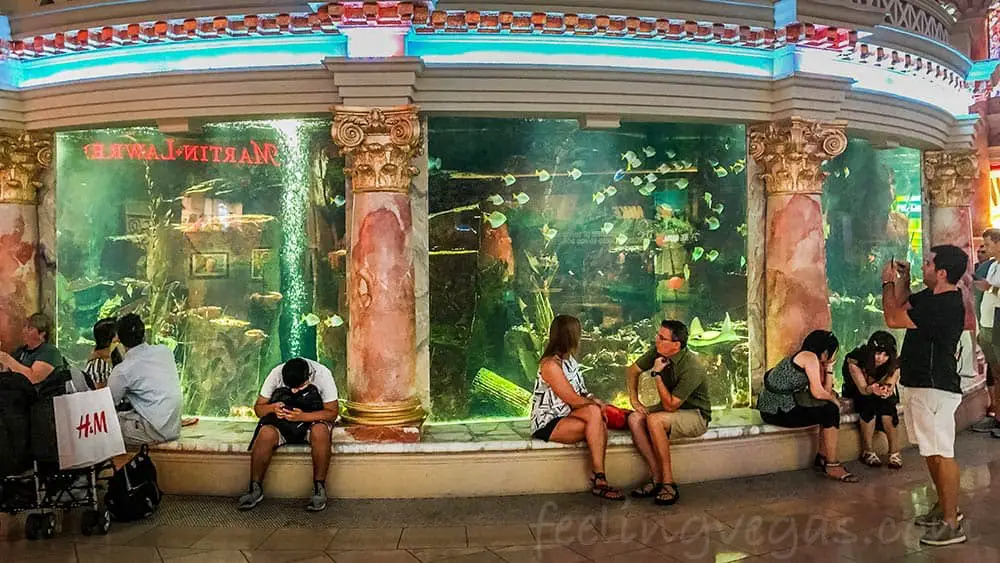 The Atlantis Aquarium is the first big fish aquarium I ever saw in Las Vegas. The first time I saw it was long before we moved here. Wendy and I were newlyweds; by then, she was certainly aware of my love of saltwater fish tanks. She'd spent more time in Las Vegas over the years than I had, and the first time we were in Vegas together, she insisted on showing me this tank. I was not disappointed!
The Atlantis Aquarium is a 50,000-gallon saltwater aquarium located in the middle of the Forum Shops at Caesars Palace. There are over 300 large and colorful fish swimming their way around the tank. The fish species include pufferfish, triggerfish, tangs, sharks, rays, and many more.
The tank is round, which I really enjoy because you can walk completely around it and see the aquarium from every angle. Also, the tropical fish can continuously swim without swimming to one end of the tank turning around, and swimming to the other end like most rectangular aquariums.
Twice a day at 1:15pm and again at 5:15pm, a diver enters the tank, and you can watch them feed the fish, which is really fun to see. There is also a free guided tour of the aquarium facilities located below the tank Monday thru Friday at 3:15pm.
Right next to the aquarium is the Fall of Atlantis Fountain Show. This is an impressive 7-minute show with talking animatronic characters, flames, special effects, and even a dragon. The show plays at the top of every hour starting at 11am.
Both the Atlantis Aquarium and show are completely free attractions located at the Forum Shops Mall at Caesars Palace.
The Aquarium at the Mirage Casino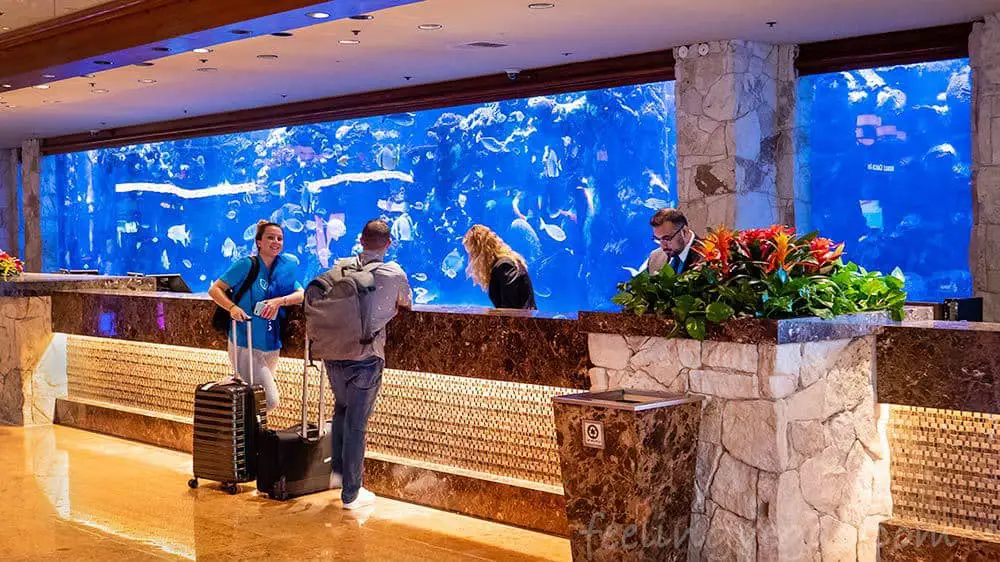 The Aquarium at the Mirage Las Vegas is a one-of-a-kind tropical saltwater tank that spans the entire length of the rather large check-in desk in the hotel's lobby. This 20,000-gallon aquarium is home to over 400 fish from tropical oceans worldwide. Including pufferfish, angelfish, butterflyfish, and even a large moray eel.
This Vegas hotel aquarium's interior is designed to look like a tropical coral reef, but The Mirage purposely chose not to use any living coral to help preserve the fragile coral reefs in the world's oceans.
The tank itself is approximately 53 feet long, six feet from back to front, and 8 feet tall. The acrylic used to build the aquarium is 4 inches thick.
The tank gets cleaned several times a week, and if you're there in the early morning hours, you may see the aquarists at The Mirage suited up and scuba diving through the aquarium, cleaning the artificial corals and acrylic.
The aquarium at the Mirage was rated 7th in the world for best hotel aquarium in 2011. The Mirage aquarium really is an eye-catcher, and it's probably the most-seen aquarium in Las Vegas. The aquarium can be viewed 24/7 but is best viewed during the day and early evening when the tank lights are on.
Compare rates and save! See current room rates at The Mirage (TripAdvisor).
The Chart House Aquarium Restaurant and Bar Las Vegas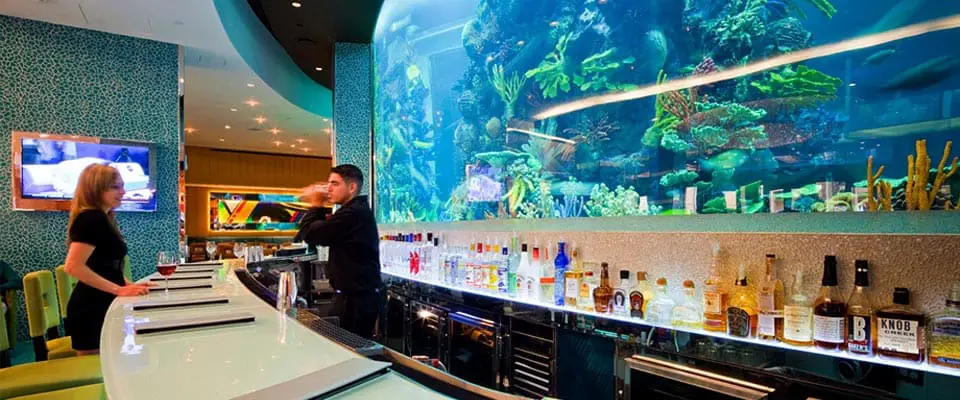 If you've heard about the "restaurant with an aquarium" in Las Vegas, this is the place! The Chart House is an upscale restaurant with an aquarium at the Golden Nugget Casino in downtown Las Vegas.
The aquarium is a 75,000 gallon tank housing a variety of tropical marine fish. The aquarium can be seen behind the bar as you walk past the restaurant, and although it's a spectacular view, I didn't realize for the longest time that the majority of the aquarium is only viewable from around the corner in the main dining room.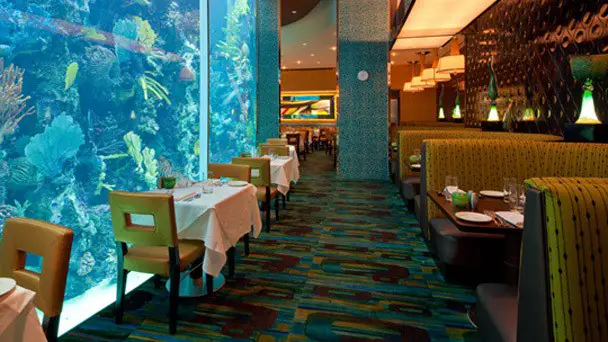 The aquarium is a curved tank that bows its way into the restaurant. While every seat in the house has a great view of the swimming fish, a select few tables are right against the glass and have an amazing view. It's like you're eating in an underwater tropical paradise.
The aquarium is free to view as you pass by, but you'll want to have dinner or happy hour drinks for the full experience.
The Chart House aquarium restaurant is open Mon – Thurs from 12:00pm to 10pm, Fri – Sat Noon to 10:00pm, and Sunday from Noon till 10:00pm. Happy hours are Monday – Friday, 4pm to 6pm.
Zappos Las Vegas Nap Room Aquarium
The aquarium at Zappos headquarters in downtown Las Vegas is not the biggest aquarium on this list. At only 3,500 gallons, it's pretty puny compared to all the others I've told you about. Having said that, however, in my opinion, this is one of the most cool aquariums in Las Vegas.
Zappos has built an entire nap room for its 1,500 employees. I love naps! Zappos is a company that believes in the productivity benefits of employees taking a 20-minute nap. So while it would be cool enough if Zappos built a nap room with an aquarium, that's not all they did.
They had the guys from the Animal Planet show "Tanked" (a local Las Vegas company) come in and build a custom 25-foot saltwater aquarium that I like to call the "Ultimate Nap Experience." They call it "Sleeping with the Fishes."
The nap room consists of several reclining massage chairs, each fitted into an alcove built entirely from acrylic. As you recline back, you're staring up at the aquarium as it arches over you. Colorful tropical fish are swimming to the right of you, the left of you, and above you as you doze off to sleep.
Unfortunately, the only way to get a nap in the aquarium nap room is to become an employee of Zappos (where do I sign up?), but you can check out the aquarium itself by taking a 90-minute guided tour of Zappos HQ.
Tours of Zappos Headquarters are available during the week, they cost $10 and you can reserve your spot by emailing them at [email protected].
Aquariums in Las Vegas Map
The interactive map below will help you find the location of each aquarium listed in this article.
RECOMMENDED: Best Animal Habitats & Zoos in Las Vegas (Wild Vegas!)
Final Thoughts
As you can see, Las Vegas has some pretty spectacular aquariums. From the iconic Shark Reef Aquarium at Mandalay Bay to the interactive SeaQuest at Boulevard Mall, there is something for everyone to enjoy.
The aquariums in Vegas offer visitors the opportunity to explore the depths of the ocean and witness some incredible marine life up close. Whether you're a local or a tourist, a visit to one of these aquariums is definitely worth adding to your itinerary.