Pinball Hall of Fame Las Vegas (Get Your Pinball On!)
(This article may contain affiliate links. If you click through and make a purchase, we will receive a small commission at no additional cost to you. )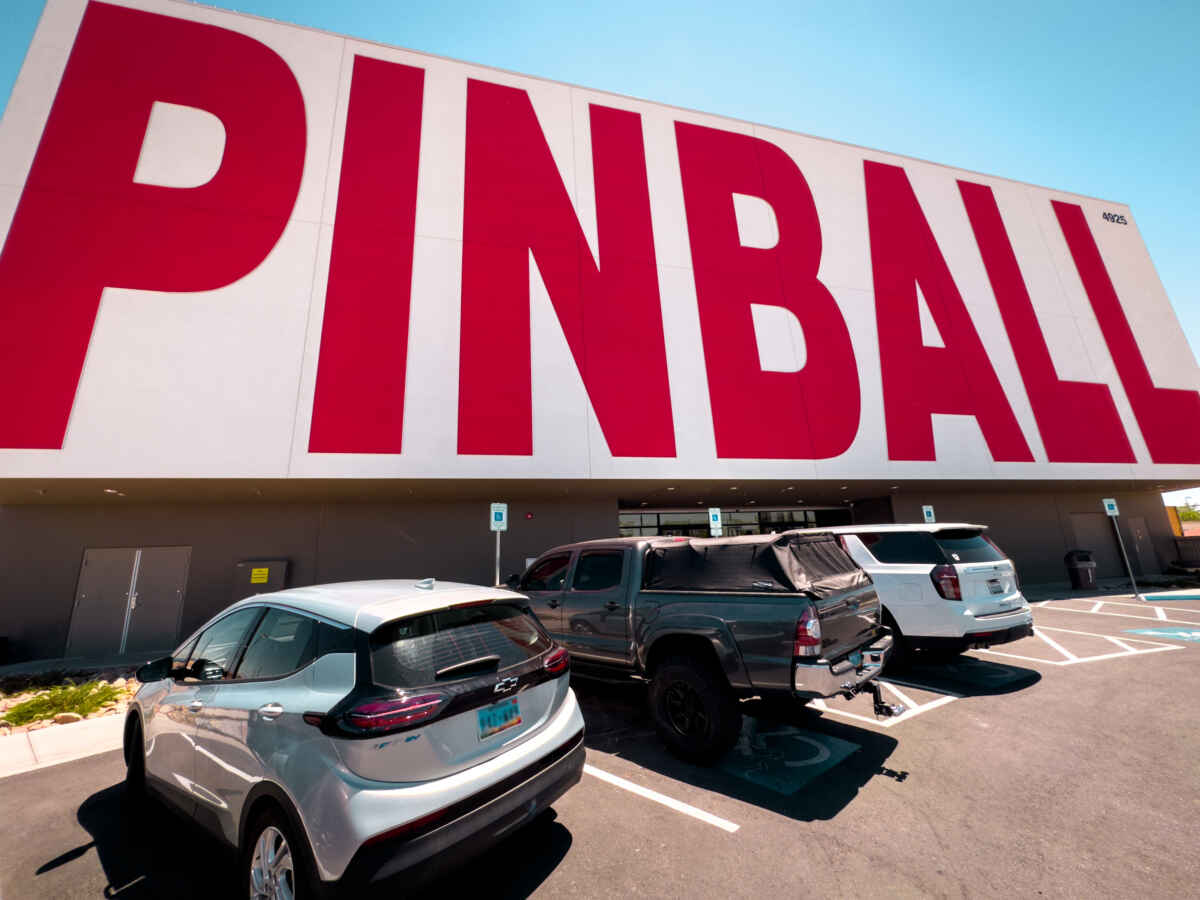 The Las Vegas Pinball Hall of Fame is a must-visit attraction for pinball enthusiasts and retro gaming lovers. Created by the Las Vegas Pinball Collectors Club, this interactive museum houses one of the planet's largest and most diverse pinball collections.
While visiting, you can play hundreds of classic and modern pinball machines, taking you on an exciting journey through the history of pinball.
Read on to discover why the Pinball Hall of Fame (PHoF) is a favorite stop for many Vegas locals and visitors looking for some low-key, affordable fun.
Key Takeaways
The Vegas Pinball Hall of Fame features an extensive collection of over 200 pinball machines (many playable).
Located on the Las Vegas Strip, it offers hours of entertainment for visitors of all ages.
Admission to the museum is free, and games cost between .25 and $1 per play.
The museum is a not-for-profit organization with a focus on community and charity involvement.
Pinball Hall of Fame Photos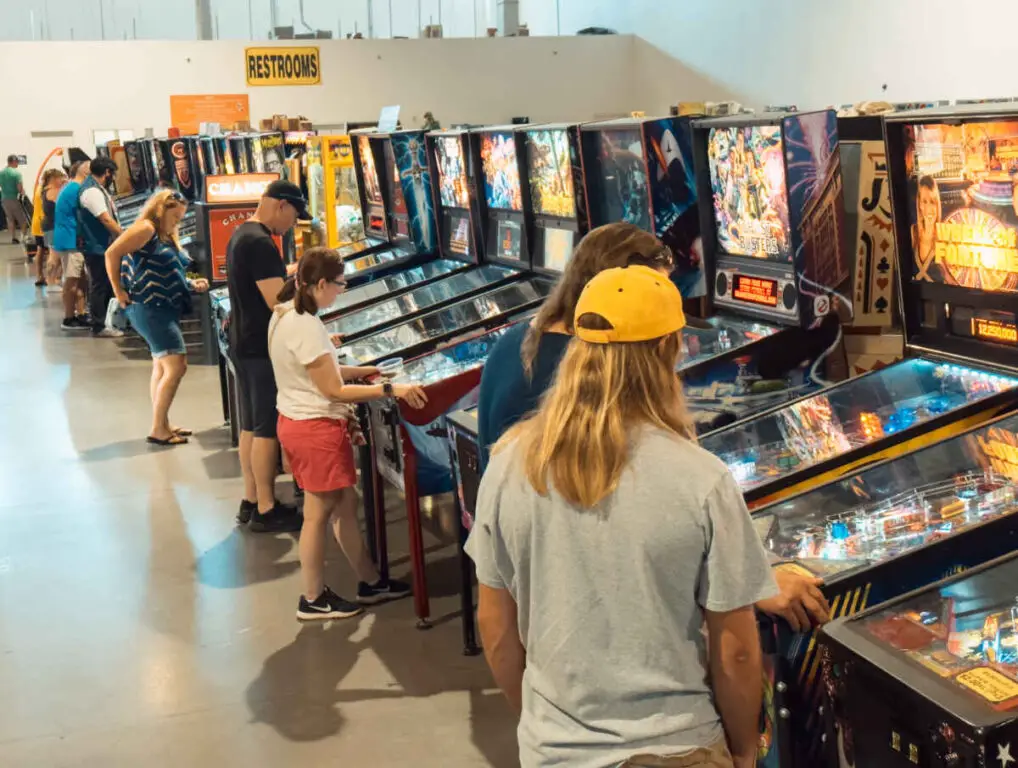 Pinball Hall of Fame Price
Admission to the Las Vegas Pinball Hall of Fame is free! There is no cost to enter or look around. You will, however, pay between .25 cents and a dollar to play the pinball machines or other games.
Older vintage games are the cheapest to play at the museum (and, in my opinion, the most fun), costing only 25 cents per play. Newer model machines from the 1990s and up cost 50 cents to a dollar per play.
You'll either need to bring a pocket full of quarters or convert your dollar bills into quarters to play. The museum has change machines accepting $1, $5, $10, and $20 bills, making things convenient.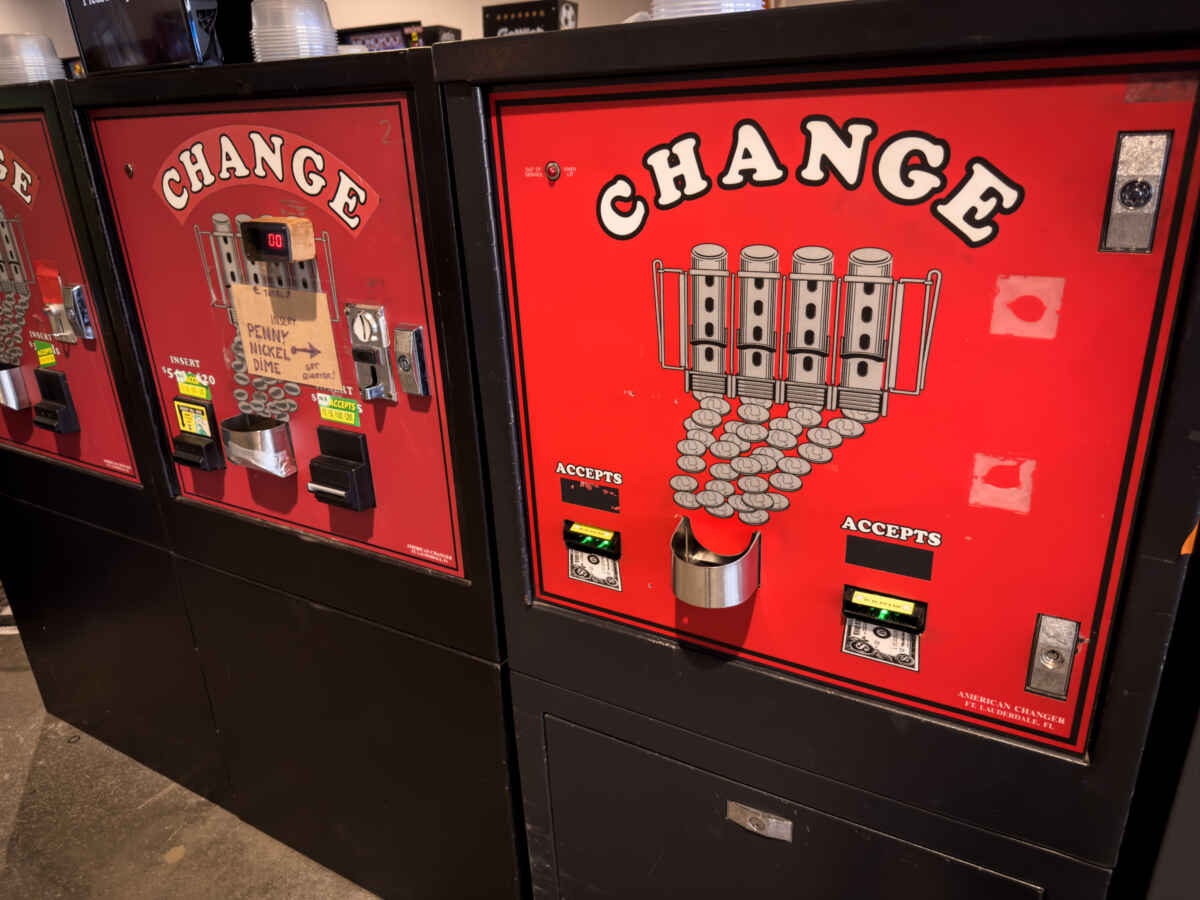 The pinball showroom is a great option for cheap fun on the Las Vegas Strip and allows you to relive your youth no matter how old you are, as some of the games go all the way back to the 1930s and 40s.
While you can have fun for several hours at the hall with only a few bucks, there's also an ATM just in case you run out of money before you satisfy your pinball thirst or curiosity.
In addition to pinball, you'll find many other old-school games, including Ms. Pac-Man, Frogger, Donkey Kong, Dig Dug, and Centipede.
Where Is the Pinball Hall of Fame Located?
The museum is located on the southern end of the Las Vegas Strip at 4925 Las Vegas Boulevard South. It sits across the street from the Welcome to Las Vegas sign and is near the Mandalay Bay hotel.
The museum building has plenty of free parking out front, which is quite a rarity on the Vegas Strip.
The facility has changed locations a couple of times since it first opened. It was originally opened in 2006 and was located in a rented storefront at 3300 E Tropicana Ave.
It moved to a new location at 1610 E Tropicana Ave in 2009, and the museum moved to its current location on the Strip in 2021.
The museum's current establishment is a 25,000-square-foot warehouse specially built for the project.
The location is larger, and its layout is different than the previous ones, providing ample space for "pinheads" to spread out and have a good time without feeling crowded.
Walking to The PHoF
The facility's new location on the south Strip makes it convenient for most Las Vegas visitors. Some people even choose to walk there from their hotel.
Here is a list of some of the closest spots you can walk from.
Mandalay Bay | .7 miles | 15 minutes
Luxor | .9 miles | 19 minutes
Tropicana | 1.2 miles | 30 minutes
Having said that, most visitors will want to drive or grab a rideshare.
To ensure guests looking for this place don't miss it, the museum has a giant sign with the word "PINBALL" outside for everyone to see.
The sign is visible from quite a distance from various angles. If your eyes are open, you aren't likely to miss it when passing by.
Pinball Hall of Fame's Operating Hours
The museum opens at 10 a.m. and closes at 9 p.m. Sunday through Thursday. It is open from 10 a.m. until 10 p.m. on Fridays and Saturdays. 
What Is the Pinball Museum About?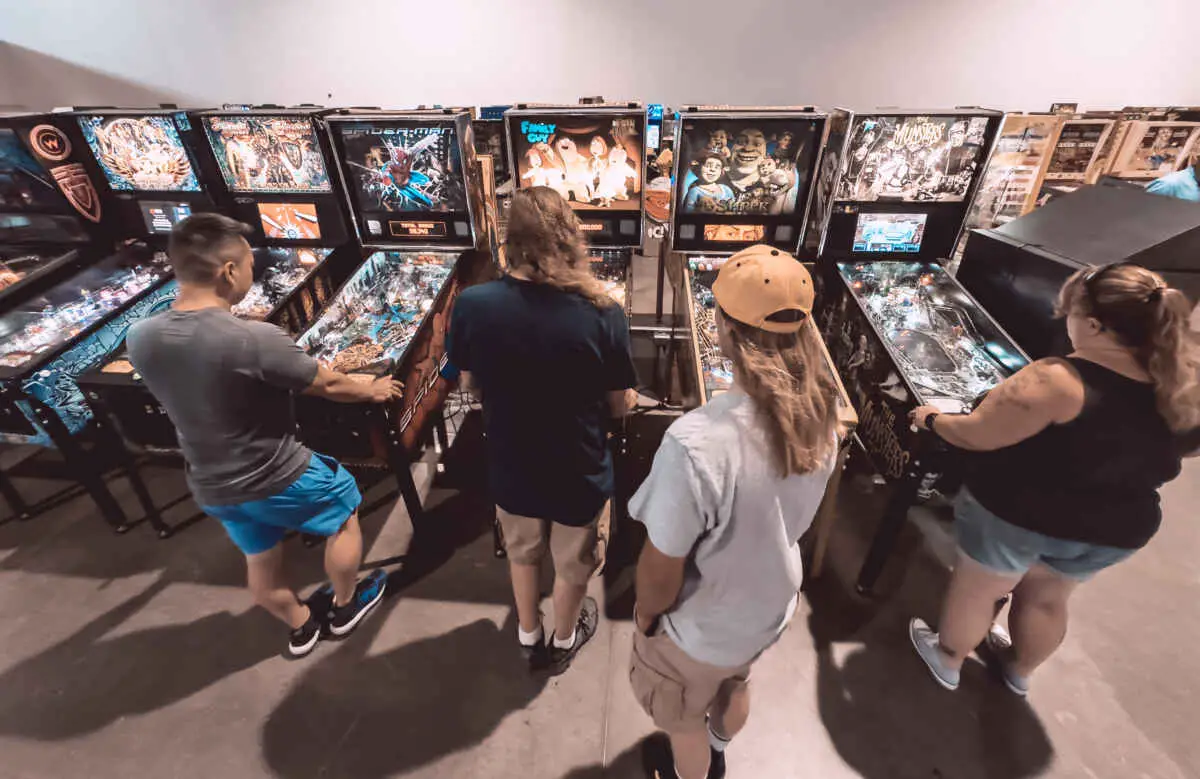 The Pinball Hall of Fame is a Las Vegas Pinball Collectors Club nonprofit project. It celebrates the rich history of pinball entertainment, and many adults go there for nostalgia.
The hall features hundreds of pinball machines representing the past and present history of the pinball game. Many of the machines on display have cards that explain their history and dates, making playing the games even more enjoyable.
The museum features vintage pinball machines from the 50s, 60s, 70s, and 80s. Major pinball machine brands featured include Bally, Williams, Chicago Coin, Gottlieb, Stern, and Data East.
People come to Vegas for fun; some seek to encounter more than slot machines. The pinball museum delivers a uniquely Vegas experience.
Its pinball games deliver more fun and are cheaper than casino games. As a result, the hall has become a favorite stop for Vegas visitors looking for inexpensive, non-gambling-related fun.
You could describe this place as a pinball machine parking lot because the large warehouse has rows upon rows of pinball machines.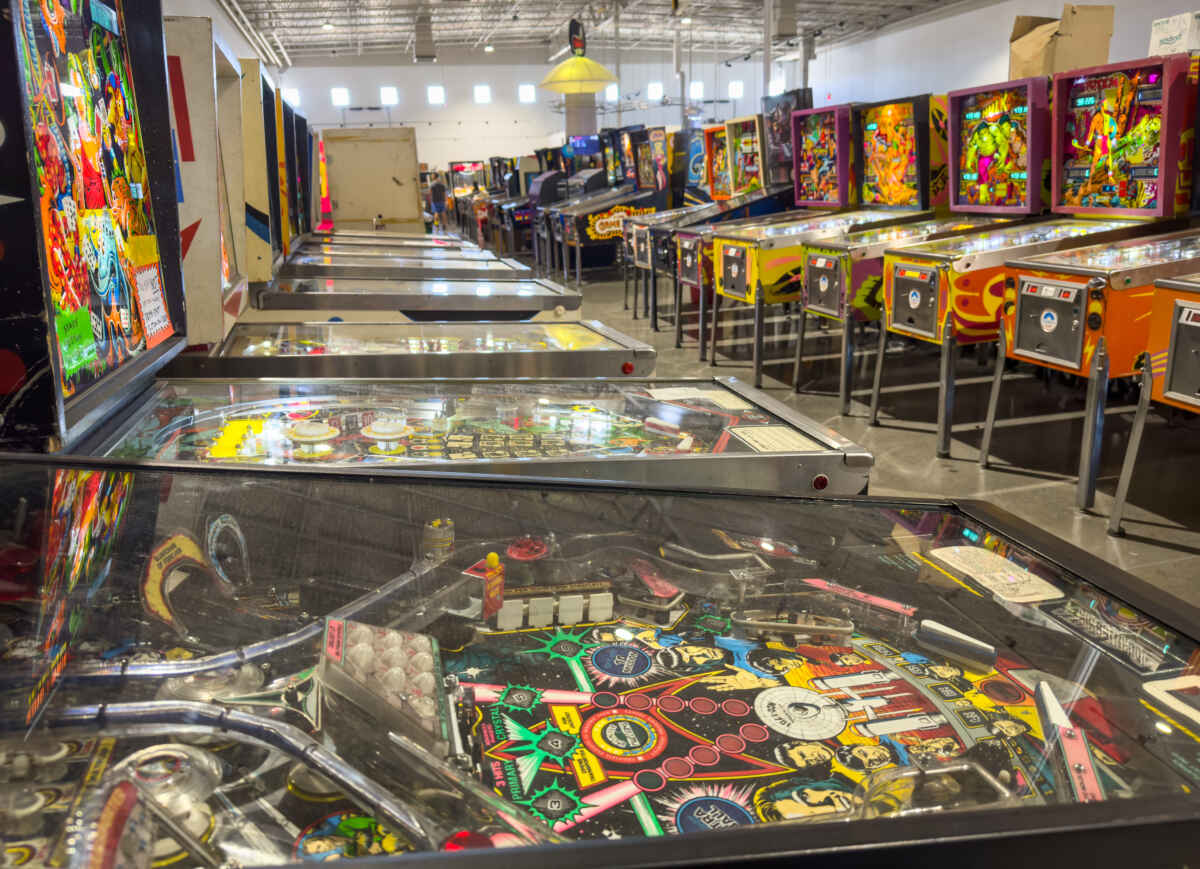 While you might think that playing one pinball machine after another would be repetitive and dull, the broad array of machines and games makes every play different and exciting.
It's common for guests to play a favorite game repeatedly, especially if it's the type of game they enjoyed in their youth.
The PHoF isn't motivated by profit, and the project leader Tim Arnold explains that the museum's operation doesn't make much economic sense.
For example, the cost of keeping these old games running isn't a very profitable model. He says that if this type of project had a large profit margin, capitalism would have already built it.
Even though the space strives to offer guests a great experience, the museum keeps its costs low. As an example, the store didn't purchase its change machines brand new.
They were obtained from a trash dock just before going to a landfill. Moreover, the museum's beautiful carpet is a leftover from a local convention show.
A team of volunteer employees (aka club members) run and operate the facility, and no extensive marketing campaigns exist. Instead, It has focused on bringing in guests by reputation and word of mouth.
RECOMMENDED: High Roller Las Vegas Cost (Best Times to Ride)
Who Owns the Pinball Hall of Fame?
The Pinball Museum is a project of the LV Pinball Collectors Club, a group of pinball enthusiasts and collectors.
The project is led by Tim Arnold, a veteran pinball arcade operator who moved to Las Vegas from Michigan to build the pinball museum.
Arnold ran a pinball arcade business with his brother in Michigan's East Lansing area for many years. He launched the business as a teenager, starting with a used machine.
As demand for the game increased, Arnold added more machines. He bought used machines, fixed them, and placed them in public locations for coin use.
The Arnold brother's Pinball Pete venture was a huge success. At some point, Tim decided to sell his stake in the business and relocate to Las Vegas, where he began to work on the pinball museum project.
He moved with his personal collection of about 1,000 pinball machines.
Although Arnold came to Vegas for retirement, he realized he could use his pinball machines to support his new community. That led to the idea of a pinball museum that would donate its proceeds to charity.
In his backyard, Arnold hosted pinball fun night events to raise money for the museum project. The events grew, drawing more people, spreading the word about pinball games, and contributing to the museum building fund.
Those parties provided the essential building blocks for the Pinball Hall of Fame, and Arnold also raised money for the project by selling videos about pinball machine repair.
Pinball Hall of Fame Guest Reviews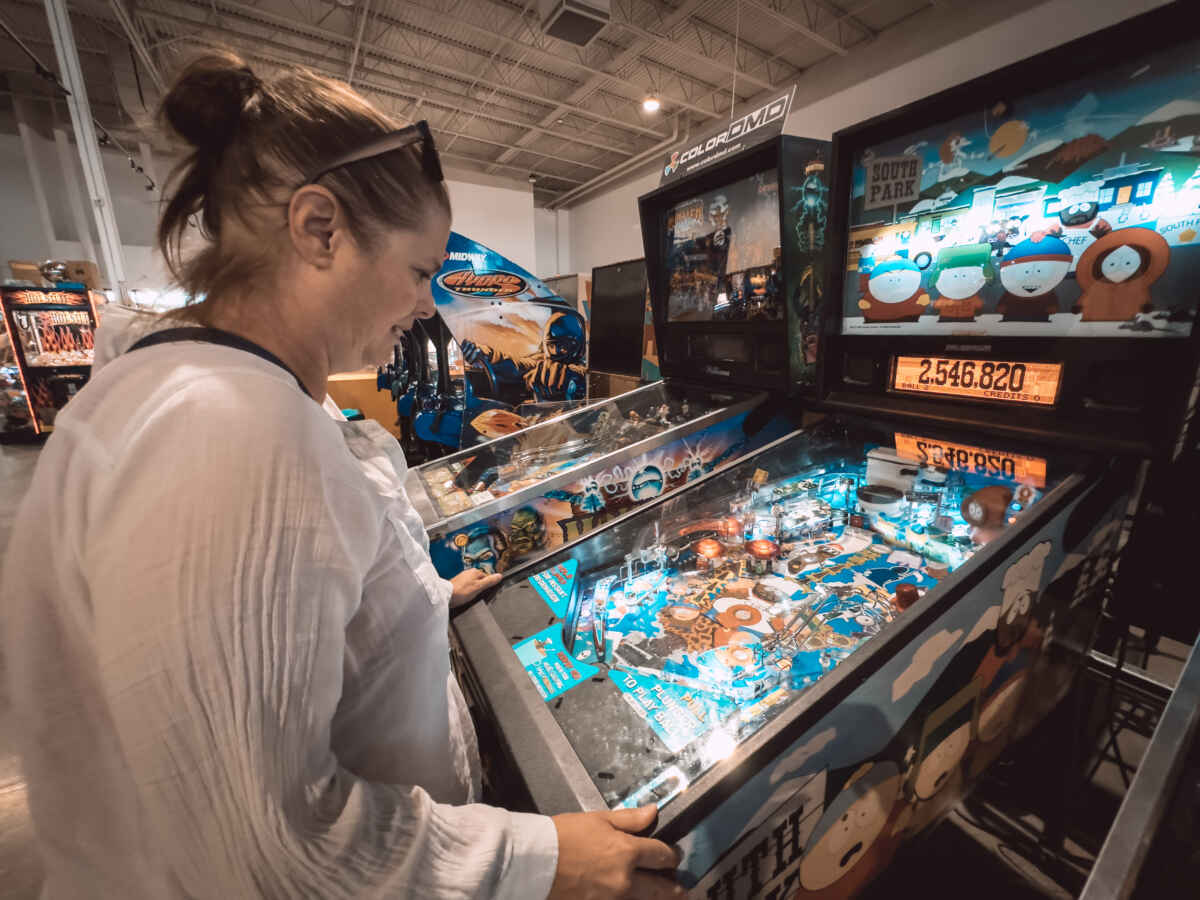 Online reviews of the Pinball Hall of Fame are glowing! See for yourself:
Great place to come and take a break from the typical Vegas scene.

Trevor F.
The new location is spacious and huge. So many restored vintage arcade games.

Roddy C.
What a fantastic break from the Strip. A truly unique venue. My friends and I had a great time here…

Zachary I.
10/10 Highly recommend!! The selection of all different machines from different eras is awesome. Free entry, easy to get to, cheap entertainment in Vegas…

Megan B.
What Games Can You Play at the Pinball Hall of Fame?
You can spend hours at the hall, but you still won't get through all the pinball machines and games available.
There are movie pinball games, sports games, and games inspired by television shows. As a result, you'll find games inspired by famous movie and show titles, such as The Simpsons, Wheel of Fortune, Guardians of the Galaxy, Star Trek, and Spider-Man.
Aside from pinball games, the facility also features a wide range of classic video arcade games. On this front, you can play various racing and shooting games from all generations.
The museum staff is on hand to answer your questions if you want to know something about the machines and the games.
Among the most unique games at the Pinball Hall of Fame that guests can play are the 1944 Quiz Telequiz, the 1957 Genco Motorama, the 1978 Allied Leisure Hoe Down, and the 1979 Atari Road Runner.
Broken Pinball Machines (Dark Machines)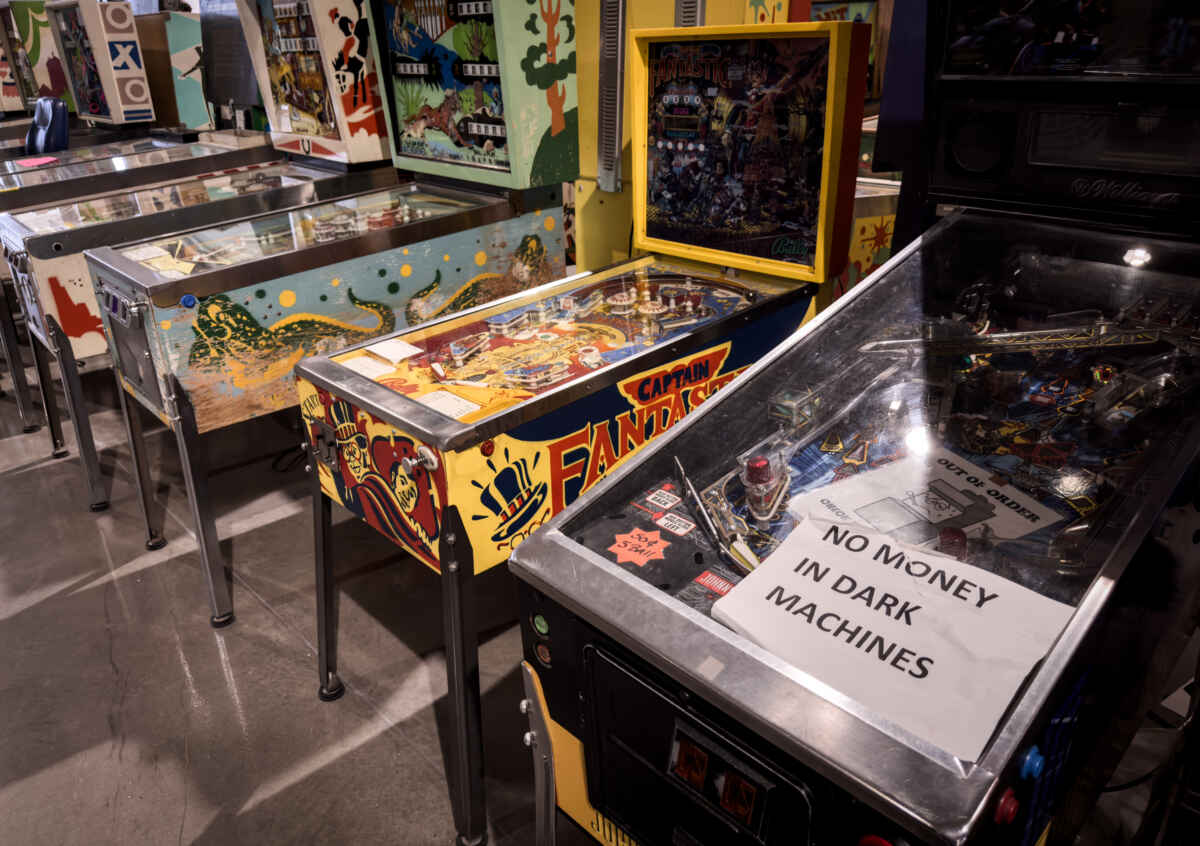 In addition to the working and playable machines, many pinball machines at the museum don't work. These are called "dark machines," with signs warning guests not to put money into them.
As a result, guests should pay attention to the signs about out-of-order machines and steer clear of those to avoid losing their money.
While these machines are not currently playable, they still add to the overall museum experience.
RECOMMENDED: Paradox Museum Las Vegas: Over 90 Mind-Bending Exhibits!
Is the Pinball Museum Good for Kids?
The pinball museum is a family-friendly place you can visit with kids of any age. While kids are allowed in the hall, and the place is friendly, you shouldn't leave your children unattended. 
Parents will be asked to leave the hall if they can't keep their kids under control.
Can You Drink At The Pinball Museum?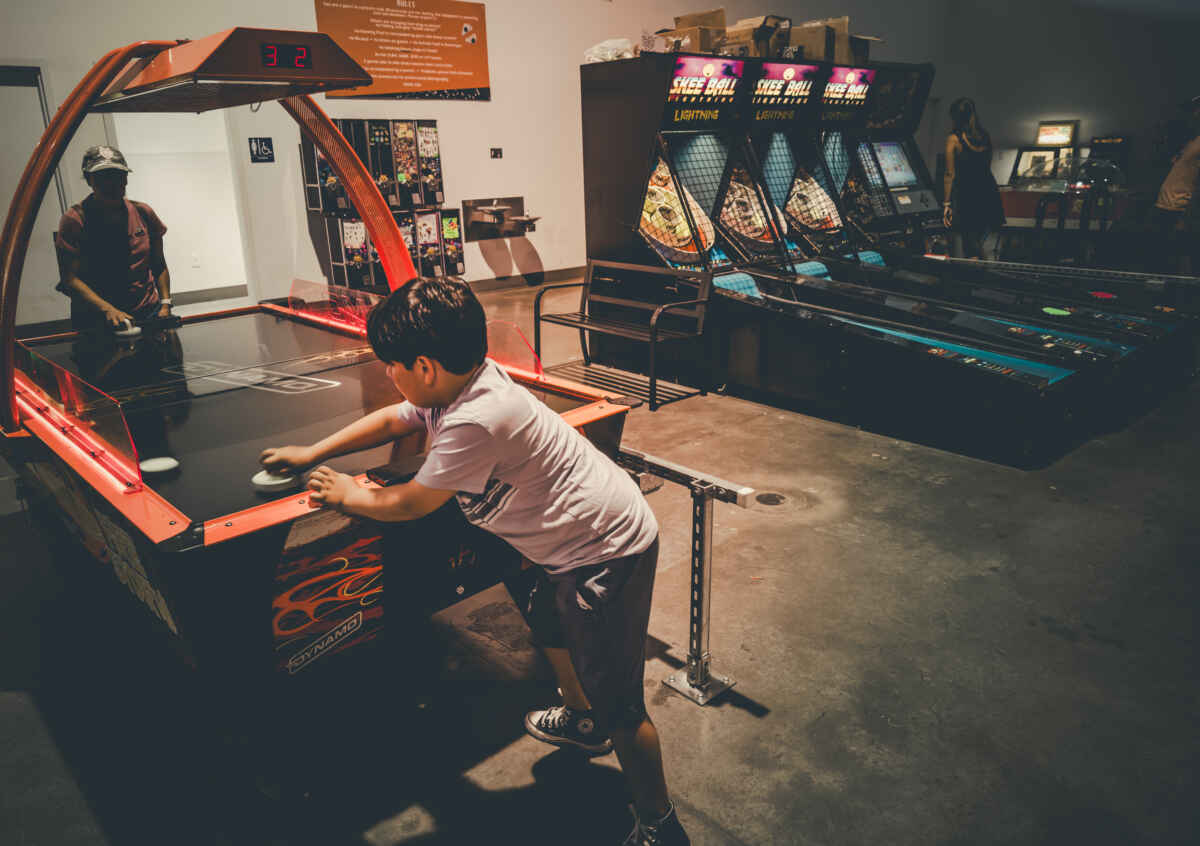 You can drink soda or soft drinks at the Pinball Hall of Fame, but the location doesn't serve alcohol because it's meant to be a family-friendly place.
There are self-serve popcorn machines and soft drink vending machines. You insert your money and get a bag of popcorn.
Salvation Army Donations
Aside from the games, the museum also makes money through charitable donations from its fans.
The non-profit also makes money from restored pinball machine sales and continues to sell instructional videos on repairing pinball machines.
The museum donates its excess proceeds to the Salvation Army, an international movement known for its outstanding charitable work.
Apart from the Salvation Army, the museum also donates to other non-denominational charities.
Final Thoughts
The Pinball Hall of Fame in Las Vegas offers visitors a nostalgic yet interactive experience.
By stepping into this unique museum, you're not just indulging in a game but also reliving a piece of history.
Whether you're a pinball enthusiast, a Las Vegas local, or a curious traveler, this attraction is guaranteed to captivate your interest. Don't forget to bring your camera!
RECOMMENDED: Ziplining in Las Vegas: 4 Best Vegas Zipline Experiences