Paradox Museum Las Vegas: Over 90 Mind-Bending Exhibits!
(This article may contain affiliate links. If you click through and make a purchase, we will receive a small commission at no additional cost to you. )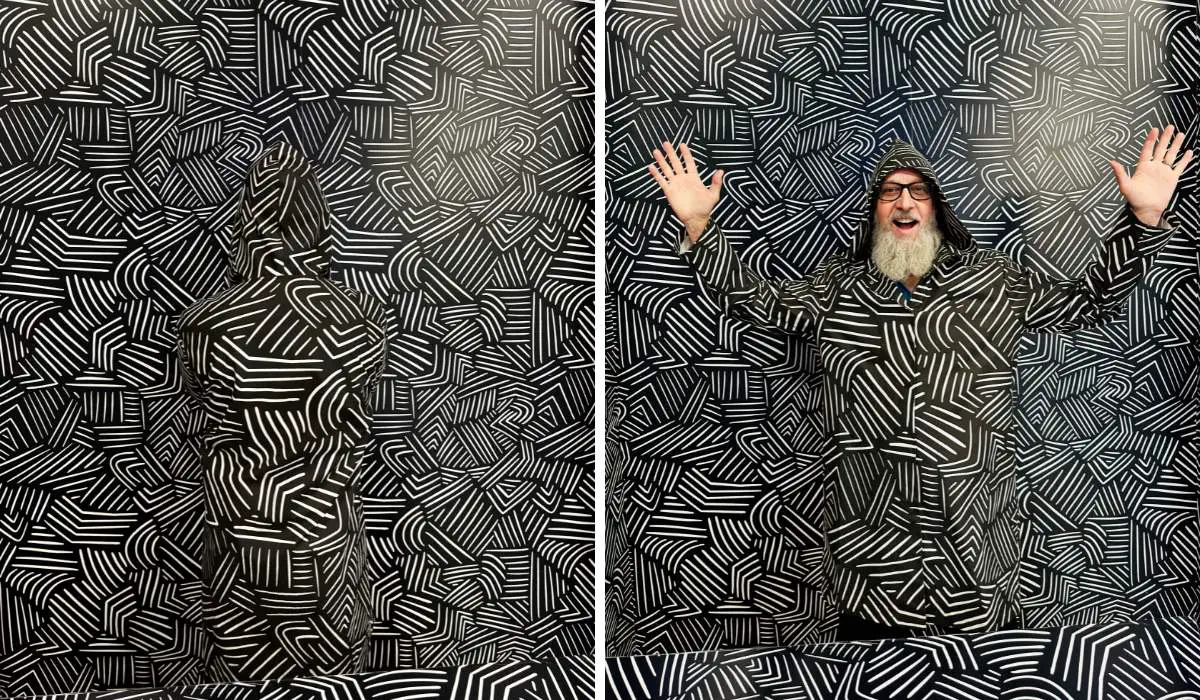 Smack dab in the heart of the Las Vegas Strip, the newly opened Paradox Museum offers a unique and surreal experience for visitors of all ages.
This is like no museum you've ever been to. The interactive exhibits showcase a fascinating world where physics defies logic, and optical illusions leave you questioning your own perceptions of reality.
A recommended addition to your Las Vegas itinerary, the museum is a must-see attraction for science enthusiasts, people with curious minds, and those who just like trippy places.
Key Takeaways
Paradox Museum in Vegas offers interactive and thought-provoking displays
A unique Vegas destination embracing science, art, and technology
Located on the iconic Las Vegas Strip, ensuring easy accessibility
The Paradox Museum Las Vegas Visitor Experience
Welcome to the Paradox Museum in Las Vegas, where nothing makes sense, yet everything is real!
As you immerse yourself in this alternate reality, you will uncover the true meaning of the word "paradox," which means 'contrary to expectation' or 'incredible' in ancient Greek and signifies an experience that is the opposite of common sense.
As you explore the museum, you'll encounter over 90 engaging exhibits curated to challenge your perspectives.
Prepare to be amazed by visual illusions that will make you question what you see with your own eyes!
You'll undoubtedly capture some of the coolest photos and videos of your entire Las Vegas trip as you take a 60-90 minute self-guided tour through the intriguing installations.
Mind-Bending Exhibits
At the Las Vegas Paradox Museum, you'll find an array of wild and weird exhibits that are sure to challenge your mind.
Let's delve into a few of the most captivating displays.
The Paradox Sofa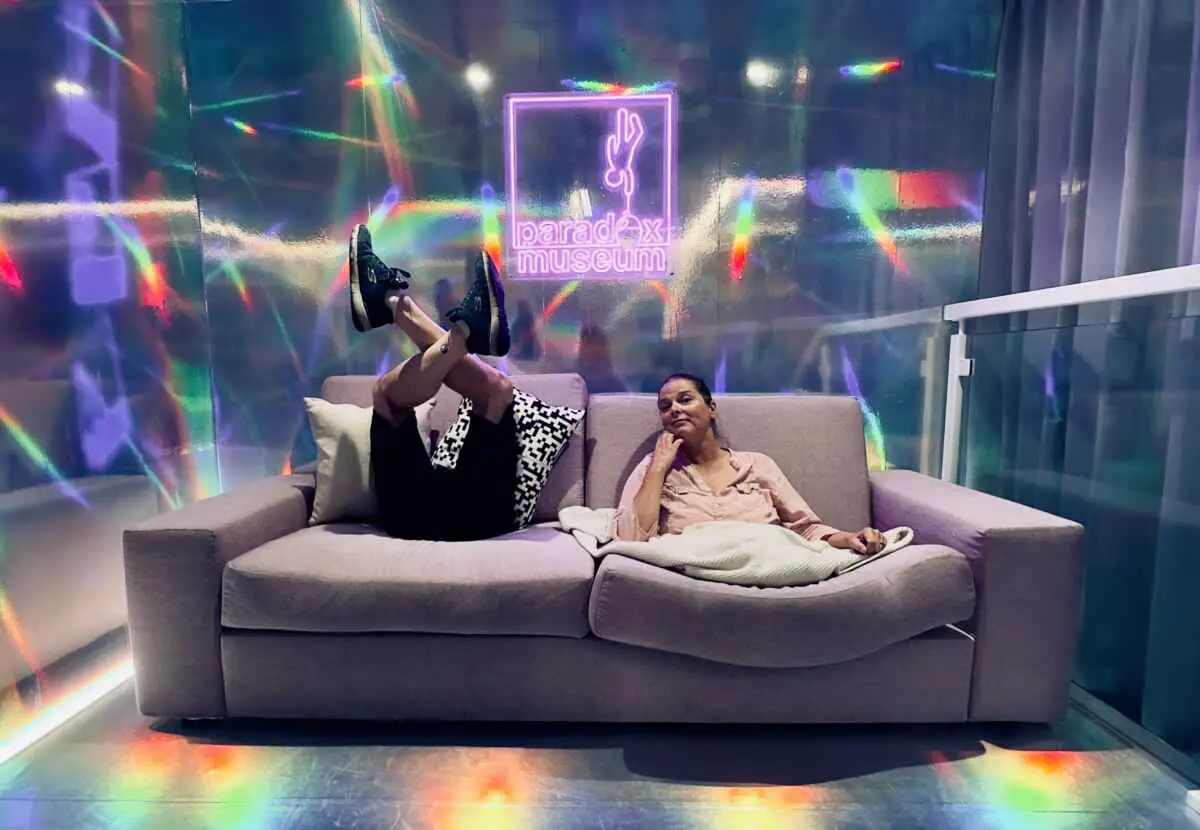 When you step into the Paradox Sofa exhibit, prepare to be taken aback by the illusion it creates.
Concealing part of your body in some unique openings of the couch can transport you to a perplexing universe where you appear to be experiencing a glitch in the matrix.
Your lower half seems to be positioned to the right, while your upper body, including your head, seems to be seated a few feet away.
Infinity Well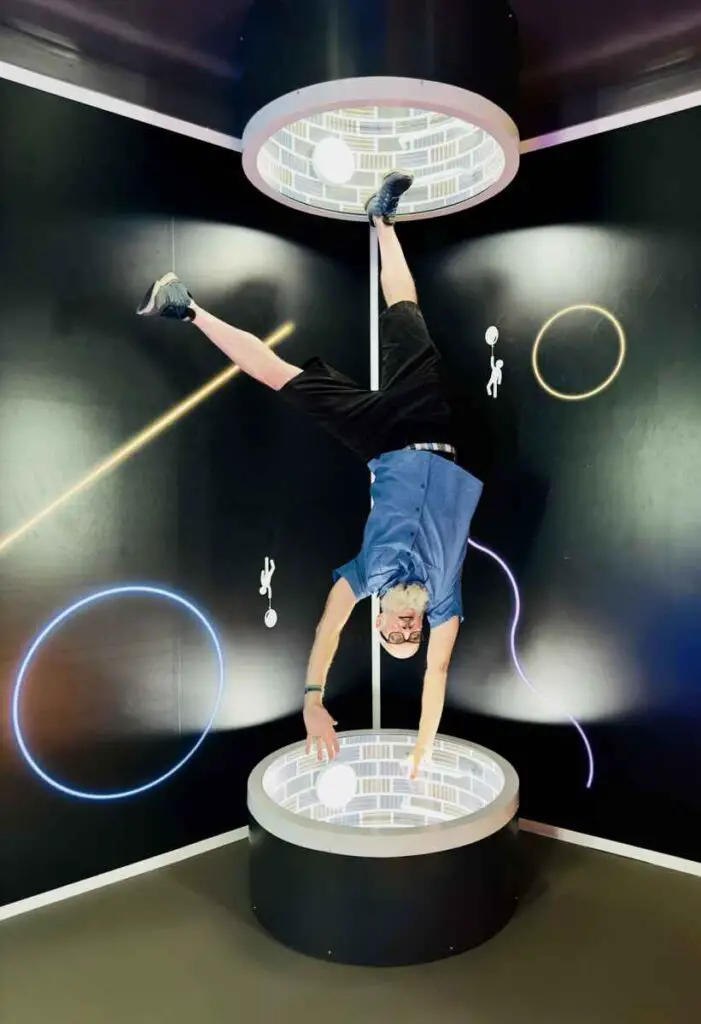 When you look down into the hole of the Infinity Well, it appears to go down forever, even though it's only a couple of feet deep.
This is because the glass only allows certain light spectrums to pass through, making it partially clear and partially reflective at the same time.
Explanations aside, the Infinity Well provides one of the most unique and Instagram worthy photo opportunities in the museum.
The Little Man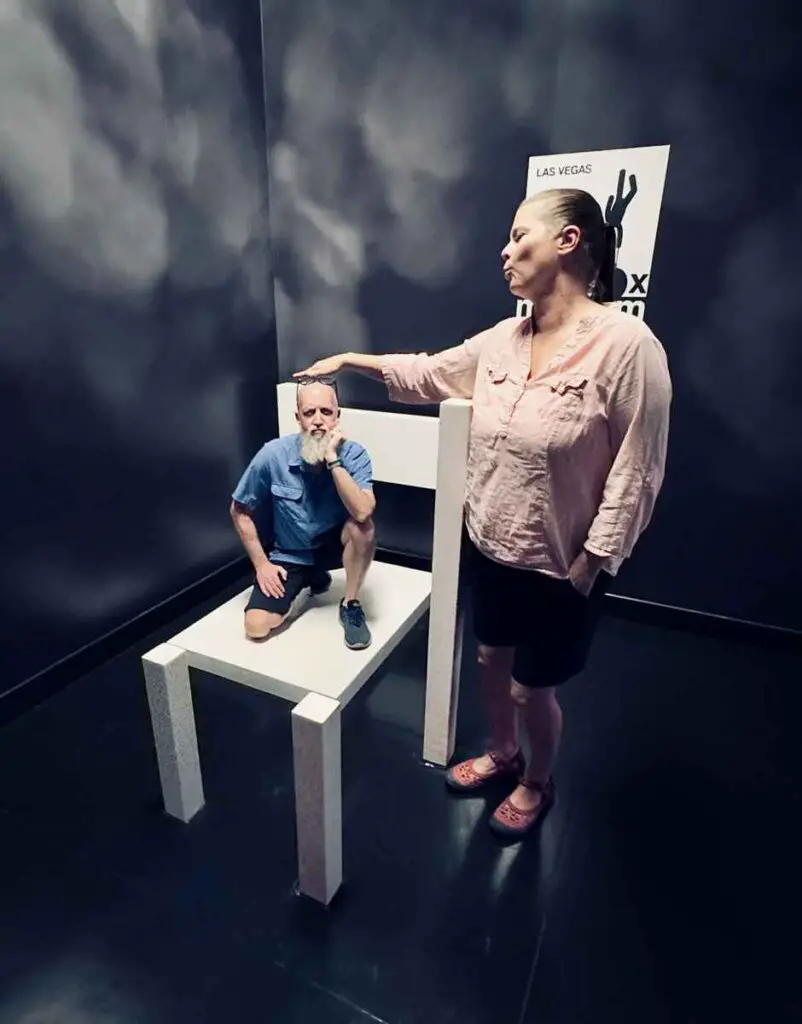 The Paradox Tunnel is another mind-bending exhibit that challenges your spatial awareness.
As you walk through the spinning tunnel, you'll feel as if you're being transported into a topsy-turvy world where even the most basic rules of physics are turned on their head.
Reversed Room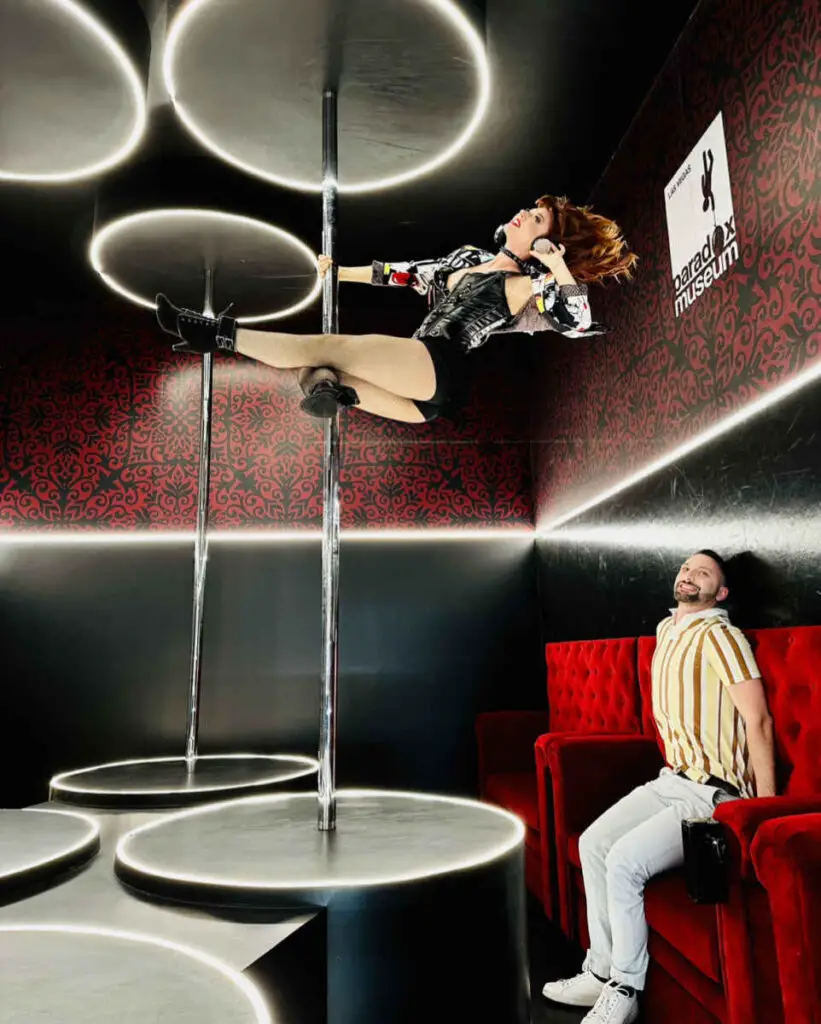 The Reversed Room is an incredible space where everything appears to be reversed or upside down.
As you enter this room, you'll be astonished to see familiar items transformed in unexpected ways.
The Reversed Room will stimulate your imagination and prove just how extraordinary the Paradox Museum truly is.
Paradox Museum: Our Review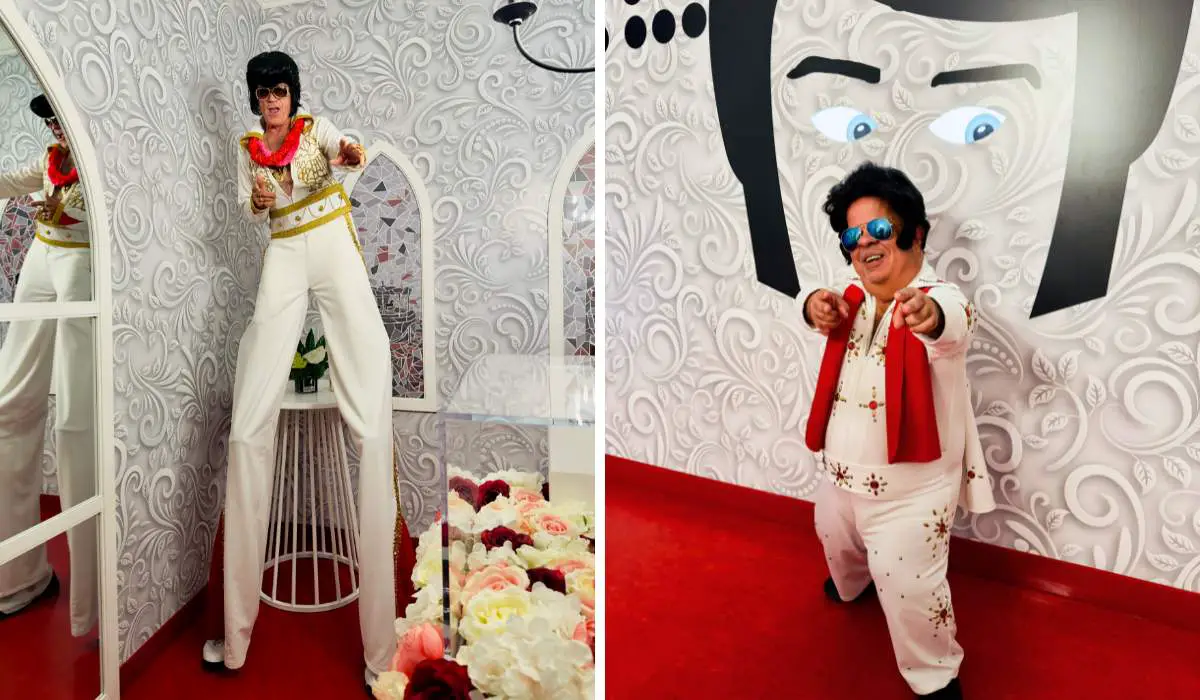 We recently spent an evening at the Paradox Museum and can honestly say it was one of the best times we've had on the Strip in a long time!
As weird as the museum is, it is laid out in a straightforward manner. The exhibits flowed easily from one room to the other, and although many people were visiting when we were there, we never felt crowded or rushed.
The staff at the museum was friendly and welcoming. They were also very helpful, which is a good thing.
While we immediately knew what to do at many of the exhibits, some required an explanation, and there was always a knowledgeable staff member standing by to answer our questions.
On top of that, they were always happy to help out with tips for capturing the best photos in each location and often took pictures for us so we could both be in the image.
Overall, we spent about an hour and a half inside the museum and had a lot of fun. I would highly recommend a visit.
RELATED: 23 Best Museums in Las Vegas (Cool, Fun & Weird!)
Paradox Museum Las Vegas Discount Tickets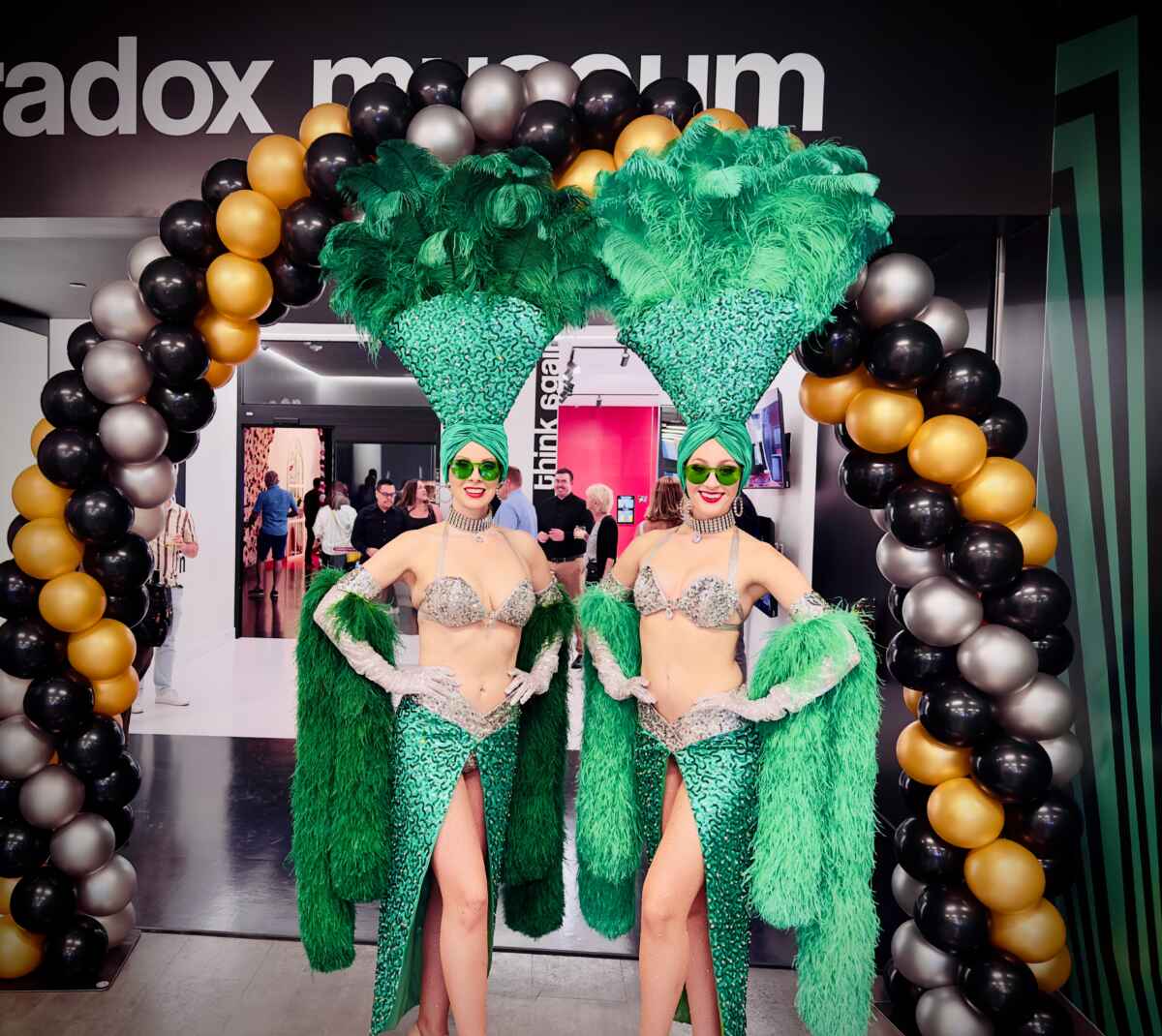 While regular adult tickets for the museum cost $37 at the door, there is a place you can get Paradox Museum discount tickets online and save a few bucks.
Vegas.com offers tickets from $31.
If you qualify, local, military, and group discount tickets are also available on the museum's website.
Family 4-Packs – Buy 4 or more tickets for $31 apiece
Groups – Groups of 15 or more can get tickets starting at $27 each
Nevada Residents (Adult) – $25 with a local ID
Nevada Residents (Kids 4-11) – $21 with local parent's ID
First Responders & Military – $25 with ID
While I would normally recommend checking Groupon for lower-cost tickets as well, but when I looked, the tickets on Groupon were listed at the full price of $37.
Note: All the tickets for the museum are for a specific date and entry time, no matter where you buy them.
Location, Hours, and Parking
The museum is conveniently situated right on the Las Vegas Strip, making it easily accessible for your visit.
Location
As you make your way north on Las Vegas Blvd, you'll find the museum right across the street from New York New York Hotel and Casino or a short walk from MGM Grand.
Being in such a prominent location, the Paradox Museum is easy to spot and just a stone's throw away from other popular destinations on the Las Vegas Strip.
The address, 3767 Las Vegas Blvd S Ste 200, is part of the Showcase Mall, which is in one of the most pedestrian-friendly zones on the Strip.
You'll find it right next door to Target and just a short way from the M&M's Store and Ross Dress For Less.
Getting to the museum is a breeze, especially if you're already staying nearby or exploring the Las Vegas Strip.
Whether you're walking, taking a taxi or ride-sharing service, or hopping on public transportation, you'll find it an easily accessible attraction.
Hours
The museum's open hours are 10:00 AM to 8:00 PM, 7 days a week.
Remember, however, that tickets are for a specific date and time.
Parking
The Paradox Museum does not have its own parking available.
You can park nearby at one of several parking garages (please note these are paid parking areas):
Frequently Asked Questions
Can you get tickets in-person or by phone?
Purchasing tickets over the phone is not an option. Although you have the ability to buy a ticket directly at the museum, this is contingent on ticket availability on the day of your visit. Therefore, it is generally advised to get your ticket online prior to your visit.
Can pre-purchased tickets be canceled?
Purchased tickets are not refundable, but you can change your visit date or transfer your ticket to someone else.
Can you bring food or drinks to the museum?
Unfortunately, food and drink are not allowed in the general show areas of the attraction.
Is the museum wheelchair friendly?
The Paradox Museum is ADA compliant and is therefore accessible by wheelchair or mobility device.
Can I book the whole museum for an event?
Yes, the entire museum is available to book for private events.