8 Best Car Museums in Las Vegas (Check Out These Sweet Rides!)
(This article may contain affiliate links. If you click through and make a purchase, we will receive a small commission at no additional cost to you. )
Las Vegas may be best known for our world-class hotels and casinos, but did you know that we have several awesome over-the-top car museums as well? So if you're thinking about booking a trip, and you love classic automobiles, you will want to check out one or more of these museums while you're here.
The eight best car museums in Las Vegas are:
1. Nostalgia Street Rods
Nostalgia Street Rods feature an extensive (150+) private collection of classic cars from the early 1900s to 1965.
The museum's name is slightly misleading, though, because they showcase far more than hot rods. When you browse around this famous museum, you'll notice plenty of other unique items including:
Scooters
Automobile memorabilia
Other celebrity-signed items
To visit Nostalgia Street Rods, you'll need to schedule a tour by calling ahead or booking online. Tours take place on weekdays from 9 am to 5 pm, with limited hours over the weekends.
They also offer a VIP tour, which is extended, more personalized, and allows you to browse the vehicles at your own pace.
Whether you choose the regular or VIP tour, the guides are incredibly knowledgeable about the display vehicles and can answer any questions you have.
Nostalgia Street Rods host an annual car show, which is worth attending if you're in Vegas during November. Members of the public are invited to park their classic cars, trucks, or motorbikes in the museum's vast parking lot, and there is usually a huge turnout.
It's the ideal opportunity to discuss the classic cars' ins and outs with owners and enjoy a relaxing day out.
Book a Tour at Nostalgia Street Rods
Address: 5375 Cameron St M, Las Vegas (map)
Hours: Weekdays 9-5 pm
2. Hollywood Cars Museum
If you've ever wondered what happened to a car in a movie, chances are it ended up at Hollywood Cars Museum on Dean Martin Drive in Las Vegas. This museum is regarded as Sin City's most exciting classic car museum as they showcase over 100 cars that are featured in popular movies at their 30,000 sq ft (2,787 sqm) premises.
A few examples of famous vehicles that you can spot here are:
The Batmobile
The Death Car from the Bonnie and Clyde movie
Bugs Bunny's rabbit car
Other highlights at Hollywood Cars Museum include the vintage Vespa exhibit and Liberace's classic car collection.
Guests can easily spend the whole afternoon being amazed at Hollywood Cars Museum's many famous vehicles, and there are plenty of photo opportunities. Even if you're not a car enthusiast, visiting Hollywood Cars Museum is an excellent idea as it appeals to almost everyone who's ever watched a movie.
Regular admission is $20, and kids under 16 get in for free, as long as an adult accompanies them. The museum is open the whole week and operates from 10 am to 5 pm. There is a large parking lot, and you can easily spend at least two hours here.
Try not to leave Vegas without checking out this iconic car museum.
Check for Hollywood Cars Museum discount tickets at Groupon.
Address: 5115 Dean Martin Dr., Las Vegas (map)
Hours: Every day 10-5 pm
3. Carroll Shelby Las Vegas Car Museum
Carroll Shelby Las Vegas Car Museum is not your average auto museum. This hidden gem pays homage to the racing car driver, Carrol Shelby, who was heavily involved with enhancing Mustang and AC Cobra cars for the Ford Company.
Here, you can admire Shelby's first enhanced Cobra, over 30 additional Shelby vehicles, and a broad range of Mustangs. Favorites include the Cobra GT500KR and the Shelby GT500 Super Snake.
The museum was opened in 2013, and its spacious, 15,000 sq ft (1393.5 sqm) heritage center makes for a thoroughly enjoyable visit. Shelby fans will love their store that sells unique Shelby collectibles, gifts, and clothing.
After admiring the cars on display (free), you can take an exciting VIP tour of their adjacent production facility. You will learn all about Shelby's production processes and will get the opportunity to view them first-hand.
The guided tour needs to be booked in advance. If you're just visiting the museum, however, you can buy tickets at the door.
The museum has free self-guided tours from 9:30 am to 5:00 pm during the week, 8:00 am to 5:00 pm on Saturdays, and 10:00 am to 4:00 pm on Sundays.
The Carroll Shelby Las Vegas Car Museum is located at 6405 Ensworth Street, not far from Harry Reid International Airport (formerly McCarran Airport). Most people drive when visiting the museum, and there is free parking available.
Address: 6405 Ensworth St, Las Vegas (map)
Hours: Weekdays 9:30-5 pm, Saturday 8-5 pm, Sunday 10-4 pm
Recommended Reading: What Is AREA 15 in Las Vegas? (9+ AMAZING Things To See & Do)
4. Wynn Las Vegas Car Museum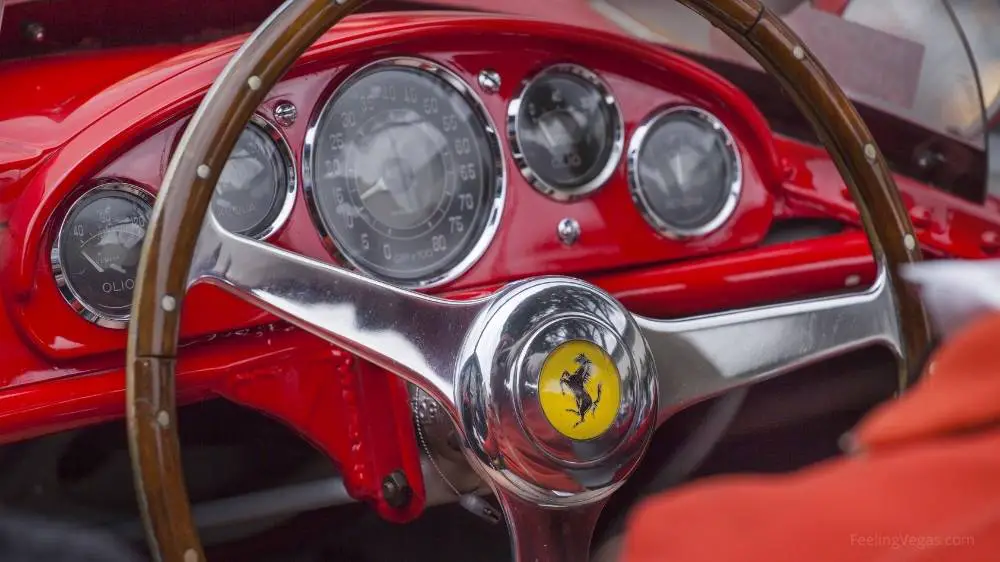 If you're staying at The Wynn or a nearby hotel, you shouldn't leave Vegas without visiting the Wynn Las Vegas Car Exhibit. This one's kind of weird as it's part museum and part auto dealership.
The entrance fee is $10, and you can view their exclusive collection of luxury Maseratis and Ferraris. Also included with each vehicle display is the sales price as you have the option of buying any of the vehicles as they have a sales office on-site, too.
Located within the hotel next to the casino, this museum comprises two floors, and it typically takes at least an hour to view every exotic car.
The cars on display change every few weeks. You can expect an exciting variety of Ferrari and Mustang models, from the more affordable base models to the most unaffordable cars for most folks. 
Museum guests are not allowed to take photographs, but they can pay for a picture while sitting in one of the vehicles.
5. Count Kustoms Car Museum in Vegas
Count Kustoms Car Museum is not located on the Las Vegas Strip, but it is worth a short drive if you love unique vehicles.
In addition to the museum, Count Kustoms also has a reclamation and customization shop where they modify and improve hot rods and choppers. Although guests are not allowed on the shop floor, it's possible to catch a glimpse of the staff at work, which is incredibly interesting.
This museum is on South Highland Drive, has a large parking lot, and is not far from Circus Circus. It's open each day of the week from 10 am to 4 pm.
On display is an extensive collection of:
Exotic cars
Hot rods
Motorbikes
Photographs are allowed, but the museum doesn't allow touching or video recordings. Many visitors do not realize that Count Kustoms is the film set of the "Counting Cars" TV show, which is one of the museum's many highlights. 
They have two options for visitors, including the free tour, where you can view the personal hot rod collection of the Count himself, or the special VIP tour experience for about $95.
The VIP tour sounds pricey, but it includes:
A ride in a customized minibus.
Narration by the museum's owner.
Visits to Count's Kustoms Shop, Shelby American, and Nostalgia Street Rods.
A $20 voucher toward any purchase in Count's Kustoms Gift Shop.
Address: 2714 S Highland Dr, Las Vegas (map)
Hours: Everday 10-4 pm
6. Hot Rod City
Hot Rod City is situated at 5115 Dean Martin Drive and is not far from Luxor Hotel & Casino and Excalibur Hotel & Casino.
Entrance is $15 for adults and is free for kids under 16, as long as a paying adult accompanies them. You can, however, often find discounted tickets on sites like Groupon, and it's worth checking before you go.
The front section of Hot Rod City consists of a car dealership showroom. Here, you can browse the classic Mustangs, Porsche, Camaros, and Hot Rods for sale.
Hot Rod City was formed by Florida-based classic motorcycle and car enthusiast Michael Dezer. This successful real estate developer has been collecting classic vehicles since the 1970s and many of his favorite cars and bikes are now displayed in this Vegas museum.
Browsing through the display, you will likely recognize at least a few cars from the movies. The Harley Davidson driven by Arnold Schwarzenegger in The Terminator, the Robocop police car, and the Beverly Hills jalopy are some of the famous items on display.
The only complaint received about Hot Rod City is the lack of display change and, if you've been here once, there is no need to visit a second time.
Hot Rod City is well worth the $15, especially since you'll be able to take photographs next to many famous cars and bikes.
Address: 5115 Dean Martin Dr #905, Las Vegas, (map)
Hours: Every day 10-5 pm
Recommended Reading: Visit The Pawn Stars Shop in Las Vegas, NV (What to Know)
7. Liberace Garage
Liberace Garage is a must-see Las Vegas attraction whether you're a Liberace fan or just a fan of excessive glitz. Much of the city's ostentatiousness and excessiveness comes from Liberace himself, making a trip to this car museum almost essential.
Liberace, a famous American pianist, and performer used customized vehicles extensively in his stage shows, and the Liberace Garage showcases many of these classic cars.
Known for his flamboyant and over-the-top style, the King of Bling's vehicles are no different and need to be seen to be believed. Many are studded with precious stones, painted in bright colors, and have whimsical patterns.
Liberace's famous Swarovski Roadster and his Rolls Royces are on display.
These special cars are all preserved by the Liberace Foundation for the Performing and Creative Arts. Apart from Liberace's vehicles, there are plenty of other Liberace-related items on display, including art, photographs, clothing, and artifacts.
After browsing the museum, you may want to take a look at the on-site gift shop that sells some excellent souvenirs, gifts, and Liberace collectibles.
Liberace Garage is open only during the weekends from 10 am to 5 pm. You can find it at the Hollywood Cars Museum on Dean Martin Drive, where plenty of parking is available. If you want to host a private party or event, you can hire Liberace Garage for a unique experience.
Address: 5115 Dean Martin Dr #905, Las Vegas, (map)
Hours: Every day 10-5 pm
8. WelderUp
If you are looking for a unique car museum in Las Vegas featuring exciting designs, WelderUp might be perfect for you. This small museum has grunge-themed, custom rat rods on display that have been featured on Discovery Channel's long-running Rat Rods show.
A tour of WeldUp includes a walk around their showroom floor, where you can view a collection of rat rods from the owner's collection.
They also have a small gift shop selling WelderUp merchandise such as t-shirts, jackets, and baseball caps. It's difficult to find these items elsewhere, so a quick browse around the gift shop is worth it.
You can find WelderUp at 3160 South Highland Drive, and tickets are only $5. Kids under 12 get in for free as long as an adult supervises them.
Address: 3160 S Highland Dr. Suite D, Las Vegas, (map)
Hours: Weekdays 10-3 pm, Saturday & Sunday 10-4 pm