What Is AREA 15 in Las Vegas? (10+ AMAZING Things To See & Do)
(This article may contain affiliate links. If you click through and make a purchase, we will receive a small commission at no additional cost to you. )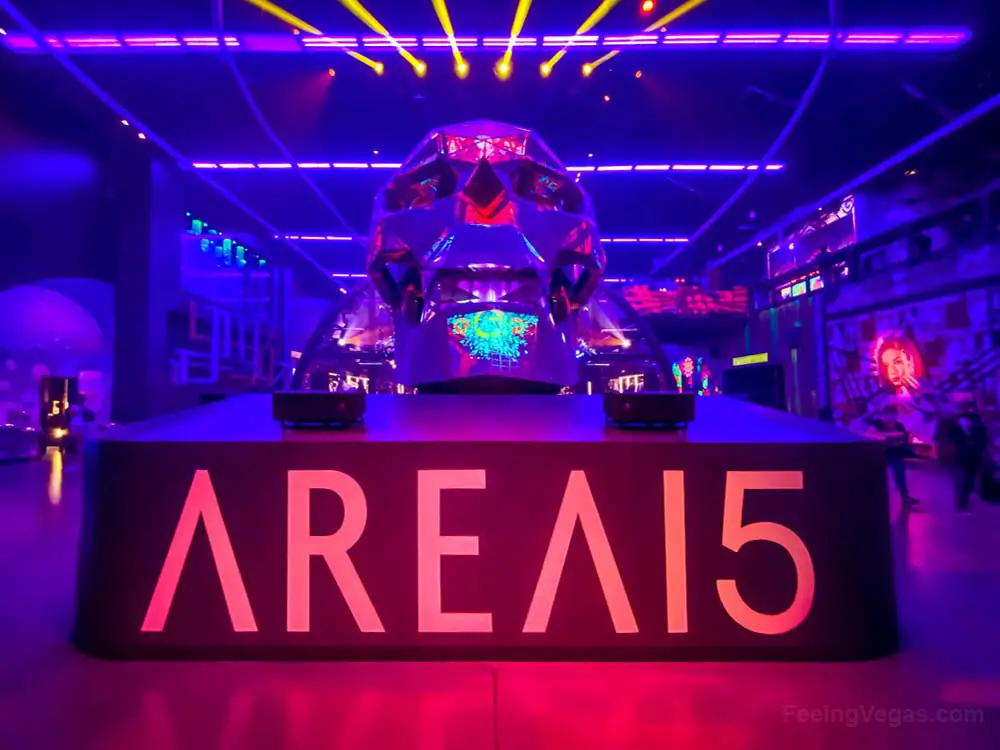 Opened in 2020, Area 15 in Las Vegas is an absolute mind-bending must-see encounter. This extraordinary entertainment complex offers you a futuristic, high-tech experience for all of your senses. It is designed to be interactive, so you can have a truly up-close encounter with everything the space has to offer.
AREA 15 in Las Vegas is a self-described "immersive playground" and offers a unique experience to its guests through lights, art, textures, sounds, and colors. Inside, you will find different attractions and installations, places to eat, drink, and shop, as well as other venues for entertainment.
Keep reading, and we will take a look at the different exhibits as well as some of the places to eat, drink or throw an ax in this innovative space. This guide will help you plan the perfect visit to AREA 15.
1. Meow Wolf's Omega Mart
A special permanent installation from Santa Fe art collective Meow Wolf, Omega Mart is an outrageous take on a standard grocery store like you've never experienced before. They have fully conceptualized a new shopping experience from another dimension, both in the aisles and behind the scenes.
The shelves are full of artistic renditions of common household goods, from hot sauces to bags of chips to deodorants. Every product has a zany, original package that pokes fun at known brands, delivers pop culture references, or is simply something you've never seen in a supermarket before.
When you get to the butcher's shop, you will see what looks like a chicken you would buy at a supermarket—except it's been completely tattooed. Get up close to check out this meat's ink or admire the full, detailed sculptures made from what appears to be hamburger meat.
You will be laughing, shaking your head, or just plain in awe at the built-in jokes and references of the Omega Mart's product branding. Take your time wandering the aisles and taking in the amount of creative energy that went into designing this alternate reality. The attention to absurd detail is both fun and enthralling!
However, it's not all about the inventory in this mind-bending mini-mart. Throughout the store, you will find hidden entryways that serve as portals to yet another dimension. Be careful grabbing something from the refrigerator section—you may find yourself wandering through a twisted hallway of bending glass bottles leading to mind-blowing art installations.
To get an up-close tour of Meow Wolf's Omega Mart, you can check out this fun video below:
Once you find your way through one of the portals, you will be fully immersed in the classic Meow Wolf experience. Colorful lights highlight the immersive art installations that are a truly creative playground experience for all ages. The playful mix of colors, lights, and mischief creates a delightful alternate dimension to explore.
No matter if you are fully grown or with the kids, you can easily spend hours exploring this alternate reality that Meow Wolf has so creatively conceptualized. The Omega Mart is one of the biggest and most exciting exhibits AREA 15 has to offer. It is a big draw for people to come and visit the space and is an absolute must-see on your visit to AREA15.
Grab your tickets to experience Omega Mart (Note: These tend to sell out fast)
2. Illuminarium Las Vegas
Illuminarium Las Vegas is an immersive experience found at AREA15 in Las Vegas, featuring state-of-the-art technology to create a fully immersive experience. The attraction features 4K projection, 360° sound, in-floor vibrations, and scent systems.
Now showing at Illuminarium:
Wild – Experience an immersive African safari experience.
Space – Providing visuals to simulate a trip to the moon followed by a deep space journey.
Space After Dark – The same deep space visuals as the daytime show, but with a full bar.
See Illuminarium for yourself in the video below.
Illuminarium offers both a daytime and a nighttime experience, with the nighttime experience being 21+. Illuminarium after dark features a full bar with a selection of specialty cocktails and late-night bites. Illuminarium Las Vegas promises to bring extraordinary cultural moments and experiences to ordinary people.
3. Dueling Axes
If you've ever wanted to throw an ax indoors with all your strength, AREA 15 is ready for you with Dueling Axes. This space is an innovative, upscale take on a bowling alley that involves axes instead of bowling balls.
Rather than throwing a ball down a lane, you chuck an ax at a target waiting at the other end of the lane. Self-described as the area's only "upscale, premier ax-throwing lounge," Dueling Axes is truly a unique experience for many.
The design of the space is stunning. Dueling Axes features many lanes, a VIP area as well as a beer and wine bar to keep the party going. Each lane has a television monitor to keep track of your ax-throwing points digitally.
To see an exclusive tour of Dueling Axes at Area 15, check out this video below:
Before every game, each group gets a little one-on-one time with a Dueling Axe staff member to learn about safety and the art of ax throwing. Your group will have its own private lane, so there is no need to worry about throwing axes with strangers.
If you're interested in trying your hand at Dueling Axes, make sure to make a reservation beforehand. You can do so on their website here.
Recommended Attraction: Visit The Pawn Stars Shop in Las Vegas, NV (What to Know)
4. Birdly
In some ways, AREA15 is the coolest and most mind-bending mall you've ever been to. When it comes to mall kiosks, Birdly is certainly one of the zaniest ones you've ever seen. This small stand gives you the full experience of flying without ever leaving the ground.
Simply strap on the Virtual Reality headset, lay down in position, and get ready to fly.
One person at a time gets on the ride, laying face down on their stomachs with arms outstretched on mechanic wings. The VR goggles go on, and the surrounding fans kick into action. From that moment, the person experiencing Birdly is in a whole other reality.
The experience is designed to completely give you the sensory experience of flight. Visually, you see your birds-eye view as you soar over the New York skyline or above dinosaurs in prehistoric times.
If you are interested to see more, check out this little sneak peek video of Birdly in action:
The mechanical wings of the machine flap and move, bringing your body along in the flying motion. You'll feel the wind on your skin from the fans that surround the ride. The main bed of the ride will dip and swerve, giving you the full-body experience of gliding through the air.
While it may look bizarre to see strangers laying down, face covered by goggles with their arms flapping, you can be sure they are having a once-in-a-lifetime experience!
5. Haley's Comet
Haley's Comet is more than an indoor zipline. According to its creator Rollglider, it is the "first indoor, electric dual-track zipline roller coaster ride" in the whole country. One of the cool engineering feats of this roller coaster zipline is the fact that it runs on a battery. It doesn't need the typical slope that uses gravity to allow the rider to gather speed.
Instead, the rider just straps in and can enjoy the view of all the stunning lights and installations of AREA 15 from above. However, it's not all a leisurely ride.
You can expect this little coaster to get faster and whip you through some of its twists and turns as you circle the ceiling of AREA15.
If you want to see what it's like to jump on Haley's Comet and zip around AREA15, take a look at this video:
One of the greatest parts of this ride is that there are two tracks that run next to each other. This means you can cruise around from above with your friend or date at your side. AREA15's many stunning exhibits are amazing from the ground floor, but just imagine how breathtaking they will be from above.
Recommended Attraction: AMAZING M&M Store on the Vegas Strip! (Location, Hours, & Parking)
6. Van Gogh: The Immersive Experience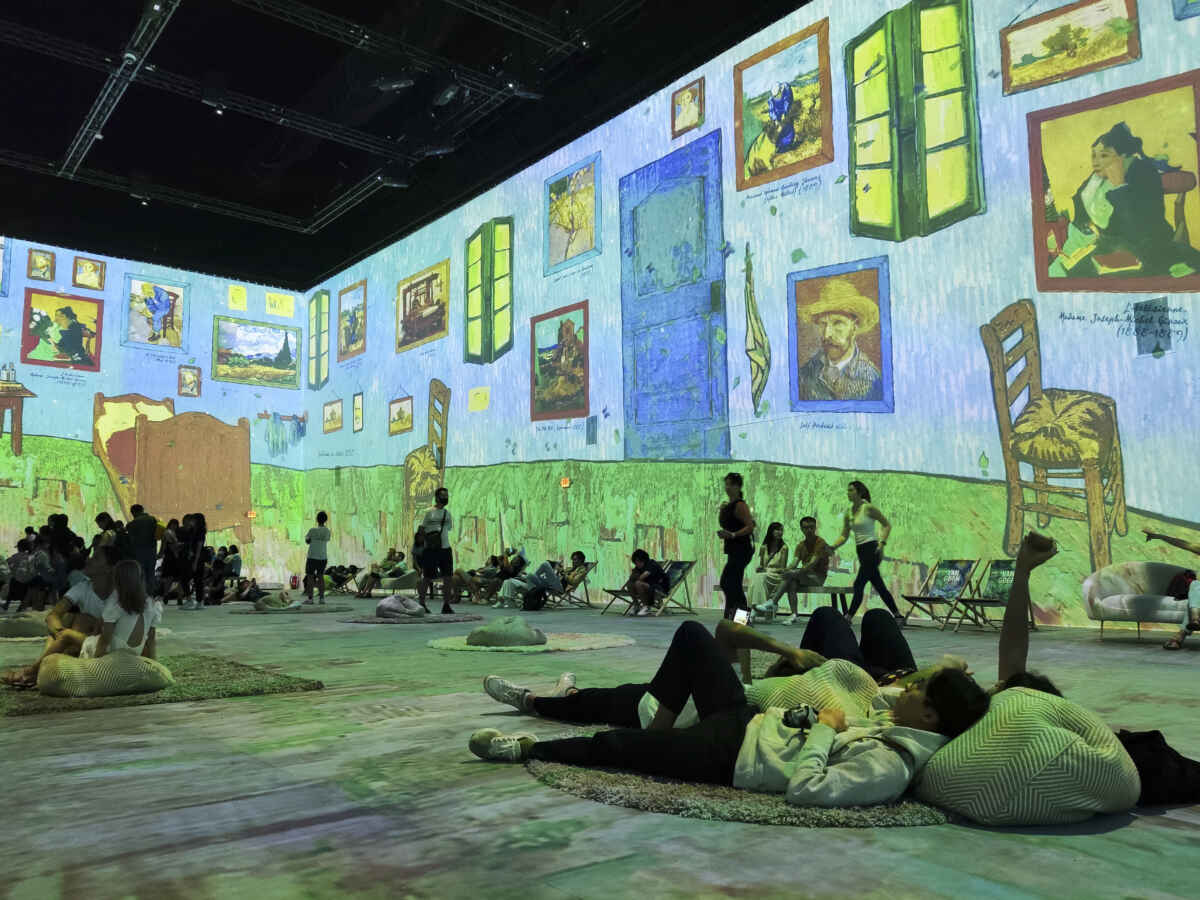 For fans of the Dutch artist Vincent Van Gogh and his world-famous paintings like A Starry Night, this exhibit is a must-see. Van Gogh: The Immersive Experience is like stepping into the painting as it comes alive around you. See the skies swirl and stars light up how Van Gogh might have imagined it with the help of 21st Century technology.
The exhibit moves through Van Gogh's body of work, with different pieces coming to life before your eyes. The elements of each piece will move and sway as you watch the once-still painting come to life all around you.
The projections are massive and surround you completely, with every surface of the exhibit's room participating in the experience. Put on your VR Goggles to go deeper.
You will feel like you are actually in the world of the painting, that you are in the reality that Van Gogh imagined.
To get a taste of what the experience is all about, you can check out this video below:
However, this experience isn't just a visual feast for the eyes. AREA 15 calls this exhibit a "sound show" as well, and its unique soundtrack will transport you along with the visuals. Let all your senses be swept away in Van Gogh's reality come to life through this experience.
Finally, if you are of age, you can enjoy the bar that serves drinks for an immersive experience. Attending the Van Gogh: Immersive Experience could be a truly unforgettable night out for drinks with your friends or partner.
7. Wink World: Portals Into the Infinite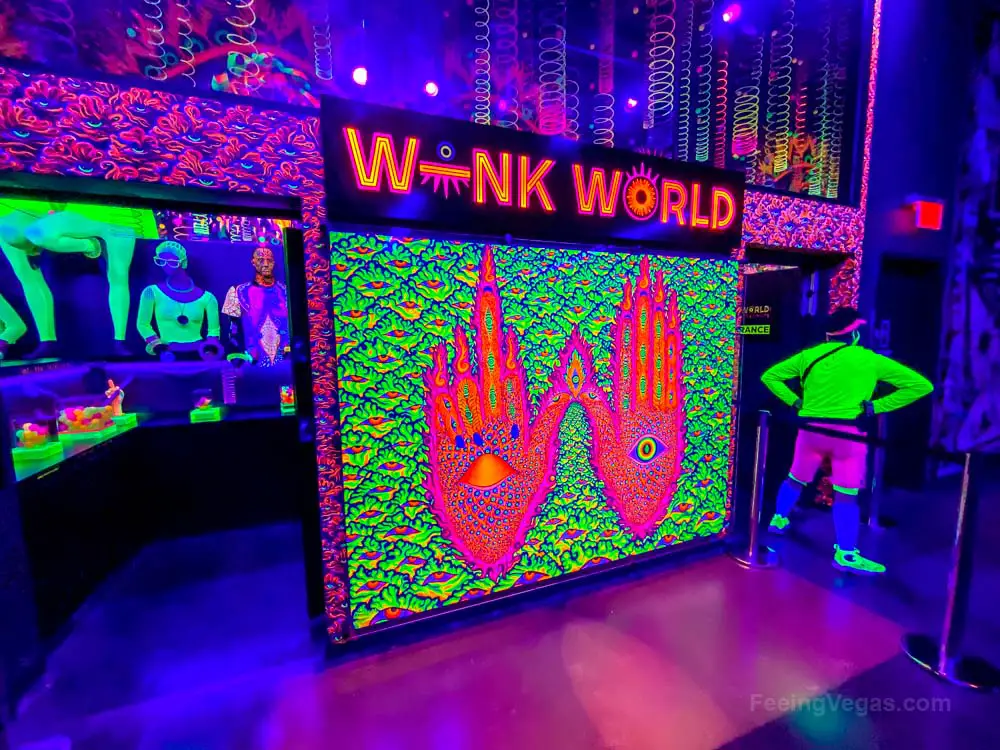 Wink World brings together sound, light, and color to create unforgettable imagery for its viewers. Wink World is exciting, psychedelic, and likely nothing you have ever experienced before.
When you enter Wink World, you will be greeted with six different artistic approaches to the question "What is Infinity?" Lights that swirl, spin, move, and flash will create each of the different worlds that all express one idea about infinity.
To see a bit of Wink World for yourself, you can check out this sneak peek below:
This exhibit is brought to you by Chris Wink, one of the founders of the Blue Man Group. After his career as their Chief Creative Officer and years of developing one of the most fascinating, creative shows to combine sound and image, he has come to AREA15 to create Wink World.
8. Museum Fiasco "Cluster"
Imagine a huge room filled with lights and sound and you've discovered Museum Fiasco's "Cluster". A synchronized and immersive display of audiovisual effects that will leave your mind exploring the bounds of its perception.
Check out the video below to see what Museum Fiasco has in store for you at AREA 15:
The 12-minute show fills the warehouse-like space with fog, sounds, and flashing lights. It's difficult to explain but the experience is sure to blow your mind!
Recommended Attractions: 23 Best Museums in Las Vegas (Cool, Fun & Weird!)
9. Oddwood Bar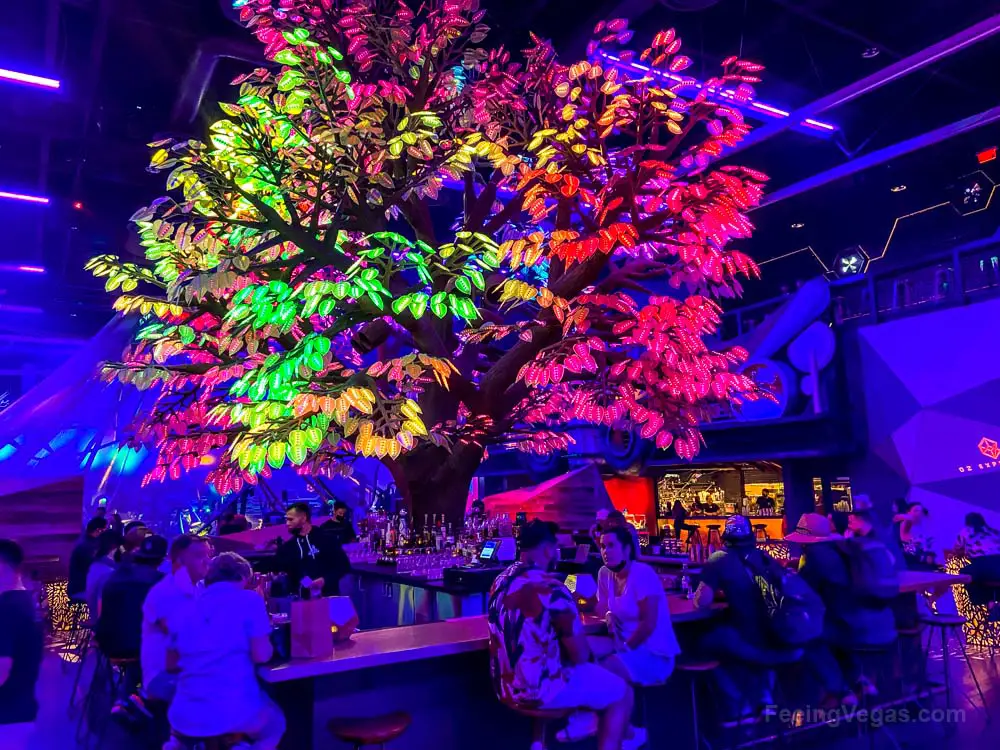 If you're looking for a drink under a 23 foot (about 7 meters), beautifully lit Japanese Maple tree, you will want to head to the Oddwood Bar at AREA15. The tree itself has 5,000 leaves that have been carefully crafted with LED lights to glow beautifully in different colors.
As you sit in this one-of-a-kind cocktail lounge, you can sit back and admire the pulsing flow of the leaves changing color. The space is designed with speakers hidden throughout the area, giving all of your senses an immersive experience.
Surrounding the tree, you will find sculptures of wood, metal, and other materials that work together in accordance with natural geometry to give you a surprisingly relaxed experience.
You can choose something from their extensive signature cocktail menu and simply enjoy the one-of-a-kind ambiance of the Oddwood Bar.
For a quick peek of the beauty that is the center tree at the Oddwood Bar, you can check out this short video below:
10. The Beast
The Beast is a restaurant by Todd English that does not disappoint when it comes to a creative, innovative dining experience.
Your food will come served up in ways you've likely never seen before. For example, if you order a burger, be ready for your homemade potato chips to be served, spiraling out the top of your burger on a long toothpick.
Presentation is everything at this creative restaurant, and get ready to enjoy the visual feast as much as the actual feast of your meal.
For those unfamiliar with Todd English, he is a celebrity chef who has won the James Beard Award for Best Chef multiple times. He has many award-winning restaurants around the country. Dine at the Beast (menu) for a taste of the Todd English culinary experience in a colorful, fun, artistic setting.
For a quick peek at the setting and the stunning presentation of some of the meals, check out this short video below:
There's Even More to Experience at AREA 15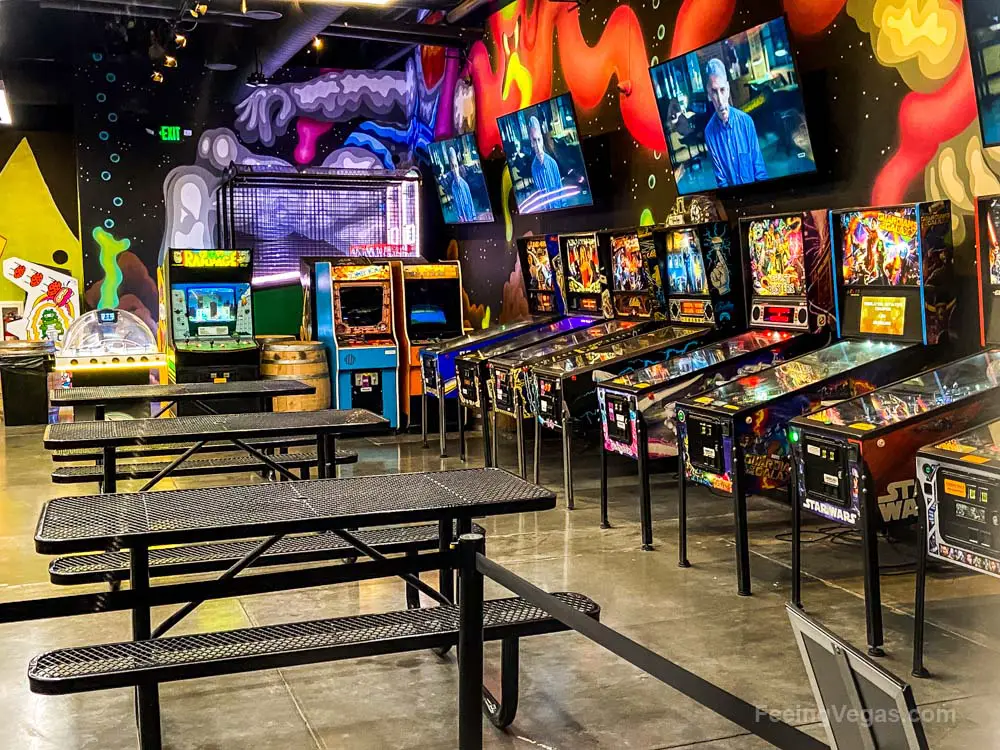 While the above attractions are the biggest highlights of a visit to AREA 15, the entertainment district has a few more immersive entertainment options to discover, such as:
Brainstorm – Interact with a giant artificial brain. The brain knows what you're thinking and reacts to your thoughts and feelings.
Asylum Bar & Arcade – A 21+ arcade area filled with lights, arcade game classics, billiard tables, music, and drinks.
Five Iron Golf – The ultimate indoor golfing experience. It's a mixture of entertainment and golf that features realistic golf simulators, golf pros, and a complete bar.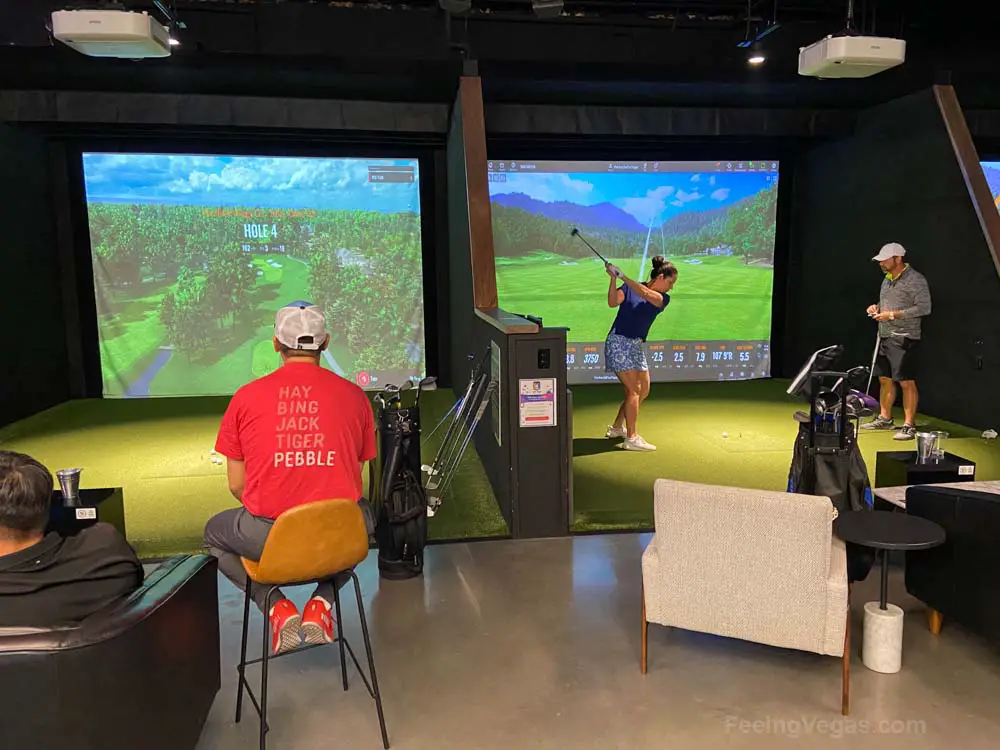 Recommended Attraction: Mirage Volcano on the Las Vegas Strip (Show Times & Tips)
AREA 15 FAQs
What is AREA15?
AREA15 is an experiential entertainment district located in Las Vegas. It offers live events, immersive activations, monumental art installations, unique retail, bars, eateries, and much more.
Is AREA15 suitable for all ages?
Yes, AREA15 is suitable for all ages. It offers a variety of experiences for all ages, including family-friendly activities.
Are Meow Wolf and AREA15 the same?
Meow Wolf's Omega Mart is an attraction found inside AREA 15. AREA15 is an arts and entertainment space full of immersive high-tech attractions, of which Omega Mart by Meow Wolf is included.
Is Omega Mart okay for kids?
Omega Mart is great for visitors of all ages. This permanent Las Vegas exhibition is a wonderful entertainment attraction for children and the young at heart.
Where is AREA15 located?
AREA15 can be found just minutes from the Las Vegas Strip on the opposite side of the I-15 freeway at 3215 S Rancho Dr, Las Vegas. Follow this link for turn-by-turn directions to AREA15 on Google Maps.
Is AREA15 ADA-compliant?
Yes, AREA15 is ADA-compliant. The venue is accessible to all visitors with disabilities.
Is there parking at AREA15?
Yes, there is ample free parking available at AREA15.
How much does it cost to get into AREA15?
During the day, AREA 15 does not cost anything to visit. Sunday – Thursday general admission is free for all ages before 9 PM but is only open (still free) for ages 21 and over after 10 PM.
Although entry to AREA 15 is free, a pass is required. You can make reservations for a pass here. If you or somebody in your group has a ticket for one of the on-site experiences, your group isn't required to get a separate entry pass.
Friday & Saturday entry is free for all ages until 9 PM. After 9 o'clock, the venue becomes 21+, and an entry pass will cost $15.
Should I buy experience tickets ahead of time?
It is recommended to buy experience tickets ahead of time to ensure availability, especially for popular experiences.
Does AREA15 sell bundle tickets?
Yes, AREA15 offers bundle tickets that include multiple experiences at a discounted price. Check the official website for more information.
Where should our taxi or rideshare drop us off at Area 15?
Your taxi or rideshare driver should drop you off at the main entrance of AREA15.
AREA 15 Las Vegas Picture Gallery
Here is a gallery of images I took on our last visit to AREA15 to show you more of what you can expect to see.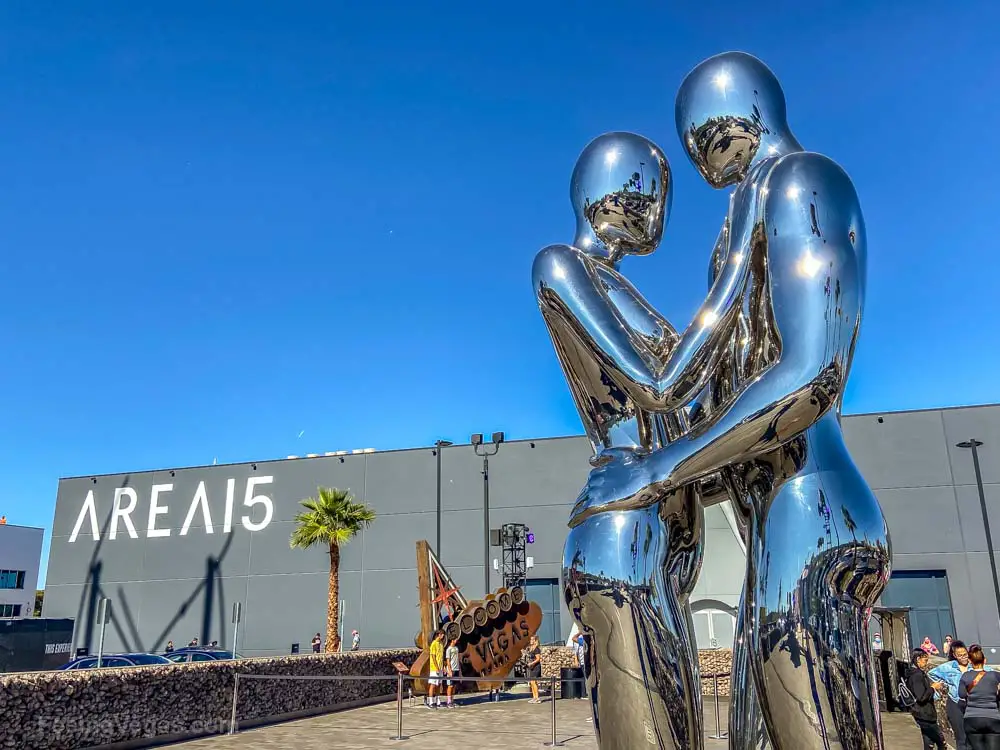 There's an area with several cool pieces of art just outside the Area15 entrance.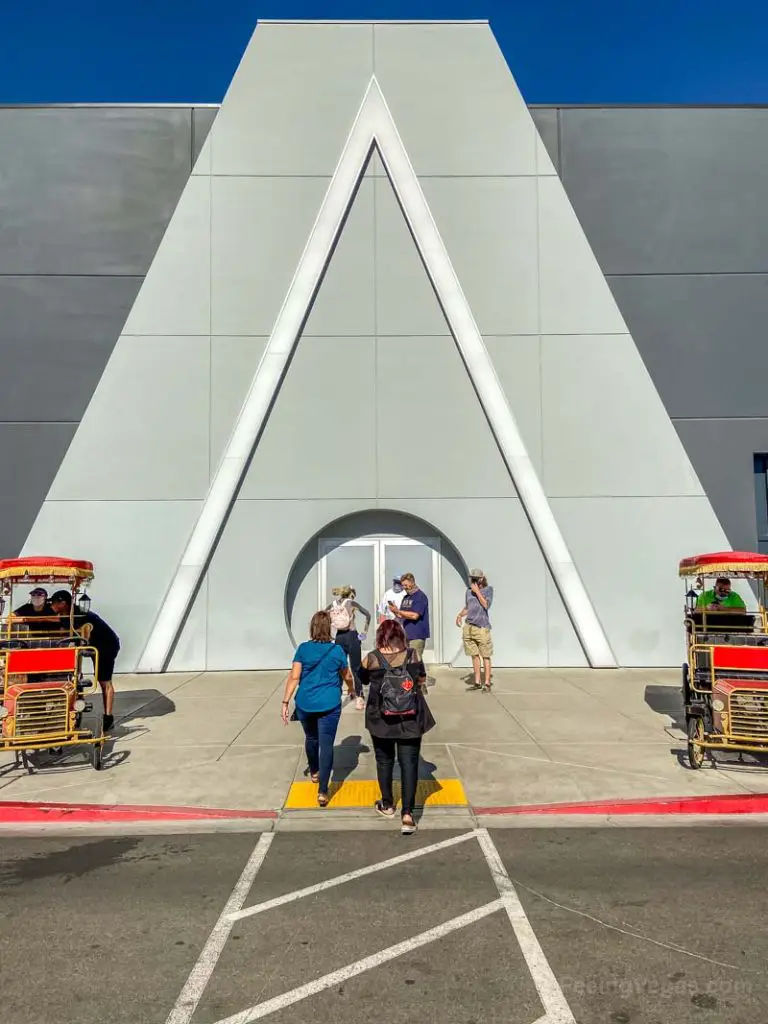 Above: AREA15 Entrance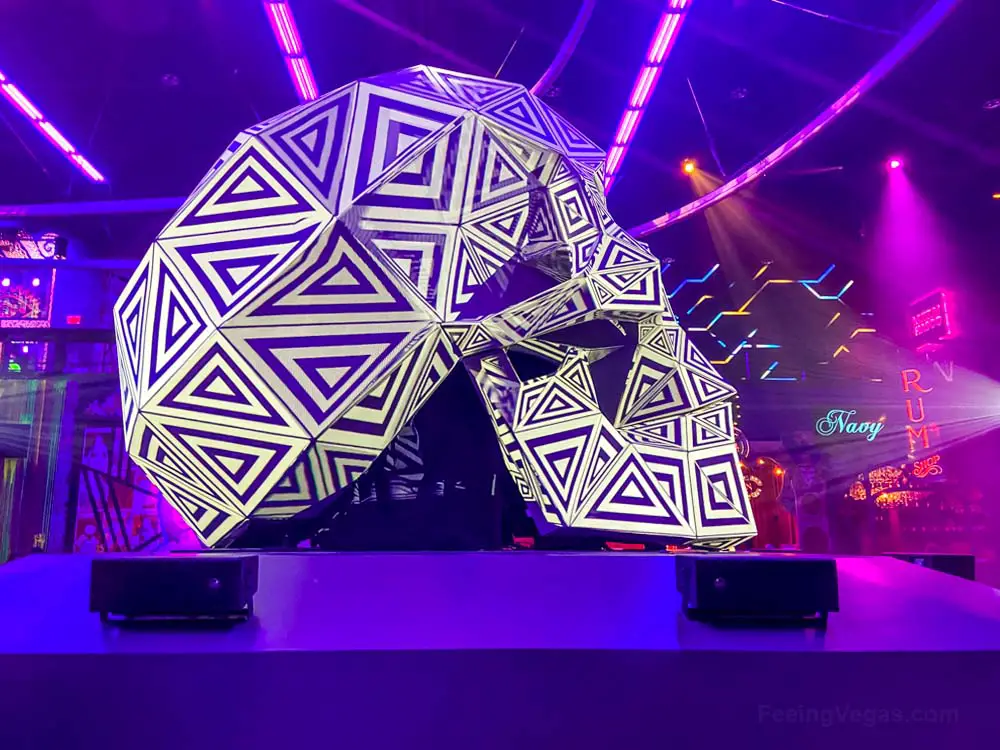 Just inside the AREA 15 entrance, you'll see a vibrant giant skull with changing patterns of lights and colors.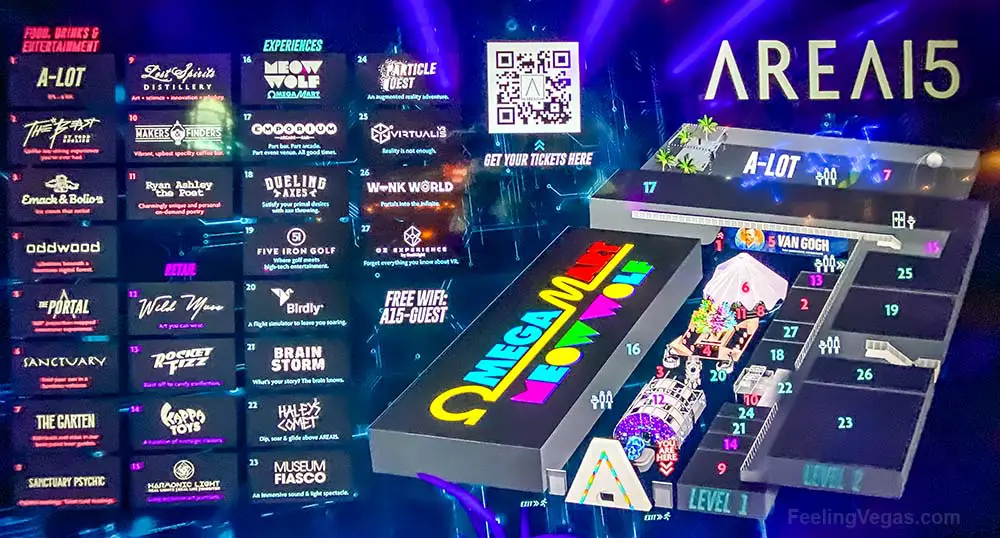 Above: A map showing the layout and all the attractions available inside AREA 15.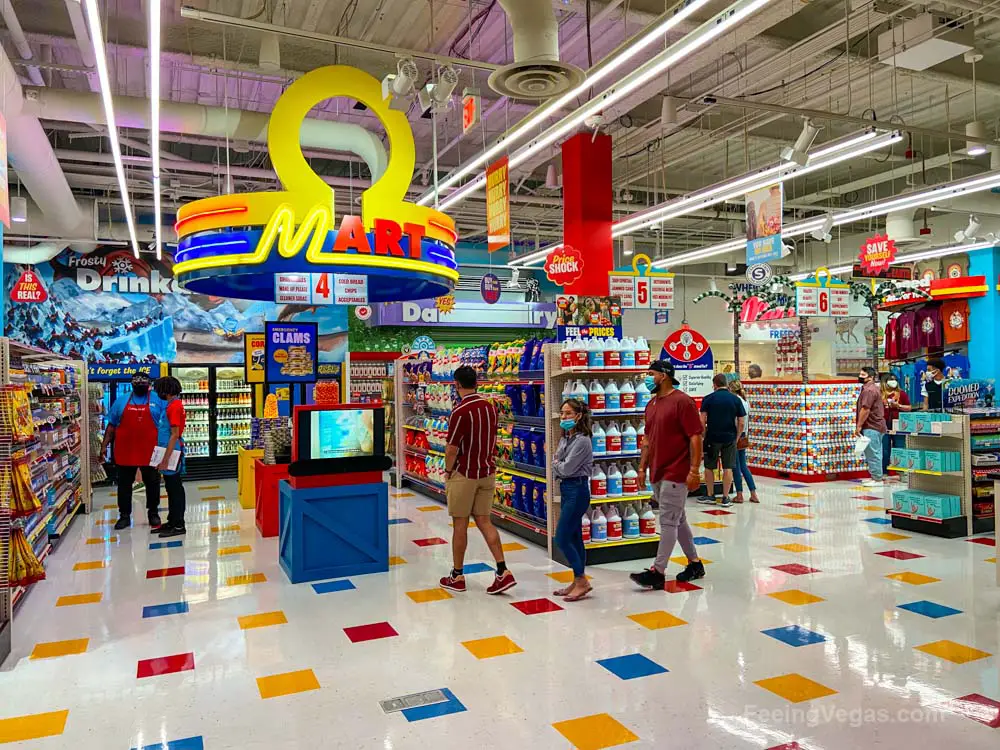 A look inside Omega Mart by Meow Wolf.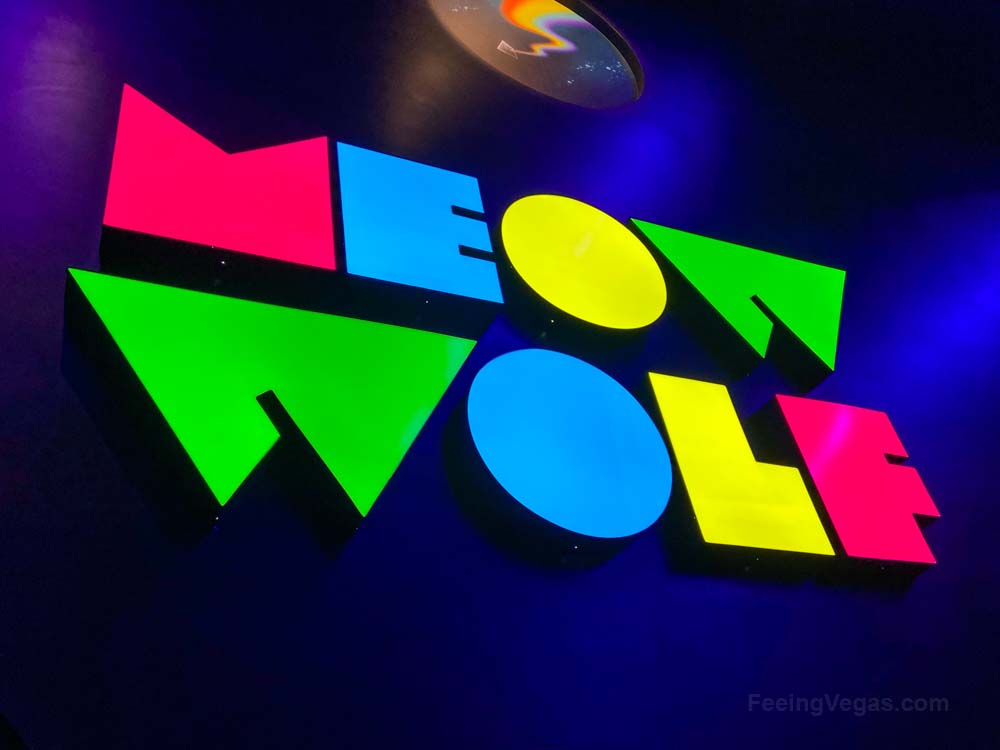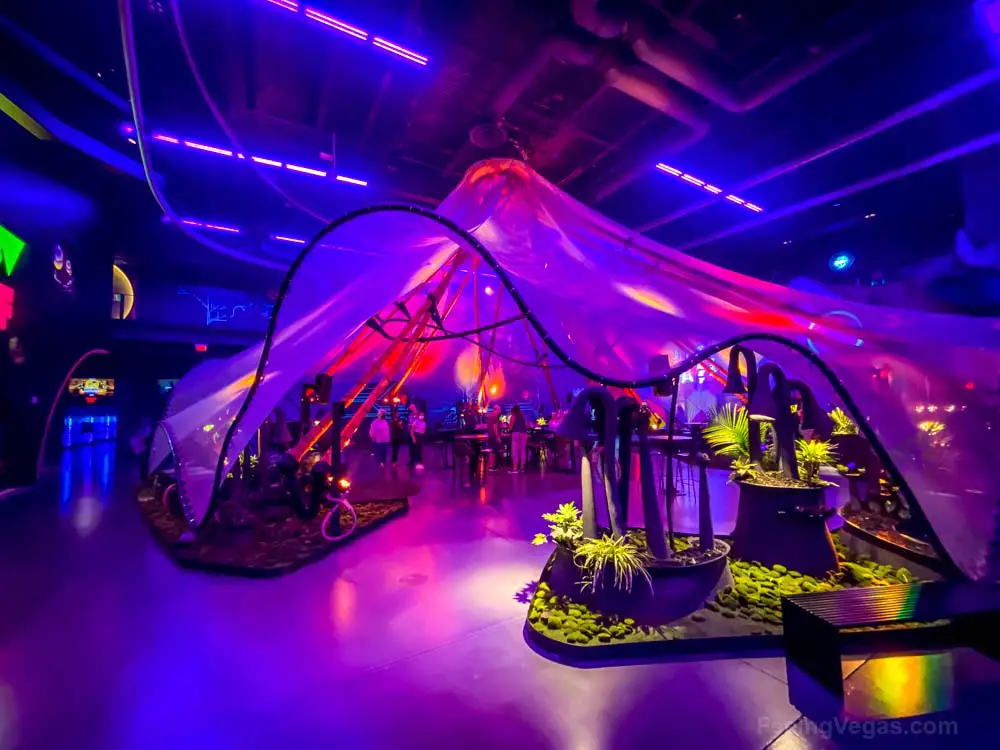 Above: Sanctuary at AREA 15 is a great place to sit and chill out for a while.
Image above: Rocket Fizz is a candy store inside AREA 15 offering an array of candies you'll remember from your childhood as well as dozens of weird and wild soda flavors.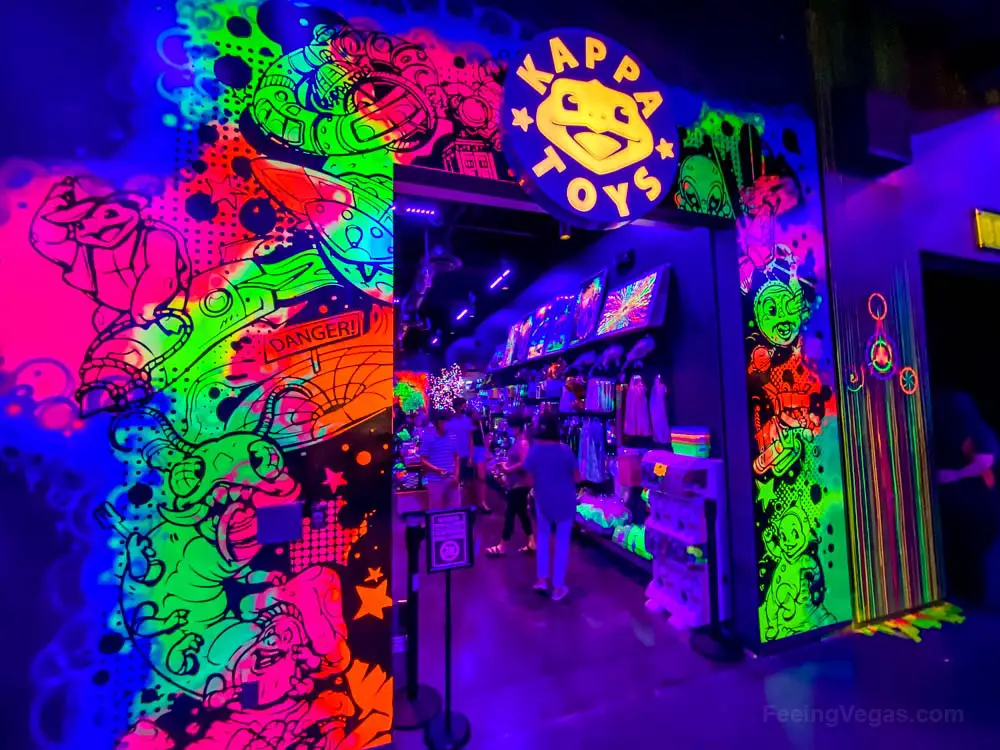 Kappa Toy store offers some fun for the kids and the young at heart.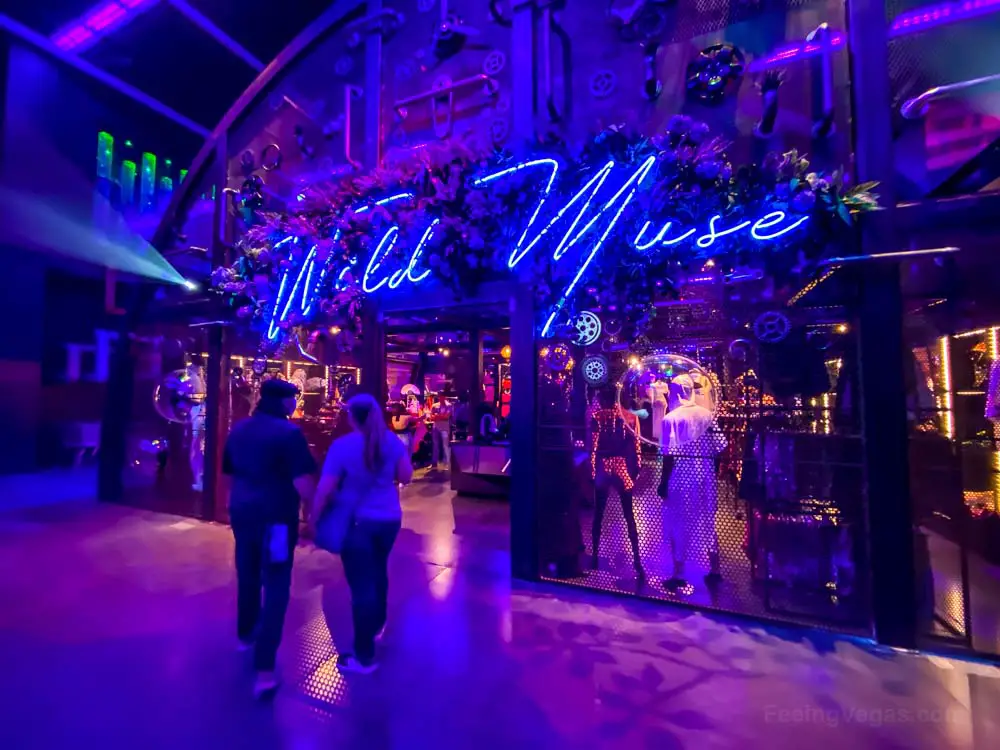 Wild Muse has a ton of funky clothing items for sale. If you're headed to a Las Vegas festival, you'll want to stop by here first!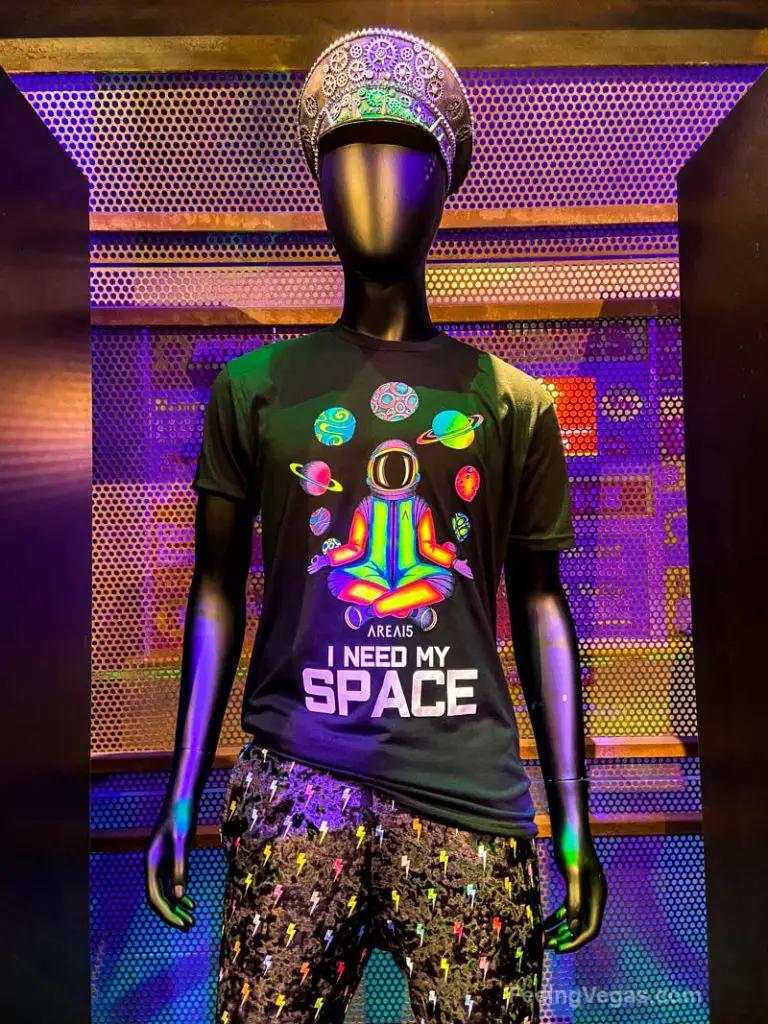 AREA 15 I Need My Space t-shirt.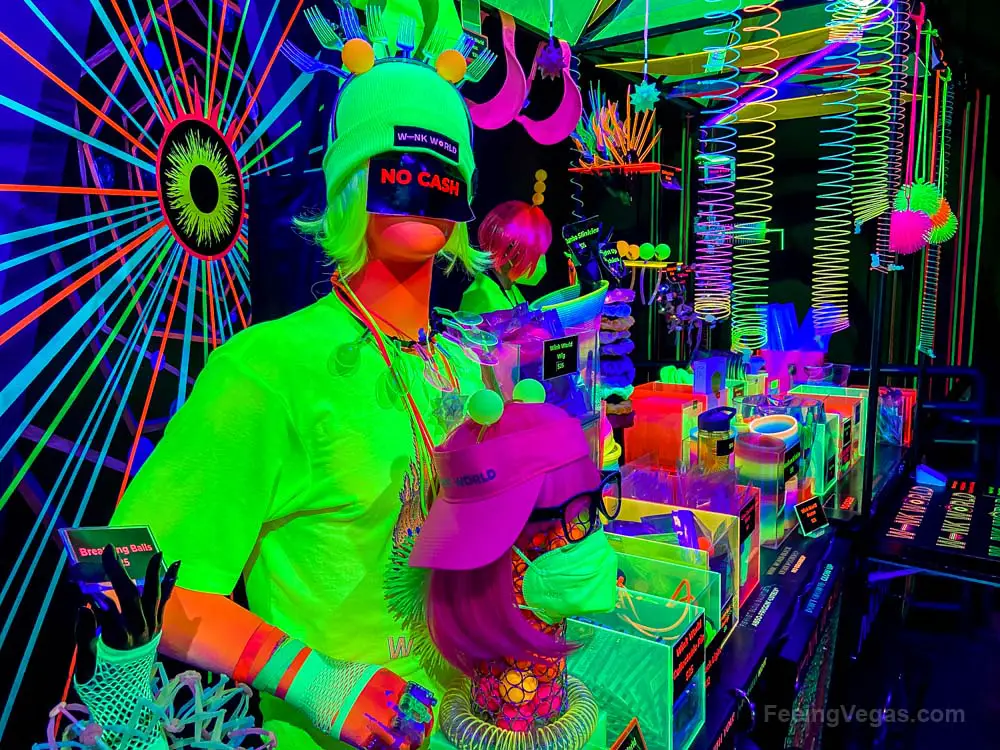 Photo above: A kiosk selling all the blacklight gear you didn't know you needed but actually do.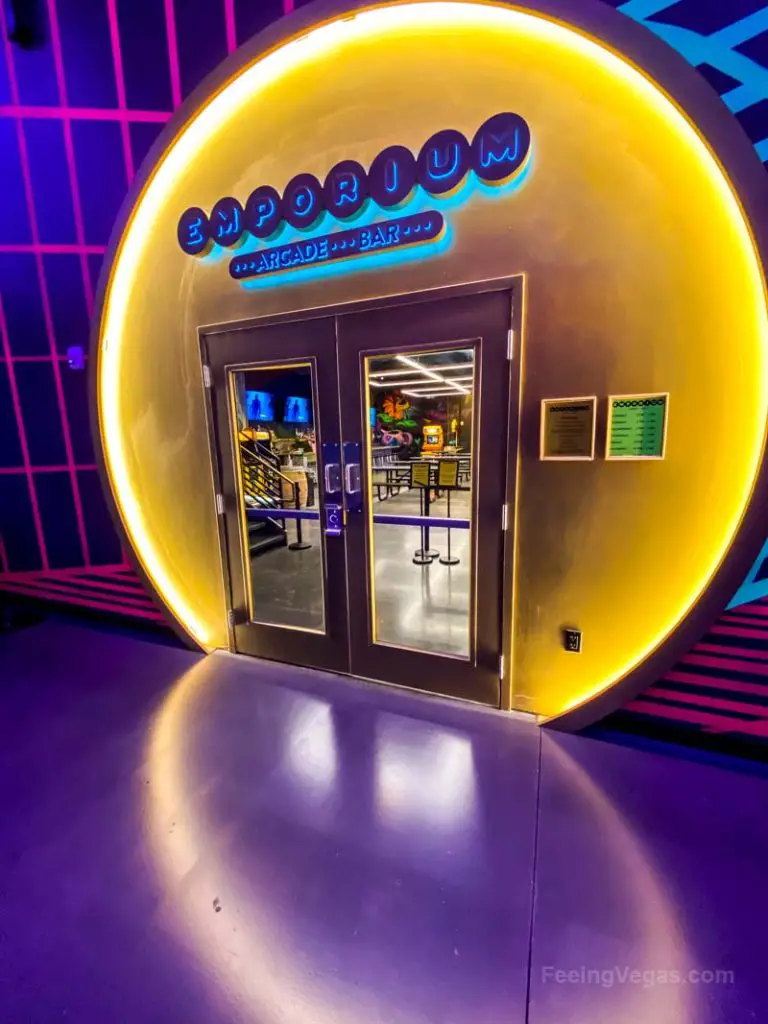 The Emporium Bar has been renamed the Asylum Bar & Arcade. It is a 21 and over arcade-style bar.
Final Thoughts
If you're considering spending a day at AREA 15 in Las Vegas, you are in for a whirlwind of artistic wonder and creative expression.
No matter your interests or the age group you are traveling with, you can easily find something to do at AREA15 that you've never experienced before.
From the sprawling Omega Mart to the compact Birdly, everything in AREA15 is a truly unique and immersive experience in its own way. Make sure to check ahead of time and purchase tickets and make reservations as required.
More Cool Las Vegas Attractions
Sources: