Hoover Dam is an engineering marvel just 30 miles southeast of Las Vegas.  It's a must-see destination for most tourists and is a nice day trip out of the city if you are spending more than just a couple days in Vegas.
What's the best way to get to Hoover Dam from Las Vegas?  The best and cheapest way to get to Hoover Dam from Las Vegas is to drive yourself in your own car or a rental. If that's not an option, the second-best way to get to the dam is to take one of the many full-day or half-day guided tours available.
Located just outside of Boulder City, Hoover Dam is a sight you don't want to miss.  It has immense historical significance and is truly a sight to behold.  The sheer size of the Dam cannot be described.  Also, it's still a fully operational power plant.
A day trip to Hoover Dam from Las Vegas can be a stand-alone trip or can be combined with other attractions in the area but before you go, you'll need to figure out how you're going to get there. This article covers all the options and will tell you about other destinations and activities in the area you'll want to see.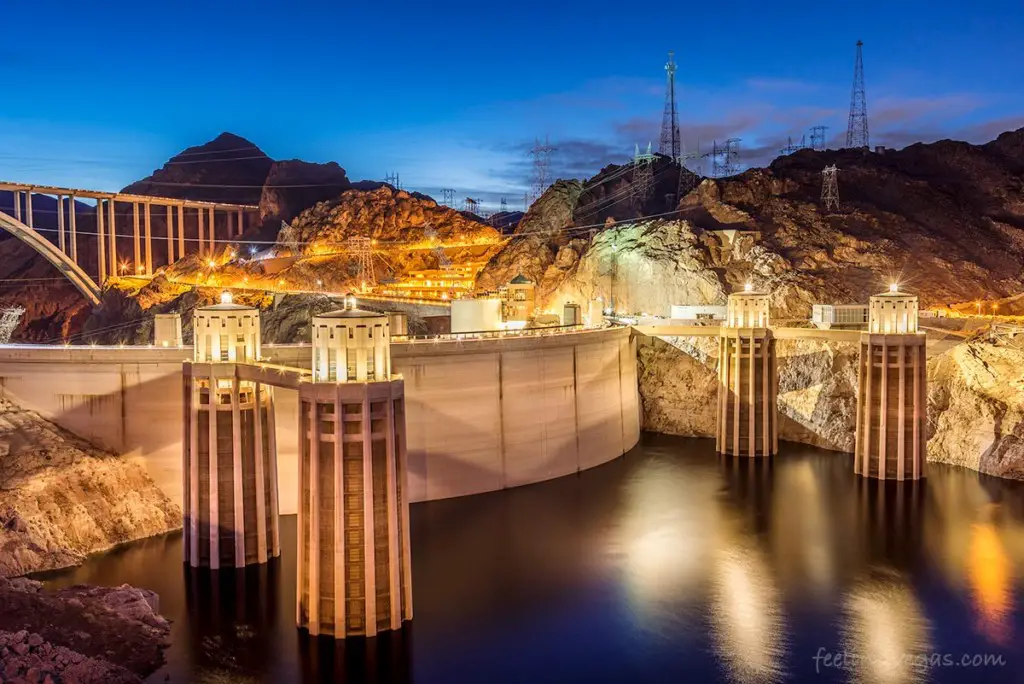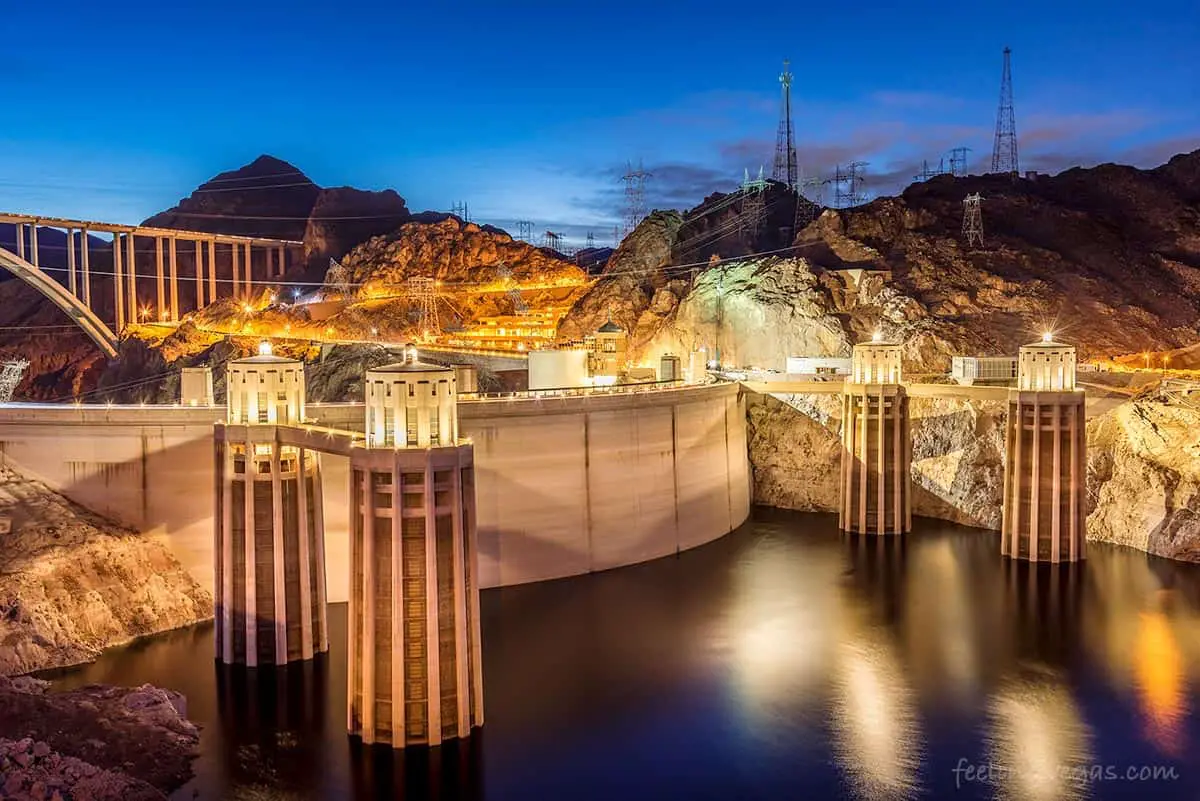 (This article may contain affiliate links. This means if you click on an affiliate link and make a purchase, we will receive a small commission at no extra cost to you)
Ways to Get to Hoover Dam from Vegas
Hoover dam is only about 30 miles from Las Vegas. It's located on the Nevada-Arizona border.  Driving there from the Las Vegas Strip takes around 45 minutes.  Your options for getting to the dam include:
Drive yourself (your own car or a rental)
Book a Tour
Shuttle Bus
Ride Share
Taxi Service
Driving to Hoover Dam – The Best Choice
Driving your own car is the easiest and cheapest.  The only cost is a little bit of gas.  Driving allows you maximum freedom to choose the time that works for you, the other things you want to see, and to come and go at the dam as you please.  It also gives you your privacy.  The dam is along one of the main routes out of town and is easy to find. Although it doesn't have a street address, it can be typed into GPS by its name or its coordinates (36.0161° N, 114.7377° W).
Parking at Hoover Dam does cost and can be crowded.  The parking garage has 459 parking spaces and can fill up during peak times.  It's located on the Nevada side across from the Visitor's Center.  Be sure to have at least $10 in cash for parking as that is the only payment method accepted. 
There is also free parking on the Arizona side of the dam.  But, from there you'll need to walk across the dam to get over to the visitor center and, of course, back across again to get back to your car. This is where I always recommend parking, however.
Since you're going to want to walk back and forth across the dam anyways to see everything, you may as well get free parking too! Also, the Arizona parking area is where you can find parking for oversized vehicles such as RV's.
If you're looking to rent a car for the day, many of the rental car companies deliver and pick up at hotels on the Strip, making it convenient to rent a car for a day trip.  Renting a car just on the days you need one will help decrease the cost of a full-time rental and eliminate the hotel parking fees on the days that you are not using it.  We have an article that will help you decide if you should rent a car or not in Las Vegas here.
Even with the additional cost of a rental car, this option is still one of the cheaper ways to get to Hoover Dam, especially if you have more than a couple of people in your group, and it continues to allow you the most freedom in planning your day.
Book a Day Tour to Hoover Dam– Second Best Option
The second best way to get to Hoover Dam is by joining a guided tour from Las Vegas. Booking a complete day tour rather than just a shuttle (see below) allows you to choose other additional side trips you may want to enjoy nearby.  This option does not give you the freedom that driving yourself does. 
You'll have to adhere to the tour company's schedule and you'll be traveling with other people.  But, typically, the charge is all-inclusive, so you don't have to worry about parking fees, entrance fees or guided tour costs.
Many Las Vegas tour companies offer full-day or half-day trips. These trips often include not only going to Hoover Dam but also add in additional side trips so that you get the most out of your limited time.  Options include a helicopter ride, a Lake Mead cruise, or if time allows even a Grand Canyon trip.  You may not be able to see everything you want, but by looking at the options, you should be able to find a tour that accommodates most of your needs.
Tours are generally comfortable and will allow you to relax and enjoy your trip without having to figure out any of the details.  Unless you have a large enough group to set up a custom excursion, you are on the tour company's timetable, and you are traveling with other people.  However, a tour can allow you to more fully experience the sights since you do not have to focus on driving.  They can be a great option if driving yourself is not possible.
Best Hoover Dam Tours from Las Vegas
These are some of the most popular Hoover Dam tours from vegas.com.
Discovery Tour of Hoover Dam – Travel to the Hoover Dam by motorcoach. Once you've arrived, take a visitor center guided tour followed by a tour down into the dam where you'll visit the generator room with its huge turbines. On the way back to Las Vegas, you'll make an enjoyable stop at the Ethel M chocolate factory (yum!) and cactus garden. Length: 6 hours
Hoover Dam VIP Tour – Take one of several different VIP transportation options available (SUV, Super Van or Mini Coach) to the dam. You'll enjoy and guided tour of the dam inside and out, including the Power Plant. After visiting Hoover Dam, you'll take a trip to historic Boulder City (website). Length: 5.5 hours
Hoover Dam Classic Tour – Travel to the dam by SUV (10 passengers). You'll have plenty of time to explore the dam on both the Nevada and Arizona sides, view a 10-minute film explaining the history of the Hoover Dam and take a tour inside the dam to the Power Plant. Length: 4.5 hours
Hoover Dam Express – This is the tour to take if you're short on time or you can't bear being away from the Strip for long 🙂 You'll arrive at the dam by motorcoach or van (your driver will be your guide). You'll have plenty of time to see the sights at the dam, and then it's straight back to Las Vegas. Length: 4 hours
Lake Mead Cruise and Hoover Dam Discovery – Start the day by exploring Hoover Dam inside and out. Followed up in the afternoon with a relaxing voyage on Lake Mead aboard a three-deck Mississippi paddle wheeler. Includes lunch and a side trip to Ethel M Chocolate Factory on the way home. Length: 7.5 hours
Grand Canyon All-American Helicopter Tour – This is really a helicopter tour of the Grand Canyon, but one of the highlights along the way is a flight over the Hoover Dam. You'll take a jet helicopter to the Grand Canyon, land below the rim, and enjoy a champagne toast while taking in the amazing views. Includes about an hour and a half of total flight time, and you'll get a view of the Hoover Dam that's impossible to get any other way. Length: 3.5 hours
Uber, Lyft, Shuttle Bus or Taxi to Hoover Dam
Ride Share:  Uber and Lyft both operate in Vegas.  They are two additional options for getting to the dam.  The rate for ride shares varies widely depending on the time of day and which app you are using.  Sometimes the price can be as little as $27 but can be quite a bit higher depending on the day and time.  This is much cheaper than a taxi but has some significant problems to overcome.
Ridesharing does give you some of the freedoms of driving.  You can go when you want and leave when you want (maybe?).  You do not have to travel with others.  However, there are some potential problems.  The first concern is whether you can catch those low rates when you want to go.  The next concern is that just because you get a ride to the dam, does not mean that you will be able to get a ride back from the dam. 
To see everything will take three to four hours, it is unlikely your driver will want to wait on you unless you pay wait time charges. These fees add up fast and are not worth it. So, in short, getting an Uber out to the dam should be no problem, but there are not a lot of Ubers or taxis hanging around the dam to take you back. I'd be nervous about going this route.
Shuttle Bus: Several different companies offer shuttle buses to and from Hoover Dam.  These allow you to ride in comfort, leaving the driving to others as you sightsee out the window.  The cost of a basic tour can be as little as $59.  Basic tours typically include:
Transportation
Hoover Dam Tour
Visitor Center
Memorial Bridge
The drawback of using a shuttle bus is a lack of privacy and having to adhere to someone else's timeline.  The other concern is that with such a large group of people, you may feel rushed and crowded as you go through the different stops.
National Parks Express offers one of these shuttle services to the Hoover Dam (website). You can download a PDF of their schedule here.
Taxi:  You can take a taxi to Hoover Dam, but it is likely to cost over $100.  There is no guarantee you will be able to get a taxi to return to Vegas.  This is not really a realistic way to get to Hoover Dam. People do it but my advice is: Don't do it!
What to See at Hoover Dam
Nevada & Arizona State Line Marker
The Hoover Dam straddles the Nevada-Arizona state line.  At one time, the road over the dam was part of the main highway in the area.  A popular photo op is the state line marker plaque that shows the division between the states.  Unlike some other famous markers, this one is truly geographically correct.  You'll find it on the walkway across the dam when you're right smack dab in the middle of Lake Mead.
Hoover Dam Angel Statues – Winged Figures of the Republic
On the Nevada side of the Hoover Dam, a flag pole is flanked on either side by two guardian angel statues created by a Norwegian-born artist named Oskar J.W. Hansen. Officially named the Winged Figures of the Republic (source) you can see spots on the bronze sculpture where people hoping for good luck have rubbed it smooth.
The statuary recounts the story of how challenging Hoover Dam was to build, how many lives were lost, and the story of its construction.  Near this are the gift shop and cafe.  For history buffs and those wanting to learn more about the dam, this is the most informative place outside of the visitor center.
Hoover Dam Visitor Center
While you're at the dam be sure to check out the Visitor Center. It contains the history of Hoover Dam. Photos, maps, and murals describe how the dam was built and the many stories surrounding its construction.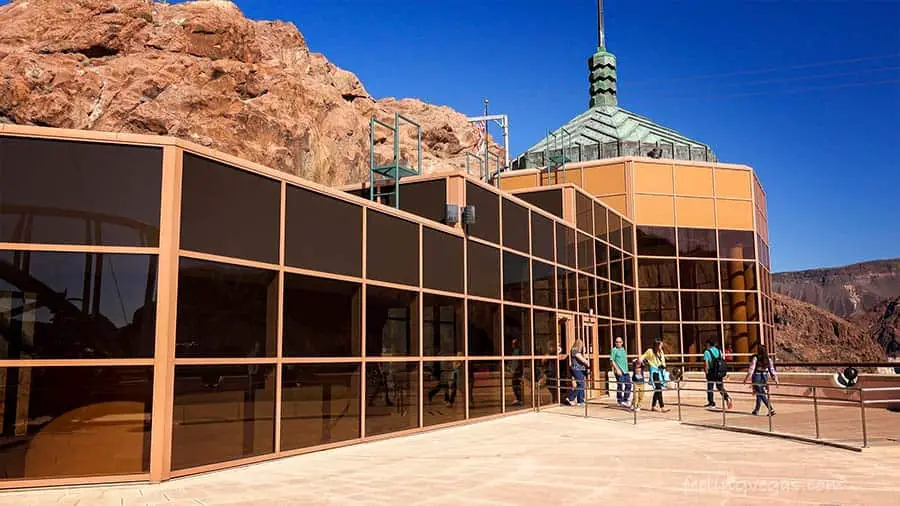 The visitors center also contains a theater where you can catch a 10-minute movie about the construction of this incredible feat of engineering. Finally, head through the visitor center and step outside onto the viewing deck overlooking the dam for a picture-perfect view of the Colorado River. Visitor Center cost is $10.
Hoover Dam Power Plant Tours
Hoover Dam is visited by 2,000 to 3,000 people every day.  Almost 1 million people tour the dam each year (source).  Ranger-guided tours are offered daily both inside and outside the dam.
While you're visiting, I'd highly recommend taking one of the tours of the interior of the dam. You'll ride an elevator down about 500 feet and walk through the rough walled tunnel walkways carved through the rock during construction.
The highlight of any of the interior tours is the Hoover Dam Powerplant. This is where you'll see the giant turbines that create electricity. It's really quite amazing!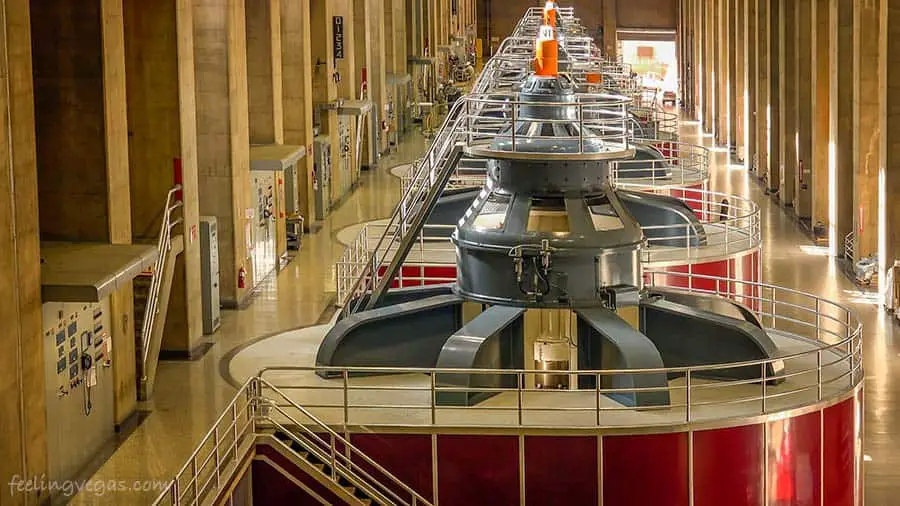 Tours start as early as 9:25 and run until 3:55 each day.  Be sure to get your tickets early.  They can also be purchased up to 90 days in advance on the Hoover Dam ticket store website.  This is the only online site to buy tickets.  Remember, tours are limited to only 20 people, and they often sell out.
First Powerplant Tour is scheduled at 9:25 am
Last Power plant Tour is scheduled at 3:55 pm
First, Dam Tour is scheduled at 9:30 am
Last Dam Tour is scheduled at 3:30 pm
Dam Tours (limited to groups of 20 people per tour) may sell out a couple of hours in advance of the last scheduled tour
Last Visitor Center entrance tickets are sold at 4:15 p.m.
The Powerplant tours are a 30 minute guided tour of the power plant and admission to the visitor center.  The Dam tour is approximately a one hour guided tour of the inside dam passageways, the power plant, and admission to the visitor center.
Hoover Dam tours are NOT RECOMMENDED for those with claustrophobia or a pacemaker.  The tours proceed through confined spaces and near the power plant where the generators emit electromagnetic fields.  These fields can damage a pacemaker.
Hoover Dam is open every day of the year except Thanksgiving and Christmas.  The dam itself is open from 5 am to 9 pm.  The Visitor Center is open from 9 am to 5 pm.
How much does a Hoover Dam Tour Cost?
It is free to walk or drive across the Hoover Dam. However, in addition to parking, the visitor center and the tours have the following associated fees:
Visitor Center

Powerplant
Tour

Full Dam Tour

$10
$15
$30
Self-guided access to
the visitor center, exhibits
and viewing deck.
Guided tour of tunnels
and Powerplant, includes
visitor center access. Length: 30 min
Guided tours of inspection tunnels
& ventilation shafts,
includes Powerplant,
and visitor center access. Length: 1hr
There is access to free restrooms, a gift shop, and a cafe without purchasing any tour or tickets to the visitor center.
Mike O'Callaghan-Pat Tillman Memorial Bridge
The Mike O'Callaghan-Pat Tillman Memorial Bridge is a large arch bridge that spans the gorge just in front of Hoover Dam.  You'll have a great view of the bridge from the dam as well as a terrific view of the dam from the bridge (more about accessing the bridge below).
It was built in 2010 as part of the Hoover Dam bypass project (see info below) that rerouted US 93 from crossing the top of Hoover Dam.  The new route also took out several hairpin turns and blind curves that made the road extremely dangerous, especially with all the tourist traffic.
The bridge was the first arch bridge made from a concrete and steel composite built in the United States.  It's the widest concrete arch in existence in the Western Hemisphere, and it's also the second-highest bridge in the United States at 890 feet high.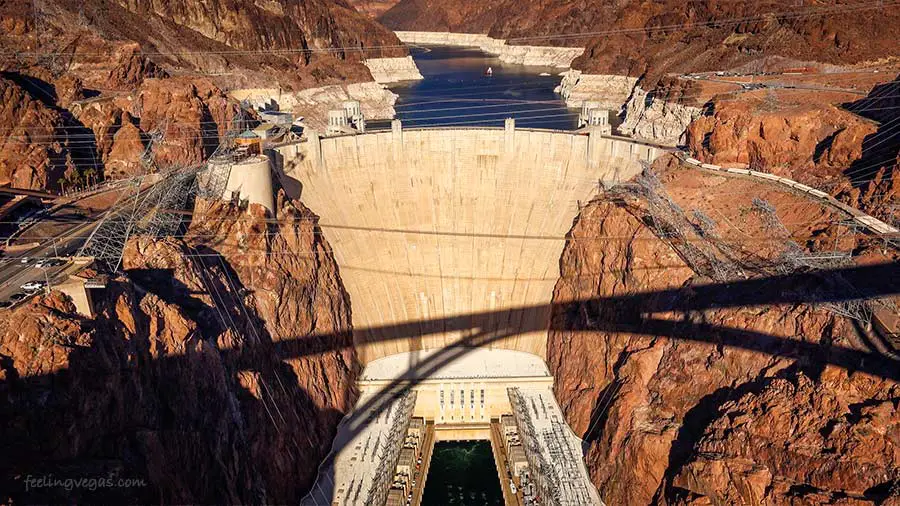 There is a parking area just before you reach the dam (or just after you leave). If you have the time, be sure to stop here and take a walk out onto the bridge. It has an utterly amazing view of Hoover Dam from above that you won't want to miss. Unless you're scared of heights, that is!
From the parking lot, you'll access an informative footpath full of plaques and signage that will tell you all about the history of the bridge. The sidewalk will take you to the bridge itself, which has a nice pedestrian walkway.
The view from the bridge will allow you to get some great photos of Hoover Dam!  (From the top of Hoover Dam, you can also get some nice photos looking back at the bridge). 
Be prepared, unlike Hoover Dam, this bridge is more unnerving as you are standing over the empty gorge below you without all that concrete between you and the bottom.  It can also be pretty windy.  There is less parking at this bridge, so you may want to either stop first thing early in the morning or last thing in the late afternoon to beat the crowds.
Hoover Dam Bypass Project
The memorial bridge is part of the Hoover Dam Bypass Project. Officials determined in the early 1960's that the projected traffic over Hoover Dam was dangerous, and the current road was inadequate.  From 1998-2001, officials from Arizona, Nevada, and the federal government worked to develop an alternative route.  The current site, which is approximately 1,500 feet downstream from Hoover Dam, was selected in March 2001.
Construction of the approaches to the bridge began in 2003.  Actual bridge construction began in February 2005.  The bridge was finally finished in 2010, with the route being opened to traffic on October 19, 2010.  The total cost of the project was $140 million.  With its opening, the Hoover Dam was closed to through traffic.  You can still drive across the Hoover Dam, but you must return to the Nevada side to exit.
The bridge is named after Mike O'Callaghan, Nevada governor from 1971-1979 (a decorated Korean war veteran), and Pat Tillman, an NFL player.  After 9/11, Tillman gave up his Arizona Cardinals NFL career to enlist in the U.S. Army and was later killed in Afghanistan by friendly fire in 2004.   The bridge is, therefore, named for a significant person from each state it connects.
What to Bring on an Outing to Hoover Dam
Bring plenty of drinking water.  Hoover Dam is located in the desert.  It can easily be 90 degrees in the spring and well over 100 degrees in the summer.  You'll want to stay hydrated.  The walk across the dam is about a quarter-mile trip each way.  You will need sunscreen and a hat, especially when you are on the dam as there is no shade.  Also, due to occasional windy conditions, either be prepared to hang on to your hat or wear a hat with a chin strap.
You can bring your own snacks but there is no place for a full picnic.  The cafe serves lunch, bottled water, and cold treats. But, the lines can be long during peak season, and it will be costly. 
Hoover Dam History
Hoover Dam is considered one of the engineering wonders of the modern world.  It was built from 1931 to 1936.  The dam, originally named the Boulder Dam, sits across the Colorado River on the Nevada-Arizona border in Black Canyon.  It is 1244 feet long and stands 72 stories high.  When it was built, it was the world's largest hydroelectric dam as well as the world's largest concrete structure. 
Hoover Dam's construction had to be approved by Congress.  The Hoover Dam cost $163 million to build and six companies bid on the project.  The City of Las Vegas closed many speakeasies and tried to clean up its act in order to try and win the contract to be the construction headquarters, but the federal government decided that Las Vegas had…ehem…too many questionable distractions and decided to build a new city, now known as Boulder City, to house the construction workers. 
The purpose of the Dam was to provide flood control, allow expansion of irrigation farming in the surrounding desert area, and provide a dependable water supply for Las Vegas and southern California.  Power production also became a goal as the idea for the dam grew.
Construction of the Hoover Dam
Hoover Dam was built in just five years, but it took nearly 30 years to get the project in motion.  Arthur Powell Davis had the original idea of building the dam in 1902.  But, it was not until 1922 that the project was finally studied.  Herbert Hoover, the 31st president, played a crucial role first as Secretary of Commerce and later as President in getting Davis's vision turned into reality.
In 1929, Hoover signed the Colorado River Compact into law allowing for the construction to begin.  The first step was to divert and dredge the river.  This was a tedious project and consisted of digging four diversion tunnels through the canyon walls, moving the flow of water around the site, and back to the river channel downstream.  This allowed for dredging of the deep silt and sediment.
Once the bedrock was exposed, the construction of the dam could begin.  The base required 230 gigantic blocks of concrete, five feet tall with widths from 25 square feet to 60 square feet.  Columns linked together like a giant Lego set with alternating vertical and horizontal blocks.  At peak production, a bucket of concrete was delivered by an overhead cable every 78 seconds.
Cooling the Concrete at the Dam
Not only was building the dam an engineering feat but so was cooling the concrete after it was poured.  Over 582 miles of cooling pipes were placed in the concrete.  Without this cooling system, it is estimated it would have taken about 100 years for the concrete to cool properly and cure due to the chemical heat generated by the concrete setting.  One inch steel pipe was embedded in the concrete blocks and circulated ice water. 
An ammonia refrigeration plant was used to cool the water.  It was capable of creating 1000 pounds of ice blocks every day.  Eventually, the cooling pipes were back-filled with concrete for added strength.  In 1995, the dam was tested by removing concrete cores. They showed that Hoover Dam continues to gain strength, and it has a compression strength far exceeding normal.
Naming the Hoover Dam
Hoover Dam is named for the 31st president Herbert Hoover.  It has become a strange fact that one of our country's most impressive engineering feats is named after one of the least liked presidents.  In 1930, Secretary of the Interior Wilbur traveled to the proposed building site to mark the official opening of the dam project.  He used the pageantry as a publicity stunt and named it after Hoover.
Because of President Hoover's perceived fault in the Great Depression, this was quickly contested.  Wilbur's successor, Harold Ickes, was very critical of both Hoover and naming the dam after him.  In 1933, he switched the name to Boulder Dam.  The dam spent 14 years after this without an official name. On April 30, 1947,  President Truman signed into law the original Hoover name.
However, in 1935, when the dam was officially dedicated by Franklin Roosevelt, Hoover was not invited or mentioned at the ceremony even though it had been him that had brought the dam project to life, to begin with.  FDR did not even mention Hoover in his speech.  Prior to that time period, the dam was often unofficially called the "Boulder Canyon Dam" or the "Boulder Dam."
Facts About Hoover Dam
When it was built, the dam was finished two years ahead of schedule and was, at 726 feet, the tallest dam in the world.  It held that title for two decades before it was outdone in 1957 by an 820-foot tall dam in Switzerland called the Mauvoisin Dam.  It also lost its domestic title in 1968 to California's Oroville Dam, which stands at 770 feet tall.  It is still an engineering masterpiece but has now been outdone by several other dams.
The dam creates power for 1.3 million people in California, Arizona, and Nevada.  It provides enough power that in 1939, Nazi's attempted to blow it up to disrupt its ability to generate energy in the United States.  The idea was to hamper California aviation manufacturing ability by cutting its power.  They began their plans but were caught before they could complete the task. (source).
Hoover Dam is what's known as an arch-gravity dam.  The volume of water in Lake Mead being held back by the dam can exert up to 45,000 pounds of pressure per square foot at the base of the structure.  However, the massive weight of the dam uses the force of gravity to hold back the water.  The arch shape also helps by dissipating some of that pressure to the canyon walls.
Things to Do Near Hoover Dam
If you make the trip to Hoover Dam, there are several other interesting places in the area that you may want to see as well. Combine one or two of these stops with Hoover Dam and make a whole day of it.  These are easily accessed when traveling by car.  Tour companies also offer many of them as an add-on to your trip to the dam.
Lake Mead
A man-made lake, Lake Mead was formed by damming the Colorado River (Hoover Dam). It is 112 miles long, 500 feet deep, and has more than 800 miles of shoreline.  From the top of the dam, you can stand on one side and see the stunning beauty of the lake.  Walking across the dam top, you can then look down the sheer drop of the other side all the way down to the river. From the dam, however, you won't be able to see much of the lake.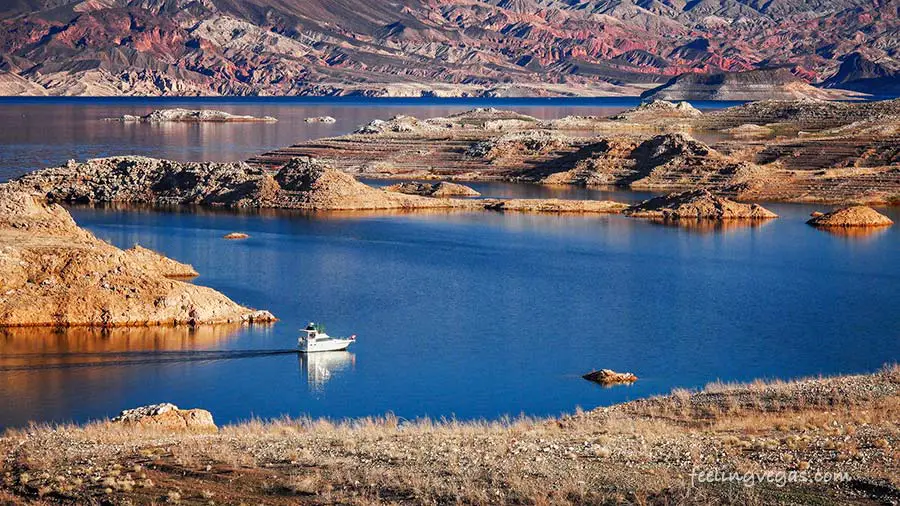 If you'd like to see more of the lake you can drive down to the main areas of Lake Mead on your way to or from the dam. Lake Mead is a National Recreation Area (website) so the cost of entry is $10 per car and $16 per water vessel.  Many of the activities in the park are free after entry.  Some of the things to do in the park include hiking, boating, swimming, and more. 
Boulder City, Nevada
Boulder City was built to provide homes for the workers during the dam's construction and to house the headquarters for dam operations once it was completed.  It is the only city in Nevada where gambling is illegal. Find out why this is the case in our article about how Las Vegas got started.
It is located between Hoover Dam and Las Vegas.  It is a much quieter city with souvenir stores, boutiques, and restaurants.  It does house a few hotels for those using the dam as a stopover.
Nevada State Railroad Museum
The Nevada State Railroad Museum (website) is also located in Boulder City.  It traces the history of trains as part of the dam construction.  Some of the existing track that moved supplies and men to the construction site is housed in the museum.  A circa 1911 restored locomotive can also be viewed at the museum.  A running train is available for giving visitors rides up and down a small length of the track.
Bootleg Canyon Zipline Tour
For those looking for more adventure, you can visit the headquarters of the Flightlinez Bootleg Canyon to book a zipline tour over the desert while getting cool views of Lake Mead and the Eldorado Valley. 
The zipline reaches speeds up to 60 mph over Bootleg Canyon Park!  You can often spot bighorn sheep or other animals in the valley below as you zip over.  The zipline itself is more than one and a half miles long and goes through several stations. You can get more information about the Bootleg Canyon Zipline here (viator).
Final Thoughts
Driving yourself or taking a full day tour are the best options for traveling to Hoover Dam.  Which you choose will depend on your desired itinerary, your timeline, and pricing.  If you know in advance which side trips you want to take, with some preplanning, you are likely to find a tour that includes all you want to do.  That will allow you to ride in comfort and focus only on enjoying yourself.
If you are unsure of what you want to do or like to be more spontaneous, driving is the option for you.  Not only does it allow you the maximum freedom to plan your day, but it also is the cheapest option available.  Just remember to book your rental car in advance if you need one.  Then head out to enjoy a fun-filled day seeing the majesty of the dam and surrounding area.
Recommended Reading: Best Las Vegas Day Trips (Ultimate Guide & Map) – This is a complete guide and map showing all our favorite Las Vegas day trips.
Related Questions – Hoover Dam:
Is the Hoover Dam wheelchair accessible? The Hoover Dam is wheelchair accessible. There is a handicapped pick-up and drop off area in the parking garage. In addition, wheelchairs are available to rent for $5 for those who may have difficulty walking.
Is Hoover Dam lit up at night? Hoover Dam is very well lit at night. The best spot to view the dam at night is from the parking areas across the dam on the Arizona side. It's an excellent spot for pictures or to watch the sunset.
Does Las Vegas get power from Hoover Dam? Yes, but contrary to popular belief, Las Vegas only gets a small percentage of its power from the dam. Most of the electricity created by the dam is routed to Arizona and California.
Other Articles You'll Find Helpful
Find out the best ways to get to Area 51 from Las Vegas.
Learn the best ways to get to Red Rock Canyon from Las Vegas in our article here.
If you found this article helpful, please SAVE THIS PIN to your Travel boards on Pinterest 😎 Thank you!