Must-See Las Vegas Shows for Newbies ( Comedy, Magic, Music & Dance )
(This article may contain affiliate links. If you click through and make a purchase, we will receive a small commission at no additional cost to you. )
One BIG reason to come to Vegas is to see all our amazing shows! The different shows in Las Vegas offer something for everyone but there are so many to choose from, especially if it's your first time in Vegas, its hard to know where to start.
Fear not, we're here to help!
So, what are the must-see Las Vegas Shows for Newbies? These are the best shows playing in Las Vegas for first-timers right now:
Absinthe
Blue Man Group
O by Cirque du Soleil
Penn & Teller
Zombie Burlesque
Chris Angel "Mindfreak"
The first thing to understand is that there are currently six distinct types of shows to watch in Vegas, including:
Production Shows
Musicals
Magic Shows
Comedy Clubs
Concerts
Adult Shows
Tribute Shows
World Famous Headliners
Free Production Shows
Entertaining Tours
This article will focus on these different categories of shows in Las Vegas and let you know about the best shows for newbies and seasoned veterans alike in each category. Read on…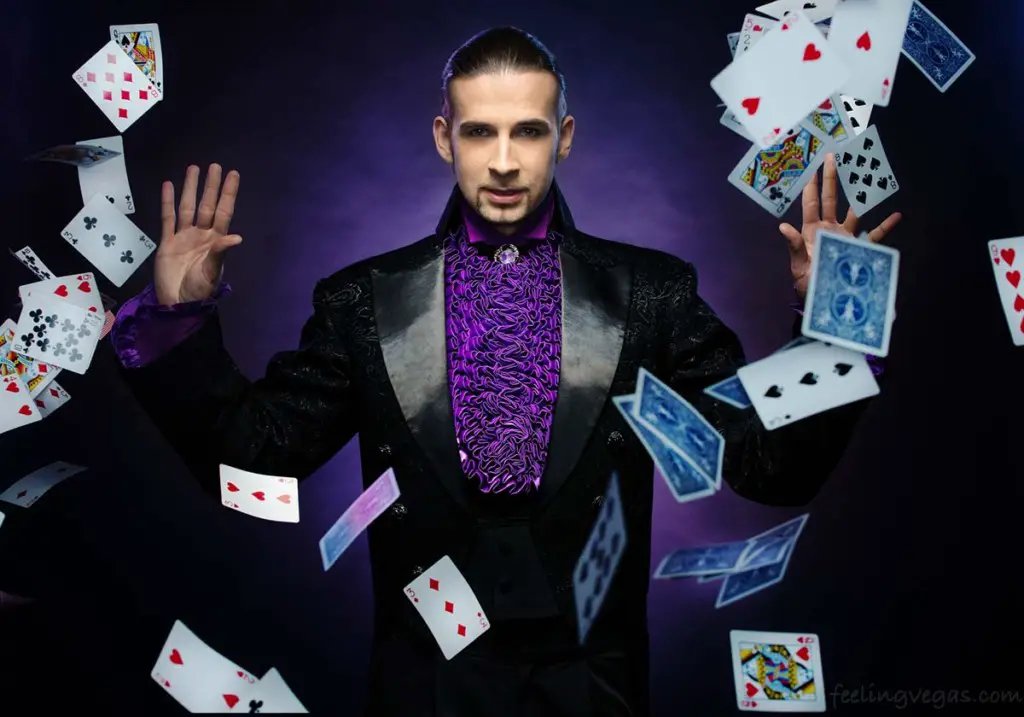 Las Vegas Production Shows
Production shows include a wide variety of excellently produced and highly rated shows. These big-budget shows are the best of the best in Las Vegas.
The shows run the gamut from family-friendly fun to adult-only entertainment. While Las Vegas is constantly changing its programming, right now there are six production shows that really stand out including:
Michael Jackson One by Cirque Du Soleil
O by Cirque Du Soleil
Absinthe
Mystere by Cirque Du Soleil
Here are the locations, prices, and some descriptions of these fine production shows.
Michael Jackson One
Michael Jackson was a musical icon, and although he has been gone for a while now, his music continues to be wildly popular. Michael Jackson One can fall into two categories as both a production show and a musical and it's produced by Cirque du Soleil, one of the best in the biz.
The show plays at the Mandalay Bay Resort and Casino in Vegas. The show pays tribute to Michael, offering up cutting-edge technology to enhance the audio and visual enjoyment of audiences.
There are also some stunning pyrotechnics displays.
The website offers the following description of Michael Jackson One:
"Hailed by Rolling Stone as "A virtual parade of 'wow' moments," Michael Jacksons One by Cirque du Soleil is an electrifying fusion of acrobatics, dance, and visuals immersing the audience into the world of Michael's music."

Cirque de Soleil
Tickets for Michael Jackson One from $100 and up. Lowest priced guaranteed tickets here.
O By Cirque du Soleil
"O" by Cirque du Soleil is located at the world-famous Bellagio Resort in Las Vegas and remains one of the Strip's most popular production shows. A newbie can expect a thrill a minute as the program features elements of air, fire, and water.
Tickets for "O" by Cirque du Soleil start at $121 at vegas.com
Absinthe
Absinthe incorporates wonderful acrobatics, outrageous comedy, and cabaret into one fantastic production show. The show is hosted by Gazillionaire and is an adults-only program that all visitors should see at least once.
The program is located on the Roman Plaza at Caesars Palace, and the tickets range from $140-$287 depending on where you choose to sit. Look for Absinthe discount show tickets here.
Mystere
Mystere by Cirque du Soleil is an adventure inside the imagination where jaunty, music-stuffed, brightly colored, athleticism abounds. The production is now showing at Treasure Island in Las Vegas and has street performances and circus-like artistry.
It includes clowns, singers, contortionists, and acrobats that make up the cast of seventy-five performers.
Mystere ticket prices begin at $77.
Las Vegas Musicals
Las Vegas has been known for many years as the home of some of the most critically acclaimed musical productions in the world. Most shows feature expertly trained singers, dancers, and live music plus much more.
The musical shows that are currently showing in Las Vegas include:
Zombie Burlesque
Menopause the Musical
You'll find the description, location, and pricing of these musical productions below.
Zombie Burlesque
If you like zombies or burlesque you're in luck! If you like zombies AND burlesque you're really in luck!! This is the first show that we saw after moving to Las Vegas and it did not disappoint.
Imagine male and female sexy, singing zombies with a heavy dose of comedy and you've pictured this show perfectly.
You'll find Zombie Burlesque playing at Planet Hollywood Las Vegas, and the ticket prices start at $49. Find discount Zombie Burlesque tickets here.
Menopause the Musical
Showing at The Improv at Harrah's Las Vegas, Menopause the Musical is a good-humored musical parody set to music from the 60s, 70s, and 80s.
The women in the musical have nothing in common except a black lace bra, memory loss, hot flashes, and night sweats. Oh, and don't forget, a complete lack of sex!
The program is a funny production that pokes fun at a woman's condition that affects all women everywhere.
Tickets for the show begin at $64 and go up to $105. Find Menopause the Musical discount tickets here.
Las Vegas Magic Shows
Who can think of Las Vegas and not think of magic shows! Some of the world's most renowned magicians and illusionists appear in Las Vegas with jaw-dropping and baffling tricks that will make your trip a memorable one.
These well-known acts include:
Criss Angel MindFreak
David Copperfield
Penn & Teller
Paranormal: The Mind Reading Magic Show
Mat Franco Magic Reinvented Nightly
Here is some information about these acts, the venues, and their prices.
Criss Angel MindFreak
Hosted in the Criss Angel Theater at Planet Hollywood Resort & Casino Las Vegas, Criss Angel Mindfreak will blow you away with mind-bending visual effects, pyrotechnics and Criss Angel's unique illusions and tricks.
It's a high energy show that is packed with visual and audio experiences that will leave you breathless.
Criss Angel Mindfreak tickets fun from $69 and up.  You can save a few bucks on Mindfreak tickets here.
David Copperfield
David Copperfield might be the greatest illusionist of all time and is now showing at the MGM Grand Hotel and Casino in Las Vegas.
Tickets are available online through Ticketmaster starting at $82. Get David Copperfield tickets much cheaper here (vegas.com).
Penn & Teller
Known for their provocative and hilarious magic shows, Pen & Teller smashed Broadway and is now touring the country.
The Pen & Teller show has returned to the Rio in Las Vegas to perform their "Bad Boys of Magic" show, known by that name because they often tell the audience how they've performed certain tricks and illusions.
The tickets for the Pen & Teller show sell at prices beginning at $85. Get discount Penn & Teller tickets here (vegas.com).
Paranormal: The Mind Reading Magic Show
Frederic Da Silva, an internationally known mentalist, is the headliner for this show that blows away the minds of his audiences every night.
Paranormal: The Mind Reading Show offers magic, hypnosis, and mind-reading at Bally's in Las Vegas, and ticket prices begin at $53.
If I could read your mind right now I'm pretty sure you're thinking you'd like to find discounted tickets for this show. 🙂
Mat Franco Magic Reinvented Nightly
This show features the amazing magic of Mat Franco, a winner on America's Got Talent. Mat Franco offers a show to remember as he performs interactive magic and unique feats of illusion.
Mat Franco Magic Reinvented Nightly is showing at Caesar's Entertainment, the Linq in Las Vegas, and tickets start at $60. Check for discount tickets here.
Las Vegas Comedy Clubs
Las Vegas is home to some of the funniest venues on the planet. The different comedy theaters feature rising star comedians along with long-running comedic performances.
A brief list of the Comedy Clubs include:
Brad Garrett's Comedy Club
Laugh Factory in Vegas
Comedy Cellar
Jokester Comedy Club
Jimmy Kimmel's Comedy Club
Find below a description of these funny programs, their venues, and prices.
Brad Garrett's Comedy Club
Vegas has numerous comedy shows, and Brad Garrett's Comedy Club located at the MGM Grand is one of the best known in Sin City. Some of the hottest stand-up comedians in the world stop by here and do a set.
This club offers loads of laughs and fun. Even the man himself, Brad Garrett, sometimes drops by!
Tickets start at $50. Tickets for less here.
Laugh Factory in Vegas
The Laugh Factory opened in 1979 and has gifted its audiences with hilarity every day since. For an adventure of a lifetime, the Laugh Factory in Vegas offers open mic nights where, if you've got the guts, you can jump on stage and show everyone just how funny you are!
Ticket prices begin at $47. Look for discount tickets here.
Comedy Cellar
Comedy Cellar is one of the more affordable shows in Vegas with tickets beginning at $25. Discount tickets can be found here at vegas.com. Go to the Comedy Cellar to stimulate your funny bone.
Jokesters Comedy Club
The Jokesters Comedy Club is located on the 2nd-floor showroom inside D Casino Hotel on Fremont Street in Las Vegas. The club prides itself on offering professional, live standup comedy seven nights a week.
The Jokesters Comedy Club offers a laugh a minute with resident headliners and up and coming comedians. Did you know Jokesters has its own national television show titled Jokesters TV?
Tickets for this experience begin at $30. Find tickets for less here.
Jimmy Kimmel's Comedy Club
Jimmy Kimmel's Comedy Club, located at Caesar's Entertainment in The Linq Promenade showcases comedic performances from some of the most talented comedians in the business.
With late-night shows, surprise guests, and high-end food, this newest addition to Las Vegas will provide loads of laughter.
Tickets begin at $50. Check for lower-priced tickets here.
(Find out about all 7 of the top Las Vegas comedy clubs in our article here)
Las Vegas Headliner Concerts
While in Las Vegas, it would be a dirty shame not to attend one of the many amazing and exciting concerts featuring musical artists from all genres, including R & B, pop, rock, hard rock, and country-western music.
Some of the headliners who have appeared recently or are appearing currently in Las Vegas are:
Katy Perry
Garth Brooks
Rod Stewart
Usher
Carrie Underwood
Keith Urban
Like with all other shows appearing in Vegas, there is an ever-changing and rotating motion to the available shows to watch and listen to.
Ticket prices range from $40 to over $100. See a listing of all the current headliner shows in Vegas.
Las Vegas Adult Shows
Whether you watch alone or with a partner, Las Vegas hosts some of the best adult-only shows anywhere. These adult shows are sinfully sensual.
These mature audience only shows are shown at various venues across the city.
Check out these steamy Las Vegas adult shows designed for mature audiences only.
Below are some of the best well-known:
Don't forget to check out these erotic performances that will make your blood boil!
Las Vegas Tribute Shows
Tribute shows, headliner impersonators, and marvelously choreographed music give homage to music legends. No matter what the genre, the tribute shows in Las Vegas are sure to add a touch of nostalgia to any vacation or business trip.
Purple Reign
Legends in Concert
All Shook Up, Tribute to the King
Beatleshow
Below please find a description of each program plus the venue and ticket price of each.
Purple Reign
Showing at the Tropicana, Purple Reign is a tribute by Jason Tenner for the iconic performer Prince. He looks like Prince, he sounds like Prince … it'll feel like the 1990s all over again!
Tickets from $73 here.
Legends in Concert
As the original tribute show in Las Vegas, Legends is the longest-running show in the city's history. Legends in Concert uses impersonator artists to bring some of history's most loved pop and rock superstars together for one great show.
This is not A tribute show … this is THE tribute show in Vegas.
The show features such icons as Lady Gaga, Frank Sinatra, Elvis Presley, and Whitney Houston alongside dancers, back-up singers, and a live band.
The show is live at the Tropicana Resort & Casino, and tickets go for $45 and up.    
All Shook Up, Tribute to the King
No trip to Las Vegas would be complete without seeing a show featuring an Elvis Presley impersonator!
At Planet Hollywood Resort and Casino, they feature a unique take on their show in that it features only Elvis Presley music backed by a live band. It's the ultimate tribute to the King!
Tickets to All Shook Up are $68 here.
Beatleshow
Located at the Saxe Theater, Beatleshow was recently voted as "The Best Beatles Tribute in the World." Fans of the fab four will enjoy legendary music from the Beatles with their greatest hits and number one best-selling albums. 
Tickets for Beatleshow start at $60 here.
World Famous Headliners
While all Vegas shows are world-class, there are some headliners that have become world-famous such as Carrot Top and The Blue Man Group.
Carrot Top
This award-winning show stars Scott Thompson, better known as Carrot Top. Known as the "Entertainer of the Year," Carrot Top uses dark humor with lots of zany props and crazy inventions to bring a smile to your face and plenty of laughter too.
Now showing at the Luxor, Carrot Top uses wit and humor to pun and parody other world-famous stars such as Whitney Houston and Mark McGwire in addition to political figures. Tickets start at $60 here.
The Blue Man Group
The Blue Man Group uses theatrics, music, science, and art to create a wild and percussion-heavy experience that is interactive with the audience. The show is packed full of energy, and the humor leaves audiences holding their sides in laughter.
The Blue Man Group is showing at the Luxor, and tickets start at $69 here.
Find out how to pick the best seats for the Blue Man Group in our article here.
Free Vegas Shows & Music
While many of the shows listed within this article charge for admission, there are a few shows and performances around town that can be enjoyed free of charge.
One of these shows is the Circus Circus Midway Act located, where else, at the Circus Circus Hotel & Resort in Las Vegas. These shows offer world-class circus performers, including jugglers, contortionists, balancing acts, and death-defying flyers on the trapeze every 45 minutes or so throughout the day.
Another area with free entertainment will be found at the Freemont Street Experience located in downtown Las Vegas. Acts from around the globe perform their music live on stage.
Also, the area is filled with street performers doing unusual and amazing things. Not to be missed.
Other Ideas – Entertaining Las Vegas Tours
Seeing great onstage productions is only part of the fun that's available in Las Vegas. Don't forget all the amazing sightseeing tours.
If you want to not only be entertained but also take part in the action here are just a few tour ideas to get you started:
Grand Canyon All-American Helicopter Tour
Big Bus Las Vegas Hop-On Hop-Off Bus
Las Vegas Tandem Skydiving or Indoor Skydiving
Las Vegas Helicopter Night Flight
Big Bus Las Vegas Night Tour
Here's a peek at each tour.
Grand Canyon All-American Helicopter Tour
After take-off from Harry Reid Airport (formerly McCarran Airport), enjoy an exhilarating flight to the Grand Canyon, where for forty-five minutes you'll see the beautiful canyon with some snacks and a bottle of champagne.
The Grand Canyon All-American Helicopter Tour is a half-day tour taking you not only to the Grand Canyon but also touring around Las Vegas and other parts of Nevada. The price is $430.
Find out how to pick a safe helicopter tour and see a list of several tours to choose from in my article here.
Big Bus Las Vegas Hop-On Hop-Off Tour
This unique experience allows visitors in Vegas to jump on a double-decker bus and cruise up and down the Strip and in downtown Las Vegas all day long while hopping on and off whenever you please.
The open-top bus allows for a 360-degree panoramic view of the city of lights and a tour guide will tell you everything you want to know along the way.
The cost of this tour is $45 here.
Las Vegas Tandem Skydiving
This experience is for those who have skydiving on their bucket list or those who lost a bet. The adrenaline rush one gets in a 60-second free fall is amazing, and when the parachute opens for the descent, the relief is palpable.
While on this adventure with a professional skydiver, the experience will be photographed and, if so chosen, videoed. The cost is $199 here (viator.com).
Las Vegas Helicopter Night Flight
Enjoy a dazzling fifteen-minute flight at night over Las Vegas and observe the bright neon lights of Las Vegas Strip along with a glass of bubbly champagne.
This is a great way to see Sin City as the helicopter gives you a bird's eye view of the sites and the sounds that are unique to Vegas.
The cost of the ride is $85 here.
Big Bus Las Vegas Night Tour
Spend the evening sightseeing on board a topless, double-decker bus as it tours and travels through downtown Las Vegas and the Vegas Strip. Explore the sights, sounds, and activity that is Las Vegas nightlife.
The cost of this tour is $49 here.
Free Entertainment in Las Vegas
Not all forms of entertainment cost money in Las Vegas, some things, involving tours and outdoor fun, cost nothing at all. Most are family-friendly and open to the general public each day. They include:
Chocolate Tasting
Art Shows
Water Features
Strolling Along the Vegas Strip
Sit back and read about what you can get in Vegas for free.
Perfect for Chocoholics – Ethel M Factory Las Vegas
Who can resist the taste and aroma of chocolate? All true chocolate lovers will drool over this location.
Local chocolatier Ethel M., located off the Strip in nearby Henderson, will take you on a chocolate factory tour where everyone gets free samples!
Fill up on your favorite chocolates while learning how they're made.
Also, on the property, you will find one of the largest botanical cactus gardens in Nevada. Over 300 species of cactus on 3 acres with walking paths.
If you plan to visit during the winter holidays, you'll also get to enjoy the half-million-holiday lights on display until New Year's Day.
Check out their website for more info.
A Little Art for the Soul – Las Vegas Art
Many people are unaware that Las Vegas is home to many fine art displays and activities that are perfect for the entire family.
The Shops at Crystals (located on the Strip) harbors an incredible secret, it's called "Akhob". It's an enormous permanent art installation inside the Louis Vuitton flagship store.
The art piece has a walk-in chamber that is flooded with ever-changing vibrant light giving visitors a glorious and peaceful experience. Although the experience is free, you'll need to stop by the Louis Vuitton store to make an appointment as only four people at a time can enter Akhob.  
The Cosmopolitan of Las Vegas is home to some of the best free art installations and immersive art experiences in the city.
Artwork from established and new artists alike can be found throughout the resort. Hundreds of art pieces in all, some of them quite large.
Take a walk through the resort to experience all the amazing art on display (website).
Drought? What Drought? Las Vegas Water Features
Nevada is in a constant state of drought, but one would never know it by the enormous amounts of water that is on display in Las Vegas. Enjoy the following water features for free.
The Fountains of Bellagio is one of the sights in Las Vegas that you just cannot miss. Located immediately in front of the Bellagio Hotel, the fountain shows run every half hour or so throughout the day and evening.
It's a coordinated spectacle of lights, music and huge jets of water. To get the full experience, try to see it both during the day and at night.
Also, check out the inside of the Bellagio's 14,000-square foot skylit conservatory. It is a must to visit while in Vegas.
Horticulturalists and engineers have designed an incredible display for each of the four seasons. They even have a display for Chinese New Year.
The gardens feature more than 10,000 fresh flowers that are switched out every two weeks.
You may also want to find out if it's worth staying at the Bellagio Hotel. We've written an article on our website here that will help you decide if the Bellagio is the place for you.
The Waterfall Atrium at The Palazzo (part of The Venetian Hotel) is another must-see in Las Vegas. With a two-floor waterfall and seasonal flowers on display, it is a marvelous place to experience nature when you first enter the Grand Canal Shoppes.
Don't Forget To Go for a Stroll!
Stroll for free up and down Las Vegas Boulevard (the Strip) to take in the sites, but don't forget any of the following venues.
The open-air Grand Bazaar Shops, located on Las Vegas Boulevard (the Strip), features retail shops and world dining options from Seattle to Marrakesh.
There is a spewing ever-erupting volcano in front of the Mirage where shooting flames and a soundtrack combined with water and lighting effects put on a grand show.
The eruptions begin at 5 pm every night and continue every thirty minutes until 11 pm.
Last but not least, visit Downtown Container Park, a dining, retail, and park complex made completely out of giant shipping containers.
Sitting outside in front is a 55-foot-tall fire breathing praying mantis. Only in Vegas!
Las Vegas Shows and Entertainment at it's Best
Hopefully, this article has been helpful if it's your first time in Vegas or you're trying to find a new show you'd like to see. Whether you're a Vegas newbie or you're on your 10th trip, there's always more to do, see and discover in Las Vegas.
Also, check out our post about Las Vegas Resident performers: "What is a Las Vegas Residency?" to find out about current and former Las Vegas shows from some of the biggest name performers in the world.