How Much It Costs to See a Show in Las Vegas (Low to High)
(This article may contain affiliate links. If you click through and make a purchase, we will receive a small commission at no additional cost to you. )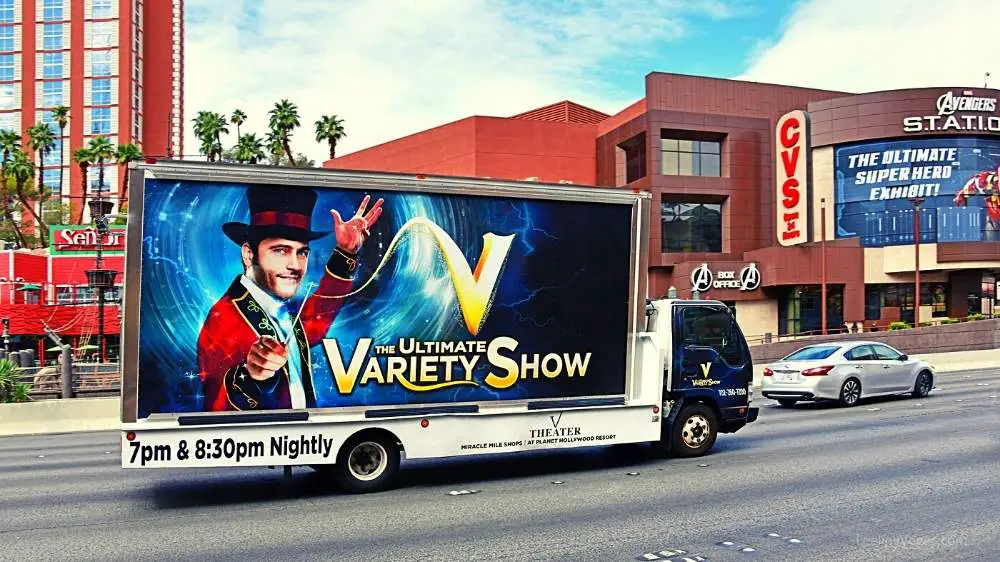 Las Vegas is known as much for its high-style shows as it is for gambling and hotels. Many visitors look forward to the nightly entertainment but wonder how much they need to allot in their vacation budget for Vegas shows. 
On average, you can expect to pay around $100 per person to see a show in Las Vegas. That being said, you can find tickets to smaller Vegas shows starting for as little as $30, while popular mid-range and high-end production shows or concerts can cost anywhere from $79 – $300 or more.
Read on to discover everything you need to know about the cost to see a Vegas show, including some examples of popular budget, mid-range, and high-end shows and their approximate starting cost per ticket. I'll also share a list of free shows and entertainment you can find in Sin City.
Looking for the ultimate Vegas show experience? Check out the calendar of concerts and festivals coming to Las Vegas!
The Cost to See a Show in Las Vegas
How much does it cost to see a show in Las Vegas? It ranges from free to more than $300 a ticket. You also have to tack on fees and taxes if you get tickets through places like Ticketmaster or over the phone.
The good news is Las Vegas has so many shows to choose from that you are bound to find something you like within your budget. 
Low-Budget Las Vegas Shows
Las Vegas has many shows in the $30 to $50 per ticket price range. One of the cheapest is Mike Hammer Comedy Magic at the Four Queens for $34 a ticket.
The Comedy Works at the Plaza has $35 tickets, but if you want tickets even lower priced for comedy, check out the LA Comedy Club at the STRAT Hotel and Casino. Tickets here are just $30 each.
The Mentalist at Planet Hollywood Hotel & Casino is a great show with tickets at $35 each. Hypnosis Unleashed at Four Queens costs $34 a ticket. V – The Ultimate Variety Show at Planet Hollywood Resort and Casino has tickets for $49 each. 
Middle-Budget Vegas Shows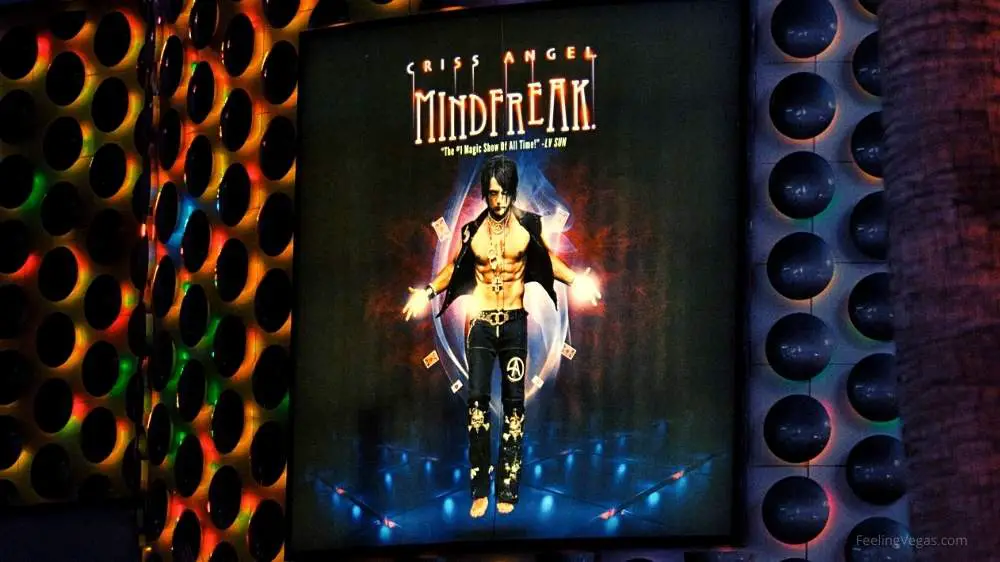 There are some really great shows if you can afford to spend between $80 to $100 per ticket. The MJ Live tribute to Michael Jackson at the Tropicana Hotel and Casino has tickets starting at $54 but another Michael Jackson tribute show is gaining more traction with audiences.
The Michael Jackson ONE by Cirque du Soleil at Mandalay Bay Resort and Casino has tickets starting at $100.
Mystere by Cirque du Soleil at Treasure Island Hotel and Casino starts at $84 per ticket. David Copperfield, one of the most famous magicians in the world, can be seen for a price tag starting at $89 a ticket. Criss Angel's MINDFREAK is another highly rated magic and illusion show with tickets starting at $87.
RELATED: Is It Better To Book Vegas Shows in Advance? (Must Read!)
High-End Las Vegas Shows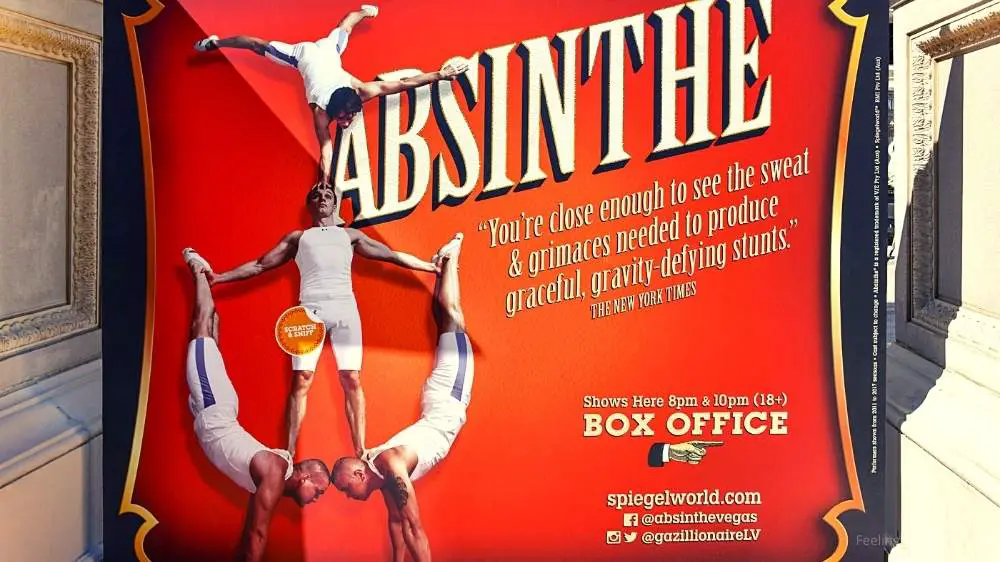 Some shows are so well known that they demand higher ticket prices. This includes Blue Man Group at the Luxor. Tickets for BMG start at $59 but they sell out quickly for these seats so you may be paying a much higher price to see the group. 
Absinthe, the late-night show at Caesars Palace tends to run higher at $99 each plus tax for Reserved A seating and $109 each plus tax for Reserved B seating. VIP Seating comes for $124 plus tax each. Those are also harder to get because the venue only holds 1,000 seats.
The Rat Pack is Back at the Tuscany Hotel and Casino. This tribute show helps you relive performances of Dean Martin, Sammy Davis Jr., and Frank Sinatra as they appeared in the mid-1960s The show is typically sold out at $110 a ticket and can be upgraded to include dinner. (You can find more Las Vegas dinner shows here.)
Some of the other headliners like Rod Stewart and Katie Perry are back in residency on a part-time basis. These tickets can cost $300 and up. Donny Osmond has a show at Harrah's with tickets to his performance priced starting at $75 and heading up to $275 for VIP seating.
Click here for a complete list of Vegas shows and Las Vegas show tickets.
Free Shows in Las Vegas
While the majority of Vegas shows cost money there are a few free Las Vegas shows and performances that can meet even the lowest budget. These include:
Circus Acts at Circus Circus
Street performers and Light Show at the Fremont Street Experience (Downtown)
The Fall of Atlantis animatronic show at The Forums Shops (Caesars Palace)
Lake of Dreams at the Wynn
All of these shows are over-the-top performances that normally would cost a pretty penny. The Circus Circus Act has a variety of jugglers, clowns, and performers while the Fremont Street Experience is full of lights, sound, and unique street performers. 
The Fall of Atlantis includes talking statues telling their story while the Lake of Dreams includes holographics, music, puppetry, and more than 4,000 lights with a 40-foot waterfall as a backdrop.
Free Las Vegas Attractions, Tours & Performances
In Las Vegas, even a free attraction is often worthy of being called a show. Vegas has plenty of free attractions that will keep everyone entertained. These include:
Streetmosphere at the Grand Canel Shoppes at The Venetian
Street performers include singers, gondoliers, jugglers, and living statues roaming the streets of this area designed to look like an Italian village.
Learn everything you need to know about taking a gondola ride at The Venetian.
The Volcano at the Mirage Hotel
The volcano and lagoon erupt after sunset each night with its activity choreographed to music written by Grateful Dead drummer Mickey Hart and Zakir Hussain, an Indian music composer.
You can find a list of Mirage volcano showtimes here.
The Fountains of Bellagio Show on The Las Vegas Strip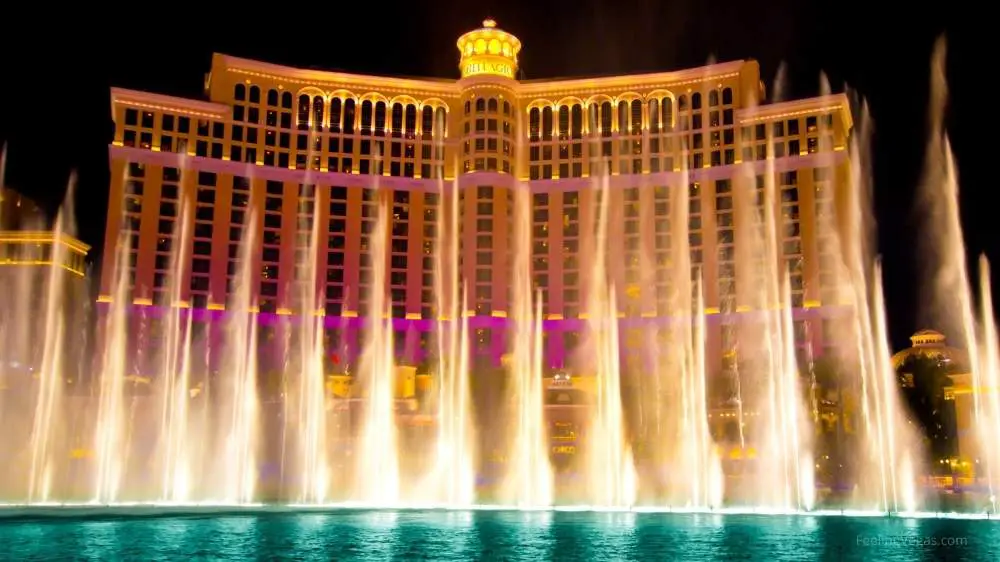 The water stage is an 8.5-acre lake resembling Lake Como in Italy and features water choreography that includes 1,214 dancing fountains that twirl, shimmy, and shoot 460 feet into the air in sync to selected classic songs.
Here you can find a Bellagio Fountain schedule and a complete list of songs.
The Flamingo Wildlife Habitat
Tucked away in the middle of Las Vegas is a habitat with a host of wildlife from flamingos, to swans, ducks, turtles, and koi. The lush landscaping includes palm trees and waterfalls.
Find out more about all the animal attractions in Las Vegas here.
The Ethel M Chocolate Factory Tour
The chocolate factory is located about 15 minutes from the center of Las Vegas and gives everyone a chance to see how chocolate is made. The bonus is you get free samples!
Learn more about the Ethel M Chocolate Factory Tour here.
See also: "O" by Cirque du Soleil: 15 Things You Should Know (Las Vegas)
Paid Las Vegas Attractions
Even the paid attractions in Las Vegas are shows in and of themselves. Some of them include a Madama Tussauds Las Vegas attraction package that includes a gondola ride down the Grand Canal, dining at Buddy V's Ristorante, and other top attractions. The package is $64 a ticket.
An attraction that will get adrenaline pumping is the Fly LINQ zipline. For $34 a ticket, you can take in the scenery from 12 stories up as you fly over the LINQ Promenade.
Summary
Las Vegas has a huge variety of shows ranging from free to several hundred dollars.
The average ticket price for a Las Vegas show is around $100, but almost anyone can find a show in their budget with shows starting as low as about $30.
It's a good idea to plan your show schedule and purchase your tickets in advance to make sure that the show you really want to see isn't sold out when you arrive.