Tour the Ethel M Chocolate Factory & Cactus Garden (Photos!)
(This article may contain affiliate links. If you click through and make a purchase, we will receive a small commission at no additional cost to you. )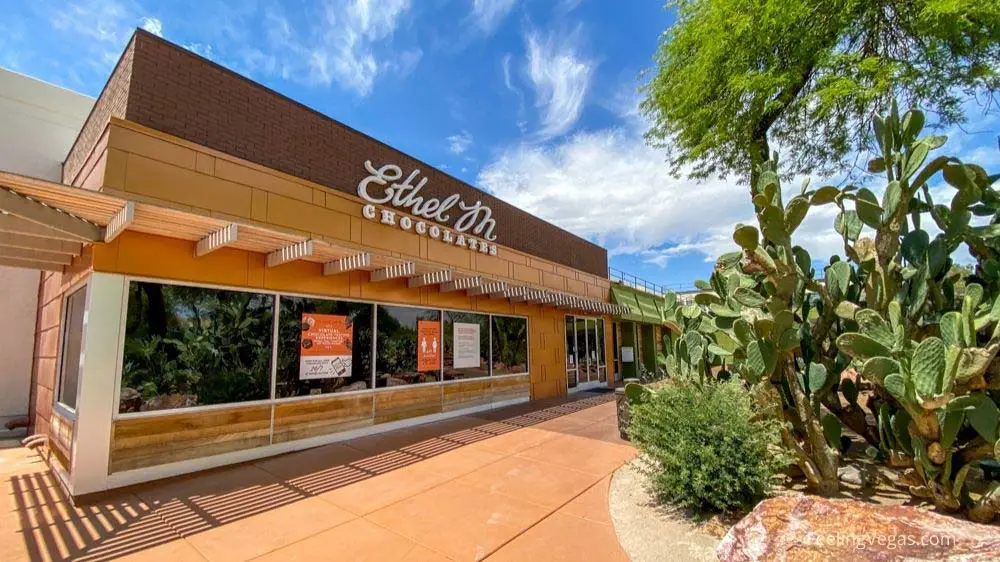 If you're visiting Las Vegas and happen to be a chocolate lover (honestly, who isn't?), then you'll want to take a trip over to the Ethel M Chocolate Factory & Botanical Cactus Garden!
The Ethel M Chocolate Factory produces premium gourmet chocolate out of nearby Henderson, Nevada (about a 20-minute drive from the Las Vegas Strip). But alongside a tasty selection of treats to buy, Ethel M also has several attractions to get you up close and personal with their production process.
The Ethel M factory is also home to the Ethel M Botanical Cactus Gardens, which is the largest cactus garden in all of Nevada. It displays hundreds of species of cacti and succulents, more than half of which are native to the American southwest.
Best of all, the factory and its expansive botanical cactus gardens are open every day to the public, with no admission charge. So, what are you waiting for? From free self-guided tours to a premium wine and chocolate tasting experience, a trip to the Ethel M Chocolate factory will be an enjoyable time you won't soon forget!
Keep on reading to find out everything you need to know about visiting the Ethel M Chocolate Factory & Cactus Garden.
Things to Do at Ethel M Chocolate Factory Las Vegas
If you are looking to get off the Strip for a couple of hours and see some more of Vegas, look no further than the events and attractions available for you at the Ethel M Chocolate Factory & Cactus Garden.
Offering a range of activities and attractions for all interests, budgets, and visit durations, there is an incredible amount to see and do at Ethel M!
Ethel M Self-Guided Factory Tour (Free!)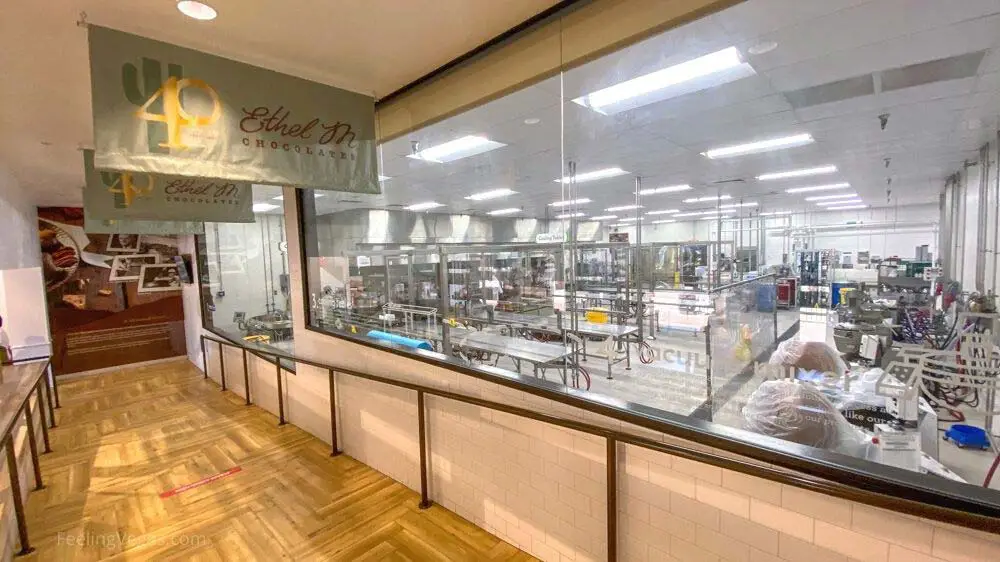 Ethel M is enthusiastic for all their visitors to get up close and personal with their team of talented chocolatiers. You'll be welcomed with a piece of chocolate and invited to take a short, self-guided walking tour where you'll be able to see in intimate detail how the legendary chocolate company crafts its products.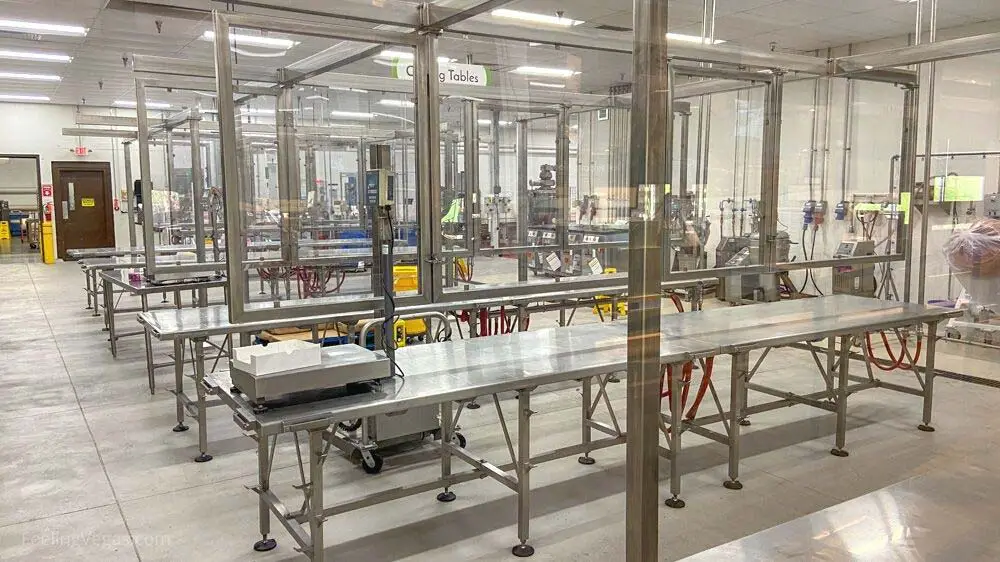 You'll walk along the edge of the factory floor, where you'll get to see each area of the chocolate production in action through the huge glass windows. There's information in each production area that will tell you exactly what the chocolatiers are doing at that stage of production.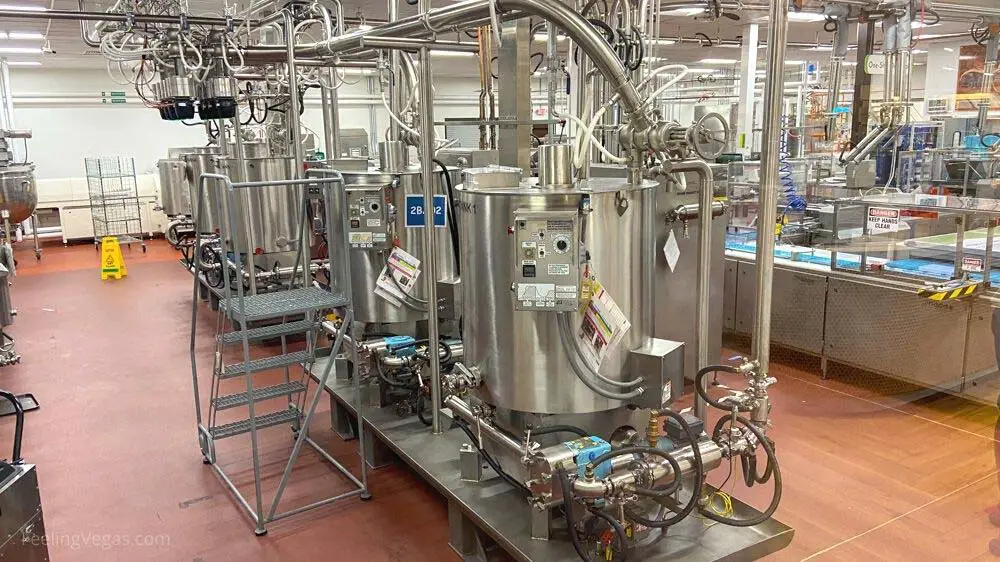 From pecan brittle to satin crèmes, you can feast your eyes on the kitchen where Ethel M produces over 60 kinds of world-famous chocolates!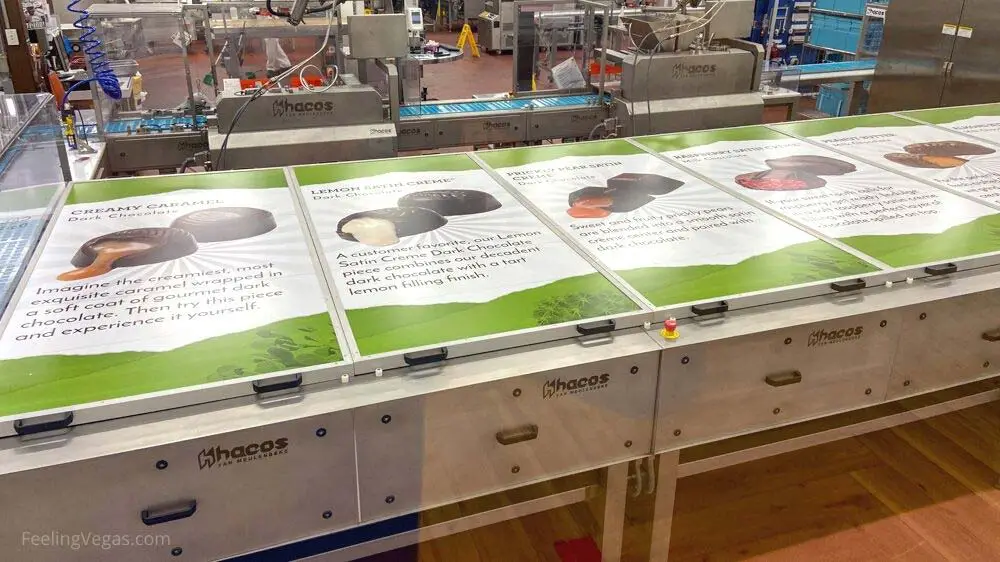 All Ethel M confectionary is made on-site and produced to order in small batches. So, there may not always be a team of chocolatiers hard at work when you arrive. In this regard, it is a bit hit or miss. You may or may not catch the factory kitchen at full chocolate-making capacity, but I think you'll still find the factory tour and information interesting and enjoyable. We did!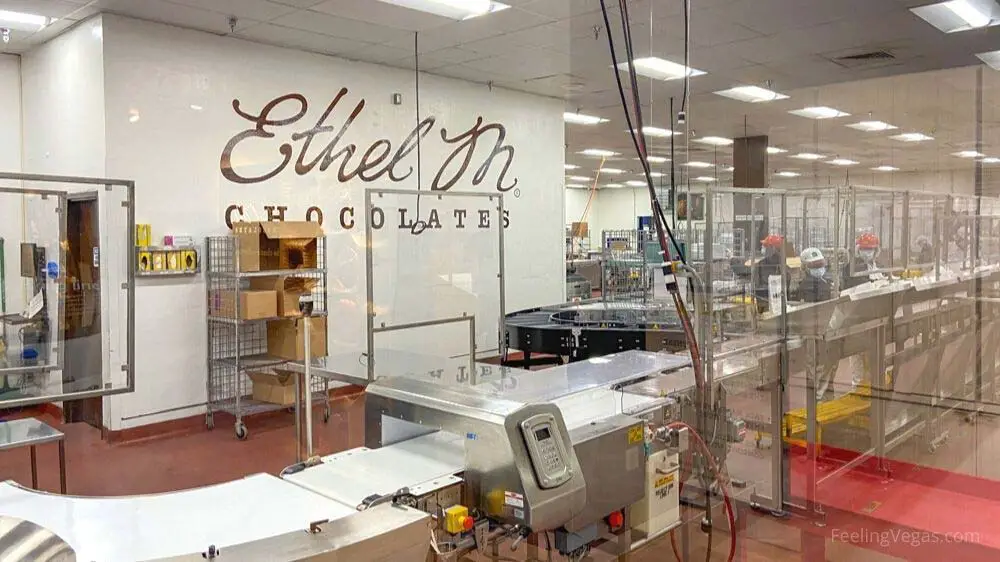 Ethel M Premium Chocolate & Wine Tastings
If you are not content just watching while Ethel M's delicious treats are created, and you'd like to get some of that chocolaty goodness in your mouth, the factory also offers a selection of daily Ethel M chocolate tastings that will make your taste buds very happy!
Each official Ethel M chocolate tasting class brings you closer than ever to your favorite treats, teaching you how their chocolate is created, all the way from sourcing the ingredients to producing the product. Expert Chocolatiers will also coach you on the subtleties of chocolate tasting and flavor identification, leaving you with a deeper appreciation of your favorite confectionery.
These tasting experiences are offered daily, last about 30-45 minutes, and can even include a chocolate and wine tasting option.
Ages
Chocolate Tasting
Cost
Chocolate & Wine
Tasting Cost
Adults (20 years & up)
$20
X
Students (13-19 years)
$15
X
Children (12 & under)
$10
X
Adults (21 & over)
X
$30
Costs for Premium Chocolate & Wine tastings at Ethel M.
The Chocolate Tastings take place at Noon, 2 PM, and 4 PM every day and can accept single visitors up to groups of 25. Sit down with a qualified Chocolatier to sample some of Ethel M's most famous delights, including:
Milk Chocolate Peanut Butter
Milk Chocolate Pecan Caramel Rapture (My personal favorite!)
Dark Chocolate Lemon Satin Crème
White Chocolate Vanilla Truffle
Additionally, the Chocolate & Wine Tasting Experience offers all visitors over the age of 21 the chance to match Ethel M's range of premium chocolates to a hand-picked selection of Trinchero's finest wines.
You can book at tasting in advance on Ethel M's website.
Ethel M Chocolate Tasting Groupon Discount
What's better than tasting gourmet chocolate at Ethel M?…getting a discount, of course! You can sometimes find an Ethel M Chocolate Tasting Groupon. While a groupon is not always available for the Ethel M tasting experience, it's always worth a quick look. If you find a discount for any of the chocolate tastings, grab it because it may not be there for long!
Ethel M Botanical Cactus Garden Las Vegas
When you are done touring the factory, and tasting some of Ethel M's most popular treats, stroll outside to explore Nevada's largest botanical cactus garden. While I don't know how chocolate and cactus go together, the Ethel M cactus garden is a really cool bonus, and is worth the trip all by itself!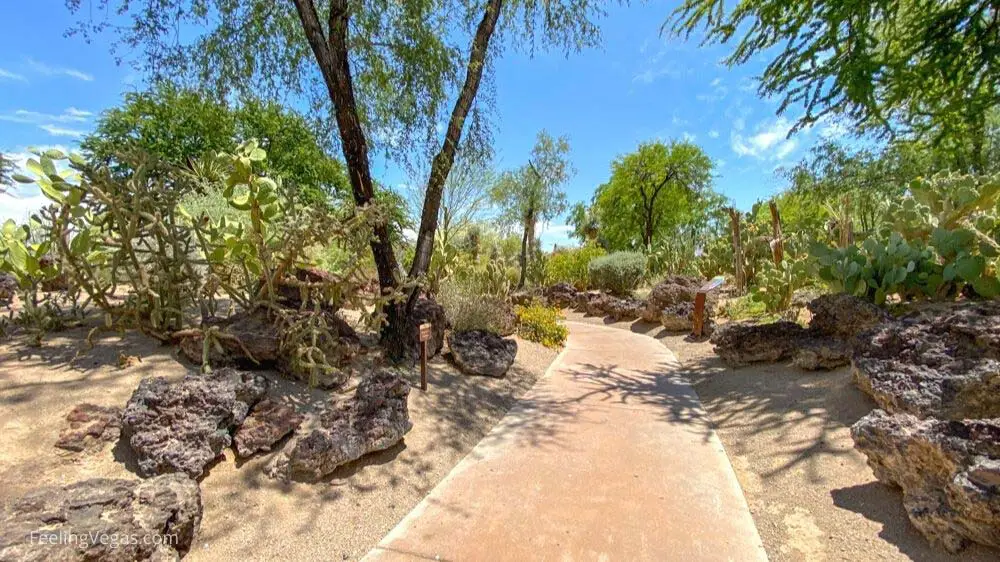 The Ethel M Botanical Cactus Garden is home to over 300 species of cacti and succulents, more than half of which are native to the American Southwest. The cactus garden is also home to a range of desert trees and shrubs from Australia and South America, chosen for their beauty and floral displays.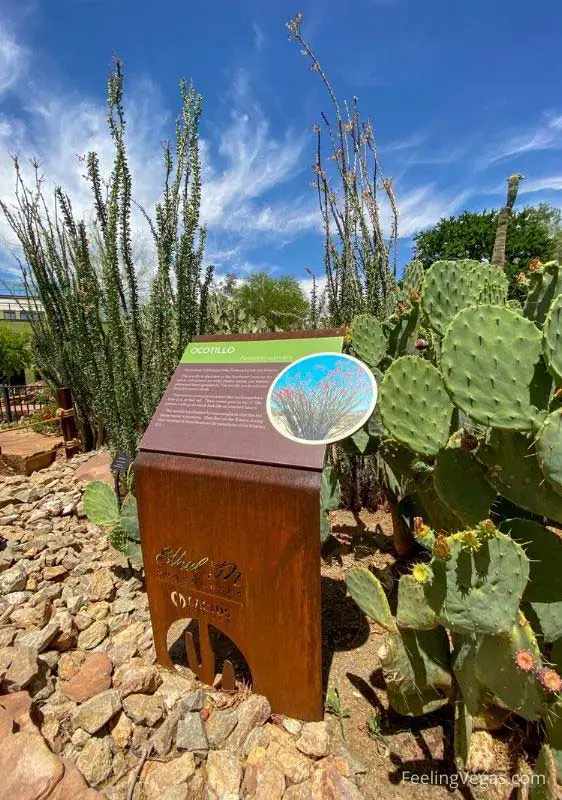 The drought-tolerant trees and cacti are laid out in a visually appealing way, and the paved garden pathways make walking through the gardens easy, as well as wheelchair and mobility scooter friendly.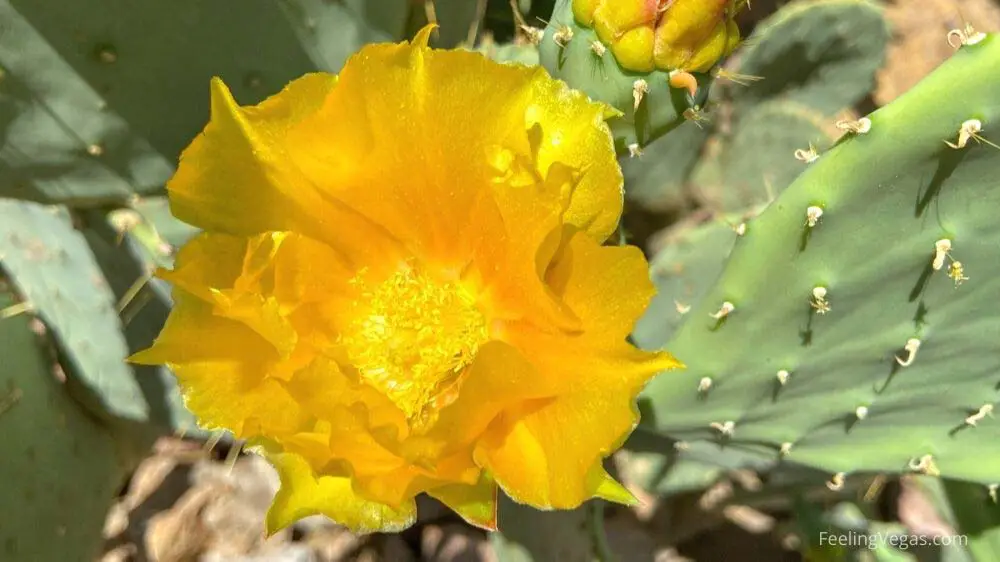 Note: All of Ethel M's plants are sustained and watered by what they call the "Living Machine": an innovative and top-of-the-line water recycling system embedded on the factory grounds. The Living Machine water treatment facility takes wastewater and runs it through a simulated wetland where the aquatic plants and micro-organisms eat the waste and clean the water before being used to water the cactus and trees.
Free to visit and open all year round, a stroll through the Botanical Cactus Garden offers a perfect ending to your visit.
Ethel M Cactus Garden Christmas Festivities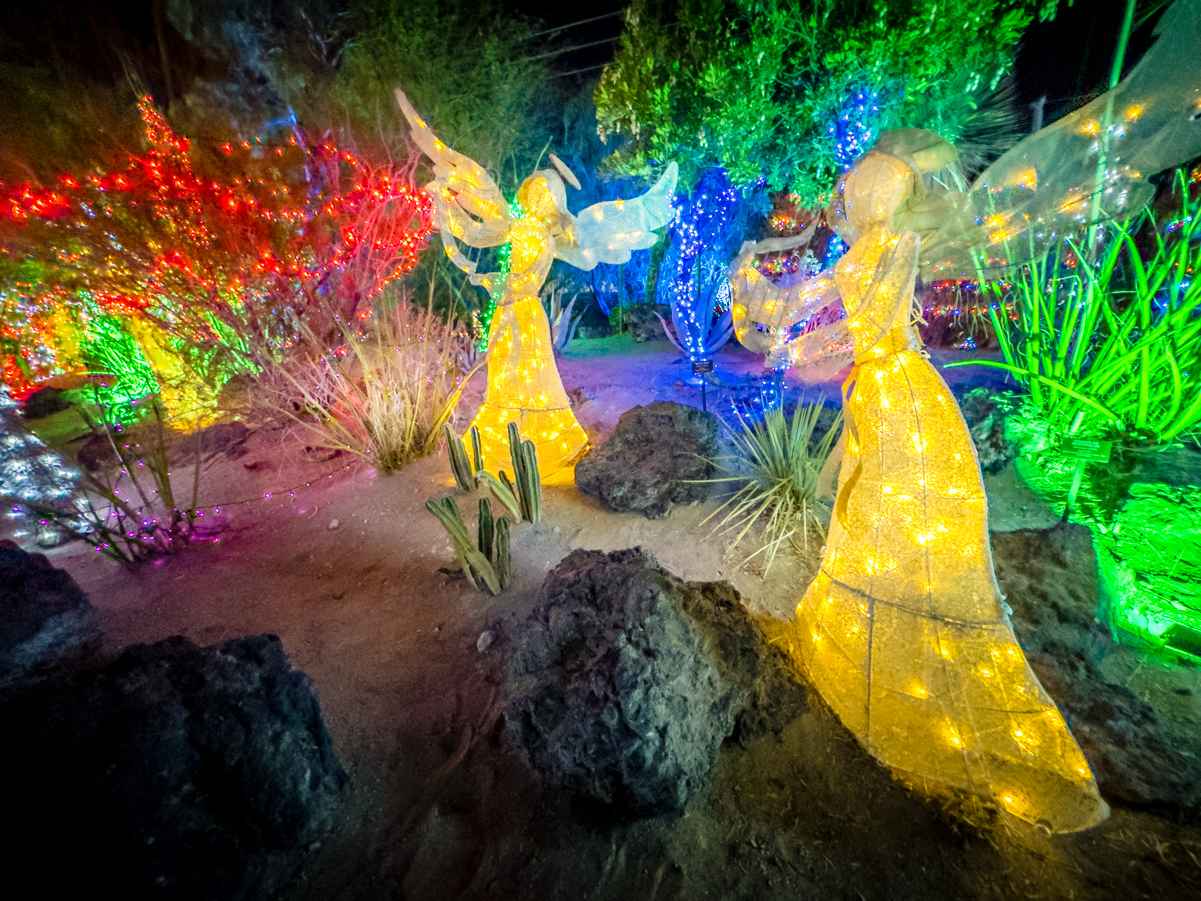 If you happen to be visiting Las Vegas around Christmas time, you're in for an even bigger treat! The Ethel M Chocolates Holiday Cactus Garden is a highlight of every Christmas season in Las Vegas and is one of the biggest annual holiday displays in town! Every evening, from early November until January, you can head to the cactus garden to experience the thousands of holiday lights. It's absolutely magical!
The second best thing about the Christmas lights at Ethel M each year is that it only costs $1 to visit! It's a great way to enjoy the holiday season in Las Vegas style!
You can learn more about the Christmas Lights at Ethel M and see a bunch of photos in our article here on our website.
Factory and Garden Guided Tours
If you are looking for a more substantive visit, Ethel M offers 15-minute guided tours through the cactus garden to tell you more about the garden's history and plants.
Then your guide will take you inside for a guided walk down the factory aisle at the optimum time, making sure you don't miss out on the action. Guided tours run every day and can accommodate up to 25 guests at a time for $20 per adult and $10 per child under 12 years.
Be sure to reserve your spot at least 48 hours in advance to avoid disappointment. You can make your reservation by calling tel: 702-435-2608
Ethel M Chocolate Gift Shop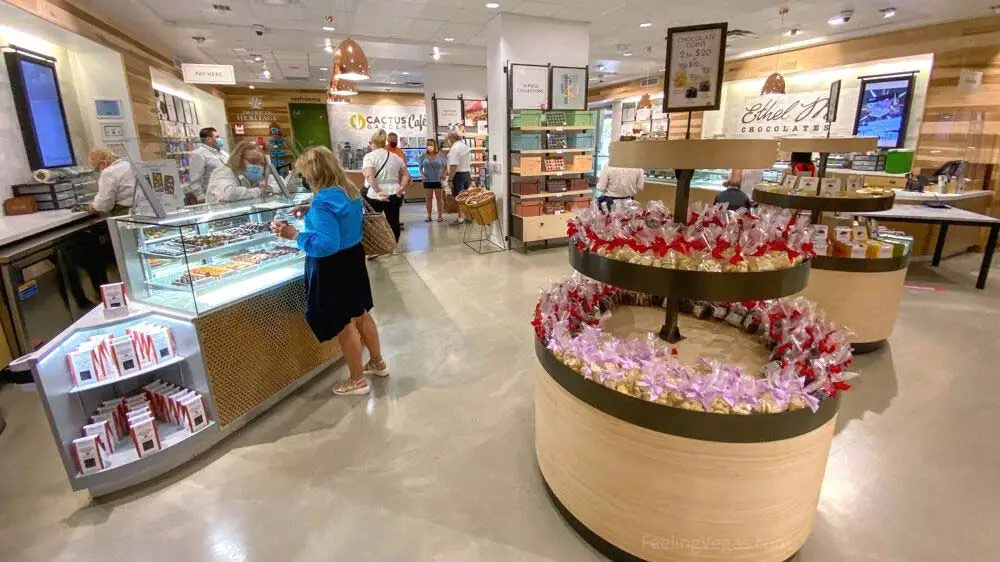 Finally, don't forget to visit the Ethel M Gift Shop. After seeing everything, you'll no doubt be ready to pick up some chocolate for yourself or to take home as a gift. The gift shop contains all the chocolates and confections that Ethel M makes, and they're all ready to take with you.
If you're worried about buying chocolate in the desert heat, Ethel M even packs your purchase with some bags of ice so you can make it back to your hotel without a gooey mess.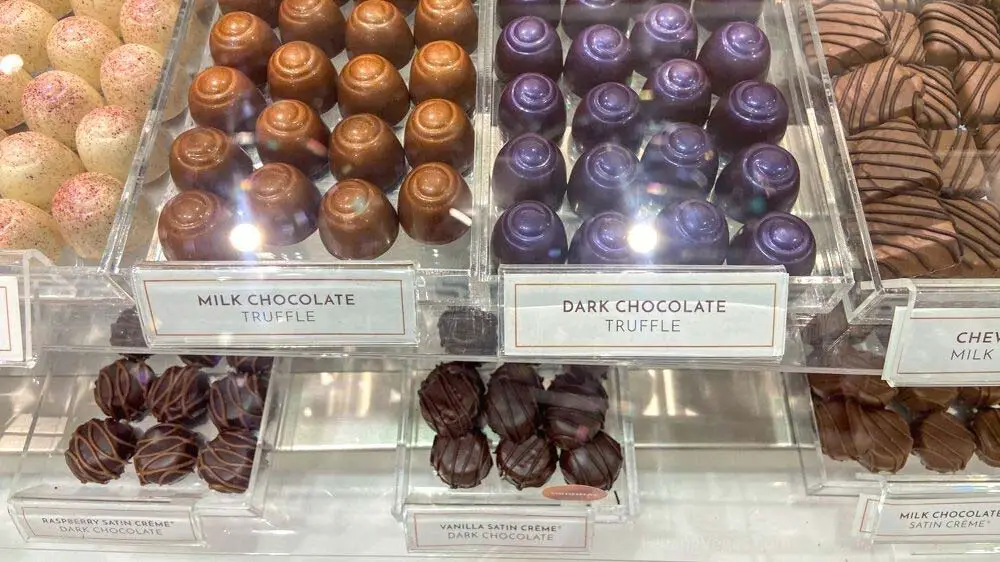 If you're still concerned about traveling with your chocolates and would like to have them shipped directly to you or a friend, you can make your chocolate purchase online here. Your purchase will be delivered packed in dry ice to ensure it arrives safely, even during the summer.
Location and Distance from the Strip
The Ethel M Chocolate Factory is located just 9 miles east of the Strip, and visitors will easily be able to make the journey by car, Uber, or cab. On average, it is a 20-minute drive from the heart of the Strip.
The factory, store, and cactus gardens are open daily from 10am until 6pm.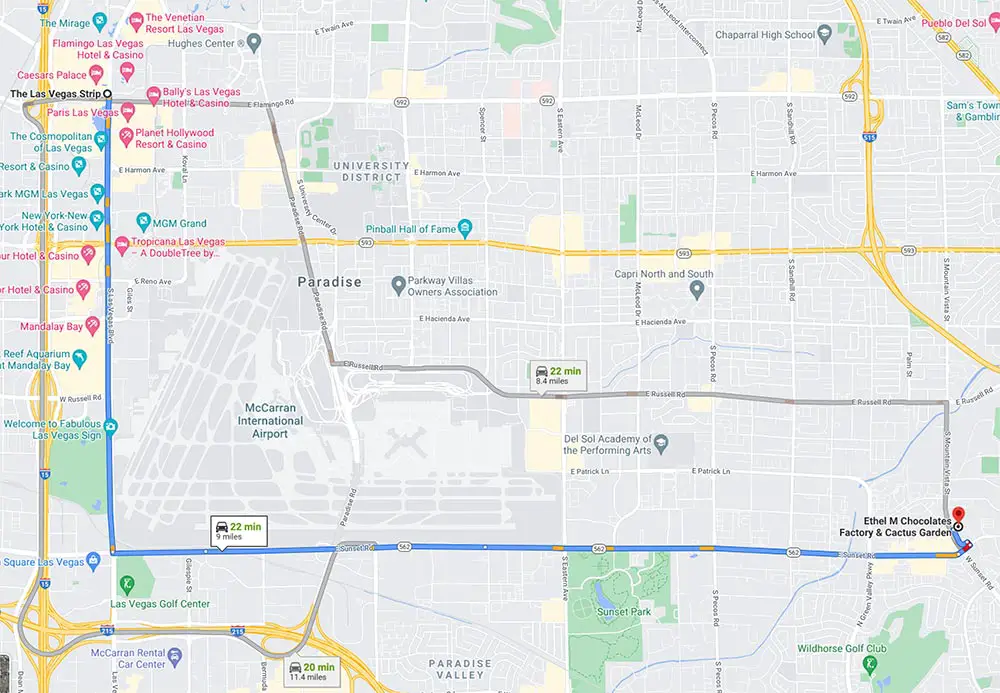 The Ethel M factory is located at 2 Cactus Garden Drive, Henderson, NV 89014. Click here (google maps) for turn-by-turn directions.
Parking is no problem at Ethel M. They have a large parking lot (also free) that can accommodate oversized vehicles such as RVs, trailers, motorhomes, and buses.
Visitors can also access the Ethel M factory on the city bus line. Las Vegas and Henderson are linked by the Line 212 bus, but best check with your hotel for the most efficient way there and back.
Note: Visitors often want to know if dogs are allowed to visit the Ethel M Cactus garden. Unfortunately, dogs are not allowed in the cactus garden or anywhere on the grounds. There is a sign at the entrance to the botanical garden that makes this quite clear.
Ethel M Chocolate Factory & Cactus Garden – Final Thoughts
Whether you are a chocolate lover, a nature enthusiast, or just a tourist ready to see one of Las Vegas's most popular attractions, you should consider a visit to the Ethel M Chocolate Factory and Cactus Garden.
Here are a few key factors to keep in mind while you plan your visit:
The Botanical Cactus Garden and factory viewing aisle are available without charge, which makes visiting the Ethel M facility perfect for all budgets.
The premium attractions – including the guided tour, and chocolate & wine tasting class – will cost between $10 and $30 per guest, with concession rates for students, children, and large groups.
The Ethel M Chocolate Factory & Cactus Garden is located 9 miles east of the Strip, in Henderson. It is easily accessible via car, Uber, or public transport.
So, why not take a couple of hours out of a day during your stay in Las Vegas to visit the world-famous Ethel M Chocolate Factory and Cactus Garden? For details on arranging your visit, check out the official Ethel M site here.
Find More Las Vegas Attractions You'll Love!
References: