Ethel M Christmas Lights: A Must-See Attraction (Photo Gallery) 2022
(This article may contain affiliate links. If you click through and make a purchase, we will receive a small commission at no additional cost to you. )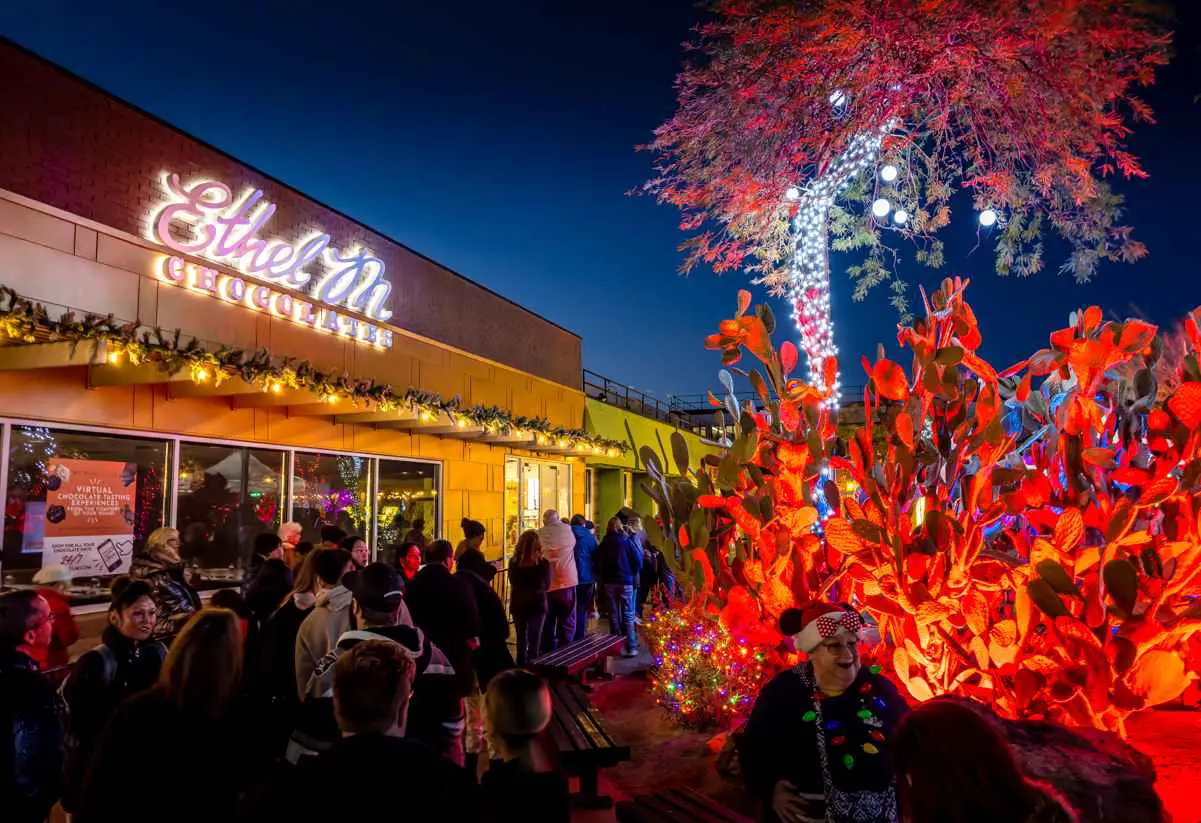 Christmas lights are one of the most iconic parts of Christmas. If you live in or are planning to visit Las Vegas this holiday season, you've probably heard of the Ethel M Christmas lights display.
The Ethel M Holiday Cactus Garden is a must-see attraction in Las Vegas. The 3-acre cactus garden hosts over 1 million Christmas lights and other decorations. Entry costs only a dollar, and all entrance proceeds support charity. 
You cannot miss seeing Ethel M's Christmas lights. Where else will you find a huge garden of cacti dressed up in their Christmas finest? In this article, I will summarize everything you can expect to see at the Ethel M Chocolate Factory's Annual Holiday Cactus Garden and how to prepare for your trip!
On top of that, I'll show you a bunch of photos of the holiday lights so you can see them for yourself.
So let's dive right in, but only figuratively, because diving into cactus would hurt!
Ethel M Christmas Lights: Holiday Cacti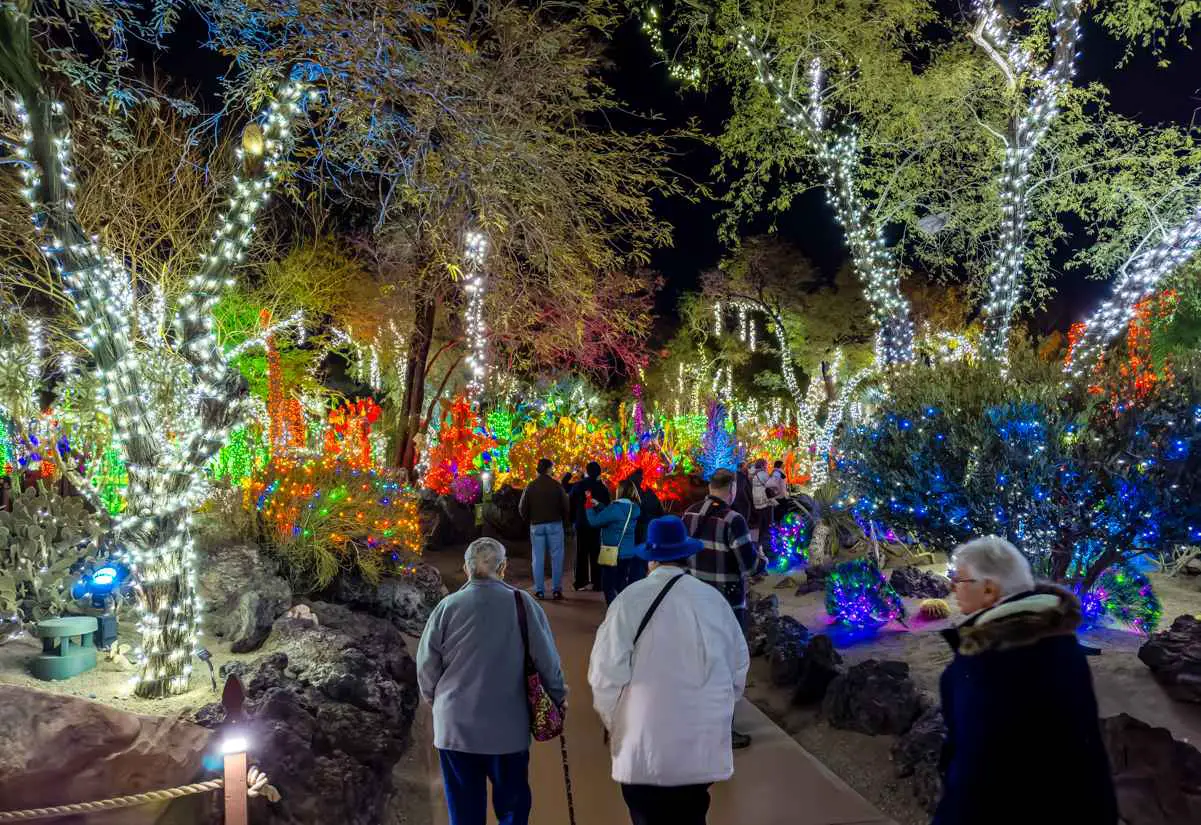 This year (2022) marks the 29th Annual Holiday Cactus Garden at Ethel M in Las Vegas. The three-acre cactus garden lit up with over 1 million lights is a sight you won't find anywhere else!
Ethel M's Cactus Garden is the largest cacti garden in all of Nevada and features cactus varieties from around the world. At Christmastime, this cacti garden turns into a magical glittery Christmas wonderland every night from 5 to 10 pm. Aside from viewing a million lights, you'll also see cute Christmas figures, electronic reindeer, and more!
The cactus garden is home to over 300 varieties of cacti. These Christmas reindeer have certainly made themselves at home next to some bright purple Pancake cactus.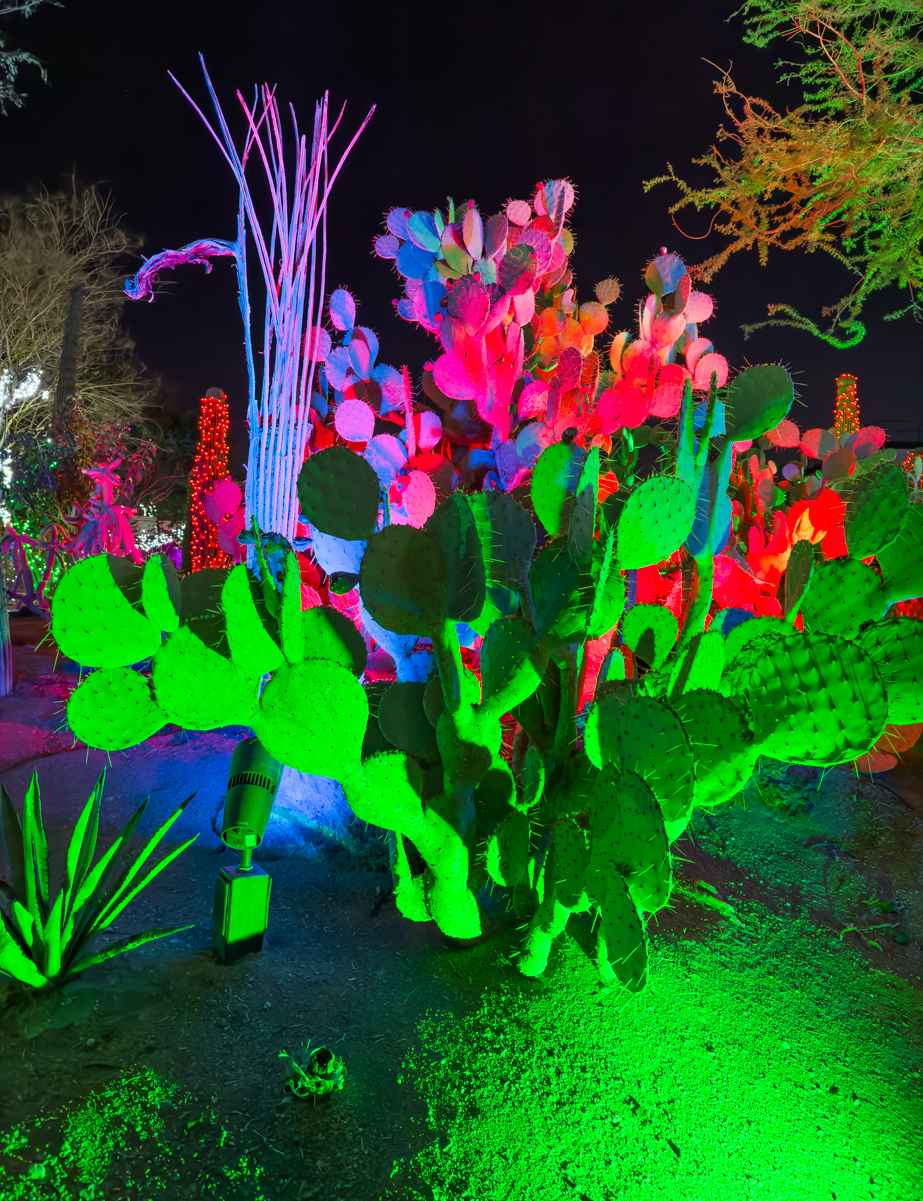 While the Christmas season might be known for its bright, festive colors, nothing can beat this stand of cacti bathed in vivid holiday lighting.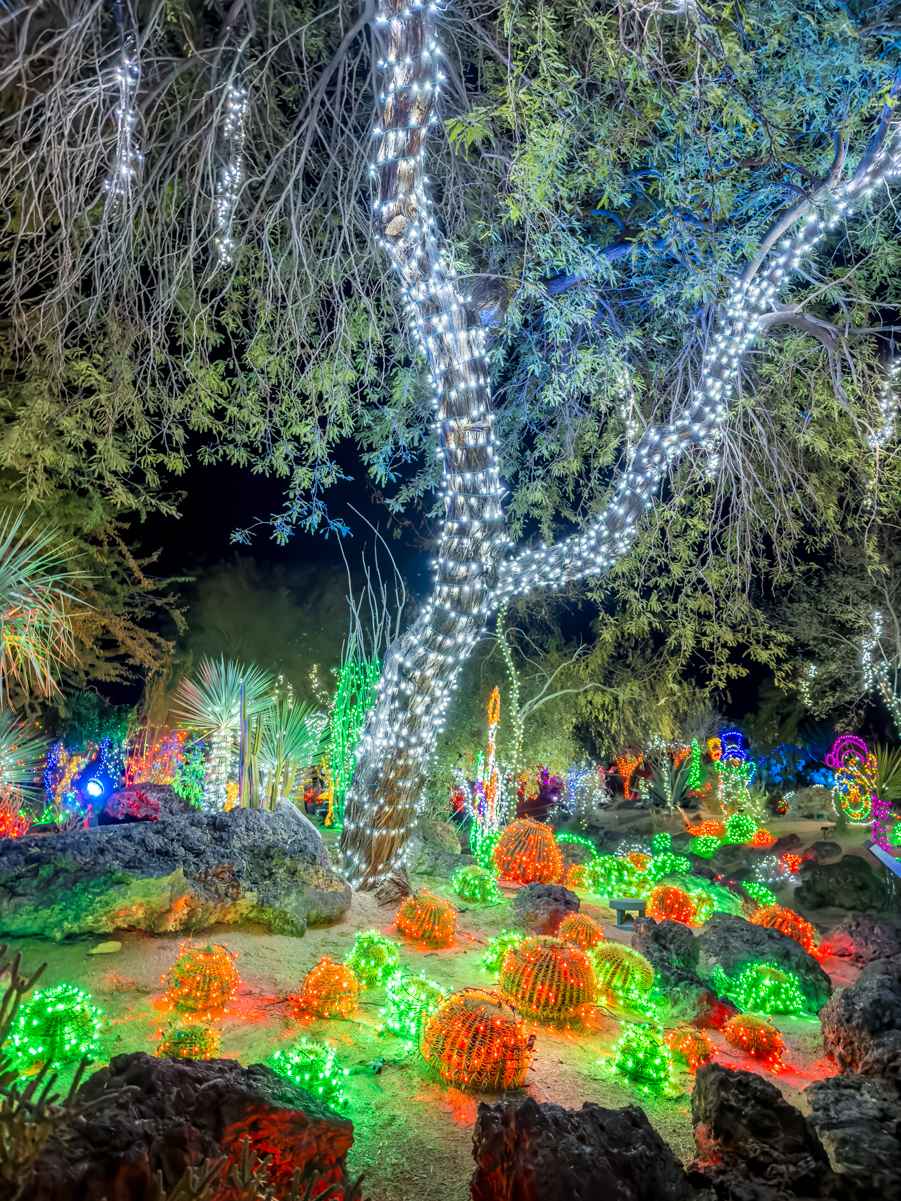 I really enjoyed these barrel cacti draped in the traditional red and green lights of the holidays.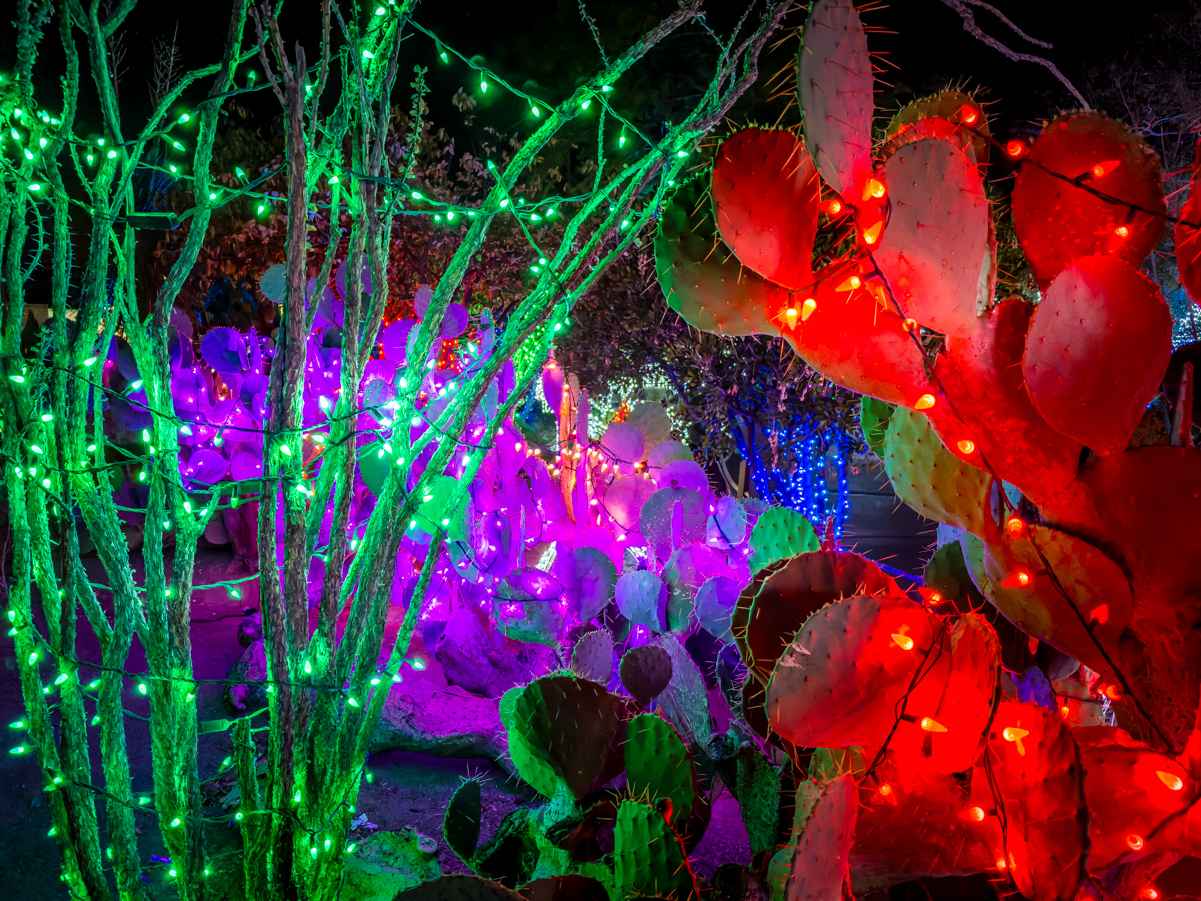 Everywhere you turn, there is another display of lights and colors that will take your breath away!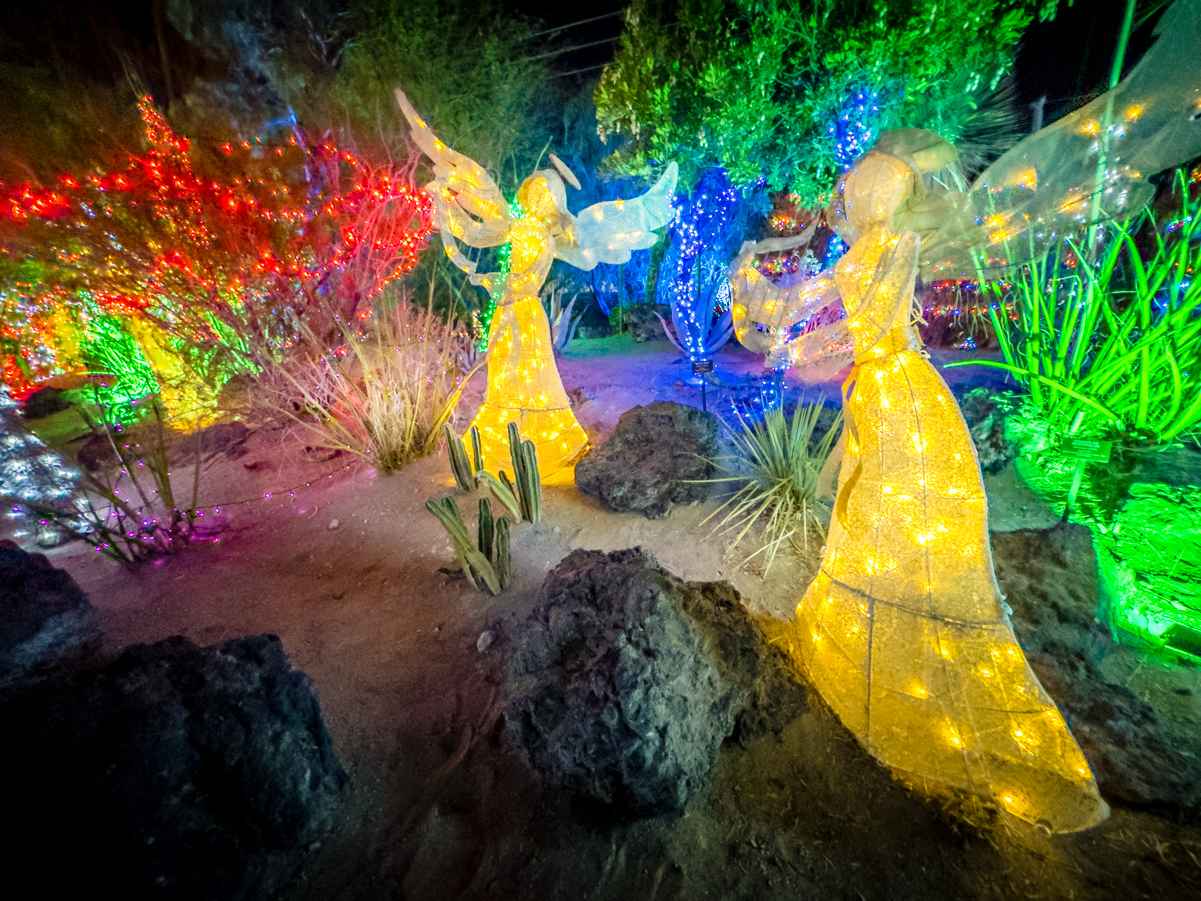 These Christmas angels are a popular holiday display, and they're always happy to have their picture taken.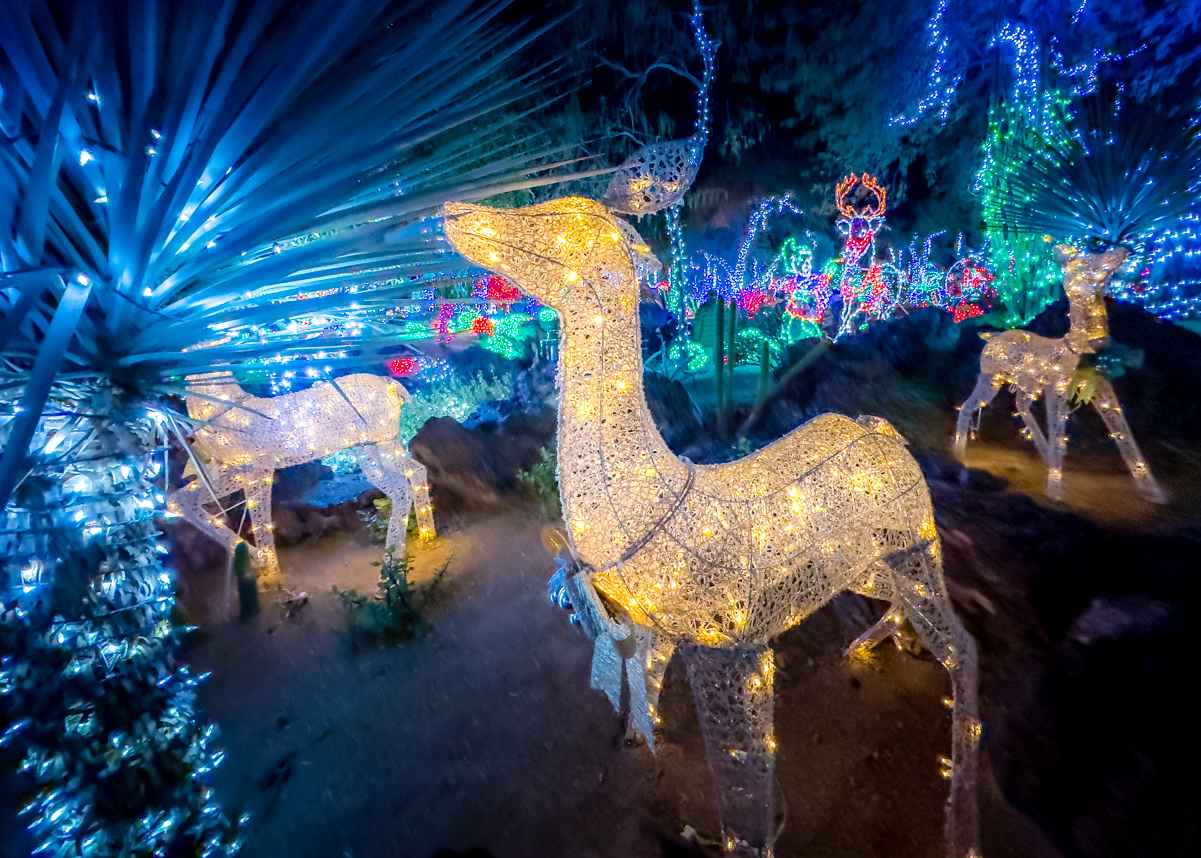 As are these reindeer hiding amongst the cactus. I wonder if they're looking for Santa?
There's no shortage of things to enjoy while enjoying a stroll through the garden, including:
Taking in all the merry and bright Christmas decorations

Enjoying a cup of tasty hot cocoa

Stopping by a food truck for a yummy treat

Visiting Santa
This fun event is open until January 1st, so don't miss out if you plan to be in the area!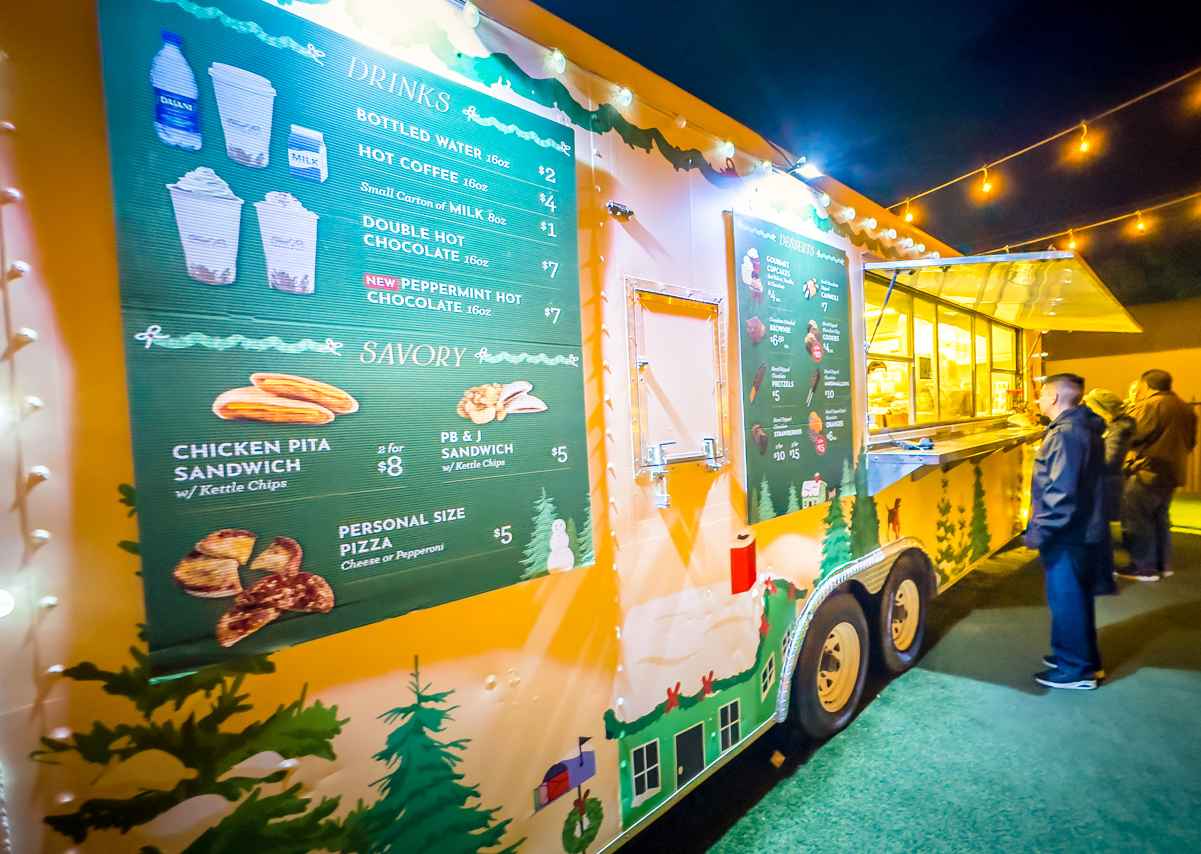 A food truck is available at the holiday cactus garden for hot cups of cocoa, meal items, and desserts.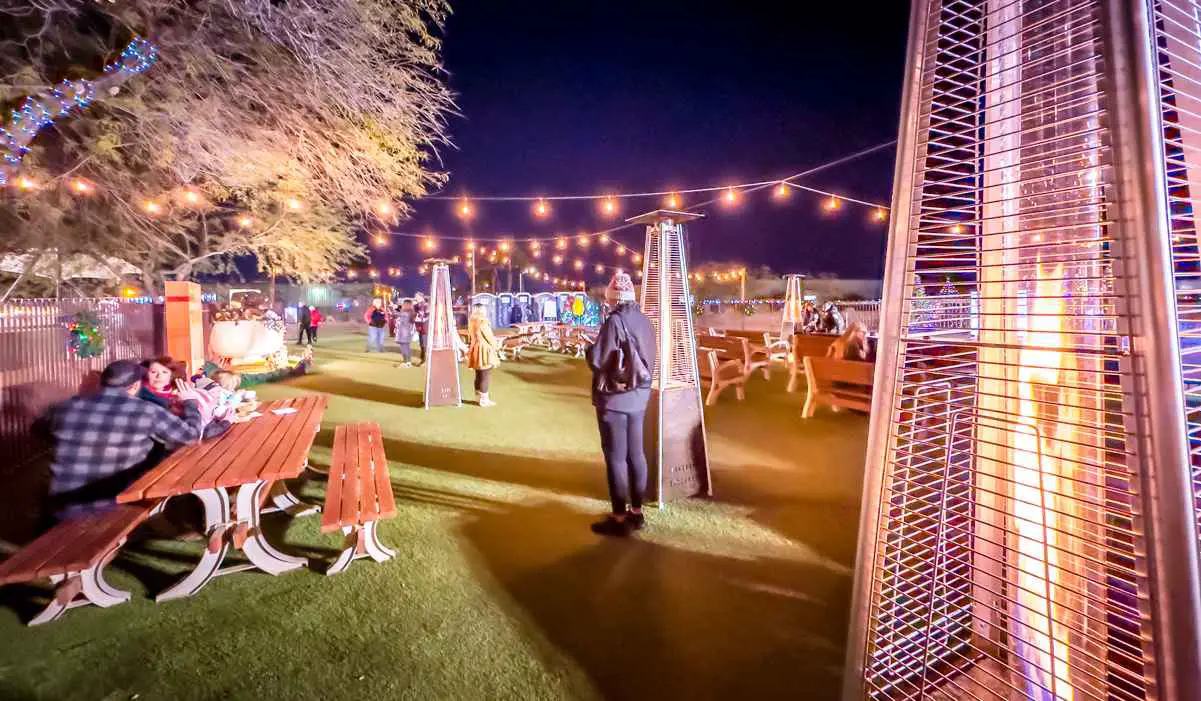 There's even an area with tables, chairs, and propane heaters so you can eat in comfort or just sit and enjoy the Christmas atmosphere.
How Much Does Ethel M's Christmas Lights Cost to Visit?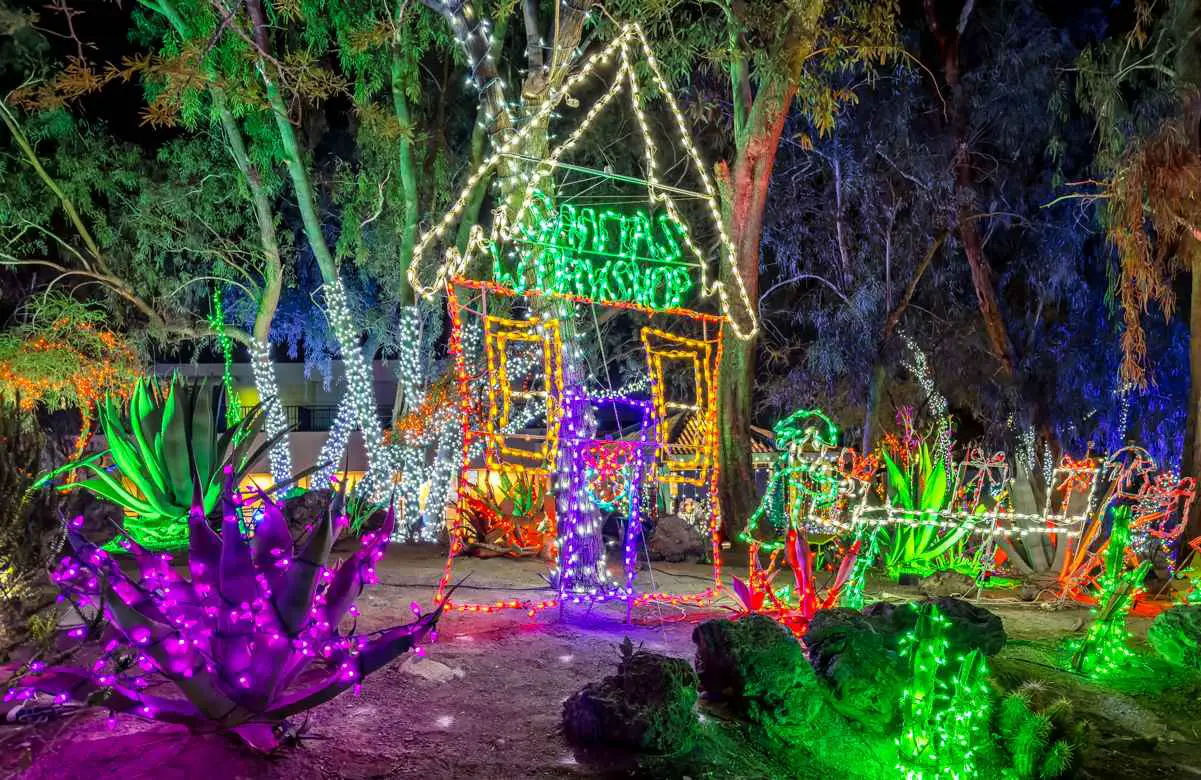 Ethel M's Annual Holiday Cactus Garden costs $1 per person. All proceeds will support Help of Southern Nevada and the Three Square food bank. 
When approaching the gate, you can pay the entrance fee with either cash or a card.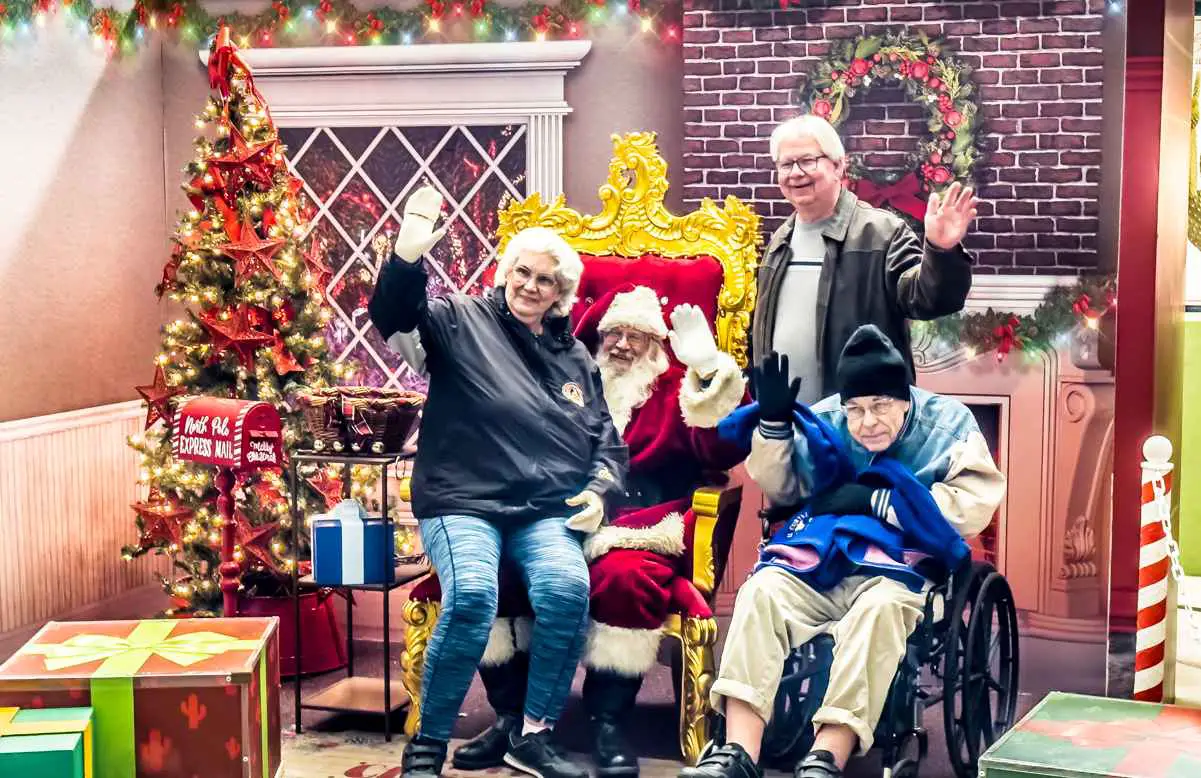 You'll also find Santa while exploring the Ethel M Xmas lights. He's available for pictures with the kids and those young at heart.
Where is Ethel M's Cactus Garden?
Ethel M's Cactus Garden is at 2 Cactus Garden Drive, Henderson, Nevada (google maps). The garden is to the right of the chocolate factory. 
You can access parking along East Sunset Road and Sunset Way. Ethel M has three parking areas for you to use on the left of Cactus Drive. However, do not park on the right side of Cactus Drive around the Green Valley Business Park. If you do, they may tow your car. 
If the Ethel M parking lots are full, you can park in the Smith's (grocery store) parking lot across the street or at the Roseman University Campus.
The Ethel M Chocolate Factory and Cactus Garden are available to visit and tour year-round, but you only see lights like these during the holiday season.
What to Bring to Ethel M's Annual Holiday Cactus Garden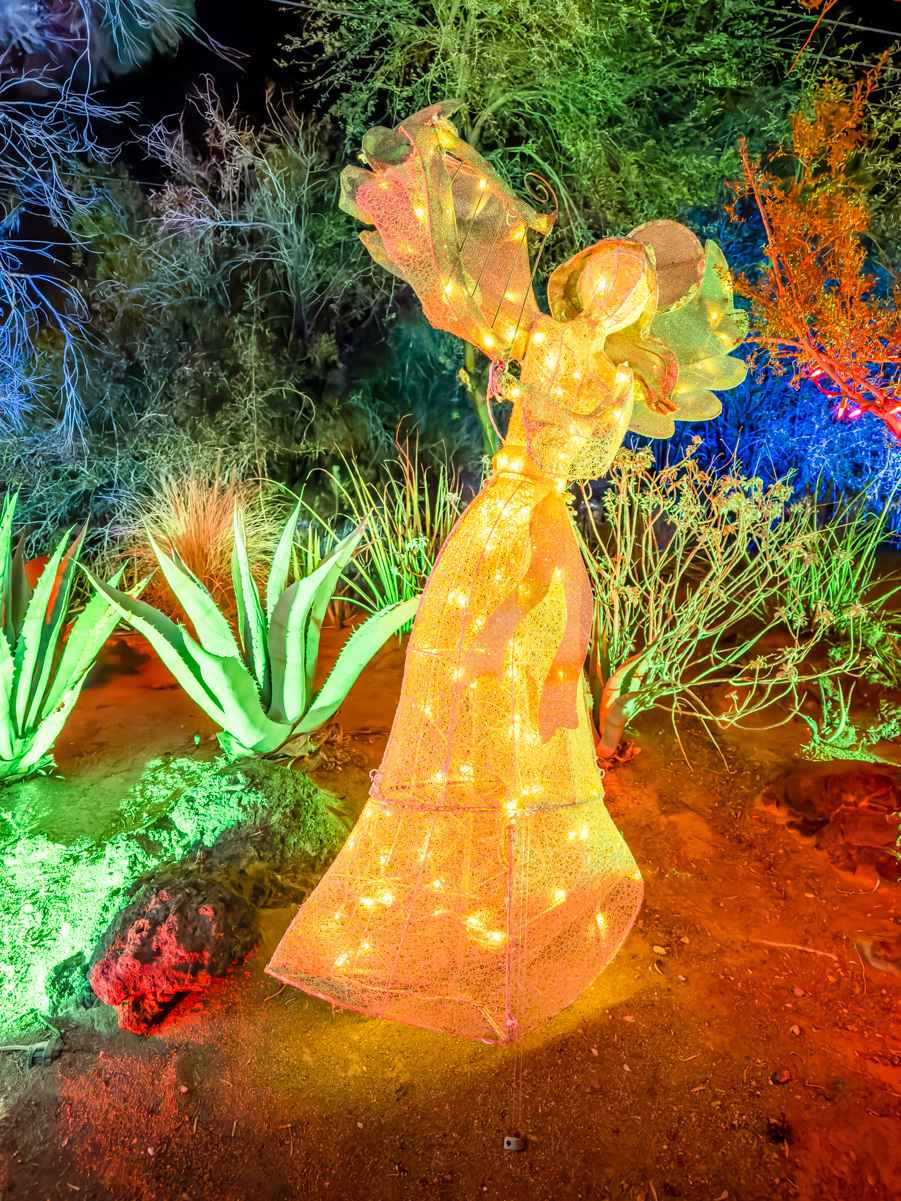 Here's what you should bring with you for your visit to Ethel M's Annual Holiday Cactus Garden:
Warm clothes

Comfortable shoes

Wallet

New toys or non-perishable food items

(these aren't required, just appreciated)

Camera
You'll want to bundle up in warm clothes when visiting the garden at night. Wearing comfortable walking shoes is also important if you plan to walk around the full three acres of the park. 
Take your wallet with you while visiting the glittering cactus garden lights. Aside from the initial $1 per person entry fee, you'll have opportunities to try their famous hot cocoa and other fun holiday treats. If you want to indulge yourself and treat your loved ones, you should plan to carry a little extra money with you. 
The Ethel M company collects toys and non-perishable food items yearly at the Annual Holiday Cactus Garden for local charities. While donating is not a requirement for entry, it's a great way to share the holiday cheer with others!
Carrying a camera or a phone that takes great pictures into the garden is important for capturing those unforgettable memories. 
Ethel M Christmas Lights 2022 – Final Thoughts
The Ethel M Annual Holiday Cactus Garden is a must-see attraction in Vegas during the holidays with its three acres of over 1 million lights plus other decorations! 
And not only is it a great sight for you and your family to see, but also a good cause for you to support. The holiday spirit abounds within the merry and bright Christmas lights, and you can walk around knowing that you supported Nevada charities while enjoying some Christmas cheer.