Walking All the Way Around Lake Las Vegas (Possible?)
(This article may contain affiliate links. If you click through and make a purchase, we will receive a small commission at no additional cost to you. )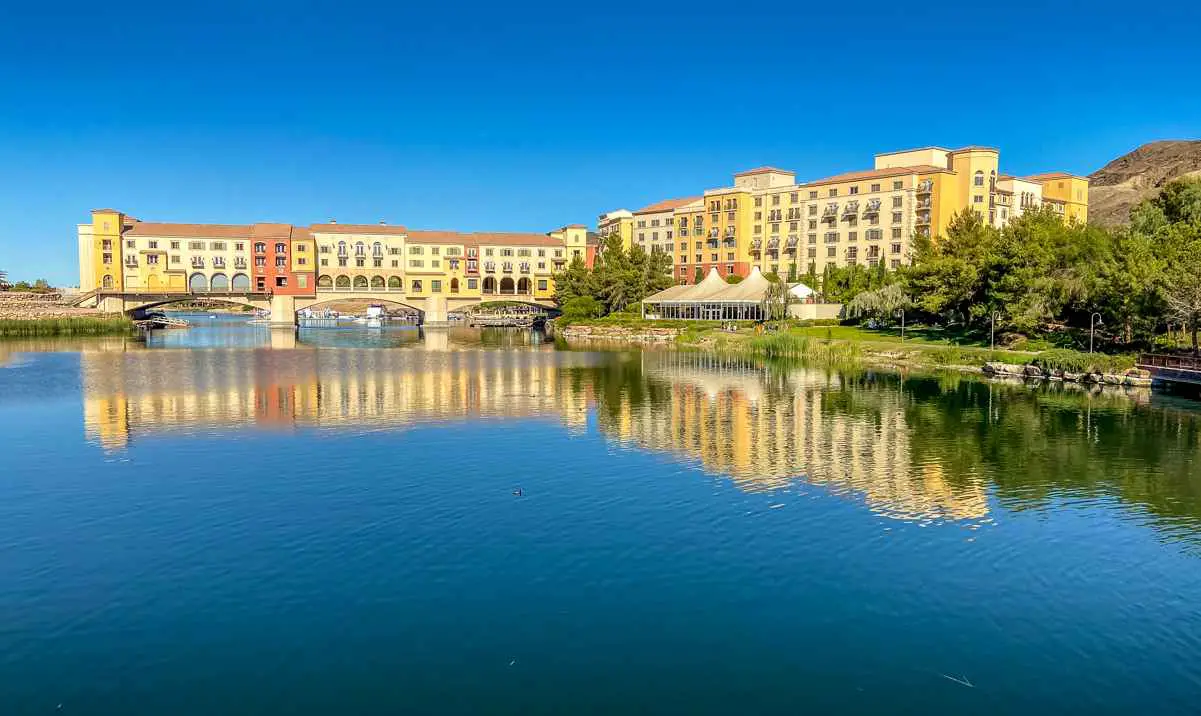 With the beautiful scenery along the shores of Lake Las Vegas, it's no surprise that hiking and walking are some of the most popular activities in the area. There are many miles of trails in the desert surrounding the 320-acre artificial wonder, giving you plenty of options. With all the trails in the desert near the lake, you must be wondering if there is a path where you can walk all the way around the lake.
You cannot walk all the way around Lake Las Vegas. No distinct path, trail, or road travels the entire lake perimeter. In many areas, the shoreline is privately owned beach property that you cannot access without the owner's permission. 
This article will explain why you cannot walk all the way around Lake Las Vegas. It will also provide alternative options for walking and hiking in the area, including another nearby lake with public access. Read on for everything you need to know about getting around this beautiful lake!
Why You Can't Walk All the Way Around Lake Las Vegas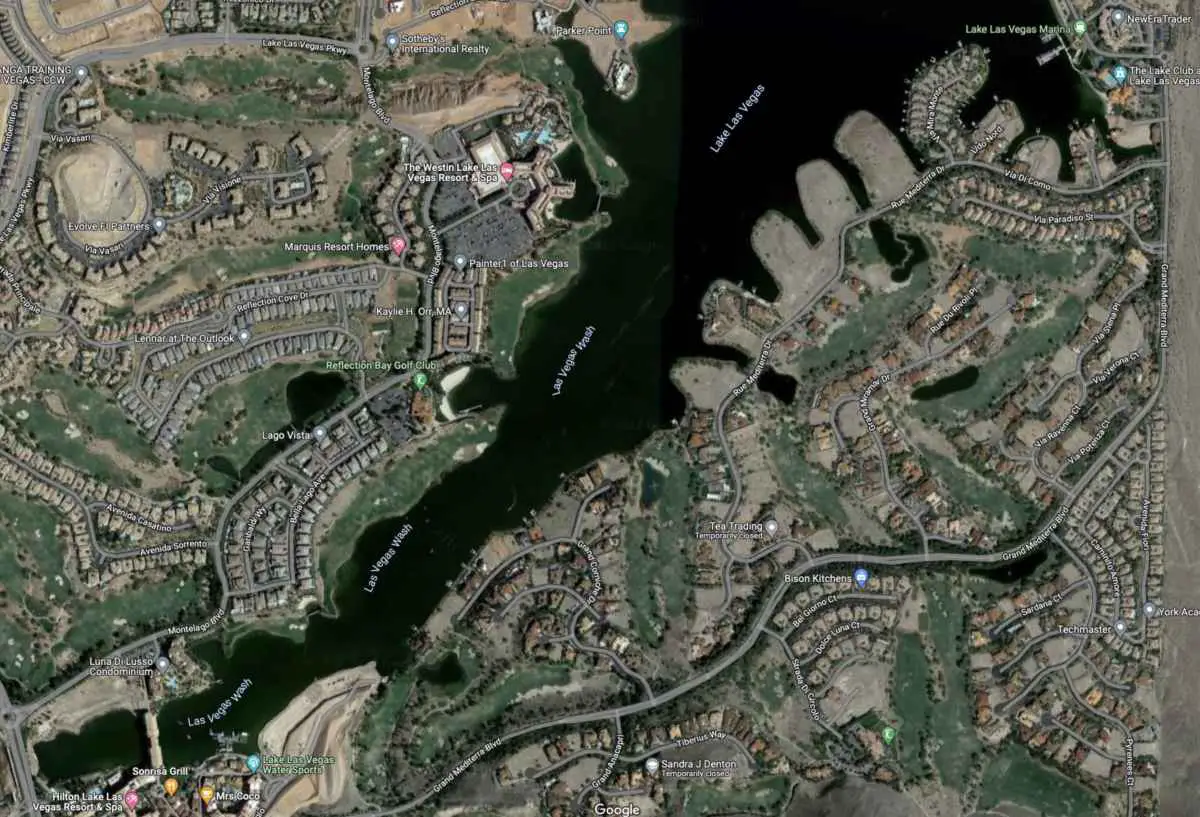 While you can completely walk around many lakes, Lake Las Vegas is not one of them, which can disappoint many visitors.
Its large size and stunning views bring out the explorer in many travelers, prompting a desire to see as much of the lake as possible. However, there are several limitations to getting around the entire lake.
Let's look at what prevents a complete loop around this body of water:
You Cannot Trespass on Private Property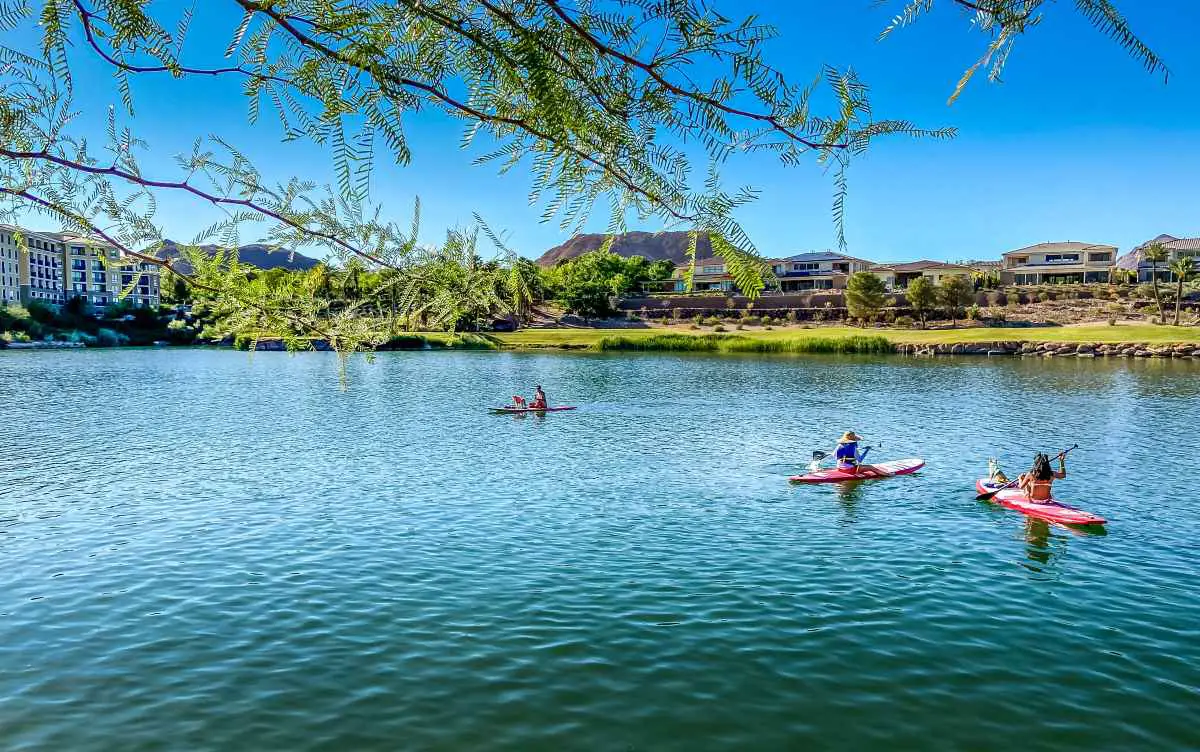 If you did not know, Lake Las Vegas is not a public lake. It is entirely privately owned between resorts, attractions, and private homes with very few public access points. So, what does this mean for you?
When walking around the lake, you must stay where you're allowed entry. This means at the location you're staying at, your friend or family member's home, or the attraction you are visiting. 
Many of the hotels, resorts, and private homes have their own access to Lake Las Vegas. So, if you are a guest at any of these locations, you would be permitted to use their entry point to enjoy the water.
Beyond that access point, you can't enter the water or use the beach. 
There Is No Continuous Path Around the Lake
Throughout Lake Las Vegas, there are small peninsulas. Some have housing communities, while others are undeveloped. 
Even if you were to stick to the main roadways and pass over these peninsulas, no single road travels the entire lake perimeter. Additionally, all of the trails in the area are separate and do not connect to form a path around the lake. 
The lack of a continuous path, combined with the problem of private property interrupting your walk, makes it impossible to traverse the entire perimeter of Lake Las Vegas fully.
Since Lake Las Vegas has limited public access, the best way to get close to the water is by visiting The Village at Lake Las Vegas. The Village is full of shops and restaurants and has some lakefront access where you can at least get close to the water.
There are also some fairly short and convenient paved walking paths in different parts of Lake Las Vegas. You can find more info about those trails here.
Lake Las Vegas Offers Many Outdoor Activity Options
If you're in Las Vegas and looking for alternatives to gambling, consider heading to Lake Las Vegas to enjoy the beautiful trails near the lake. Lake Las Vegas offers many attractions. You can read my other guide to decide whether Lake Las Vegas is worth visiting.
Henderson, Nevada (where Lake Las Vegas is located) has 184 miles of hiking trails with varying terrain. You can access these trails at most times of the day, with the majority of the trails opening at 5 AM and closing at 11 PM. However, if you want to hike on one of the unlit trails, they are only open during the daylight hours. 
In addition to walking and hiking, there are biking and equestrian trails available as well. For instance, Bryan and I have literally biked over 2,000 miles on the paved trails leading from Lake Las Vegas to Wetlands Park.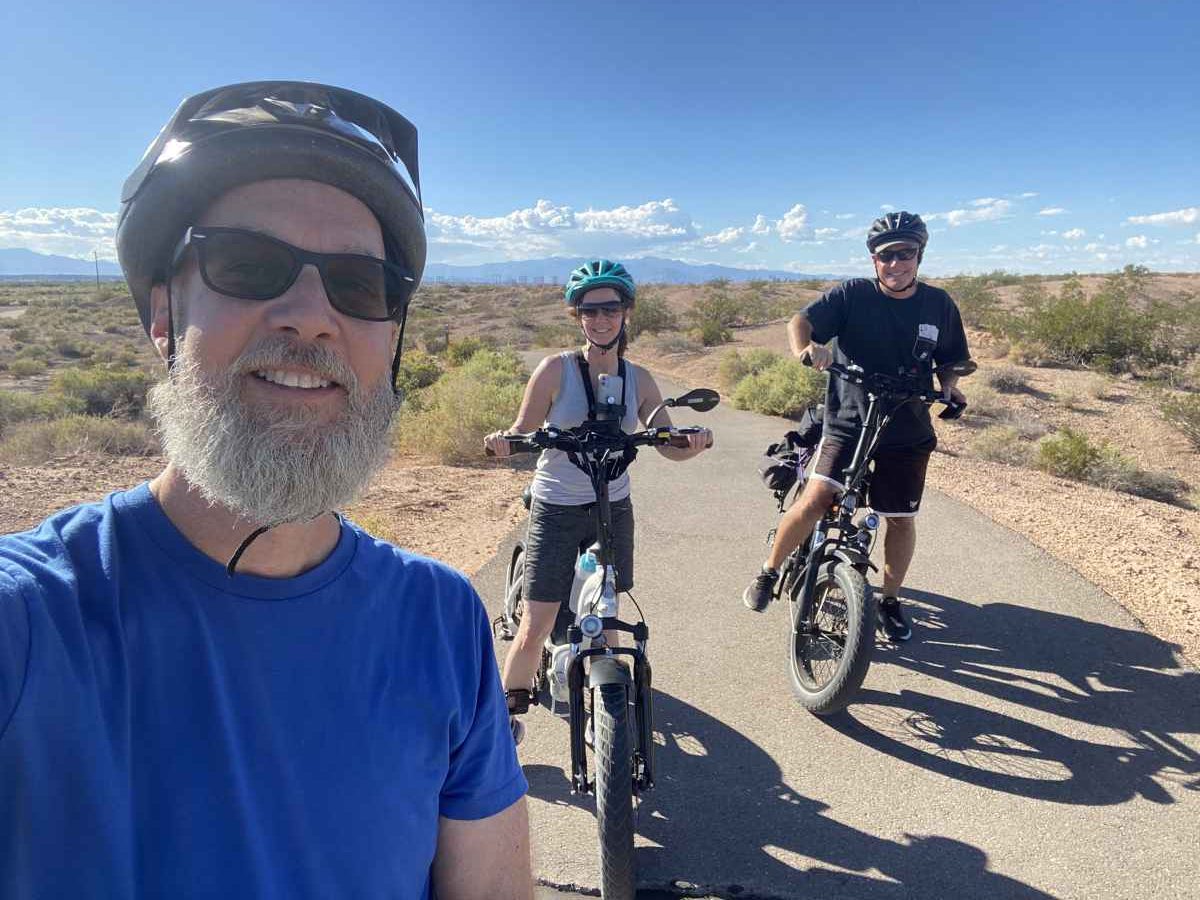 A favorite walking trail for locals and Lake Las Vegas visitors is the one pictured below.
From Lake Las Vegas, start from Terrazza Park, then cross the pedestrian bridge that goes across the Las Vegas wash (google maps | 36.101929, -114.940117). From here, you'll head up the hill and soon be into some beautiful desert red rock.
We see plenty of visitors to the Lake Las Vegas area on this section of the trail. Many of them rent electric bikes from Pedego in The Village.
You'll also find options leading to Lake Mead and the Hoover Dam starting from Lake Las Vegas.
Hiking Lake Mead and the Hoover Dam
Hiking or walking to nearby Lake Mead or Hoover Dam is a must-do experience if you love a good hike. There are some trails that leave from the Lake Las Vegas area, while others you may want to drive to get to the trailhead.
A popular trail near Lake Las Vegas is the River Mountains Loop Trail, which features 35 miles (56.33 km) of terrain and runs around the River Mountains. Along the way, you can explore some of the Lake Mead National Recreational Area, then head out to Boulder City or Hoover Dam if you're feeling adventurous. 
You can also take one of the three trailheads near Lake Las Vegas to the River Mountains Loop Trail. This path will lead you to Lake Mead and the recreational area. The trailheads are at Mountain Lake Park, Silverman Connector (access point), and Equestrian Park. See the map here. 
The Lake Mead National Recreational Area is a fantastic spot to relax during your hike and enjoy some outdoor activities with family and friends. It has swimming, fishing, and miles of shoreline. Lake Mead is available for public enjoyment. Keep in mind that this area is huge, and you may find that a car is a better choice for exploring the area.
If you want to visit Hoover Dam, you can branch off the River Mountains Trail Loop at the Historic Railroad Trail. This interesting trail travels along the old railway line that was used to build the Hoover Dam in the 1930s and is considered an easy walk. It's also pet-friendly, and your pooch will find it enjoyable as well. 
This trail is about 7.5 miles (12.07 km) long, and one of the highlights is its five tunnels. 
With the length of the River Mountains Trail Loop, you'll need to ensure you are prepared for your walk, bringing supplies and planning how far you will be traveling. Also, keep in mind the current weather. It is much too hot to hike here for a good chunk of the year.
Join Hiking Henderson
If you're an avid outdoor-type person who loves hiking or walking trails, Hiking Henderson is an excellent option for you. After completing a certain number of hikes in a season, you can earn rewards and eventually earn a hiking staff and medallion. 
This can be a great family activity to get everyone outdoors.
Golf at One of Lake Las Vegas's Golf Courses
If hiking isn't your cup of tea, you could always play some golf at one of the lake's two well-regarded golf courses: 
SouthShore Country Club
Reflection Bay
Both golf courses were designed by Jack Nicklaus and offer beautiful views of the lake and the surrounding mountains. In fact, golfing at one of these courses will allow you to walk along more shoreline of the lake than anywhere else.
RECOMMENDED: If you'd like to forgo the nature part and instead walk in the middle of all the glitz and glamour that is Las Vegas, then you'll want to check out our article: Las Vegas Strip FREE Walking Tour & Map (19 Must-See Stops!)
Walking All the Way Around Lake Las Vegas – Conclusion
While you cannot walk the entire perimeter of Lake Las Vegas, there are many great options for exploring the area around the lake. With over 184 trails available, there is almost no limit to where you can go. When you need a break from the hustle and bustle of the Las Vegas Strip, consider coming to Lake Las Vegas for a break with nature.