What to Do in Las Vegas Besides Gambling (No Gamble Vegas Fun!)
(This article may contain affiliate links. If you click through and make a purchase, we will receive a small commission at no additional cost to you. )
Las Vegas has long been famous as one of the world's best gambling destinations. A city whose reputation exceeds itself, you can never really run out of things to do in this town. 
But what if gambling isn't your thing? Fear not! There's plenty to do in Las Vegas besides gambling.
Vegas is a city filled with so much more than just casinos! If you're excited to take all you can from this experience, get ready to discover what to do in Sin City besides gamble.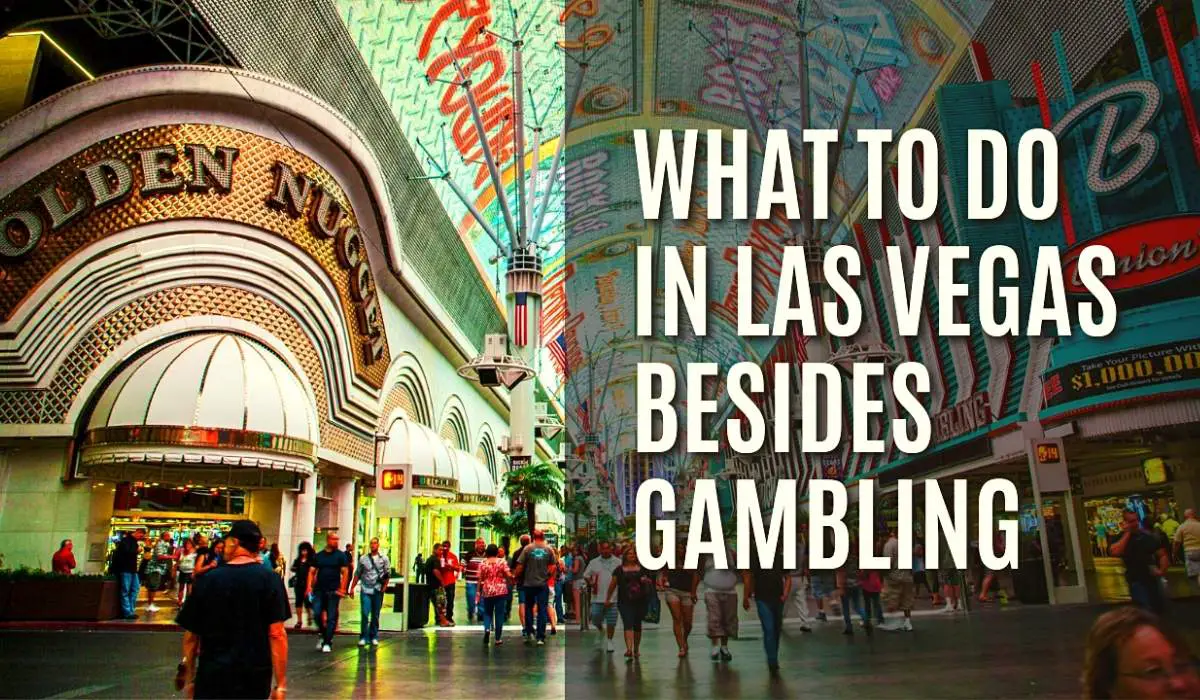 The Tourist Attractions
There are just as many sights to see in Vegas as there are hotels to party at. From the area's natural beauties to the vivid nightlife – Las Vegas attractions don't end. Here are some of the highlights.
The Heart of Downtown
The first thing you should add to your Vegas adventure is hitting up Fremont Street!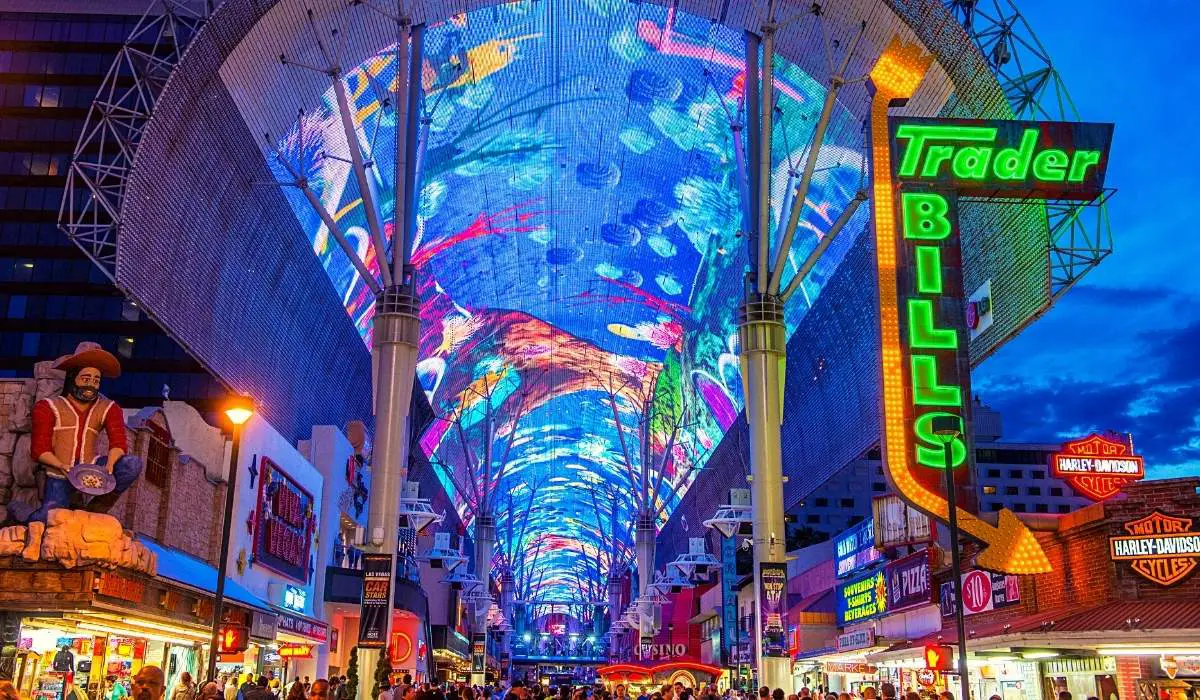 If you want to see Vegas as it is on the big screen, a visit to Downtown Las Vegas is a must!
The aesthetics of Freemont Street are unlike anywhere else in Vegas, and there is a ton of history to explore. Today, you can have an in-depth tour by visiting the Fremont Street Experience. 
From concerts to light shows to incredible gaming, this street has the party spirit of Las Vegas!
Vegas Pool Parties
You can also take a break from the heat and relax with some pool-based fun at one of the many well-known pools and day clubs in LV!
Some of the best-known pool parties in Las Vegas are at premium resorts and clubs, including the Flamingo GOPool, Wet Republic at MGM Grand, and Drai's at The Cromwell – a rooftop hotspot that's been making rounds with their evening events!
Jump in and grab this Las Vegas pool party crawl discount at Groupon.
Walk The Las Vegas Strip
Located on a 4.2-mile section of Las Vegas Boulevard, the Vegas Strip is something on your Vegas checklist that you can't miss.
Getting out and walking the Strip (especially at night) will entertain you literally for hours as there is so much to do and see.
Make sure you carry essentials and a map of the Strip if you plan to walk it! And, be sure to head inside the resorts you pass as there are just as many sights inside as outside.
Check out our Las Vegas Strip walking guide, so you don't miss out on the must-see stops.
Shoot 'Em Up
Shooting enthusiasts get their fair share of fun in Vegas too – if you want to check out a great shooting range, head over to Battlefield Las Vegas (Groupon).
This 11-lane indoor shooting range is one of the best set-up ranges you can go to, and it is certainly worth a visit to see what they've got!
The Ziplines
Take off from 11 stories high and speed through the entire Fremont Street Experience on a zipline! If you're looking for something daring to do, a Vegas zipline is a great idea. 
Check out the 4 best ziplines in Vegas!
The Rollercoasters
The 55-MPH Canyon Blaster at the Circus Circus Adventuredome is one of the first of its kind – being a double-corkscrew roller coaster. It is the definitive ride for adrenaline junkies! 
Or, head over to New York-New York Hotel & Casino and ride the Big Apple coaster. Vegas has never been more exciting.
Las Vegas Museums
Yep…you read that right. For those of you who think the words "Las Vegas" and "Museum" don't even belong in the same sentence, you just might be surprised. You'll be relieved to know that the museums in Vegas aren't your run-of-the-mill museums.
Some of the museums in Las Vegas include:
The Neon Museum
Erotic Heritage Museum
The Mob Museum
Nostalgia Street Rods
Museum of Selfies
Zak Bagan's Haunted Museum
and oh, so many more!
Check out the 23 best and weirdest museums you'll find in Las Vegas.
Natural Las Vegas
It's easy to get lost in the splendor of the lights when you visit Las Vegas – but don't forget to make time for the natural beauty that's here too.
There is no shortage of breathtaking nature and scenic sites you can cram into your Vegas to-do list!
Relaxing On The Rocks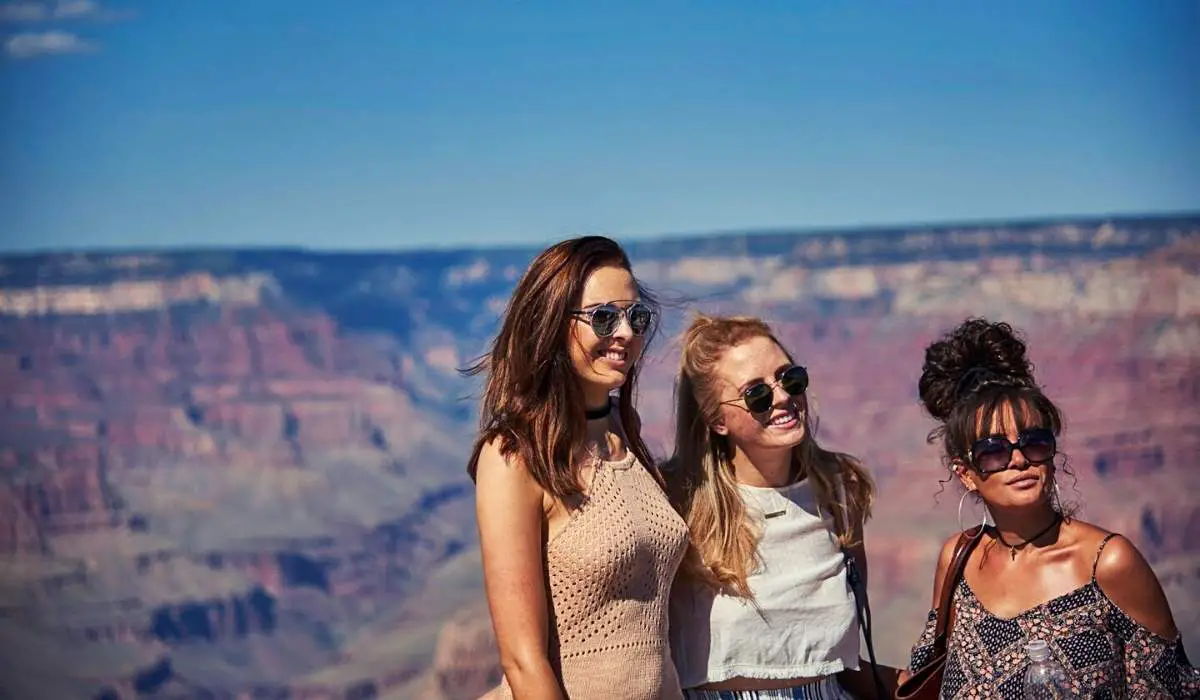 Photo:- Flickr Image
No, not an ice-cold glass of whiskey (although that'd be good too) – the Grand Canyon! It's not far from Las Vegas and is considered a famous landmark worldwide.
If you're going all-out, then book a helicopter tour and see the Grand Canyon (Viator) in all its beauty from high in the skies!
By car, the West rim will make for a great day's adventure from Las Vegas.
For more tours to the Grand Canyon from Las Vegas, see 15 Grand Canyon Tours From Las Vegas (Best Trips!)
Boating At Lake Mead
Is your idea of poolside fun more about lakes and boats? Then Lake Mead is the perfect location for you – rent a pontoon boat or go on a kayak tour (Viator) and paddle on the open water as freely as you like!
Valley of Fire State Park
An hour away from Las Vegas is Valley of Fire State Park (Viator) – a road trip with your friends, enjoy hiking trails, witness the beautiful red rock formations, and a lot more. 
As far as daytime Vegas goes, this is definitely one of the most memorable experiences.
The Hoover Dam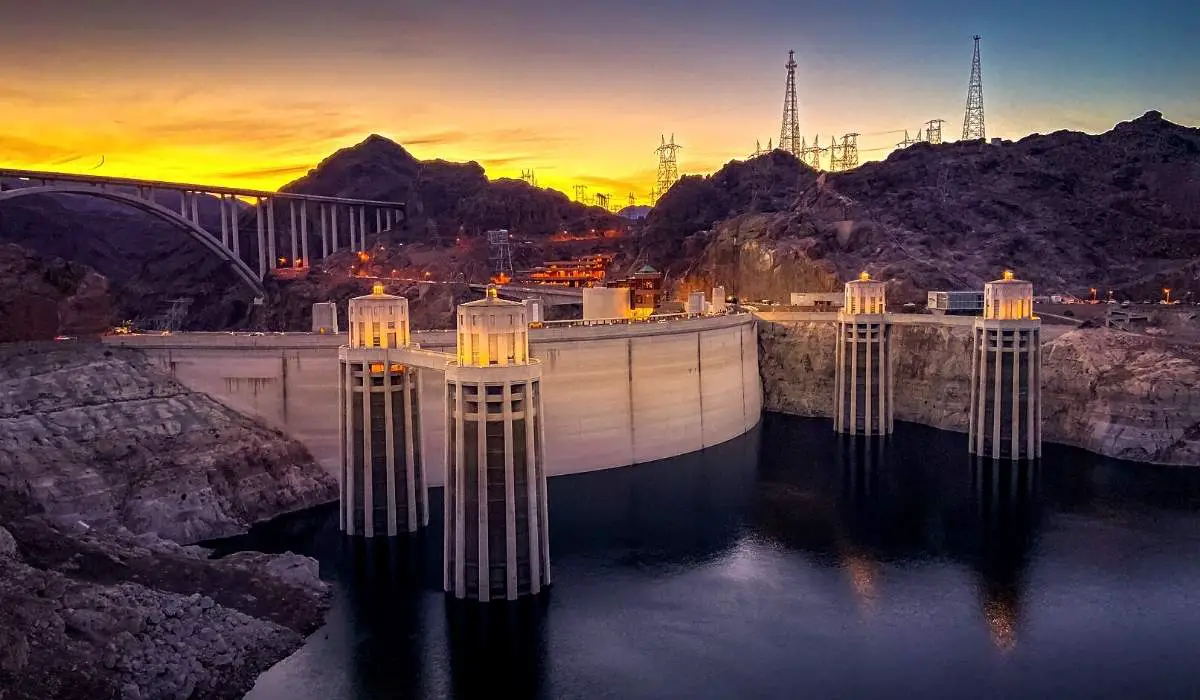 Speaking of daytime adventures in Vegas, possibly even more impressive than the Valley of Fire is the Hoover Dam! This monumental landmark still stands tall today and is one of the most popular daytrips when visiting Las Vegas.
Death Valley
If Las Vegas isn't hot enough for you, then there's no better place to head to than Death Valley. It is the lowest point of elevation you can find in North America, and it has the hottest temperature.
Explore the lovely Badwater Basin, mountain ranges, and the entire national park at your leisure.
See also: 13 State and national parks near Las Vegas
Red Rock Canyon
If you'd like to head out to a pristine Las Vegas scenic destination that's literally 20 minutes from the Strip, then head over to Red Rock Canyon. It has hiking, biking, horseback riding, and beautiful desert views in every direction.
You won't believe that a natural landscape this amazing can be so close to Las Vegas!
Las Vegas All You Can Drink
Vegas is almost as famous for its drinks as it is for its neon lights!
The finest of wines, the best vintages, and the most flavourful cocktails – there's more to drink in Vegas than there is to eat.
The Foundation Room
If you want the nightclub vibe but not the whole experience, the Foundation Room at Mandalay Bay is where you need to be. The drinks and view alone make it worth the trip!
Not only that, you can check out the impressive Shark Reef Aquarium with over 14 exhibits filled with exotic marine life!
Beer Park
Tired after a day filled with Vegas sightseeing? Kick back and relax with a cold one at the Beer Park at the Paris Las Vegas Hotel!
Enjoy the mesmerizing Bellagio fountain show right across the street, and help yourself to the menu as well; it's the perfect palette cleanser.
Minus 5 Ice Bar
If Las Vegas is too hot to handle, then cool off in Mandalay Bay's Minus 5 Ice Bar. This lounge is made entirely of ice, from the seats to the walls. The temperature hits 23°F (-5°C)! 
This is one of the most popular Las Vegas attractions, and frankly, there's no better spot to cool off except the Antarctic – but who'd trade Vegas for that? 
The Mon Ami Gabi
If bougie is what you want, few places do it better than Mon Ami Gabi.
With some of the spiciest mimosas and a priceless view of the Bellagio fountains from one of the best patios around, this restaurant should be near the top of your list.
The Best Vegas Photo Ops
Few cities in the world can claim to have the explosive list of photo spots that Vegas has, and here are all the best ones to use as a backdrop for your next photo!
Welcome To Las Vegas
You must take a shot at the Welcome to Las Vegas sign!
It is one of the most iconic locations in the whole city, and it'll set the mood as the cover photo of your vacation album!
The Peak of The Eiffel Tower
Get a memorable snap of yourself with the entire Strip from the top of this lifelike replica of the Eiffel Tower! 
The observation deck takes you through some phenomenal views across 46 stories. 
It's located in the Paris Las Vegas complex, which is filled with things to do on its own – like eating at Gordon Ramsay Steak, hanging out by the Paris pool, and much more! 
High Roller Views
Another spot in town with unbelievable views of the Las Vegas Strip and the surrounding valley is the High Roller located at The LINQ Promenade.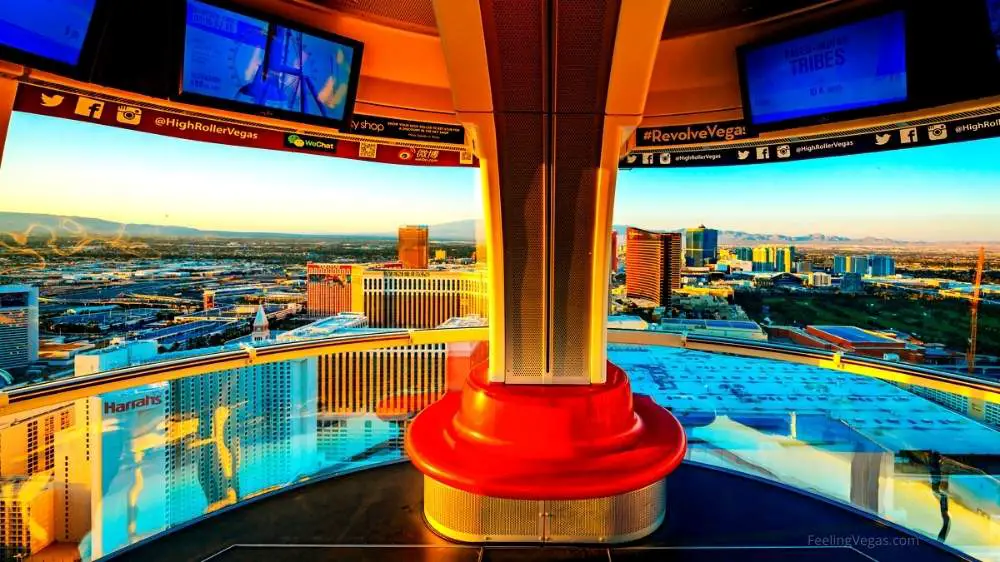 The High Roller is one of the world's biggest observation wheels. Each cabin or pod on the wheel holds up to 40 people, and the wheel takes half an hour to make one full revolution. From here you can catch amazing views both day and night.
Fly With The Birds
There are few things to do as fun or scenic as taking a hot air balloon ride in Vegas (Viator)! This is one of the best ways to experience the surreal Las Vegas valley and skyline.
Enjoy a luxurious ride over the Pahrump valley, with the desert, mountains, and all of Vegas visible – you can go as high as 10,000 feet!
For extra cinematics, you can celebrate your conquest of the clouds with a champagne toast upon landing. A hot air balloon is one of the best ways to see the Las Vegas valley!
The Vegas Shows
There is an extensive list of shows you can attend with friends or a partner in Vegas, each more entertaining than the last! The shows in Vegas are one of the most memorable parts of the entire experience.
The Cirque De Soleil
Photo:- Flickr Image
The Cirque De Soleil is one of the best acts in Las Vegas! They produce Mystere (Vegas.com)– which is a thrilling epic that has been awarded the Best Production Show by the Las Vegas Review more than 8 times!
Magic Mike
Magic Mike (Vegas.com) is the perfect show for a bachelorette party, liven it up with some exotic dancing throughout a 90-minute entertainment experience!
Absinthe
Enjoy a spectacular carnival on a circular stage (Vegas.com) which is one of the highest-rated shows in Vegas!
Final Thoughts
There is so much to do in Vegas besides just gambling; it is not known as the Entertainment Capital of The World for nothing! Whatever kind of adventure you have your heart set on, Vegas is the place to do it in style!
From daytime to nightlife, when you discover how much there is to see and do, you might never want to leave!